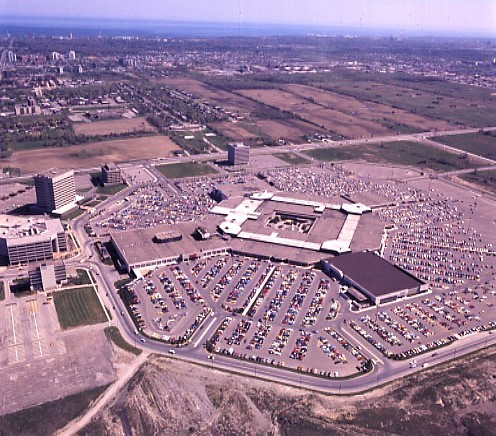 Photos Wiki Commons/The Pointer files/City of Toronto Archives/Rendering Oxford Properties/Maps City of Mississauga
Square One asks to scrap parking wasteland in major step toward erasing Mississauga's sprawling identity  
For decades, Mississauga was known as the suburb built around a shopping mall.
Now, its remarkable transformation into one of the country's most dynamic cities, will make the biggest move yet, away from its sprawling beginnings, defined by the Square One Mall.
Those visiting Square One would be forgiven for thinking Canadians don't understand how to move around. The shopping centre, at the heart of Mississauga's downtown, is home to a GO Transit bus station, a MiWay hub and is also served by Brampton Transit buses.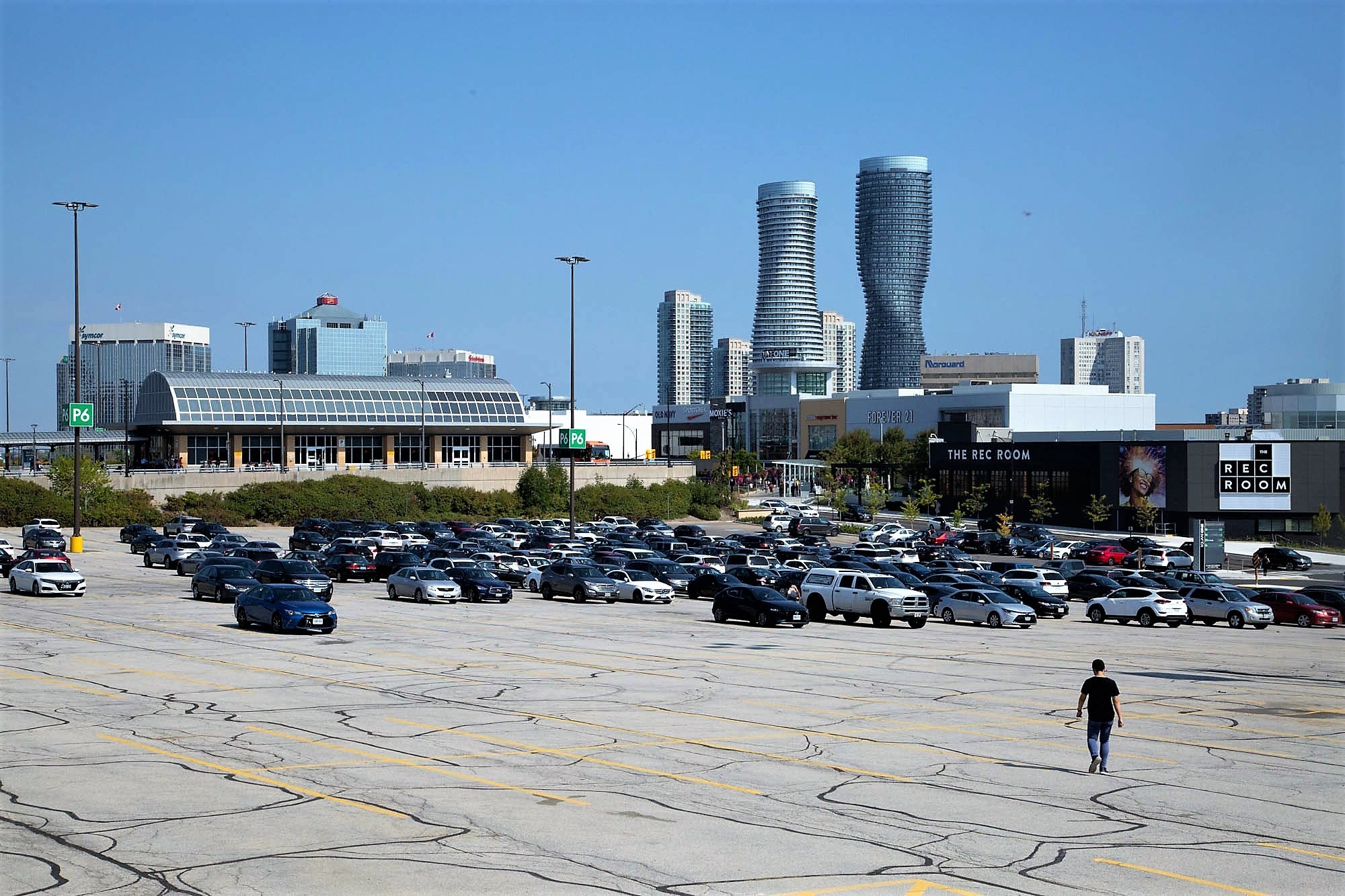 The endless, ageing parking lot of Square One Mall will no longer define so much of the downtown cityscape
Despite being the city's main transit terminal, which feeds a bus rapid transit route that cost more than half a billion dollars, parking spaces have for years drowned out the surrounding landscape.
All around Square One, residents and visitors are treated to the sight of cracked, grey asphalt painted over with yellow and white lines. Slowly crawling across the stretched out tarmac, like ants on a sidewalk, cars inch in and out of the painted stalls.
But things are changing, part of the recent reclamation of space from these vast, temporary homes for vehicles.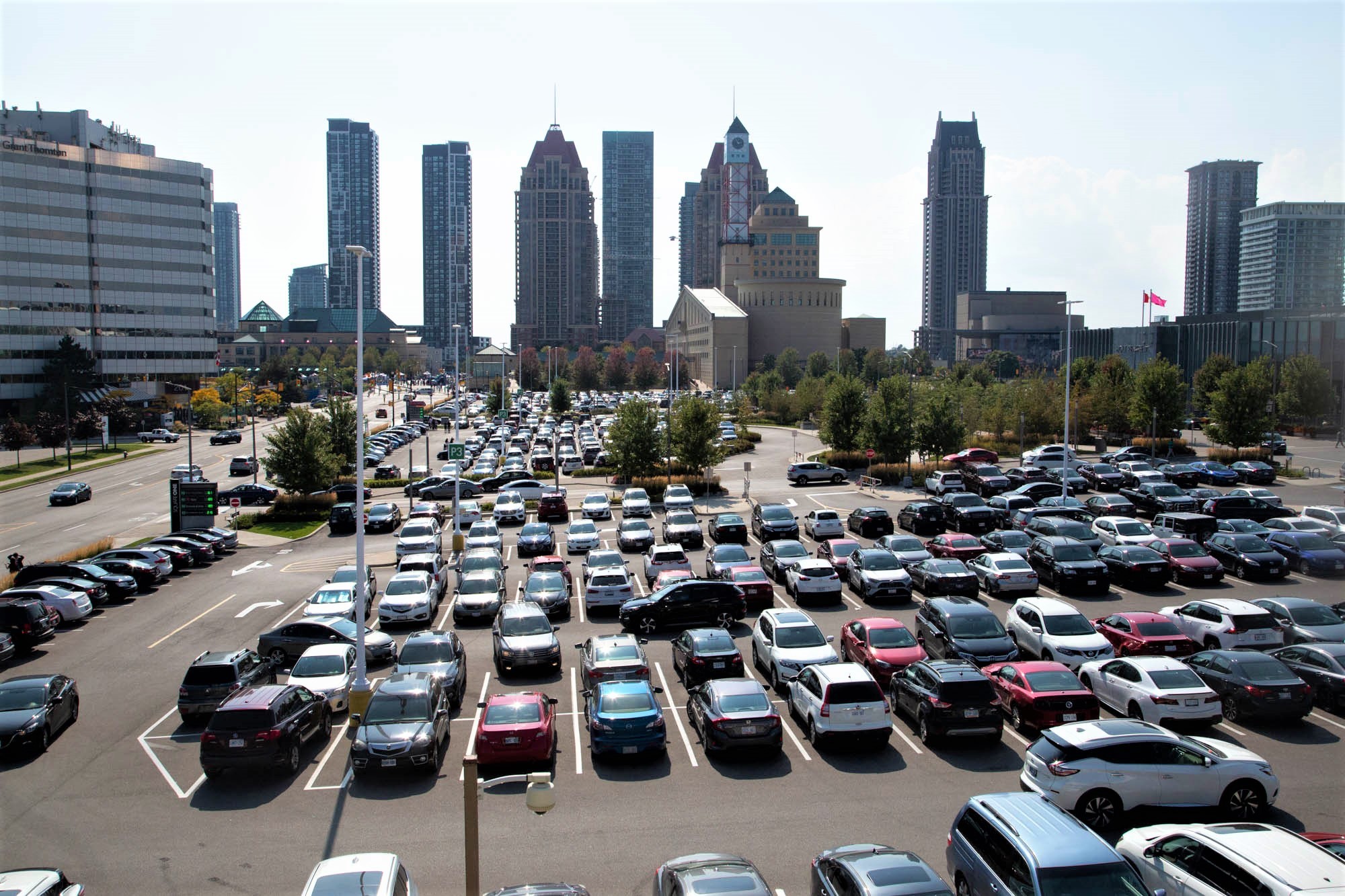 Dense verticality has already started to confront the sprawling expanse of parking around the Square One area
For those confused by the accommodation of cars so close to a major transit centre, help is on the way.
Plans by the mall's owner, Oxford Properties (which is owned by OMERS Realty Management) to transform this suburban desert into a modern forest of highrises, have just crossed a major milestone.
Last Wednesday, councillors in Mississauga accepted a rezoning application to reduce parking requirements in the downtown. The application allows the provision of less than one parking space per one-bedroom apartment (it works out to 0.8 stalls per unit), with a scheme in place to use shared parking spots instead of allowing a certain number of spaces for each resident.
Although the minutiae of parking requirements are not the most exciting elements of the project, they are key to its proposals. Unveiled in January, the project proposes 37 towers to be built where the parking lots of Square One Mall currently spread out, including office space, retail and 35,000 rental units.
This area in the heart of downtown will be replaced with...
This...part of the Oxford Properties' plan to build 37 towers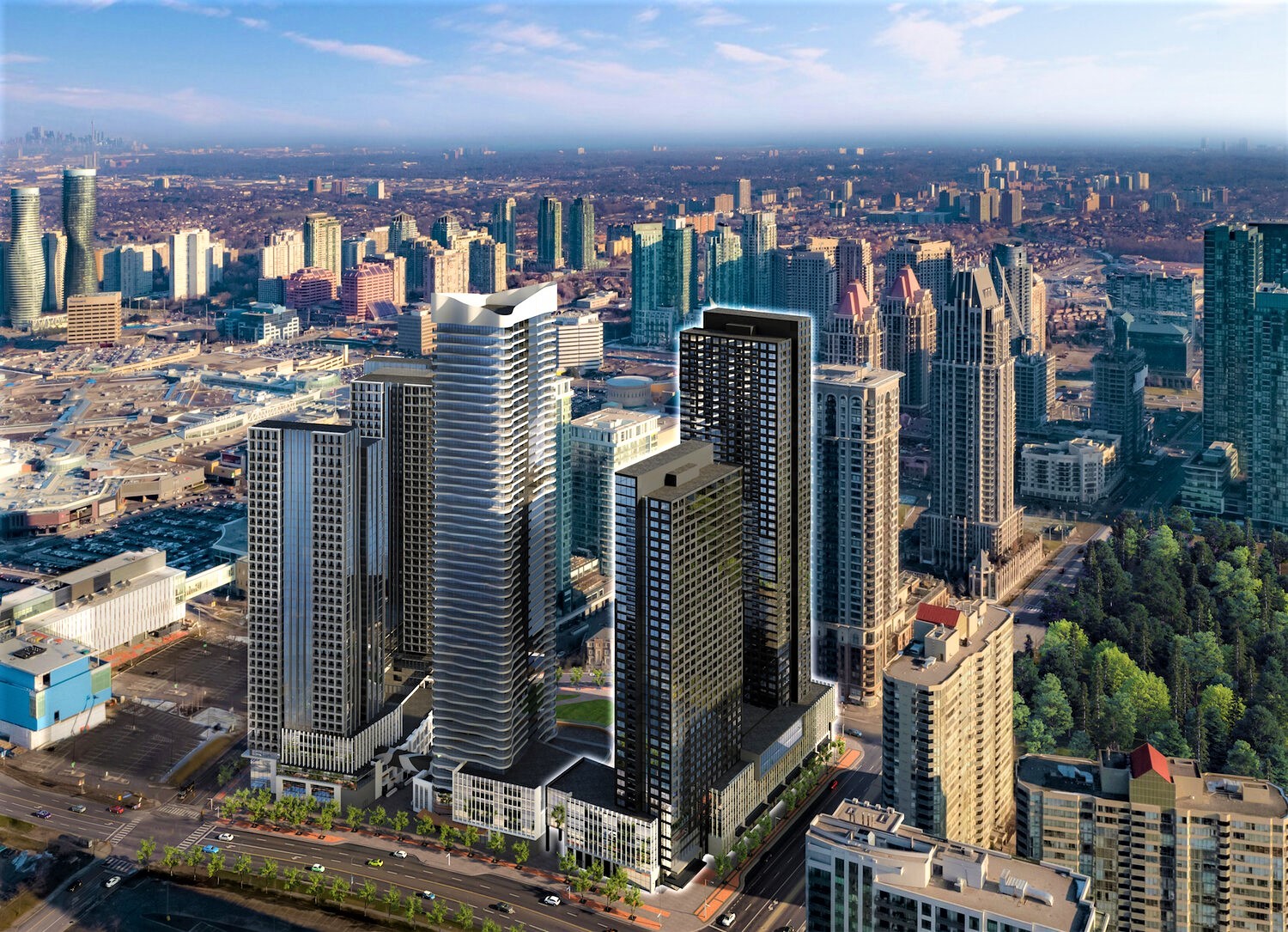 The parking spots will be either above or below ground.
In June 2019, the City of Mississauga endorsed a new parking strategy that looked to move away from mandating high numbers of spaces for new buildings, instead attempting to reduce the requirements. The report found 15 percent of Mississauga's land was dedicated to off-street parking, a number that doesn't even include private driveways.
In order to achieve its ambition of turning outdated parking plans into modern living spaces, Oxford Properties needs to have its parking requirements reduced. What has been proposed is a limited number of spaces that will be shared between residents, shoppers at Square One and visitors to Sheridan College.
Typically, planning applications accommodate parking in either surface, above ground or below ground, but the city's downtown plans are moving away from the surface parking that defined Mississauga's streetscapes for decades.
Mississauga was built for the car, as this picture, shortly after Square One opened in 1973, shows
Surface parking represents a huge revenue loss for cities, as they can't draw property taxes from structures that would instead utilize the vast space. Toronto went through a similar transition in the '70s and '80s.
"The application is to change the zoning by-law to permit reduced parking requirements and shared parking permissions for the subject lands," a staff report explains. "The proposal is attempting to make the redevelopment of the many existing surface parking lots and underutilized lands for office and other uses more feasible, given the high cost of underground and structured parking."
The request to rezone comes in the context of downtown parking regulations that have not been updated in more than 30 years. The existing parking requirements were established in the 1980s and 1990s, a time when Mississauga was smaller and transit use far less common.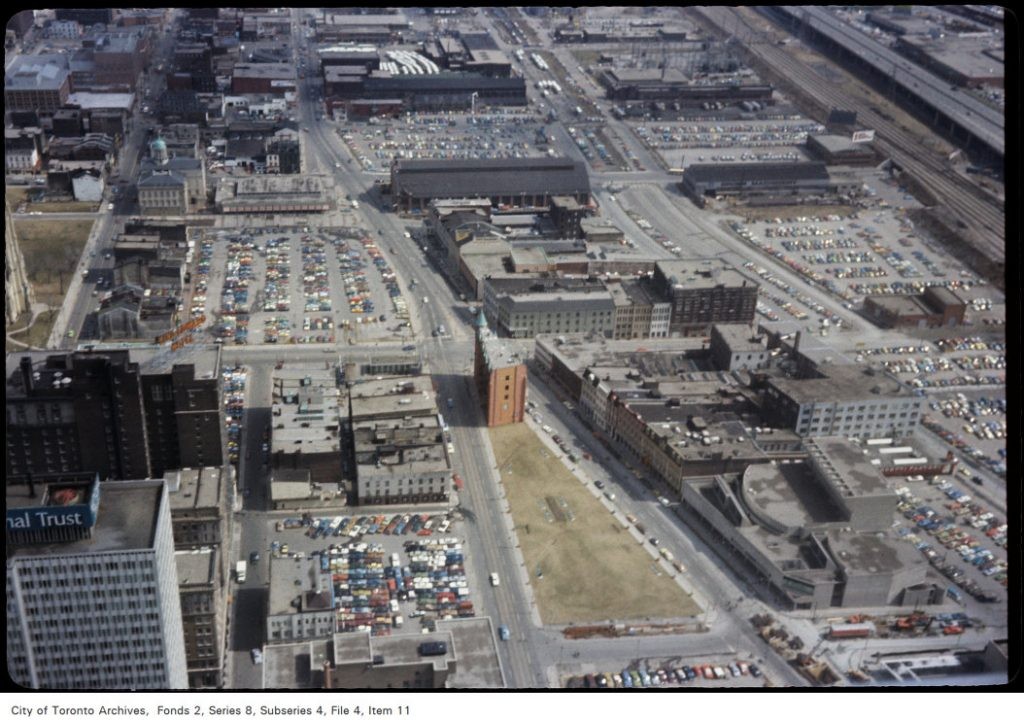 Downtown Toronto in the '70s
Since then, the city's MiWay bus service has expanded, with a hub in Square One and GO Transit, the regional bus and train service, has begun running a series of buses through Square One more frequently.
"The objective is to not oversupply parking by allowing for different uses with different peak period demands to share parking as well as to share between blocks," the report adds. "The intent is to encourage the large number of existing surface parking lots to be redeveloped for a mix of uses including office, in a manner suitable to the urban context. This will also help to achieve a more balanced mix of land uses (intended to be a 1:1 ratio of people to jobs), as existing and planned residential far exceeds employment in the Downtown Core."
Data from the 2016 census suggests the demographics around Square One are well suited to the lower reliance on cars. Four years ago, the downtown core had a population of roughly 30,000 with a median age of 34-years-old, much younger than the city's median age of 40. Some 73 percent of those living in the downtown are of working age (15 to 64-years-old), while 16 percent are under the age of 15. By 2031, the population is forecast to almost double to 61,200, jumping again to 70,500 in 2041.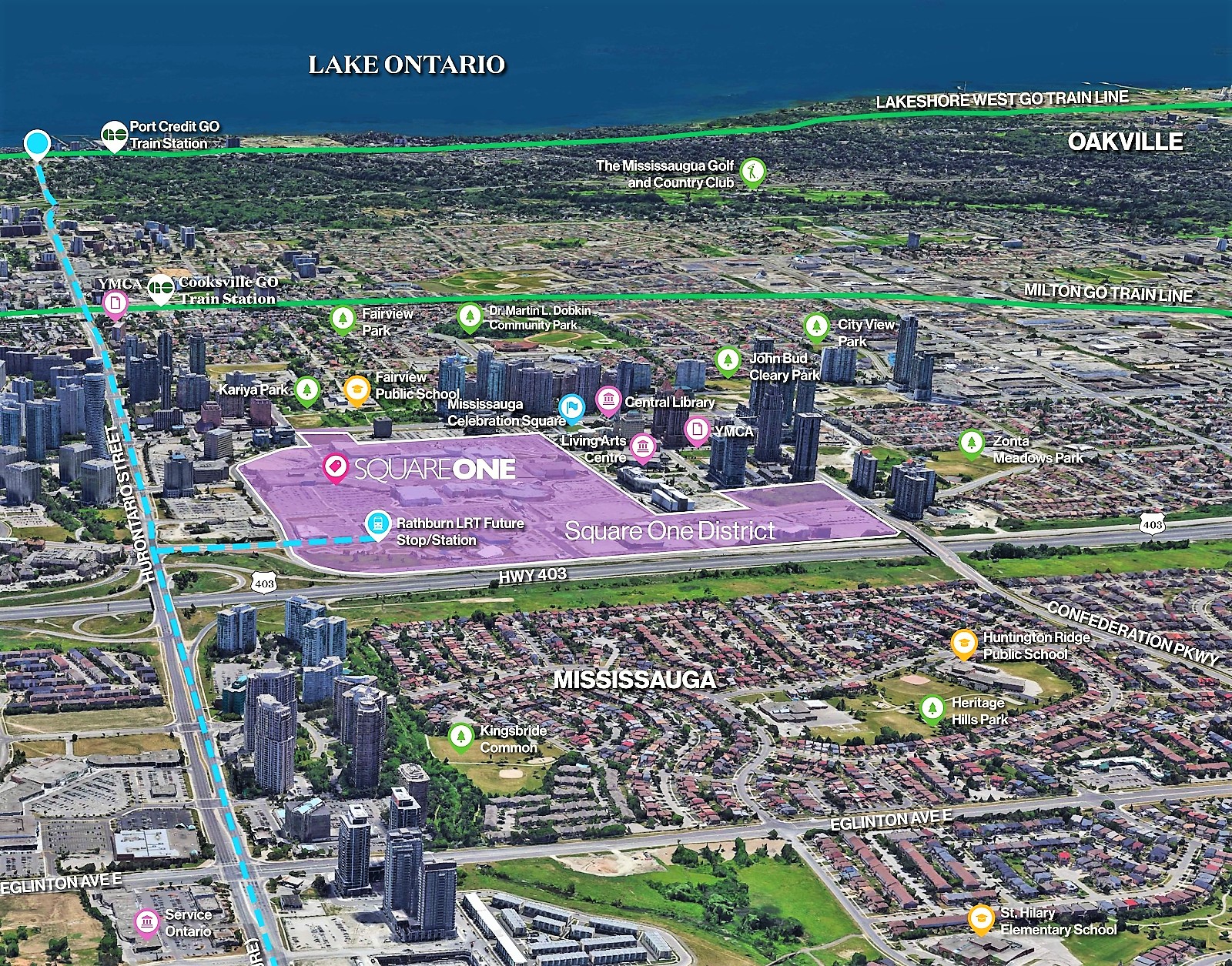 A Map of Oxford Properties' Square One District plan
The area is well suited to Oxford Properties' plans for height and density, with 98 percent of residents living in apartment buildings taller than five storeys and 44 percent of the population renting.
"What is today swaths of parking lots will be transformed into a vibrant community that will eventually comprise more than 18,000 residential units, a transit mobility hub connected to the Hurontario LRT, community buildings, parks, green spaces and forward-thinking office space," a release by Oxford Properties in January explained. It added the city centre mall would remain the heart of the multiphase and multi-decade development, flanked by Highway 403, Confederation Parkway and Burnhamthorpe Road. Hurontario Street nearby will soon feature the city's signature high order transit corridor, when its multi-billion dollar LRT opens in four years.
Housing trends show younger, millennial residents prefer apartment or condominium living over the suburban, single-detached family homes Mississauga was borne from. The same group, generally more environmentally conscious, are also more comfortable with public transport, relying less on cars.
Key to serving this population and justifying the lack of parking will be the Hurontario LRT. The project, planned for operation by 2024, will connect Port Credit GO station near the lakeshore with Steeles Avenue and the Brampton Gateway Terminal. On its journey between the two termini, it will also stop by Cooksville GO and the Mississauga Transitway.
The design of the Hurontario LRT, which had a loop around Mississauga's downtown removed in early 2019, means it directly serves Square One. (There have been persistent rumours that the loop will still be built, eventually)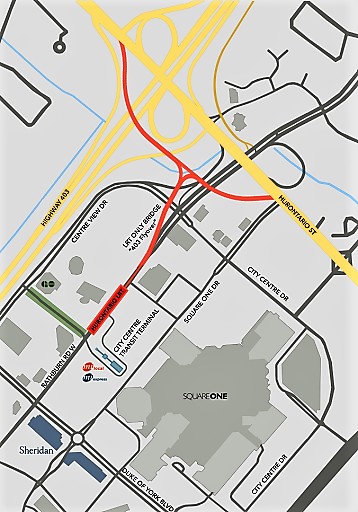 The LRT flyover
A flyover bridge will see trains leave Hurontario Street and head into a central transit hub on the lands currently set for redevelopment. Street cars will dock at a station stop where drivers will vacate the vehicle and switch ends, driving out again to return to Hurontario Street and continue the route. This system will include a shuttle for residents in the Square One area, delivering them to Brampton Transit or the GO network.
The lowered parking requirements, dense rental properties and reliance on higher order rapid transit represent the next phase in Mississauga's rapid transformation into a modern city, leaving its suburban roots behind and embracing a more environmentally conscious model of growth. It also provides a better yield of property tax per hectare, while simultaneously creating jobs within walking (or transit) distance of where people live.
The plan is, in many ways, the opposite of the sprawling, suburban Square One Mall that was built on farmland in Mississauga almost 50 years ago.
The plan to build 37 towers and increase density in the heart of the city fits with provincial planning directives that encourage building to take place where people already live. Known as infill, this means areas that already host populations will become taller and denser, rather than seeing cities expand.
Quietly confident its parking request would be approved, Oxford Properties has already submitted two development applications for their land. The first application is for 36 storey and 48 storey towers to be built by Daniels Corporation and Oxford Properties. The second is for 55 storey and 65 storey towers constructed by Oxford Properties to include residential and retail, all in the Square One area.
The tallest complete building in Mississauga is currently Absolute World, better known as the Marolyn Monroe towers, with the southern building 56 storeys tall. Rogers' M City, under construction, will raise that record to 60 stories with their M1 building, and beyond in future phases.
Mississauga's downtown is zoned to allow unlimited height and density, a decision made at the turn of the century. As a result, council has fewer bargaining chips to negotiate with developers and demand affordable units, something Oxford Properties has taken advantage of by failing to include a single subsidized or market affordable unit in its plans.
Oxford Properties originally intended to begin marketing their office space in April 2020 and begin construction in the summer. It is unclear how much COVID-19 will impact this.
Staff will bring a bylaw to a future Mississauga Council meeting to finalize the approval of reduced parking.
---
Email: [email protected]
Twitter: @isaaccallan
Tel: 647 561-4879
Submit a correction about this story