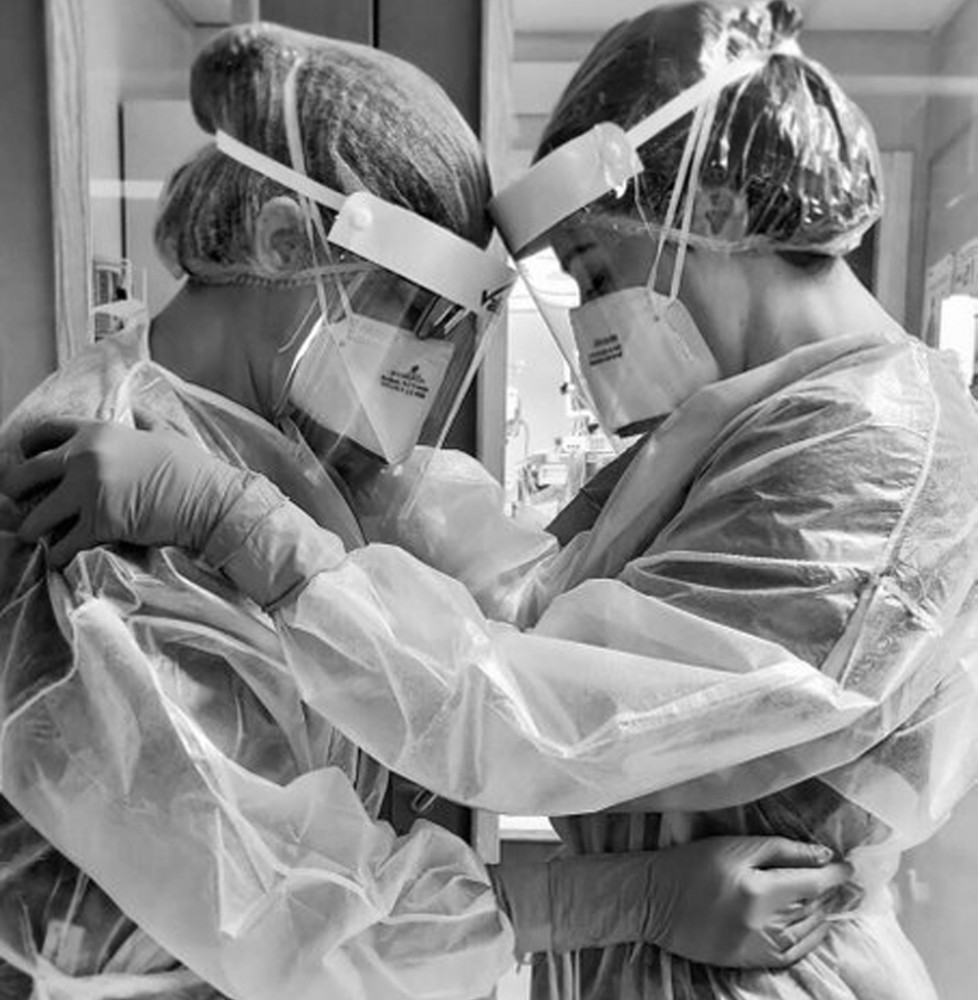 Photos from Flickr-OT/Twitter/Graphics from CCSO/Mayo Clinic
'Compassion fatigue' had set in among Peel nurses & doctors before the fight against COVID-19; are they prepared for the aftermath?
Burning the candle at both ends.
The phrase was coined sometime in the 17th century, and referred to those who squandered money. Candles were expensive, and the idea of wasting wax by burning one at both ends was the epitome of improvidence.
The milder euphemism is still used when referring to a wasteful nature, but instead of money, the modern idiom is used to describe something more significant. A person's life.
Working too hard, not sleeping, not caring for oneself and headed toward some kind of disaster, is today's way of "burning" out before your time.
In Canada, those working on the front line of the healthcare system have been burning the candle at both ends for decades, and the COVID-19 pandemic has only pushed the sector closer to its edge.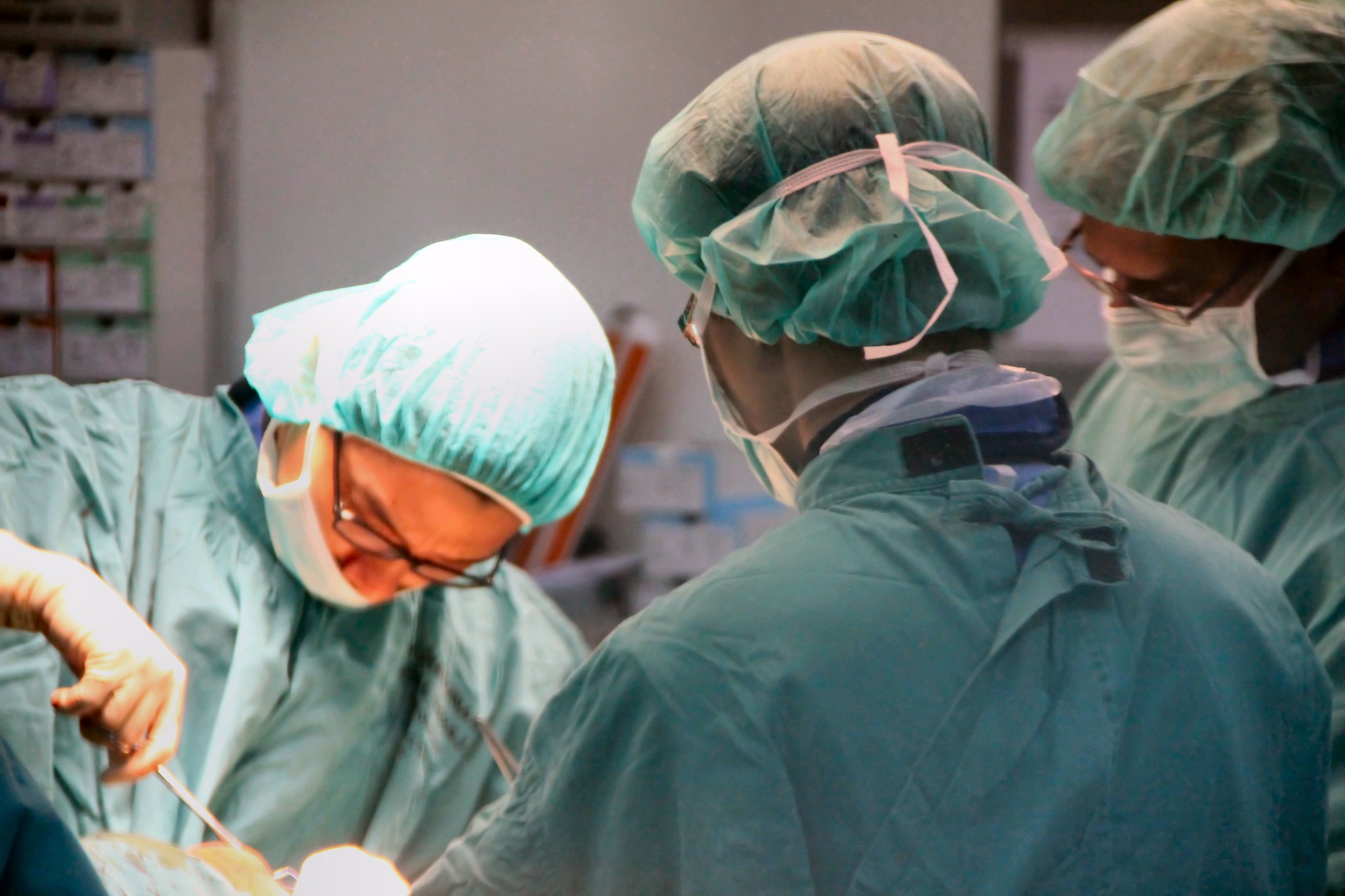 Repeated studies have shown that medical professionals are overworked and burning out, something that has significant impacts on their quality of work.
A study released by Critical Care Services Ontario (CCSO) late last year showed an alarming rate of burnout symptoms among critical care workers — those responsible for looking after the sickest patients.
The report describes burnout as "an occupation condition characterized by emotional exhaustion, depersonalization and low sense of personal accomplishment."
"Job burnout doesn't happen overnight," the study reads. "It is a gradual process that begins with chronic stress and evolves over time."
Overall, the CCSO survey of 99 Ontario critical care units found 59 percent of staff members, including nurses, physicians, administrators and other health professionals were suffering from some degree of burnout.
Critical care nurses experienced the most significant levels of burnout, with as many as 73 percent displaying signs of burnout syndrome, including 60 percent who reported feeling a lack of personal accomplishment, and nearly half noting a "depersonalization" in their care.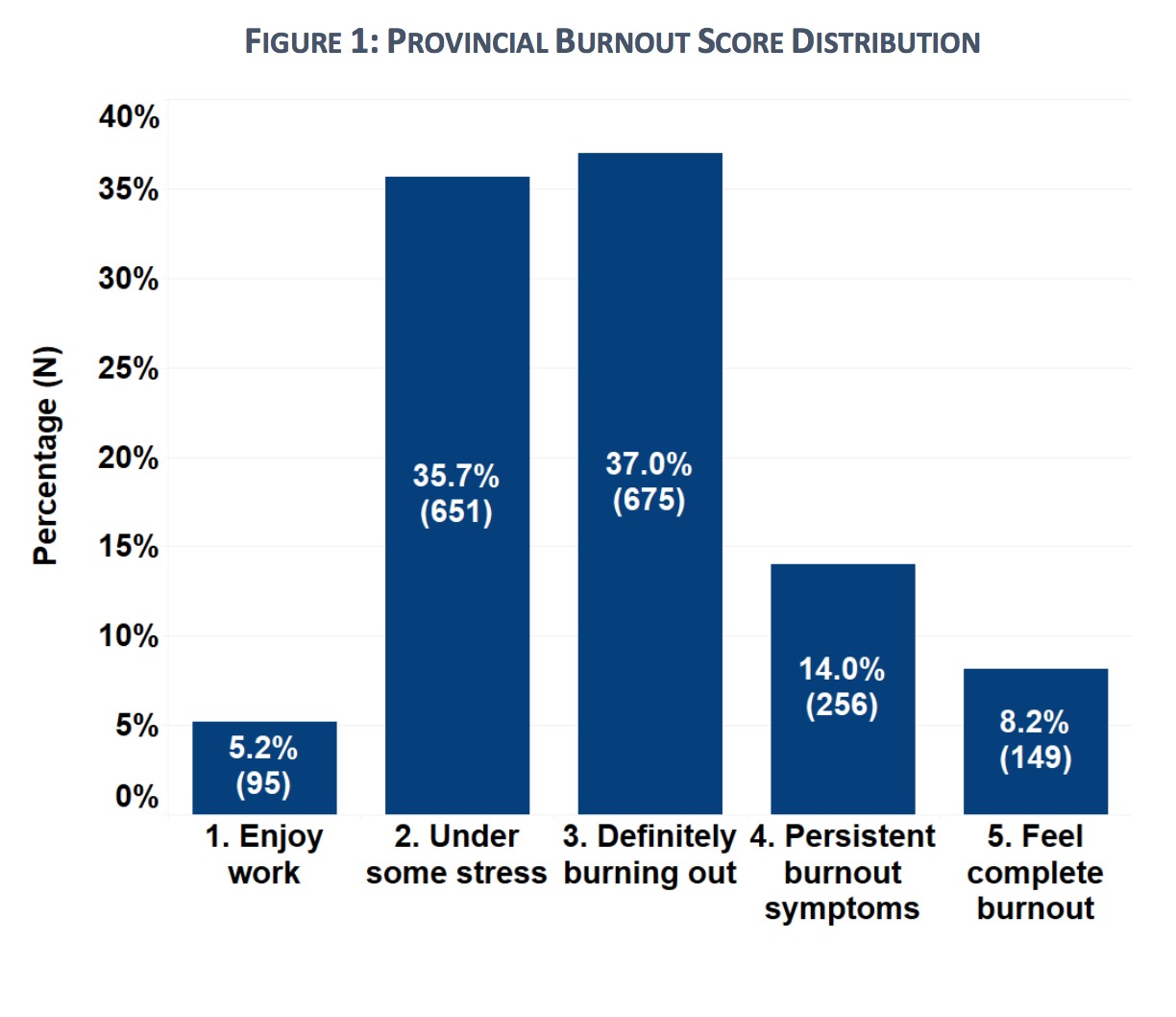 Survey results from 99 critical care units across Ontario.
This "depersonalization," also labelled as "compassion fatigue" creates a lack of empathy as a result of continuous physical and emotional exhaustion. Having someone on the frontline of Ontario's healthcare system who has trouble caring for others is like having a truck driver barreling down a highway who doesn't care if he falls asleep at the wheel.
The startling reality however is that our provincial and federal governments have known about this problem for decades, and little has been done to address the root causes.
According to the world renowned Mayo Clinic which is based in Rochester, Minnesota and has 65,000 employees across North America, the reality of physician burnout across the continent has been documented for years and has only grown worse as funding challenges and lack of staff exacerbate the issue.
A 2017 report found approximately 50 percent of physicians in the United States were experiencing professional burnout.
Similar findings of burnout have been documented by the Canadian Medical Association and the Canadian Association of Emergency Physicians (CAEP) which through a recent survey of front line emergency medical professionals documented burnout rates as high as 86 percent among emergency care professionals. That was before COVID-19.
---
Nowhere are the mounting pressures on healthcare workers felt more severely than in Brampton and Mississauga.
"Physicians in general have had a fairly long-standing difficult time with the government over our compensation issues and overall inadequate or underfunding of our healthcare and so going into the pandemic, doctors, nurses as well, are entering in at probably a baseline high burnout rate," states Dr. Rohit Kumar, a doctor with Trillium Health Partners (THP) in Mississauga for the past 13 years and president of the THP Professional Staff Association which represents approximately 1,300 employees across the healthcare network.
"It is definitely a concern and we've had conversations around this with our senior leadership who also recognize this is an issue."
The pandemic creates an added layer of stress for front line professionals, who, the data shows, are already stretched to the limit.
In Brampton, both Civic — the only full-service hospital — and Peel Memorial Centre for Integrated Wellness operated over capacity for all of 2019. At Peel Memorial, a preventative care facility which opened in 2017, it started last year operating at 557 percent of capacity, and increased to 587 percent by April, well above the recommended industry standard of operating at 85 percent capacity. The capacity issues have clearly impacted the region's emergency department pre-pandemic wait times.
The province's target time for patients to be admitted from the emergency room is eight hours. For THP, the average time is 21.2 hours at Mississauga Hospital, and an average of 23.7 hours at Credit Valley Hospital (as of November) both of which are worse than Brampton Civic at 19.7 hours.
Waiting 20 to 24 hours for a hospital bed doesn't just put immense stress on patients and their families, it's a sign that things throughout the local system are not working, driving up the pressure for those scrambling behind the emergency room walls to stay afloat.
While hospitals across Ontario began ramping down elective surgeries as of March 15 in an effort to decrease workload on frontline staff, there is a more pressing concern among healthcare workers that didn't exist before. The potential for contracting COVID-19 has become very real, something that "weighs heavy on the mind," Dr. Kumar says.
During the SARS outbreak in 2003 over 40 percent of those infected were healthcare workers.
"Since then, however, the working environment within our EDs has deteriorated, making it almost impossible at times to provide safe and timely care," reads a March 11 press release from the CAEP, which stated COVID may be what causes a significant destruction in the burned out healthcare system.
"Superimposing coronavirus on already dysfunctional EDs — with admitted patients blocking beds, others spending hours in waiting rooms, lack of isolation capacity and increasing violence directed towards care providers — may be the final straw."
At Trillium, which operates both Mississauga hospitals, 76 health workers have tested positive for COVID-19 as of last week. William Osler's Brampton Civic also recently saw an outbreak when 10 staff across the Osler system tested positive. That outbreak was declared over April 15.
In an effort to help the strained system, the provincial government put out a clarion call to medical students, retired nurses and doctors, or anyone who could assist to sign up through an online portal and ready themselves to be dispatched where help is needed.
As of last week, nearly 18,000 people had answered the call, however, it remains unclear how many of them will be or have been deployed to facilities in need.
In the desperate search for medical personnel to ramp up hospital capacity, 40,000 Quebecers volunteered through an online portal that invited anyone with healthcare experience to sign up. But as of two weeks ago, only 3,000 had been contacted by officials and it's likely that many of those were not approved to help.
These are band-aid solutions during a pandemic that will eventually end, but leave deep, perhaps permanent scars on our healthcare system.
According to Dr. Kumar, it has led many in the medical community to mentally prepare for what is expected to be a gruelling few months.
"I think doctors, nurses, anybody working in a hospital-based setting or even in a community-based setting, we kind of know right? We've been watching the system deteriorate for quite some time now and healthcare infrastructure has not kept up with the increased population, the increased complexity of the population and the aging population," he says, noting again that hospitals were operating over capacity well before COVID-19 spread across the world. "So if you have no buffer, what happens, what does that mean for the system?"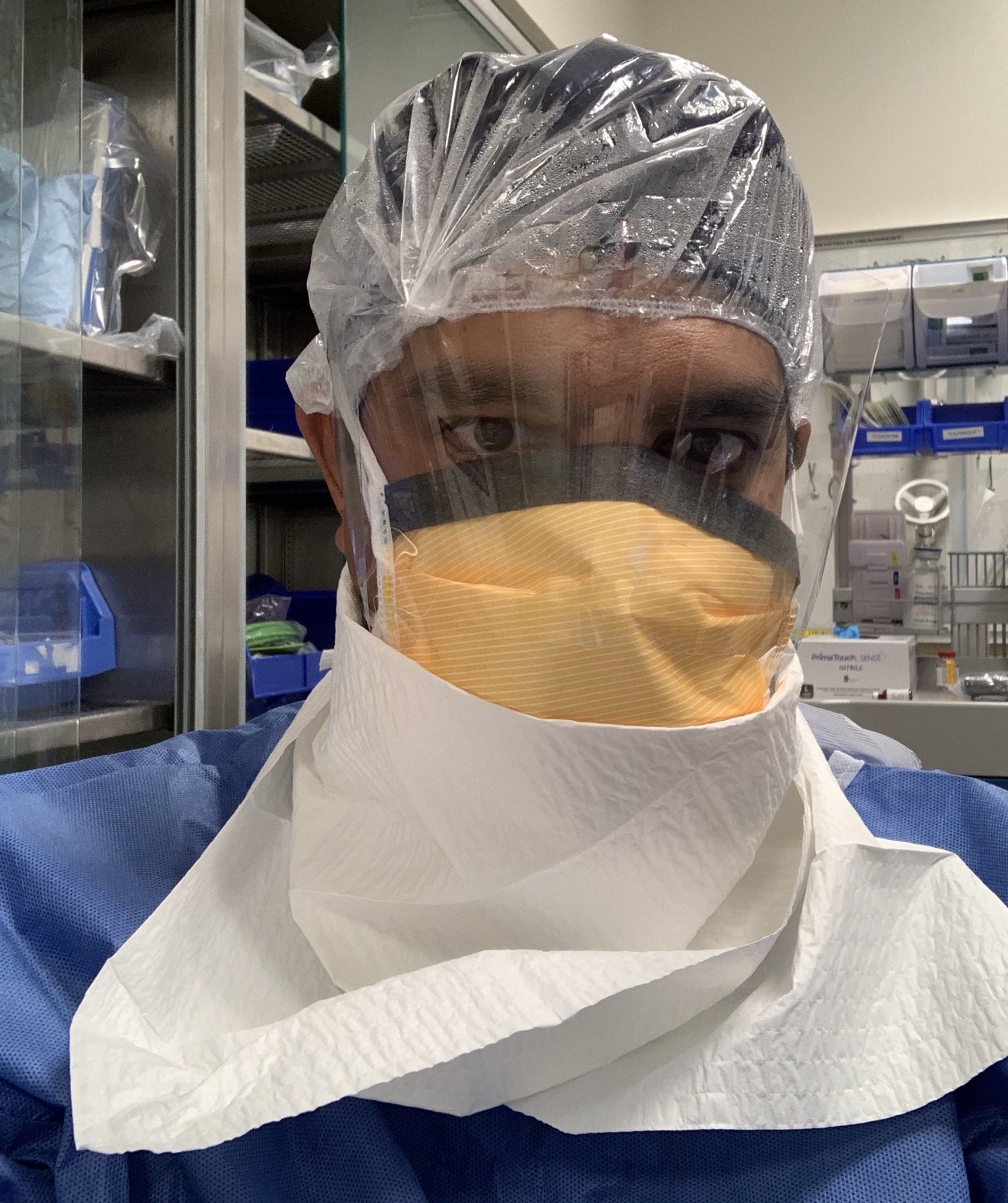 Dr. Rohit Kumar
According to Alecs Chochinov, president of the CAEP and Rodrick Lim, Chair of the CAEP Emergency Wellness Committee, it leads directly to a lower quality of care for patients, and perhaps most frightening, more medical mistakes.
"The dangers of burnout are worse than those of fatigue, in that a burned-out physician is more likely to make errors than one who is merely tired. And who isn't tired at the end of a gruelling overnight shift?" a joint statement released on the CAEP website reads. " Most physicians choose medicine as a career because they want to make a difference, but emergency physicians are frequently too exhausted to provide the level of care they have been trained for."
The danger is not just to patients either. A CAEP study found that an emergency room physician has a higher risk of substance abuse, and is almost three times as likely to suffer from depression than the national average. Shockingly, 1 in 7 emergency physicians admitted to contemplating suicide, as many as 40 percent of them just in the past year.
"Physician heal thyself may not be sound advice in this instance — doctors need the support of decision-makers outside the ED, as well as the public, so that resources can be devoted to addressing the underlying problems and maintaining a viable workforce," the CAEP statement reads.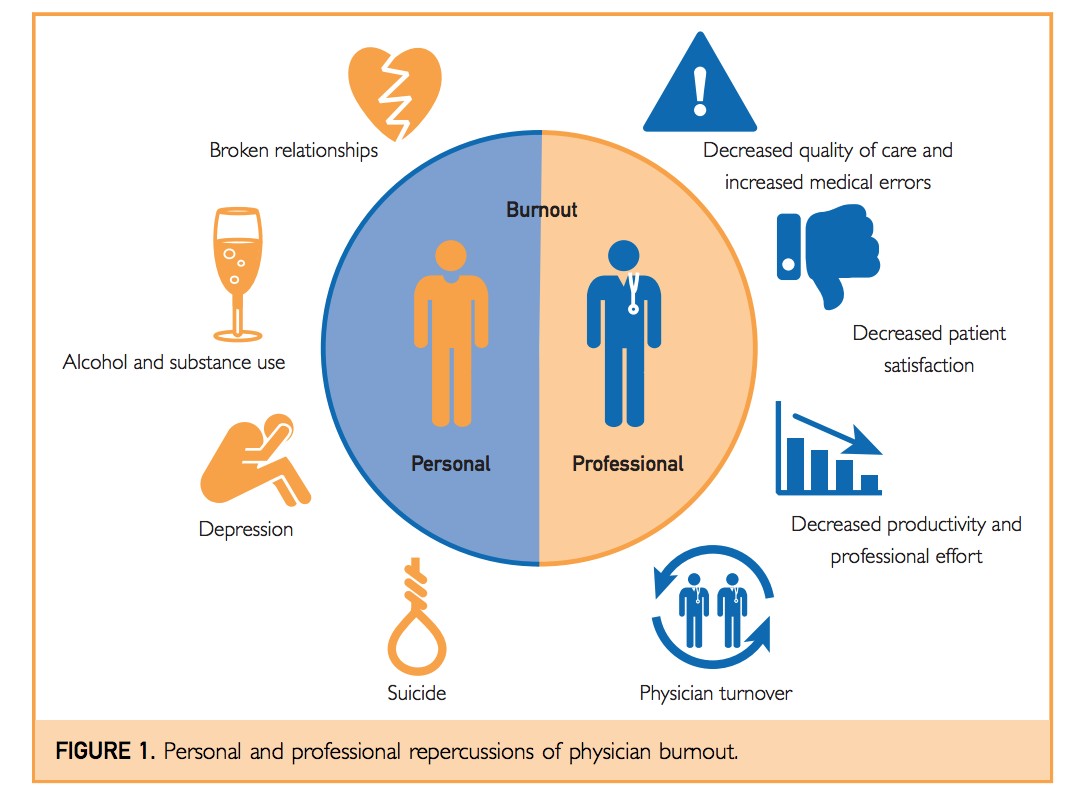 Burnout has impacts for a person's professional and personal life.
The Region of Peel is one of the fastest growing areas in the country, with a population that is expected to grow by close to half a million residents over the next 20 years. So far, the provincial government and local health systems have failed to plan for the future.
Ontario spends almost $60 billion per year on healthcare, projected to increase to $73.3 billion by 2023. However, in 2019, the province's per-patient spending was at $3,903, the lowest of any province or territory in the country. The trickle down impact, and at times, seemingly unfair distribution of funding, is evident.
William Osler Health System, which manages both of Brampton's hospitals and Etobicoke General, received $619 million from the Ontario Ministry of Health and Long-term Care in 2018. Despite serving a smaller population than Osler, Hamilton Health Sciences' revenue includes $1.1 billion from the Ministry of Health and Long-term Care in the same year. Mississauga, a city with more people than Brampton, gets $880 million from the province.
On a per-resident basis, Bramptonians get a smaller piece of the pie than other similar-sized cities. Osler gets $1,042 per resident, almost half of what Hamilton Health Sciences gets from the province, roughly $2060.
Brampton's funded hospital bed count is dangerously low, with less than one bed per thousand residents compared to the Ontario average of 2.3 beds per thousand residents. The comparison to national figures is even worse, so Brampton healthcare workers are trying to care for a city of 650,000 people with less than half the rate of beds and resources of other places throughout the province and a third of the beds compared to the national average.
This is the definition of burning both ends of the candle.
But the city's "healthcare emergency" declaration and calls for "ending hallway healthcare" in Brampton have fallen on deaf ears.
With razor thin budget margins, hospitals across the province are being forced to do more with less, increasing the strain on the existing workforce, even as the volume of work and the complexity of serving a highly diverse population, continues to increase.
In Mississauga, THP currently receives around 1.7 million patient visits each year, with its emergency visits increasing 14 percent across the past five years alone. For Osler, between April 2018 and April 2019, close to 139,000 patients walked into the emergency department. That's not an anomaly. The hospital has seen 100,000-plus emergency patients every year since 2010/2011, when the health system started collecting data.
The expanding gap between resources and need is not lost on the healthcare networks. In its own strategic plan, THP acknowledges that provincial investments "have not kept pace with the growth and changes in [the] community." The document describes the network as "under-resourced for the size and needs of the community," adding that no hospital network in Ontario will receive more demand for acute services across the next two decades. However, no increased investment from the province has appeared to shore up the gaps.
"At the end of the day this is the one thing as a society, as a world, we need to fund properly. Right now the world is losing trillions and trillions of dollars, people all over the world are dying and not working and it's all preventable," Dr. Kumar says, adding that the government has to be fully on board with funding a well-resourced and adequately staffed healthcare system if there is to be drastic change across the province.
However, in the midst of a pandemic, questions around increased funding and budgetary concerns are the last thing on the mind of Premier Doug Ford and his new health super agency Ontario Health as they grapple with the ongoing COVID-19 crisis.
Yet, doctors know that the pressure won't cease once the pandemic ends. As stated, the province has stopped providing elective surgeries as of the middle of March. Combine that workload, which is just waiting in the wings for COVID-19 to fade, with the number of people who may be dealing with an ailment, but are too concerned about catching COVID to enter a hospital — a trend observed in jurisdictions across the country — who will flock to the facilities once this is over, and it creates a second wave of increased patient need for doctors, fresh off battling a global pandemic. Add the coming flu season to the mix and it could drown an already swamped system.
"I can tell you, I think we're all mentally prepared, there's no break in the near future for us," Dr. Kumar says. "Even when COVID goes away there's going to be a big backlog to deal with, the patients who haven't had the care that they needed over the last few months are going to come in that much sicker."
It's not clear when these elective surgeries will start up again. According to a statement on the William Osler website, they are waiting for the all-clear from the Ministry of Health to resume these procedures.
According to Victoria Bettencourt, a spokesperson with THP, the healthcare network is doing what it can to help their doctors and frontline care providers deal with the mental strain, including counselling, team debriefs with a psychotherapist, and a staff committee that focuses on addressing needs and "ensuring a safe, respectful and healthy working environment."
"During this unprecedented time, the health of our staff and patients, both mentally and physically, is the utmost priority. As COVID-19 continues to evolve, THP has increased rounding with a psychotherapist on units to address the concerns and emotional needs of staff. THP has created a resiliency working group to ensure that staff members' needs are identified and actioned in a timely manner," Bettencourt states in an email. "This includes managing all donations from the community and distributing to staff as they are received, thanking all staff for their unwavering commitment to patient care, and continuing to promote THP's existing resources to support the overall health and well-being of all staff."
Bettencourt said the network "regularly shares positive stories and messages from the community on our employee portal and through our communications to uplift and inspire staff."
Communities across the country have also taken it upon themselves to thank and inspire frontline workers through online shows of support and in-person gestures, including entire neighbourhoods making noise on their front porches or balconies, while first responders have circled hospitals, sirens blazing, in loud shows of support.
For a workforce that has been stretched to the limit for years, it's not known how long the words and displays of support will be able to sustain them.
---
Email: [email protected]
Twitter: @JoeljWittnebel
---
COVID-19 is impacting all Canadians. At a time when vital public information is needed by everyone, The Pointer has taken down our paywall on all stories relating to the pandemic to ensure every resident of Brampton and Mississauga has access to the facts. For those who are able, we encourage you to consider a subscription. This will help us report on important public interest issues the community needs to know about now more than ever. You can register for a 30-day free trial HERE. Thereafter, The Pointer will charge $10 a month and you can cancel any time right on the website. Thank you.
Submit a correction about this story