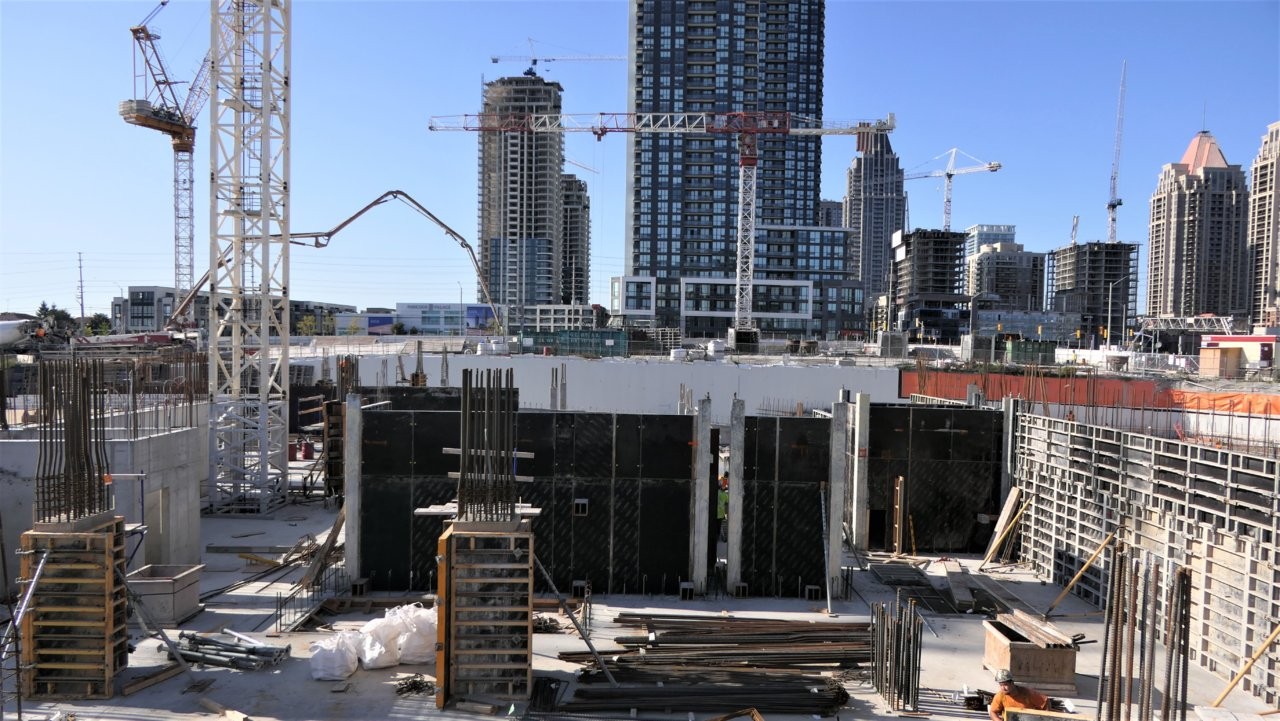 The Pointer file photos/Twitter/Screen grabs YouTube/Graphics Zoocasa/Toronto Regional Real Estate Board
COVID-19 development bottleneck could raise Mississauga housing costs even higher
For years, cranes and construction vehicles have been a common sight in Mississauga. With every passing month, the level of building activity in the city has accelerated, as the concrete frames of future towers climb closer to the sky.
Projects like Lakeview Village, Brightwater and Oxford Properties' Square One District haven't even begun, while others have caught the headlines, including Rogers' M City, which is starting to spring up.
For those who left the city for extended periods, returning recently to Mississauga comes with the surprise of a new cluster of condominiums that wasn't there when they left.
In 2013, the value of construction permits issued for residential properties in the city sat at $367 million, increasing to $732 million in 2016 and $1.08 billion in 2019. Over more than half a decade, the city's trend toward building more and more residential units has not broken pace.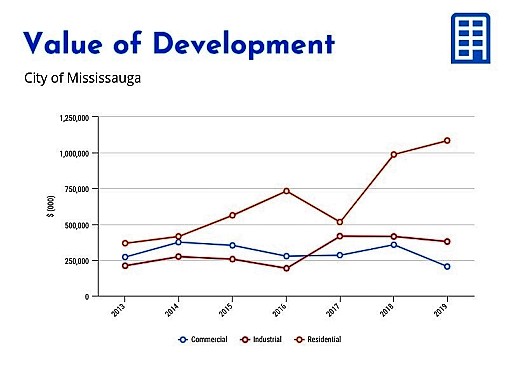 Mississauga is in the midst of a highrise building boom that began more than a decade ago
The near tripling in value of these permits in just six years illustrates how desirable Mississauga has become.
With one of the longest urban shorelines in North America, its location within one of the most sophisticated transportation webs in the world – Pearson Airport, the 401, QEW, 403 and 427 highways, numerous intermodal rail networks and GO Train connectivity with plenty of future potential – almost a hundred Fortune 500 companies and valuable land throughout for development and redevelopment, Mississauga is booming.
A new multi-billion dollar LRT up its spine, along Hurontario Street, with construction now started, has already begun to help attract what was estimated a few years ago when the City said $40-$45 billion of construction investment will occur across the municipality out to the year 2031.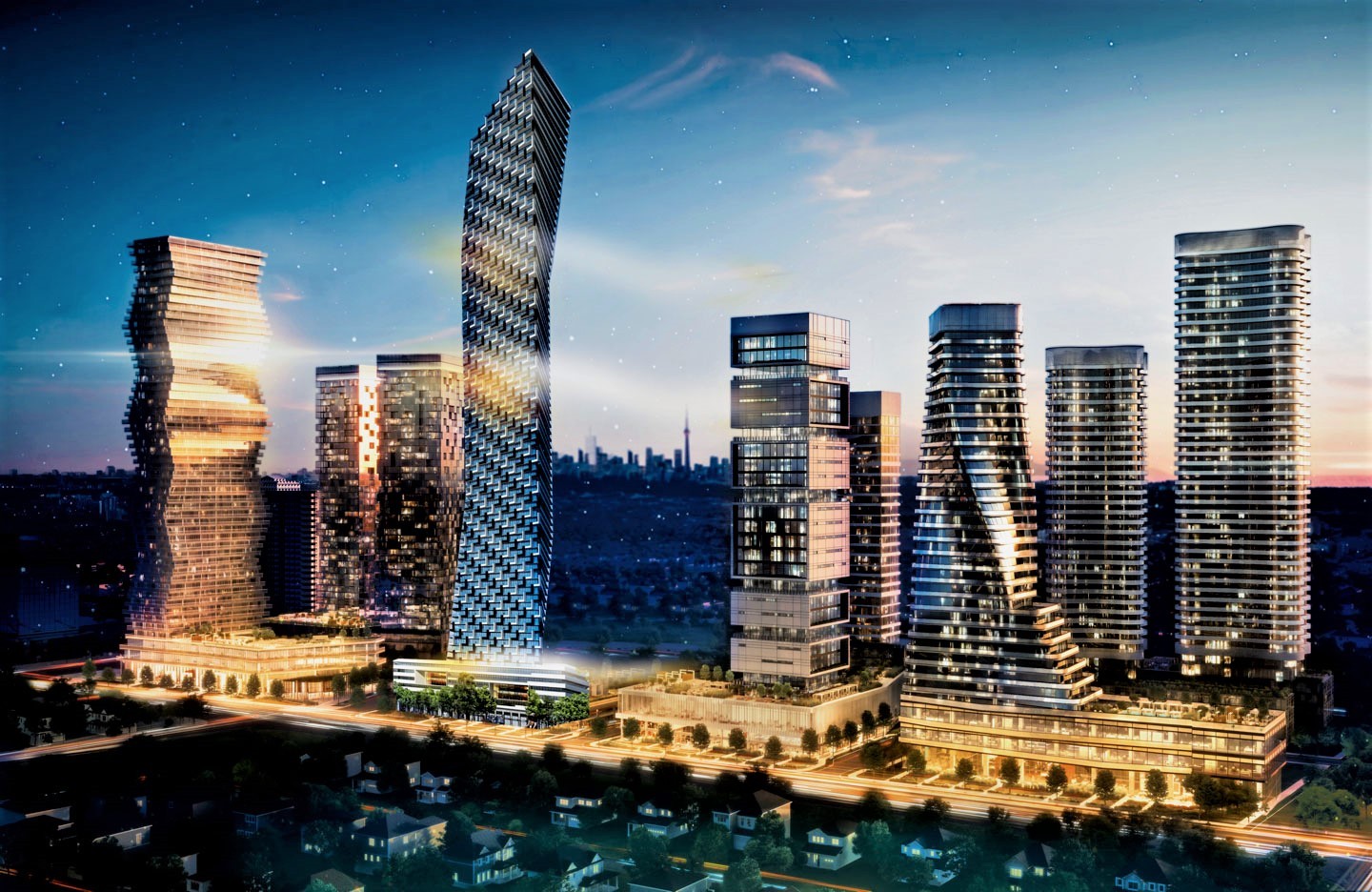 Downtown's M City project is one of many major developments in the city
The average sale price for all home categories in Mississauga in March was $840,726 and units went for 105 percent of the asking price, on average, according to the Toronto Regional Real Estate Board. In March of 2015, the average sale price was $548,816, so in five years the average home price in the city went up 53 percent.
For detached houses, including those in some of the priciest neighbourhoods in Canada, the average sale price in the city in March was more than $1.4 million, while the highest-end prices for houses in the city are now at Beverly Hills levels.
---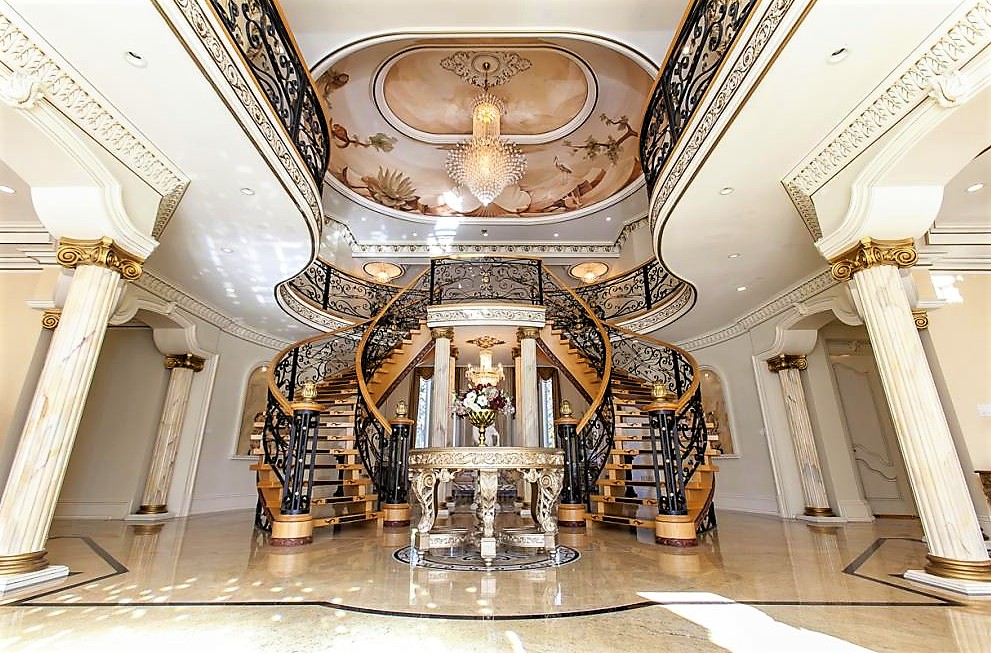 This Mississauga home was recently listed for nearly $12 million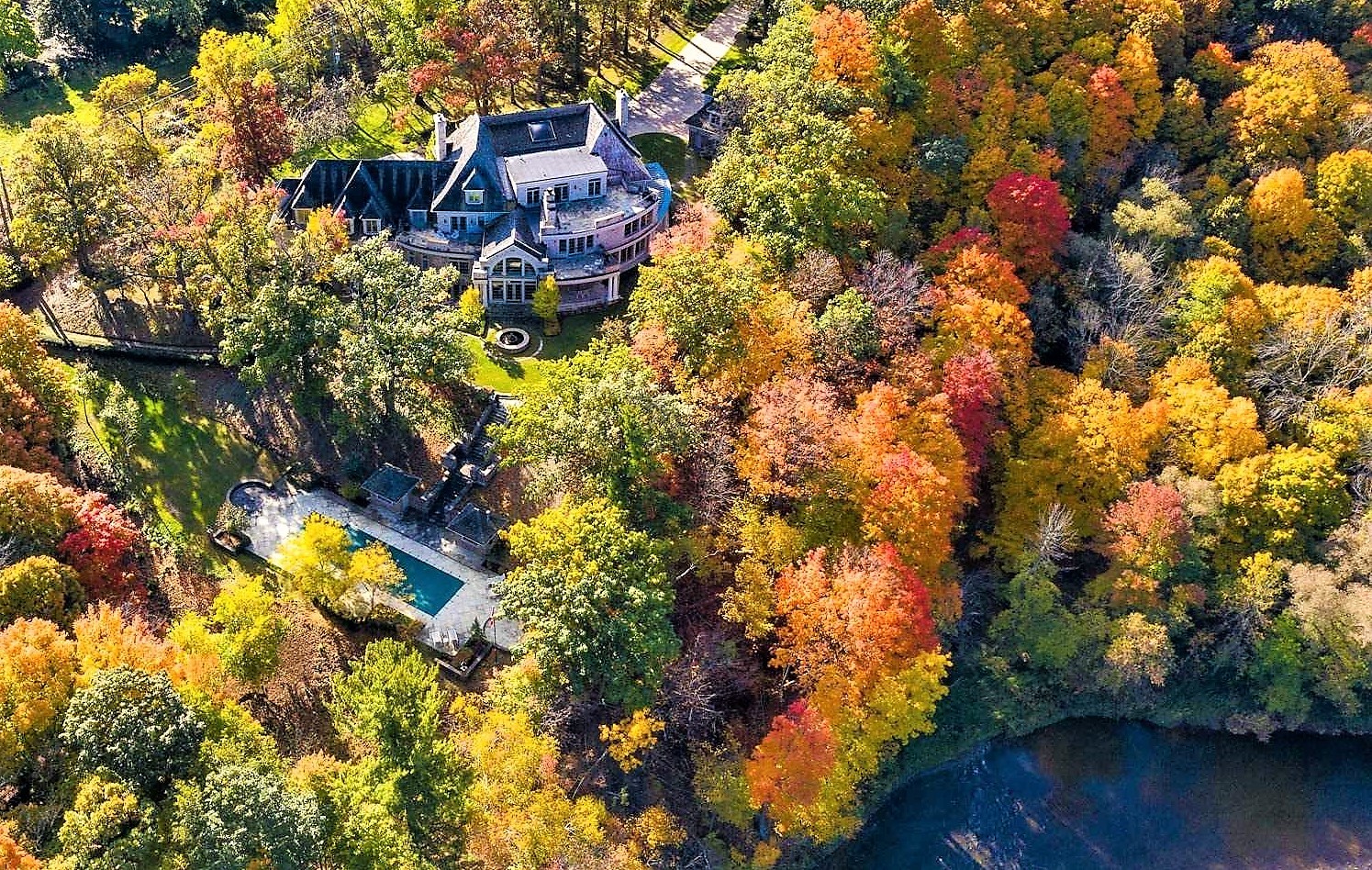 This waterfront estate in the city was recently listed for almost $30 million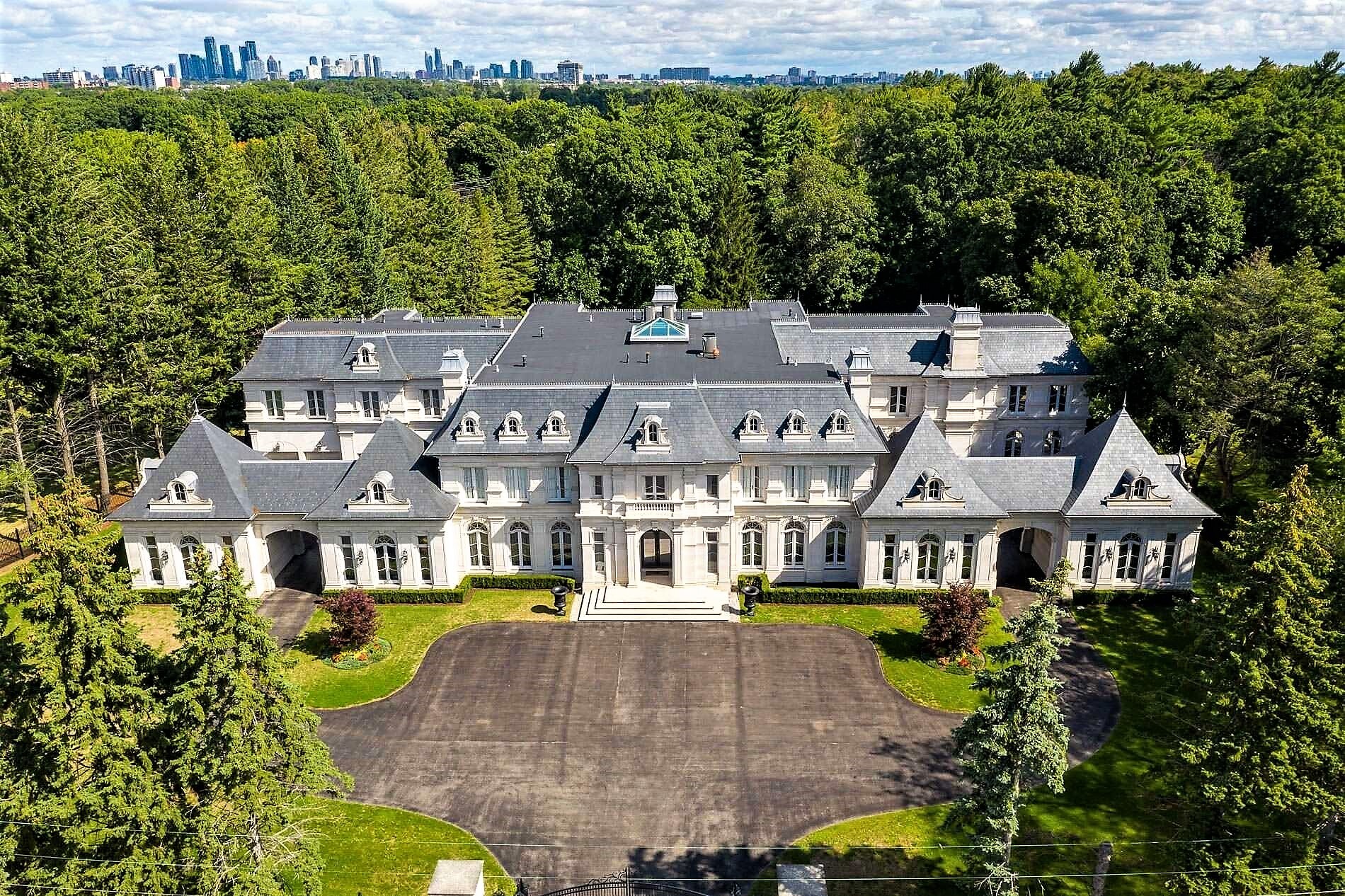 Forget the Bridal Path, this Mississauga mansion was listed for $50 million
---
At the same time, in parallel with the skyrocketing prices in areas like Port Credit's lakefront and Doulton Place, homes in the city's rapidly rising highrises also feature prices that are growing at nearly the same pace. It's all driving the average price of rent in the city upward too.
Every month, the cost of renting or buying in Mississauga ticks up, with a miniscule vacancy rate of 1.2 percent leading to fierce demand for properties and high prices.
In a healthy rental market, the quantity of vacant properties at any given time should be between 3 and 5 percent, putting Mississauga well below the ideal rate.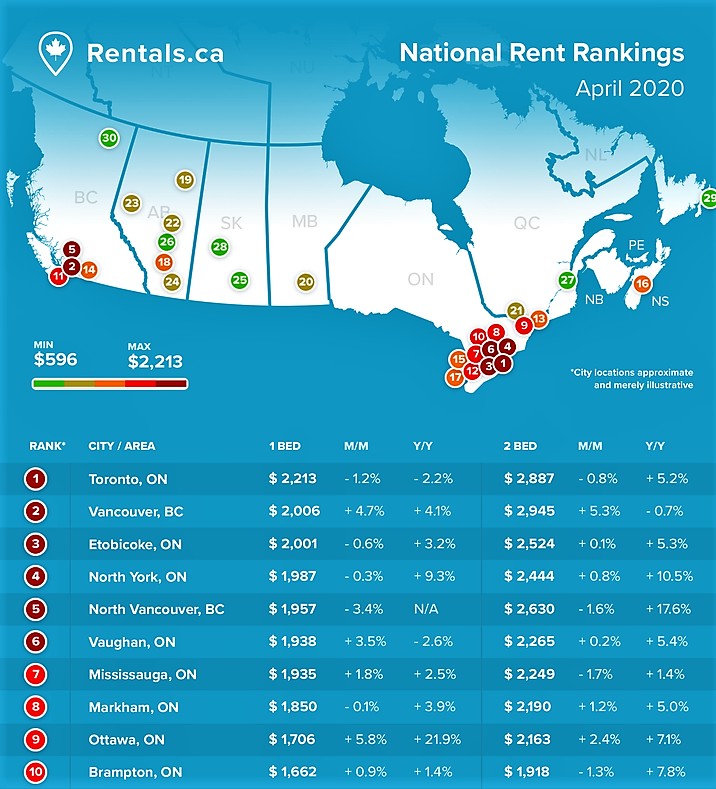 April rental rates for Canadian cities
As a result, the city has seen new units coming online just in time to be snatched up and the process repeated.
Even during the COVID-19 crisis, prices in Mississauga have risen. Despite a 59 percent drop in sales, house prices in the city rose by almost a thousand dollars year-over-year between March 16 and April 15, with the average sale price above the list price, according to data from Zoocasa and the Toronto Regional Real Estate Board.
Mississauga Mayor Bonnie Crombie has been vocal in her belief the solution to the housing crisis in her city is to build more, hoping increased supply will let market forces lower the price. At Queen's Park, Ontario Premier Doug Ford has pursued the same strategy, with provincial policies — criticized by many as a gift to developers — making it cheaper and easier to build.
Crombie has been particularly keen to see approved units in Mississauga get built, with anxious developers sitting on empty lots until they're ready to get to work. "In Mississauga, we have north of 20,000 units approved today, but the land owners have not applied for building permits," she previously told The Pointer. "We have another 35,000 units in the development pipeline right now. All told, in the next year to 18 months, we could have 55,000 units ready to be built in Mississauga. The good news is that vacancy rates for rental units have increased from 0.8 percent to 1.2 percent, the first increase in six years."
In February, Andrew Whittmore, the City's chief planner, told The Pointer the number of approved but unbuilt units was closer to 30,000, meaning 65,000 units could be in a position to come online in the near future.
That was before COVID-19 struck and everything changed.
Initially, all construction was kept on the list of essential services published by the province in mid-March. When asked by reporters, Premier Ford said the need to complete homes for families to move into during the crisis was vital. Choking supply, he said, would just put even more citizens in a precarious position, at the worst possible time. Not only would it drive up prices, he said, it would create a bottleneck at the end of the supply chain that could leave Ontario residents without secured long-term housing in a desperate situation.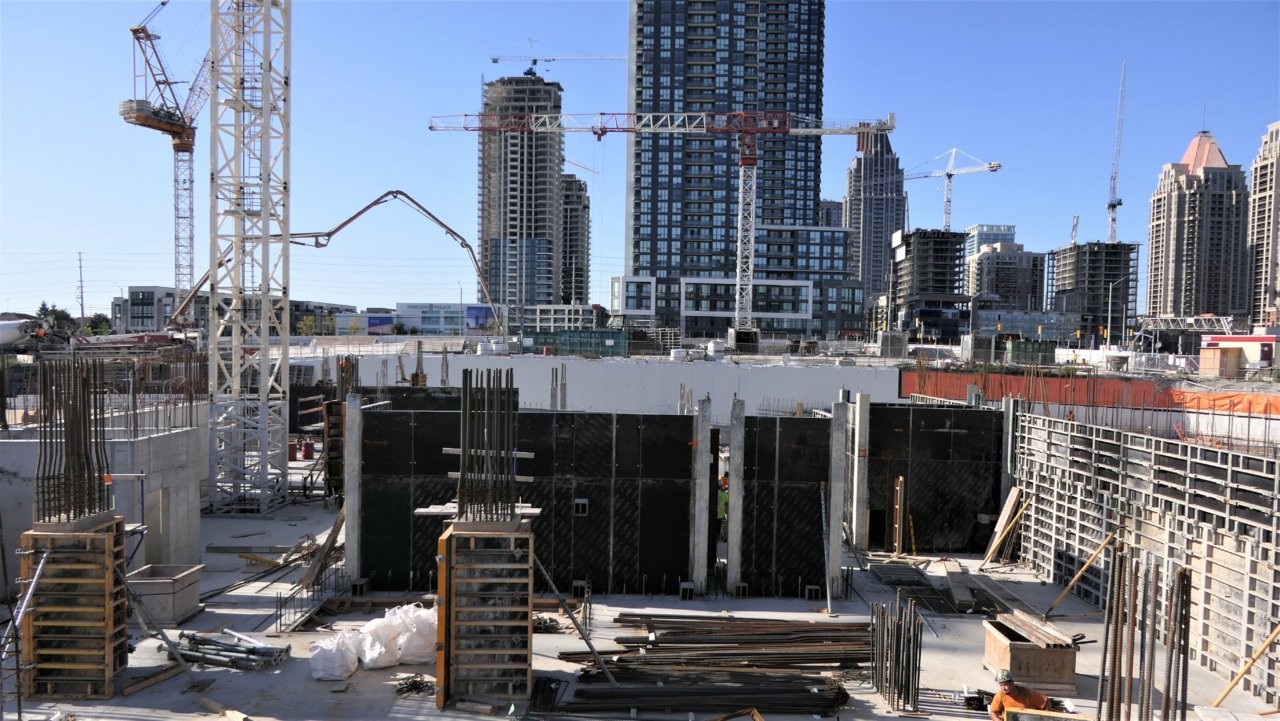 Mississauga's booming residential construction industry could see costs for buyers climb rapidly after the pandemic
One saving grace, preventing further price escalation, has been the refusal of the big banks to lower mortgage rates in line with the Bank of Canada's reductions to the benchmark overnight lending rate. Sitting near the point of free money, the 0.25 percent rate was reached after three cuts in March from the 1.75 percent it sat at before the COVID-19 crisis.
Bank of Canada governor Stephen Poloz has said this is about as low as he can go.
Thankfully, for homebuyers, with the banks choosing not to budge on their most lucrative lending business, mortgages, while instead offering relief on credit card debt and some personal loans, it's actually a blessing for many.
While temporary lower mortgage rates would have provided some short-term savings, those would have been offset by much higher prices to buy homes because of the increased number of buyers, including investors, the low rates would have pushed into the market. And in the long-term it's possible that many early savings would have been wiped out by rate inflation and mortgage terms that allow lenders to recoup money later.
A week after the initial Queen's Park decision to allow construction to continue, relentless scrutiny of site safety and videos showing construction workers failing to practice physical distancing while some companies ignored requirements for proper hygiene facilities, the sector was closed.
On April 3, with the exception of residential projects nearing completion and vital infrastructure projects like healthcare and transit, the plug was pulled.
Now, many of the 65,000 units Crombie and planning staff were eyeing to come online, are forced to the list of stalled projects. Massive developments like Lakeview Community Partners, Brightwater and Oxford Properties are now being pushed further to the back of a growing line.
While the physical building process is on hold, the planning stage that precedes it is going ahead. At the end of March, both Brampton and Mississauga confirmed online planning submissions were still being accepted.
Carley Smith, a City of Mississauga spokesperson, said building permits, site plan applications, Official Plan amendments and rezoning applications would continue. A system of "ePlans" is in place to allow submissions to continue online and be reviewed by staff working from home.
In Mississauga, the Planning and Development Committee (PDC), which works to approve applications, has not met since March. Traditionally the committee, composed of all members of council, considers applications and approves or rejects them, with their decision later ratified in full council meetings.
Instead, the main council agenda for April 22 included items that are often associated with PDC. One item is a rezoning application to reduce parking requirements around Square One Mall, to tie into the Square One District plan by Oxford Properties, the Square One owners, to create 37 towers around the mall, while a second item relates to a 12-storey tower on Glen Erin Drive.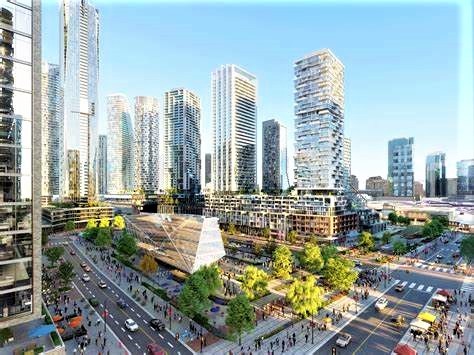 The Oxford Properties' Square One District plan
At Wednesday's council meeting, Whittmore explained reports were going straight to council for projects that had already held public meetings. Early stage plans are afoot to allow public meetings to take place digitally to move other applications forward as well, but Councillor George Carlson, chair of the PDC, said he was "not keen" to hold committee meetings online.
Discussion between staff and councillors imply the simpler planning applications will go straight to council, while larger and more controversial projects will wait until the end of the pandemic when the committee may meet more regularly.
Council voted to pause PDC and bring simpler or nearly completed applications directly to council for approval, with residents submitting comments by email.
Normally, approval from council sets developers on the road to building, but right now that route is blocked. As a result, the residential development industry, worth more than $1 billion in Mississauga in 2019 alone, has an issue. The continued submission (and approval) of development plans during the pandemic combined with a moratorium on construction presents a bottleneck.
As the pandemic continues, more and more development plans will reach a point where they could start construction. As a result, when physical distancing measures are lifted, a building boom could hit the city, increasing demand for scarce resources and labour.
Even before the crisis, construction costs in the GTA were sky-high.
A report by Rider Levett Bucknall, a construction cost management firm, found Toronto's year-over-year construction inflation to be around 10 percent between April 2018 and 2019, which is more than five times the current overall rate of inflation in Ontario. Experts in the industry think it is higher still.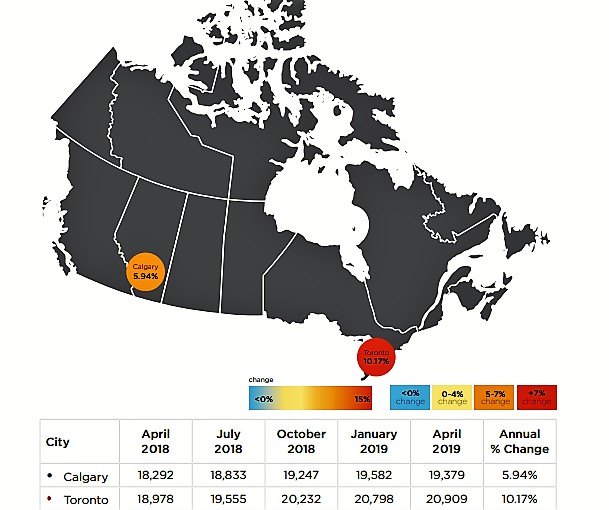 Speaking at an event in Toronto in June 2019, Niall Finnegan, the co-founder of Finnegan Marshall Inc, a development cost consultancy, said highrise construction costs had increased more than 30 percent since 2016. At the same event, Phil Pavitt, director of BTY Group which performs risk management assessments, said the rising cost of concrete was one of the key reasons for the ever-increasing prices.
Research completed by Paul Emrath, Vice President for Survey and Housing Policy Research at the National Association of Home Builders, shows the cost of labour and material are between 50 and 60 percent of the overall cost of a new home.
In a post COVID-19 world, the basic laws of demand and supply suggest these high prices will increase again. The near-shutdown of most world economies will likely lead to delays in importing building materials, while increased sanitary requirements for important and export companies could also delay materials. The higher cost of moving building supplies combined with a lower supply, will naturally increase competition and the price. And despite the cratering price for a barrel of oil, consumers and businesses are not seeing nearly the same rate of savings because of all the other built costs in the supply of oil to end users.
In Mississauga, as the variety of development projects that are past the planning stage ready for construction are released, there will also be competition for labour. The construction industry is complicated, employing people who range from carpenters to elevator mechanics, most of whom have extensive training and apprenticeships they must compete. When a variety of development projects are released all at once, the sudden demand for construction labour will represent several months of missed work and could see those representing workers negotiate higher rates to reflect their increased value to developers.
No one yet knows what the COVID-19 impact on anything will be. Cities are scrambling to project and budget for losses, while major multinational companies are counting pennies to see if they will survive.
How the resale real estate market, currently frozen, will impact this dynamic is as yet unclear.
For example, a major driver for housing demand in Mississauga is immigration. So far it is unclear if the Liberal Party in Ottawa will still aim to hit its immigration target for 2020 or if it will be temporarily reduced. If it is kept as it is, around 341,000, that will represent a major pressure on housing in Mississauga, a key destination for new arrivals to Canada. If other provinces don't recover as quickly, and if Alberta continues to hemorrhage jobs, the GTA, with all its opportunities as the engine of the nation, will likely attract even more newcomers from other parts of the country.
If new arrivals remain steady or even increase, while new housing units face delays and the cost of construction rises, the price of housing in Mississauga could feasibly climb even faster than it has, after COVID-19.
The longer the pandemic continues, the greater the building bottleneck in Mississauga will become.
---
Email: [email protected]
Twitter: @isaaccallan
Tel: 647 561-4879
---
COVID-19 is impacting all Canadians. At a time when vital public information is needed by everyone, The Pointer has taken down our paywall on all stories relating to the pandemic to ensure every resident of Brampton and Mississauga has access to the facts. For those who are able, we encourage you to consider a subscription. This will help us report on important public interest issues the community needs to know about now more than ever. You can register for a 30-day free trial HERE. Thereafter, The Pointer will charge $10 a month and you can cancel any time right on the website. Thank you.
Submit a correction about this story