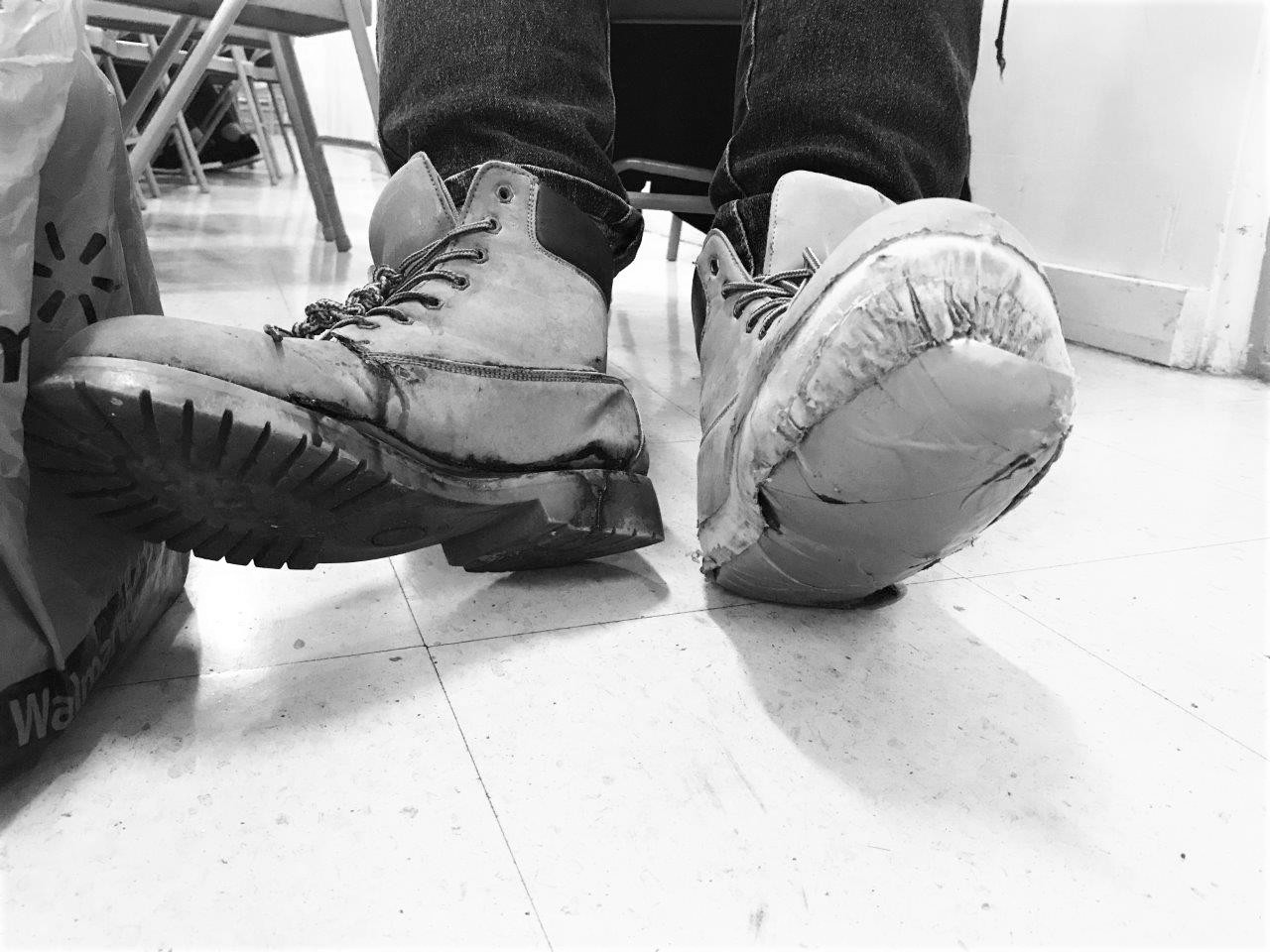 Photos Anglican Diocese of Toronto/Regeneration/Knights Table/Flickr
Homeless at risk of COVID-19 as cases in the larger population peak
COVID-19 thrives on close proximity. Because of this we are seeing the spread of novel coronavirus slowing in the general community as residents continue to practice physical distancing. In settings where people are unable to avoid one another, we are seeing the opposite.
Long-term care centres, retirement homes, correctional facilities and homeless shelters have all been pulled into the spotlight as hot-spots of COVID-19 spread.
Now, add drop-in centres to the list. This includes Regeneration Outreach Community, a Brampton-based organization located on Main Street, just north of the downtown core. The organization offers multiple in-house programs, including daily breakfasts, social integration programs, spiritual connection and services through a medical clinic. The majority of these programs came to a screeching halt on March 16, a day before the province declared a state of emergency.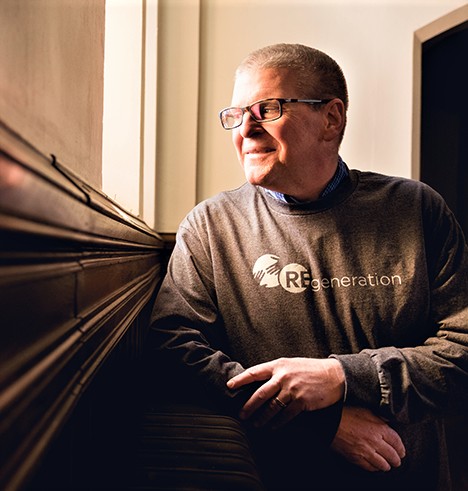 Despite challenges, Ted Brown and his team at Regeneration are still offering services to the homeless
The organization has been able to continue to offer laundry and shower services to those who need it – with financial help coming from the Region of Peel. With the Region's assistance, the organization was able to set up a drop-in centre equipped with cots, tables, and an internet connection so people can continue to rest and navigate the system.
Plastic shielding is set up between elements of the room to allow people to speak to one another and complete activities while also maintaining the rules of physical distancing. Up to 15 people can be served at a time at the drop-in centre. It's a lifeline that has been met with open arms in the community.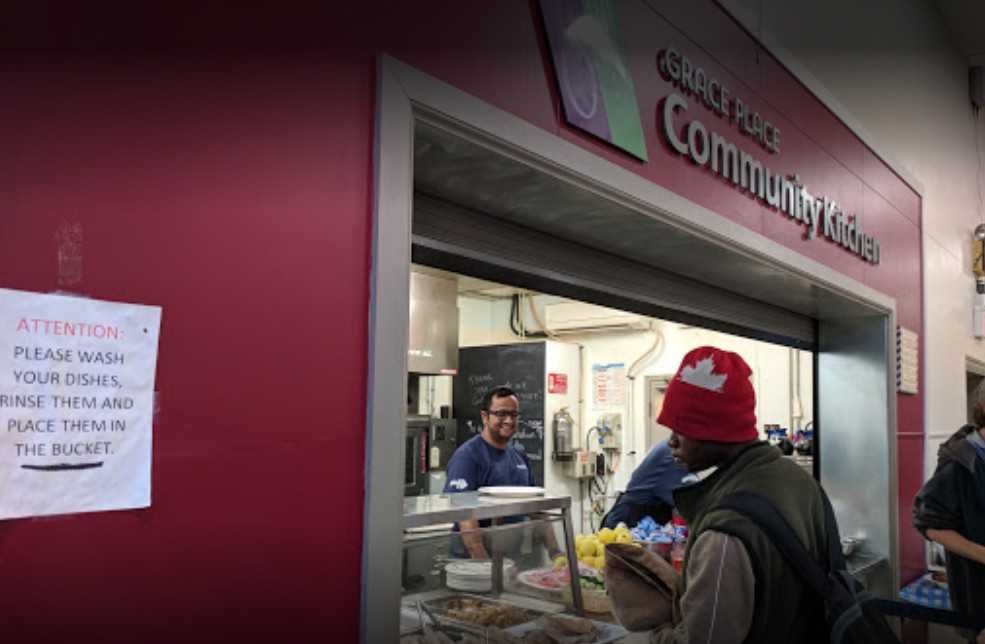 A pre-COVID photo shows people dropping in for a meal at Regeneration's community kitchen, which is not operating during the pandemic
"One of the quotes when we opened up the drop-in was, 'I'm so glad that I have somewhere warm to come.' That was during the first couple of days of the clinic," Ted Brown, the chief executive officer of Regeneration and an ordained pentacostal minister, told The Pointer. Ninety-five percent of the people who visit the centre and sleep on a cot, are guests experiencing homelessness, Brown said.
When guests come to the drop-in centre, a pre-screening is implemented where they are asked about any existing symptoms of COVID-19 or any recent travel. This is done alongside a temperature check. Anyone with symptoms or a fever is referred to the COVID-19 testing clinic set up at the nearby Peel Memorial Health Integration Centre.
At Peel's Knights Table, located near the corner of Glidden Road and Kennedy Road, the community organization which normally serves almost 80,000 meals annually, is currently unable to offer its in-house services because of the pandemic. But it is offering a daily food take-out service to continue serving the homeless population and others experiencing food insecurity.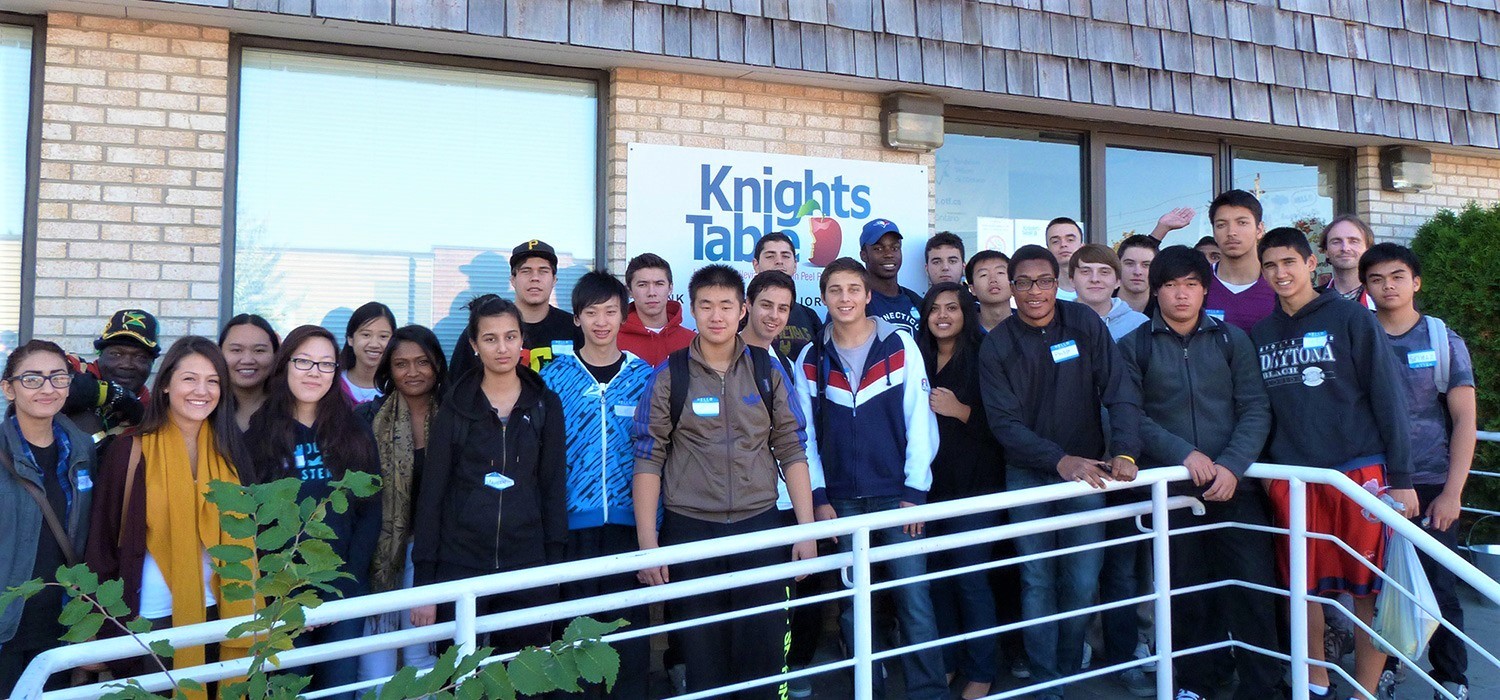 An pre-COVID photo shows students who often volunteer at Knights Table, which is only offering grab and go meals during the pandemic
Its "grab & go" format is still serving breakfast, lunch and dinner from 8 a.m. to 6 p.m. everyday.
"The 6 feet social distance protocol from person to person will be enforced along with other preventative best practices to allow for safe distribution of hampers," the organization states on its website. "New intakes will be limited to support emergency food needs only until normalcy is restored."
While Knights Table has had to close down its facility to large gatherings, other congregate settings that can't do so are being severely impacted by COVID-19.
This includes long-term care and retirement homes in Peel Region, with 18 of them experiencing an outbreak, as of April 21. The rapid spread of cases illustrates the vulnerability of people who reside in these homes, given many have weakened immune systems and could be living in a room with multiple residents.
Similar circumstances were seen during a recent outbreak at the Ontario Correctional Institute in Brampton.
Last week, it was confirmed that three guards at the facility tested positive for the novel coronavirus. On Monday, the Solicitor General's office confirmed that eight staff members and 60 inmates from OCI tested positive for the virus. Both of these examples illustrate how fast it can spread when it enters these facilities.
Another type of congregate setting at risk is homeless shelters, which share many common characteristics with long-term care facilities and correctional facilities; the populations are vulnerable and people live and meet in close proximity.
According to a March 30 press release from the Region, several steps were being taken to protect these facilities, including additional cleaning protocols and screening programs. The region is providing personal protective equipment to staff and guests and screening those living on the streets through an outreach program. Approximately 4,000 people used regionally-owned shelters between July of 2018 and June 30, 2019, and there were almost 16,000 shelter visits in 2018, the most recent year for which data is available.
Facilities in the Region have also received a plan outlining how cases of COVID-19 should be handled. For example, the plan for Peel Youth Village, an organization that helps teens, implements daily health checks on all residents at the facility. It's not clear what procedures (such as physical testing or screening questions) are included in the daily testing. This may be a problem if the individual is asymptomatic (showing no symptoms but is actually infected) and shows negative under pre-screening measures. Impacted individuals may not know they have the virus given symptoms can take up to 14 days to present.
Also included in each individual plan is a survey that asks the facility to fill in information pertaining to a given day. Questions include the number of residents in isolation at the facility and number of rooms occupied and available. These forms also include information pertaining to those living in overflow facilities such as hotels, which is common in Peel because of the chronically over-stretched shelter system. In 2019, demand for shelter space in Peel was so high that the Region had to spend $1.8 million more than it had budgeted for overflow capacity in hotels or motels. The total expenditure of about $2.55 million was well above the $750,000 that had been allotted.
Some cities across North America have set up temporary shelters to house the homeless
It illustrates the problem of trying to contain any potential spread of the virus among homeless populations that are vulnerable because of commonly reduced immunity due to poor health and diet, and the lack of accommodation to get regular rest.
When these individuals are spread out in overflow settings it makes monitoring the situation more challenging.
After The Pointer sent a number of questions to the Region, a March 23 press release states about half of the Region's homeless population is currently residing in hotels.
Responding directly to The Pointer's questions, it was learned Friday that 32 shelter clients are currently in the Region's isolation program to mitigate potential spread, David Hodkin, a spokesperson for Peel Region, said. He also said three confirmed cases of the virus have been reported in the shelter population, along with one death.
Instructions for staff to follow in multiple situations include contact with a resident who has active symptoms of COVID-19. These residents should be given a private room within the shelter. It raises the question if this is possible in all shelters, given the lack of space and rapid increase in demand shelters have faced over the last few years.
To address this, the Region of Peel has received almost $12 million from federal and provincial programs targeting issues of housing and homelssness during COVID-19, including $5.8 million from the Reaching Home program, which focuses on initiatives serving the homeless. While specific allocation of these funds has not yet been decided on, this money can be used to provide temporary housing, expand shelter services and renovate existing shelters to make them compliant under physical distancing guidelines, according to a report from the Region.
The Region set up its isolation program on March 21, providing space for clients who are being tested for the virus but don't have a safe space to self-isolate. The program can accommodate 40 people at this time. According to information from the Canadain Observatory on Homelessness, a research institute focusing on homlessness in Canada, 922 people in Peel Region experienced homelssness in 2018, 94 percent of these individuals were living in a space that likely makes it hard to implement physical distancing measures, including public spaces and staying with others in various private settings.
According to research, there are additional issues the homeless population will face during the pandemic that won't commonly impact the general population. These include the transient nature of homeless individuals, which makes it difficult to track, isolate and prevent transmission, according to the research paper COVID-19: a potential public health problem for homeless populations, published in the weekly medical journal The Lancet.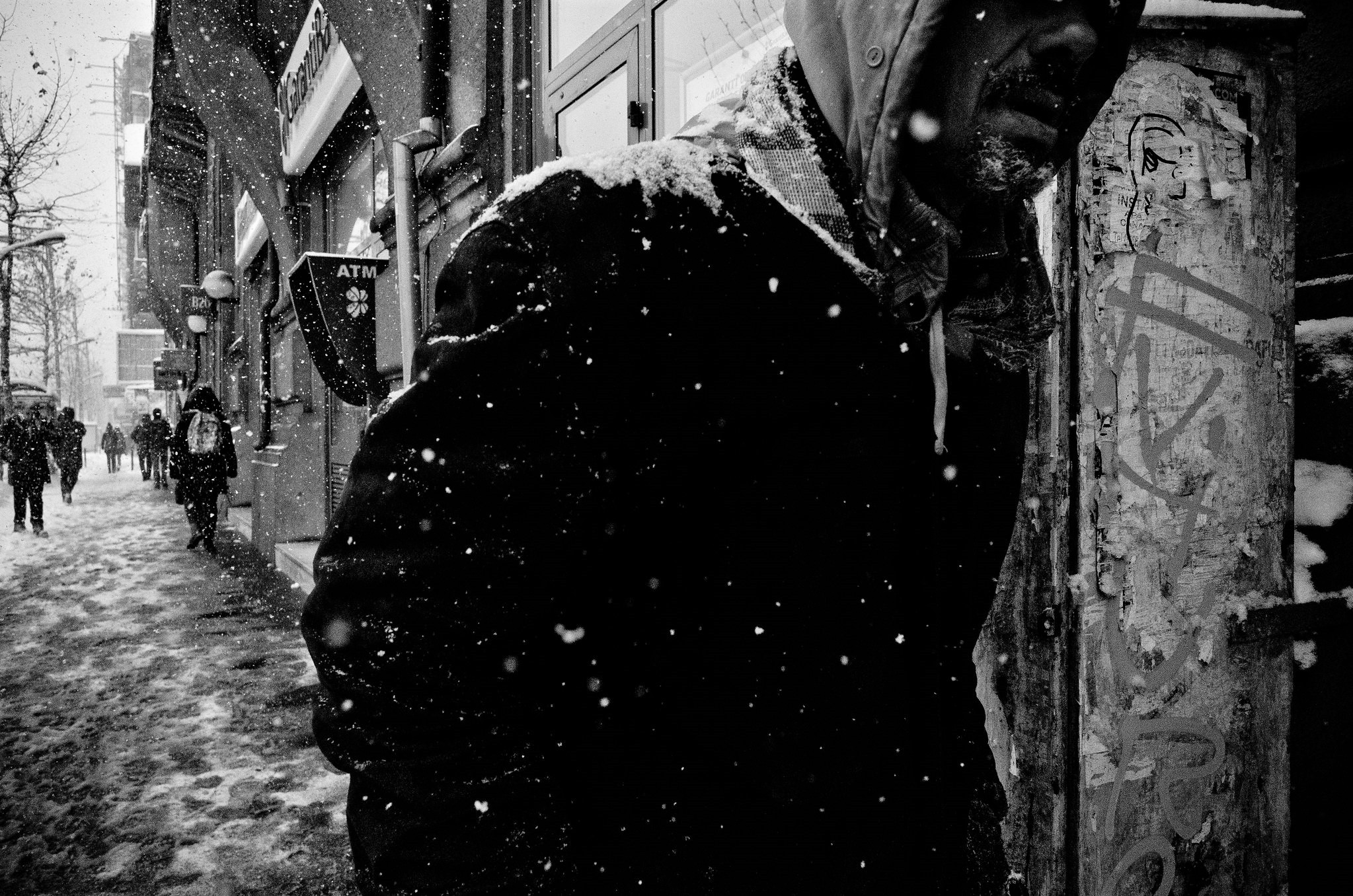 The transient reality facing many homeless individuals makes it difficult to identify the virus in these populations, do screening and track possible spread
Another factor revolves around the idea of a complete lockdown. While this is something Ontario has not implemented, that's not the case in other parts of the world. The research paper states homeless individuals will be largely impacted by this as public places are closed and movement outside of one's home is often forbidden.
"People experiencing homelessness are a vulnerable group, and their potential exposure to COVID-19 might negatively affect their ability to be housed, and their mental and physical health," the research states.
Ontario seems to be moving toward a flattening out of COVID-19 cases, according to the latest modelling released by Queen's Park at the beginning of the week.
But our most vulnerable populations continue to be a concern, as the virus threatens to keep spreading rapidly where preventative measures are most difficult and in situations where people are most at risk.
---
Email: [email protected]
Twitter: @nida_zafar
Tel: 416-890-7643
---
COVID-19 is impacting all Canadians. At a time when vital public information is needed by everyone, The Pointer has taken down our paywall on all stories relating to the pandemic to ensure every resident of Brampton and Mississauga has access to the facts. For those who are able, we encourage you to consider a subscription. This will help us report on important public interest issues the community needs to know about now more than ever. You can register for a 30-day free trial HERE. Thereafter, The Pointer will charge $10 a month and you can cancel any time right on the website. Thank you.
Submit a correction about this story