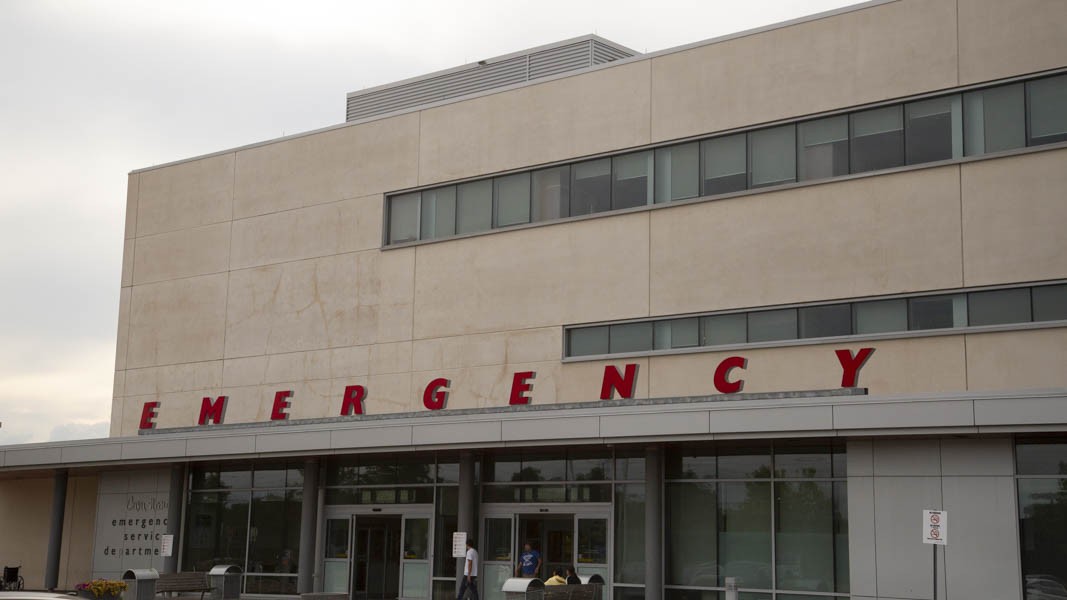 Photos from The Pointer file/Region of Peel/William Osler/Graphics from the Government of Ontario
Peel hospital outbreak information inconsistent; long-term care homes quiet on details
At the beginning of April Premier Doug Ford made clear the need to keep all residents of Ontario informed during the ongoing COVID-19 pandemic.
Without detailed information and all the data available, members of the public can't keep themselves safe and will not buy-in to social distancing directives, the key to fighting the virus.
"We need to listen. We need to listen to what the data tells us," Ford said during a Friday afternoon press conference, after alarming projections were revealed showing the possible impact of the virus across Ontario, if everyone didn't do their part.
"You deserve to see the same data that I see. You deserve to know what I know," he exclaimed.
Since then, Ford has delivered much better news. On Monday, the latest projections showed a possible flattening of the curve in Ontario.
But there was a warning. If we let down our collective guard, the virus will make a resurgence. Another piece of troubling news: outbreaks in long-term care facilities and other healthcare settings are still a major problem, and the death toll has rapidly increased because of these infection clusters.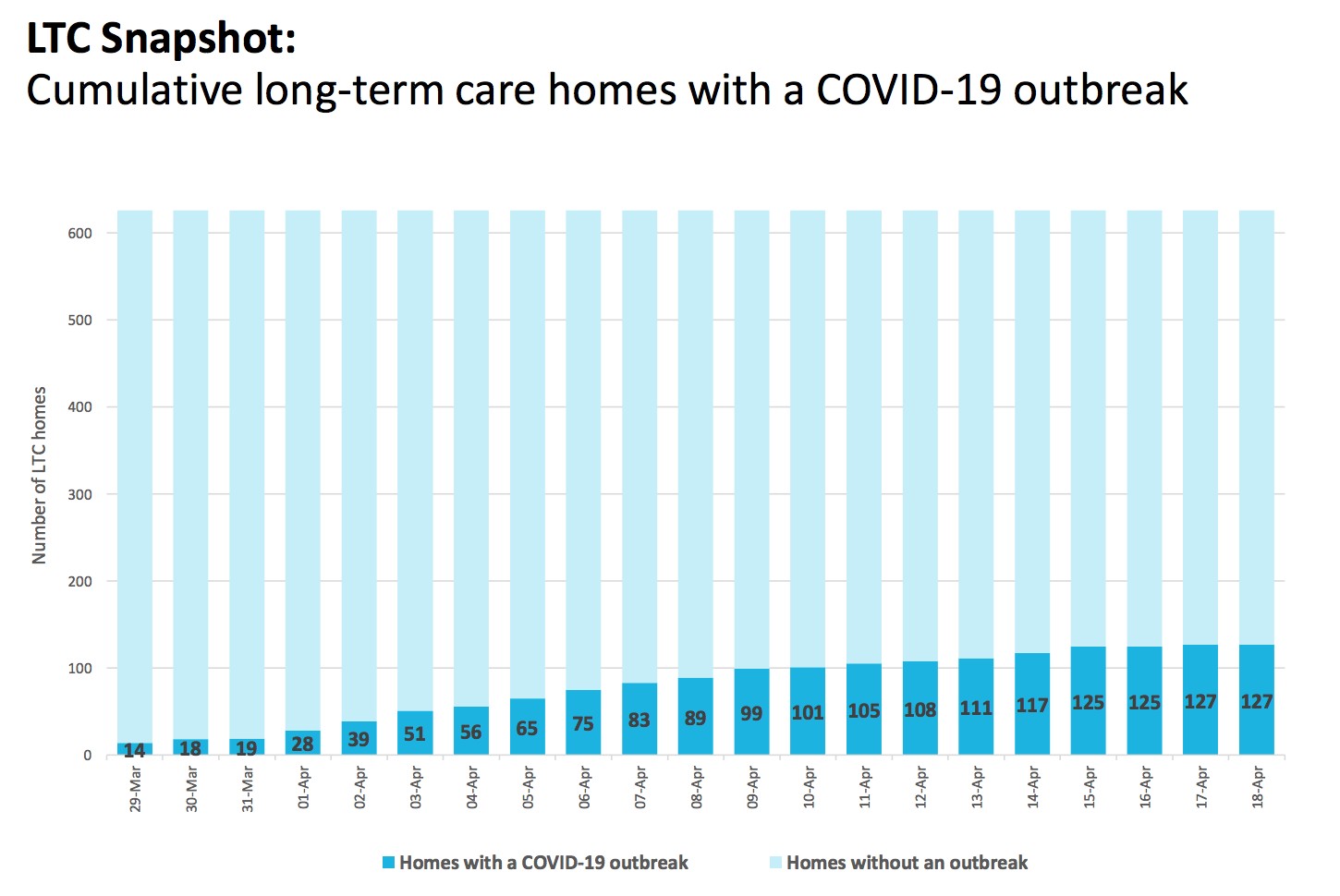 COVID-19 has quickly spread through Ontario's long-term care homes.
COVID-19 has brought about the strange union of medicine and politics.
Many in the public are asking questions to help us understand the details of epidemiology, and why these outbreaks are ripping through facilities.
As COVID-19 has battered Ontario's long-term care homes, the term has taken on an increasingly dire connotation in the news.
Data released by the Government of Ontario Monday showed a total of 127 outbreaks in long term care settings across the province, with 1,533 cases among residents and 367 deaths. Locally, the Region of Peel is reporting 21 COVID-19 or other "pending" infection (these could be COVID-19) outbreaks at 20 facilities, predominantly in long term care spaces, and also in both of Mississauga's hospitals. An outbreak at Brampton Civic Hospital was declared over on April 15.
There is often a lack of awareness of these outbreaks and little communication to the public. The rules around the process appear vague. Hospitals and long-term care homes in Peel do not seem to be following a uniform approach, leading to confusion and concern for residents.
For example, William Osler Health System, which runs Peel Memorial, Brampton Civic and Etobioke General, experienced an outbreak of COVID-19 at Civic that was declared on April 10.
The Pointer did not receive a release and most local media outlets did not report the outbreak. Only a vague statement in a sub-portal on Osler's website was released on a Friday afternoon.
That statement is still hosted on a page that can be navigated to on Osler's website. It still makes no mention of Civic Hospital and does not state how many staff tested positive. It states the outbreak happened in a renal program run by Osler at all three of its facilities and that a "number" of staff tested positive.
The Pointer learned from questions sent to Osler, that the outbreak involved 10 staff across Osler's three facilities who worked in a Renal Program.
Though the initial statement by Osler said, "All staff members work in the renal program across all three Osler sites," only Civic was named on Peel Public Health's official outbreak listing. It's possible that Peel Memorial was not impacted or any possible exposure there did not meet the threshold for an outbreak declaration, but Osler provided no explanation.
Few details were available before it was declared over on April 15.
It's also unclear why Trillium Health Partners, which runs both Mississauga hospitals, experienced outbreaks before the one listed at Civic on April 10, but while the Civic outbreak ended only five days later, one of the Trillium outbreaks, at Mississauga Hospital, is still ongoing and one, at Credit Valley Hospital, was still listed as active on the Peel Public Health list as of Sunday (Trillium has told The Pointer it is now over).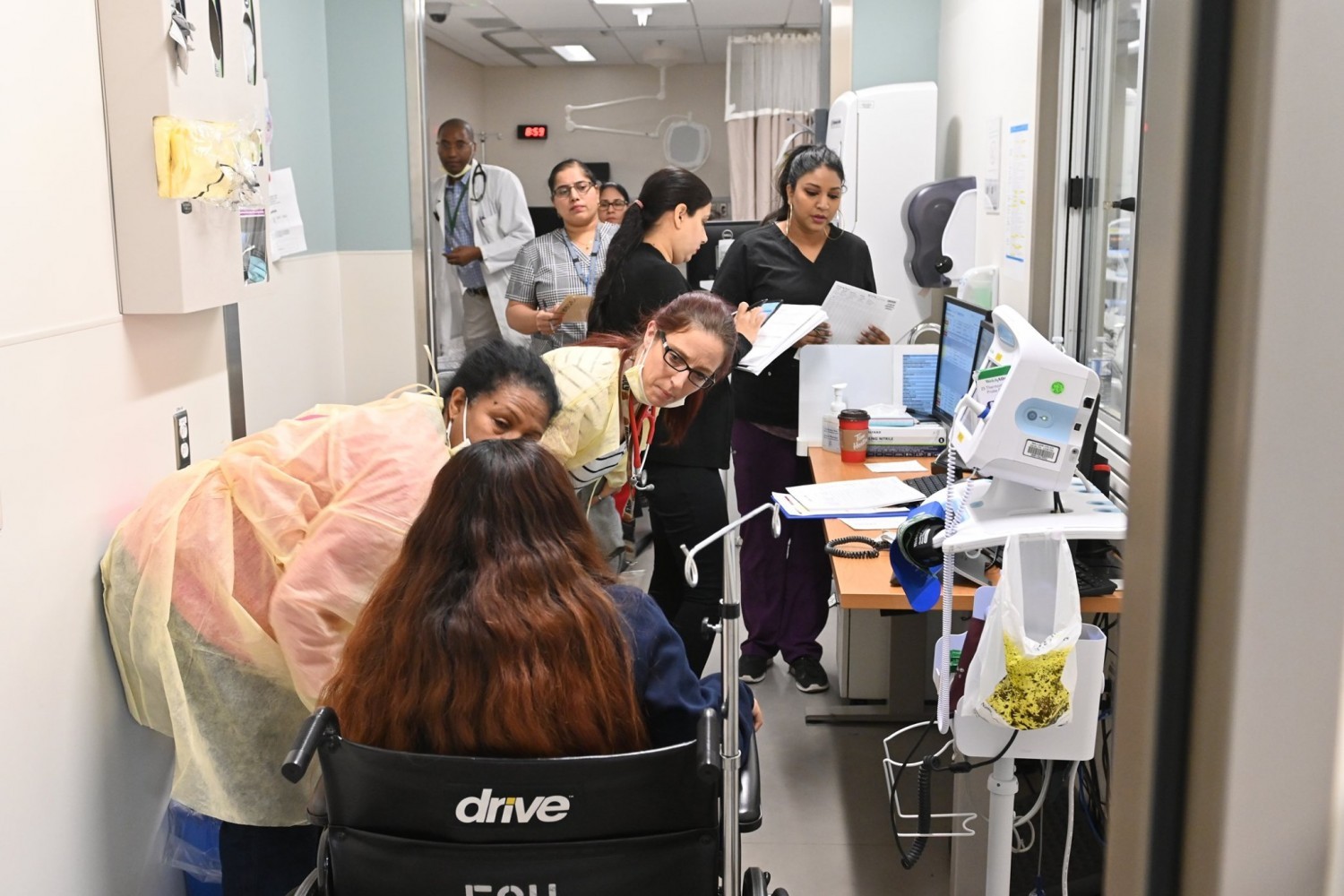 Information surrounding COVID-19 outbreaks in local hospitals has been inconsistent.
The outbreak at Credit Valley Hospital in Mississauga was declared March 27, according to Peel Public Health (Trillium provided a later date for the outbreak to The Pointer).
The on-site meeting of Osler's renal program staff, when the infection was spread, according to what a spokesperson told The Pointer, occurred March 24 and 25, ending three days prior to a provincial directive preventing gatherings of more than five people.
The first employee, who attended the meeting where the spread is believed to have occurred, tested positive March 30, according to Osler, and the original infection was believed to have occurred from the community, not through work.
This means nine subsequent positive tests of staff, triggering the public health outbreak declaration, occurred between March 30 and April 10. Osler told The Pointer that two of these employees tested positive April 3 "likely after eating lunch together in close proximity", but it's not clear when they had lunch or where and how they were linked to the meetings on March 24 and 25. They might have attended or it's possible they were exposed to staff who attended.
By Osler's own definition, an outbreak is only over after 14 consecutive days where no new patients or staff connected to the original outbreak test positive for the novel coronavirus.
Again, it's unclear how the outbreak was declared over on April 15, if staff possibly tested positive as recently as April 9 or 10, and two were known to have tested positive April 3, meaning at the earliest the outbreak should not have been declared over until April 17, not the 15th.
It also remains unclear, given Osler's own 14-day rule, how the outbreak was over only five days after it was declared.
It's possible that no new positive tests have occurred within 14 days of the March 24-25 meeting, and this is the criteria Osler is using, but only vague clarification has been provided.
It's unclear if the 14-day protocol applies to the last positive test originating from the initial spread, or if it applies to the event where the first infection took place.
"The Renal Program staff who tested positive for COVID-19 were required to stay home from the onset of their symptoms starting March 30 and as a result, the outbreak was declared over on April 15," Donna Harris, a member of Osler's communications team, explained. "The outbreak was declared on April 10, because of a recent change to COVID-19 outbreak definitions for local acute care facilities."
It's unclear why the point of symptom-onset was used to determine when and which staff had to stay home, given research from around the world has shown the novel coronavirus spreads even when carriers don't show any symptoms and have no idea they are actually contagious. It's unclear if all employees who attended the initial staff meeting were directed to stay home and isolate, as they might not ever develop symptoms but could have contracted the virus and become contagious.
It is not clear when the two staff who tested positive April 3 after eating lunch in close proximity contracted the virus and whether or not they should have been at home when they were infected.
It's also unclear who does the work to determine when it's safe to declare an outbreak over, Osler or Peel Public Health and whose policies determine such a decision.
Trillium Health Partners (THP) which runs Credit Valley and Mississauga Hospital appears to have been proactive in declaring its outbreaks.
Victoria Bettencourt, a spokesperson for THP, said an outbreak is declared when two or more patients test positive for a respiratory illness acquired in the hospital within 24 hours. In order to respond to the COVID-19 pandemic, these guidelines have been modified to include two or more staff and/or patients within "a five day period where there is a reasonable epidemiological link between the cases."
So far, according to data Bettencourt provided, there have been five outbreaks at THP facilities, with one resolved. Two outbreaks took place at Credit Valley Hospital, with one (now over) declared on March 31 and the second on April 14. Three were at Mississauga Hospital on April 9, 11 and 12.
Unit 1D Rehab at Credit Valley Hospital, 4 patients on March 31 (declared over April 14)

Unit 4B Medicine at Mississauga Hospital, 7 staff on April 9

Unit 3A Medicine at Mississauga Hospital, 3 staff and 1 patient on April 11

Unit 2D Mental Health at Credit Valley Hospital, 2 patients on April 12

Unit 1B at Credit Valley Hospital, 2 staff and 2 patients on April 14
Note: Outbreak numbers above are accurate to the day they were declared and do not necessarily reflect current test results.
Peel Public Health does not list all five outbreaks at the two Mississauga hospitals on its website, instead including only one outbreak at THP's Mississauga Hospital on April 9 and one at Credit Valley on March 27. Both are listed as active outbreaks as of April 19 at 4 p.m. The Region of Peel did not respond to questions in time for publication, and THP directed queries to the region.
Long-term care and retirement home facilities in Peel do not seem to follow any coordinated, policy-driven approach, a situation that puts stress on already worried families desperate for information on their loved ones.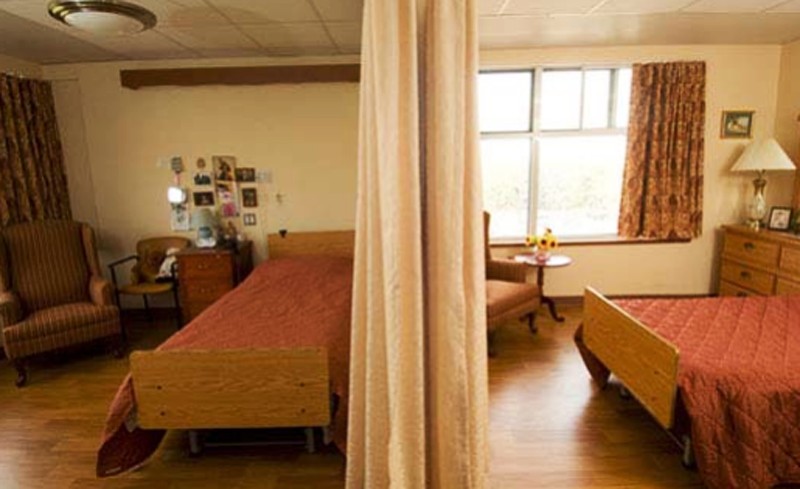 COVID-19 outbreaks are particularly hard to contain within long-term care facilities due to many residents living in close quarters.
On April 15, the Region of Peel listed an outbreak of COVID-19 at Sunrise retirement home on Burnhamthorpe Road in Mississauga. Five days later, there is no information highlighted clearly on the company's website to inform residents, families or the public of how the situation is developing. On the same day the outbreak was declared, Sue Coppola, part of the company's North American leadership team, posted an update on its website, the most recent information available.
The post makes no mention of the outbreak.
Nicole Vasile, a spokesperson for the company, told The Pointer it takes their communication cues from Peel Public Health. "Regarding cases, we defer to the local health department to share what they deem necessary," she said.
In a pre-written statement, April Johnson, Regional Vice President of Operations for Sunrise Senior Living, said families had been contacted. "Immediately upon learning of a positive case, we contact all residents and families via phone and follow up with a letter to confirm," she said. "We then provide regular updates, via phone and email, sharing information on our infection control efforts. We have also made additional tablets available so residents can easily connect with their families through FaceTime/Skype sessions."
More than a dozen other retirement homes and long-term care facilities in Peel also have outbreaks of COVID-19. Bramalea Retirement Residence in Brampton declared an outbreak on April 17 and Regency Retirement Residence in Mississauga declared one on April 16. The two facilities were the most recent additions to the outbreak list maintained by Peel Public Health.
On Monday afternoon, despite the outbreaks being declared several days before, Greenwood Retirement Communities, the company that owns the Bramalea facility, had not shared information publicly. Neither the company's website nor its Facebook page contained information to update the public or concerned relatives. As of Monday afternoon, its website stated, "Current Status: No confirmed cases of COVID-19 in any Greenwood homes."
On Monday evening, after The Pointer published a story detailing the lack of information, the website was updated to reflect the outbreak, stating two residents tested positive. A spokesperson told The Pointer the delay in updating was to allow staff to contact families first.
Chartwell Retirement Residences, which runs the Regency facility, lists 21 outbreaks on its website at its facilities across Canada, mostly in Ontario, but provides no further detail.
Sharon Ranalli, vice president of communications for Chartwell, told The Pointer Regency Retirement Residence has one COVID-19 positive staff member, while Villa Forum, also in Mississauga (declared on March 30) has 28 infected residents and 10 staff.
"We appreciate the media helping us share the message that we remain vigilant in our efforts to manage these outbreaks and thank our staff, residents and family members for their compliance and support of our efforts," she said. "We continue to follow infection control protocols, resident monitoring including temperature and respiratory checks, active screening of staff, isolation strategies and the use of PPE in addition to all recommendations of the Chief Medical Officer and Public Health. Our website is updated as required to reflect declared outbreaks."
The rapid onslaught of the COVID-19 pandemic caught many flat footed around the world. Policy in Ontario and further afield has been created on the fly to respond to fluidly changing realities.
The inconsistent approach to outbreak policy leaves big decisions in the hands of private companies or organizations that also have to consider their economic livelihood.
So far, THP seems to be favouring a relatively transparent policy, declaring more outbreaks than even Peel Public Health has been able to list. Osler did not publicly share details such as the number of staff that had been infected and which specific hospitals had to declare an outbreak. It's also unclear how they declared it over five days later.
For the public and family members, detailed and timely information is crucial, as the tragedy at Grace Manor in Brampton illustrates.
The facility reported its first case of COVID-19 on April 7, a day after the outbreak was officially declared, with the company's CEO Ken Rawlins promising "swift action" to halt the spread of the disease.
By April 13, less than a week later, 17 residents were impacted and five staff. Three days ago, the numbers had swelled to 42 residents and 15 staff.
The company has now advised families to prepare for the worst.
"We understand that this is a very difficult thing to think about, but at this time we would encourage all families and residents to consider choosing a funeral home and sharing this information with the nurse on your unit," a notice from the company on its website reads. "Preparing this ahead of time will decrease the pressure to make this decision at the time of a resident's passing."
Grace Manor has told families it does not have enough staff to move infected residents into an isolated environment and that maintaining basic supplies and finding adequate space "would also be a challenge due to the large number of positive residents at this time."
With the outbreak now a full-blown crisis, Grace Manor is offering maximum transparency.
---
Email: [email protected]
Twitter: @isaaccallan
Tel: 647-561-4879
---
COVID-19 is impacting all Canadians. At a time when vital public information is needed by everyone, The Pointer has taken down our paywall on all stories relating to the pandemic to ensure every resident of Brampton and Mississauga has access to the facts. For those who are able, we encourage you to consider a subscription. This will help us report on important public interest issues the community needs to know about now more than ever. You can register for a 30-day free trial HERE. Thereafter, The Pointer will charge $10 a month and you can cancel any time right on the website. Thank you.
Submit a correction about this story