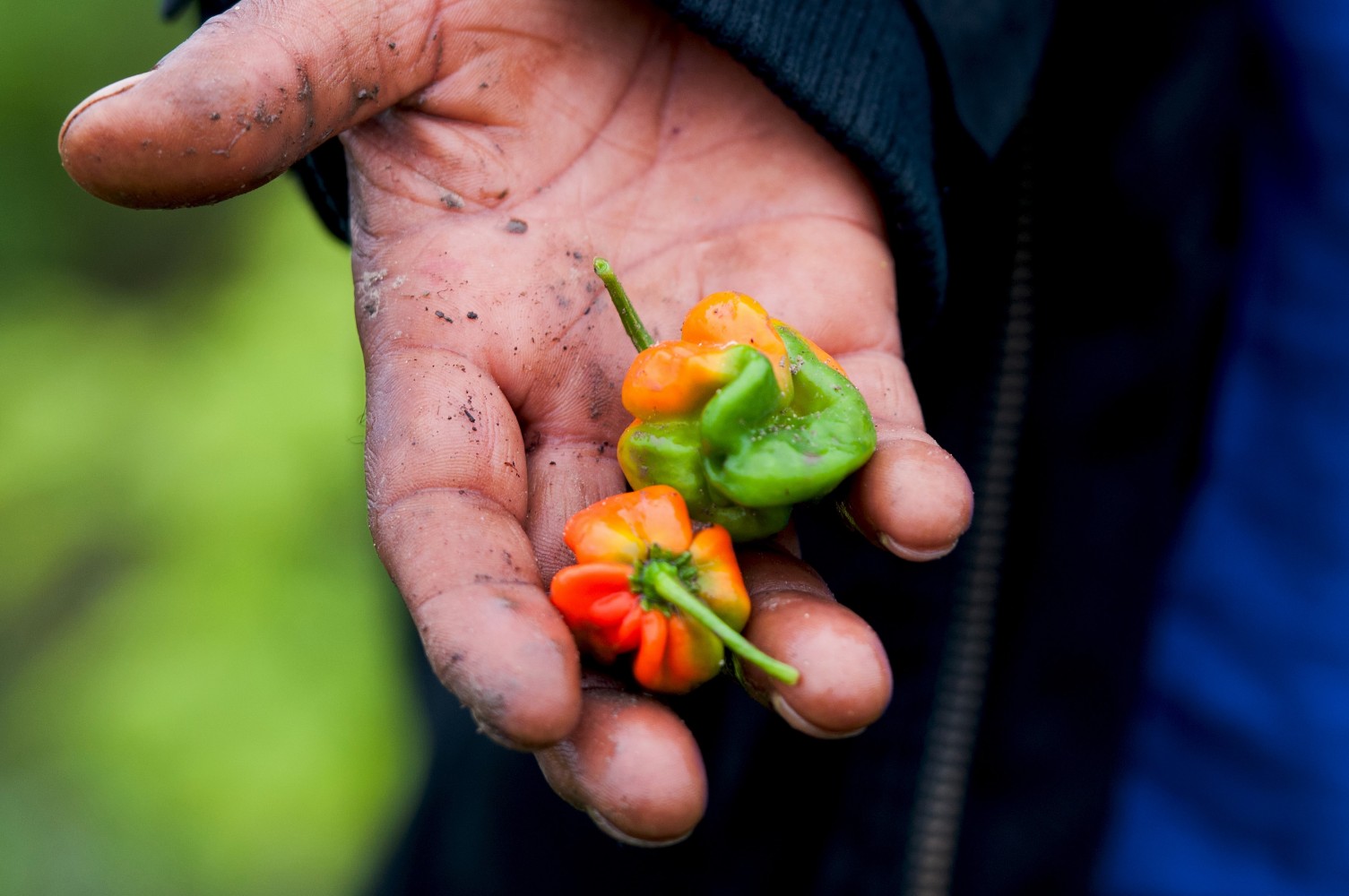 The Pointer file photos/Jeff Chalmers/The Little Garden Company/Flickr/Facebook/YouTube
Want to avoid those long lines for food? Why not grow your own
At 85, Gwen Fawthrop remains a Brampton inspiration, whose only concession to age is sitting in a chair during the height of the growing season, after all her cultivating has been done and before the harvest begins.
Her love of farming goes back to her days as a child living in a trailer with her family in Niagara on the Lake. During the Second World War, while her father fought in Europe, she created her own garden. She still remembers her mother forcing her to eat her home-grown spinach for dinner. "You grew it, you eat it," she recalls her mother saying.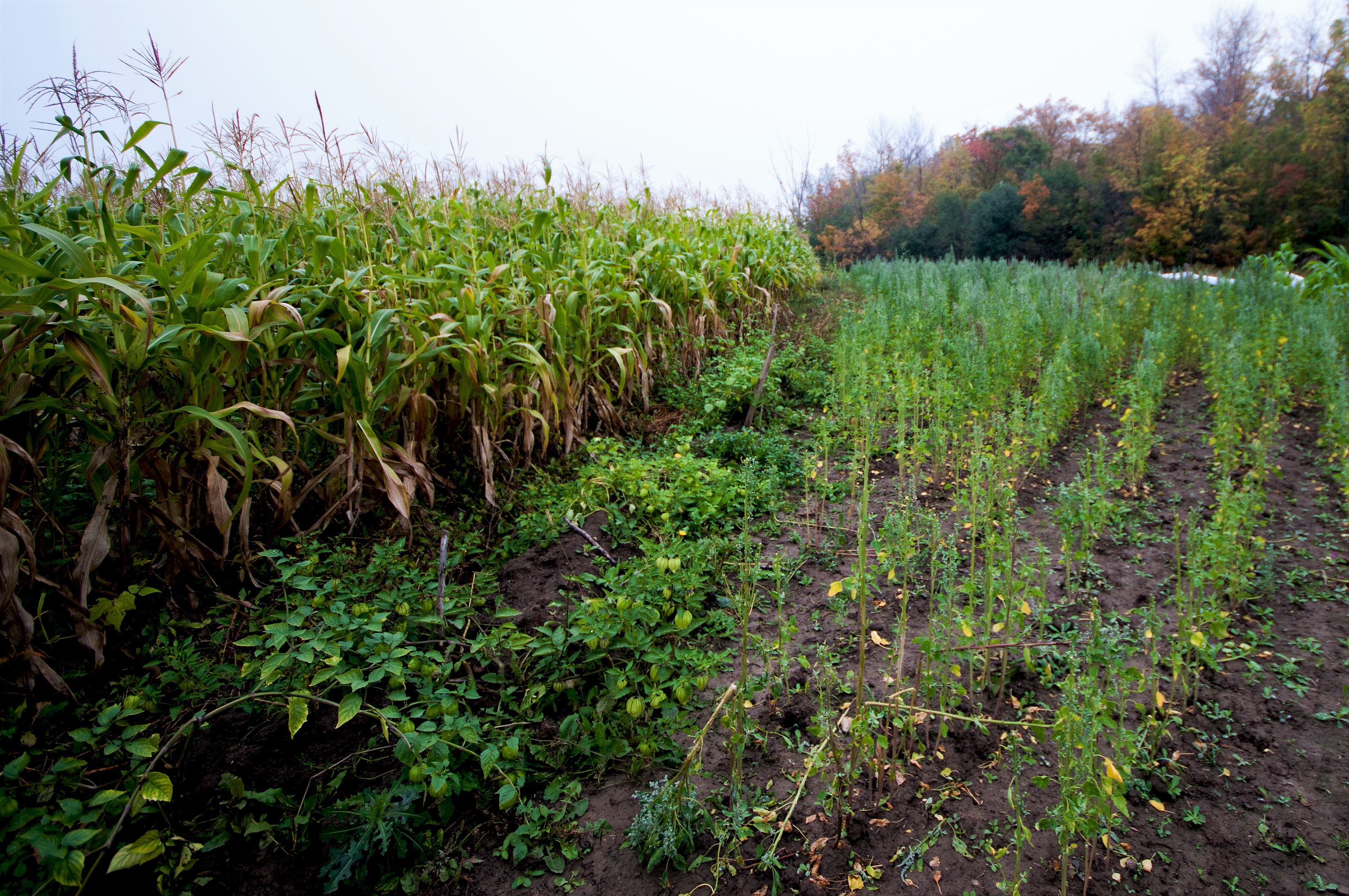 Brampton's McVean Farm, where residents can grow their own food
These are interesting times for millions around the planet like Fawthrop.
They are doers.
Like most with farming in their blood, Fawthrop sees the world differently.
In 2016, when the local Salvation Army was in a dilemma, with fewer resources to help feed families that relied on the organization for a hearty square meal, she and a small group of like-minded residents formed the Salvation Army Community Garden.
With Fawthrop taking the role of "Garden Manager", the operation produced 5,693 lbs of vegetables and 1,945 bags of herbs from its small plot and the Salvation Army was able to feed 35 families a day.
But that's a far cry from almost eight billion people, as our earth faces its greatest existential threat since, well maybe, the one that extinguished the previous rulers of the planet.
Sixty-six million years ago (give or take an epoch), a rogue asteroid plummeted to earth and gouged a massive hole out of an area called Chicxulub in the Yucatán Peninsula, setting off a cataclysmic chain reaction that led to the eventual extermination of the dinosaurs.
A few months ago, a spiky headed microbe nicknamed "the beast," later identified by epidemiologists as severe acute respiratory syndrome coronavirus 2, now shortened by the CDC to, SARS-CoV-2, set off another chain reaction that catastrophizers say is just the precursor to an even more explosive strain of superbug that will one day lead to the eventual extermination of mankind.
What's clear now, and even way back then, is that existence on our earth is far from guaranteed, and those who take it for granted ignore the long arc of history and the harmful end-game of forces operating outside our control.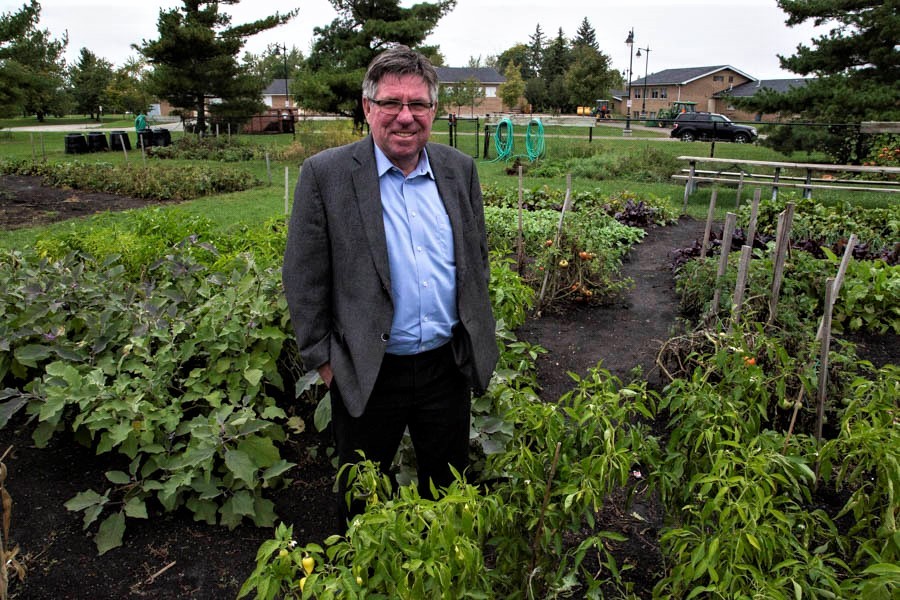 Brampton Councillor Doug Whillans has a love for gardening and is a driving force behind a new City initiative
Here's the good news. The latest pandemic has been a rallying point for one sector of society that remains resolute and fully activated: our most vital supply chain. Critical food stuffs continue to fill our grocery shelves with the necessities of life, including leafy vegetables and fresh fruits.
For foodies with a green thumb, there's added good news.
While most of us remain sequestered at home, spring has sprung, and the annual rite of the season offers farmers (both rural and urban) a chance to till the soil, plant seeds, and ready the northern hemisphere for the upcoming growing period.
In the shadow of an economic meltdown and hundreds of thousands of deaths, there stirs new life.
This past week, the City of Brampton announced the Backyard Garden Program, "a new eco-friendly initiative to help support food security in the city and encourage residents to get active at home during the COVID-19 emergency."
It's the first Canadian municipality to launch such a program to support residents in growing gardens in response to the pandemic.
Amazingly, a typical backyard garden in Peel, for those with the benefit of one, only needs a corner of space to grow all the produce a family needs for an entire season, with a little help from those with farming in their veins.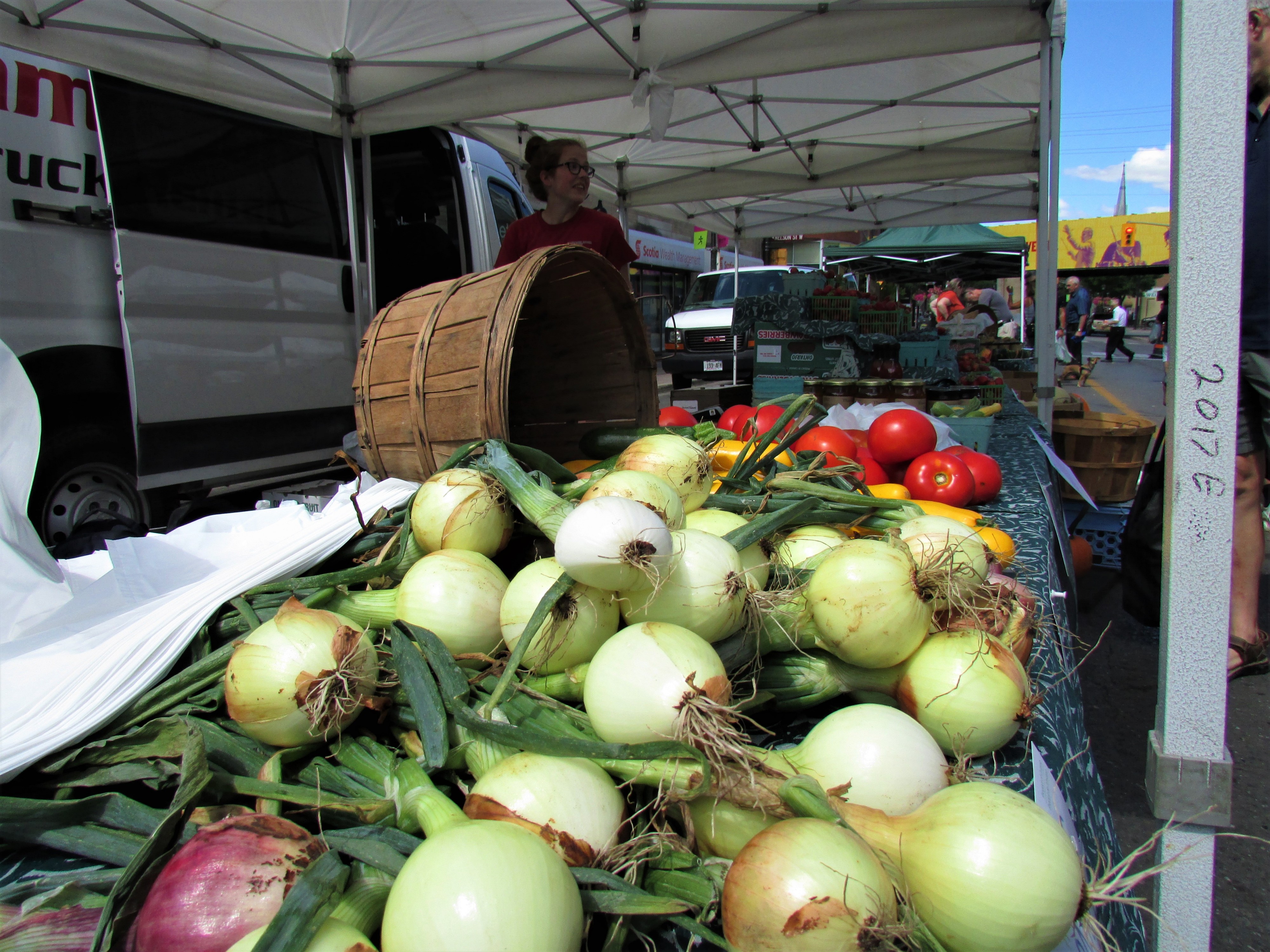 The Brampton Farmers' Market will not open, for now
There will be restrictions including physical distancing measures, but it encourages residents to grow produce and herbs from the comfort of their own homes. The City will supply the seed and soil, if needed, and encourages participants to donate some of the crops to local food banks and community kitchens like Regeneration and Knights Table. The City's website will share tutorials on how to maintain these gardens.
Councillor Doug Whillans chairs the task force in partnership with the parks and maintenance and forestry division, and more community partners will be added as required.
"We opened up the website (page) for backyard gardens to the public last Wednesday," Whillans told The Pointer. "I talked to Rob Gasper (director of parks for the City) and I thought we might get 200 or 300 inquiries. By the first day, we had a thousand, and by Friday the City had almost 5,000 (signups on the website)."
The community gardens will now be run by the City's parks department, not the public. Whillans said he and staff are currently trying to negotiate an arrangement that will allow Fawthrop to either manage the Flower City Garden or be its overseer. "She has been such a huge part of the success of community gardens in this city and it would be a shame if she can't continue to be a part of this wonderful site."
The city is still in discussion to "re-designate" the Flower City Garden. This will not impact on the backyard gardens program, Whillans said.
The initiative, according to the City, fits nicely within its Green City movement, and is an extension of the existing Community Gardens program, that encourages residents to cultivate plots on city lands at Creditview Park, McMurchy Community Garden, Norton Park Community Garden, Crawley Emmanuel Community Garden, and Sesquicentennial Park.
If Brampton is opening up urban or micro farming, it is also closing down its historic Farmers' Market held every Saturday (7 am to 1 pm, June to October) until a re-look in July.
Mississauga is following suit. All farmers' markets on city property (i.e. Celebration Square) have been cancelled. It's also reviewing its Community Gardens program and the ability to open them as the weather warms up, said a City spokesperson. Currently these gardens are listed in its Closure of Outdoor Facilities, which explicitly requires a shuttering of activities, for now.
Brampton's aim is to launch 1,000 backyard gardens to help alleviate the pressure on food banks, which are being hit in two ways: more families are relying on them during the crisis, but fewer donors have been able to provide help, although the Mississauga Food Bank has recently seen an outpouring of support, including $100,000 from the City's fire department.
With food security becoming a growing concern, Whillans thinks there's a continuity about the home-gardening program, "and although we may not be able to operate community gardens in the same way due to physical distancing measures, it is only fitting that we bring the program to residents directly." And why not use the land the way most of our ancestors did, instead of relying on industrialized food production for everything that goes in our body, Whillans, and many others, wonder.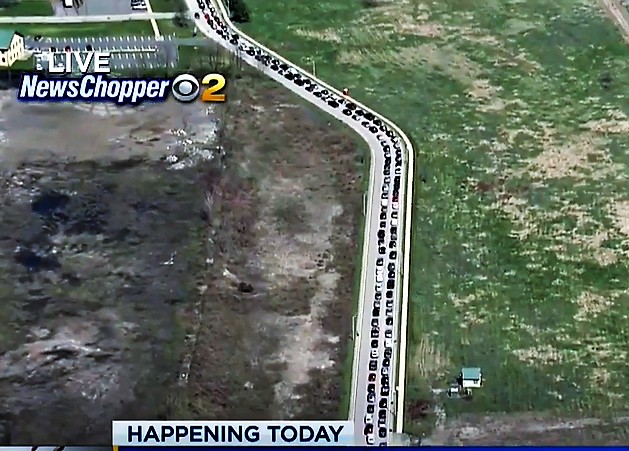 A screen grab shows Pittsburgh area residents lined up for miles to get free food this week
Brampton has deep agricultural roots and is still known as the Flower City, a testament to the massive greenhouses that once dotted the outskirts of the old city boundaries.
While Whillans admits city-owned garden plots might not be fully operational as in the past, Fawthrop, ever the organizer and lead volunteer, even into her ninth decade, remains vigilant in preparing the Charity Food Bank Garden at Flower City Seniors Centre in Brampton, in operation for the past nine years, seven at its current site at McLaughlin Road and Queen Street.
The Flower City Seniors plot is a 100 x 200-foot garden, run by numerous volunteers, and is gifted with seeds and plants from corporate donations.
This year is different, for obvious reasons, and a skeletal staff from the city will have to till the soil and start the growing process. How new social distancing rules will apply here is still an unknown, and Fawthrop and Whillans are meeting to figure out how to begin operations. There is already a decided drop in volunteers.
In the past, Flower City Garden drew volunteers from as far away as the Women's Correctional Facility in Milton. Fawthrop talks fondly about three of those women eventually finding full-time work in the horticultural business upon their release. The garden also supplies seven local food banks and the kitchens at Knights Table and Regeneration.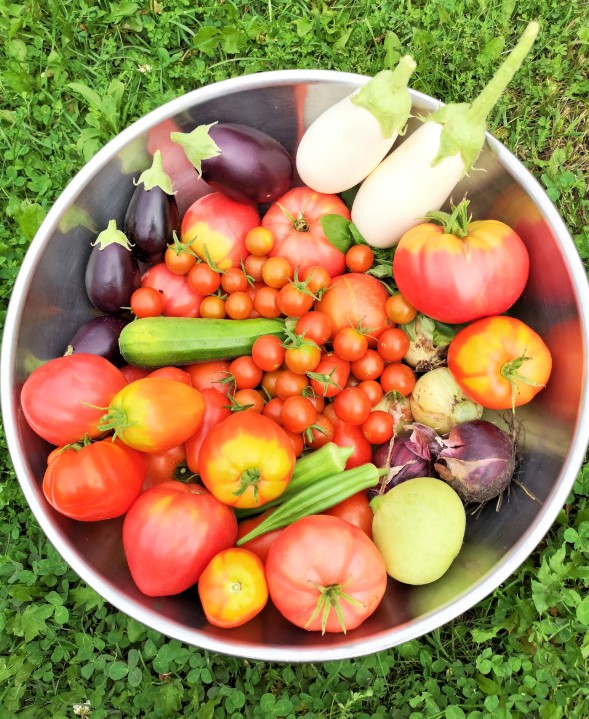 Produce grown in a backyard with the help of Brampton's Little Garden Company
While many view this as a natural extension of the old Victory Gardens, or War Gardens drive that began in Britain in World War 1, and spread throughout the Commonwealth in World War 2 (including Canada), a new spin-off has emerged during this pandemic. Those Victory Gardens are now called "Resilience" or "Healing" Gardens, and historian Ian Mosby (Uncertain Harvest) is asking gardeners around the world to step up with ideas to build a more sustainable and resilient food system. During the two great wars, these gardens not only yielded considerable produce during a time when farming was incredibly dangerous work, the efforts were intended to boost morale when things seemed bleak.
The current back-to-the-land movement isn't new, and the term "urban farming" which seems a contradiction in terms, is now a sizable sub-sector of the agri-business.
Brampton's Geoff O'Brien is co-owner of The Little Garden Company along with partner Dawn Ottnad, part of a world-wide back-to-the-land movement called agroecology. O'Brien was born in Vancouver but raised in Bramalea and has a unique background in the corporate and artistic world. He was a technical director at Global TV and guitarists with Girl + The Machine, a popular punk-rock band in late '90s that was inspired by Nirvana, and at its height, toured the world.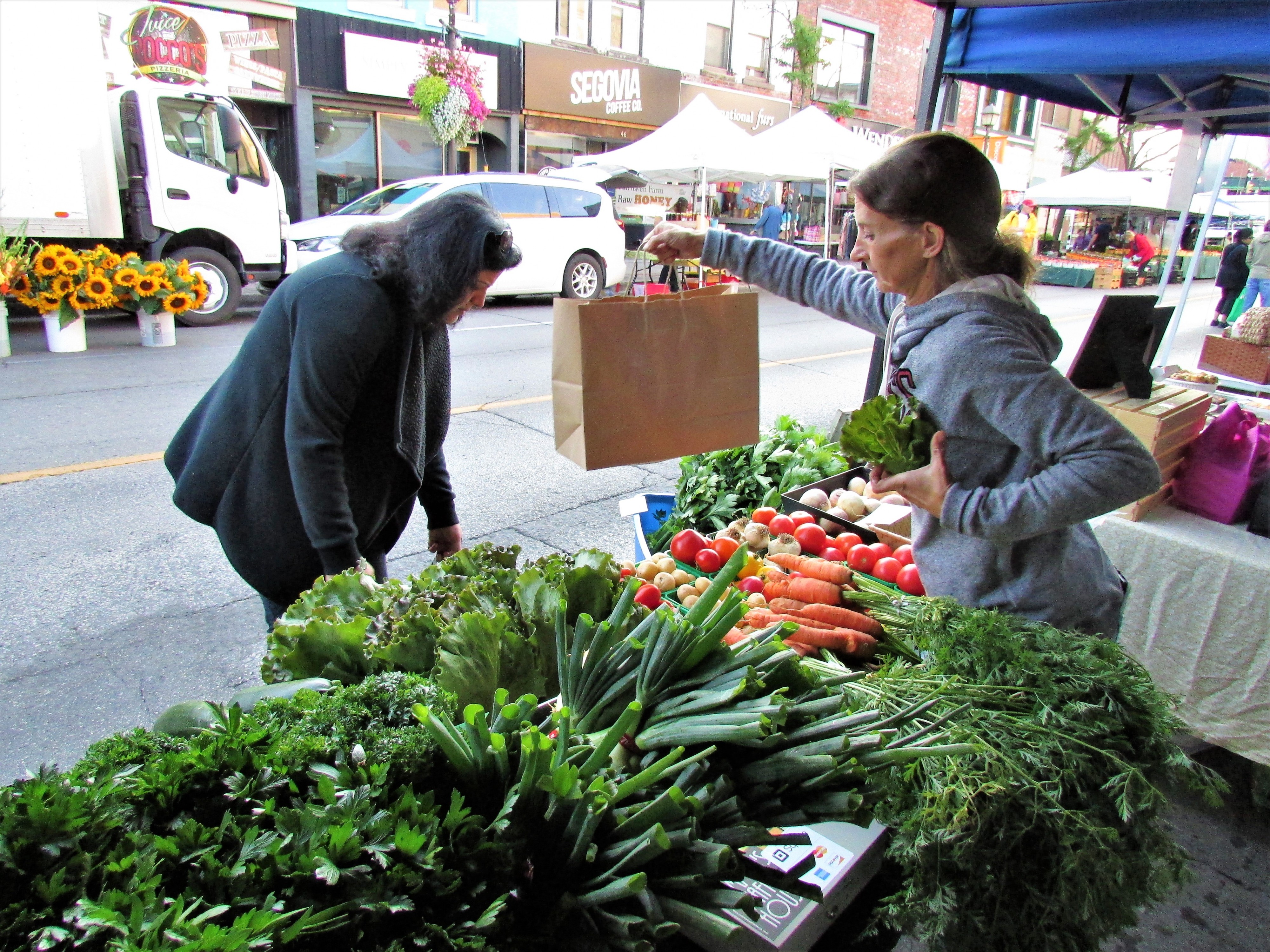 Dawn Ottnad, co-owner of the Little Garden Company, hands a customer some fresh produce at last year's Brampton Farmers' Market
These dual vocations were equal parts thrilling and exhausting, and often the fuel to keep up his non-stop lifestyle was a diet of burgers and chicken wings. Finding a perfect work-life balance in an imperfect world came to a halt when in less than a year he lost both his father and his sister and moved back into the family home in Bramalea while he worked in downtown Toronto's media business.
To relax, he began to farm his backyard garden, headphones on, rock music blaring, as he tilled the soil. With his partner Ottnad, a trained gardener with 20 years experience who was also working double-up time with Bell Mobility while taking care of a long list of clients in the micro-gardening business, they came to a decision to ditch their corporate day jobs and focus their time and skill-set on the Little Garden Company.
Their growing client list is tied to a network called Community Supported Agriculture (CSA) which allows micro-farmers to sign deals at the beginning of each year with customers to purchase a share of "farm stock."
They get fresh food delivered to them each week. About 50 percent of their business was generated by selling produce from booths at the Brampton and Erin Mills farmers' markets, which are currently still closed.
O'Brien is a disciple of Curtis Stone, the B.C.-based author of The Urban Farmer, who says organic intensive techniques with a focus on business and systems streamlines both labour and production. This is quickly becoming a vocation for many of those eager to jump off the hamster wheel of corporate work, and non-stop commuting.
Organic farming has been a part of the modern agricultural movement since its emergence in the 1950s, and Organic Products Regulations came out in 2009, setting standards through certification.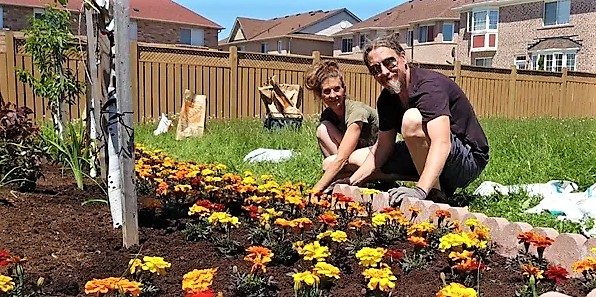 Geoff O'Brien and Dawn Ottnad, owners of The Little Garden Company, plant flower and vegetable gardens, below, for residents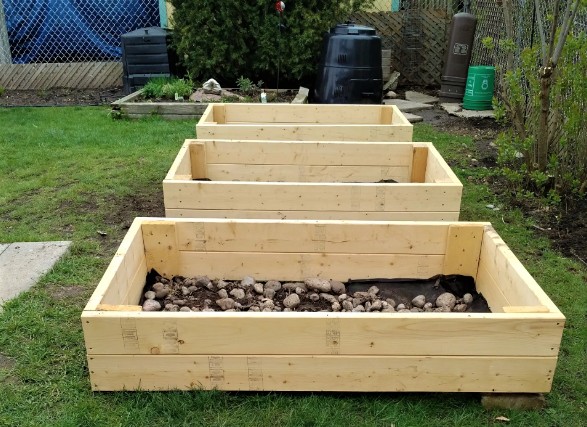 The CSA model sets up an interaction between consumers and producers, following strict organic methods of growing and harvesting, and provides urban farmers with a reliable income while helping preserve biodiversity.
Micro-gardening is physically and mentally enervating, O'Brien says, and when he returns home these days, tired, dirt under his fingers, bringing a crop from seedling to plant to a boxed package delivered to a customer, has restored his soul, at a psychic level.
Growing a crop from seed is a metaphor for the life cycle, he says, which has been rudely interrupted by a worldwide pandemic.
O'Brien and Ottnad are throwbacks, country people living and working in an urban environment.
While critics around the world raise questions about genetically modified foods and the increasing reliance on livestock, which not only devastates the environment but can introduce dangerous animal-borne diseases into the human population, O'Brien and Ottnad occupy a divergent space.
Organic farming is different, the alt to industrial farming, and Harvard Professor Daniel Lieberman, thinks even the worst diseases are the product of our indolent and overindulgent lifestyles. The killer combination of eating processed food and doing little or no exercise, has led to a dramatic rise in type 2 diabetes (especially in Brampton), cardiovascular disease, and obesity.
Many medical researchers believe as much as 70 percent of the maladies we face could be avoided through better exercise and healthier diets, including foods that maintain the earth's nutritional integrity.
That means eating better, especially produce that is organically grown, chemically free, and jam-packed with nutrients.
O'Brien was looking for a different lifestyle, and a new diet as far back as touring the world with Girl + the Machine. He remembers being in Taiwan one afternoon and stopping at a street-side food truck to order lunch. Instead of a plate of fast food, he got organic veggies. This piqued his interest in alt-food, and powered his move to healthy eating, and vegetarianism. He has now turned that into a vocation.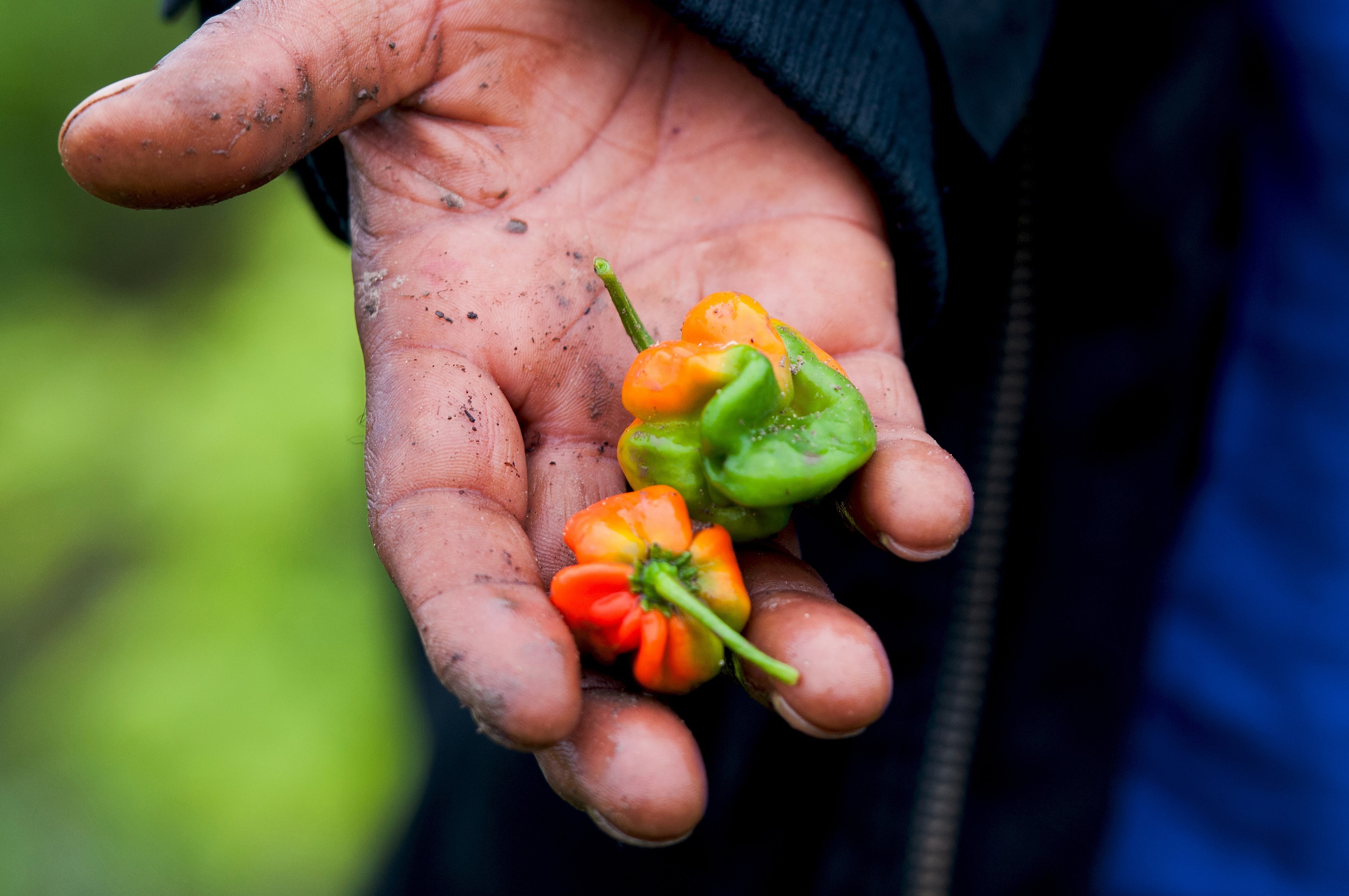 Colourful peppers grown at Brampton's McVean Farm
The graduate of St. Thomas Aquinas High School believes this 2020 pandemic might cause many of us to re-evaluate our lives, starting with the way we eat, and even the jobs we choose.
"I feel this is the end of an old paradigm and the beginning of a new one," he says. "We might be in position to benefit and change our behavioural patterns." This reversal of "backwards thinking" will hopefully usher in a dramatic societal shift and a return to a natural and more sustainable farming method.
He and Ottnad wanted a "blank canvas" after leaving the corporate world, and this came through an "alchemy with nature."
Breaking their lives down to the bare elements meant starting up a company providing organically grown foods.
O'Brien insists he's no David Suzuki and this isn't some kind of "hokey hippy stuff," but a yearning for a simpler and more healthful life, and a new-style business model.
O'Brien's sister-in-law ran the horticultural school at Humber College, and he and Ottnad believe urban farming should be part of our high school curriculum, giving eco-warriors an opportunity to create their own job options in our post-pandemic era, while providing an obvious solution to our most vital need, the one thing we can't go without, even during a pandemic.
Ottnad holds cook smart classes with students, and offers up seminars in urban farming. O'Brien, clearly a philosophical soul, says there's something thrilling in seeing a seed grow into a plant and eventually make it to the dinner table. This "do-it-yourself-ism" will drive the micro-farming movement in the next few years, he says.
In our high-anxiety culture, the physical and mental health benefits from urban farming could be immense, and O'Brien said a return to nature offers those sick of modern living, an off-ramp from our fast-paced throwaway culture that convinces us to think constant consumption of things, stuff and distractions, is the only way to exist.
Brampton is one of few communities in Canada that allows homesteading, which gives urbanites an opportunity to keep things like chickens in their backyards. O'Brien says it's a positive, for those seeking change and willing to experiment with a different relationship to the world. He recognizes it's not for everyone, but encourages anyone in a rut to consider some of the benefits to this lifestyle.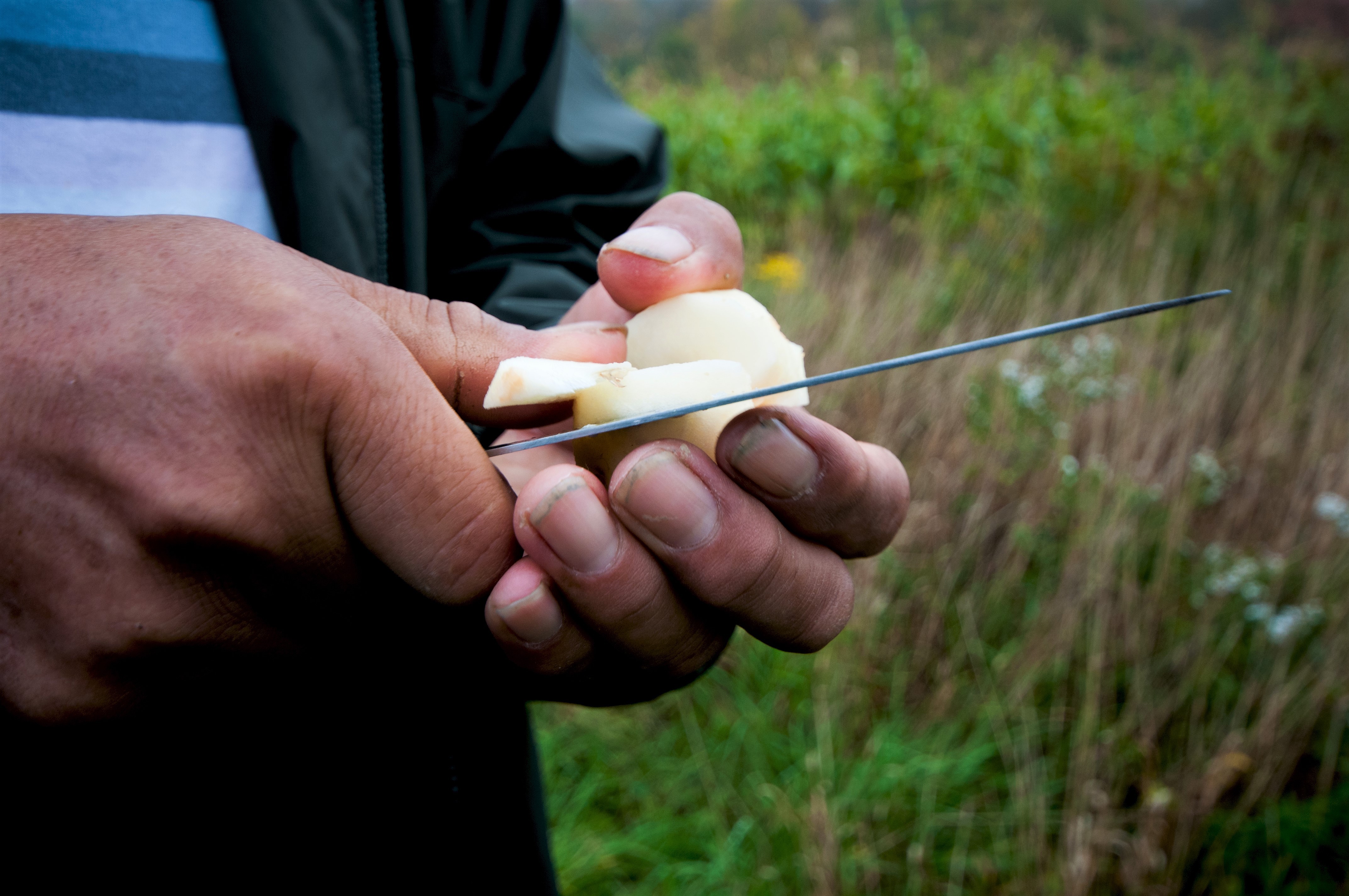 A part-time grower cuts some fresh produce at McVean Farm
The Little Garden Company will lose about 50 percent of its business as the farmers' markets in Mississauga and Brampton close down, but O'Brien and Ottnad are busy acquiring new customers, and their days right now are filled preparing plots for the growing season.
Most of their new business comes from word of mouth and includes preparing their people's garden plots. Some don't have the energy to maintain them but love the sight and smell and the restorative benefits of the growth cycle. Ottnad also delivers cook-right seminars at Downsview Park, and talks about the importance of micro-farming with students.
Urban farming isn't a moment in time, but a movement, and nowhere is that more clear than McVean Farm, located on the eastern outskirts of the city, on Toronto Region Conservation Authority land.
It's a 45-acre site with 10 to 15 organic farmers. Last year, it produced a bountiful crop of mostly organic foods.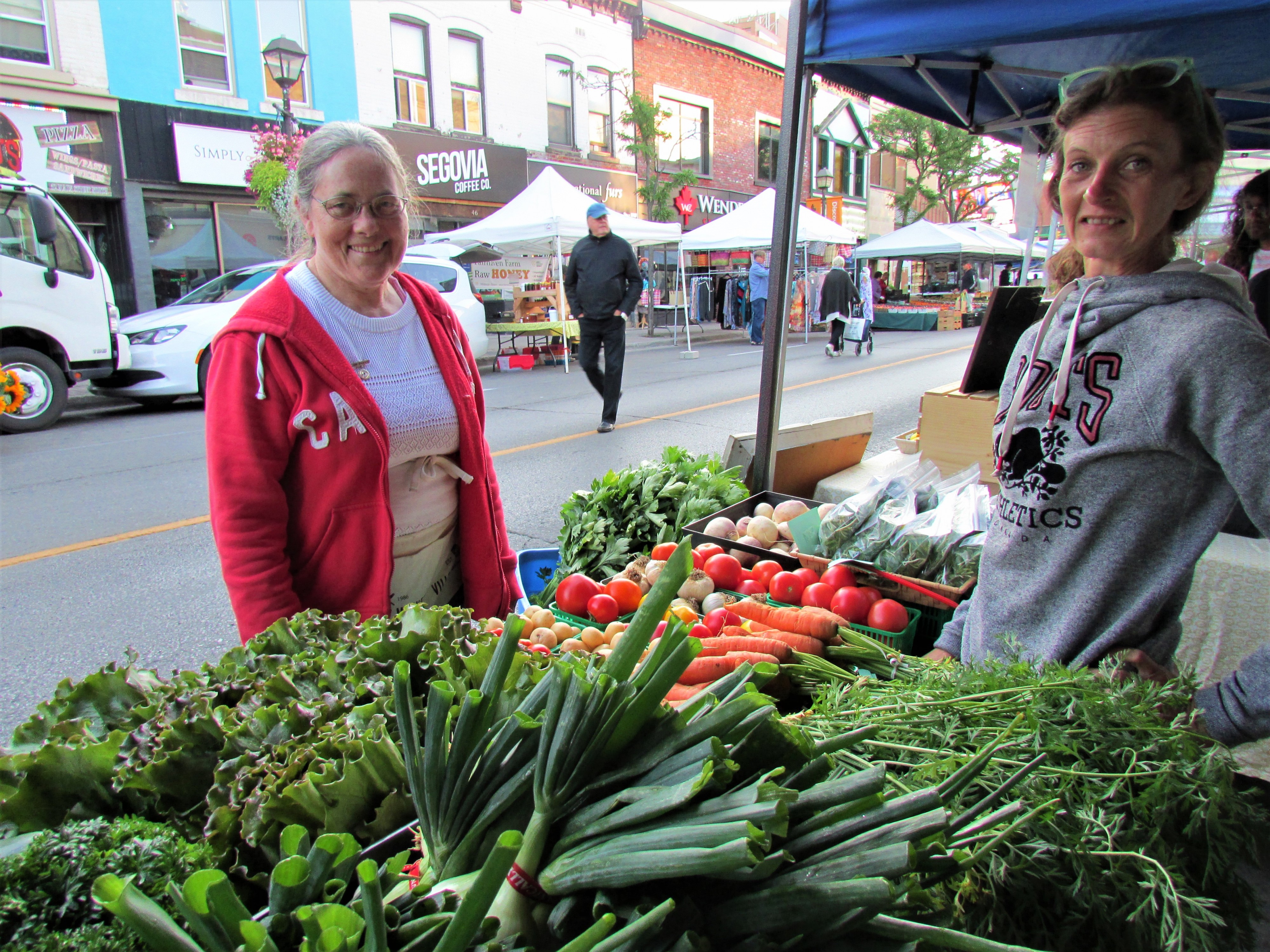 The Little Garden Company is one of many offerings that regulars at the Brampton Farmers' Market will miss out on
TRCA is recruiting new farmers to participate in the 2020 Farm Incubator Program." Sonia Dhir, senior program manager, Peel and York Watersheds for the TRCA says. "All farmers and participants at the McVean Farm are to abide by the provincial direction and legislation regarding COVID-19 as everyone else."
Any provisions that would be in place are stipulated in the terms and conditions of the farm operator's lease agreement with TRCA.
Has there been an uptick in interest in renting plots this year?
Dhir says it is pretty much business as usual. "We have seen consistent interest over the years from the community wanting to farm at McVean."
Being located in close proximity to residential areas, makes McVean a desirable site for urban agriculture.
American economist Jeffrey Sachs, former director of the Earth Institute at Columbia University, makes the argument that food production can grow geometrically because it depends not only on land but know-how. He said advances in technology in all its aspects – agriculture, energy, water use, manufacturing, disease control, information management, transport, communications – can keep production rising ahead of the earth's seemingly out of control population growth – we will go from about 6 billion people twenty years ago to almost 10 billion in thirty years.
Ensuring we have enough food, grown in a safe way, is a heartening thought in the middle of a pandemic.
Returning farming to its minimalistic roots, without chemical interference, might see a pullback from the "industrialized farming" of our recent past, but the leap of the novel coronavirus from a wet market in Wuhan, is a cautionary tale that is being played out at the grassroots level by our modern-day urban farmers.
The kind of agroecology practiced by O'Brien and Ottnad and Fawthrop, is only a small part of a scientific and societal movement whose goal is to make food production more sustainable, and part of the preventative medicine movement to create healthy communities one good meal at a time.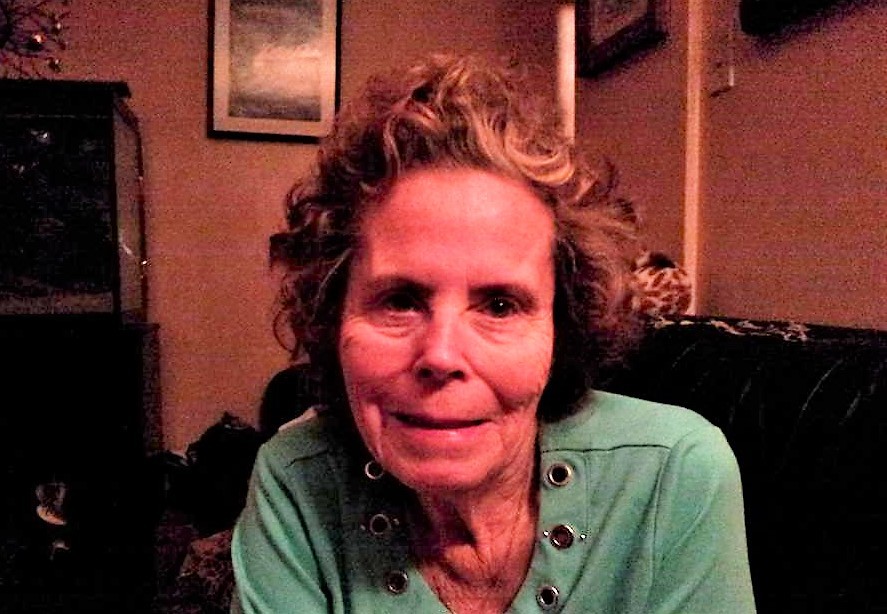 Brampton's Gwen Fawthrop, who has farming in her blood, is 85 going on 20
There's a danger that this latest coronavirus will work its way into our rural areas, and interrupt the upcoming growing season. The growth of micro-farming is a buffer to any loss in production. This micro-farm movement can even be practiced indoors, on an apartment balcony, a windowsill, or a tiny plot of land in your front or back yard.
While the giant supermarkets in Mississauga and Brampton have as a collective readjusted their business model, and now offer online purchases, delivery and curb-side pickup, this supply is being supplemented by Brampton's new Community Garden program.
The urban farm movement is one of the good news stories to emerge from all the negativity surrounding the pandemic.
Brampton is even considering a digital option to re-open its historic Farmers' Market, perhaps offering online orders and curbside pickup.
This back-to-the-land movement arrives as the world celebrates the 50th anniversary of Earth Day (April 22nd).
While the virus spreads and flattens our economy, and shakes the collective souls of a world under siege, the irony is that spring has sprung, it's growing season, ushering in a time of renewal.
Mother Nature has also been given a chance to breathe out, and as industries sit idle while we park our cars, our air, land and water cleans itself.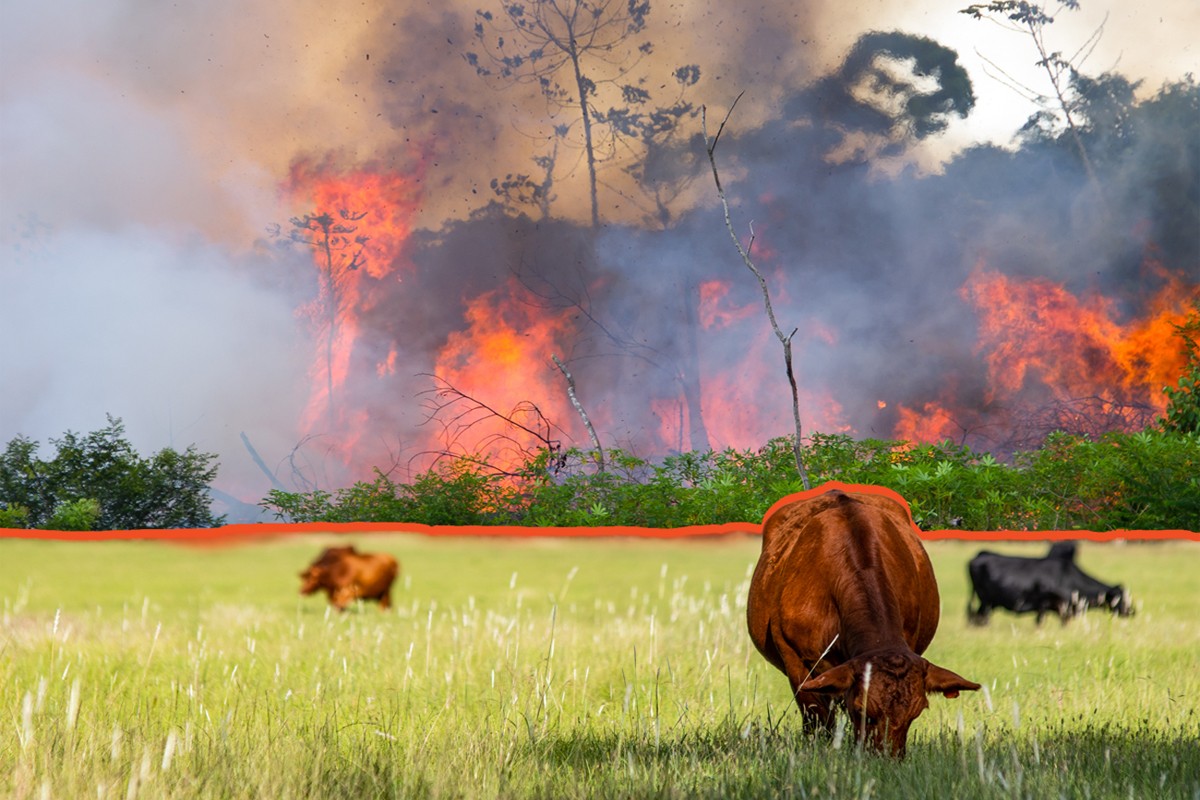 Forests are being destroyed to raise more cattle for beef
The natural world has sent out a harmful agent after we spent decades harming the earth.
This conundrum isn't lost on O'Brien, who says good often emerges from bad.
Earth Day, even for many believers, has lost its impact over recent years.
O'Brien hopes the eventual return to normal life, after a virus forced us to see and do things differently, will be the start of a lasting legacy. But many forces, he says, won't help create a new relationship with the earth.
That's up to individuals.
"It's important that we be the change," he says.
---
COVID-19 is impacting all Canadians. At a time when vital public information is needed by everyone, The Pointer has taken down our paywall on all stories relating to the pandemic to ensure every resident of Brampton and Mississauga has access to the facts. For those who are able, we encourage you to consider a subscription. This will help us report on important public interest issues the community needs to know about now more than ever. You can register for a 30-day free trial HERE. Thereafter, The Pointer will charge $10 a month and you can cancel any time right on the website. Thank you.
Submit a correction about this story