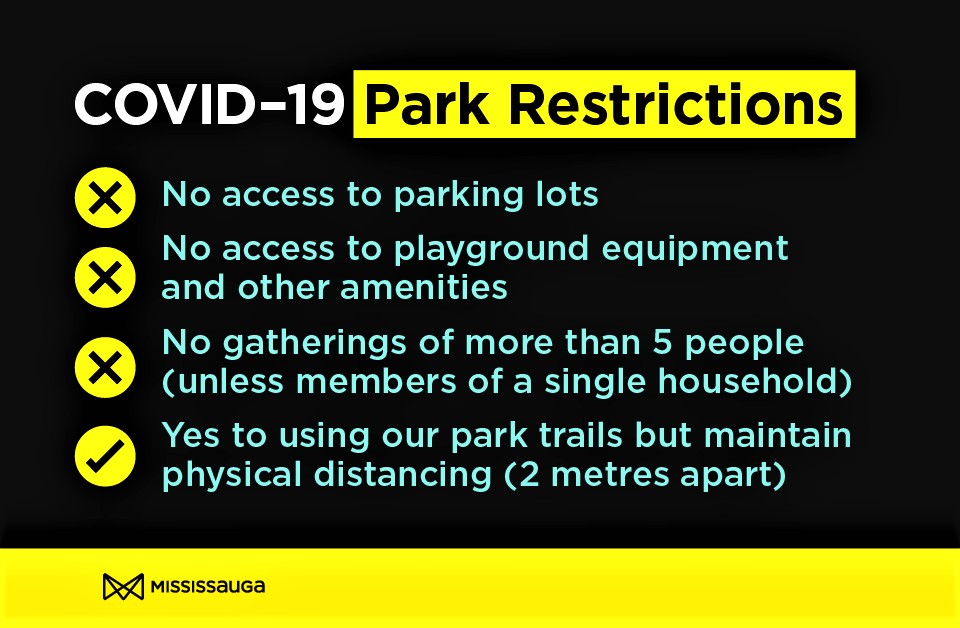 Screen grabs City of Mississauga/City of Brampton
Mississauga looks to educate residents on physical distancing while Brampton flexes additional powers
Staying at home is the ultimate weapon in the fight against COVID-19. While healthcare professionals and politicians prime the nation's intensive care units and ventilators for battle, most people's role is simpler.
This week, health leaders have been hopeful about public buy-in toward physical distancing, as Ontario will soon learn if we're turning the tide.
On Wednesday, Dr Theresa Tam, Canada's top ranking health official, expressed quiet optimism things were improving.
But it's clear, and federal officials have acknowledged it, that Quebec and Ontario are not doing as good as the rest of the country.
In Peel, Dr Lawrence Loh, the region's Interim Medical Officer of Health, said he was seeing "glimmers of hope" the measures were working.
Despite the early signs of improvement, with the region's day-over-day growth rate slowing, overall numbers have not looked good over the last few days, while some continue to break the rules and leaders implore the public to stay in.
Mississauga has launched a sweeping educational campaign, but many residents are still confused about what they can and cannot do
In Brampton and Mississauga, two cities that share borders and a regional government, residents live under different regulations.
For some, this is causing uncertainty.
In Mississauga, confusion around the dos and don'ts reared its head at the city's fourth virtual council meeting Wednesday. A number of councillors had questions about physical distancing and enforcing the measures: they ranged from the obvious to issues that uncover the complexity of enforcing Ontario's COVID-19 measures.
Ward 9 Councillor Pat Saito shared the story of a mother in her ward unsure if she could allow her child on the grass in the park, while Ward 4 Councillor John Kovac invoked images of a police state.
"People are quite afraid of going out and being seen, even with their kids or with their spouse, and being given a ticket," Kovac said. "I feel like we need to do a little bit of a better job communicating that, as much as physical distancing is important, there's a bit of overkill and we need to handle things properly when we are conveying what is right and what is wrong."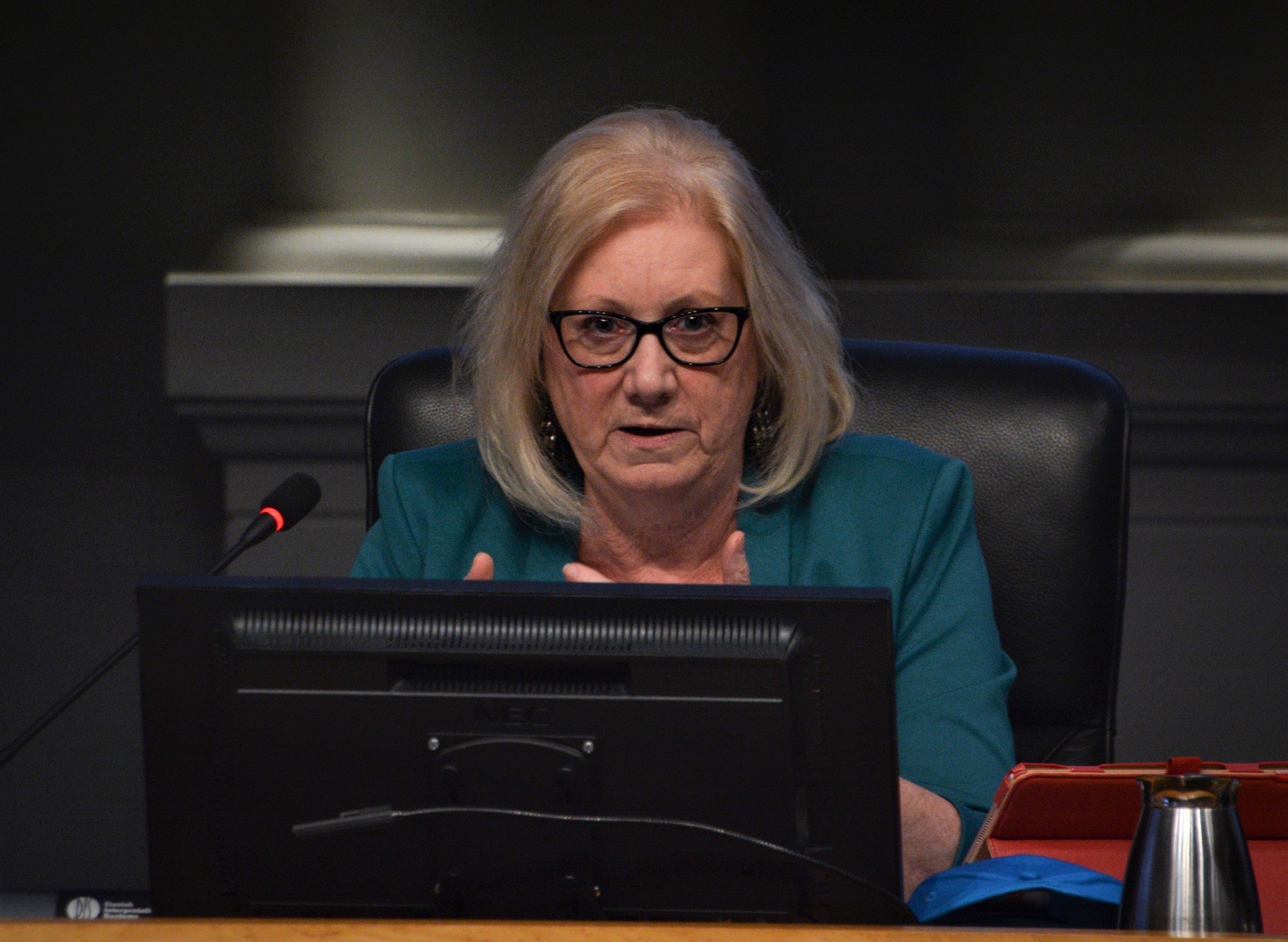 Mississauga Councillor Pat Saito wants clear communication to make sure residents understand the rules
Under COVID-19 rules, bylaw officers in Mississauga are able to enforce provincial orders during the state of emergency as well as standard bylaws. This means city bylaw enforcement staff can punish those gathering among more than five people and also issue tickets to those entering city facilities that have been closed. Shuttered spaces include, but are not limited to: off-leash dog parks, sports fields, playgrounds and city parking lots.
"We are enforcing the provincial orders," a spokesperson for the city explained. "We are also enforcing pre-existing municipal bylaws such as anti-littering and parks bylaws."
In its efforts to enforce the rules, without penalizing those making an innocent mistake, Mississauga has leaned heavily on education. Since the beginning of the pandemic, the city has educated more than 8,500 people. The term is not officially defined, but implies a warning or instruction from a bylaw officer in place of a fine.
As of 2 p.m. on Wednesday, the city had issued 25 tickets, 17 of which are under provincial emergency rules and eight for city bylaw infractions.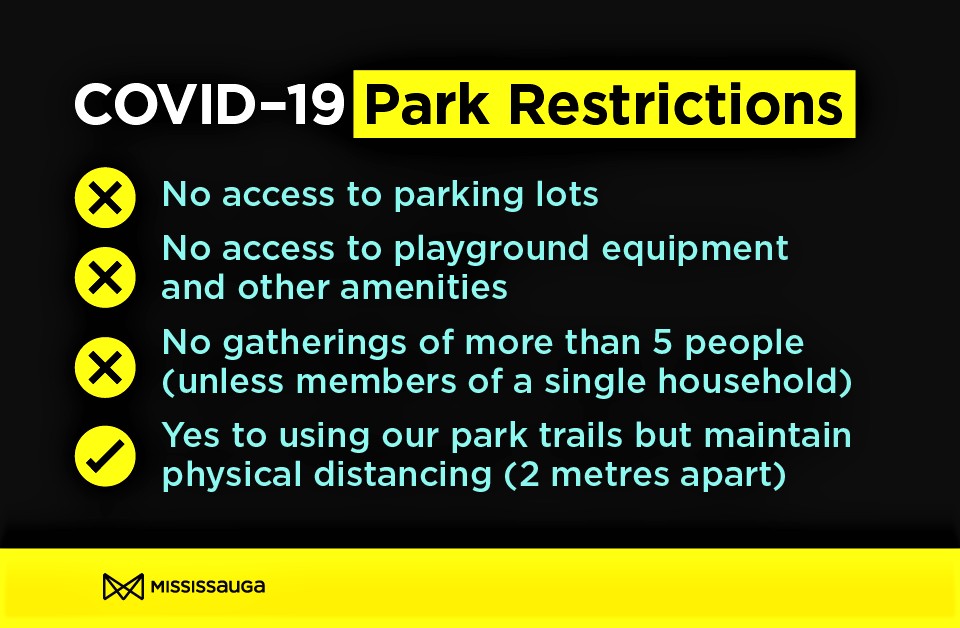 As well as the education, bylaw officers in Mississauga have sent more than 3,000 cars home after residents drove them to local amenities, where parking has been officially closed. About 1,600 cars were turned around over the Easter weekend.
The 25 tickets the City of Mississauga has issued were for offences that include playing tennis or golf on closed property, using off-leash dog parks and littering by discarding PPE in a grocery store parking lot.
"There have been many public complaints that our bylaw officers have investigated, there have been … 1,050 since we began enforcement," Mississauga Mayor Bonnie Crombie said at Wednesday's press conference, explaining 56 had been investigated in the past 24 hours. "Our bylaw officers always take the opportunity to educate first — [they] often find people were just not thinking … and sometimes there are momentary lapses."
As summer weather nears and a small minority of residents continue to flout the rules and endanger their neighbours, it is unclear how long Mississauga's patience will last. At the beginning of the pandemic, with announcements coming out of city hall at a-mile-a-minute, the confusion of residents was understandable. The longer physical distancing measures are in place, the less convincing ignorance is as an excuse.
"We've got 780,000 residents in the City of Mississauga, if they've turned on the television at all, they should know the rule[s], pretty much," Gary Kent, Commissioner of Corporate Services and Chief Financial Officer at City of Mississauga, said to councillors on Wednesday. "We will continue to put information out and communications and we'll double down on the granularity of the rules, but people still continue to attend parks."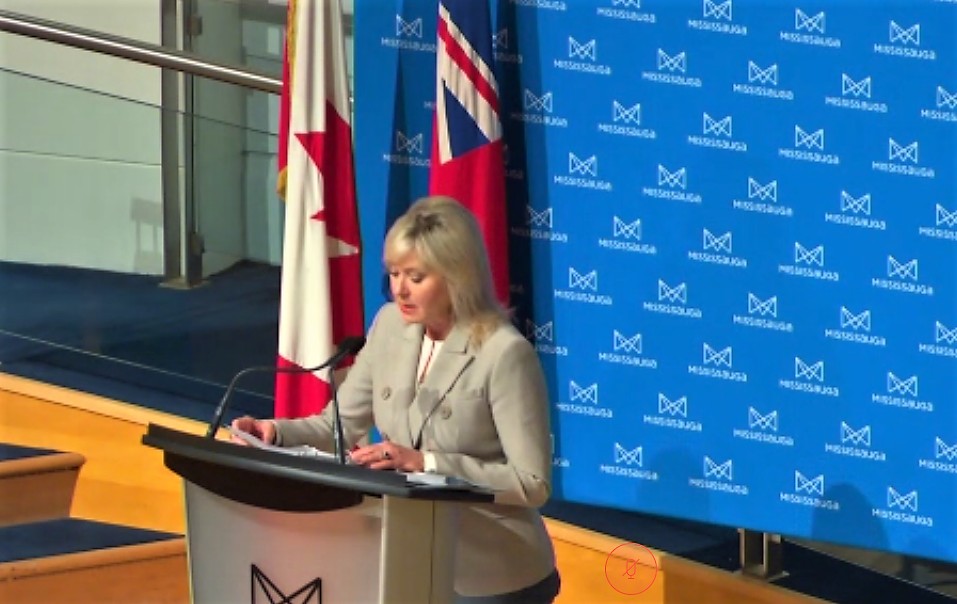 Mississauga Mayor Bonnie Crombie during Wednesday's press conference
Not everyone is convinced the rules are clear, though.
Saito complained there is a level of genuine confusion among residents who want to head outside, but don't want to break the rules. "I think we need to be a little less grey and a lot more black and white when it comes down to this because people are confused," she added.
In Brampton, a bylaw was adopted at the end of March to darken some of the grey areas under provincial rules. In addition to Ontario's regulations and regular bylaws, Brampton's enforcement staff have the right to hand out fines ranging from $500 to $100,000 to those not observing physical distancing, including standing closer than two metres together.
This gives more power to the city's bylaw staff than Mississauga and allows them to enforce stricter rules.
For example, if Brampton bylaw observed a soccer game in a park, they could punish those playing under provincial regulations for a gathering of more than five, something Mississauga can do too. However, if two people from different houses were sharing a picnic, Brampton staff would be able to hand out fines under its new bylaw (created under the Municipal Act), which covers meetings of less than five people (allowed under the provincial emergency rules). But the failure to stay two metres apart, which Brampton's bylaw restricts but the provincial Act does not, can't be enforced in Mississauga because it hasn't enacted the same special authority for such a violation.
With additional powers, Brampton has focused less on education. As of April 14, the city had issued 176 verbal warnings and 39 charges. A spokesperson for the city confirmed Brampton is now taking a "zero tolerance approach" to anyone breaking the rules, suggesting a high volume of tickets will continue.
"The health and safety of our residents is always a priority at the City of Brampton, but especially now," Brampton Mayor Patrick Brown said in a media release announcing his emergency bylaw at the end of March. "We must all understand the seriousness of COVID-19 and work together to minimize its spread. The city will continue to enact any measures necessary to keep our community safe. I ask all residents to adhere to the Brampton COVID-19 Emergency Measures By-law, and maintain physical distancing at all times."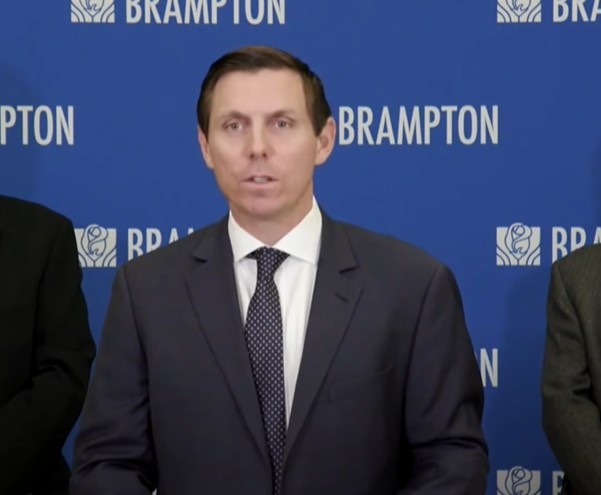 Brampton Mayor Patrick Brown at a press conference announces some of the fines that have been handed out
During a tele town hall in late March, City staff and leaders asked around 15,000 callers if they supported city officers handing out fines to those not complying with physical distancing — 77 percent said yes.
Brown has proudly stated Brampton was the first municipality to introduce its own physical distancing bylaw, with Hamilton the latest to follow suit with an emergency regulation of its own.
However, the odds of Mississauga doing the same are low; skepticism about their neighbour's approach is barely hidden. "We don't want to pull a Brampton," Saito said to councillors during Wednesday's council meeting. She, like her colleagues on council, believes greater clarity, positive communication and clear rules in her own city is the best approach.
A growing number of jurisdictions across North America have experienced push back from overly aggressive, even heavy-handed enforcement, which often just creates resentment and an unwillingness to buy in.
For now, Peel's two cities are each taking their own approach to help fight the novel coronavirus.
---
Email: [email protected]
Twitter: @isaaccallan
Tel: 647 561-4879
---
COVID-19 is impacting all Canadians. At a time when vital public information is needed by everyone, The Pointer has taken down our paywall on all stories relating to the pandemic to ensure every resident of Brampton and Mississauga has access to the facts. For those who are able, we encourage you to consider a subscription. This will help us report on important public interest issues the community needs to know about now more than ever. You can register for a 30-day free trial HERE. Thereafter, The Pointer will charge $10 a month and you can cancel any time right on the website. Thank you.
Submit a correction about this story