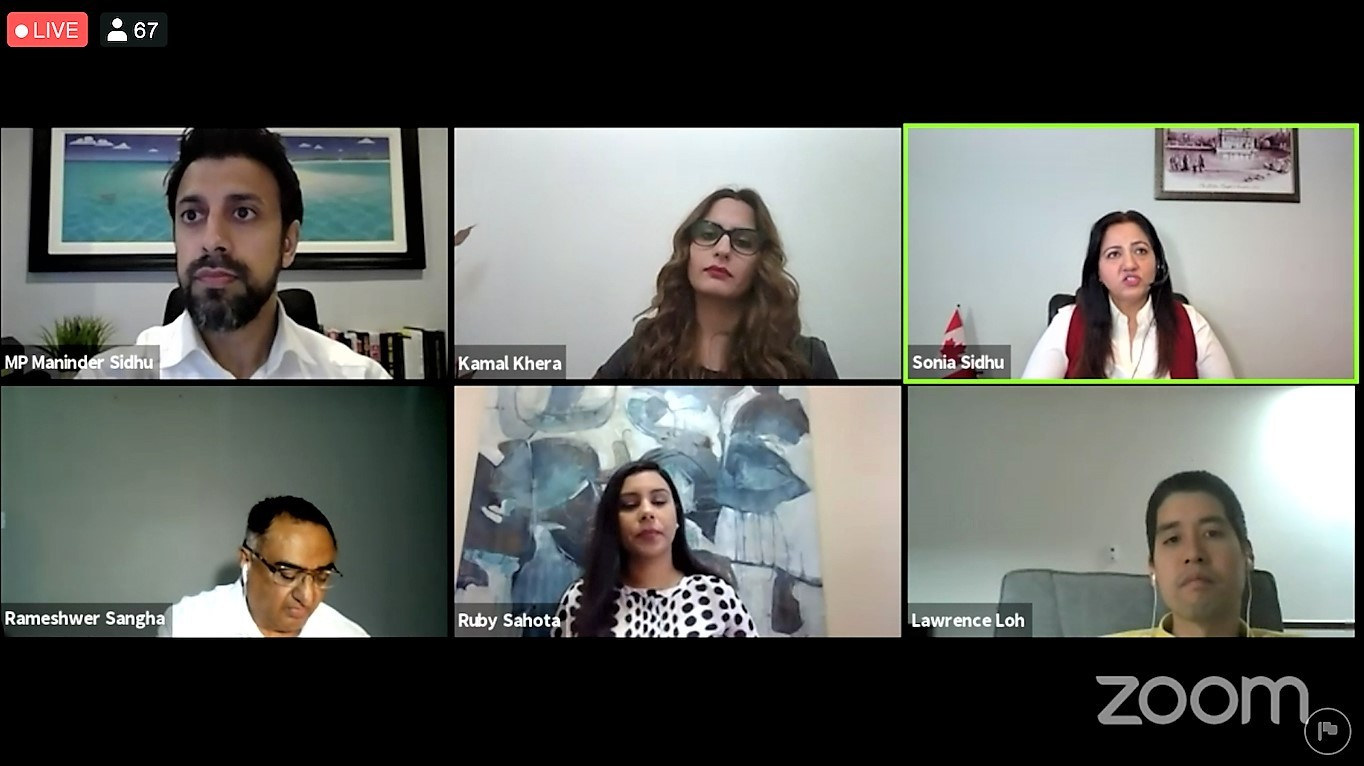 The Pointer file photos/Twitter/Zoom/Screen grab YouTube
Bringing Brampton residents back home remains a priority as we check in on what our MPs and MPPs are doing during the COVID-19 crisis
Routines have been upended for Canadians across the country and politicians, for the most part, are in the same boat.
Since the spread of the novel coronavirus, strict physical distancing measures impacted all levels of government, with legislative matters and meetings in the House of Commons reduced drastically. It's the same at Queen's Park.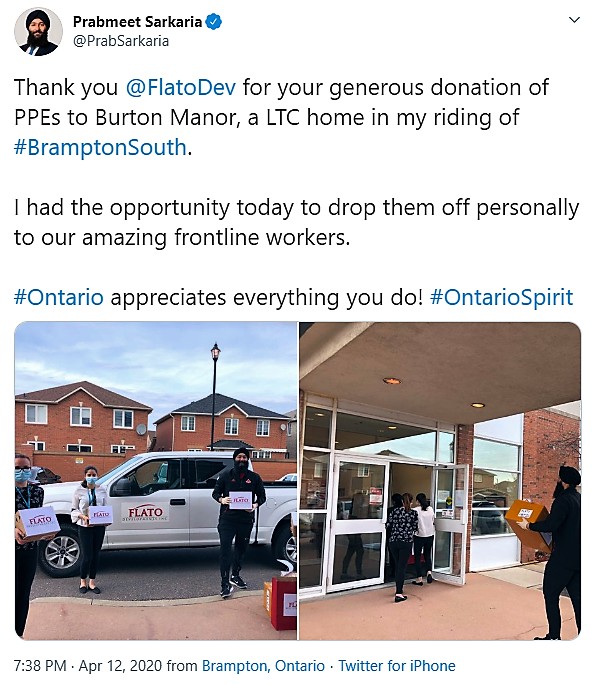 Brampton PC MPP Prabmeet Sarkaria and other local politicians have not been performing many of their usual legislative duties
MPPs and MPs are doing business like the rest of us, either over the phone, on video conferences or standing at least six feet apart.
At the federal level, two emergency sessions have taken place to discuss measures related to COVID-19. The first one on March 24 and the second one on April 11.
No Brampton MP's were present at either of the sessions, according to debate records from the House of Commons. The March 24 meeting focused on the COVID-19 Emergency Response Act (Bill C-13), outlining numerous financial benefits Canadians can apply for. The April 11 session focused on the length of time the COVID-19 Emergency Response Act will last (Bill C-14). It's set to expire September 30, 2020.
All five Brampton MPs are members of the Liberal party. A majority of the party's members present in the House during either special session held titles beyond the role of MP, such as the Minister of Finance and Minister of Foreign Affairs.
Heather Bradley, the director of communications for the House of Commons, told The Pointer any MP is allowed to attend the meetings, as long as parties coordinate the attendance to minimize the number of people in the room. It's not clear how the Liberal party decided who will be attending the sessions.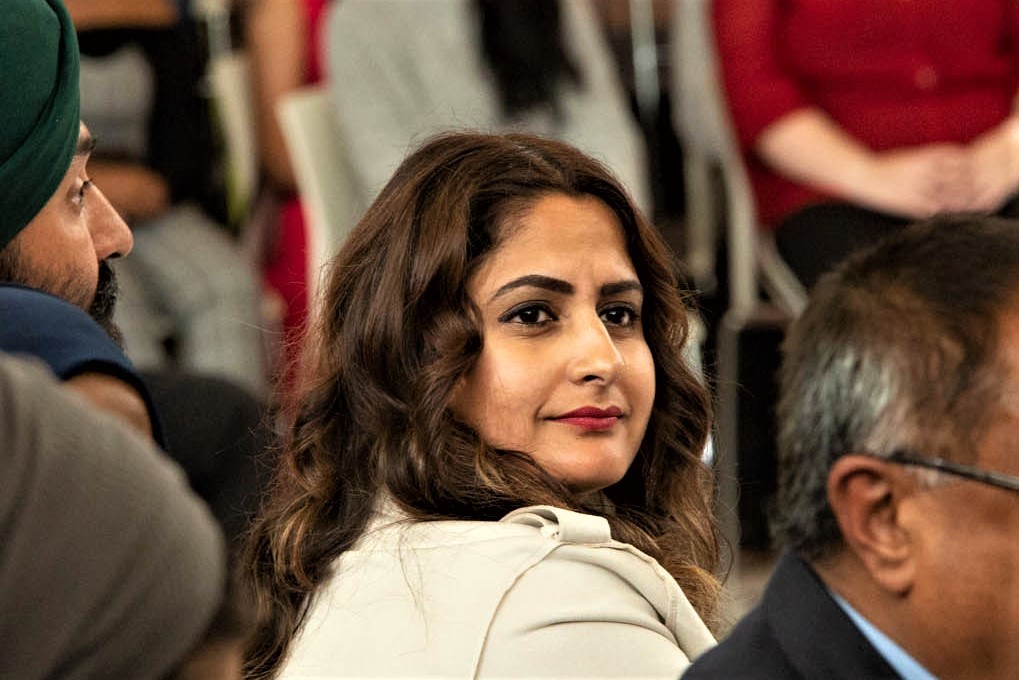 Brampton Liberal MP Kamal Khera has not disclosed details of how she contracted COVID-19
The only Liberal MP in Brampton who holds a role beyond committee head is MP Kamal Khera (Brampton West), as the Parliamentary Secretary to the Minister of International Development. But she's had other concerns to deal with.
On March 25, she shared her positive diagnosis for COVID-19 on social media. It's not known how she contracted the virus.
On March 17, Khera, who has a short background in nursing, announced she signed up to be a volunteer nurse over Twitter but it's unclear if she was able to help before she was infected. Khera did not respond to questions but said she was doing well during a Brampton town hall Tuesday.
The virtual event was hosted by all five Brampton MPs, Dr. Lawrence Loh, Interim Medical Officer of Health for the Region of Peel and François-Philippe Champagne, Canada's Foreign Affairs Minister. It allowed Brampton residents to ask questions of their federal representatives in relation to COVID-19. The meeting, which was originally planned for April 10, was cancelled due to the statutory Good Friday holiday.
One of the main topics of discussion focused on Canadians stranded in other countries. "I know how Bramptonians feel about Canadians stuck abroad," MP Sonia Sidhu (Brampton South) said during the town hall, alluding to the large number of Canadians in India. According to the Asia Pacific Foundation of Canada, an estimated 40,000 Canadians were stranded in India on March 25 due to COVID-19 related restrictions. This issue has specific implications for Peel. According to data from the 2016 census, approximately 260,000 Brampton residents and 165,000 Mississauga residents identify as South Asian-Canadian.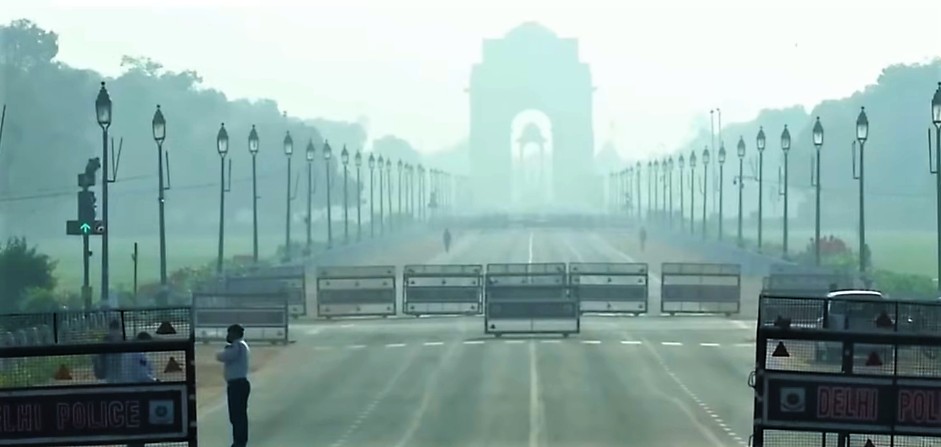 India has been under a complete lockdown since late March
During the town hall, Champagne said upwards of 3,000 Canadians have been brought home from India through a series of seven flights so far. "The situation in India is challenging," the Minister said. "I know about the situation in every state." Champagne told Brampton residents there are plans to bring Canadians home from India every other day, a practice that will continue for up to three weeks.
Help from the government is needed in this extreme situation, which caught thousands off guard when Indian Prime Minister Narendra Modi suddenly locked the entire country down near the end of March, closing all its borders, preventing foreign nationals from leaving on their own.
On Tuesday, the Twitter account of India's Directorate General of Civil Aviation tweeted scheduled domestic and international flights will remain suspended until May 3, following India's decision to extend the initial 21-day lock down in response to COVID-19.
Prior to the town hall, a lot of communication between the MPs and constituents was done over social media. Sidhu was the only MP to have addressed issues in a formal setting pertaining to Brampton regarding the impact of the pandemic, prior to the April 14 town hall.
As a member of the standing committee on health, Sidhu asked federal officials how they plan on addressing the high death rate plaguing long-term care homes during a March 31 meeting, an issue impacting Brampton. "Last weekend we also heard about nine deaths in one seniors home last week in Ontario, which has since risen to 13 deaths in long-term care homes. Clearly this is a tragedy in the community," Sidhu said during the meeting.
Tina Namiesniowski, president of the Public Health Agency of Canada, said protocols are discussed regularly in terms of a national standard to prevent such incidents from occurring. At the provincial level, new testing guidelines for COVID-19 were made public April 10. The new plans outline priority testing of individuals who belong to certain groups, such as frontline healthcare workers and residents of long-term care homes. This will be on top of the testing that occurs at the 100 COVID-19 testing sites across the province. According to a press release on the matter, these measures will allow the province to double the number of tests that will be processed each day.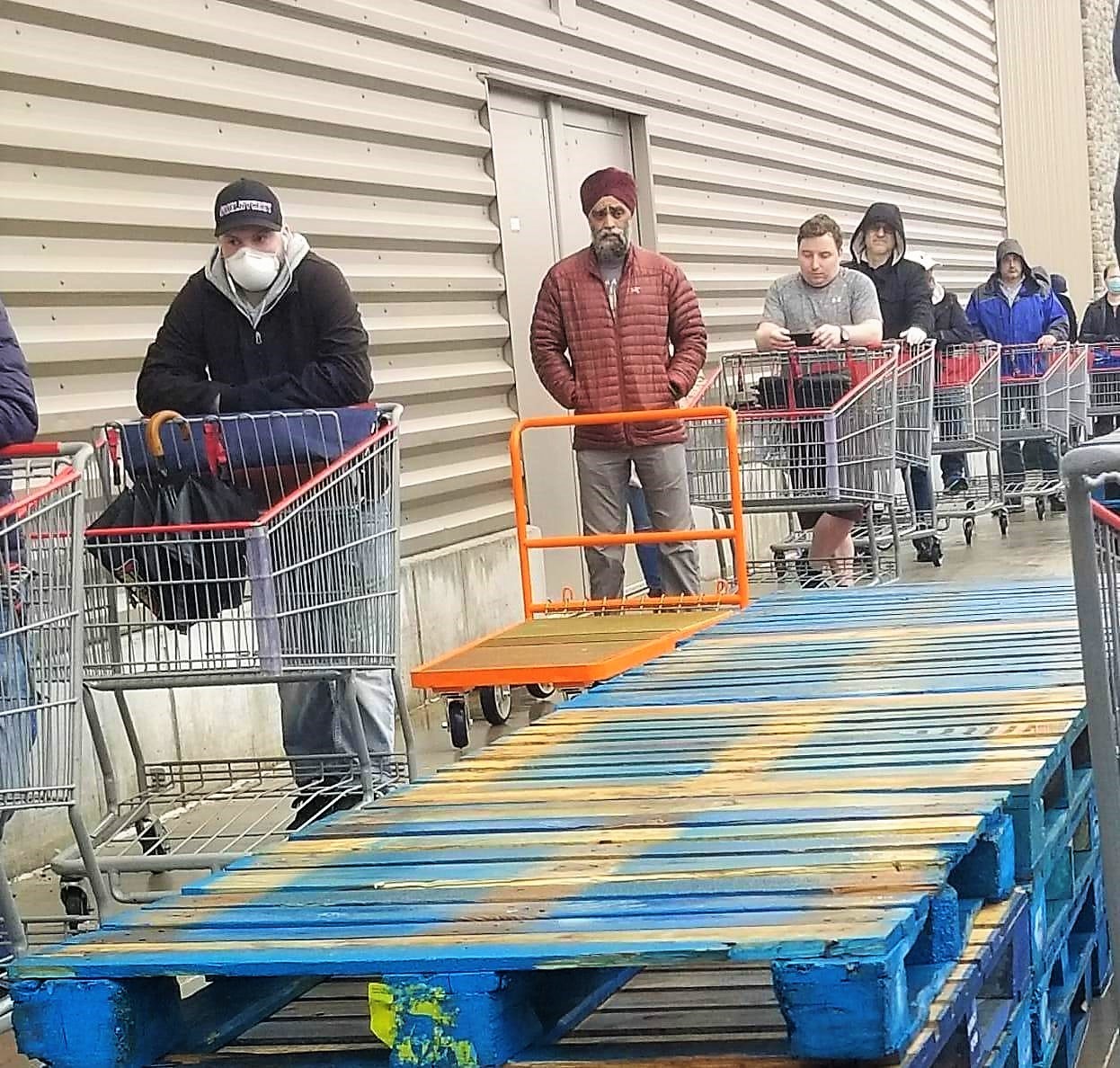 Even Canada's Minister of Defence, Harjit Sajjan, is in the same boat as other legislators, and the rest of us
Sidhu also faced backlash for the way the Liberal government is handling the COVID-19 crisis. Amir Attaran, a law professor at the University of Ottawa, questioned why the Federal government was ill prepared for the pandemic during the April 14 meeting of the standing committee on health, asking why data that was available had not been utilized properly. He also questioned why the health ministry had not implemented recommendations to deal with pandemics, after the SARS outbreak 17 years ago.
Sidhu didn't address the questions, but repeated multiple times that the federal government is focused on flattening the curve of the viral spread.
On the provincial side, politicians are seemingly more active within their communities. MPPs Prabmeet Sarkaria (PC Brampton South), Amarjot Sandhu (PC Brampton West) and Kevin Yarde (NDP Brampton North) have dropped off personal protective equipment, among other items, to residents in need and at Brampton Civic Hospital. NDP MPP Sara Singh (Brampton Center) is also holding youth council over zoom and NDP members continue to put forward policy ideas to benefit Ontarians.
On April 11, NDP MPP Gurratan Singh (Brampton East) asked his followers to support the party's plan for a 50 percent cut on insurance rates for all drivers, spanning a period of three months. "As Ontarians listen to public health experts and stay home as much as possible, a very limited amount of driving and accidents are happening in the province. Drivers should get the benefit of that — not wealthy insurance companies," he stated.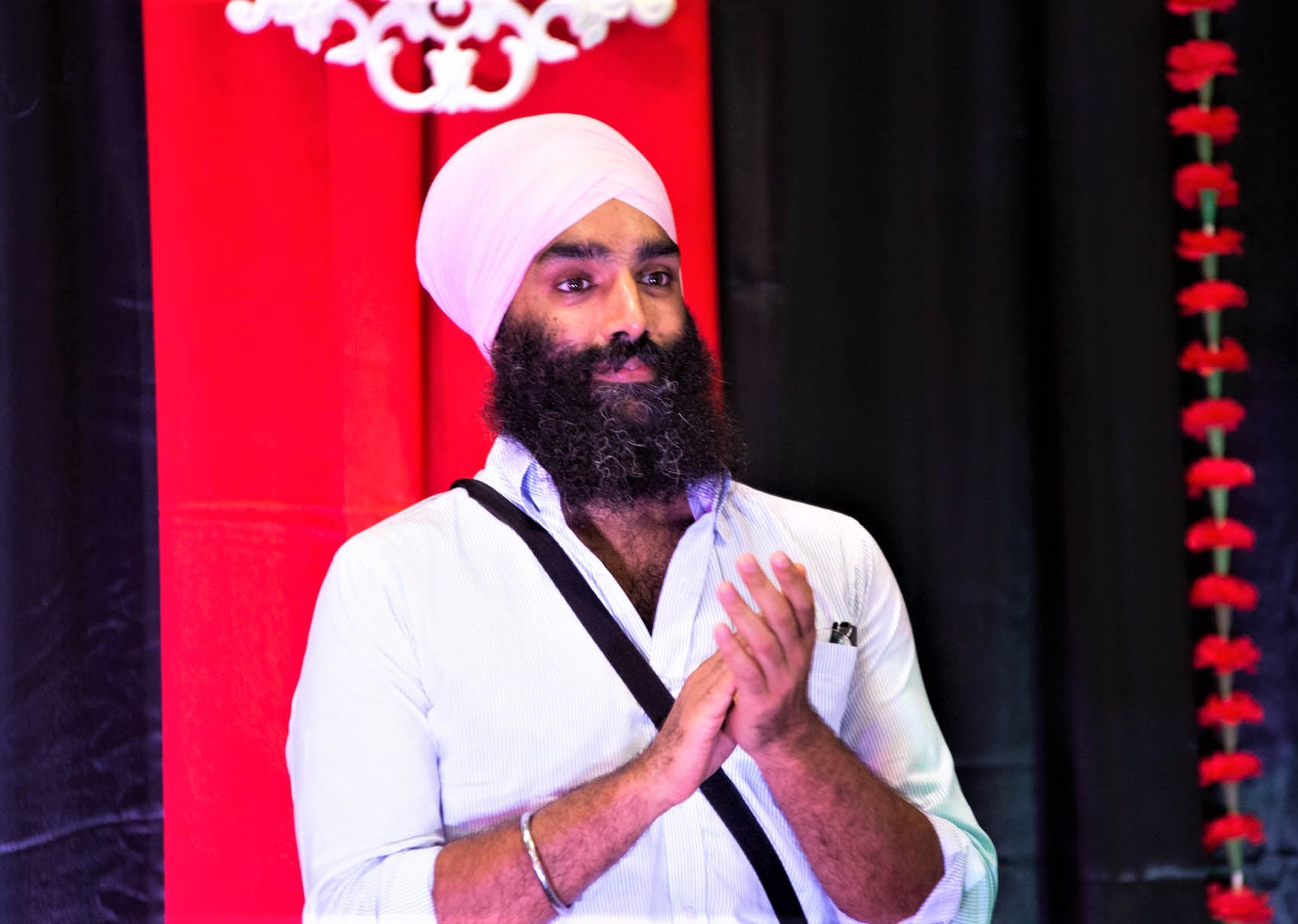 Brampton NDP MPP Gurratan Singh wants auto insurance benefits since driving has been dramatically curtailed
Rod Phillips, Ontario's Finance Minister, said while he would like to see auto insurance companies be reflective of the current circumstance, nothing is being mandated at the provincial level at this time. "I've learned to read the small print when it comes to auto insurance, but I think the initial response has to be one that reflects the challenges people are facing," Phillips said at a press conference on April 9. While some auto insurance companies have offered price reductions to their customers, it is not a practice followed by the entire industry.
---
Email: [email protected]
Twitter: @nida_zafar
Tel: 416-890-7643
---
COVID-19 is impacting all Canadians. At a time when vital public information is needed by everyone, The Pointer has taken down our paywall on all stories relating to the pandemic to ensure every resident of Brampton and Mississauga has access to the facts. For those who are able, we encourage you to consider a subscription. This will help us report on important public interest issues the community needs to know about now more than ever. You can register for a 30-day free trial HERE. Thereafter, The Pointer will charge $10 a month and you can cancel any time right on the website. Thank you.
Submit a correction about this story