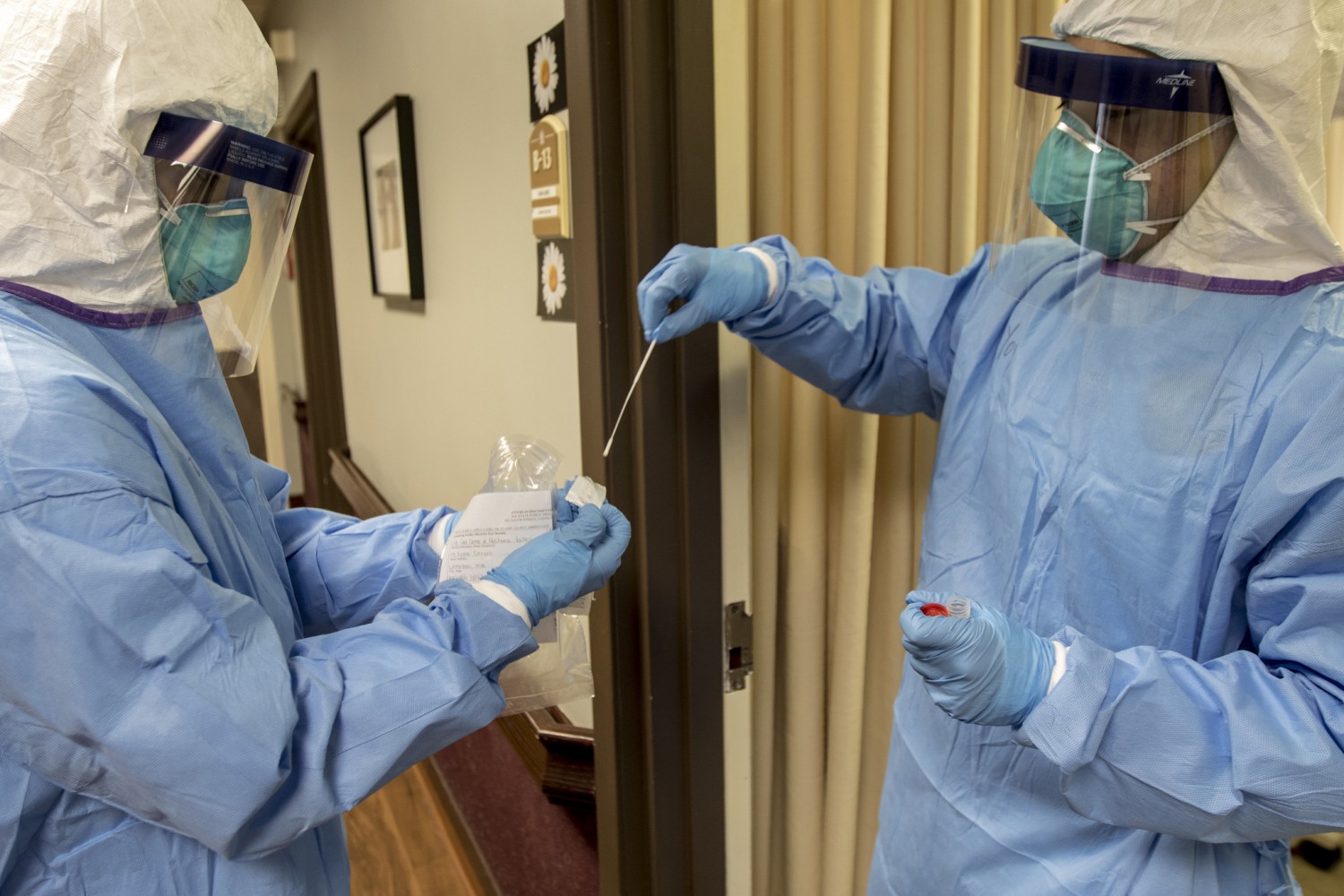 Photos from the Region of Peel/Twitter/National Guard
Lax regulations have allowed COVID-19 to ravage vulnerable seniors' residences across Peel Region
Physical distancing is working. The rate at which COVID-19 is spreading among the general population in the Region of Peel has been more than cut in half since the end of March, when new cases were increasing at nearly 25 percent a day, on average.
But these restrictive measures that keep people in their homes and businesses shuttered have not been enough to protect many of Peel's most vulnerable residents. COVID-19 continues to slip through doors of the region's long-term care and retirement homes, with potentially deadly consequences.
According to the Region of Peel, as of April 14, there were 98 confirmed cases of COVID-19 in the region's long-term care and retirement homes, which have resulted in five deaths.
Three of the five long-term care homes managed by the Region of Peel have confirmed cases of the novel coronavirus among staff members or residents, including both of Brampton's regionally operated long-term care facilities: Peel Manor (one resident, three staff members); and Tall Pines (one staff member); and one staff member at the Sheridan Villa Long-term Care Centre in Mississauga.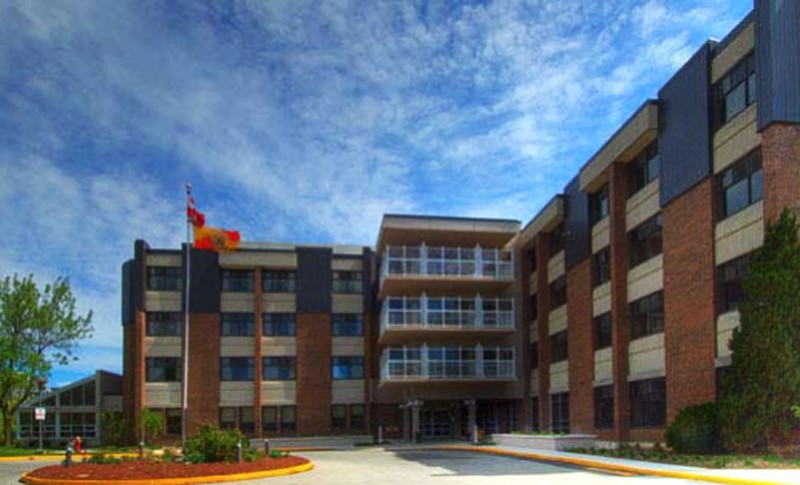 Sheridan Villa in Mississauga, one of the region's long-term care facilities currently experiencing a COVID-19 outbreak.
"That several members of our Peel Long Term Care family have fallen ill is extremely distressing," said Susan Griffin Thomas, the region's director of long term-care, in an email to The Pointer. "We are working closely with Peel Public Health to ensure everything possible is done to protect staff and residents."
The situation is growing more dire at assisted living homes not managed by the region, operating licensed long-term care beds.
There are currently seven other long-term care or community care facilities experiencing COVID-19 outbreaks (one or more confirmed cases) in Peel.
One of the hardest hit is Grace Manor in Brampton. Operated by Holland Christian Homes, the seniors' facility confirmed its first case of the coronavirus on April 7. In a statement from the company's CEO Ken Rawlins, he assured the community that "swift action" to halt the spread of the virus has been taken.
"We are working in close partnership with our public health unit to ensure every possible step is taken to protect our residents. The health and safety of our residents, and the staff members who serve them, is our highest priority," he stated. "We are very experienced in managing respiratory illnesses and have already initiated isolation protocols within Grace Manor and will be isolating, as much as possible, every resident in the Manor. We know that isolation can be very hard on our residents and we are focused on providing them with the best possible care during this difficult time. Our staff are going above and beyond to ensure each resident's well-being," the statement reads.
In less than a week, that single case has grown to include a total of 17 residents and five staff members as of April 13.
The rapid spread of the virus at Grace Manor illustrates just how vulnerable these homes are when the highly contagious virus slips through the doors. Many homes have implemented screening measures for staff entering the building and some are screening employees and residents twice daily with temperature checks. Yet, when the virus does find its way inside, the results can be deadly, especially in some of the older facilities which have several residents sharing the same room.
Other homes in Peel experiencing outbreaks include Erin Mills Lodge (five residents and nine staff members have tested positive), and Erin Meadows (13 residents and 11 staff members), Camilla Care Community, Villa Forum, and Silverthorn Care Community, all in Mississauga.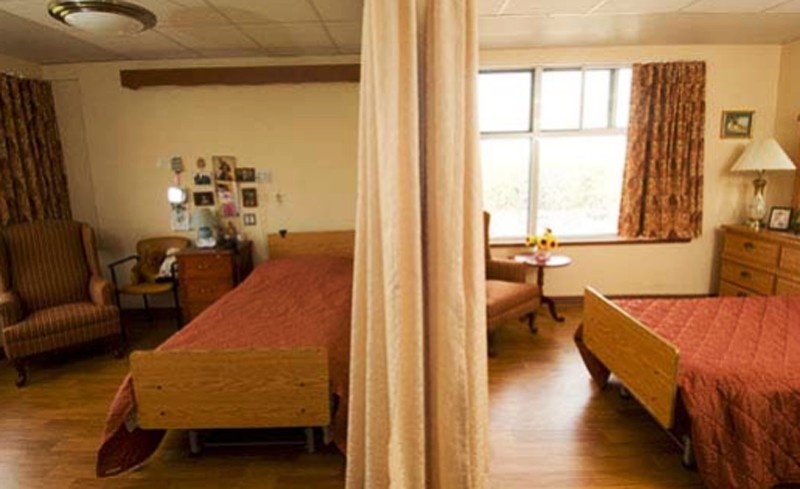 In many long-term care facilities, residents share close quarters, which makes it easy for COVID-19 to spread.
On April 4, Dr. Barbara Yaffe, Ontario's associate chief medical officer of health, reported dozens of COVID-19 outbreaks at long-term care facilities across the province, but on Tuesday, a little more than a week later, the number reported by the province more than tripled.
"We are aware of at least 36 outbreaks in long-term care facilities with 54 deaths related to those outbreaks," Yaffe said on April 4. Yesterday, 114 outbreaks at Ontario seniors' facilities were reported and the death toll has spiked with three facilities each reporting more than 20 seniors who have passed away from the virus.
On Tuesday, both leaders in Ottawa and Queen's Park addressed the alarming spread of COVID-19 in seniors' facilities.
The federal government released shocking data that shows about half of Canada's almost 1,000 COVID-19 deaths have happened in long-term care homes.
"We recognize the terrible and tragic stories that have come out of seniors' residences and long-term care facilities across the country," Prime Minister Justin Trudeau said Tuesday. "We know we need to do more."
Meanwhile, here in Ontario, with 114 outbreaks at long-term care facilities, Premier Doug Ford called the spread a "wildfire".
"My top priority right now is getting the troops and resources needed at this front," he said at his Tuesday press conference. Ford detailed a plan to send hospital-based teams to long-term care facilities, which are clearly overwhelmed and possibly not properly trained to deal with the effects of a dangerous viral pandemic.
Instead of highly trained nurses who work in hospitals, long-term care homes often employ low-wage workers with minimal qualifications and they often work in multiple facilities.
One of the directives from the province's public health leaders is the restriction of movement of staff between multiple facilities, which critics in and out of the sector have said is a major cause for transmission within seniors' homes that house some of the most vulnerable residents.
Ontario's chief medical officer of health Dr. David Williams has warned private facilities and their workers to keep away from long-term care homes, if employees have symptoms or are awaiting test results.
"If there is an outbreak and you are involved as a worker in that facility that has the outbreak, then the direction is that you really are going to have to step back if you're in quarantine," Williams said. "[Y]ou're not allowed to work at those other sites."
Privately run facilities have come under heavy criticism in recent years, for poor sanitary conditions, unqualified staff, low wages and overcrowding, as provincial funding and oversight under the previous Liberal government was widely questioned.
After the election of the Doug Ford PC government things have not improved. Inspection regimes and protocols that had been in place previously have been reduced under the PC's, removing a crucial layer of oversight to ensure the most vulnerable are properly looked after.
The Ford government has made some moves since the pandemic to help the devastated sector. About two weeks ago, under the Emergency Management and Civil Protection Act, long-term care facilities were given more flexibility to hire staff, and use existing staff in different roles, as many employees have been forced to stay home either because of positive tests or possible exposure to someone infected with the virus.
Staffing has become a critical issue.
Numbers of infections in each home are not available as not all share this information publicly on their website.
The close quarters within many of these facilities is not the only exacerbating factor when COVID-19 runs rampant through long-term care facilities.
The virus is much more fatal when it enters the body of a senior. In the Region of Peel, those over the age of 65 only account for 22 percent of the 1,001 cases here, but on April 13 they accounted for 78 percent of deaths —14 of the 18 deaths in Peel were over the age of 65. On April 14, Peel confirmed four more deaths due to COVID-19, but it's not clear whether any of these were linked to long-term care or retirement settings.
In Italy, a country hit hard by the coronavirus due to its generally older population, researchers observed that COVID-19 was fatal in 20 percent of those cases among seniors. In China, where the outbreak began in late December, for those 50 and under, the virus was fatal in less than 1 percent of cases, but was fatal in 15 percent of cases in those over 80.
Those who call these long-term care, or retirement residences home, typically have other ailments that require treatment. These comorbidities, whether it be kidney issues or diabetes, make them more vulnerable to dying if they contract COVID-19.
"We are obviously working very closely with long term care and retirement home partners all across the region, and certainly the picture that we're seeing in other regions as well as other jurisdictions around our senior population is one reason why we've actually made the strong recommendation that individuals over the age of 70 should be staying home as much as possible," says Dr. Lawrence Loh, Peel's interim medical officer of health. "We've basically been working with our partners to implement provincial guidance that really speaks to things like active screening and limiting visitors, you know, enhanced cleaning, isolation of sick residents, testing. There's a whole set of protocols that have all been put into place and those are absolutely being put in place to make sure that we protect our elderly populations as much as possible."
At the end of March the province introduced the new measures under its emergency declaration to help ensure these long-term care settings had the proper staffing levels and resources to keep residents and employees safe. The order gave these facilities the ability to redeploy staff within different homes where needed and to reassign workers to different roles, regardless of collective bargaining agreements that restrict what staff with different titles are allowed to do.
The order also restricted residents from leaving a home for short visits with family and friends, in order to limit the possible transmission of the virus back into the facility.
The move comes after many tragic stories in long-term care settings across Canada, including the Pinecrest long-term care home in Bobcaygeon where 29 residents have died, and a home in Dorval, Quebec where 31 residents have died over the last month.
These new measures were in addition to protocols put in place to limit non-essential visits and the screening of visitors, staff and volunteers.
It has not stopped the continued infiltration of the virus into these care settings. Across Ontario, as stated, the current 114 outbreaks in long-term care settings, are happening while the pandemic here has not yet reached its peak. According to a release from the Ontario Health Coalition on April 9, almost half of Ontario's deaths from COVID-19 are linked to long-term care settings.
The OHC has been a strong critic of the government's handling of COVID-19 in long-term care settings, noting that the measures implemented to date do not go far enough to protect workers and seniors.
The coalition has made several recommendations to the government, including a guarantee the LTC sector will receive the appropriate amount of personal protective equipment (PPE), training and support — including a call for enhanced wages — to deal with the rising number of COVID-positive patients.
On Tuesday, the government announced that enhanced supports will be coming, with further information to be made public on April 15.
Premier Ford enacted the new emergency order that restricts staff members from shifting between different homes. Previously, this was a necessity for many who work in the sector, which is fraught with low wages and part-time positions, so in order to make ends meet, workers took shifts wherever they could get them. Now, Ford says enhanced support will be provided to workers in order to ensure they can earn a living and not move between different settings, something that raises the risk of the novel coronavirus being brought from one home to another.
"We're dealing with a wildfire at our long-term care homes right now," Ford said on Tuesday. "We will spare no expense to protect our most vulnerable."
Perhaps most concerning, when COVID-19 is able to enter one of these facilities in Ontario, it's entering an environment that is under-staffed, and the employees who are there, most likely were already experiencing some form of burnout before the pandemic began.
A study commissioned by Unifor — the union represents approximately 15,000 workers in the long-term care sector — and completed by the OHC in December 2019, found a startling shortage of personal support workers (PSWs) in Ontario's long-term care homes.
"In every town, in virtually every long-term care home, on virtually every shift, long-term care homes are working short-staffed," the report reads.
Of those PSWs who do work in the sector, many of them make barely more than minimum wage, and are dealing with considerably heavier workloads than other jobs with similar pay. It's led to many PSWs leaving their jobs for work in retail or at restaurants. The PSWs who do remain, are struggling.
"Burnout is a major concern across the province and 'compassion fatigue' was frequently described as a problem among staff who have to cope with grief as residents die; high expectations from families, management and government; stressful workloads and inadequate (or nonexistent) emotional support," the study reads.
Even before COVID-19, the study found that PSWs were dealing with an increased complexity when it came to patient needs. Many in long-term care require treatments like dialysis, palliative care, and pain management, something that many of Ontario's LTC homes are not suited to deliver.
"This care is being provided in environments that are not physically designed for such care and staffed with insufficient numbers of nursing and PSW staff for the setting," the study notes.
Many of the residents in Ontario's LTC settings, approximately 81 percent according to government data, have some form of cognitive impairment, one-third of them are labelled as "severe". In the Region of Peel, approximately 64 percent of LTC residents are diagnosed with dementia.
This raises several more issues for the long-term care sector during the COVID-19 pandemic. For patients suffering with dementia, it can be harder for staff to explain to them the severity of the situation and why they need to stay in their rooms. This increased tension can create a higher potential for violence.
A study completed in March of last year by researchers at the University of Windsor and University of Stirling in the UK found that 62 percent of Ontario PSWs surveyed — which included members of the Ontario Council of Hospital Unions and CUPE — experienced at least one incidence of violence each week. A majority of them (75 percent) said they were not able to provide adequate care due to the workload and low staff, and 69 percent admitted to wanting to leave their job.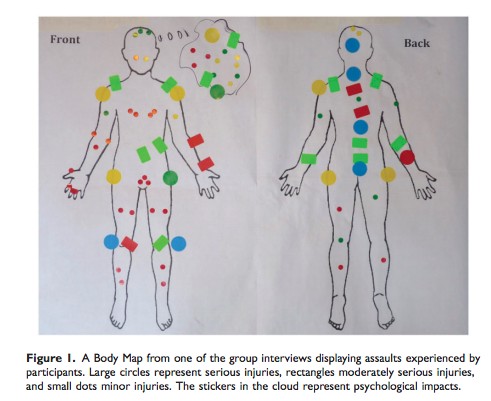 A study completed by researchers at the University of Windsor and University of Stirling found personal support workers frequently experienced violence on the job.
These preexisting issues might be exacerbated by the COVID-19 pandemic that will force many vulnerable patients to be confined to their rooms, while many may not fully understand what is happening.
"Our residents of long-term care are particularly vulnerable because of the comorbidities, so we're paying particular attention to those long-term care facilities," said Dr. Helen Angus, deputy health minister and co-chair of the province's COVID-19 command table during a teleconference at the end of March.
The same was said by Loh.
"I think the biggest and most important thing that I can say is that we are constantly monitoring the situation in our... senior populations because we do know that they are at a greater risk of severe illness with COVID-19 and that's definitely top of mind for all of us," he said.
---
Email: [email protected]
Twitter: @JoeljWittnebel
---
COVID-19 is impacting all Canadians. At a time when vital public information is needed by everyone, The Pointer has taken down our paywall on all stories relating to the pandemic to ensure every resident of Brampton and Mississauga has access to the facts. For those who are able, we encourage you to consider a subscription. This will help us report on important public interest issues the community needs to know about now more than ever. You can register for a 30-day free trial HERE. Thereafter, The Pointer will charge $10 a month and you can cancel any time right on the website. Thank you.
Submit a correction about this story