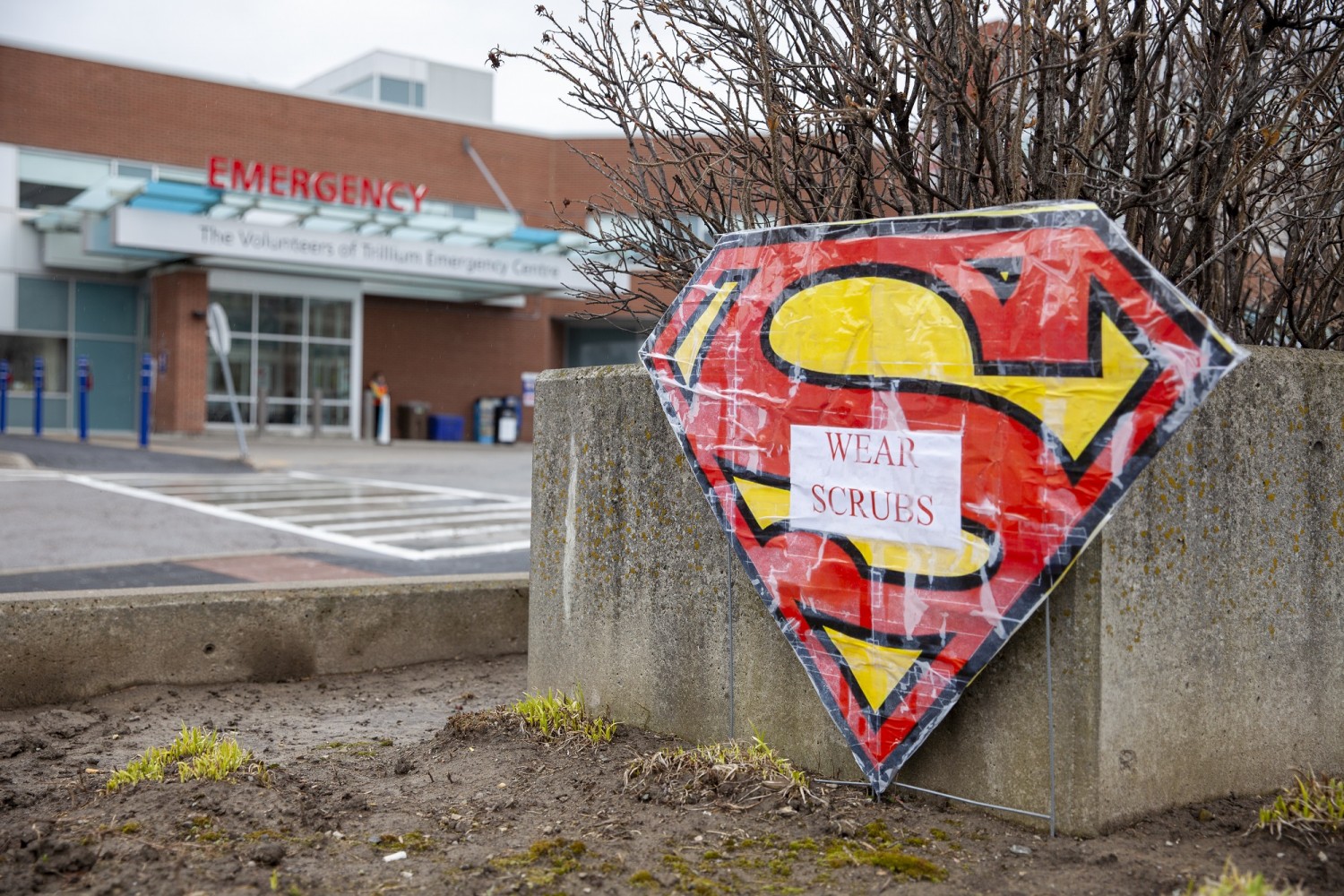 Photos from Twitter/Graphics from The Pointer
62 new COVID-19 cases confirmed in Peel Tuesday; community comes together to provide supplies for frontline workers
In countries around the world, people have gathered to show their support for frontline service providers. Whether that's banging pots and pans from balconies during shift changes at local hospitals, or the convoy of first responders circling healthcare facilities and giving a siren salute to heroic nurses and doctors, people are trying to show their profound appreciation.
Meanwhile, the extremely stressful and exceedingly dangerous work of hospital staff during the COVID-19 pandemic continues.
While loud shows of support from wailing sirens and clanging cookware are symbolic expressions of gratitude, the local Peel community has also stepped up in a big way to provide frontline workers with the equipment they need to keep themselves safe.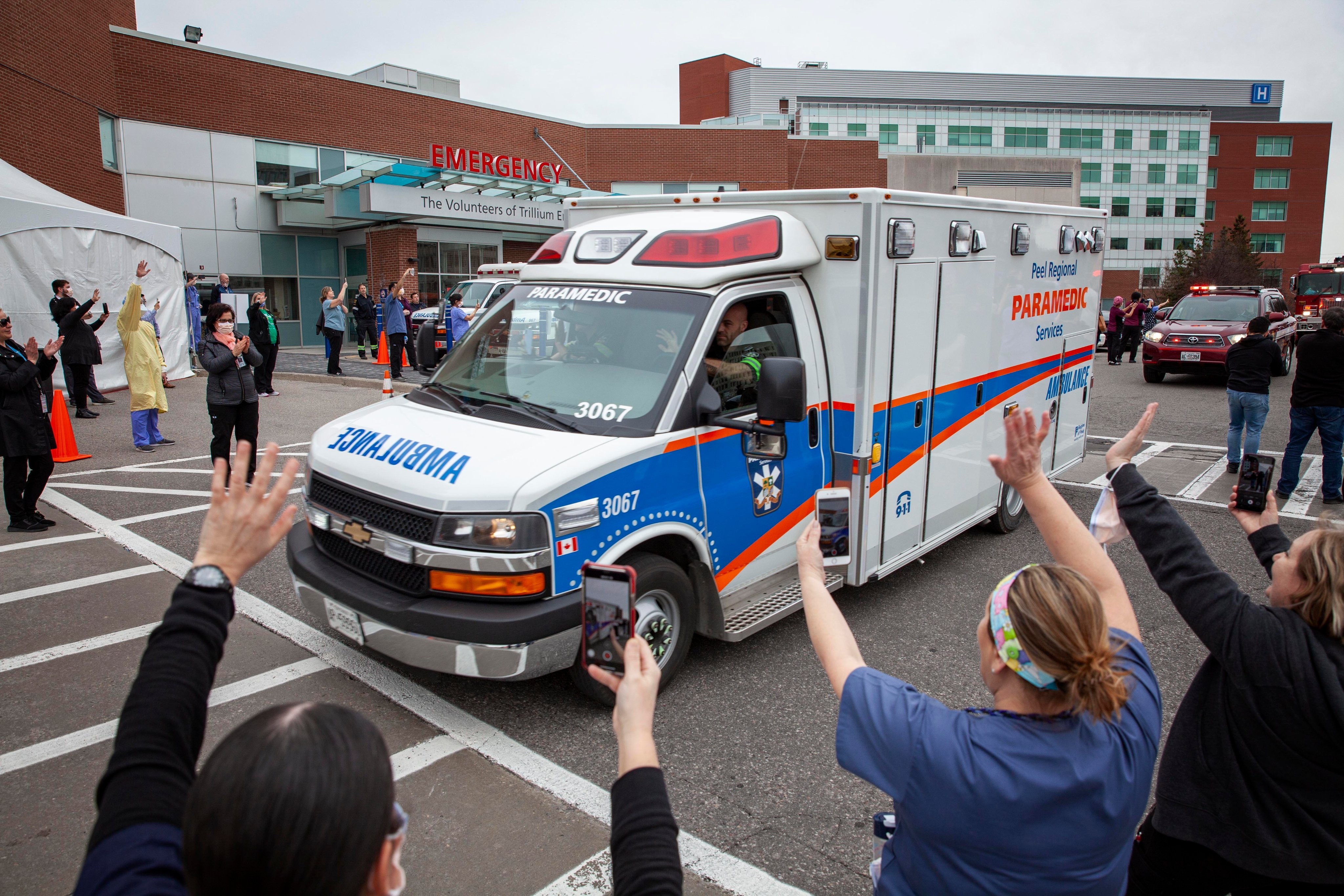 A show of support from first responders at Mississauga Hospital.
In Peel, the local public health unit confirmed an additional 62 cases of the novel coronavirus in the region Tuesday morning, bringing the total to 1,063. Mississauga continues to see the highest growth of new cases with 44 additional infections reported this morning. Peel's largest city now has 571 total cases, while Brampton has 443, with 16 additional cases confirmed today. The region also confirmed four additional deaths due to COVID-19, bringing the total to 22.
Numbers show the rate at which the virus is spreading in Peel to be slowing considerably. During the final week of March, cases increased in Peel by nearly 400 percent, growing from 56 on March 24 to 277 on March 31. By comparison, over the last week, cases have increased 78 percent from 557 on April 6 to 1,001 yesterday.
But these figures have to be viewed in context. Epidemiologists and other researchers say two sets of data should be looked at: the rate of increase; and the overall increase.
Because overall case numbers keep climbing, the same day-over-day number of cases, even if it remains constant, would represent a smaller percentage increase each day. Adding ten new cases on top of the previous day's total of 100, means a 10 percent increase in one day. But after ten straight days of the same daily total, an increase of 10 new cases on top of 200 in total the previous day, represents only a five percent increase in one day. So while the rate of increase is actually going down, which epidemiologists want to see, eventually we want to see the overall numbers going down as well.
Peel isn't there, yet.
On Sunday, March 29, there were a total of 187 confirmed cases in Peel. A week later, on April 5, there were 485, for a total one-week increase of 298 cases.
From April 5 to April 12, this past Sunday, when there were a total of 951 cases confirmed in Peel, the number of additional infections reported in one week was 466.
But even though the total figures are climbing, experts are heartened by the fact the rate of increase is slowing. Instead of case totals doubling every three to four days in Peel, as they were between late March and early April, it's now taking about eight days for the overall number to double, an indication that strict social distancing measures are working.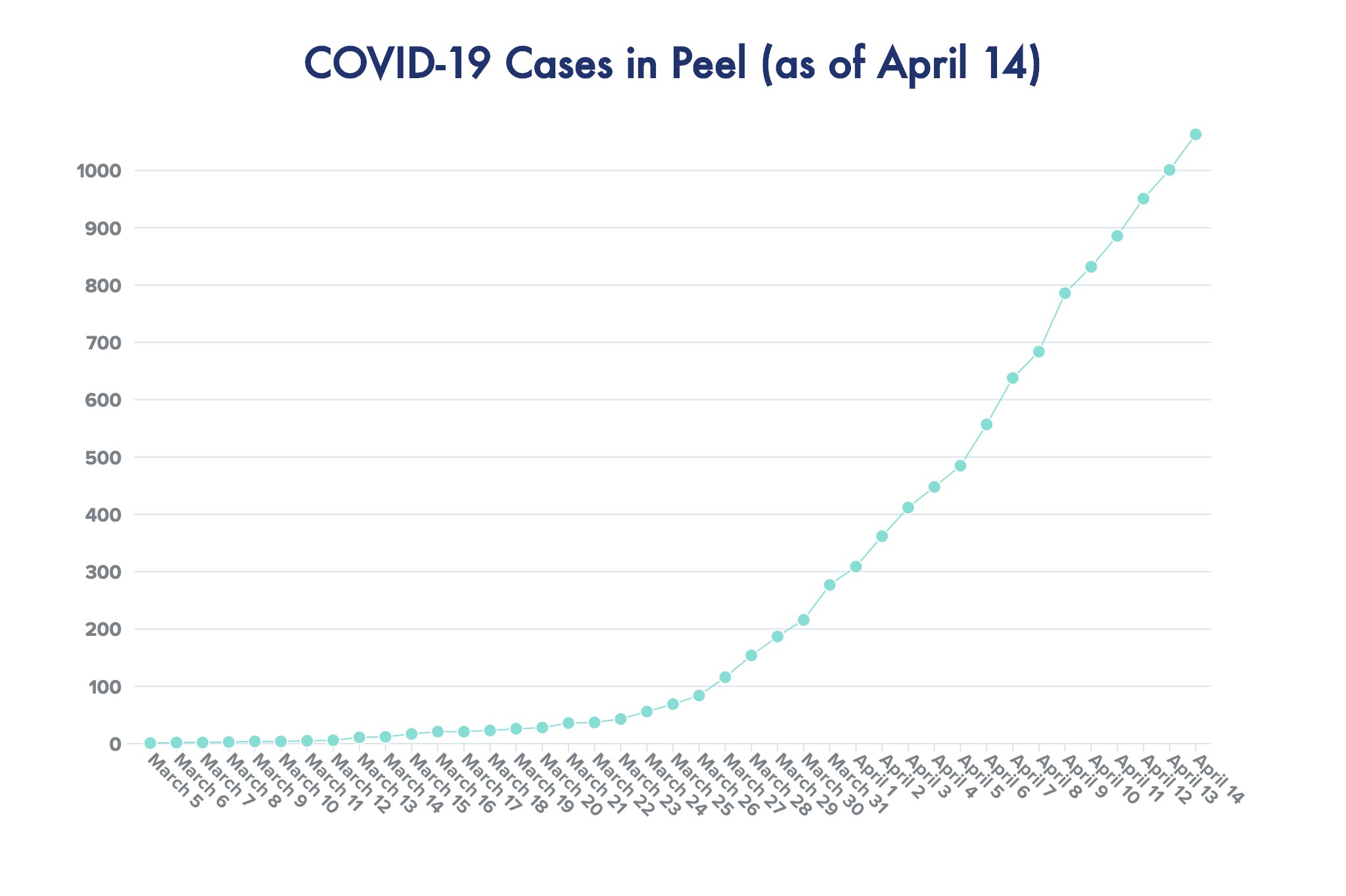 And while provincial projections see COVID-19 cases plateauing this week, there is still a desperate need for personal protective equipment (PPE) on the front lines of the fight because even if new cases start to decline, hospitals are starting to face increased pressure from serious cases that were first diagnosed weeks ago, before symptoms grew more severe.
Hospitals across Ontario are at a critical point in the fight against COVID-19 as their reality differs from the scenario painted by the day-to-day figures.
Certain risks are not reflected in these figures, such as the rates of comorbidity factors in a particular group of patients. A particular hospital might serve a community where there are more seniors, higher rates of diabetes, lung disease, cardiovascular problems and hypertension, all of which create higher risk of developing more serious COVID-19 symptoms, and a greater chance of dying.
Communities with more South Asian-Canadians, who made up 44 percent of Brampton's population in 2016 and about 23 percent of Mississauga's, could see more serious COVID-19 cases because of high rates of diabetes and heart disease within this large local ethnic group. Black communities are also at a higher risk because of their higher rates of hypertension, diabetes and heart disease.
While frontline healthcare workers treat their community members, they too are at risk of contracting the virus.
The shortage of PPE has become a global crisis as countries across the world, all of them fighting their own battles against the novel coronavirus — latest figures from the World Health Organization show nearly 2 million cases worldwide — sees everyone fighting over available supplies.
Places like China and the European Union have largely halted the export of these resources, tossing supply chains in Canada into turmoil.
In the Region of Peel, both local healthcare networks, William Osler Health System in Brampton and Trillium Health Partners in Mississauga, have hosted PPE drives in an effort to solicit local donations from companies that have supplies for their own use, but with most businesses shut down as result of the provincial emergency declaration extra supplies can be donated to local hospitals.
The response from Peel has been heartwarming.
For Osler, 5,000 masks from DSK electric, 25,000 masks from Paradise Developments, 4,000 masks from former MP Raj Grewal and $52,000 worth of PPE from Sheridan College have been donated.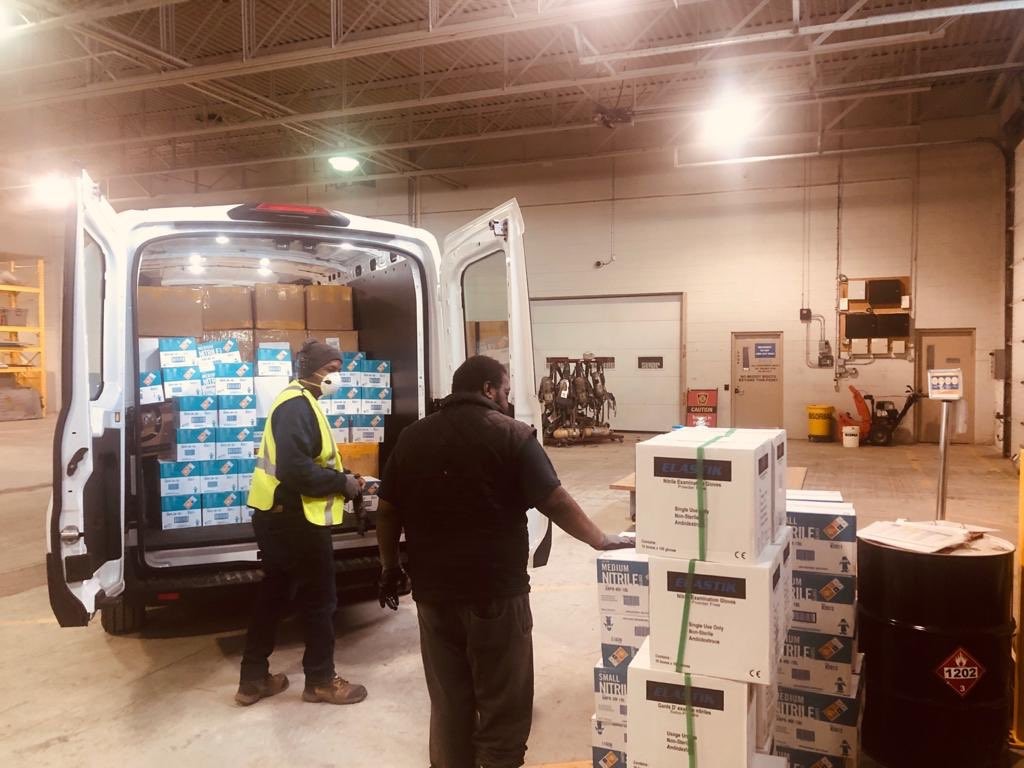 Brampton businesses came together to donate needed PPE.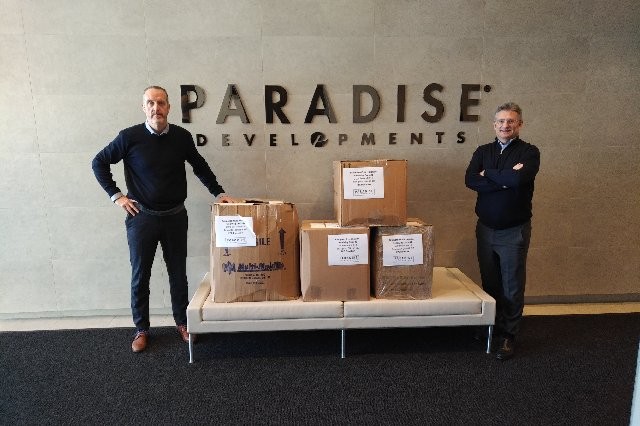 Paradise Developments donated 25,000 masks to Osler's PPE drive.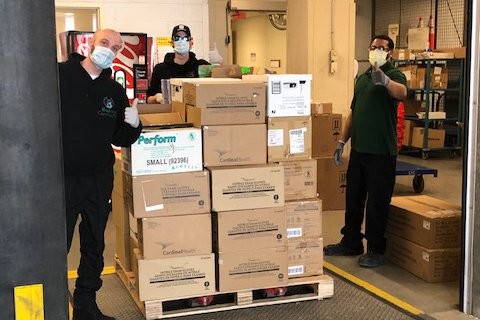 Sheridan College donated more than $50,000 worth of PPE to Osler.
Trillium received thousands of masks from Alcon Canada, $154,000 from the Islamic Circle of North America, thousands of gloves and hundreds of masks from the University of Toronto-Mississauga and other U of T campuses.
That's only to name a few from the local community who have shown support including well known people like John Tavares, captain of the Toronto Maple Leafs who, along with some teammates, donated an undisclosed sum of money to Trillium and Mount Sinai Hospital in Toronto.
There are also alcohol distilleries making hand sanitizer, auto parts manufacturers making ventilators, and Brampton company O-Two Medical Technologies, which is working to produce 10,000 ventilators to help treat the most serious COVID-19 cases.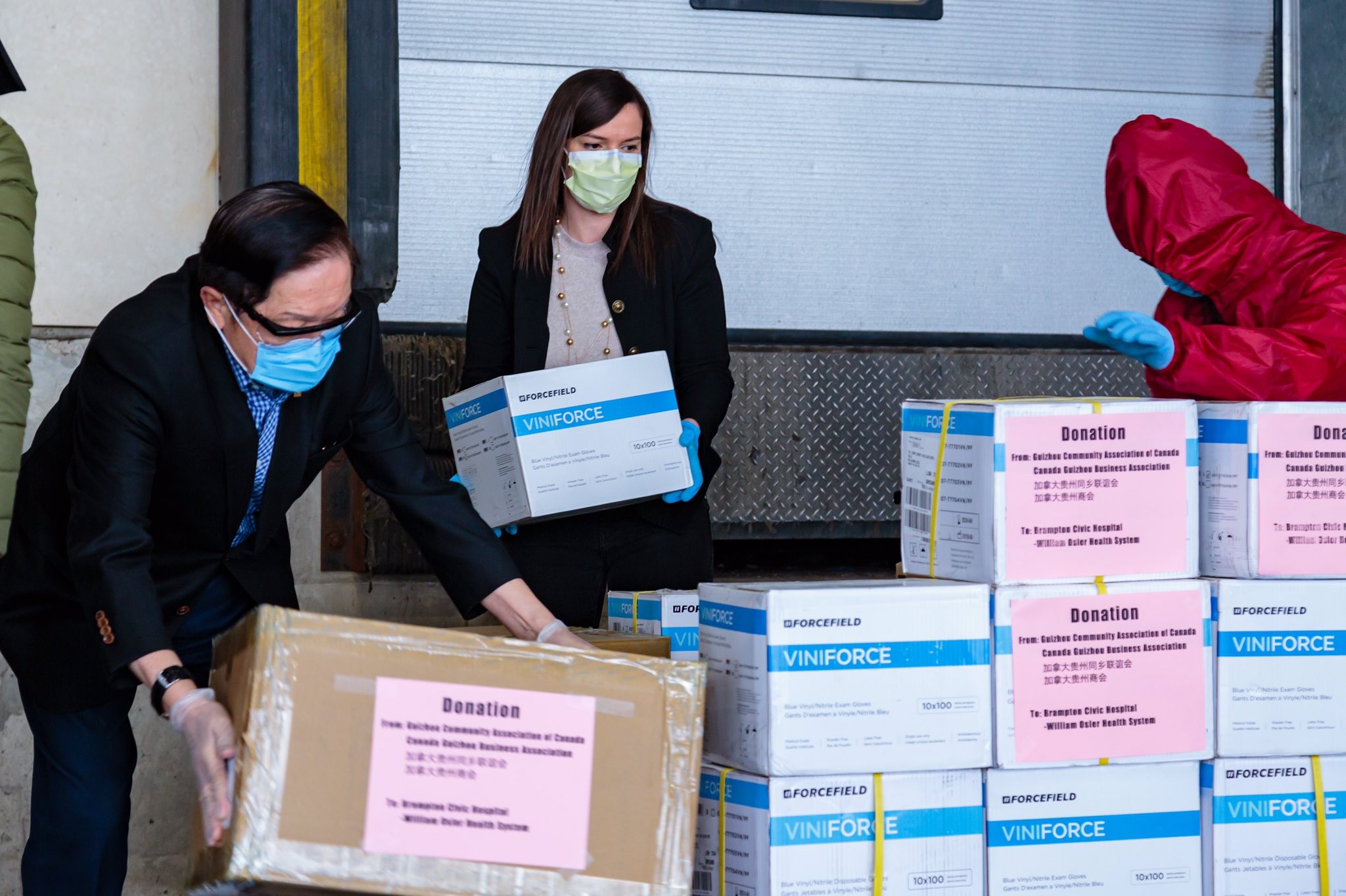 Mississauga Centre MPP Natalia Kusendova (centre) and some of her PC colleagues donate a load of PPE to William Osler.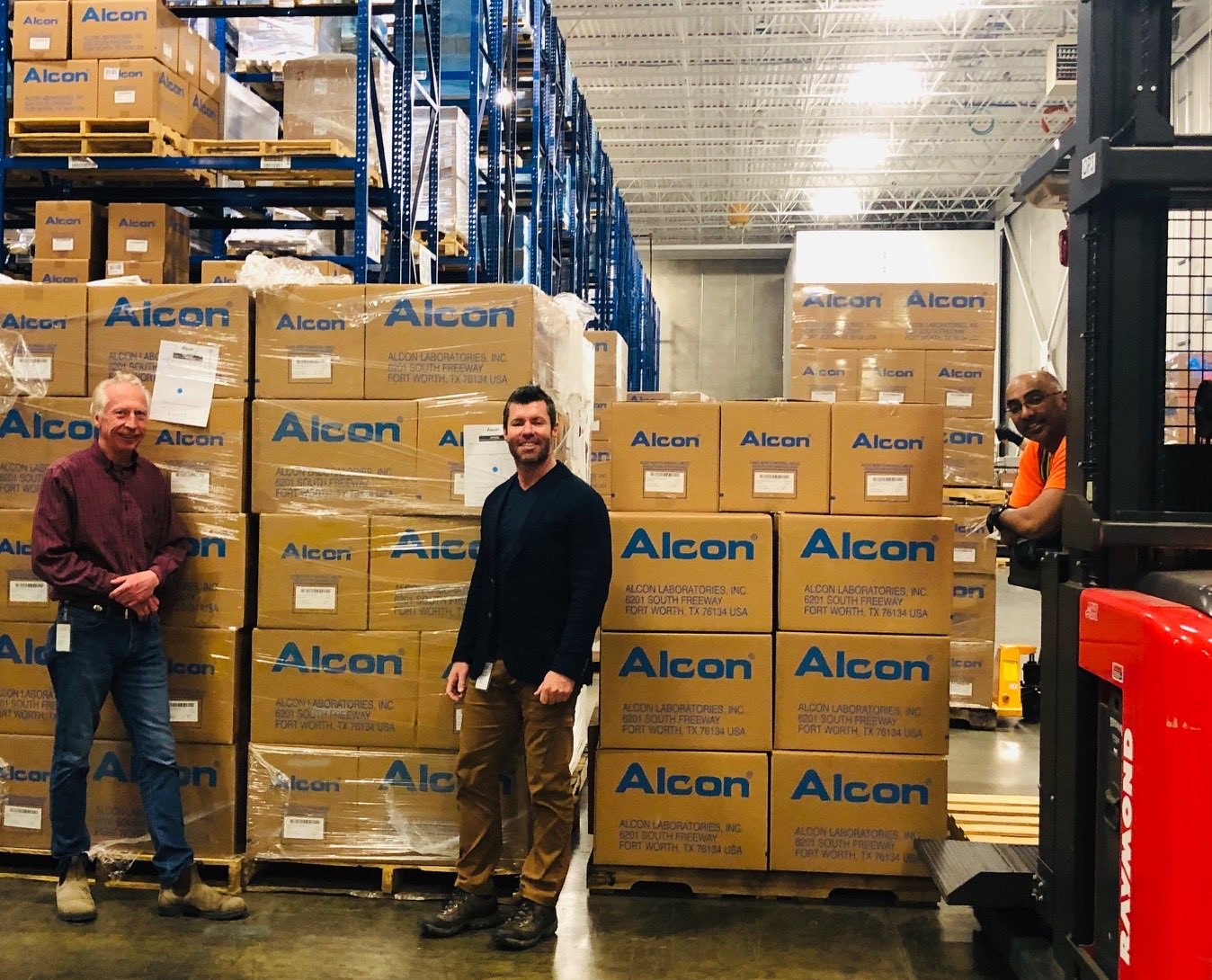 Alcon Canada donated thousands of masks to Trillium Health Partners.
In an effort to prepare for the worst, Ontario Health has put in place a contingency plan for local hospitals to preserve PPE supplies. These measures include collecting used masks for potential sterilization and reuse.
Currently, Keeley Rogers, a spokesperson with Trillium, says the network has an "adequate" supply of PPE, and is working to secure more from the province.
"As part of Ontario Health's contingency plan, it was recommended that all organizations refrain from disposing of all masks (N95 masks and surgical/procedure) and face shields," Rogers explained. "Following this notification, Trillium Health Partners has begun to collect, sort and hold all masks (N95 and surgical/procedure) and face shields to potentially repurpose. We do not intend to re-use the collected masks at this time. This is a precautionary measure we are taking in the event it is necessary to use recycled, sterilized masks so that our staff have access to the PPE they need."
"Should the need arise to reuse masks, we will communicate details of the sterilization and reprocessing plan with staff in advance of implementing any actions," Rogers added. "Ontario Health is to provide recommendations and details on best practices for organizations to implement sterilization of masks, if it becomes necessary."
On Monday, a provincial announcement had many in the healthcare sector breathing a small sigh of relief when Ontario announced it had acquired 13 million procedural and surgical masks, 200,000 critical N95 respirators (required when treating COVID-positive patients), and 38 ventilators.
Further, over the Easter weekend, the province delivered 6.5 million masks to 650 different healthcare providers across the province, including hospitals, long-term care homes and retirement residences.
"While Ontario is making progress in procuring critical supplies and equipment, the global supply chain remains constrained. Conservation of supplies and equipment, particularly personal protective equipment is of utmost importance. The government is working to ensure those in priority areas and in urgent need are receiving the supplies they need," reads a Monday press release from the province.
---
Email: [email protected]
Twitter: @JoeljWittnebel
---
COVID-19 is impacting all Canadians. At a time when vital public information is needed by everyone, The Pointer has taken down our paywall on all stories relating to the pandemic to ensure every resident of Brampton and Mississauga has access to the facts. For those who are able, we encourage you to consider a subscription. This will help us report on important public interest issues the community needs to know about now more than ever. You can register for a 30-day free trial HERE. Thereafter, The Pointer will charge $10 a month and you can cancel any time right on the website. Thank you.
Submit a correction about this story