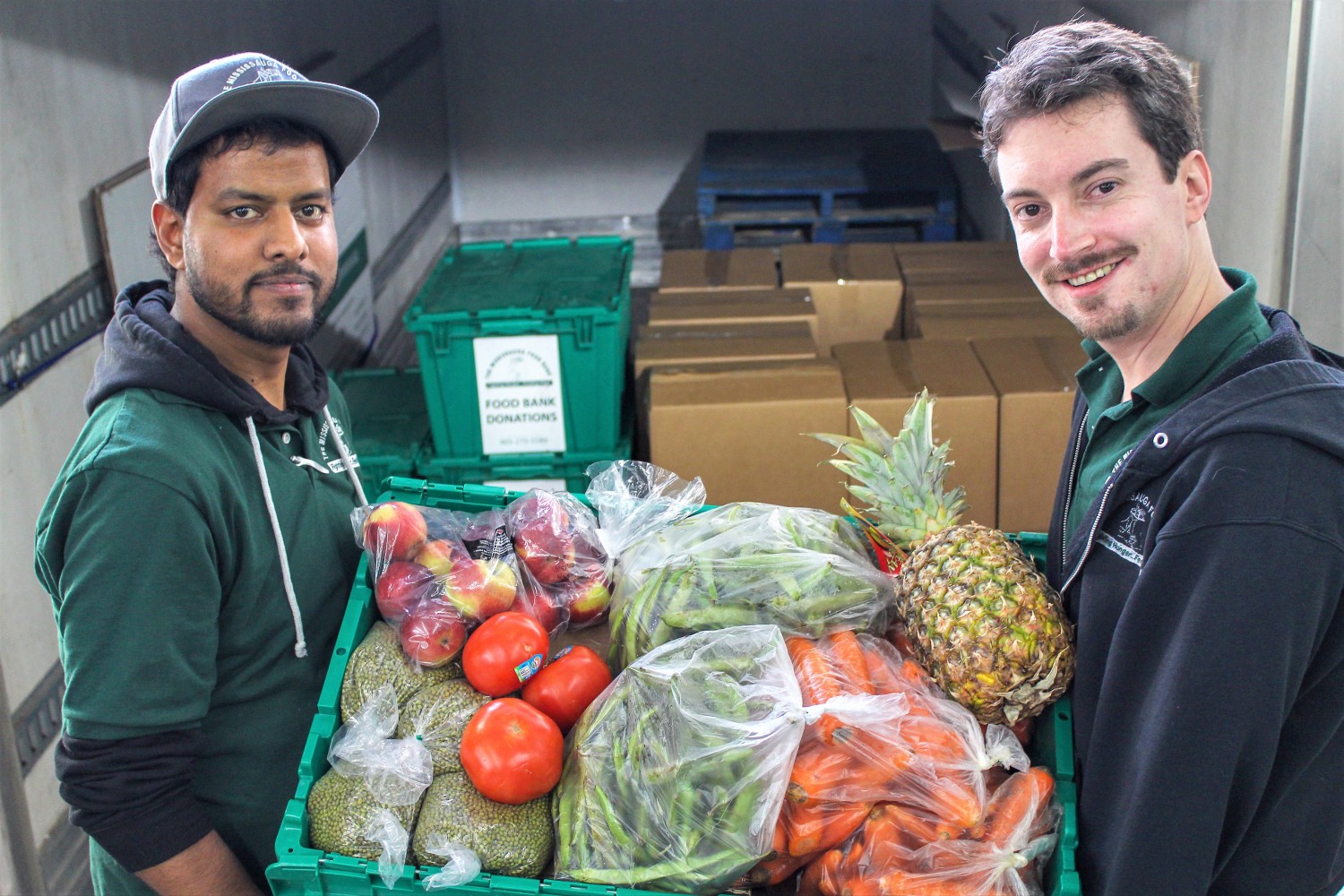 Photos Mississauga Food Bank/Map Who's Hungry/Graph Sheridan College
Thousands wait for federal benefits to flow while food banks and colleges pick up the slack in Peel
On Monday, the Government of Canada threw a lifeline to struggling Canadians. The Canada Emergency Response Benefit (CERB) began rolling out, with 966,000 applications submitted by the end of its first day.
Jean-Yves Ducloes, President of the Treasury Board, shared the statistics on Twitter. The Quebec MP also said that, combining CERB with EI requests since March 15, a total of 3.67 million citizens had asked the government for help.
CERB, like so much government policy in a period of national crisis, has been whipped up at speed. Various news releases and press conferences were organized to explain the evolving plan, expanded to try to respond to criticism and questions about its original drafting.
Currently, the benefit offers $2,000 per month for up to four months for people facing unemployment due to the COVID-19 crisis. It is being offered to a range of people, including those who have not made EI contributions, contract employees and freelancers, all on condition they had income of at least $5,000 in 2019.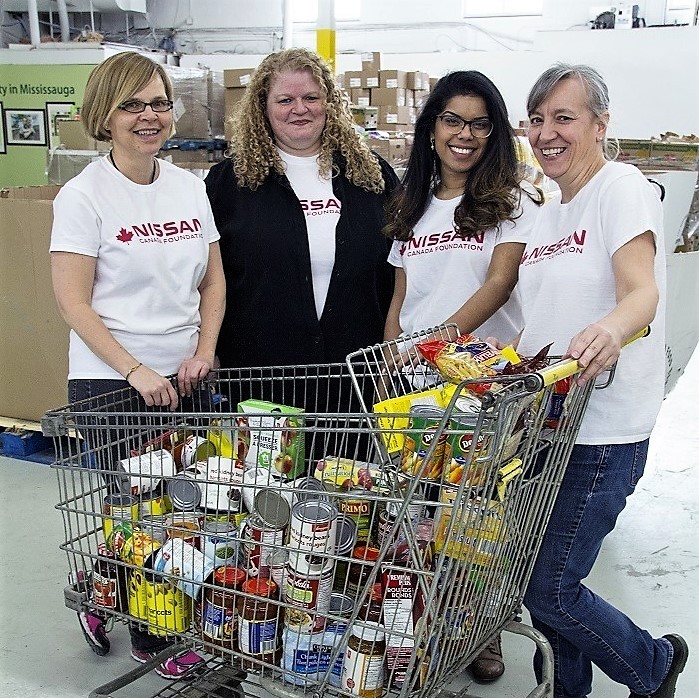 Demand at the Mississauga Food Bank has increased since the start of the pandemic
"The benefit is only available to individuals who stopped work as a result of reasons related to COVID-19. If you have not stopped working because of COVID-19, you are not eligible for the benefit," the government said in a backgrounder.
One of the biggest challenges during the pandemic, when policy is regularly being made on the back foot to respond to ever-changing demand, is that there are bound to be gaps. An analysis by David Macdonald of the Centre for Policy Alternatives found roughly one third of Canadians impacted by COVID-19 would not currently qualify for aid through the program.
"Between March 25th and April 6th — the space of only a week and a half — the Employment Insurance system is being retooled to deliver a Canadian Emergency Response Benefit (CERB)-equivalent that emulates most of the CERB conditions," Macdonald wrote. "For 84 percent of the workers who've been laid off in the past two weeks, the CERB and CERB-equivalent systems will provide a higher benefit rate than old EI. This will be a better deal for many workers, particularly lower wage ones with fewer hours."
The analysis found that a third of unemployed Canadians (862,000) receive nothing from either EI or CERB, while 14 percent of unemployed people (390,000) receive some support, but less than the $500 per week offered by CERB. Issues remain for those who are still partially employed, but have seen their income take a hit.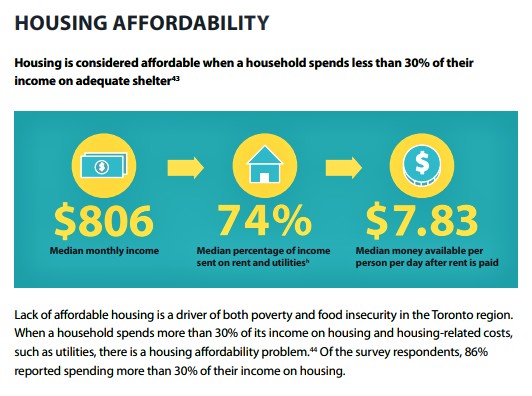 Skyrocketing housing costs have driven more people across the GTA to social services in recent years
At the heart of Macdonald's work is the fact that CERB currently only applies to those who have been forced to stop working altogether as a result of COVID-19 from March 15 onwards. That means those laid off as a result of worsening business before stricter measures came into effect or some of those unemployed before the crisis may be left without any support.
In Peel, Meghan Nicholls, Executive Director of the Mississauga Food Bank, has firsthand experience with the reality suddenly facing thousands of residents.
"We are seeing an increase in the number of new families coming in … it is higher [than last year] in terms of people using the food bank for the first time," Nicholls told The Pointer. Drawing on anecdotal evidence, she estimated roughly one quarter of those seeking support from the food bank as of late were first-time users.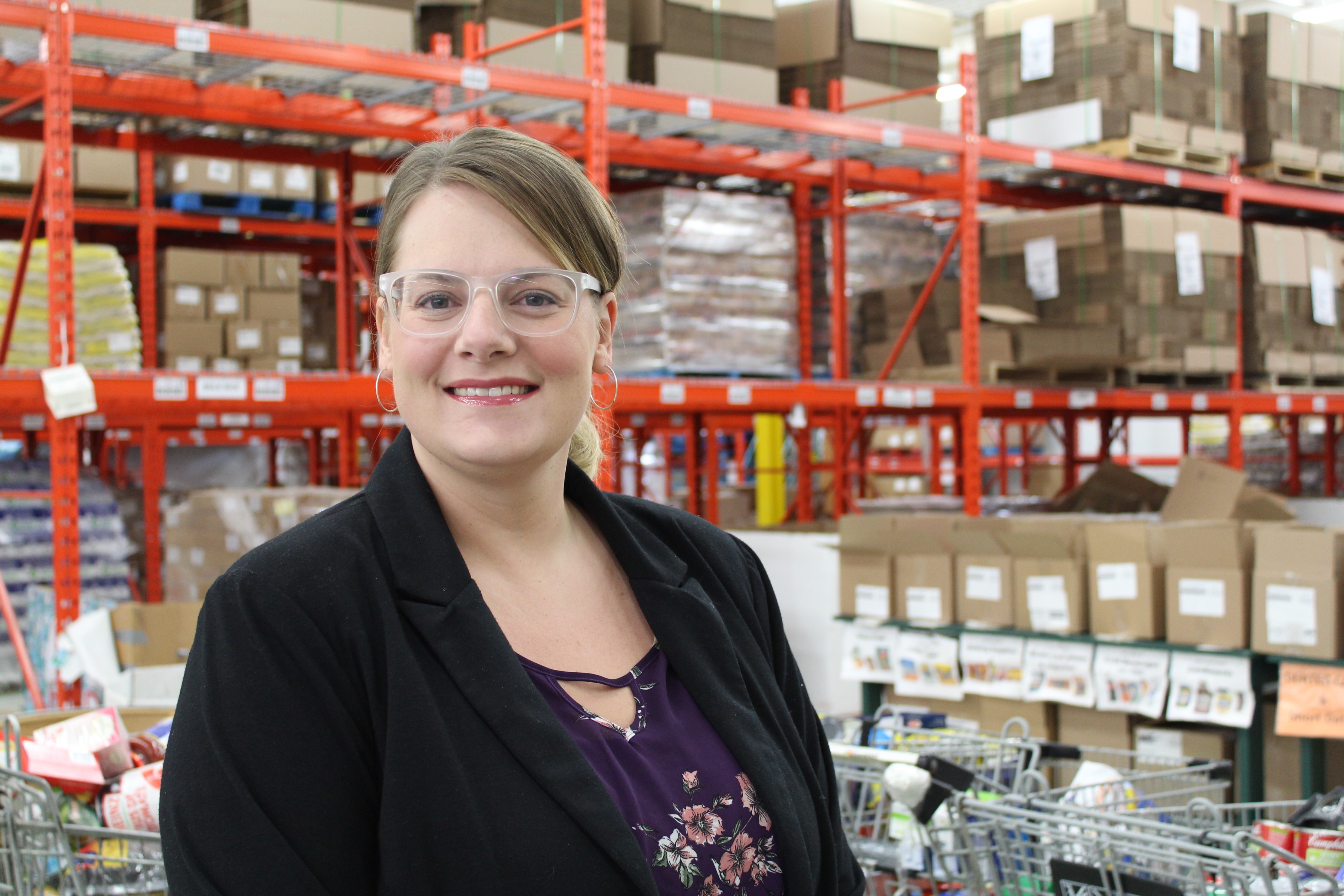 Meghan Nicholls, Executive Director of the Mississauga Food Bank, is grateful for continued donations but says more is needed
The added demand comes on top of a large spike in demand last year, when there were 16 percent more visitors to the city's food bank system, a result of skyrocketing housing costs and other issues Peel Region has been struggling with.
Now, even more people have been thrown into crisis.
"People are having to use these systems for the first time and we are providing information to help navigate accessing social services which they might not have had to do before," she added.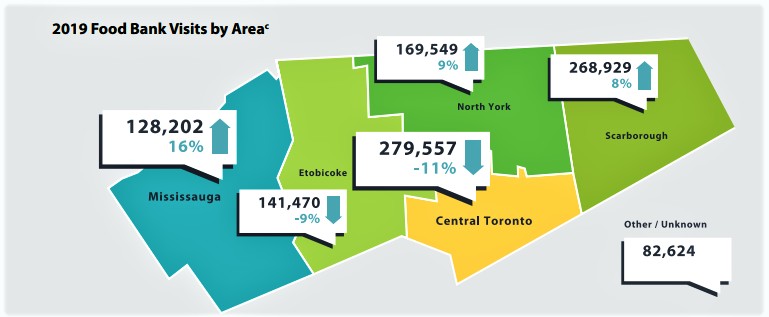 While the federal government figures out the finer details of helping as many Canadians as possible, it is the food banks that are feeling the strain. In the time Ottawa took to get its ducks in a row, layoffs and temporary shutdowns were happening across Peel (at Brampton's Chrysler-Fiat plant, for example) while many landlords continued to charge rent. But unlike the unionized auto workers who continue to receive negotiated benefits, for many working in retail or the small business sector, the taps were suddenly shut off.
Families in the region were experiencing urgent financial issues long before the government's money began to flow this week (and beyond). A 2016 study by the Canadian Centre for Policy Alternatives, found that 3.4 million Canadian households rent with wages or self-employment revenue, and 46 percent of households in this category had less than one month's income in their savings. Of these, more than 500,000 were in Ontario. These numbers show just how precarious life is for some who do not have the luxury of waiting for the government to intervene.
But as the food banks step up to help, increased demand is correlating with less food and fewer volunteers.
"We don't have volunteers, mostly they're wanting to stay home," Nicholls said. "We've seen a drop in our regular cash donations, but … the community has really rallied around. It's not quite as much as we need yet, but certainly it has improved in the last number of weeks. We need additional money because we anticipate having to purchase more food than we usually do ... we have more people than usual and food donations have really dropped off, because our supply chain is trying to keep grocery stores filled and people who would kind of personally donated before aren't doing food drives."
A group Nicholls expects to see coming through the doors of her food bank soon is students. To compound the upheaval of courses switching online, college and university students in Peel are also experiencing severe financial pressures. The sectors students traditionally work in, such as service businesses, hospitality or nightlife, are all suspended under COVID-19, while some may not have made the $5,000 threshold in 2019 to receive CERB due to part-time hours or temporary work contracts.
"Youth are in a precarious place," final year University of Toronto Mississauga student Habon Ali said in an interview on her university's website. She is a member of Prime Minister Justin Trudeau's Youth Advisory Council and recently spoke with him about the issues young people face, including employment prospects and the status of summer jobs or internships. "We also talked about what this situation means for us regarding mental health and internet access for youth in rural and remote communities," she added.
In Peel, the issue is complicated further by a large cohort of international students. Sheridan, with campuses in Brampton and Mississauga, has seen its international student population jump 300 percent in 10 years. In 2009, just under 2,000 full-time international students attended the college, but more than 8,000 were enrolled in 2019.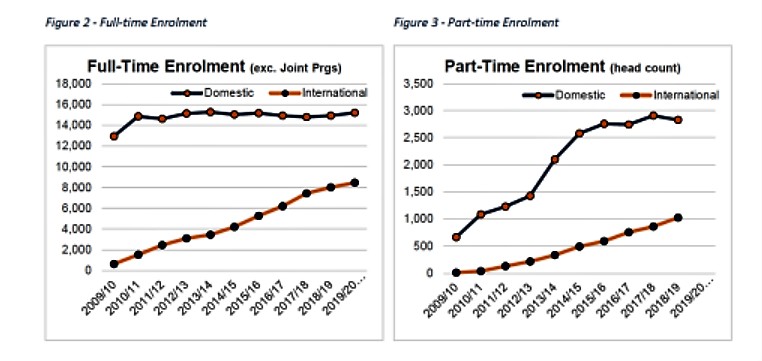 Sheridan College has seen a dramatic increase of international students
Residency status of these students and complications around study permits throw into question whether they qualify for government support. The near-end to international travel means many could be stranded in Peel Region, unable to return home and without financial assistance.
"We're particularly concerned for our students," VP of External Relations at Sheridan College, Jeff Vallentin, told The Pointer. "There is no doubt that there is an increased challenge and we're doing our best to … be in touch with our students to hear about the concerns and respond as best we can."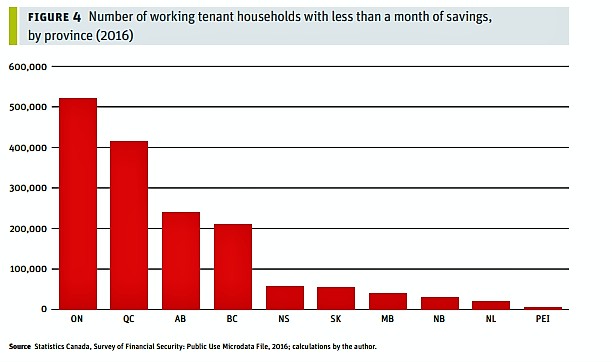 In 2016 there were more than 500,000 households in Ontario with working tenants who had less than a month of savings; many students are in a similar situation
To help, Sheridan College set up a bursary of more than $1 million for students impacted by unexpected costs. The initial period for students to apply for as much as $1,500 ran from April 1 to April 6, with Vallentin saying more than 2,000 students applied.
"It's for everything, from food and shelter to travel or technological needs and we're just going to have to do our best to work through what we can," he said.
Speaking on Monday, Trudeau moved to reassure people that CERB and other benefits would continue to be expanded to reach as many Canadians as possible. He promised adjustments to the program in coming days to include categories such as gig economy workers and students.
"You need support now, and work is underway to get it to you as soon as possible," he said. "For people in all of these situations, we see you, we're going to be there for you and we're working as hard as we can to get you the support you need."
Until then, other groups, including colleges and food banks, will continue to pick up the slack.
---
Email: [email protected]
Twitter: @isaaccallan
Tel: 647-561-4879
---
COVID-19 is impacting all Canadians. At a time when vital public information is needed by everyone, The Pointer has taken down our paywall on all stories relating to the pandemic to ensure every resident of Brampton and Mississauga has access to the facts. For those who are able, we encourage you to consider a subscription. This will help us report on important public interest issues the community needs to know about now more than ever. You can register for a 30-day free trial HERE. Thereafter, The Pointer will charge $10 a month and you can cancel any time right on the website. Thank you.
Submit a correction about this story