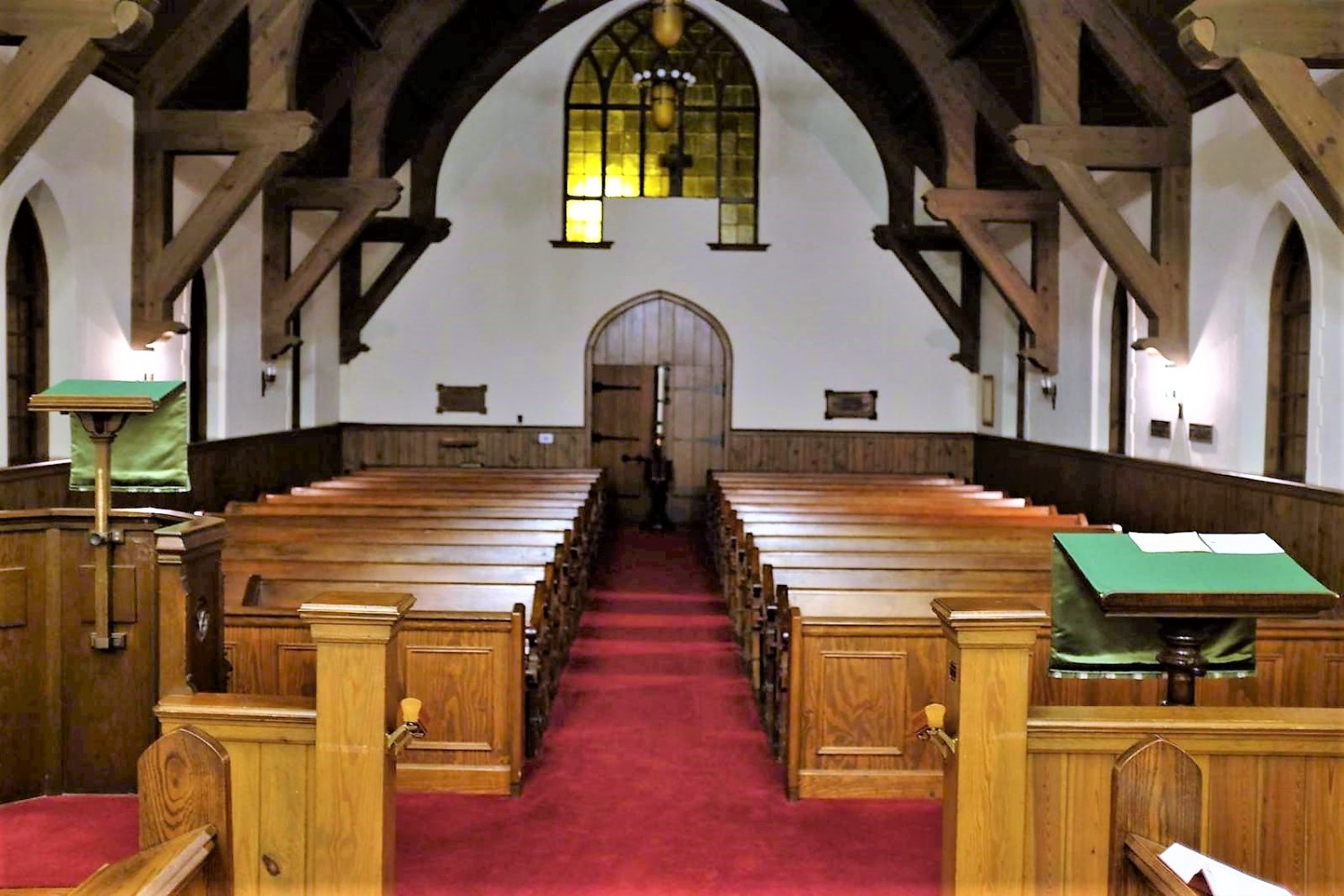 Photos from the Region of Peel/Twitter/Dr. Abhishek/Solel Congregation of Mississauga/St. Mary's Church/Imam Luqman Abu Yaqoob
With places of worship closed, religious leaders find virtual ways to help others keep the faith
On a recent Sunday, as Catholics around the world looked forward to Easter, Reverend Liborio Amaral took his usual place at the front of St. Mary's Church in Brampton to address his audience. Unlike the thousands of sermons he's delivered in the past, he wasn't looking at the congregants in person, but through the lens of a camera, at a time when so many long for the reassurance of their faith.
Religious leaders across Peel Region are asking followers not to give up on their unity with God after places of worship around the province were ordered to close their doors to prevent the spread of COVID-19.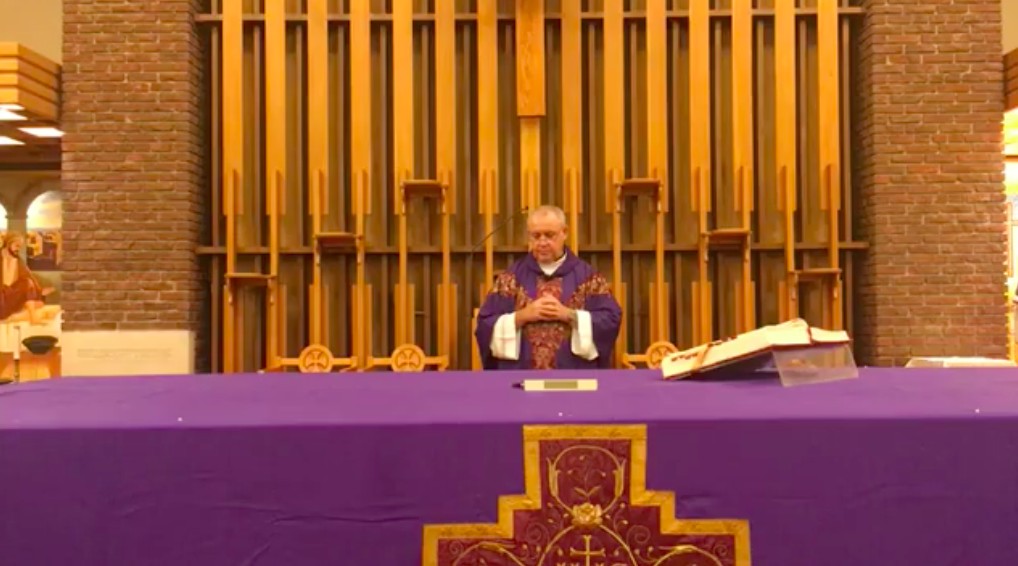 Reverend Liborio Amaral, the pastor of St. Mary's Church in Brampton, has been livestreaming Sunday services on Facebook and YouTube to virtually connect with members of his spiritual community.
Some are exploring new ways to remain connected with those who rely on their faith, especially when the world seems so uncertain. Recognizing the need for ministry or sewa or Da'wah even in the absence of a physical place of God, some leaders have taken to social media while others are using online platforms to provide classes and sermons, and check-ins with community members are also continuing, in new ways.
Reverend Amaral, the pastor for St. Mary's parish, has taken up vlogging, recording speeches in a formal fashion on a platform that catalogues the messages. He also livestreams services that take place Sundays on Facebook and YouTube. Similar steps are being taken by other religious leaders, providing sermons and lectures online to stay connected with their communities.
At Solel Congregation of Mississauga, board members divide up the calls they make to members of the community, Rabbi Audrey Pollack told The Pointer. These calls help the organization stay connected with people and check in with them.
The message that board members are trying to drive home is to stay inside during the celebration of the Jewish holiday, Passover, which celebrates the liberation of their people from ancient Egyptian rule. "Yes, Passover is going to be different this year but we are going to be able to celebrate together at some point in the future. Right now we're going to try to do the best that we can to make meaningful Passover," she said. The congregation is providing people with resources to run Passover Seders, a celebratory meal, at home through a virtual Haggadah — a text that is used during Seder on the first two nights of Passover to recount the Exodus from enslavement.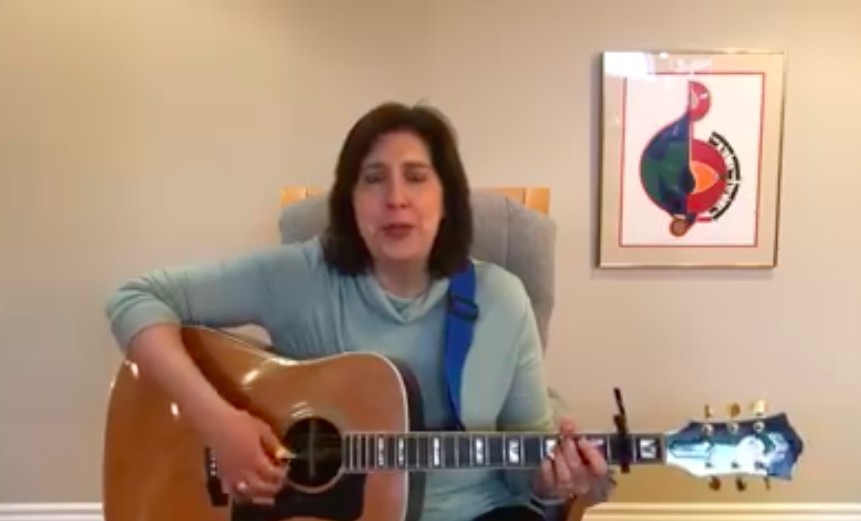 Rabbi Audrey Pollack of the Solel Congregation of Mississauga delivered a warm message to her spiritual community, singing and playing the guitar via livestream.
The disappointment that comes with not being able to celebrate together will be felt by many, Rabbi Pollack said. For Imam Luqman Abu Yaqoob, the religious leader at Masjid Sirat Al Mustaqim, there are questions surrounding whether or not the holy month of Ramadan for Muslims will be spent at home, when it usually has people gather in large groups. "We don't know what's going to happen. If Ramadan is going [to] happen at all," he said. During Ramadan, Taraweeh, an additional set of prayers that involve the recitation of the Quran, the holy book of Islam, is carried out in groups.
Imam Luqman Abu Yaqoob, the religious leader at Masjid Sirat Al Mustaqim, is taking his daily religious classes online.
In Peel, there are more than 400 religious organizations representing people of different faiths. Keeping these places of worship open, where large groups of people gather, during the pandemic would have been contrary to physical and social distancing measures. "It is imperative that we take steps now and take steps together to reduce opportunities for transmission," said Dr. David Williams, Chief Medical Officer of Health, in a statement on the provincial government's website. The statement also announced the restriction of gatherings of 50 people or more, a number that dropped to no more than five people over the weekend.
Imam Luqman told The Pointer it is important to endure this hardship and look on the bright side. The spiritual leader is taking his daily religious classes online. "That's a good thing to come out of this. You can't pray regularly in the mosque but we're still learning. We're still nurturing ourselves spiritually by learning, reading the Quran online."
There are more than 400 religious organizations in Peel whose spiritual worships, practices, traditions and celebrations have been disrupted by the pandemic.
A place of worship isn't necessarily needed for all people to pray. For most religions, this can be done anywhere. On social media, the comment sections under videos of religious leaders offering worship and guidance are supportive, with people who frequent their services thanking them for their virtual efforts during the pandemic.
For Brampton resident Shivam Sareen, it doesn't matter where prayer occurs, only that it happens. Sareen follows the traditions of Sikhism and he told The Pointer that while he can't visit a Gurdwara in person, he makes an effort to pray at home. "During this time, my faith has grown day by day and it'll even grow stronger in the coming days," he said.
But praying at home does skip over important sentiments that are central parts of the religious tradition.
Sareen said the observance of giving worshippers Prashad, a blessed offering made of flour, clarified butter and sugar, after a prayer service has been put on hold. For Catholics, it's the absence of being physically in the presence of God, which, Reverend Amaral says, happens in a church. While people can pray at home, it creates a lack of connection between parishioners and the sacrament of Eucharist, the eating of a wafer of bread as a form of joining with the body of Christ during a traditional mass.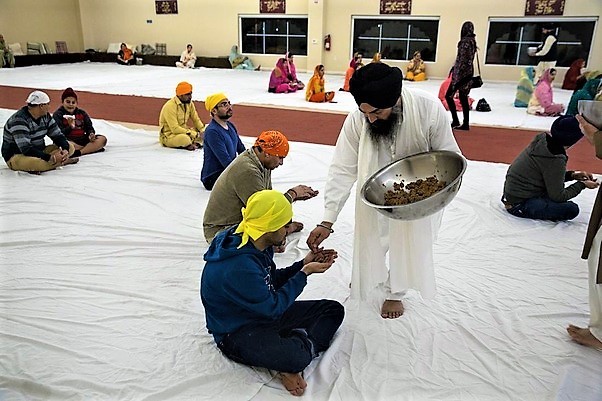 For followers of Sikhism, the pandemic has halted the observance of giving worshippers Prashad, a blessed offering given inside a Gurdwara throughout the day
Rabbi Pollack said that for some prayers in the Jewish faith, a quorum of 10 people is needed. During the closure of places of worship, religious leaders have determined it's acceptable to recite these prayers if they have quorum online but that's not a measure all communities are taking. "I know within the ultra-orthodox community, they're not doing this for certain services because they believe that they have to have 10 people physically present, but for us who are in a little bit more of a liberal denomination, we're finding the best way to connect," Rabbi Pollack said.
All three religious leaders The Pointer spoke to don't necessarily believe people will struggle with their faith due to the closure of places of worship. But they unanimously agree the main struggle the closure will bring is a lack of community belonging and connectedness that comes with attending services in person. "When people come [to the mosque], they feel happy to come and pray. People who are taxi drivers or truck drivers they pass over and they pray. They become regulars, they look forward to coming, especially in the morning," Imam Luqman said.
Imam Luqman also runs a registered charity, The Straight Path Islamic Center. One of the events run by the organization is Youth Night. The event brings together young Muslims between the ages of 10 and 17 for an evening of Islamic activities and discussions on topics that impact them, like social media and bullying. "It was a delight and [kids] enjoyed it to come together and talk about the issues that affected them. Now they're on their devices all day."
The event is extremely important to his 15-year-old daughter, who did not want to let the Mosque close its doors when the time came. She plays an active role in the organization of the group, Imam Luqman said, and was upset the gathering had to be cancelled for the time being.
For many people, the reality of not having a face-to-face connection with members of their community is hard.
Reverend Amaral acknowledges that while the Church is making online content available, he's not seeing the same number of people attend the virtual sessions as he did in person. While he does expect this to change as time goes on and word gets around of these activities taking place online, religious leaders may not know how members of their community are being impacted by this profound challenge until restrictions are lifted and in-person services return to normal.
---
Email: [email protected]
Twitter: @nida_zafar
Tel: 416-890-7643
---
COVID-19 is impacting all Canadians. At a time when vital public information is needed by everyone, The Pointer has taken down our paywall on all stories relating to the pandemic to ensure every resident of Brampton and Mississauga has access to the facts. For those who are able, we encourage you to consider a subscription. This will help us report on important public interest issues the community needs to know about now more than ever. You can register for a 30-day free trial HERE. Thereafter, The Pointer will charge $10 a month and you can cancel any time right on the website. Thank you.
Submit a correction about this story