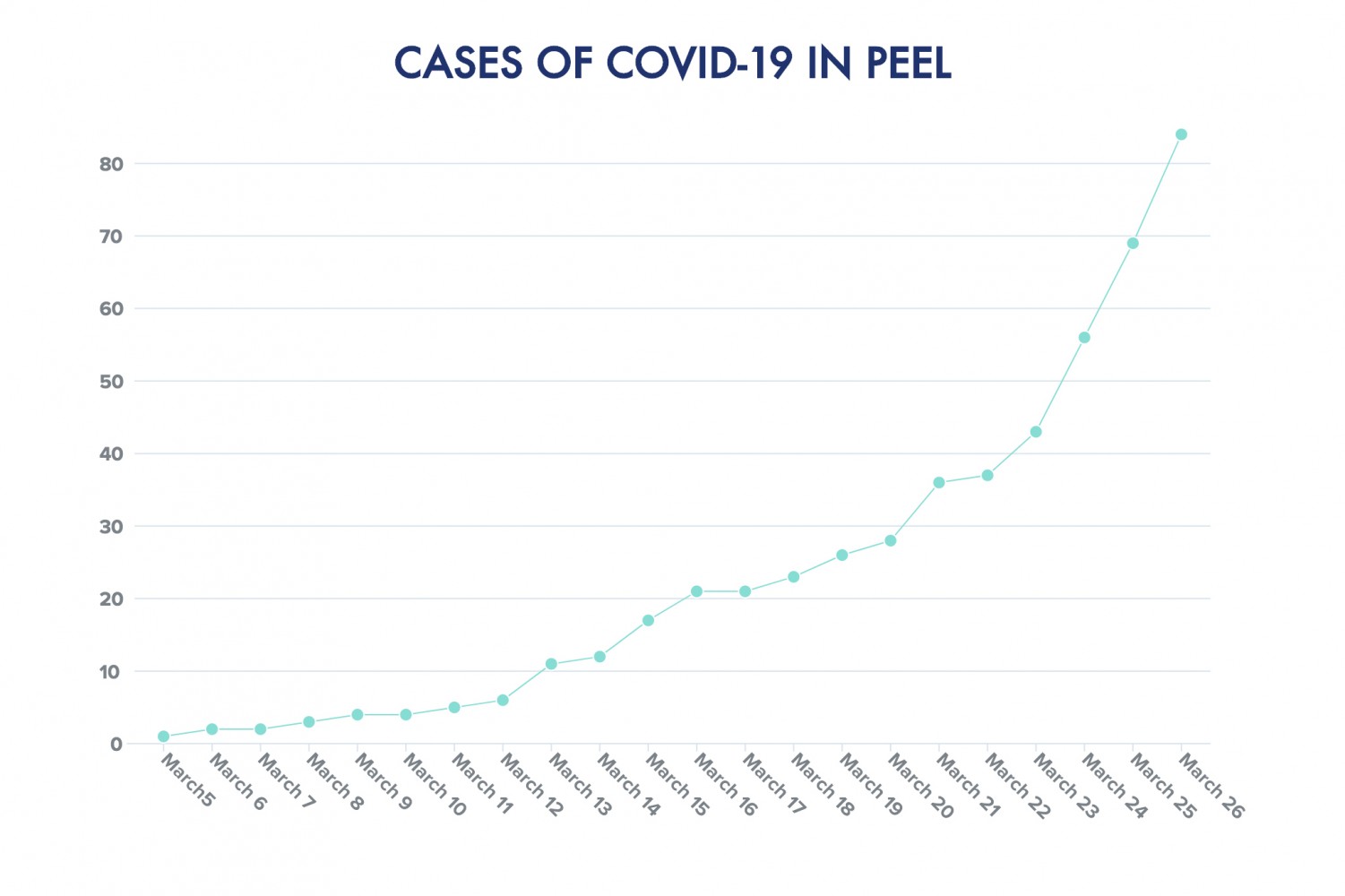 Photos and graphics from Joel Wittnebel/Twitter/Rod Phillips/Doug Ford
Peel sees 15 new COVID-19 cases as infection spikes across the province; Ontario launches $17B pandemic aid package for residents and businesses
The Ontario Ministry of Health has confirmed 15 new cases of COVID-19 in Peel, marking the largest single-day spike of new infections to date, bringing the total number of cases to 84. The new cases were also part of the largest single-day increase seen in the province, which saw 170 new COVID-19 infections confirmed Thursday morning, bringing Ontario's total to 858.
Peel Public Health has confirmed 75 of these cases (as Peel updates its numbers ahead of the province, it may not capture all new cases confirmed by the province), with several cases of close contact, as well as a woman in her 60s who had travelled to Germany, a woman in her 50s who returned from Jamaica, a man in his 40s who recently travelled to the U.S. and a woman in her 50s who returned from travel in Dubai and the Philippines.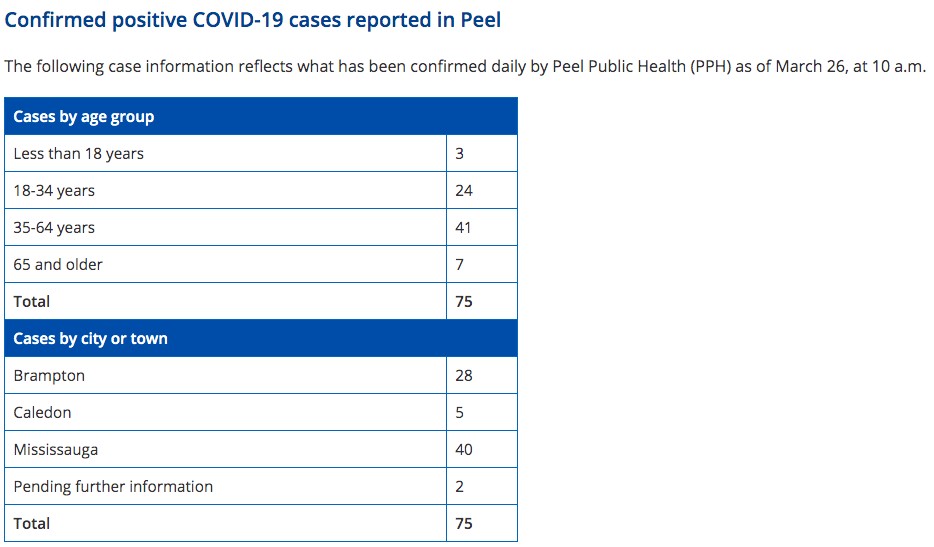 While many new cases are still being linked to travel and close contact with infected persons, health officials have stated that community spread is now a reality in many major cities in Canada, placing further emphasis on the need to continue physical distancing.
The Progressive Conservative (PC) government took big steps yesterday to try and ensure the province is ready for the wave of infection that is still to come.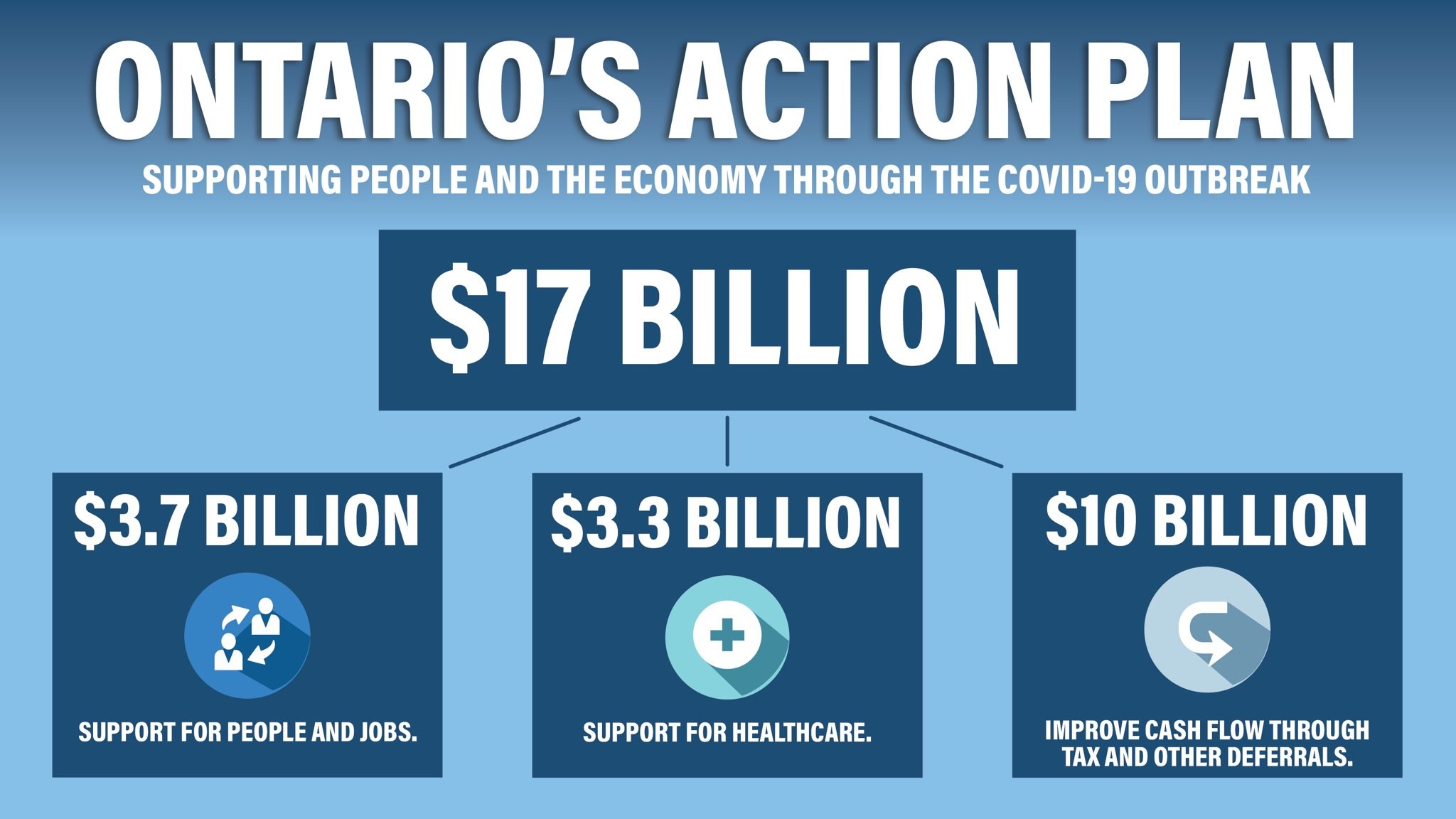 A graphic from the provincial government of showing the breakdown of Ontario's $17 billion aid package
The province's $17 billion aid package came in place of this year's provincial budget, which has been postponed until later in the year as a result of the pandemic. The package includes $7 billion for the healthcare system and $10 billion in measures to support people and jobs, Rod Phillips, the minister of finance explained inside the Legislature. The main room at Queen's Park was eerily quiet and empty as only a few MPPs were allowed to sit inside due to physical distancing rules.
The massive aid package was described as a "critical first step" to ensure the healthcare system, Ontario communities and the provincial economy are prepared for the storm that lies ahead.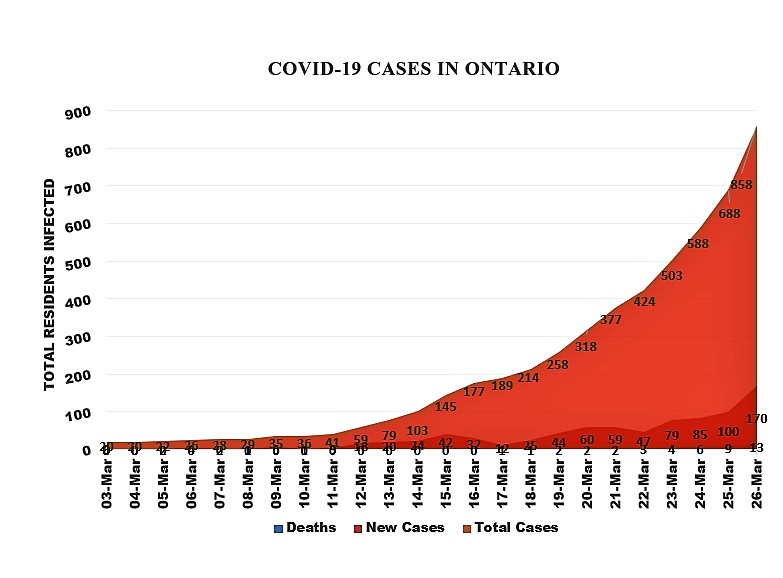 With Ontario cases increasing on a daily basis and the total number of cases set to surpass half a million worldwide, the worst is sure yet to come for Ontario.
"This situation is changing, day to day and hour to hour, it is difficult to imagine how tired our frontline healthcare providers must be. Again, on behalf of this legislature I want you all to know we are so proud of you and you can count on us to make sure you have the resources you need," Phillips said.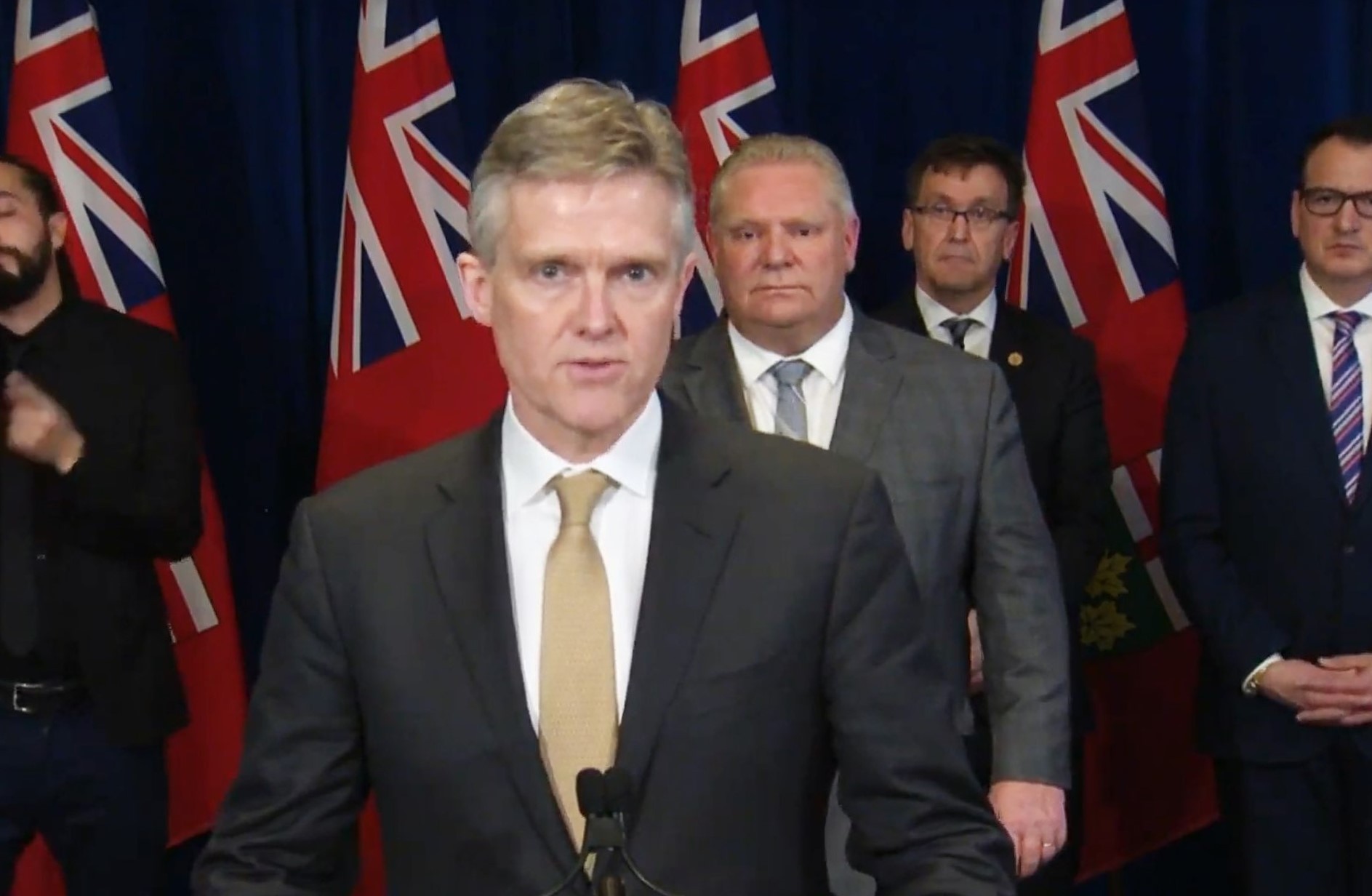 Ontario Minister of Finance Rod Phillips
As the Greek philosopher Heraclitus said, "the only constant in life is change," and nowhere is this more true than trying to battle the novel coronavirus. The uncertainty around COVID-19, from its viral properties to its infectious nature create a lot of question marks for governments and researchers who are trying to track and plan for its spread. To deal with that mystery, the PC plan includes a $1 billion COVID-19 contingency fund, and $2.5 billion in reserves to help deal with the continuously changing circumstances.
The province also continues to amass healthcare supplies for the frontlines, and the new plan includes $3.3 billion for additional healthcare resources.
Other investments include:
$935 million for the hospital sector. The majority of this funding ($594 million) is to accelerate the efforts to address capacity issues, with the remaining dollars going toward creating an additional 1,000 acute care beds, 500 additional critical care beds, and additional assessment centres. It is unclear how much of this funding or the number of beds has been allocated for Peel hospitals.

$160 million in increased public health funding to support monitoring of COVID-19 and testing efforts

$243 million to address needed capacity in long-term care homes and funding for 24/7 screening in these homes that house some of those most at risk of dying if they contract COVID-19. Already, the province has seen several fatalities inside long-term care homes as a result of COVID-19 infections, including four in one home in British Columbia and two in a home in Oshawa.

An additional $75 million will go toward supplies of personal protective equipment for front-line workers
"Our public health officials have made the difference in making sure we understand on an hourly basis, what is going on and what we need to do," Phillips said.
The plan also includes a number of measures to help Ontarians who are out of work as a result of the pandemic. According to a recent Angus Reid poll, 44 percent of 1,664 online respondents noted they, or someone in their household had lost work as a result of the pandemic, 18 percent said they expect to lose work and 66 percent said their employers are not covering wages during the closures. It has led to more than half of them — 53 percent of respondents — noting they are worried about being able to afford groceries in the near future.
The Ontario plan includes extra benefits for families with children now at home due to school closures, including a one-time payment of $200 per child up to 12 years of age, and $250 for those with special needs, including children enrolled in private schools.
The province is also proposing to double the Guaranteed Annual Income System payment for low-income seniors, a system that supports as many as 194,000 seniors in Ontario, has reduced electricity rates as more people are now working from home, is cutting taxes for 57,000 businesses, and expanding the Low-Income Energy Assistance Program that will provide $9 million to families to ensure they can pay their energy bills.
"There are moments that define a generation, COVID-19 is our moment. The closed schools and quiet streets will be remembered, but eventually these memories will become more distant," Phillips said. "Our response as a province, and as a country will shape the character of the next generation so let us be responsible, kind, measured, determined, and let us be strong."
The ongoing spread of the disease across the globe has led to many countries, including India with its population of 1.3 billion people, entering complete lockdown. Both the United States and Italy are set to surpass China — where the virus originated — for total number of cases, and Spain's death toll has reached more than 4,000 people.
The devastating impacts of the novel coronavirus being seen across the globe further emphasize the need for physical distancing to contain the spread of COVID-19. These efforts were amped up this week when the province ordered the closure of all non-essential businesses in the province in order to limit the spread. The Peel Regional Police are now urging residents to call its non-emergency line (905-453-3311) to report non-compliant businesses.
"As we continue to combat this pandemic we are working with the Public Health office and other partners to reduce the spread of COVID-19. This new normal requires us to be adaptable to find the best outcome, which includes adhering to the advice of health experts," stated Police Chief Nishan Duraiappah in a news release.
It's also becoming clear these measures will need to be in place for months, rather than weeks, contrary to the dangerous rhetoric being spread by U.S. President Donald Trump who earlier this week said he would like to have things opened up again for Easter, despite advice from many health officials and experts.
In China's Hubei province, where COVID-19 was first recorded in the city of Wuhan, things are slowly starting to return to normal following a complete lockdown over the last two months. On Tuesday, Chinese officials began to allow healthy individuals to leave the province and some businesses and restaurants have been allowed to re-open with certain restrictions in place to ensure physical distancing. The city of Wuhan, which has been under lockdown since Jan. 23, will remain in that state until April 8.
Health officials have pointed out that it is only safe to begin easing certain restrictions once a jurisdiction has seen a freeze or reduction in the number of new infections for more than a week.
---
Email: [email protected]
Twitter: @JoeljWittnebel
Submit a correction about this story