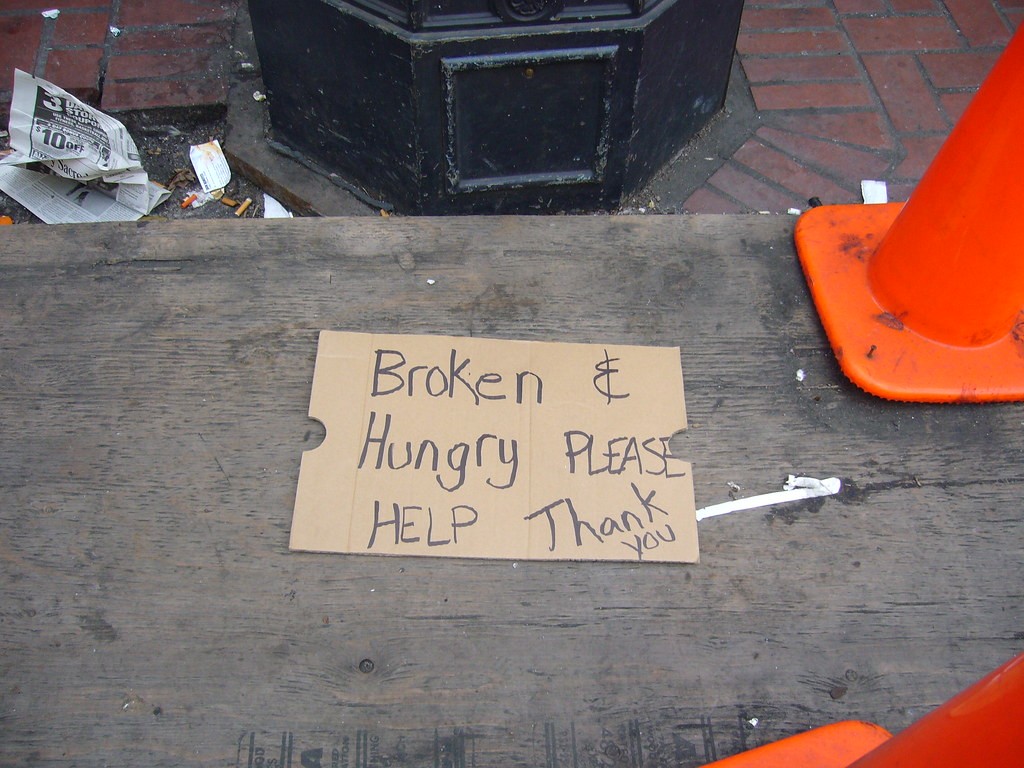 Photos from Creative Commons/Jeremy Brooks/Stephen Webster/Region of Peel
Peel's overflowing shelter system at great risk if COVID-19 outbreak occurs
Stephen Webster has been self-isolating in his wheelchair van for more than a week after coming down with a fever. Normally reliant on Ontario's shelter systems, he has taken himself out of the equation to avoid the possibility of spreading COVID-19 to others experiencing homelessness.
With a vehicle to isolate in, he's one of the lucky ones.
"I've been in self-isolation since last Tuesday and there's no point bothering anybody else, I've got the van, so I'm fine," he told The Pointer over the phone. "What I'm saying is the shelter system moved very, very slowly and they did a terrible job — the whole shelter system. The way they handled both the outbreak and before that."
After coming down with a fever, Stephen Webster, who relies on shelter systems in Peel, Toronto and Windsor, has been isolating in his wheelchair van for more than a week
As COVID-19 has gripped Ontario, with 688 cases across the province and 69 in Peel, fears have been raised about the shelter system and its ability to cope. In Peel, temporary housing has been in a state of crisis for years, with demand far exceeding the number of beds.
A study conducted between Apr. 24 and 26, 2018 found a total of 922 people experienced homelessness across three days, a number that rising shelters visits would suggest has only increased since then. In order to accommodate those individuals (and many more), the region currently has a total 264 shelter beds through its buildings along with 60 units in its Peel Family Shelter, with several beds per unit.
In 2019, high demand for shelter in Peel saw the region spend a total of $2.55 million on hotel accommodation to house those it could not find space for in its system. "The Region's shelters have operated in overflow capacity since 2016," Aileen Baird, director of housing services for the Region of Peel, previously told The Pointer. "In the last two years we've had to operate in overflow more often, particularly in the Peel Family Shelter."
Now, in response to the COVID-19 pandemic, the region is adapting to try to keep those it serves safe. Baird said the region was "taking all possible measures" to look after clients and staff, "actively health screening individuals entering the shelters and all current residents and all shelters are practicing physical distancing strategies."
Part of the adaptation includes "reduced occupancy levels" at shelters, alongside moving some rooms offline at the Peel Family Shelter.
A Homeless Isolation Program is now operational, having opened its doors on Mar. 21. This allows those experiencing homelessness who have been tested for COVID-19 and are awaiting results to avoid contact with other clients, allowing Peel Paramedics to regularly check in. In addition, instead of removing homeless encampments as it normally would, the region is allowing them to exist in order to limit the spread of COVID-19 and ease pressure on its shelter system.
"All emergency shelters in Peel Region are following self-isolation protocols for individuals who screen positive to the COVID-19 questionnaire and/or awaiting test results," an update on the Region of Peel's housing page reads. "These individuals will be self-isolated for a period of up to 14 days, unless otherwise directed by Public Health, and receive meals, proper room cleaning, health check-ins, etc."
An internal City of Brampton email also suggested the Region of Peel is working to create a Homelessness Isolation Site in Mississauga, with Brampton "asked to be ready" to open its own if Mississauga's fills up.
At the time of publication, nobody in Peel's shelter system has tested positive for COVID-19.
However, it is how these policies roll out on the ground and work to reassure the homeless population that is key. Travelling in his van, Webster has extensive experience of the Toronto, Windsor and Peel shelter systems, where he has spent roughly six years living since insurance failed to pay out on his house after a natural disaster.
Before his isolation, Webster transported others experiencing homelessness to COVID-19 testing centres in the GTA
Webster's current period of self-isolation has come as a result of his attempts to help the community. Aware of the privilege his vehicle affords him, he offered to transport others experiencing homelessness to testing centres in the GTA, feeling the shelter provisions were inadequate. "On Tuesday, I found out I had a temperature and the way I got that temperature, I think, was I was transporting people around in the wheelchair van because the government was not providing transport [for homeless people] to the walk-in clinics," he added.
The Canadian Alliance to End Homelessness (CAEH) is a group that lobbies the federal government for resources to tackle housing poverty. Stefania Seccia, a communications advisor, told The Pointer shelter services were struggling to adapt to the crisis because of the pressure they faced before it started.
"The homelessness sector was already overwhelmed by the need before the COVID-19 pandemic hit," she said. "Now this pandemic has added extreme pressure on these services who have to mitigate risks, which means social distancing in spaces where people were packed in."
She explained that some shelter staff and systems were already reporting a lack of personal protective equipment.
"If staff do not have the necessary resources that means everyone in shelter is at risk of transmission," she added.
CAEH has a series of sweeping recommendations to help shelter systems deal with the pandemic. One key suggestion is increased testing for those experiencing homelessness in order to isolate cases and avoid community spread. The organization also recommends isolation shelters, a strategy Peel is pursuing, along with COVID-19 specific shelters. The latter are imagined as spaces where those with COVID-19 can exist in close proximity to one another, with the caveat that additional healthcare is available onsite with the option to transport clients to hospital immediately if necessary.
Concerns around staffing levels, a lack of protective equipment and quarantine spaces were all flagged as top issues in a survey conducted by the group. The questionnaire focused on 45 communities around the country, not identified in its results, with a quarter having a plan in place to manage the spread of COVID-19 in shelters. Just seven percent of those surveyed had a roadmap for managing the safety of residents in encampments.
There are major concerns around staffing levels, supplies of protective equipment and quarantine spaces in shelter systems across Canada
In response to the dire situation facing shelters in Ontario, the provincial government put up $200 million on Monday to help municipalities and their shelter systems. The federal government also announced more than $150 million towards the same ends.
"We are acting quickly to support those who are homeless or at risk of becoming homeless during this unprecedented time," Minister of Municipal Affairs and Housing Steve Clark said of the announcement. "This funding will go straight to communities, who know best what the immediate needs are on the ground in their local shelters."
With the money only recently announced, it remains unclear exactly how much each municipality will receive and how it will be spent.
Back on the ground in Brampton and Mississauga, fears remain in the community. "I was talking to a person there, I actually gave him some cigarettes on Saturday, and I can tell you in no uncertain terms, it's a total mess," Webster said of the Salvation Army Wilkinson Road Shelter in Brampton.
"They're jammed right up together. What's going to happen in the shelter system is the people in the shelters are going to get it, they're going to [then] send them out into the general population. There's no sense in shutting down a factory or store or anything else and then having these people in the shelter the way it is."
"It's really neglectful," he added.
---
Email: [email protected]
Twitter: @isaaccallan
Tel: 647-561-4879
Submit a correction about this story