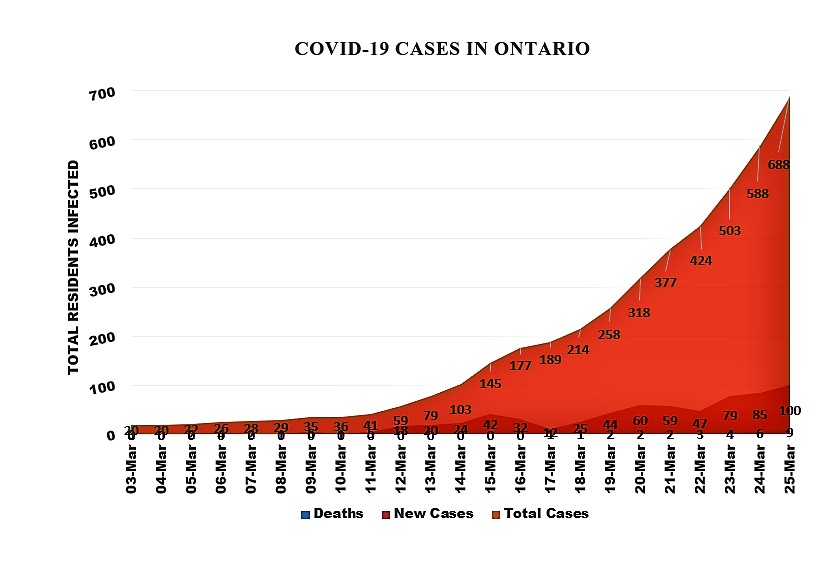 Photos and graphics from The Pointer/Twitter/Christine Elliott/Kamal Khera
Update: 100 new COVID-19 cases in Ontario, largest single-day increase amid steep trend; 13 new Peel cases Wednesday
On Wednesday morning, 13 new cases of COVID-19 were confirmed in Peel by the provincial Ministry of Health, bringing the regional total to 69. There are now 688 cases of the novel coronavirus in Ontario, marking an increase of 100 new infections in one day.
The new cases in Peel include a man in his 60s who had returned from travelling in the UK, a woman in her 50s who had returned from Peru, and a man in his 70s who returned from Egypt.
Peel Public Health has confirmed 63 of the 69 cases noted by the Ministry, but admits that there could be a delay in the local reporting. In an effort to keep the public up to date, The Pointer reports the most recent figures available through either Peel Public Health or the province.
"We pull the data from the Province around 10 – 10:30, from the time we do that and the time they (the province) update at 10:30, some days they have a few extra cases or differences," explains Jeffrey LeMoine a spokesperson with the Region of Peel.
As the virus shuts down most aspects of public life — Premier Doug Ford mandated the closure of all "non-essential" business as of Wednesday — the virus still appears to be spreading across the province.
On Tuesday evening, after council officially declared a state of emergency in the municipality, the City of Brampton confirmed a bus driver for Brampton Transit tested positive for the novel coronavirus. The transit agency has advised anyone who rode the 11 Steeles, 51 Hereford, 53 Ray Lawson and 57 Charolais bus routes between March 10 and 13 to contact Peel Public Health if they experience symptoms.
Then, Wednesday morning, the city was again hit with some shocking news when Kamal Khera, Liberal MP for Brampton West, confirmed she too tested positive for COVID-19. In a statement shared on her Twitter account, Khera said she began developing flu-like symptoms while at home over the weekend. Following direction from Peel Public Health and the Public Health Agency of Canada, Khera is self-isolating and monitoring her symptoms. On March 17, Khera, a registered nurse, tweeted that she had registered with the Registered Nurses Association of Ontario to assist on the frontlines.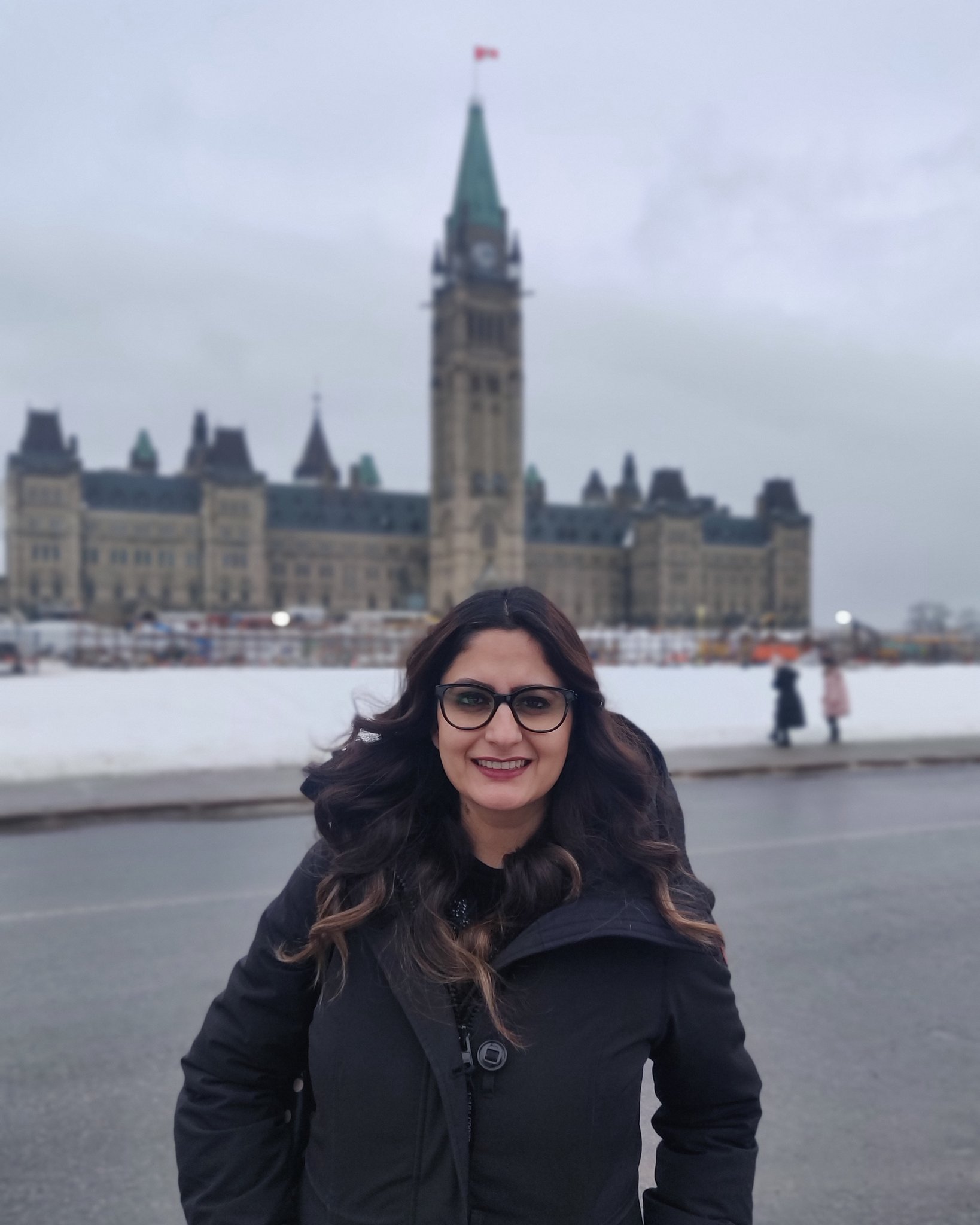 Kamal Khera, a registered nurse and Liberal MP for Brampton West, has tested positive for COVID-19 and is self-isolating
There has been widespread fear of a shortage of medical supplies to keep frontline workers safe amidst the ongoing global pandemic. Supplies of N95 respirator masks, which remove 95 percent of airborne particles breathed through them, can become quickly depleted, putting healthcare professionals at greater risk of becoming infected with COVID-19. Fortunately, Ontario has secured one million N95 masks, six million surgical masks and 12 million sets of surgical gloves.
With people staying home to self-isolate and distance, many are using more electricity than usual. To keep hydro rates from soaring, the provincial government has put a hydro relief rate in place for the next 45 days. Electricity consumers will only be charged the lowest or off-peak rates for hydro in their given municipalities.
On Wednesday afternoon, the province is set to release an economic and fiscal update.
Submit a correction about this story