Photos from Google Reviews/Street View
Peel's small business owners face dire reality after mass closures ordered
Alfred Ganesh, owner of Brampton Auto Repair, is crunching the numbers on how to keep his business up and running during the COVID-19 global pandemic.
As a mechanic, Ganesh and his team can't work remotely nor on a computer. Their physical job is done in-person. "I think that's a natural fear for a lot of small business owners, you know. They rely on this…[it's] how they make a living. It's how they carry out their day to day so I am concerned," says Ganesh.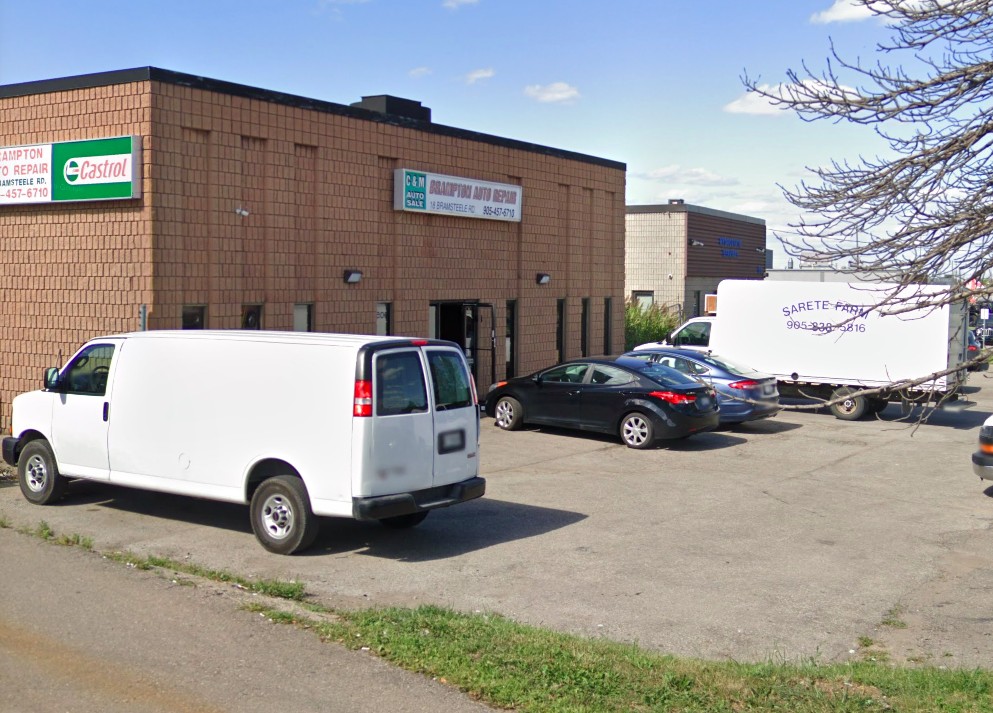 Brampton Auto Repair
Beginning Wednesday, all non-essential businesses in the province are mandated to shut down for 14 days. For now, auto body shops fall under the list of essential services, alongside hardware stores, grocery stores and transportation services. The Monday announcement gave businesses 36 hours to get their affairs in order. At this time, it's unclear if non-essential businesses could face disciplinary action for not complying with the provincial order.
For countless small businesses forced to close their doors, uncertain economic times are ahead. Business owners and their employees, perhaps subject to layoffs, could face challenges covering rent in the near future.
According to a recent report from the Canadian Centre for Policy Alternatives (CCPA), of the 3.4 million households in the country that rely on wages or are self-employed, half have less than a month of savings to cover basic necessities like rent and groceries. In Ontario, there are 521,000 households that fit into this category. A further one-third have two weeks or less of savings.
Ganesh's partner is a healthcare worker and the couple have some savings to keep his business up and running for the time being. But he's trying to figure out how he can help his employees. "I'm combing through the COVID-19 site from the Government of Canada to see what options are available for small businesses," he said.
One measure taken by the federal government to help small businesses is to provide them with money to avoid layoffs and revenue loss for up to three months. Employees are eligible for up to $1,375 and employers up to $25,000 during that time period. This is not a lot of money for people who live paycheque to paycheque.
According to a 2017 study conducted by the United Way, in 2015, 60 percent of Brampton residents were low income. If businesses close their doors, low income residents may lose their jobs.
Wen Lin, the owner of Ample Food Market in Brampton, is allowing some of his employees to stay home if they don't feel safe, which he may not be able to do for long. "We try our best to make sure our staff, they feel safe, they feel comfortable. But some staff, they still don't feel comfortable," Lin told The Pointer.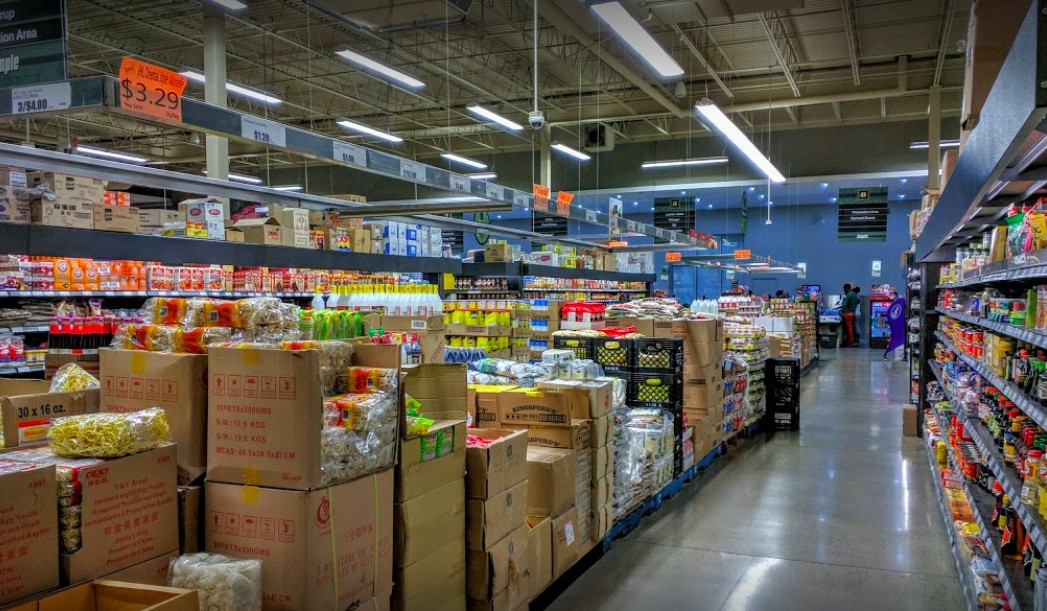 Ample Food Market
Ample Food Market is an ethnic grocery store, selling a variety of Asian products to the people of Brampton. But unlike major corporate grocery franchises, Lin said business is slow. He told The Pointer he keeps the store open so his employees have jobs and customers have a place to shop. However, if things stay slow for a long time, he's not sure he can afford to keep everyone on payroll. "We are worried we can't afford to pay the wage, to pay the rent, so that's the problem. That's a big problem," he said. This is in stark contrast to what major retailers are facing: long lines and empty shelves. For example, the demand in Walmart is so high, the retailer wants to hire 10,000 new employees in Canada to work in stores and distribution centers.
Ganesh echoes a similar statement to Lin, telling The Pointer calls for services have reduced, along with hours of operation in his workshop.
These small businesses are two of many across Canada reeling from the impacts of shutdowns. According to a survey from the Canadian Federation of Independent Business (CFIB), half of Canada's small businesses have been affected by a drop in sales due to COVID-19. CFIB also states the provincial government will announce support to small businesses in the province in its upcoming provincial budget, which is set to be released on March 25.
Keeping doors open in a situation like this is difficult, as people may be putting themselves and their employees in harm's way. Over the weekend, an employee at a Brampton Tim Hortons was diagnosed with COVID-19. While Tim Hortons is by no means a small business, its workforce may fall into the category of the 3.4 million households who rely on their wages to make ends meet and have less than a month's savings to cover basic necessities. People are stuck putting themselves at risk for becoming infected with COVID-19 or not earning enough money to pay their rent and buy groceries for their families.
According to a news release from Peel Public Health, customers who visited the location are not considered to be at risk. "Our Public Health team was able to identify and contact all individuals impacted. This meant that broad public notification was not needed to identify anyone else who may have been exposed to COVID-19," Dr. Lawrence Loh, Interim Medical Officer of Health, said in a statement.
In response, Tim Hortons tweeted the location in question was closed for cleaning and staff members are in self-isolation. Last week, Tim Hortons announced $40 million in support for employees who are affected by COVID-19. The money will be split 50/50 between the 1,500 restaurant owners across the country and the company's corporate office, a Tim Hortons spokesperson told The Pointer. It's not clear what requirements must be met in order for an employee to secure money from this fund and, if approved, when these individuals could access it.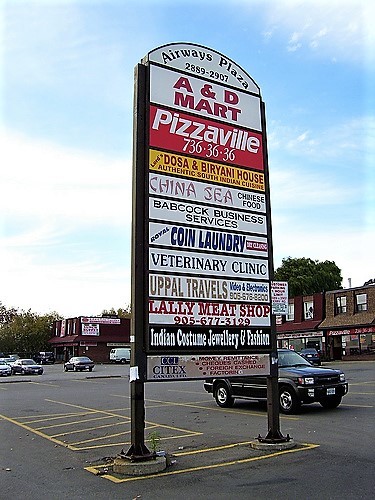 Hundreds of businesses, like some of these in Mississauga, will have to close
The question of when people can access relief funds extends to the emergency aid package from the federal government. Last week's announcement included $27 billion in income support for Canadians through the Goods and Service Tax (GST) and the Canadian Child Benefit payment. This money won't be hitting bank accounts until May, which can be a problem, according to the CCPA report, as many people who don't have a hefty savings account may have to figure out how to manage their money in the meantime. "As encouraging as that is, too many families are presently grappling with the question of whether they should pay the rent or use their meagre savings to buy food and other basic necessities," the report states.
There are many Canadians out there who want to help those in a bind. "Care-mongering" is a term describing the kindness of people who set out to help those in need during the pandemic. In Ganesh's eyes, this positive behaviour of working together as a community will help Canada get through uncertain times.
"As Canadians, we all go through…hardships and this is when our strength is tested. It's how we face it and how our general outlook, and our attitude will help us get through this and we just have to work together."
---
Email: [email protected]
Twitter: @nida_zafar
Tel: 416-890-7643
Submit a correction about this story