Chart The Pointer/Region of Peel/Photo from the Government of Ontario
One new case of COVID-19 confirmed in Peel Sunday after a week of steep increases across Ontario
Peel Public Health has confirmed one additional case of COVID-19 as of Sunday morning, bringing the region's total to 37.
The cause of the new case, involving a man in his 70s, remains unknown as of publication.
The Peel case was part of an additional 47 cases of infection confirmed in Ontario Sunday morning bringing the provincial total to 424, including three deaths and eight of those cases marked as resolved.
As the infection continues to spread, the provincial government has implemented new measures in an effort to ensure hospitals and healthcare providers are equipped with the resources to effectively battle COVID-19 in the most efficient manner possible.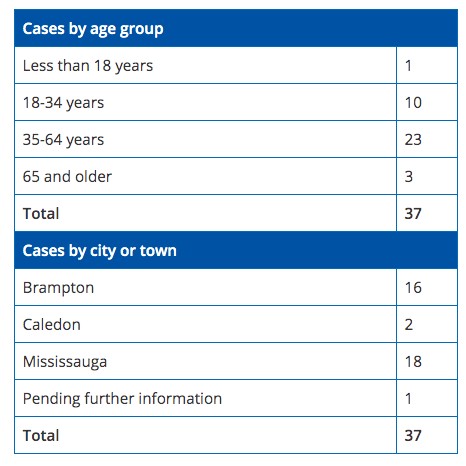 Confirmed cases of COVID-19 in the Region of Peel.
Saturday evening the province announced a new order under its declaration of emergency that for the next 14 days will give hospitals the ability to postpone or cancel certain services to free up capacity as well as modify or implement redeployment plans for staff.
The temporary order allows hospitals to avoid certain waiting periods or other mandated services under collective agreements in order to redeploy doctors and staff quickly. For example, without the new order, a hospital would be required to issue a lay-off notice and wait a period of time before shifting a nurse or another unionized employee from the emergency department to a COVID-19 assessment centre. The new provincial measure supersedes this.
"On the best advice of Ontario's Chief Medical Officer of Health, and in response to clear and urgent requests from our frontline health service providers, the province is taking decisive action to ensure we can continue to be responsive and nimble as the number of confirmed COVID-19 cases grows," said Sylvia Jones, Solicitor General in a press release. "While normal protocols are important in routine times, these extraordinary steps will ensure our health sector workers are there, where and when they are needed, to care for Ontarians and support our extensive efforts to contain this virus."
The order could prove crucial in Brampton and Mississauga where hospitals in both cities have battled capacity and wait-time issues long before the COVID-19 pandemic began. The new measure will also help ensure the region's COVID-19 assessment centre, located in Brampton at Peel Memorial, in Mississauga at Mississauga and Credit Valley hospitals, and in Caledon at Headwaters Healthcare Centre are adequately staffed.
The Saturday evening announcement from the province followed steps taken earlier in the day to encourage businesses to join the battle against COVID-19.
The Ontario government has launched a new "Ontario Together" website where businesses are able to submit proposals to modify their operations to help manufacture needed medical supplies and equipment. Test kits, masks and ventilators — a crucial piece of equipment required to care for intense cases of COVID-19 — are all on the province's wish-list for local companies, as reports of insufficient supplies surfacing across the country. Most recently, in Edmonton, a group of nurses have refused to perform COVID-19 testing, concerned they are not being provided with the proper masks to protect themselves.
"We're ready to mobilize our manufacturing might to help the entire country and we want Ontario to become the workshop of Canada," said Premier Doug Ford in a news release. "Extraordinary times call for extraordinary efforts and we are already seeing people stepping up and offering to help out as we deal with this unprecedented situation. This is a true demonstration of Ontario Spirit."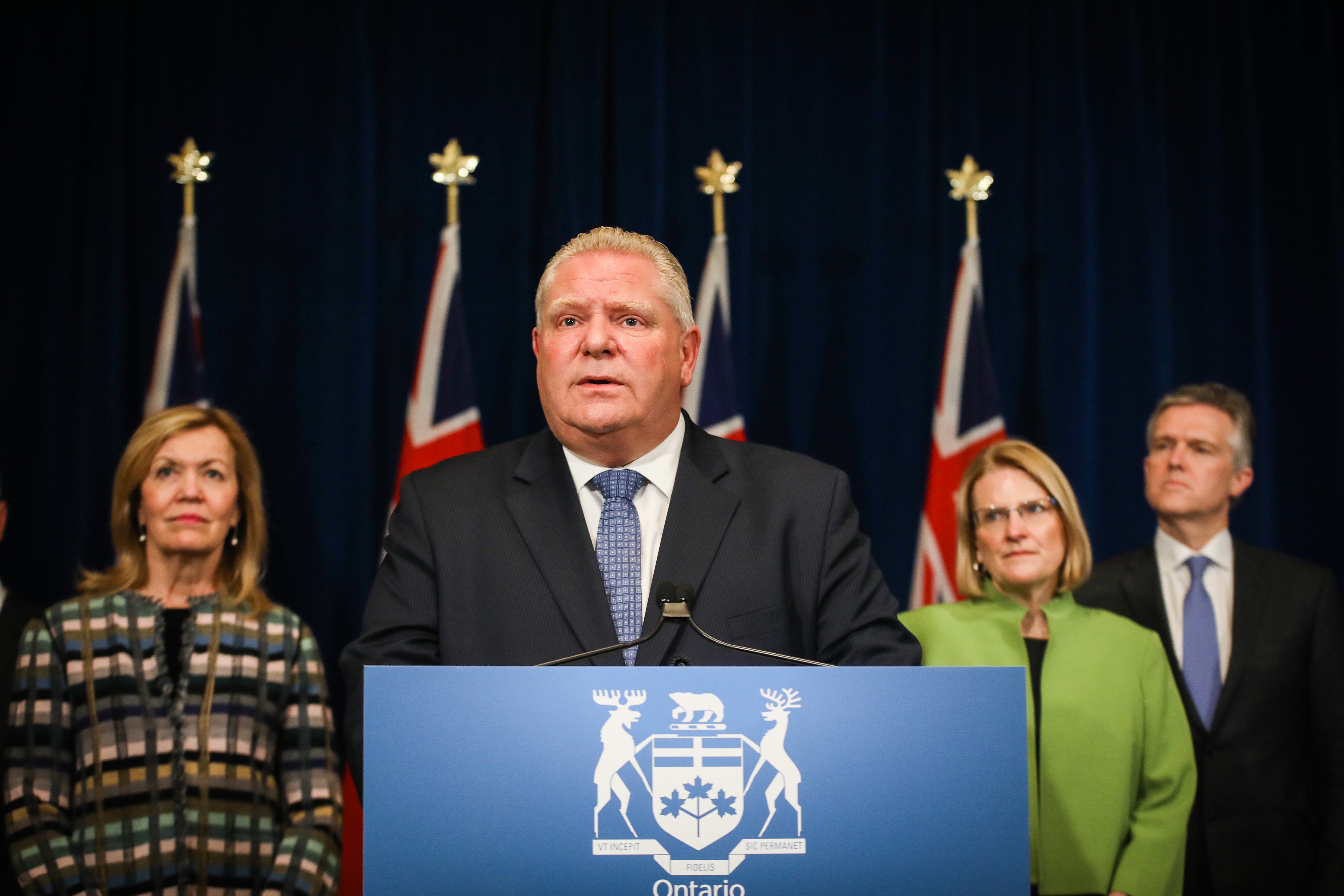 Premier Doug Ford
Prime Minister Justin Trudeau was also asked about the availability of personal protective equipment during his daily press conference on Sunday, assuring Canadians that he is "confident" the country will continue to have available equipment for those who need it.
South of the border, particularly in specific areas such as New York City, frontline healthcare workers, say the situation is dire and they face an alarming shortage of protective equipment to keep themselves safe.
---
Email: [email protected]
Twitter: @JoeljWittnebel
Submit a correction about this story