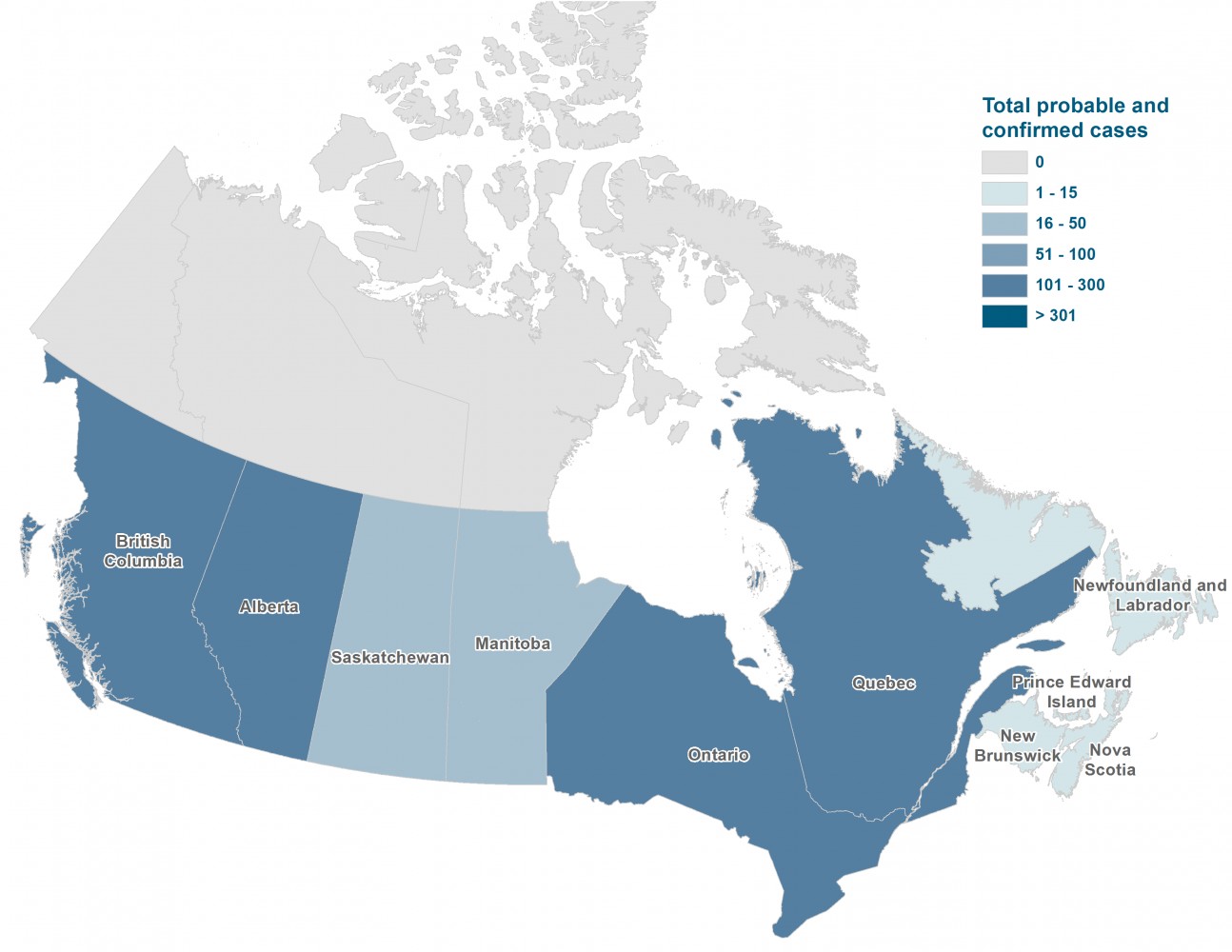 The Pointer file photos
Eight new COVID-19 cases confirmed in Peel Saturday; Ontario sees significant jump in infections for second day in a row
Peel Public Health confirmed eight new cases of the novel coronavirus Saturday morning bringing the total to 36 across the region.
According to the Ontario Ministry of Health, the new infections include two international travel-related cases — a woman in her 40s who had travelled to London and a man in his 50s who returned from the Philippines — and a woman in her 50s who came into close contact with an infected person. The causes of the remaining cases are still pending.
According to the Region's public health department, the eight new cases in Peel — 16 in Brampton, 17 in Mississauga, 2 in Caledon and one pending — are part of the second largest spike in new infections registered in Ontario to date with 59 new COVID-19 infections reported Saturday morning (there could be more reported Saturday afternoon by the Ontario Ministry of Health).
Cases reported by Peel Public Health as of Saturday morning
It brings the provincial total to 377 cases, with six of those no longer infected and two deceased. The spike is the second consecutive day Ontario has registered a significant number of new infections, following the largest single-day total yesterday (Friday), with 60 new cases reported.
The increasing infections come amid fears in cities across Canada that community spread — infections not related to travel — is starting to become a reality, days after Ontario enacted a declaration of emergency in order to put in place measures to limit the spread. Those actions include the closure of restaurants and bars, places of worship and other community gathering places in order to promote social distancing.
As the wave of new infections continues to rise, the province of Ontario announced a number of new steps Friday to ensure people can get tested and receive the care they need, including waiving the three-month waiting period for new applicants for Ontario Health Insurance Plan (OHIP) coverage, and that the province will cover the costs of COVID-19 related care for uninsured people who don't meet OHIP criteria.
"The health and well-being of Ontarians continues to be our government's number one priority," stated Christine Elliott, Deputy Premier and Minister of Health in a news release. "That's why we're working to guarantee that anyone who needs screening or care for COVID-19 will get it. In doing so, we can further help ensure we contain the spread of this virus."
A number of cities, including Brampton and the City of Toronto are also taking measures to help residents with the new economic realities of social distancing. With many workplaces shuttered, including the Fiat/Chrysler plant in Brampton that will put almost 3,500 workers off the job, many are left wondering when the next pay cheque will be coming.
Saturday morning the City of Brampton announced a number of tax relief measures for residents, including deferrals for property tax bills. Interest and late fees will be waived on tax payments for the five-month period of March 18 to August 19, 2020, and those who sent post-dated cheques or have pre-authorized payments set up for their tax bills can cancel those by calling 311.
"Brampton Council understands the real financial pain and struggle our residents are going to be facing during this pandemic. This is why we are giving every resident who wishes the opportunity to defer property taxes with no penalty for five months," said Mayor Patrick Brown in a press release. "We work for you and we heard loud and clear this was something the community wanted during this period of economic adversity."
The City of Mississauga's council has deferred payments by 90 days. The April payment is now due in July, the May payment can wait until August and the June payment is due September.
The extension of tax relief into the summer signals what many experts have been saying, the current situation created by COVID-19 will not be over in a matter of weeks, but will take months.
A number of challenges were also addressed by Prime Minister Justin Trudeau during his daily press conference Saturday morning.
Currently, Trudeau said the federal government is working with commercial airlines to bring home Canadians who are stuck abroad, stranded by border closures and no-fly zones being implemented across the globe. He said the government is working with airlines like Air Canada to plan flights in order to reach these individuals across the world with flights planned to get Canadians in areas like Morocco, Peru and Spain. However, the PM admitted there will be difficulties.
"We will not be able to reach everyone," he said. "But we're going to do the best to help those we can."
---
Email: [email protected]
Twitter: @JoeljWittnebel
Submit a correction about this story