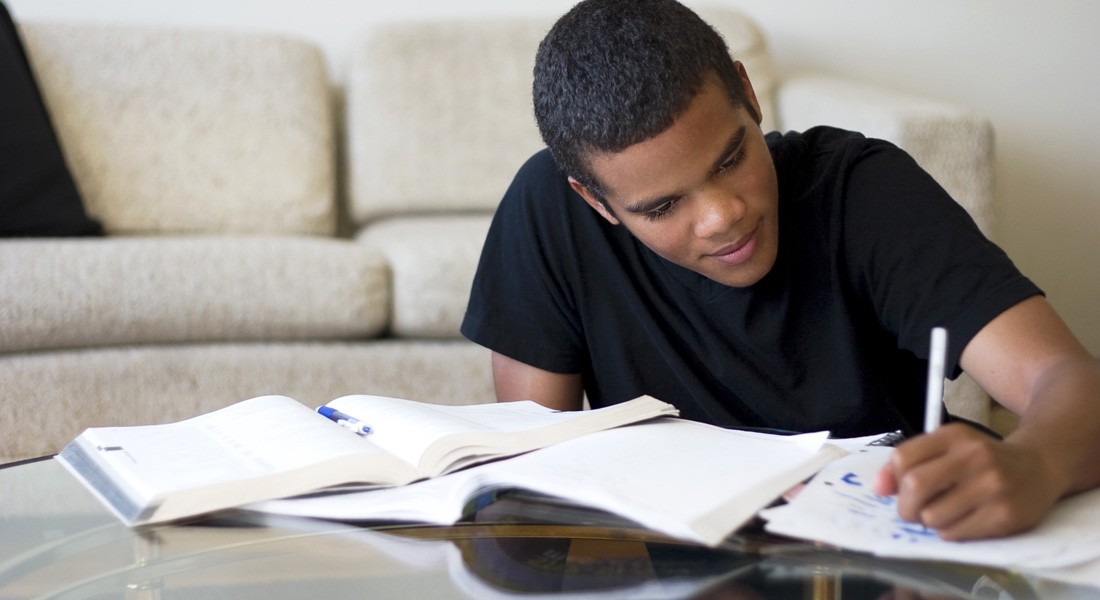 Photos from The Pointer files/Oxford Learning/Peel District School Board/Twitter
School boards working on alternative education during COVID-19 shutdown, but not PDSB
The Peel District School Board is not working on a plan to provide students with alternative educational options during the COVID-19 shutdown, but the region's Catholic boards and other nearby school systems are currently putting plans in place to help families.
To help prevent the spread of the novel coronavirus, Ontario schools are closed until April 6 (this might be extended and it's possible the rest of the school year will be lost to stop the spread of COVID-19).
Students who were supposed to return from March break Monday, will instead get at least an extra two weeks off. This causes two major problems: their educational development is directly impacted; and many parents have no options to keep their children occupied, forcing some to take time out from work.
To address these concerns some school boards have started to put together plans for alternative, online options to continue lessons and other types of learning. But this isn't the case in the Peel District School Board.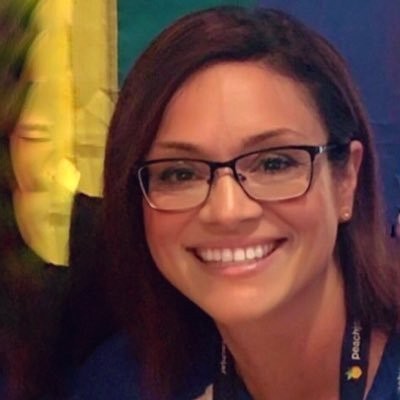 Carla Pereira, director of communications for PDSB
Carla Pereira, director of communications for PDSB, told The Pointer teachers aren't expected to work right now, given it is still March break. She said teachers may choose to individually share educational material with students, but aren't expected to "provide instruction or assessment from now until April 5."
However, through its website, PDSB will inform students and parents if the ministry of education releases online learning materials for students in the province. "Our understanding is that the ministry was working on resources that students could access independently for self-directed learning during these two weeks," Pereira said. She added that the situation might change and teachers may introduce resources to students, if school closures are extended.
Meanwhile, the Dufferin Peel Catholic District School Board is taking a different approach. "DPCDSB is also developing learning resources for students and parents/guardians and we would look to post these resources after the conclusion of the March Break," Bruce Campbell, general manager of communications for DPCDSB told The Pointer. It's unclear what these educational materials might look like but students will have access to them soon, as Friday marks the end of March break.
The DPCDSB hasn't posted extra resources on its website yet. The education ministry's direction on alternative learning that students can soon access is listed on the board's website.
The Toronto District School Board and Toronto Catholic District School Board have both taken a much more proactive approach than the PDSB, indicating they will provide students with extra learning resources, in addition to those outlined by the province, on their respective websites.
On its website, the TCDSB says it is working on "curriculum-linked resources for each grade" for students to work on during the school closures. TDSB is making similar resources available to students, according to its website. The Toronto school boards, like Peel's Catholic board, state the alternative resources will be available soon.
PDSB's lack of action on alternative education options, which seems out of step with other boards, could leave tens of thousands of families across the region scrambling to help children as of Monday, when students were supposed to return to school, before the COVID-19 risk became a pandemic.
Students may fall out of the rhythm of daily learning. Easy access to education material would be especially helpful for parents who have to return to work.
Learning resources provided by the ministry of education will be optional for students to access and utilize, according to the websites of the school boards.
According to the PDSB's website, students aren't expected to complete any evaluations during school closures.
Education Minister Stephen Lecce
Education Minister Stephen Lecce announced the additional online supports in a March 12 announcement, but didn't provide additional details about what material will be released to students and when.
"I'm committing to parents that there is a plan. It is in place. It is being finalized in real time. And I will communicate transparently to parents about how we ensure your child continues learning in a safe environment out of schools," he stated in the announcement.
Some boards have clearly been working on their own plans in concert with the ministry, while it remains to be seen what the PDSB does.
The outbreak of COVID-19 in Ontario added a two-week extension to March break. The last day of school for primary students was March 13, with an original return date of March 23. Schools will now open on April 6. "We recognize the significant impact this decision will have on families, students, schools, as well as the broader community, but this precaution is necessary to keep people safe," the education ministry stated when it made the decision.
The decision to close schools was one of the first of a string of decisions in reaction to COVID-19 from the province. Since then, an emergency has been declared in Ontario and Peel Region and residents have been asked to practice social distancing to help prevent the spread of the virus.
The school closures have also meant a string of other changes for both school boards in Peel. Adult school programs, night schools and daycares through the boards have all been closed. It's currently not known if any classes will be extended into the summer months, if the ministry restarts classroom education during the school year.
"We have not received this direction from the ministry of education. The decision to extend the school year would be made by them. It's too early to determine if this will be necessary," PDSB's website states.
The website of PDSB and DPCDSB also state the two-week closure won't impact any students who were on track to graduate this year. However, it's not clear if this will impact student applications to universities and colleges. Both school boards state this should be checked with the post-secondary institutions the students applied to. It's not known how and if grades will be adjusted because of the closure of schools.
The closures of schools comes in the middle of widespread strike action from the Ontario Secondary School Teachers Federation. Multiple school boards across the province are represented through this group, including teachers from Peel District School Board. The various unions have been bargaining for months with the ministry of education, but mounting tension hasn't led to a resolution.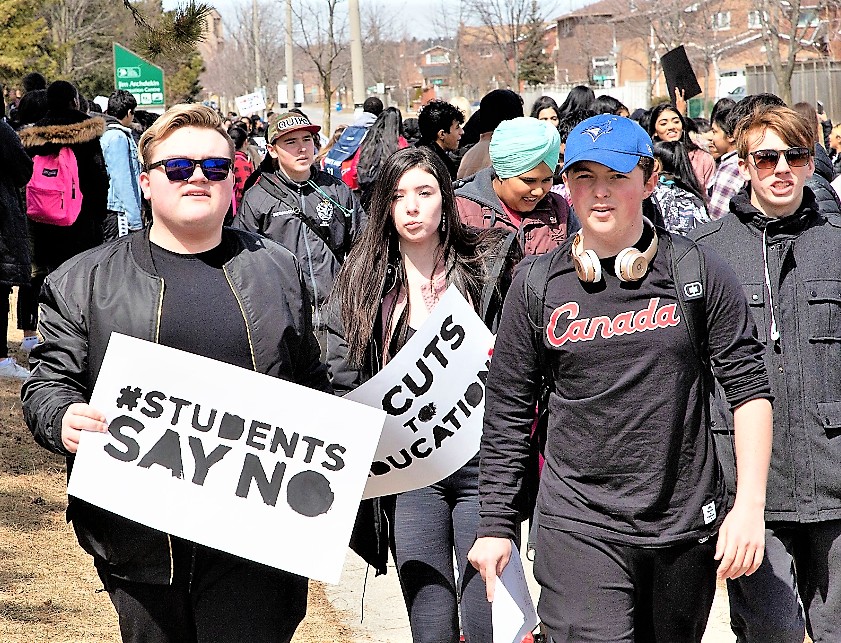 Brampton high school students take part in a province-wide walkout last year to protest cuts to education
On March 18, OSSTF announced the cancelling of strike actions because of COVID-19. "OSSTF/FEESO members are always committed to the well-being of our students and our communities, and under the current circumstance we want to ensure that there are no impediments to the efforts of members to assist in fighting the spread of Covid-19," a statement from the union reads.
It's not clear if rotating strike action will resume. According to OSSTF's website, the group hasn't been at the bargaining table since December 16. While discussions were held in March, the process of moving to the bargaining table was not reached as talks broke off March 3rd. The OSSTF is seeking a two percent annual increase in salary, reduction in class sizes and to make e-learning classes optional.
In early March, Lecce announced class sizes would not be increased, as a concession to unions and after widespread public backlash across the province.
The ministry of education recently reached an agreement with the Ontario English Catholic Teachers' Association (OECTA), which remains confidential at this time. "In accordance with the Association's ratification procedures, should the OECTA Provincial Executive and local unit presidents recommend approval, Catholic teachers will participate in a province-wide vote on April 7 and 8," Liz Stuart, president of OECTA said in a statement.
---
Email: [email protected]
Twitter: @nida_zafar
Tel: 416-890-7643
Submit a correction about this story