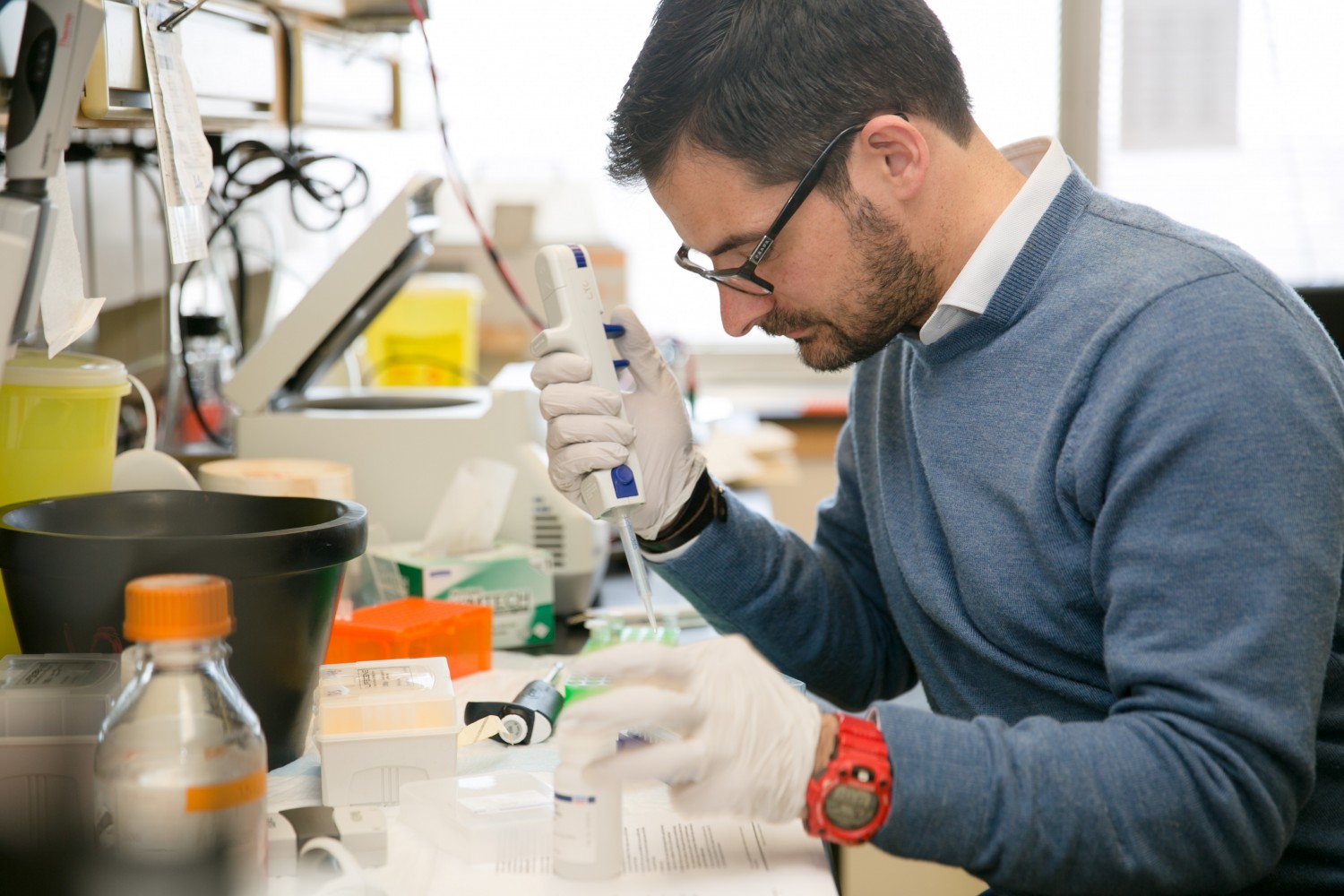 Photos and graphics from Trillium Health Partners/Twitter/University of Toronto Medicine/Michelle Byrne/Region of Peel/Ontario Ministry of Health
Overburdened Brampton and Mississauga hospitals scramble to find capacity as COVID-19 spreads
Before COVID-19, Brampton made the headlines for its healthcare issues. Every month there was a new story highlighting the inadequacy of the city's sole hospital. The crisis came to a head in January when the city declared a healthcare emergency, pleading for a fix to its desperate hallway healthcare.
To the south, hallway care is better; wait times are not. Hospitals in Mississauga have some of the worst statistics in the province for admittance from the emergency room.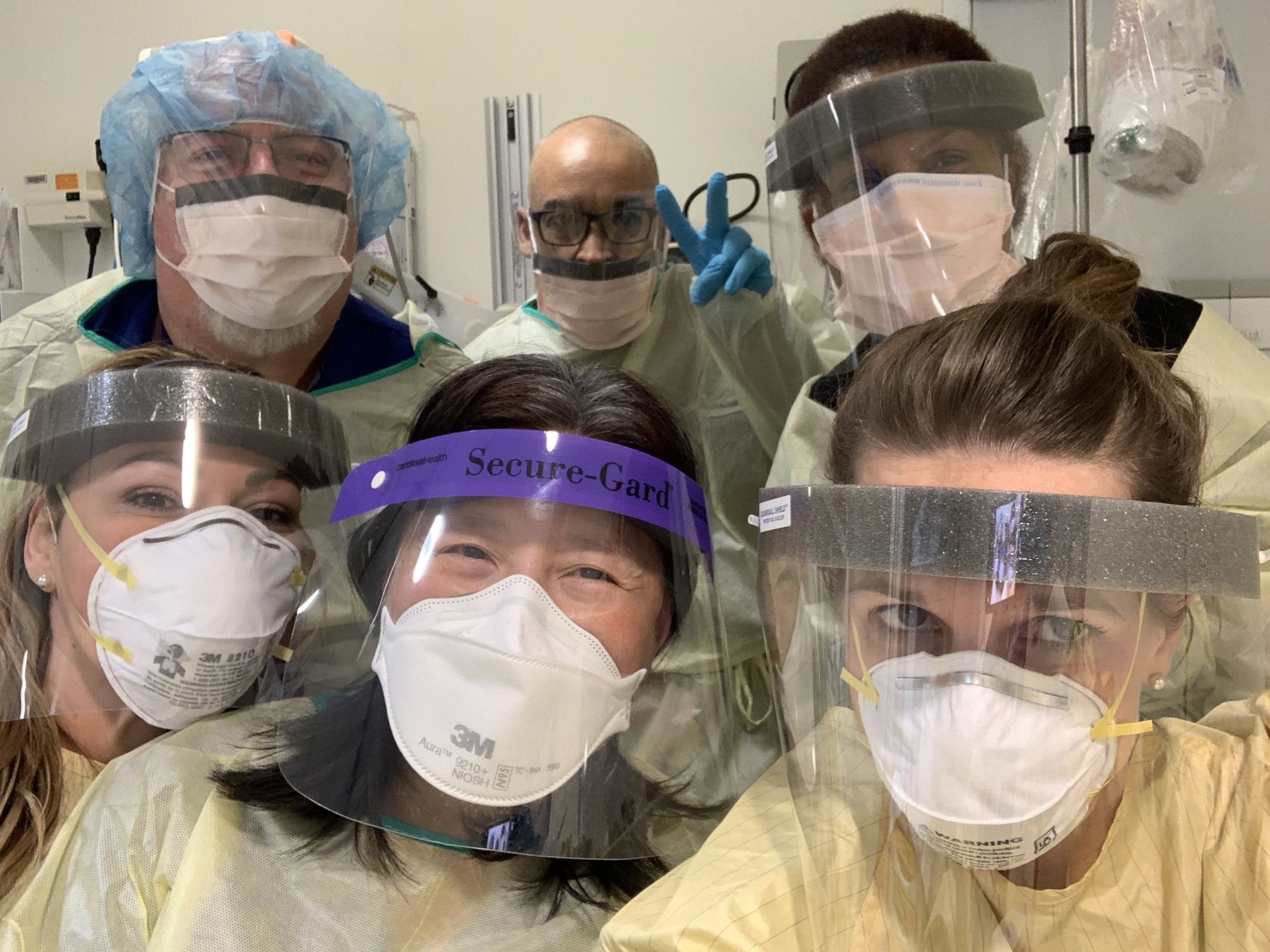 Medical professionals in Mississauga smile for a photo on Monday
Now, the looming prospect of COVID-19 threatens to bury Peel's hospitals.
The William Osler Health System admitted its problems in a plan for the future. Its 2019-2024 roadmap describes an "unrelenting pressure" on the hospital network which led to more than 150 days of "code gridlock" in 2018. Two years ago, the numbers of patients needing treatment far outweighed the number of beds available for more than 40 percent of the year. Since then, this pressure has only increased as Brampton's population has continued to grow.
Osler is responsible for three hospitals, two of which are full-service and capable of in-patient procedures. In Brampton, it only operates Brampton Civic Hospital, the city's only full-service facility, and Peel Memorial Centre for Integrated Health and Wellness, an outpatient facility unable to keep patients overnight. Outside of Brampton, Osler is also responsible for Etobicoke General Hospital.
Debilitated by failures and delays of the past, even the threat of COVID-19 will not be enough to keep Peel Memorial open 24/7. Instead, patients with serious symptoms will be transferred to Brampton Civic Hospital or Etobicoke General Hospital when admission is required.
An illustration of the different age groups in the Central West Local Health Integration Network's population (including Brampton). The current understanding of COVID-19 suggests older residents face increased risks.
Trillium Health Partners (THP) is in charge of two Mississauga facilities: Credit Valley Hospital and Mississauga Hospital. In its plan, for 2019 to 2029, THP issued its own cry for help. It described the current setup as "under-resourced for the size and needs of the community," adding that no hospital network in Ontario will receive more demand for acute services across the next two decades.
The pre-COVID-19 strain on both systems is laid bare in numbers from Health Quality Ontario, a government resource measuring emergency room wait times.
The province's target time for patients to be admitted from the emergency room is eight hours, a standard that is met for 33 percent of patients. For THP, the average time is 21.2 hours at Mississauga Hospital, even longer than Brampton Civic, ranking it 100 out of 113 hospitals included in the data. Meanwhile, only eight of the included hospitals have worse averages than 105th placed Credit Valley Hospital, where patients wait for an average of 23.7 hours.
Cheryl Connors, executive director of the Canadian Network for Respiratory Care and a Peel resident, told The Pointer she was concerned about the safety of frontline workers. "Our health professionals are very concerned about their safety," she said, adding that some nurses, respiratory therapists and pharmacists "don't even have masks."
"We are rapidly moving, and the window to get this under control is closing," she added. "Our health system is being held together with duct tape."
Wait times in Brampton and Mississauga are more than double the provincial average.
Failure to respond to rapid growth in Peel is a problem that has caught both networks cold.
In 1996, Mississauga's population was 544,382 people, rising to 668,549 in 2006 and 721,599 in 2016. In Brampton, the 1996 population was 268,251, up to 433,806 in 2006 and hitting 593,638 in 2016. Over the span of 20 some years, more than 177,000 people moved to Mississauga and in excess of 325,000 started to call Brampton home.
This superspeed population growth is compounded by higher than average diabetes rates, low walkability and an aging population.
The situation is particularly concerning in Peel, but for decades Ontario as a whole has struggled with hospital beds. According to figures shared in 2015 by the Ontario Health Coalition, the province had roughly one bed fewer than the national average for every 1,000 people. Where the average number of beds in Canadian provinces sat at 3.28 five years ago, Ontario had just 2.24 per head.
The Central West LHIN, the broader health area encompassing Brampton, has fewer than one bed per 1,000 people.
In Peel, capacity issues are exacerbated by a high number of deaths related to lung cancer. According to the region, lung and bronchus cancer are the third most common cause of death recorded in Mississauga, Brampton and Caledon. With the respiratory issues associated with COVID-19, this is not a good omen.
At Brampton Civic Hospital, there are currently 24 ICU beds and 10 Intermediate Care Units. The hospital confirmed it is preparing to increase the number of beds and treatment spaces it has.
In Mississauga, THP confirmed to councillors on Thursday it has 100 critical care beds, with a plan in place to double capacity to 200 if or when necessary. "I do believe at this point we are at the right point," CEO Michelle DiEmanuele told councillors. "But we can and will do more."
Trillium Health Partners CEO Michelle DiEmanuele
On Friday morning, the Ontario Ministry of Health confirmed two new cases of COVID-19 in Peel for a total of 28 in the region. Ontario has seen the largest single-day jump to date with 50 new cases confirmed, bringing the provincial total to 308.
A glance across the Atlantic Ocean to Italy, the epicentre of the European outbreak, reveals worrying lessons about how quickly a healthcare system can become overwhelmed.
Research and commentary published by doctors in Milan describes how rapidly ICUs and hospitals in northern Italy are becoming overwhelmed. In the country, where total deaths have now outnumbered China, the situation is so dire Médecins Sans Frontières (the European name for Doctors Without Borders) has been called in to help relieve the strain.
"In practice, the health care system cannot sustain an uncontrolled outbreak, and stronger containment measures are now the only realistic option to avoid the total collapse of the ICU system," the authors wrote. "For this reason, over the last 2 weeks, clinicians have continuously advised authorities to augment the containment measures."
Attempting to stay ahead of the virus and avoid descending into the nightmare scenes coming out of Italy, Ontario has taken a series of steps to try to increase capacity. On Sunday (Mar. 15), Health Minister Christine Elliott asked all hospitals to ramp down and end elective surgeries and non-emergency treatments in an attempt to free up resources.
"Since we first learned of COVID-19, Ontario has been diligently monitoring and taking decisive action to contain the spread of this new virus and ensure the province's health care system is ready for any scenario," she said. "At the same time, we must also carefully consider how to best maximize resources and prioritize services."
On Wednesday, she confirmed the province had ordered an additional 300 ventilators (that have now arrived) to help with those COVID-19 patients whose respiratory capacity deteriorates.
The total number of ventilators owned by the province is unclear. Asked for a figure on Thursday, Elliott was unable to confirm one. A stockpile has been in existence since at least 2009, according to Critical Care Ontario. As of 2019, the province had 209 ventilators "stockpiled" at key locations in case of emergency, seven are stored at Osler in Brampton and 10 are held by THP in Milton.
Elliott added that car manufacturers were stepping up to help produce more ventilators to increase the province's capacity. Details around this plan remain vague, but Premier Doug Ford has been vocal in his optimism the system will work.
Osler confirmed it had a number of traditional and nontraditional ventilators on site, but did not give an exact figure. "Osler has enough ventilators to meet community need, as well as plans in place if more are needed as part of a surge strategy," Cara Francis, director of public relations at Osler, told The Pointer. "The organization has access to a number of invasive ventilators as part of a provincial stockpile, if required. Further, other non-traditional ventilator options can be used based on patient need."
Offering a snapshot of the frontlines of Ontario's healthcare, Dr. Michael Detsky, an Assistant Professor at Mount Sinai Hospital, told The Pointer he was prepared for the worst still to come.
"We haven't seen the degree of need for critical care beds in Ontario, yet," he said, in reference to the demands that will soon hit hospitals around the GTA. "But there is this lag time between onset of symptoms."
"We're getting our scheduling done, ramping down any other sort of academic activities and more or less going into preparation mode," he added. "I would say it hasn't impacted care at the moment [...] but we're all anticipating and preparing for this. And there certainly are COVID-19 patients in the hospital."
The Pointer reached out to a test centre worker in Brampton and a doctor working at THP to arrange interviews. The THP doctor agreed to speak, before confirming the request had to go through the communications department, something that was eventually refused.
A series of questions around capacity, the number of ventilators and preparedness for the pandemic was also sent to THP on Monday. The questions were acknowledged, but no response was received ahead of publication.
Details of the capacity within Brampton Civic and especially Mississauga's hospitals remain elusive at a time when the public needs to know.
On Tuesday, Doug Ford also announced $100 million in funding to help hospitals deal with capacity issues. An accepted orthodoxy within the health industry is that a hospital's capacity should not exceed 85 percent in order to leave space for unforseen circumstances, which is well illustrated by COVID-19.
Brampton Civic Hospital operated beyond 100 percent throughout 2019, while Peel Memorial started last year at 557 percent capacity, increasing to 587 in April of the same year. Even ramping down elective surgeries and non-emergency treatments, Osler's system started the pandemic on the backfoot.
The province did not confirm where the additional funding would be spent in time for publication.
"Osler is preparing for an increased need for acute medicine and critical care beds by reviewing available space, equipment and staffing," Francis told The Pointer. "This includes measures such as scaling down on non-urgent clinical activity and moving some services to virtual platforms, such as teleconferencing and videoconferencing to support the care of vulnerable populations in their homes."
Again, THP did not provide a response to illustrate its position.
If the pandemic intensifies, one question will be around the capacity of different hospitals and where patients exhibiting signs should go. In Brampton, for example, Civic has just 608 beds (not specifically ICU) to serve the population, while Oakville-Trafalgar has 457 in a city with a population of just under 200,000. If cases in Peel continue to grow, it could be wise to communicate when hospitals near capacity so that patients with symptoms are able to present to the nearest hospital with capacity to treat them.
In business-as-usual situations, hospitals use a service called Critical Care Ontario to communicate if its ICU beds are full. They are able to find a neighbouring hospital with capacity and transfer the patient to receive the treatment they need. How this will work in a pandemic, if the number of serious cases and deaths in Ontario rises, remains to be seen.
Confusion and fluid decision making in Peel's healthcare was epitomized during Brampton's recent tele-town hall on COVID-19. A health worker raised questions around Osler's preparedness to look after staff, not just patients. Asking one of many questions posed to leaders in the city, the caller said she returned from overseas this week and was told by her hospital (and employer) not to self-isolate, despite travelling.
In response, Dr. Frank Martino announced a sudden change of policy. The corporate chief of family medicine for Osler and previously acting president and CEO, said: "At Osler today we have actually decided that, given the significant international caseload that we're seeing, especially with our neighbours to the south [...] we have changed our policy that if you do return, you will need to self-isolate for 14 days and monitor your status."
All speakers, including Mayor Patrick Brown and Peel's Dr. Lawrence Loh, highlighted how fluid and ever-changing the situation was. Yet, the fact that the healthcare worker in question had to tune into a city-run townhall to get an answer to her question around self-isolation instead of being issued clear instructions by Osler when the decision was made raises some questions about the level of organization within the system.
---
Email: [email protected]
Twitter: @isaaccallan
Tel: 647-561-4879
Submit a correction about this story