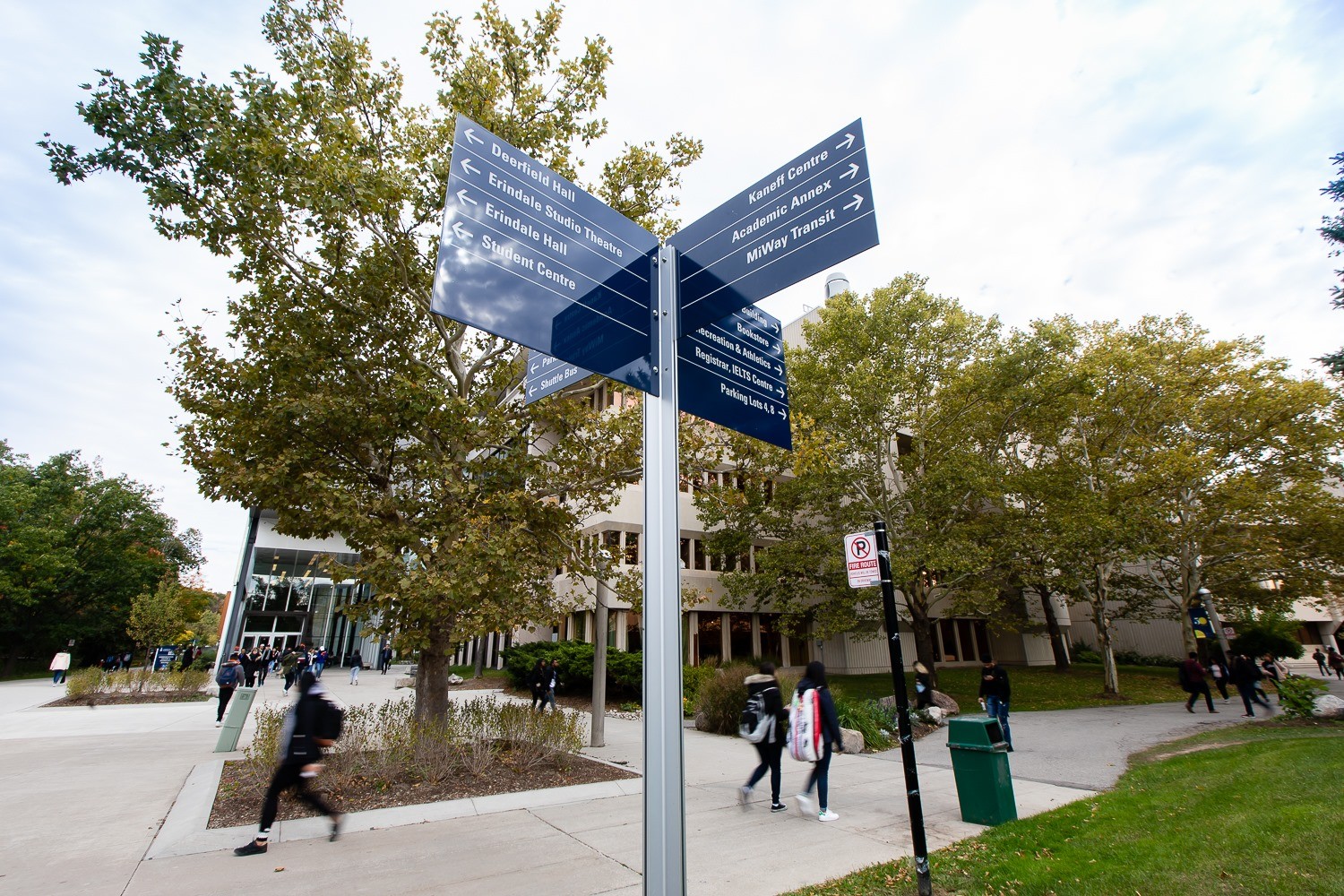 Photo from Facebook/University of Toronto Mississauga
Update: Four new cases of COVID-19 confirmed in Peel Monday, bringing total to 21
On Monday, four new cases of COVID-19 were confirmed in Peel, all of which have no current information on the health unit reporting the cases, hospitals involved and the possible reasons for transmission. Up till a few days ago all this information was listed in the province's daily updates.
The provincial number of coronavirus cases has risen to 177, according to Ontario's Health Ministry.
According to the federal government, 324 Canadian COVID-19 cases have now been confirmed, while there are an additional 17 individuals who are deemed to probably have the virus. Between Jan. 15 and Mar. 13, of all Canadian cases, 51 percent of those infected have been women, 31 percent have been at least 60 years old, 13 percent have been hospitalized and only one person has died. And 74 percent of cases are linked to travel, while 6 percent of those infected had close contact with travellers.
Following direction from public health officials and the Ontario Court of Justice, Mississauga's Provincial Offences Act courtroom is temporarily closing to reduce the spread of COVID-19. This means all matters scheduled to be heard by a Justice of the Peace between March 16 and Apr. 13 have been adjourned. The timeframe in which to pay fines has been extended by three weeks.
On Monday morning, Premier Doug Ford joined Minister of Labour, Training and Skills Development Monte McNaughton to announce the introduction of new legislation, which, if passed, would provide employees in isolation or quarantine due to COVID-19 with job-protection. Safeguards would also be extended to parents and guardians of children who need to be away from work to care for children due to school and daycare closures.
All public schools in Ontario will remain closed until April 5th. They are currently scheduled to reopen April 6, but the situation will be updated if the COVID-19 spread changes directives for the Ministry of Education.
---
Here's what the province is saying:
Ontario is acting immediately to protect workers during the COVID-19 crisis. Today, Premier Doug Ford and Monte McNaughton, Minister of Labour, Training and Skills Development, announced that the government intends to introduce legislation that, if passed, would immediately provide job-protected leave to employees in isolation or quarantine due to COVID-19, or those who need to be away from work to care for children because of school or day care closures.
"While everyone's concerns about their health and safety is top of mind, the last thing we need is anyone worrying about job security as the COVID-19 situation evolves," said Premier Ford. "That's why I directed the Minister of Labour, Training and Skills Development to draft legislation that will protect workers and their families during this difficult period."
"Mothers and fathers who need to care for children or dependants shouldn't have to worry about losing their job," said Monte McNaughton, Minister of Labour, Training and Skills Development. "The same goes for people who receive medical or public health advice and are required to take precautions as a result. They shouldn't have to worry about losing their job. In this time of uncertainty, we need to support employees who must isolate or quarantine themselves, or who need to care for a loved one."
The proposed legislation would, if passed, provide job protection for employees unable to work for the following reasons:
· The employee is under medical investigation, supervision or treatment for COVID-19.
· The employee is acting in accordance with an order under the Health Protection and Promotion Act.
· The employee is in isolation or quarantine.
· The employee is acting in accordance with public health information or direction.
· The employer directs the employee not to work.
· The employee needs to provide care to a person for a reason related to COVID-19 such as a school or day-care closure.
The proposed legislation would also make it clear that an employee will not be required to provide a medical note if they take the leave. The measures would be retroactive to January 25, 2020, the date that the first presumptive COVID-19 case was confirmed in Ontario.
Many workers will be eligible for Employment Insurance sickness benefits. As well, we are reviewing current access and eligibility to emergency assistance which is available through the Ontario Works (OW) program to support individuals who are impacted by the coronavirus and who are not able to meet their basic living expenses.
"The health and well-being of Ontarians continues to be our government's number one priority," said Christine Elliott, Deputy Premier and Minister of Health. "We are actively working with our partners at all levels in the health care system and implementing enhanced and comprehensive measures to prevent the spread of this virus and protect the health of all Ontarians."
"These job protections could also contribute significantly to limiting the spread of COVID-19," said Rod Phillips, Minister of Finance. "We are giving everyone the tools they need to put their health and the health of others first, without fear of losing their jobs."
Visit Ontario's website to learn more about how the province continues to protect Ontarians from COVID-19.
---
Post-Secondary Institutions
Sheridan College
On Mar. 13, Sheridan College announced the suspension of classes for a one-week period beginning today through Friday (Mar. 16-20). On Mar. 23, learning will resume through alternative formats and all events and gatherings are cancelled for the winter term. Sheridan campuses, buildings, residences and libraries will remain open with security on site.
Algoma University
As of Monday at 12 a.m., Algoma University's Brampton campus is closed with the exception of essential services and the third floor (24 Queen Street East) Computer Lab, which will operate from 8 a.m. and 8:00 p.m. until further notice.
University of Toronto Mississauga
From Monday until the end of classes on Apr. 3, all in-person undergraduate and research-stream Master's and Doctoral courses across the University of Toronto's three campuses will be delivered by other means, such as online instruction. Decisions regarding professional programs have been made by Deans and more information on course instruction will be posted as it becomes available.
---
Brampton
Following today's Peel Public Health announcement on additional COVID-19 Precautions to Protect Peel, the City of Brampton has made significant changes to services and programming to help protect the health and wellbeing of our community.
City-Run Events:
All City-run events taking place between March 14 and April 5 are cancelled. All community events taking place in City facilities will also be cancelled during this period.
Recreation Programming and March Break Camps:
Effective Monday, March 16, March Break programming is cancelled. Additionally, Recreation programming is cancelled from March 16 to April 5. Full refunds will be provided. Please contact [email protected] for more information.
City Facility Closures:
To help prevent the spread of COVID-19, all City facilities including City Hall, Recreation and Community Centres, and Brampton Library branches will close from March 16 to April 5 inclusive.
Council Meetings:
Effective March 16 to April 5 inclusive, all City Council, Committee and Committee of Adjustment meetings are cancelled.
The Rose Theatre Brampton:
Effective March 16 to April 5, 2020, all events scheduled at City of Brampton Performing Arts Venues, including The Rose Theatre in Brampton are cancelled or postponed. Performing Arts venues are closed to the public until April 5, 2020.
For more information, please contact The Rose Theatre Brampton's Box Office during operating hours (Monday to Saturday, 10 AM to 6 PM) at 905 874 2800 ext. 62803 and 62804, or email [email protected]
Critical Services:
All critical services, including Fire and Emergency Services, Brampton Transit, Traffic Services, By-Law Enforcement, Road Operations, Security Services, Animal Services and POA Courts will continue to operate as usual to support our community.
To help protect the health of our employees and residents, the City has increased frequency of cleaning and disinfecting hard surfaces and seats in buses, facilities and terminals.
Emergency Operations Centre – City of Brampton Emergency Response Plan Activated:
The City of Brampton continues to follow the advice of Peel Public Health. While the City has not declared an official emergency on COVID-19, Brampton's Emergency Management Office has activated the City of Brampton Emergency Response Plan at a Level 2. This decision enables a more rapid response to dedicating specific resources to prevention and containment.
COVID-19 Assessment Centre – Peel Memorial:
William Osler Health System has opened a COVID-19 Assessment Centre at Peel Memorial Centre for Integrated Health and Wellness to screen and assess people in our community who are experiencing possible symptoms of COVID-19. The Osler Assessment Centre is not a walk-in clinic. Assessment Centre Hours are from 2 pm to 8 pm, seven days a week. This facility is located in a self-contained area at Peel Memorial and does not impact other patients who are attending the Urgent Care Centre or outpatient services at the site. Osler continues to be a safe place to receive care.
---
Mississauga
With guidance from Peel Public Health and in an abundance of caution for both our residents and staff around the COVID-19 pandemic, the City of Mississauga is responding with the following changes in City operations at this time.
The City of Mississauga will be closing all recreation, library, and cultural facilities starting Saturday, March 14 through to April 5 to the public. This includes the Living Arts Centre, Meadowvale Theatre, Paramount Fine Foods Centre and the Mississauga Seniors' Centre. Programming at these facilities will be cancelled.

City Hall and the Provincial Offences Court remain open.

MiWay continues to provide regular service.
Program and Service Updates
All City of Mississauga programs and activities will be cancelled from March 14 to April 5. This includes March break programs and activities.

The City of Mississauga will be offering full refunds without any administration charge. Please be patient as we work through the process.

The majority of Mississauga sports teams/leagues have suspended all activities. Check in directly with your sports organization for further details.
City Events and Meetings:
There are no Council or Committee meetings scheduled this week due to March Break.
City of Mississauga Response Activities:
The City's Emergency Operations Centre has been activated and staff are meeting regularly to monitor, develop and implement response measures as the situation evolves.

Increased cleaning and disinfecting of common contact points in City facilities and transit buses. If an infected individual is or was known to be at a City facility, the City would contact Peel Public Health and follow directions on containment.

Wiping down daily with disinfectant, counters and other touch points, washrooms, door handles, elevator buttons, automatic door operator plates, toilet flush handles, faucets, etc. at City facilities.
Submit a correction about this story