The Pointer file photos/City of Mississauga/Jeff Chalmers/Wiki Commons/Flickr/Renderings City of Brampton/Google Satellite
COVID-19 and lessons for healthy city building
In 1975, a new buzzword entered our lexicon: placemaking.
It was transformational and led to a new city-building movement. This orthodoxy sprung out of New York City and was the brainchild of urban icons like William Whyte and Jane Jacobs. Whyte led workshops under a non-profit organization called PPS: Project for Public Spaces.
But PPS's real roots spring from ancient Athens.
Athenian life revolved around the public square, or agora. This is where people hung out, ate, drank, talked sports, politics, family, and interacted with their neighbours. It was the symbol of a growing democratic spirit. Pericles thought the agora represented the unique possibilities of intermixing democratic participation with vibrant social life — you are not going to care about something you don't feel a part of.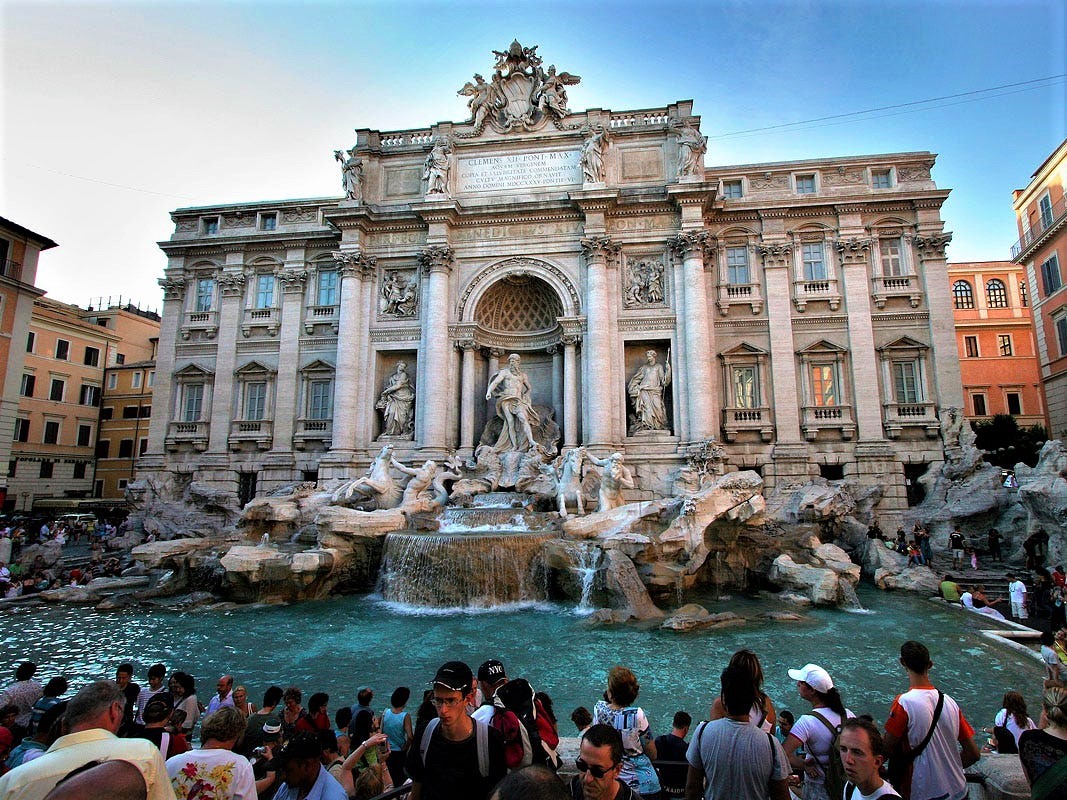 Trevi Fountain in Rome on a typical busy day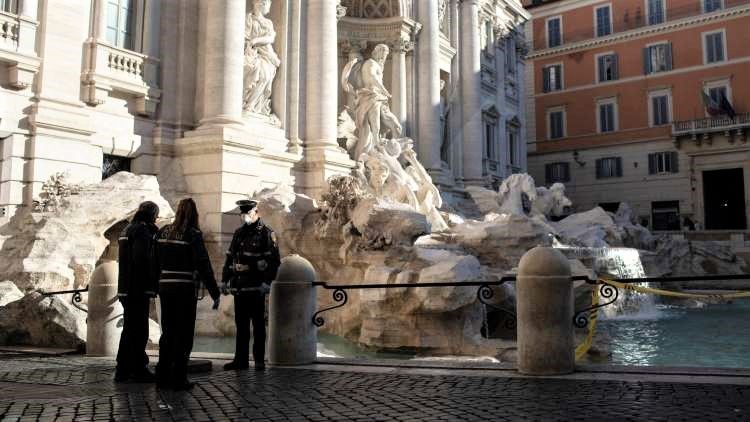 Trevi Fountain in Rome during the COVID-19 outbreak
Whyte was founder of the 'Street Life Project', and famously said: "Blank walls proclaim the power of the institution and the inconsequence of the individual, whom they are clearly meant to intimidate."
The PPS website states: "placemaking is the most important issue in urban design today as we try to undo the damage of the mall and car era."
Mississauga and Brampton were, and still are, striking examples of the awful effects of suburban sprawl.
Mississauga City Hall (civic centre) shortly after it opened in 1987
When Mississauga's new-look civic centre was built in 1987, it seemed to jar against the more compact sensibilities of other public buildings. To some, it represented the brutalist school of architecture, a walled fortress characterized by a massive, monolithic and 'blocky' appearance.
Mississauga's downtown was also contrived (built on a former cow pasture) and centred around a massive mall (Square One). Its wide streets and acres of above-ground parking lots made it a magnet for the automobile. Critics called it sterile and anti-people – a death star.
In 2003, Mississauga approached PPS to redo its downtown. The goal was complex: to create "a place." This eventually led to a public outpouring of ideas, including Downtown 21, which wanted to bring a Main Street to the core. The walls of the old city slowly came tumbling down.
The downtown eventually gained wild popularity, and broadened its appeal, and by the spring of 2019, over 20,000 fans regularly gathered in Celebration Square to root on the Toronto Raptors to their first-ever NBA title.
Downtown was now the place to be.
Mississauga had grown up.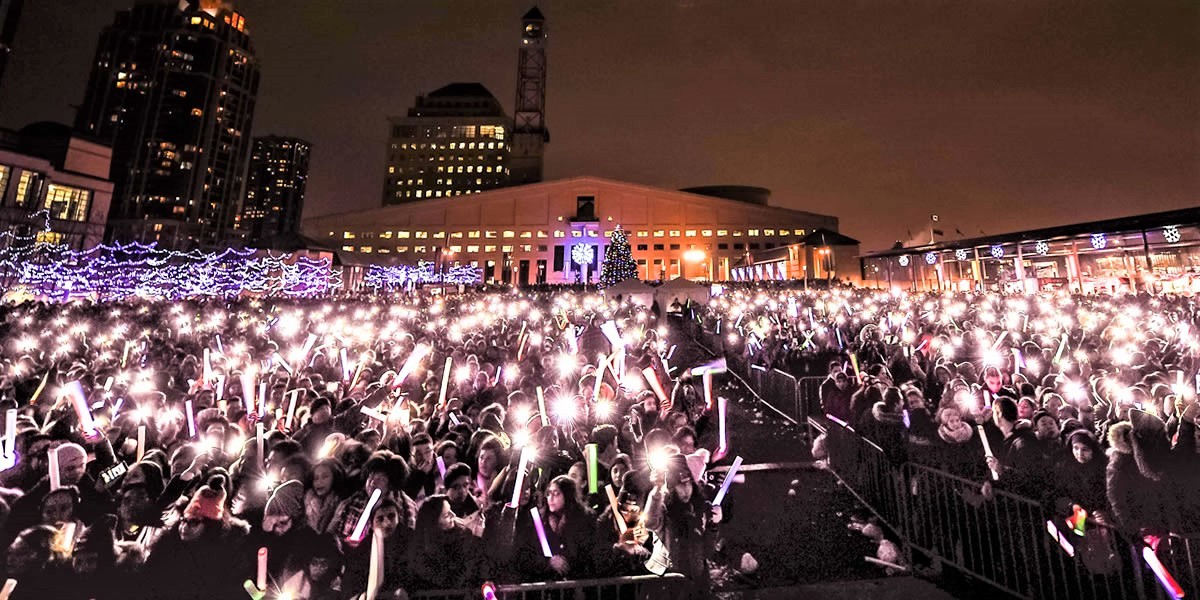 Celebration Square during a recent New Year's Eve
In Brampton, redevelopment of the downtown took longer, and remains unfinished – restricted by serious water worries in the middle of a floodplain, a history of bad planning and lousy leadership. When hyper-growth spilled out to its suburbs, the edge areas of the city, and malls stripped the downtown of its retailers and shoppers, it soon lost relevance. Over the past few years, the Rose Theatre (occasionally) and Garden Square have helped bring back some energy to the core. It's there that thousands of Bramptonians also gathered to cheer on the Raps.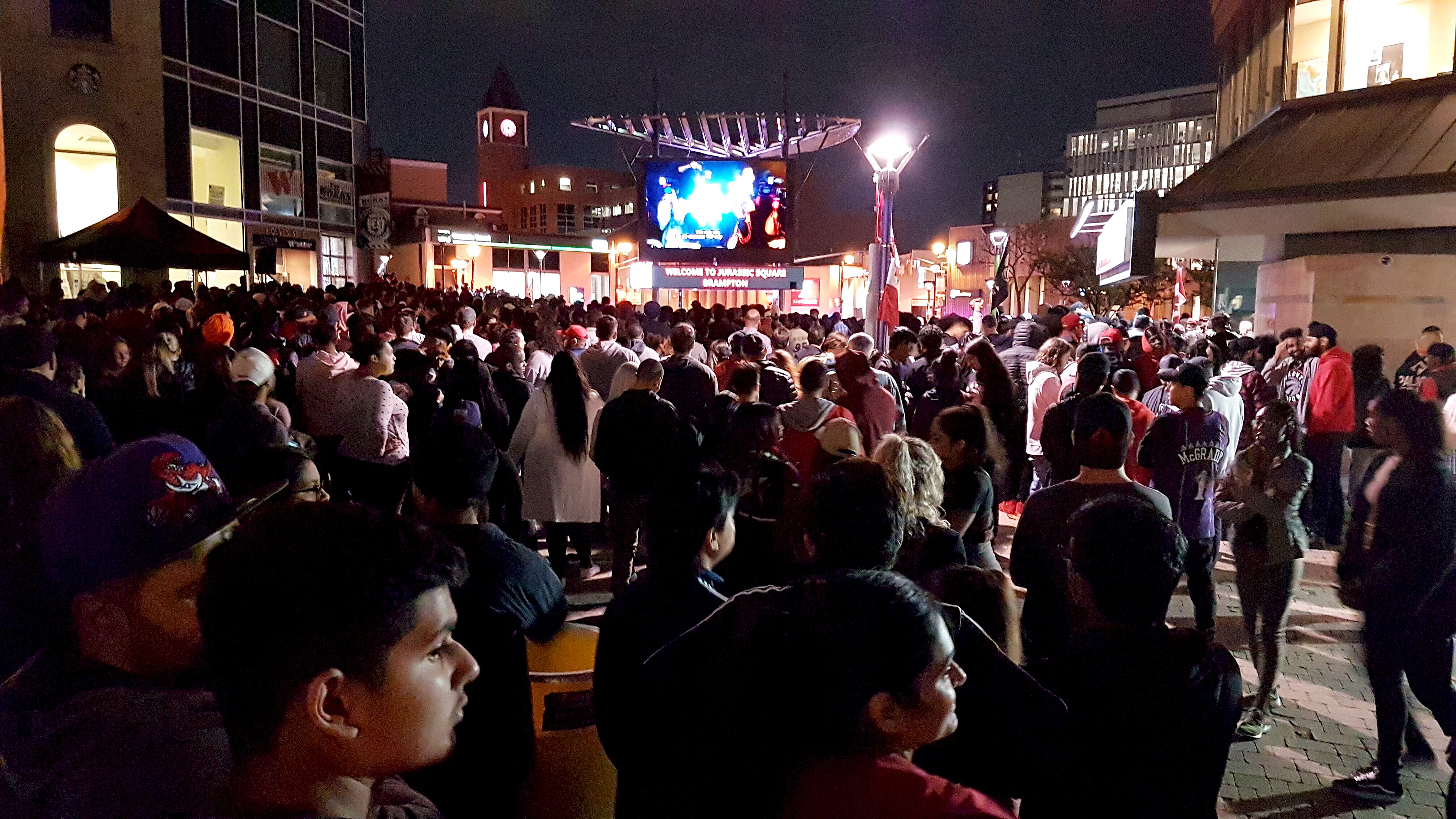 Garden Square in downtown Brampton during the Raptors' run to the NBA title
The tens of thousands who partied in these two squares, showed us all the power of placemaking.
But in what seems like a New York minute, everything has changed. Placemaking has been replaced by a new buzzword: "social distancing." Yes, COVID-19 (the novel coronavirus) has upset our world. And public health officials preach from a new gospel: Let's limit social interaction. Wash your hands and wash your hands of people – at least for the time being.
If the NBA ever gets back to action (currently shelved by the virus) and the Raptors make it back to the final, there might not be a repeat of thousands gathering to celebrate their win. Public health officials could step in, if the threat remains.
Are we moving toward a permanent world of hand sanitizers and limited human contact? Not likely.
But here's another question: will this significantly change the way we build our cities?
Before the virus, Whyte and Jacobs wanted our streets and sidewalks and public squares filled with people. It was all about accessibility, activities, comfort and sociability.
Rome wasn't built in a day, nor were its symbols of beauty – The Colosseum, St. Peter's and The Pantheon. They have drawn millions of tourists over the years because we love to bask in their beauty. It's why we call it the Eternal City. Today, it's people-less, a no-go zone. Has the novel coronavirus also stripped away our modern-day perceptions about city-building? Recent history proves that placemaking is a virus's best friend – it multiplies the risks for those caught in crowds.
Brampton and Mississauga have more recently embraced the concept of placemaking and the power of human interaction. Their renewed city-building plans were based on the human fabric that came from "complete streets."
Yvonne Yeung, manager of urban design for Brampton, is currently devising plans to revitalize the Queen Street corridor. She made a presentation before the planning and building services committee earlier this year and said a new East Precinct will fold neatly into the city's 2040 Vision. She foresees a hip and fun destination, built on ample sidewalk cafes, expressive architecture, special lighting, parks and human activity. It's all about people living and interacting in complete communities. It's about participating and having a real sense of attachment to the place where you live.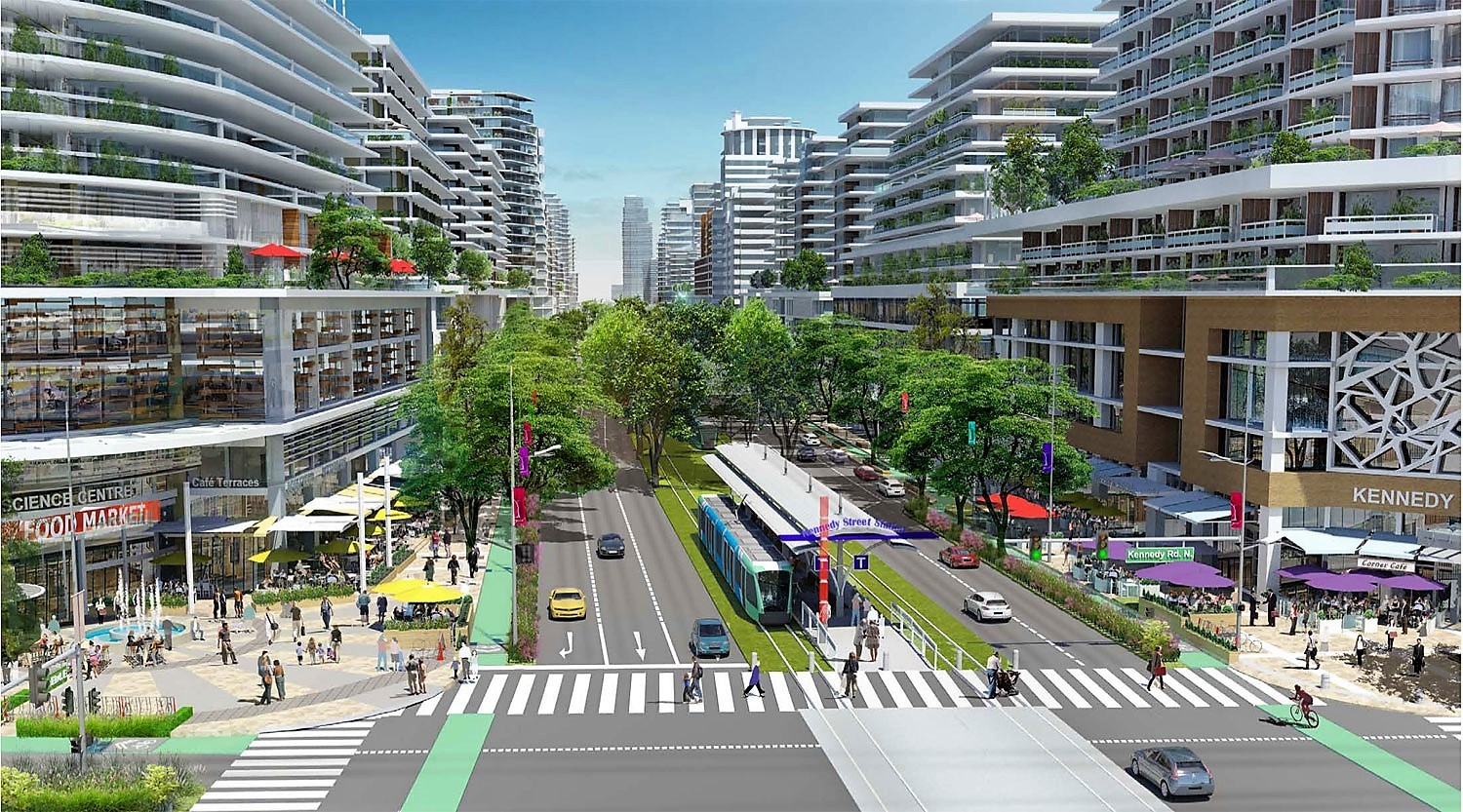 A rendering of Queen Street at Kennedy Road in the 2040 Vision document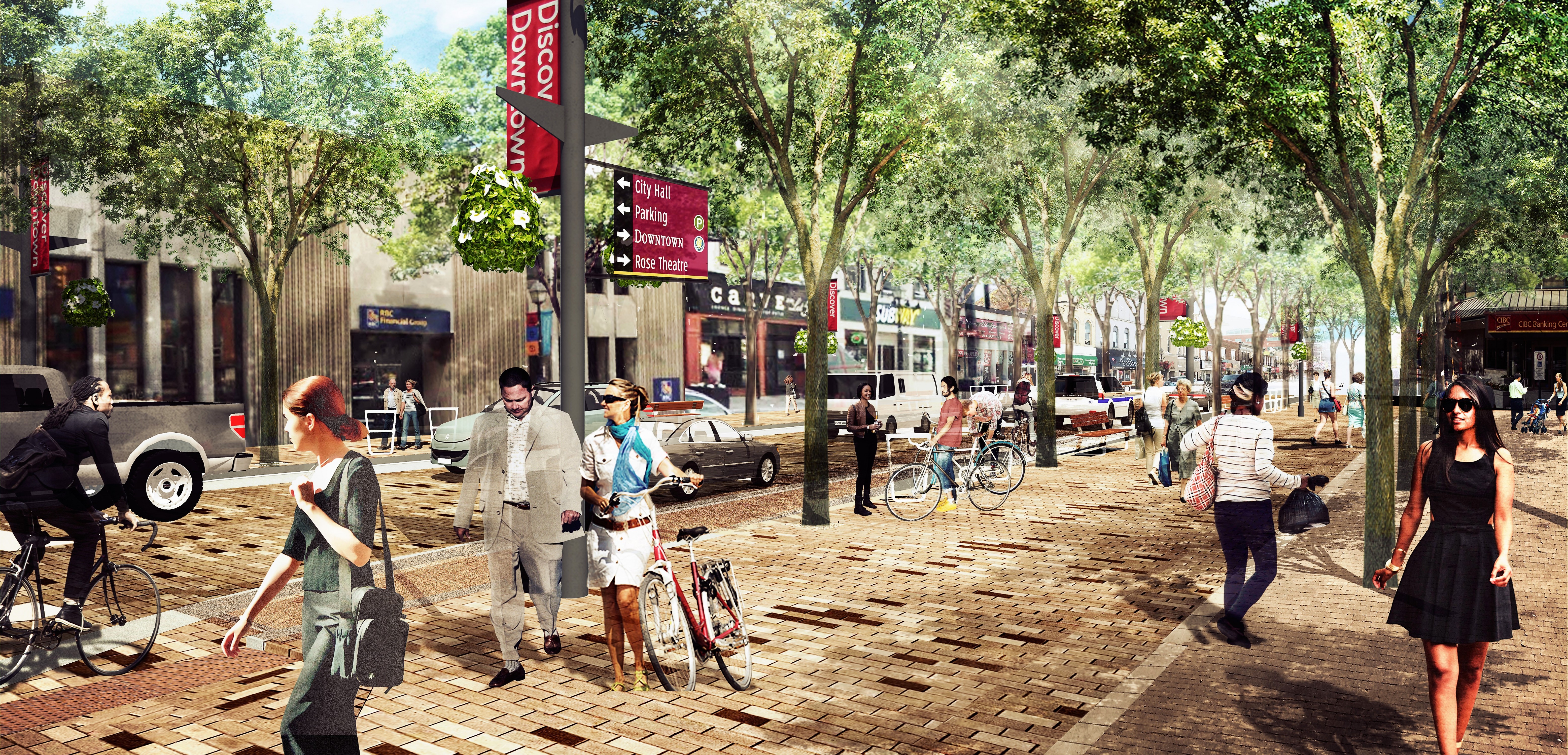 A rendering of Brampton's postponed Downtown Reimagined plan depicts what urban life looks like when animated by social activity
COVID-19 will not disrupt this. There's little chance that weeks spent in relative isolation, will become a welcome habit for the masses. If anything, and it's too early to tell, the experience might remind many that being social, living a public life and sharing ourselves with others, is the best way to be.
The trend was already going the other way, long before this latest coronavirus began its spread. Longer work hours, with more and more demands for productivity, stole away time created for ourselves. The suburbs stretched farther out, gobbling up even more time for commuting. And, after an exhausting work week, social experiences were supplanted by weekend binge-watching on Netflix.
We had already collectively begun to nest, way before COVID-19 forced us into these isolating spaces.
Brampton's official plan recognizes the need to change course, by revitalizing areas through improved and upgraded transit and policies that ensure a "gradual but consistent" transition from existing uses to a new, human-scale, mixed-use area.
To reach its development goals, the city established its first-ever Urban Design Review Panel (UDRP) in 2018 to help elevate the role of design in all facets of city planning and building. One of its members is Dr. Lawrence Loh, the region of Peel's new acting medical officer of health.
In late February, before he had replaced Dr. Jessica Hopkins, Loh appeared before Brampton council to talk about future city building and how it must be inextricably linked to the health of the people who live there. Design, he said, can be a life saver.
He carried with him a letter he'd sent to Mayor Patrick Brown and council. In it, he sang the praises of the Urban Design Review Panel, and thanked Brampton for its commitment to incorporate health into their vision for integrated complete communities in Peel. In partnership with the local municipalities, "we can create a healthy built environment through our collaboration and in land use planning, transportation planning and urban design," he said.
Health, in this case, isn't about the immediate concern to isolate and strangle a contagion. It is the idea of always being healthy, physically and psychologically. Being active, gathering, participating.
In this understanding, the past suburban ethos is much like the scary reality sweeping the globe. One was all about isolation in cars and homes and subdivisions (and in some cases, into cultural enclaves). The current isolation might be driven by a different fear, but it has forced a similar consequence.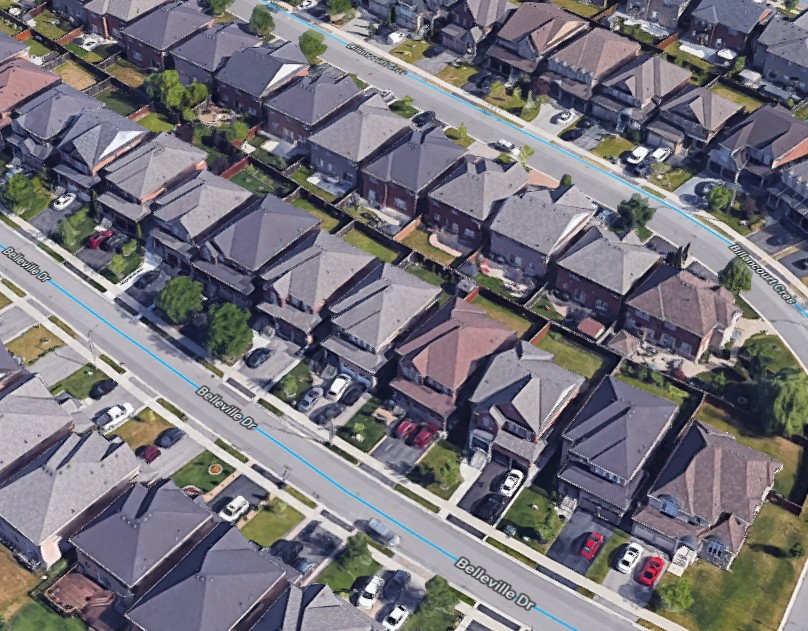 The isolating design of suburban sprawl
Loh wants the opposite for all of us and our cities.
Brampton initiated UDRP on a pilot basis, and hopes it will achieve design excellence on new, complex and major projects by bringing in added value and professional expertise, complementing the City's design review process. Mississauga also had an Urban Design Advisory Panel, and Toronto's Design Review Panel is also comprised using private sector design professionals.
The idea is to preserve the uniqueness of place, and make any new developments compatible with their surroundings.
This social connectedness within the community, getting people out of their isolation, helps improve overall health and mental well-being, said Loh.
The greatest contemporary threat to this is not a virus, from which we involuntarily isolate; it is the voluntary (though heavily coerced) reality of our reliance on technology. This growing seduction into the universe of screens and the limitless possibilities behind them, is almost impossible to resist. The isolating and unhealthy lifestyles that come with them are simply unintended consequences. They have dire implications for all of us.
Loh's words and the region's involvement in people-friendly design principles, took a backseat as COVID-19 cases swept across the planet, and also struck our region. Over the past few days, cases have multiplied, bringing our total in Peel to 17, as of Sunday, plus one individual tested in Mississauga Hospital but reported by Toronto Public Health. Across Ontario there are now 142 positive cases that have been confirmed, with five of those having been resolved (no longer infected with the virus).
On Wednesday the Ontario tally sat at 42, meaning the total, as of today, has more than tripled in four days.
It's stunning how quickly our world can be knocked out of orbit by a pandemic. Loh's presentation to Brampton council already seems outdated. But was a healthy conversation to have.
During the darkest days of World War 2, and immediately after Nazi bombers nearly destroyed the British House of Commons, prime minister Winston Churchill surveyed the carnage and said: "We shape our buildings; thereafter they shape us."
He thought the twisted steel and concrete might be seen as symbolic of the western world's collapsing freedom. It had to be rebuilt, he said, to give hope for the war effort, and send a message to future generations.
Yes, buildings and city design have that kind of power, said Loh, who repeated the Churchill quote during his interview with The Pointer.
It seems even more prescient as the coronavirus bombards our world.
Will this latest terror change the way we gather, and even design our cities? Will the next model be way different, more restrictive, and driven by social distancing? A continuation of the isolating suburban sprawl?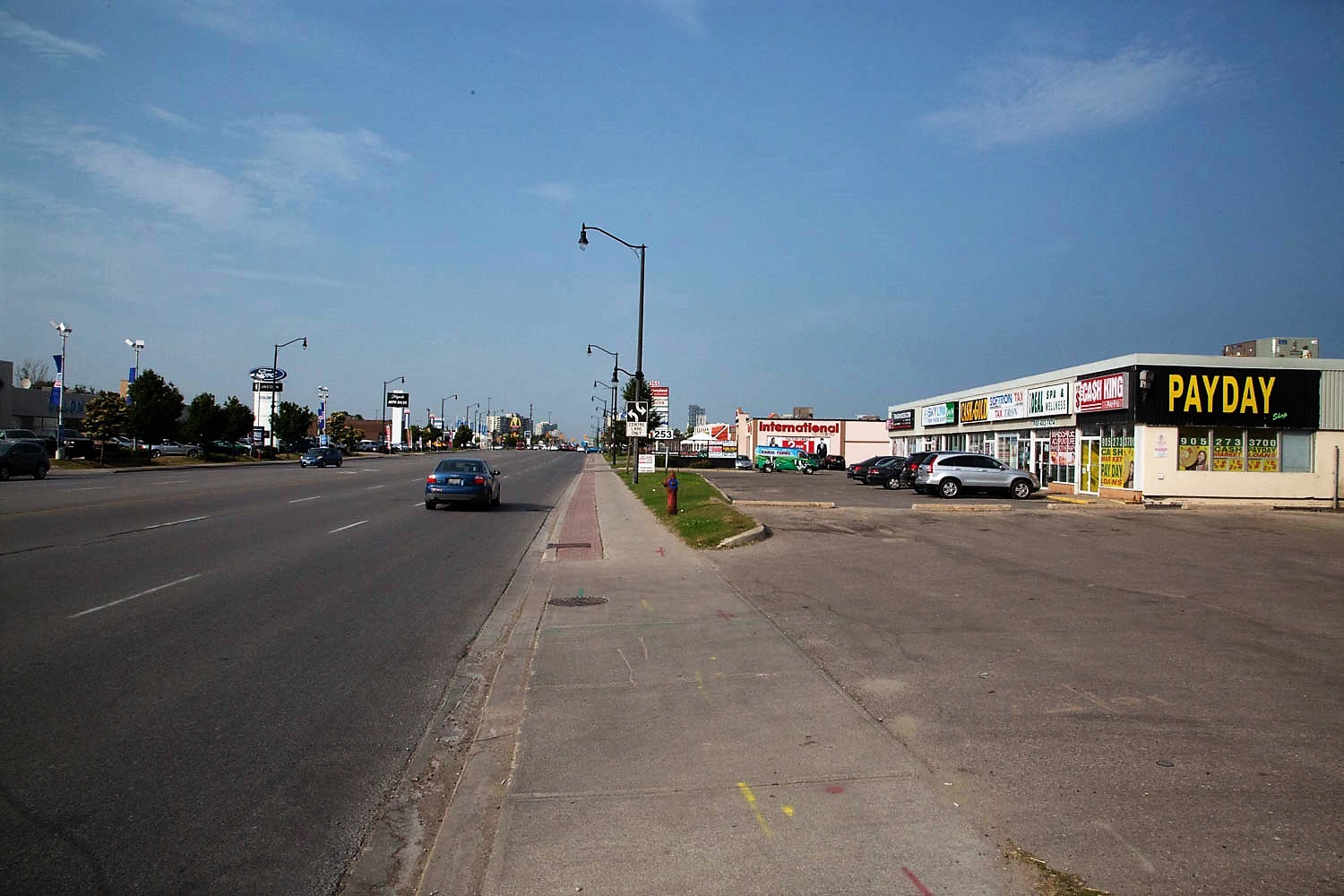 Queen Street just east of downtown Brampton creates a different, more long-lasting and entrenched, type of social isolation
We live in a world gripped by fear, and struggling through an extended lock-down. We know the latest pandemic is a killer. But few expected that one of its unintended victims would be the very concept of placemaking.
As always, we will collectively ensure this latest scourge, like many before, doesn't change the human need to live a healthy life, together. City planners should take note.
Submit a correction about this story