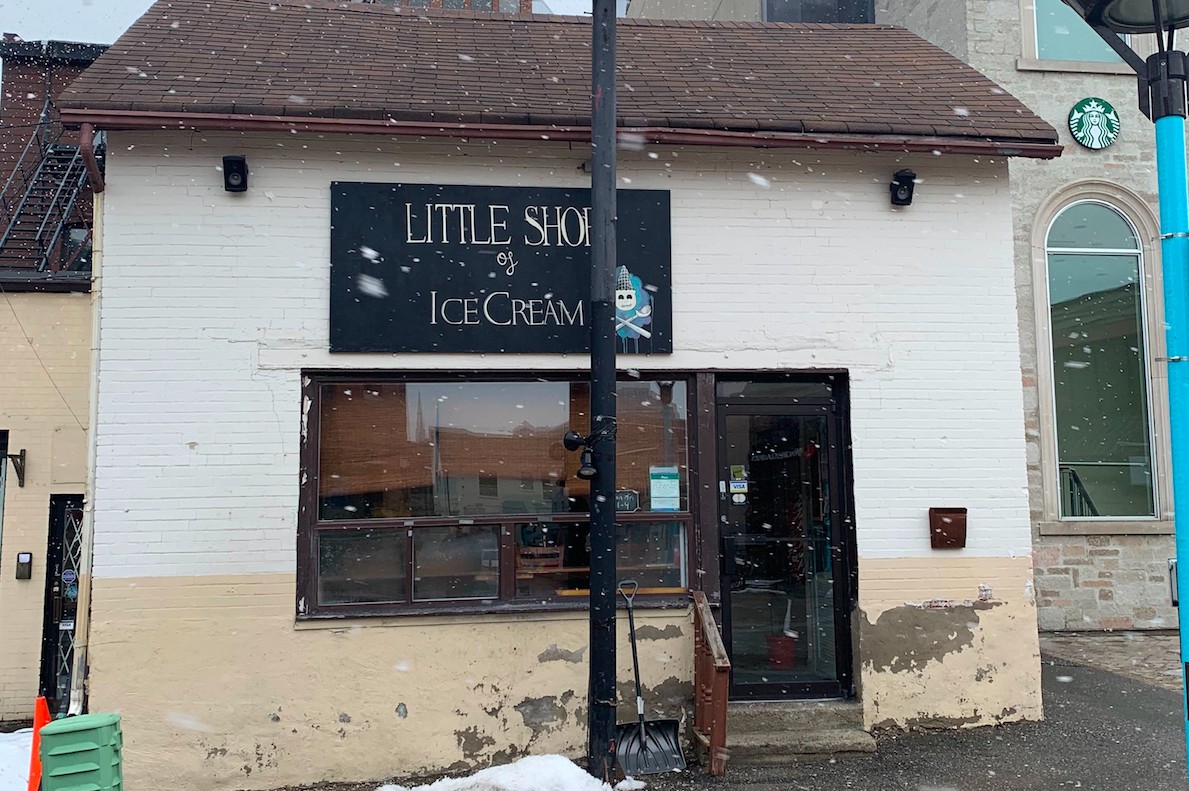 Photos by Isaac Callan
Battling sprawl: the challenge of running an independent coffee shop in Peel
In Brampton's downtown, a gaggle of plucky independent businesses survive, among them is Segovia, a Nicaraguan espresso bar serving coffee and empanadas for lunch. It is the sort of unique, independent business rare in a sprawling suburb like Brampton, dominated by big-box stores, strip plazas and national chains.
Segovia is part of a series of coffee enterprises run by owner Horacio Herrera and his wife. The pair also offer coffee setups for offices, import unroasted beans and supply cafes with the tools they need to serve coffee. As such, the store is one arm of their business, supported and nurtured by a diverse range of investments.
Located near city hall on Main Street, the coffee shop does good business during the week in one of the few areas of Brampton with any foot traffic to speak of. Key to this success, according to Herrera, is the presence of other local businesses creating a destination, with even multinational Starbucks adding to a somewhat organic, pedestrian-driven Main Street feeling.
"We do believe that having Starbucks around the corner really helps," he tells The Pointer. "[It means] you have options."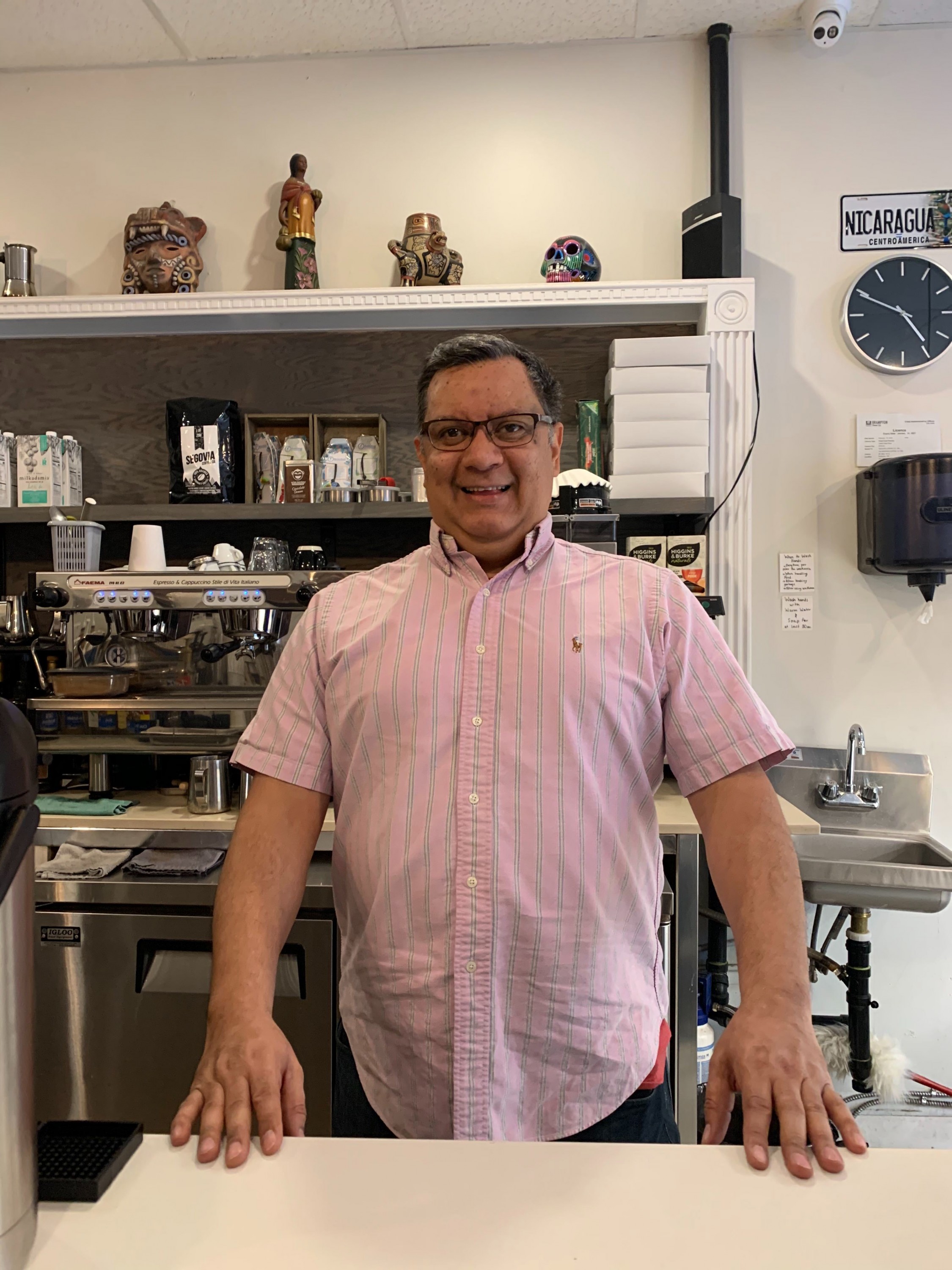 Horacio Herrera, who with his wife owns Segovia, a Nicaraguan espresso bar serving coffee and empanadas for lunch in Brampton
Sadly for Brampton, where so much retail space is located in plazas and malls, the truly independent business is hard to recreate in suburban shopping spaces.
"The challenge would be different; the way you reach out to customers would be different," Herrera explains. "We don't believe [Segovia] is a place for a mall because it would change the image we create. We try to be very careful about the way we look. For example, lots of people ask why we don't have TVs with the menu, but [we don't because] that would give us an image of franchise."
As a result, Segovia is one of few independent coffee stores operating in Brampton and Mississauga.
On Trip Advisor, for example, Starbucks is listed as the third most popular coffee shop in Brampton and Tim Hortons tenth. Where only a few small coffee shops thrive in Peel, the chains do just fine. There are 147 Tim Hortons in Mississauga and a further 80 in Brampton. Tim's primarily serves the needs of drivers and commuters on the go, and also attracts many seniors who convene for a catch-up.
Starbucks, which attracts a younger crowd, fits somewhere in between, not quite the vibe and soul-space of a true independent, with all the reminders of its global corporate branding, but its spaces generally try to recreate the personal, intimate experiences many seek when sitting down with an addictive cup of joe.
For cities with populations north of 650,000 people and 750,000 respectively, the idea that there are only a few small coffee businesses may seem strange, at first. Just a stone's throw to the east, in Toronto, independent coffee culture is thriving. Places like Roncesvalles, Kensington Market or The Junction are awash with coffee shops, often preferred over the big chains.
But, as Herrera alludes to, the way Peel was built is a challenge to small cafes. Both Brampton and Mississauga were created as the children of suburban sprawl, when city planners revelled in the idea of clustering houses, while lumping retail opportunities into malls and plazas built as part of the subdivision design.
This model has been replicated in thousands of North American suburbs. The developers who build the houses often work with property managers to line up the same few dozen national chains that occupy the neighbourhood plaza.
A common formula they follow is: one anchor retailer per strip mall or plaza, Walmart or Shoppers Drug Mart or Loblaws, a gas bar is usually in the corner of an expansive parking lot, and in between sit chain fast food options such as Subway or Burger King, with a dry cleaner, one of the big banks and either a Starbucks or Tim Hortons, which usually get their own standalone space, filling out the plaza.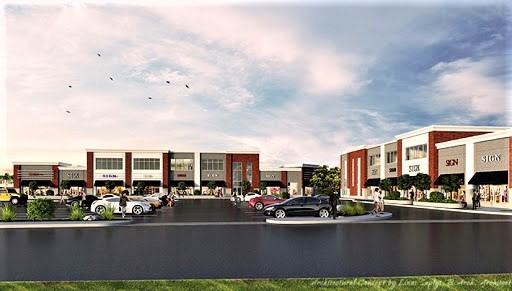 A rendering of a planned subdivision plaza in Brampton
The planning is often horrendous, with lines of cars stretching out from the drive through lane, backed up into traffic.
This blueprint is basically copied and repeated every time a new subdivision springs up.
Built on the apparent freedom of the car, this philosophy dictated that wide roads could get people to whatever service they needed.
For major chain stores, this was no bad thing. Massive Walmarts, Shoppers Drug Marts or Sport Cheks opened up in places like Square One, allowing for economies of scale on products, with the super store system more cost effective than running a series of smaller branches. Outside, huge parking lots were built to accommodate the suburban shoppers who poured in by car to live the modern retail dream.
This philosophy left someone out: local business.
Generally unable to afford the rent in large shopping centres like Square One or Bramalea Town Centre, independent ventures suffered or failed to spawn altogether, with some hit harder than others. The coffee shop is the epitome of the type of business stifled by suburban planning.
Where people are often willing to drive to their favourite restaurant for the unique quality of the food or chef, far fewer people are willing to go a few kilometres to grab an independent coffee, ice cream or even lunch with several drive-thrus on the way. Where going to a restaurant is a decision based largely on food and service, coffee shops are an experience where convenience is a key decision driver.
In their current state, Mississauga and Brampton offer something of a corporate dream and an independent nightmare.
---
Scott Upshall took over the Little Shop of Ice Cream in downtown Garden Square eight years ago. Converting it from a scoopery to a lunch spot, he serves the staff of Brampton city hall and the area's banks every weekday.
"About 80 percent of my daily business is city employees," Upshall said. "I change my menu every day, I send an email out to about 500 city employees every morning; it's a thing we have going. I really don't think it would work anywhere else [in Brampton], you have to have regular, everyday [customers]."
For Upshall, a perception among Bramptonians that there is little parking in the downtown is a barrier to people travelling for a bite to eat, something that is simply the norm in a city with roots like Brampton's. "Even if the downtown became a little more vibrant than it is already, it is a commuter town," he said. "People get home — and it takes forever to get home to Brampton — and they don't want to get back into their car to drive some place to eat."
In Brampton and Mississauga, Upshall believes truly quality establishments are able to stick it out, even if the suburban ground is an inhospitable host for fledgling businesses. "Location is important to start with, but to stay in business [...] people will come if your product is good."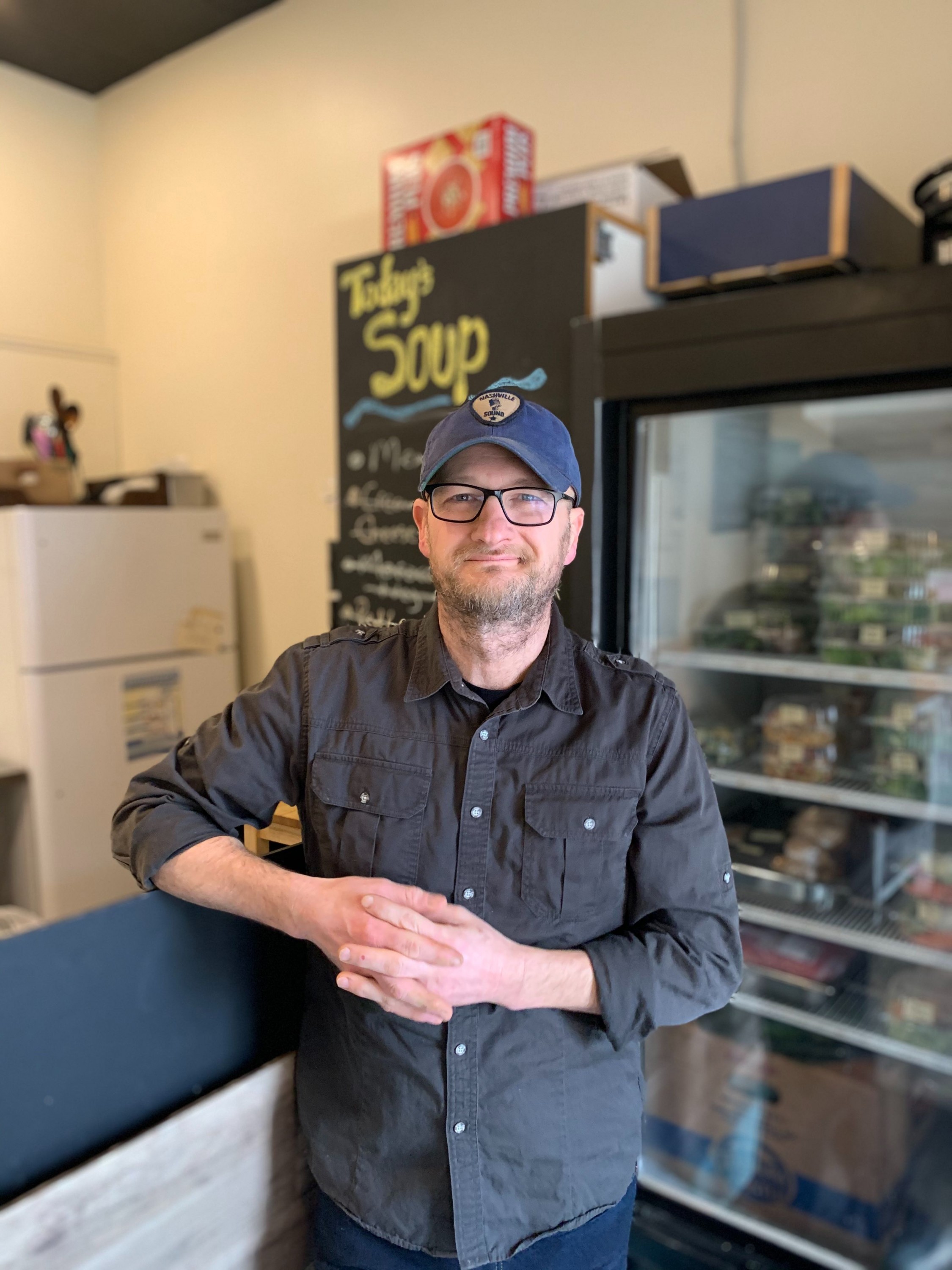 Scott Upshall, owner of Little Shop of Ice Cream in Brampton, converted the scoopery to a lunch spot
On paper, both cities are now beginning to move away from their suburban pasts, potentially offering more fertile spots for ventures to thrive outside Brampton's downtown or Port Credit, an established small business area.
In Mississauga, recent building permits have trended toward height and density, while in Brampton the city's 2040 Vision imagines a future where residents don't need the car. Built around the principle of the 15-minute community, where all the major amenities one could need are clustered together, the city's Vision describes something of a perfect future environment for independent coffee shops and ventures to begin to take off.
"The walkable 15 minute community, [or] 15 minute neighbourhood, is the the perfect setting for the clustering of independent coffee [shops], all kinds of independence, because the foot traffic is heavy enough," Larry Beasley, renowned urban planner and author of the 2040 Vision, told The Pointer. "It's not just about foot traffic, it's also about clustering with other users. A person will do two or three things as you know at one time, so that's obviously to me when you really get the great potential in. That's why we try very hard in the [2040] Vision to identify opportunities."
"Brampton now, I would say, has two opportunities to get this kind of activity," he added. "The old historic downtown, where you do [already] have some diversity [...] [and] probably Bramalea, where you have you at least have some clustering going on."
The exact appeal of independent coffee shops and the businesses that Beasley describes clustering is hard to codify. As a corporation Starbucks has worked hard to replicate many of the factors people seemingly enjoy — artisan coffee, baked goods, large and open work spaces — but the corporation has failed to kill off its indie competition.
In fact, speaking at the UBS Global Consumer and Retail Conference in 2017, Starbucks CFO Scott Maw said small, local coffee shops were his biggest rivals. "What we have acknowledged [...] is the collective group of independent coffee shops out there, they are doing a lot of what Starbucks has been so good at for so long," he said. "It's that third-place environment, it's a comfortable place to be, it's an up-leveled coffee experience. They're not taking share [from] us but what we know is if we don't have our service levels right and customers aren't engaged in the right way, they now have options."
The issue with replicating the unique independent experience in the suburbs is that it revolves around loyalty and comfort. The walk from your office or home to the coffee shop is a critical part of the modern coffee shop experience synonymous with the urban millennial generation. The feeling of browsing the street is hard to substitute with a drive in a car.
The key ingredient chains like Starbucks fail to replicate (a tangible personality of an independent owner) is extremely difficult to bring to life on the edge of a 50 kmph road. This appeal is normally communicated through a shop window display or the smell of freshly roasted beans, not the word 'coffee' flashing past a car window.
As far back as 2003, the Urban Land Institute identified many of these factors in a paper entitled Ten Principles of Rebuilding Neighborhood Retail. Relying on concepts echoed in Brampton's 2040 Vision, the document outlined how a mix of homes and stores was central to any positive urban experience where customers can browse, with prioritizing the pedestrian being the key.
"Successful retail depends on successful residential neighborhoods," its authors wrote. "Retailing cannot survive in an environment of deteriorating neighborhood housing, declining population and homeownership rates, disinvestment, crime, and neglect. [...] Where residential growth and revitalization is occurring, retail is primed to follow; it simply will not occur the other way around. [...] A mix of housing and offices supports retail by creating more customers, supporting longer business hours, and bringing in rents up to 20 percent higher than would be likely in the same place without the mix of housing and office space. Office components provide daytime retail and restaurant demand, while residents add customers in the evening."
Currently, few of these sentences apply to either Brampton or Mississauga. Although the latter is further ahead in its dense residential plans, its downtown is blatantly lacking office space, while six-lane roads remain the norm from north to south and east to west.
However, Beasley argues that, technically, smart landowners in the suburbs could make independent ventures work without revolutionizing the whole city. While the ultimate goal would be to create a city where the entire space works for everyone, good planning in small pockets connected by the car could give independent retailers a boost.
Owners of plazas in Brampton or Mississauga could choose to develop their businesses to attract unique and independent owners, though few currently do. Beasley believes that if several unique offerings were located in the same plaza, people could still be motivated to get in the car to experience independent coffee, something that is less likely when a store stands on its own.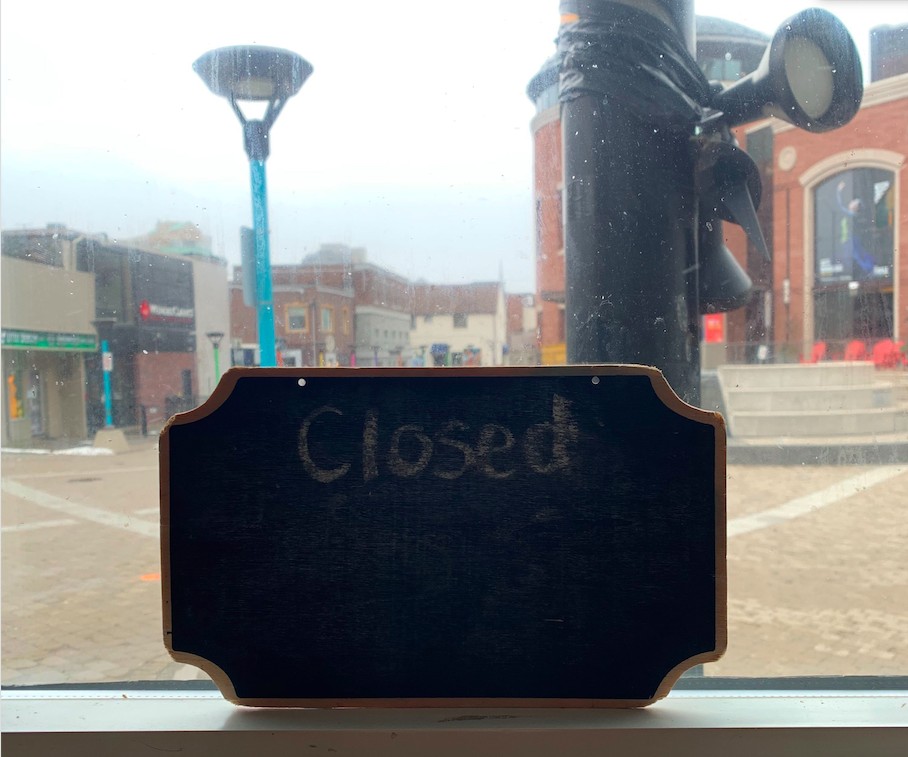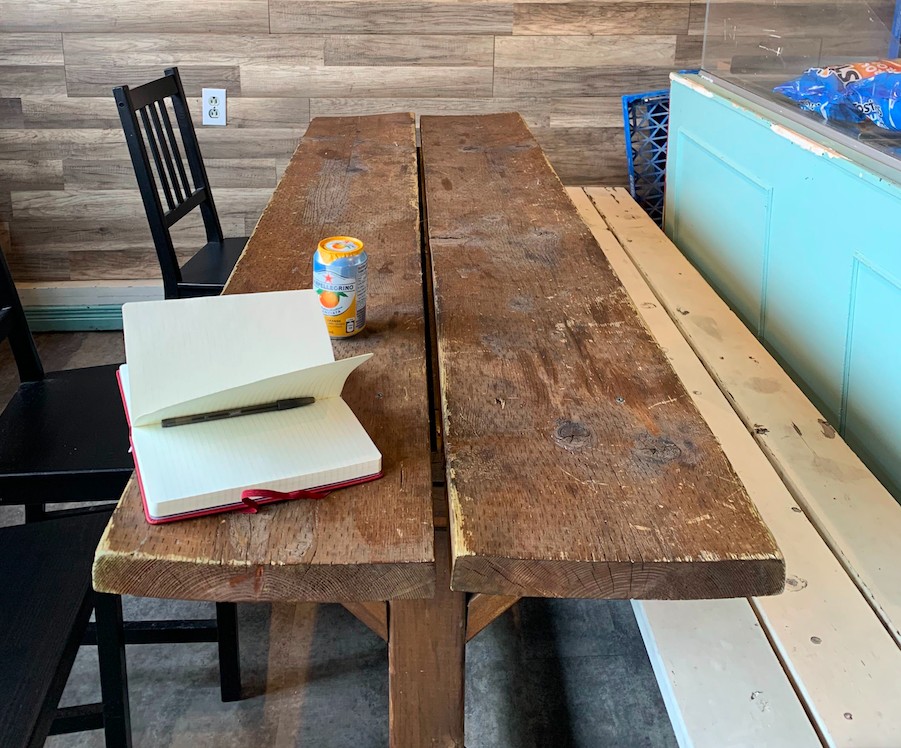 "They [people] tend to not want to drive for just one thing," he said. "They want to drive for a variety of things and they [may] pick up a coffee along the way or a bakery that's a special bakery or butcher shop. One of the problems is, that in the suburbs when that clustering happens, that often happens in shopping centres, [which tend] to be higher rent per square foot and tend to mostly draw (and mostly are interested in) hosting the chains. So it makes it a little bit more difficult, but If you look at some secondary shopping centres, more like strip malls, even in the suburbs, if you can just get a smart landowner who's curating that place you can, you can foster an amount of independence."
This could spell a positive future for independent business in both of Peel's major cities. In Brampton, the redevelopment of Shoppers World from underused mall to mixed use community and transit hub is taking its first major steps, while the Square One District in Mississauga is doing the same. Lakeview Village on Lake Ontario's waterfront is perhaps slightly further ahead than its rivals, with a similar philosophy. All three developments, theoretically the first of many, have mixed use planning at their heart.
As areas carefully managed by developer-led master plans, they will not have the same spontaneity a municipality redesigning its streets for wider sidewalks and slower cars might have, but they will offer a real opportunity to cluster. Smart leasing practice by RioCan, Oxford Properties and Lakeview Community Partners (the respective developers) could allow these areas to attract independent stores together and grow coffee shops with high foot traffic. This is something explicitly referenced in the master plan for Brampton's Shoppers World.
As staff at city hall in Brampton work on turning the 2040 Vision into a policy framework in a new Official Plan, Mississauga is also working to update its central planning guide. Both cities are approaching the exercise with more modern ideas of walkability and density at their core, but change takes time.
It will take decades for either city to really shake its suburban beginnings, meaning the best hope for Mississauga and Brampton's independent coffee stores could lie in shiny, corporate new developments. A combination of these new spots and a few well-planned plazas may allow independent spots to cluster together and thrive as residents walk from their nearby home or others are able to justify the drive.
"The beauty of an independent is they're independent and they'll set their own interest," Beasley said. "It may be someone who lives nearby and they decide to form a little coffee shop. If you look at the culture, you'll often find they're not necessarily the best business people, so they'll just do something. There's some spontaneity and organic quality to that and that's a very good thing, [but] you can plan for it, I believe."
---
Email: [email protected]
Twitter: @isaaccallan
Tel: 647-561-4879
Submit a correction about this story