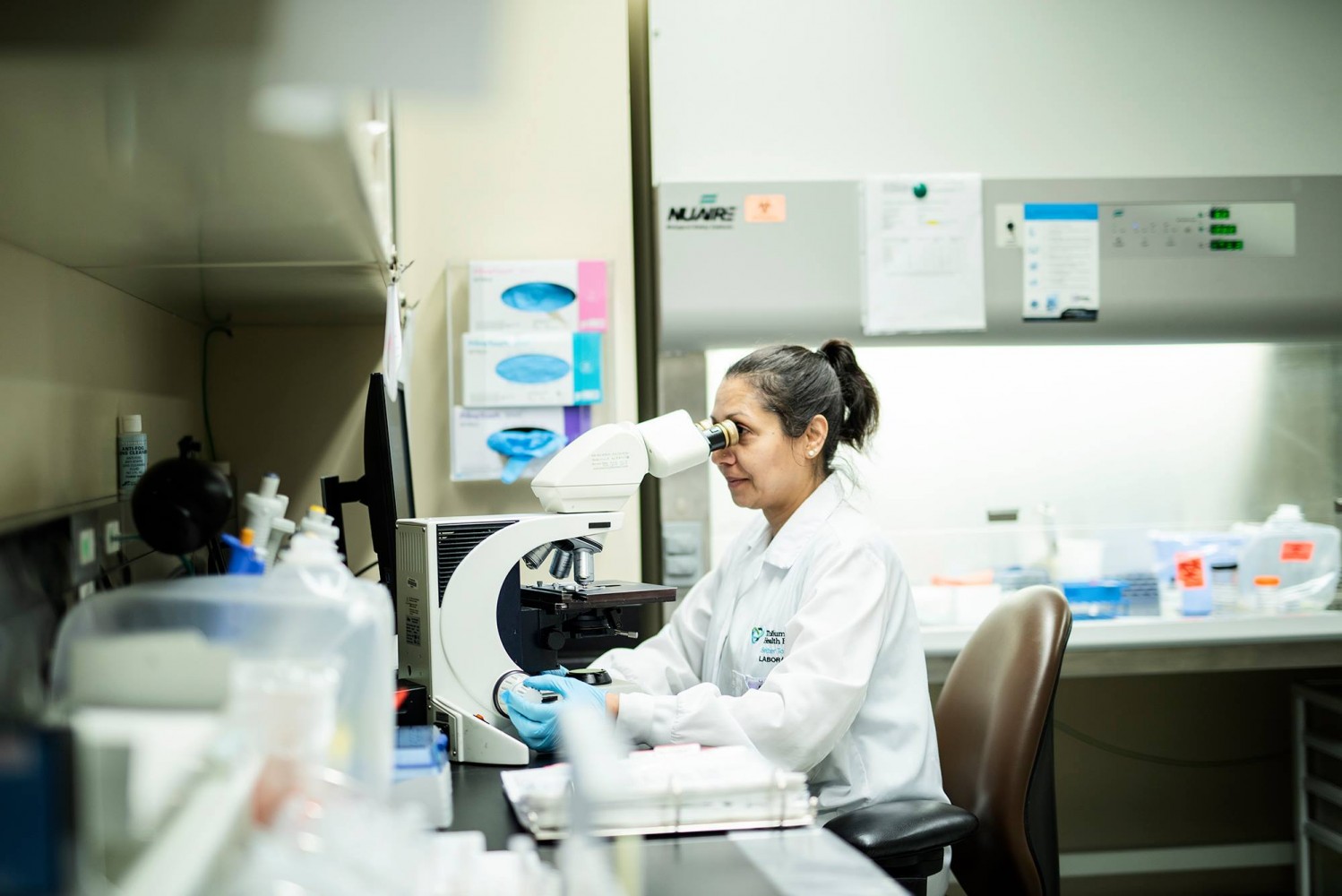 Photos from Trillium Health Partners/University of Western Ontario/Chart Ontario Ministry of Health/Map World Health Organization
Peel Region strives for calm as COVID-19 continues to spread
One day after the spread of COVID-19 was officially declared a global pandemic by the World Health Organization, talk of the coronavirus seemed to proliferate even faster than the disease.
At the Region of Peel's headquarters in Bramalea, eyes were glued to newscasts blaring out the latest infection totals and breaking news updates on the latest public figure to come down with the flu-like virus which has made its way across the globe.
The World Health Organization officially designating it a pandemic, triggering cancellations and suspensions of virtually every mass public gathering, from the Juno Awards to entire professional sports leagues like the NHL and NBA which have indefinitely halted their regular seasons because of COVID-19.
While cities like Seattle have been overrun by the virus — creating ghost towns as thousands self-quarantine — in Peel at least, the mood remains calm.

Cases 44, 46 and 57, all connected to Peel Region, were reported on Thursday by the Ontario Ministry of Health
Across the street at Bramalea City Centre, the shopping mall was, if not full, close to it. The food court seats were mostly taken up by office workers and students stopping in for lunch. Just like any other day.
Six cases of the infectious disease had as of Thursday afternoon been reported by the region's public health team and one other was reported at Mississauga Hospital but by the Toronto public health unit. The most recent is a woman in her 20s who was infected after travelling to an undisclosed location according to Peel Public Health, adding to the provincial COVID-19 case tally that as of Thursday sat at 59. All of the patients so far have been directed to confine themselves in their homes for at least 14 days, the self-isolation protocol referred to by health officials.
Dr. Jessica Hopkins, Peel's chief medical officer, told The Pointer she isn't surprised by the creeping rise of COVID-19 cases, and feels confident in the region's management of the pandemic, which locally hasn't yet seen any "community-transmitted" source of infection. So far all of the cases in Ontario can be traced to external factors: vacationers who returned from their travels, picking up the virus from a country, like Italy or Spain, or parts of China where it has become widespread.
Community transmission could eventually happen here, says Hopkins, but the rate of infection is proceeding as expected. More drastic measures like emergency bylaws banning public gatherings — similar to those enacted in Seattle where there were 190 confirmed cases and 22 deaths as of Tuesday — are not necessary, at least for now, she said.
On late Thursday afternoon, while the situation remained extremely fluid, things changed when the provincial government announced all public schools across Ontario will remain closed beyond March Break, until April 5, the first significant mass closure in Ontario intended to contain the virus.
After Laurentian University in Sudbury shut its classes down earlier in the week, following a COVID-19 case in the city, the University of Western Ontario in London announced the same late Thursday. Both will now deliver online instruction only, until the risk of transmission is over.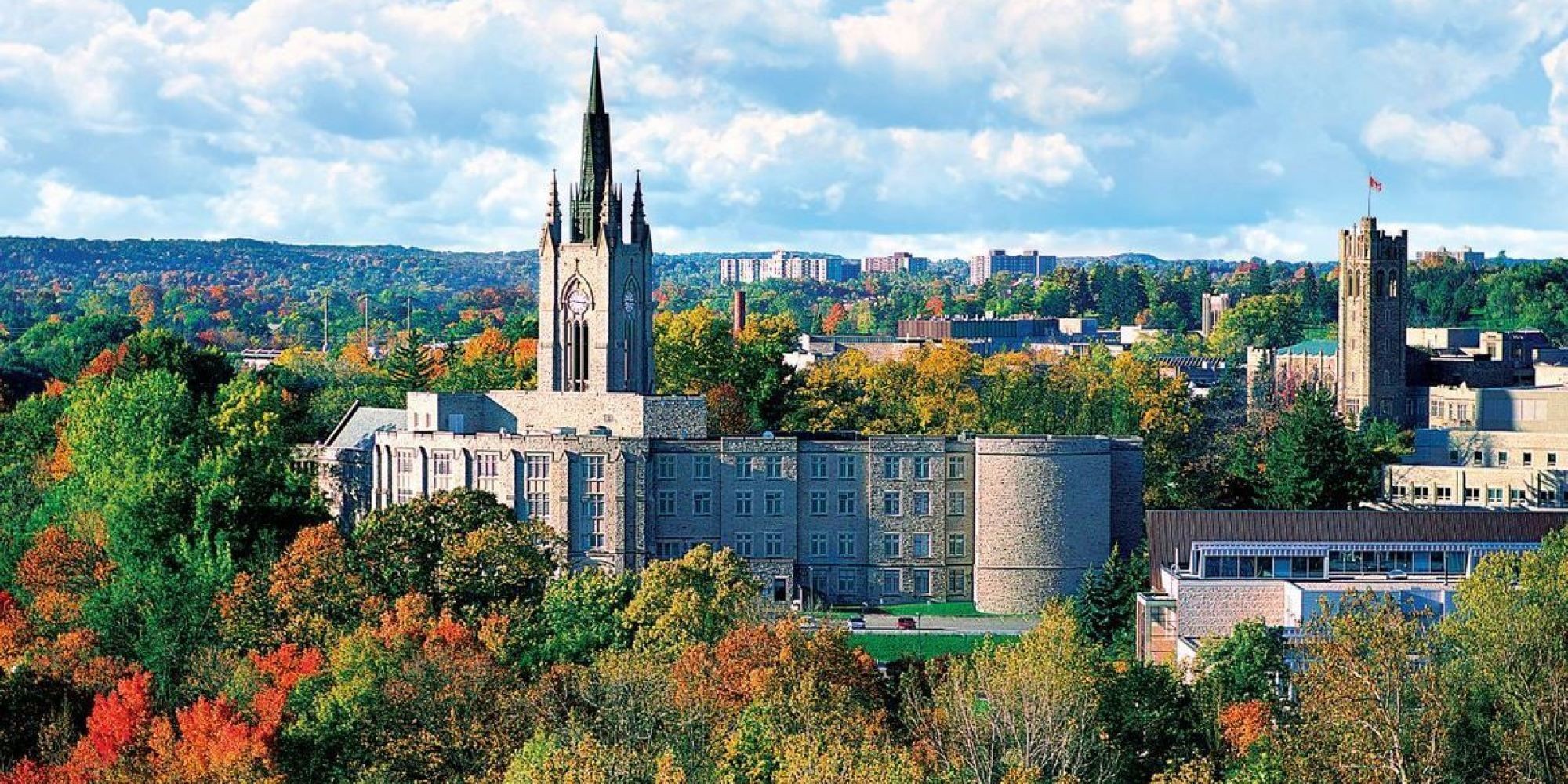 The University of Western Ontario in London announced late Thursday that it is suspending classes, moving to online instruction only
Post-secondary institutions in Peel have not followed suit. The University of Toronto Mississauga, Sheridan College and Algoma University's Brampton campus all remain open.
"You have not heard health authorities in Ontario saying at this time we need to cancel all mass gatherings," said Hopkins, who provided an update to Peel Regional Council on Thursday, before the school closure became known. "And that's because you have to look at what the risk is in your community. We know in Peel right now we're not seeing community spread (of novel coronavirus). Should we see community spread, that kind of advice could change."
Peel Public Health has already deployed about 10 percent of its staff of around 700 to a dedicated COVID-19 response team tasked with aggressively investigating and monitoring any new cases which appear in the region.
Even with the relatively small number of cases currently, the region's health authority is starting to feel the pressure as it devotes more resources to monitoring local cases. With the emphasis on containing the spread of infection, the region has to shift some of its workforce from other health services deemed less essential.
These measures include temporarily closing all but one of the region's Healthy Sexuality Clinics, which provide pregnancy and Sexually Transmitted Infection testing as well as immunization for Hepatitis A and B and HPV.
Other measures include reallocating nurses to provide case management and other supports for novel coronavirus infection and referring some existing patients with other medical issues to outside agencies to manage the potential burden caused by COVID-19. Peel Public Health is also reducing services for newborns including infant feeding instruction and oral care at its Brampton and Meadowvale clinics.
"These temporary service reductions are needed to meet the demands of COVID-19 and keep residents protected, and will resume as soon as staff capacity becomes available," said Hopkins, who is ending her tenure as the region's top medical officer when she moves onto Public Health Ontario where she will become the provincial agency's Medical Director of Health Protection.
A staggering 70 percent of Canadians, some 26.3 million residents, could eventually be infected with the novel coronavirus if it can't be contained, said the federal health minister this week. Of that number, in the event of a major outbreak, 80 percent of Canadians would likely experience only minor symptoms.
Currently there are just under 140 cases in the country, and one death reported. The global mortality rate for COVID-19 stands at 3.4 percent, around 4,940 deaths in total, according to the World Health Organization.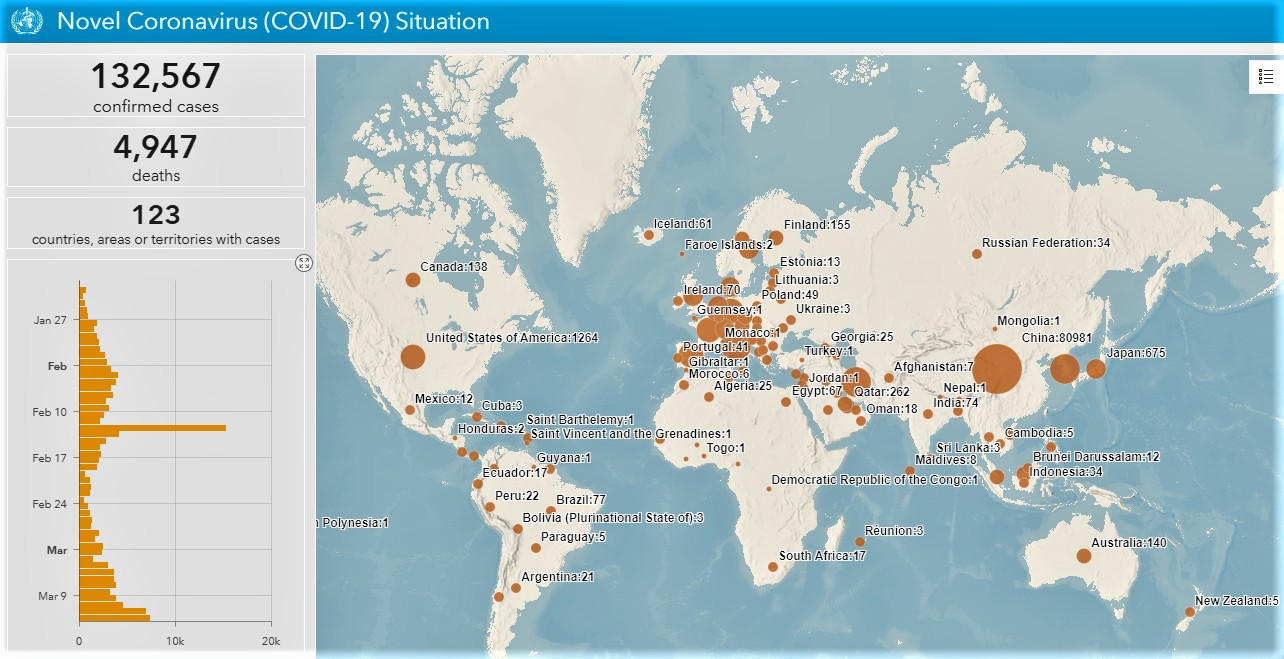 The World Health Organization's COVID-19 situation map as of Friday morning; Italy, not shown, has 15,113 cases and South Korea has 7,979
That's far less than other killer infections like influenza A and B which, according to the World Health Organization, cause "mild to severe (symptoms) and even death. Hospitalization and death occur mainly among high risk groups. Worldwide, these annual (influenza) epidemics are estimated to result in about 3 to 5 million cases of severe illness, and about 290,000 to 650,000 respiratory deaths."
While influenza and other respiratory illnesses have a substantial body of research dating back to the 16th century, scientists are only beginning to develop an understanding of this latest coronavirus. A vaccine could be two years away from being globally available and there are many unanswered questions on how it spreads, for example if someone can be a carrier for the disease and an infection risk without ever displaying symptoms. There isn't research to understand the likelihood or possibility of asymptomatic transmission as there's a lot about the disease that remains unknown given its newness.
---
FROM THE WORLD HEALTH ORGANIZATION
The Signs, Symptoms, Disease Progression and Severity of COVID-19
Symptoms of COVID-19 are non-specific and the disease presentation can range from no symptoms (asymptomatic) to severe pneumonia and death. As of 20 February 2020 and based on 55,924 laboratory confirmed cases, typical signs and symptoms include: fever (87.9%), dry cough (67.7%), fatigue (38.1%), sputum production (33.4%), shortness of breath (18.6%), sore throat (13.9%), headache (13.6%), myalgia or arthralgia (14.8%), chills (11.4%), nausea or vomiting (5.0%), nasal congestion (4.8%), diarrhea (3.7%), and hemoptysis (0.9%), and conjunctival congestion (0.8%).
People with COVID-19 generally develop signs and symptoms, including mild respiratory symptoms and fever, on an average of 5-6 days after infection (mean incubation period 5-6 days, range 1-14 days). Most people infected with COVID-19 virus have mild disease and recover. Approximately 80% of laboratory confirmed patients have had mild to moderate disease, which includes non-pneumonia and pneumonia cases, 13.8% have severe disease (dyspnea, respiratory frequency ≥30/minute, blood oxygen saturation ≤93%, PaO2/FiO2 ratio <300, and/or lung infiltrates >50% of the lung field within 24-48 hours) and 6.1% are critical (respiratory failure, septic shock, and/or multiple organ dysfunction/failure).
Asymptomatic infection has been reported, but the majority of the relatively rare cases who are asymptomatic on the date of identification/report went on to develop disease. The proportion of truly asymptomatic infections is unclear but appears to be relatively rare and does not appear to be a major driver of transmission. Individuals at highest risk for severe disease and death include people aged over 60 years and those with underlying conditions such as hypertension, diabetes, cardiovascular disease, chronic respiratory disease and cancer. Disease in children appears to be relatively rare and mild with approximately 2.4% of the total reported cases reported amongst individuals aged under 19 years. A very small proportion of those aged under 19 years have developed severe (2.5%) or critical disease (0.2%).
---
What is known is that if symptoms are being experienced, such as high fever, frequent dry cough and difficulty breathing, you might have the virus, which is why "social distancing" remains the Region's main tool currently for containing the spread of infection.
Currently, testing for the virus is seen as a poor use of resources, unless such symptoms are experienced, Hopkins said.
At the regional meeting Thursday, Council passed an emergency bylaw allowing it to hold meetings remotely via video, if there's a mass quarantine. The city of Mississauga is also planning to enact the same measure.
However for the measure to become law, the province will need to amend Ontario legislation governing the running of municipal and regional government.
"We don't want to be caught in a situation where all of a sudden something happens, the majority of council are in isolation or whatever," said Mississauga and Regional Councillor Pat Saito. "And we cannot carry on business, which means no decisions would be made here at the region — staff couldn't do their jobs."
---
Email: [email protected]
Twitter: @RG_Reporter
Submit a correction about this story