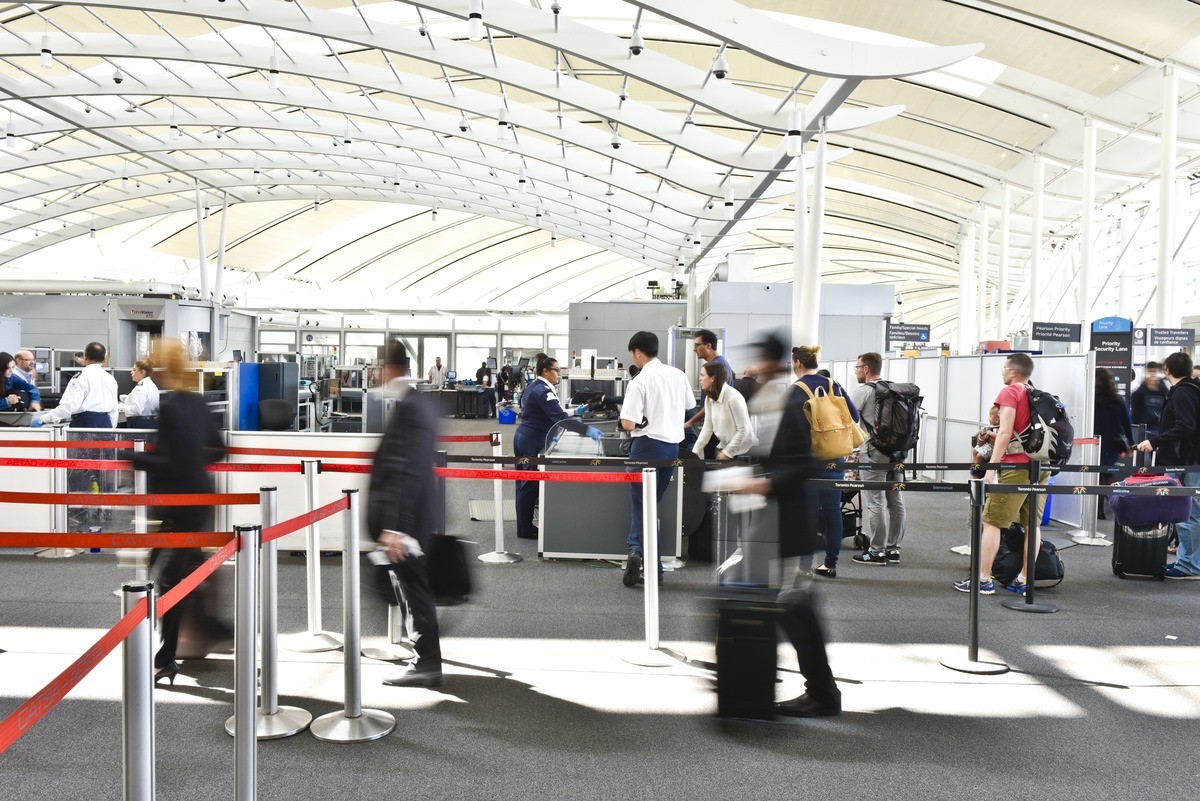 Photos from Toronto Pearson International Airport/Nida Zafar/World Health Organization
With its proximity to Pearson Airport, Peel faces unique questions about the spread of COVID-19
Each month, more than 4 million people move through Canada's largest and busiest transit hub, departing and arriving for domestic and international travel. Mississauga and Brampton proudly host Toronto Pearson International Airport within their borders, but mounting concern over COVID-19 — the coronavirus which is spreading to certain parts of the globe — raises questions about risks in Peel.
While international attention has cascaded from China to Iran, Italy and most recently Spain, here at home, the appearance of COVID-19 has been relatively low.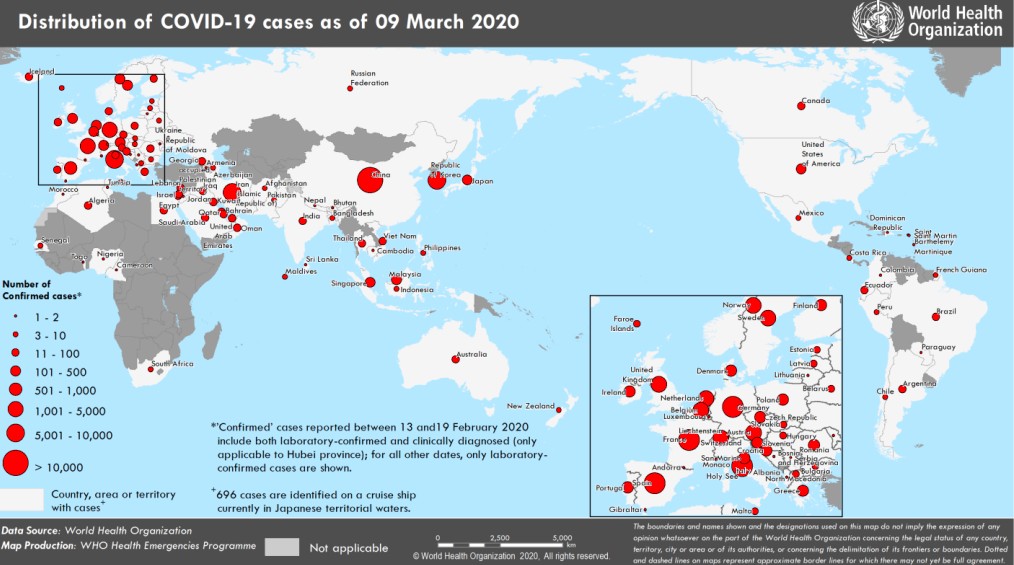 In Mississauga and Brampton, the presence of Pearson Airport might increase the chances of the virus spreading in the two cities.
The airport is home to Canada's second largest concentration of jobs after downtown Toronto, with tens of thousands of Peel residents working onsite.
With so many comings and goings between Peel and Pearson — for work, family and travel — there is a unique connection between the region and the potential spread of COVID-19.
By the start of the week, three individuals in Peel had tested positive for COVID-19. On Monday late afternoon, the provincial Health Ministry posted a fourth case, a patient at Brampton Civic. Each of the first three patients are known to have travelled through Pearson Airport, where they were not identified by staff as carrying the virus. Workers at the airport and transit operators who could have come in contact and fellow travellers might be at risk of contracting the virus.
Dr. Lawrence Loh, associate medical officer of health for the Region of Peel, reassured residents the spread of disease from the airport remains low, though not out of the question.
"These [patients with COVID-19 in Peel] are people who have acquired the disease travelling outside the region and Canada," he said. "At this time we do not have any [instances] of local transmission of COVID-19 and the overall risk to the local community remains low."
He said Peel Public Health (PPH) is coordinating closely with airport authorities and federal quarantine services, which operates out of Pearson Airport, to pinpoint anyone who might have come into contact with the coronavirus.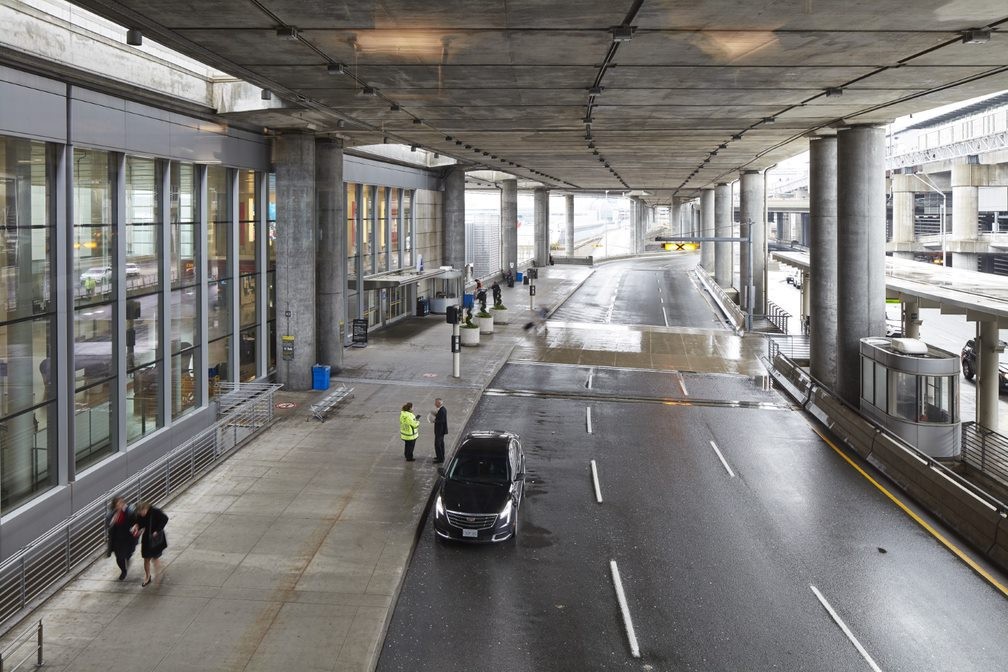 Pearson Airport was quiet Monday afternoon
Loh added that there is little chance COVID-19 will spread from "transient" airport visitors, travellers who have a layover waiting for their connecting flights. Despite that all three Peel residents who tested positive for COVID-19 prior to Monday did pass through Pearson Airport, they were only at the airport a short time, not long enough to have contracted the disease there, because their symptoms would not have presented so soon. The virus usually takes around five days to incubate, Loh explained. "That is why the airport has not been named as an exposure site," he said.
Authorities here remain vigilant. Brampton Transit and Mississauga MiWay transit systems say they have stepped up regular cleaning protocols, while the region's public health body says positive local transmission is not currently a concern.
According to the World Health Organization, the global number of confirmed COVID-19 cases has surpassed 110,000. The vast majority of cases remain in China, where the country is reporting a slowing down of the disease's spread. Thousands of cases have also been reported in the Republic of Korea, Italy and the Islamic Republic of Iran. Spain is now on alert as data suggests a more widespread outbreak there as well.
According to the Government of Canada, as of Mar. 8, 72 cases of COVID-19 have been confirmed in the country, nearly half of which have been in Ontario. While the Public Health Agency of Canada has assessed the risk of outbreak as low, the situation is being closely monitored as the virus spreads abroad.
As the disease continues to spread, these numbers will change. For the latest figures, click here.
The first case of COVID-19 was reported in Wuhan, China, in December 2019. It is a novel coronavirus — meaning it was previously unidentified — and belongs to a large family of viruses that cause illness in humans, dogs and cats. According to the World Health Organization, symptoms include fever, tiredness and dry cough. Some patients may experience "aches and pains, nasal congestion, runny nose, sore throat or diarrhea." Eighty percent of those infected recover without special treatment, while 1 in 6 people become seriously ill and develop difficulty breathing. Older people and those with underlying medical conditions, such as respiratory issues, high blood pressure, heart problems or diabetes, are most at risk of becoming severely sick.
The disease travels through respiratory droplets spread from the mouth or nose when a person coughs, sneezes or exhales.
In Pearson Airport's Terminal 3, an employee wearing a mask to avoid this airborne danger and gloves wiped down kiosks for Sunwing Airlines on Monday. Others, including those at check-in desks and baggage claim, weren't wearing the same safeguards, while some members of the Canadian Air Transport Security Authority (CATSA), were equipped with blue latex gloves, which is a standard protocol. CATSA is responsible for screening travelers, airport employees and baggage.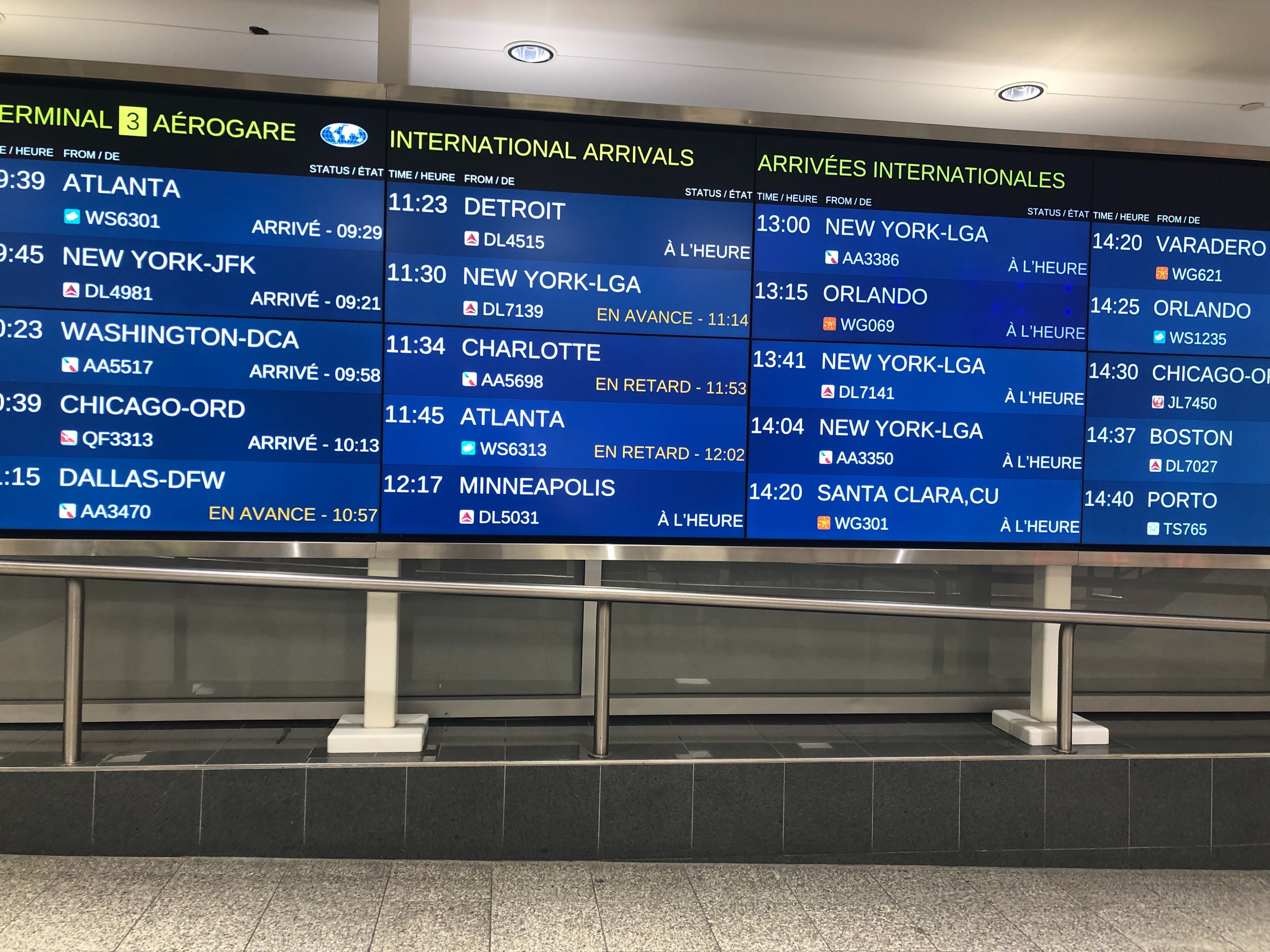 With more than 10,000 Brampton residents and 13,000 Mississauga residents employed at Pearson Airport, safety protocol is key for the two cities. One employee — who asked not to be identified — works at a store where masks and bottles of hand sanitizer, usually available for purchase, have been sold out for days. The worker reported being nervous about contracting the virus and spreading it to children and the elderly.
"Employees are top of mind for us during this time and the airport's emergency preparedness plan ensures for adequate stores of [personal protective equipment] for staff and disinfectant products for use in cleaning the airport," Robin Smith, senior communications advisor for Greater Toronto Airports Authority (GTAA), told The Pointer. This includes extra hand sanitizer stations and more frequent cleaning protocols.
A Chatr employee, Athul Simon Abrham, said business at the wireless network store hasn't been affected. He hasn't seen a shortage of customers. When anyone walks up to the booth, he puts on a mask and uses hand sanitizer when interacting.
At Mississauga Executive Travel, a travel agent says sales and customers are way down due to COVID-19 fears. "People are hesitant to travel and are juggling whether they should [fly] or not," Angela Lao told The Pointer. "We're basically spending time answering questions and cancelling bookings," she said.
Some airport staff were more relaxed about the coronavirus situation than travellers who adorned masks. "I just don't want to get sick. I don't have a very good immune system," said Juan Vergara, who arrived from Florida for a business trip in Toronto. The Delta Air Lines passenger told The Pointer he was the only one on the flight wearing a mask. He also observed that airline crews did not wear masks nor pass out hand sanitizer to passengers.
Canadian health officials have actually advised against the wearing of masks unless you are infected. If not, masks can become traps for the virus to settle on and, if not handled properly and replaced after each new interaction, they can actually cause more risk of spreading the virus.
Ethan Tighe, who flew on American Airlines, said the flight crew on his trip were more prepared and wore masks. He said some passengers wore masks but the airline did not provide any protective supplies to travellers.
Air Transat, a Canadian airline, has equipped staff with gloves, hand sanitizer, and disinfectant kits, but says they can be used at staff's discretion. "Our cleaning teams work according to precise checklists and in the event of a suspected contagious disease on board, we have a strict protocol to follow regarding the cleaning of surfaces that could be contaminated, including washrooms and waste disposal," Debbie Cabana, director of public relations for Air Transat, told The Pointer.
All aircrafts also have High Efficiency Particulate Air filters (HEPA) that remove small particles of bacteria and viruses, with an efficacy rate of 99.95 percent, Cabana said.
According to Air Transat and WestJet, there have been no changes to their airline schedules or routes. Although Air Transat does travel to Italy, which is experiencing the highest rate of infection in Europe, particularly in the northern regions of the country, flights to Rome which begin in April for the travel season, currently are not impacted.
WestJet also reported few impacts to its schedule.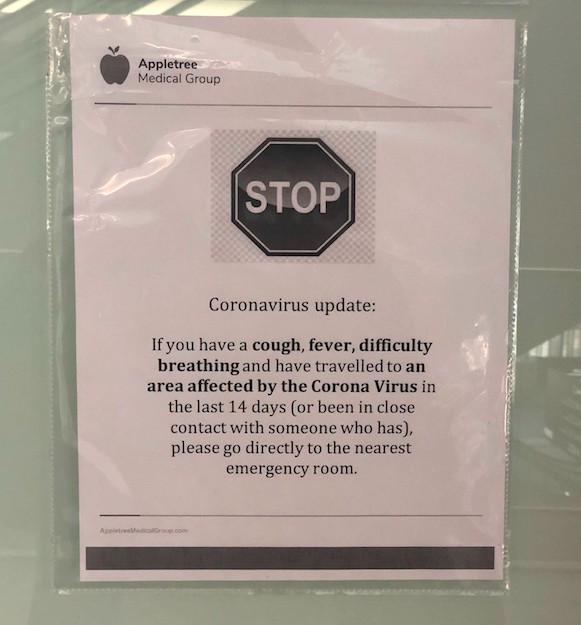 "WestJet is currently experiencing limited impact on our operations and bookings, particularly as we do not fly to Asia directly," Morgan Bell, advisor, public and media relations for WestJet, told The Pointer. "However, we have seen isolated cancellations on certain flights, which has had limited impact on our overall guest loads at this time," she added.
Public Health Canada has issued a series of travel warnings for citizens wishing to travel abroad. Canadians are being told to avoid all non-essential travel to China, Iran and northern Italy, while Hong Kong, Japan, Singapore and South Korea all have lower warnings in place. On Monday evening, Italian Prime Minister, Giuseppe Conte announced a nationwide lockdown banning all public events and movement for non-work or non-essential reasons.
How this impacts future flights from Canada is unclear.
The Pointer also reached out to Air Canada, but did not receive a response ahead of publication.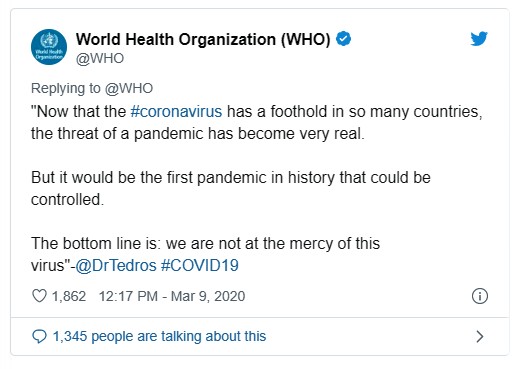 The Pointer reached out to the Ontario Ministry of Health and the Federal Health and Transport Ministries for information on how they are handling the potential spread of disease from airports.
A provincial health spokesperson referred questions to their federal counterpart, who directed them to transportation authorities. "[A]ll points of entry into Canada are routinely monitored," Alexandre Desjardins, a spokesperson for the Canadian Ministry of Transport told The Pointer. "Travellers showing symptoms would be referred to quarantine officers who have the authority to implement public health measures under the Quarantine Act."
With the public on high alert and many looking for accurate information, the lack of uniform protocols and a cohesive infectious disease control strategy is disconcerting.
A report in the Toronto Star highlighted ambiguity within Queen's Park and its lack of an articulated cohesive plan to prevent further spread of the disease.
Opposition and NDP Leader Andrea Horwath has been critical of the lack of public awareness initiatives.
"I don't see the minister of health laying out a plan as to what's going to happen should this virus take hold and start to spread significantly in Ontario because we know the hospitals are hanging by a thread already," Horwath said, according to The Star.
"We are in a hallway medicine crisis and what we need to hear from the government is exactly how those hospitals are going to be able to address an influx of more patients because of the COVID-19 virus."
Christine Elliott, Ontario Minister of Health, has epitomized this lack of clarity. Over the past week and a half, Elliott's Twitter feed has been active, praising a series of new announcements for vaping protocols and mental health initiatives, yet she has made no mention of COVID-19 on her account over the past week and a half.
In Mississauga and Brampton, transit services, including those to and from Pearson Airport, take their public health cues from the Region of Peel.
The two transit authorities are responsible for a vast bus network taking riders across the region, while also connecting to other cities, including Toronto and Vaughan. Both regularly serve Pearson Airport.
Peel Public Health told The Pointer it is working with transit agencies to limit the spread of COVID-19. This responsibility was made especially important after last week's revelation that one of the patients diagnosed in Mississauga travelled for three days on Mississauga's Miway system.
In order to determine those who might have been exposed last week, the authorities are relying on data from the Presto card system to pull travel history. PPH is also investigating other possible cases of the virus, but Loh declined to get into specifics or provide a local breakdown, saying that information isn't usually made public to safeguard privacy rights unless there's an urgent need.
According to Mississauga officials, the patient travelled from Toronto to the city via transit on three separate occasions from March 2-4. As of March 5, MiWay buses began undergoing "enhanced cleaning," of vehicles and stations which included the use of strong disinfectants intended to kill any trace of the virus.
"Based on input and information from Peel Public Health and neighbouring transit services, MiWay is using enhanced cleaning measures on our transit fleet," said city spokesperson Catherine Monast via email. "We are using the same long-acting antimicrobial agent currently being used by Metrolinx [which announced it was disinfecting GO Transit and Union Pearson Express infrastructure]."
As has been previously reported, because of budgetary pressures, MiWay buses were being cleaned half as frequently as the TTC buses and those in Brampton, according to information obtained by transit watcher Christian Parisé (read more about that story here).
Brampton Transit is also employing similar enhanced disinfecting measures, a city spokesperson told The Pointer.
Submit a correction about this story