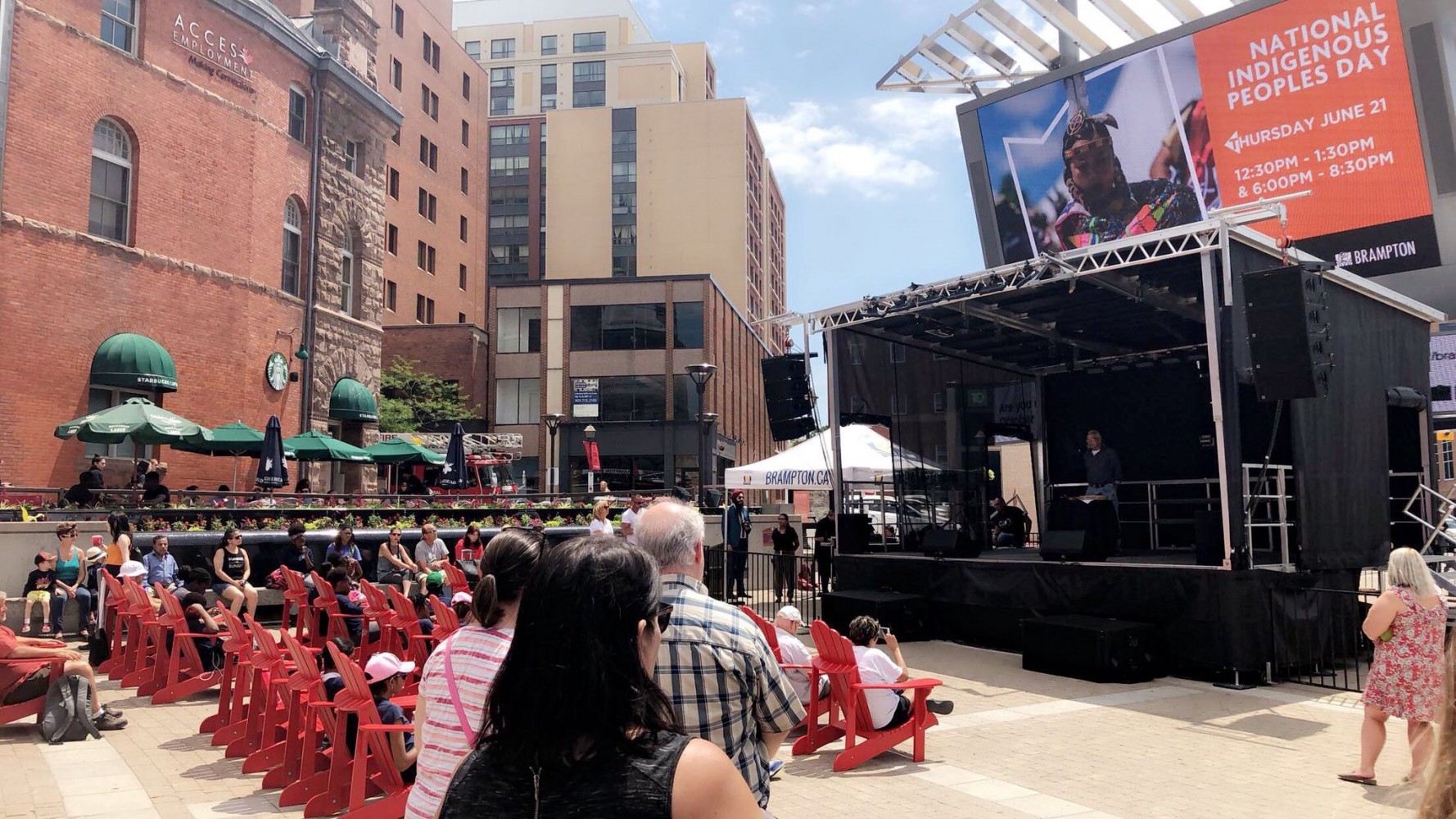 Photos from The Pointer files/Twitter/Patrick Brown
Brampton moves to build with Indigenous histories and futures in mind
Land acknowledgements happen everywhere from university lectures to government meetings, gatherings around the country which begin with a statement that tips its cap to the elephant in the room.
"We would like to begin by acknowledging the land on which we gather, and which the Region of Peel operates, is part of the Treaty Lands and Territory of the Mississaugas of the Credit," Regional Chair Nando Iannicca says at the beginning of each Region of Peel council meeting. "For thousands of years, Indigenous peoples inhabited and cared for this land. In particular we acknowledge the territory of the Anishinabek, Huron-Wendat, Haudenosaunee and Ojibway/Chippewa peoples; the land that is home to the Metis; and most recently, the territory of the Mississaugas of the Credit First Nation who are direct descendants of the Mississaugas of the Credit. We are grateful to have the opportunity to work on this land, and by doing so, give our respect to its first inhabitants."
Regional Chair Nando Iannicca
According to the region, this statement "recognizes and respects the legal and spiritual relationship Indigenous peoples have with their territories," with a similar text also read out at the beginning of Brampton and Mississauga council meetings.
Critics argue this practice is nothing more than empty words. Recent well-covered federal actions involving Wet'suwet'en territory and the construction of a natural gas pipeline is a clear example of this. Though the government eventually agreed to a new deal with Indigenous leaders, it came after weeks of national protests and a blockade of Canada's freight railways.
Central to Justin Trudeau's election plank in 2015, was a process of truth and reconciliation to bring Canadian settlers and Indigenous peoples closer together. Among the actions Trudeau is credited with is a fulsome apology for the aberration of residential schools, the last of which closed as recently as 1997.
Symbolic as this apology was, it is still just words.
This week, one Brampton councillor moved a motion at the city's committee of council that could see more concrete action take place to acknowledge the colonial past her city is built upon. Charmaine Williams, who represents Wards 7 and 8, suggested the installation of written land acknowledgements at city-owned parks and facilities, putting the idea "we are just guests" into physical form.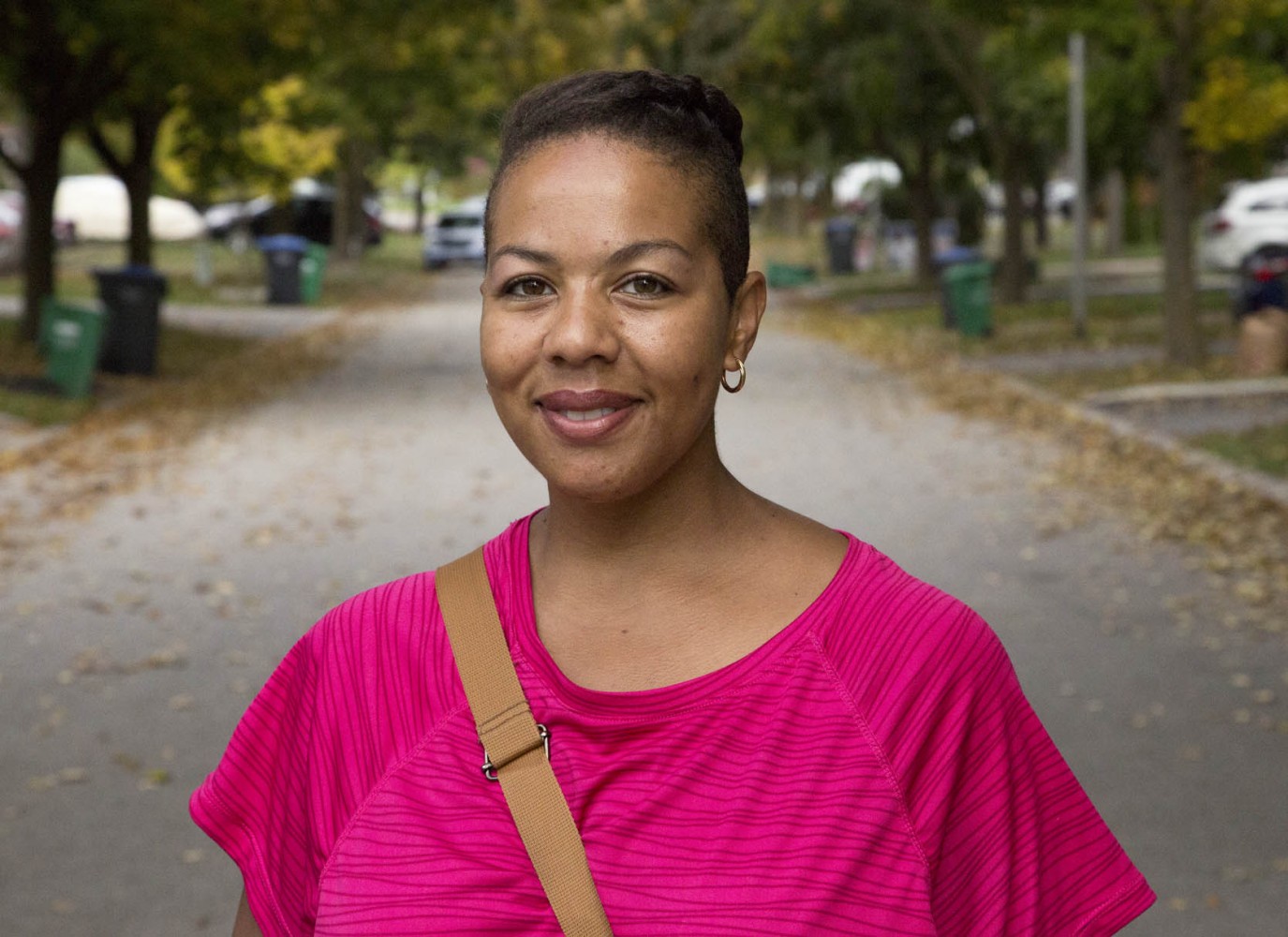 Wards 7 and 8 Councillor Charmaine Williams
"Chief Stacey Laforme from the Mississaugas of the First Credit thinks it's a great idea to have land acknowledgments visible for the thousands of people that access our parks, our facilities and various areas in the city," Williams said to council, adding that staff believe the project will be relatively inexpensive for the city.
The move was welcomed by Brampton Mayor Patrick Brown and council who voted unanimously for the motion which, in its current form, will see staff report back on how the process can be pursued. It comes in the context of a further report by staff on the truth and reconciliation process on this week's council agenda, due to be distributed prior to the meeting. Asked by Williams for details on the upcoming report and how it could tie into her motion, the city's CAO David Barrick was not forthcoming. Instead, he simply said it was "lengthy" and would speak for itself upon publication.
When it comes to city building in Peel, Indigenous rights and history have been relatively ignored. Words have been thrown around for years, but action is scarce. At the regional level, councillors took part in a traditional smudging ceremony at the start of the year, but have done little in terms of tangible follow up.
In Mississauga, similar lip service did not result in action. Original proposals for Inspiration Lakeview on the city's waterfront earmarked land specifically for an Indigenous education centre and village. For development planning in Canada, this was a major step, including physical space to acknowledge and commemorate Canada's pre-colonial history as part of a new construction project.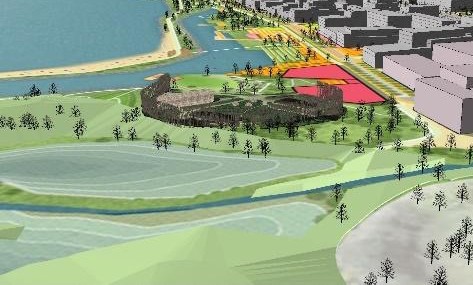 An early version of the Lakeview Plan, which included the Indigenous Village
However, in October 2019, Lakeview Community Partners (the developers behind Inspiration Lakeview's successor, Lakeview Village) proposed a master plan that included buildings encroaching into the area where the Indigenous village would be located. Barry Gilbert, president of Eagle Spirits of the Great Waters, Indigenous Arts and Cultures, who has been fighting to see the land for the Indigenous village remain, told The Pointer the city has a responsibility to consult with the First Nations community. "I don't think they can do things without engaging with the [Indigenous] community here," he added. "It's our history [...] [and] cities still maintain colonialism [by not engaging]."
Where Mississauga's community set a standard for reconciliation with the inclusion of the village, developers have rolled it back. They have turned their back on tangible actions that could acknowledge Canada's past and present.
Ironically, it is Lakeview Village that represents one of the greatest chances to include Indigenous history in the planning process. One of the most contentious elements of the current design, approved by the city's council in 2019, is a 40 storey tower near the water's edge that will be subject to an architectural design competition. An example of how developers could move to truly acknowledge the land they build upon would be to secure the services of an Indigenous architect to design the tower — a building that will define the city's waterfront for years to come.
"Architecture can contribute positively to social change," Dr. Daniel M. Millette of Carleton University wrote in 2019. "It was a missed opportunity, then, that there was no explicit mention of the role architecture could play in the Truth and Reconciliation Commission of Canada's recent Calls to Action. Museums, educators, and the media had specific actions identified, but architecture was noticeably absent."
Even if Lakeview Village misses this opportunity, the standard could be pushed by councillors on all projects in Mississauga and Brampton. If developers are going to secure the services of architects anyway, why not hire Indigenous ones? At the very least, developers could follow the example Brampton is exploring, which is the installation of land acknowledgements outside every new building constructed.
Barry Gilbert, president of Eagle Spirits of the Great Waters, Indigenous Arts and Cultures
As the level of government responsible for authorizing development and planning, the key to creating a Canada where the past is properly discussed is in the hands of cities. They are the level of government which is in control of how settlements come together and work to ensure history is at the forefront of every future project.
Further provincial changes, due to come into force in May, will also push cities to work more closely with local Indigenous peoples. Under the Provincial Policy Statement (2020), additional focus has been placed on engaging with Indigenous individuals, groups and leaders.
"Ontario recognizes the unique role Indigenous communities have in land use planning and development, and the contribution of Indigenous communities' perspectives and traditional knowledge to land use planning decisions," the legislation reads. "Planning authorities are encouraged to build constructive, cooperative relationships through meaningful engagement with Indigenous communities to facilitate knowledge-sharing in land use planning processes and inform decision-making."
Whether this results in meaningful discussion and outreach or simply more formulaic public engagement meetings, complete with large information boards, remains to be seen.
In academic circles, the idea of Indigenous planning has been growing for years. However, it is often explicitly in the case of First Nations' reserves. Instead, it could be applied to construction in every Canadian city, all of which sit on stolen ancestral lands.
"Indigenous planning represents both an approach to community planning and an ideological movement," Ted Jojola wrote in the Canadian Journal of Urban Research in 2008. "What distinguishes indigenous planning from mainstream practice is its reformulation of planning approaches in a manner that incorporates 'traditional' knowledge and cultural identity. Key to the process is the acknowledgement of an indigenous world-view, which not only serves to unite it philosophically, but also to distinguish it from neighbouring, non land-based communities."
Back in Brampton, Williams' motion is a long way from achieving a true revolution in city planning, but she's not against the idea either. Signs in parks represent a small action in an area where tangible change is rare, paving the way for more radical thinking in the future.
"It would lead to that further conversation with planning and development services, so that we are incorporating their [indigenous] voice at the table," she told The Pointer. "Whether it means any plans or plans that are coming forward from developers, [they] would go through that consultation process, that circle. I think it is a good step for us to be considering."
---
Email: [email protected]
Twitter: @isaaccallan
Tel: 647-561-4879
Submit a correction about this story