Photos from Twitter/Armourco Solutions/City of Mississauga
After rejecting a high-density development plan, Mississauga could be headed to another costly LPAT hearing
Mississauga city council has upheld a previous decision to deny a development promising more affordable housing options, likely resulting in a future showdown at the Local Planning Appeal Tribunal (LPAT).
Council had the option to support staff recommendations for a development plan to construct 101 stacked townhouse units on three vacant housing lots on Argyle Road, south of Dundas Street in Cooksville, with 30 percent of the build designated for middle income earners. But the plan was rejected by councillors who went against staff advice after nearby residents made their strong opposition clear. Barring a last minute compromise, the LPAT, which adjudicates planning disputes, will have the final say on the matter.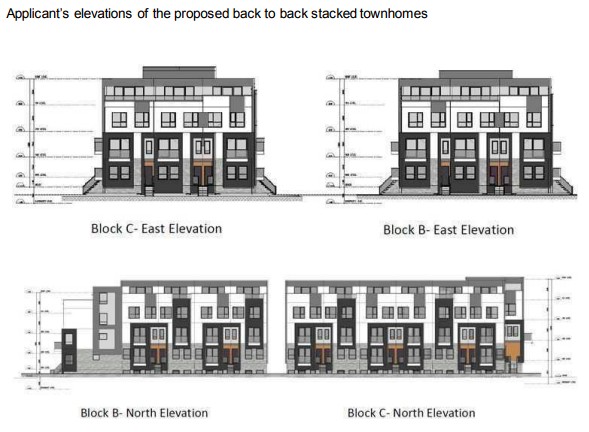 Sean Galbraith, an urban planner based in Toronto with 20 years experience, thinks the city has no chance of beating an appeal made by the developer.
"They'll lose," said Galbraith, who is not familiar with the specific details of the project but went off past experiences with the LPAT.
The cost of defending a decision like this is an expensive one for a cash-strapped city that wants to spend property tax dollars on infrastructure and services, not an LPAT hearing.
Footing the bill is no easy task for residents either. But for developers who can employ high-priced lawyers and consultants familiar with legal techniques and loopholes, this is a worthwhile task. They have been winning planning disputes for decades, the costs of which get passed on to future buyers. On top of this, when a developer wins, they're often rewarded with the ability to build denser projects, providing them with greater profits.
Not only will the city have to make a case before a tribunal, it will have to find a planner who can poke holes in the staff recommendations.
"If you have staff recommending approval and council goes against that, my money would be on the project getting approved at LPAT," said Galbraith.
Despite city planners recommending approval of the development proposal, council instead sided with the residents, several of whom addressed the planning and development committee on Feb. 24 with their many concerns, from higher traffic and parking shortages to the health of the existing neighbourhood. The committee voted 8-1, with Ward 5 Councillor Carolyn Parrish the lone holdover, to deny the application. Since council was deadlocked on upholding the committee's decision, it was upheld as the vote cannot end in a tie.
"I am very disappointed with the decision," said Parrish, who sought to defer the vote, which took place Mar. 4. "We need more affordable housing, and this was a perfect [location]."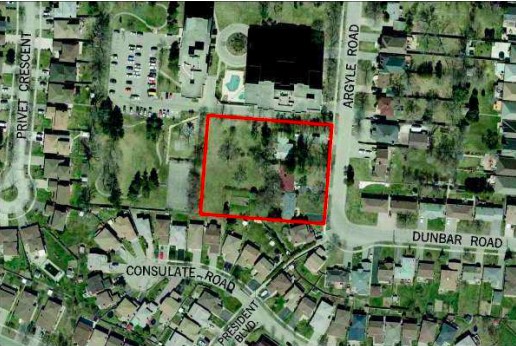 An aeriel view of the three vacant housing lots on Argyle Road proposed for development
Faced with a skyrocketing population and rising unaffordability, the city has set out to build Mississauga's housing stock upwards rather than outwards, championing higher density over sprawling subdivisions.
As part of its plan to improve affordability, council has approved dozens of planning recommendations intended to create realistic housing options for "people in the middle," households which earn less than $100,000 annually and are priced out of a scorching real estate market.
Were the developer to appeal the decision, it would likely take 6 months to a year to get a hearing. That would reduce the chances of affordable housing being preserved in a plan given the time and expense incurred to fight the decision, said Parrish.
"If you delay a builder for 12 months all their costs go up as well," said Parrish. "If you're selling affordable units for under $400,000, a young professional could probably afford that. But if it takes a year to get to LPAT, those units will become more expensive."
The plan, which dates back to 2018, had already been revised to the satisfaction of city staff, who signed off on the project after developer Plazacorp Properties Limited agreed to reduce the amount of units from 115 to 101 to create better amenity options and improve residential setbacks.
Nonetheless, it was heavily opposed by local residents who had already turned out in droves to community meetings on the proposal to make their displeasure known.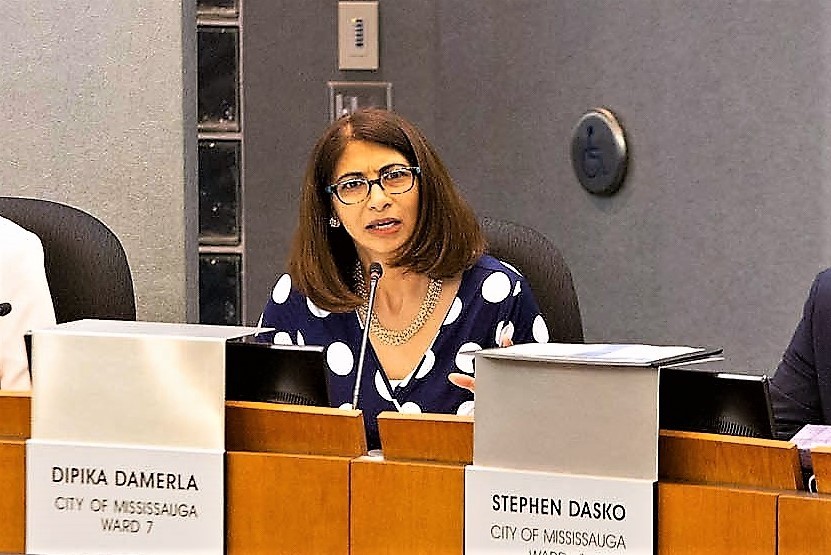 Mississauga Ward 7 Councillor Dipika Damerla
Ward 7 Councillor Dipika Damerla is also strongly opposed to the project.
Damerla told The Pointer she was not opposed to intensification, but, as proposed, the Argyle Road development is too dense for the area. Damerla claimed she would have supported the plan had it been for 60-70 units.
"I actually think intensification is great because we're creating walkable communities. My concern is the street is already overdeveloped," said Damerla.
The street has existing multi-storey condos as well as detached, single family homes. The development, according to a staff report recommending the project, was seen as a transition from higher density buildings north on the street to the detached homes at the foot of Argyle and neighbouring area.
The plan was revised to the satisfaction of city planners, who agreed with traffic studies prepared by the developer that more residential units could be permitted. However, Damerla said the recommendations don't address the concern she and residents have of putting dozens of stacked units into three lots meant for detached suburban homes creating "overcrowding."
Even though city planners had approved the development, Damerla said that, as an elected representative, she couldn't just rubber stamp the decision given the strong community concerns.
"My job as councillor is to bring an extra lens to the project, to make it better," she said.
Not only does the city have to pay for external legal counsel to provide representation before the hearing, it will have to pay for an independent urban planner to help make its case.
Numbers from the city's own legal team indicate the financial costs Mississauga has faced fighting appeals from developers angry their plans were rejected in the face of discontent from residents. As the numbers show, the city is spending tens of thousands of dollars to contest cases it has little chance of winning given the LPAT's track record of siding with developers over municipalities and residential coalitions in such disputes.
According to the breakdown of money spent, requested by Parrish and forwarded to The Pointer, the figures show Mississauga has spent close to $550,000 and counting for a total of six separate cases. Two of those are still in progress, while the other four decisions were upheld by the LPAT in favour of the developer.
Depending on the time and complexity of the case, the city might expect to pay more in case costs. It spent more than $265,000 in legal and planning costs to fight a proposed development at 2700 Aquitaine Ave, which lost before the LPAT.
Council held a closed door session with city legal counsel during its Mar. 4 meeting to discuss financial ramifications. Not only this but also the chances the city will win at the LPAT should the Argyle development plan reach that stage.
"My own opinion was reinforced that it would be a far stretch [to win]," said Parrish.
---
Email: [email protected]
Twitter: @RG_reporter
Submit a correction about this story