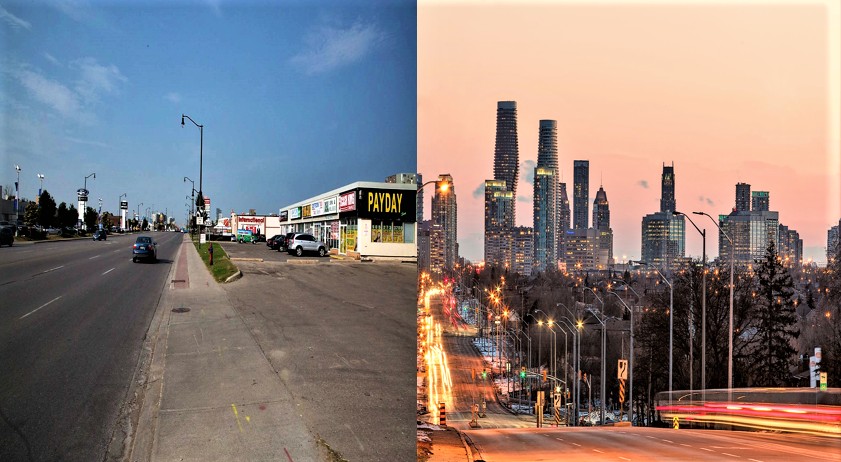 File photos The Pointer/Renderings City of Mississauga & City of Brampton/Oxford Properties
A tale of two cities
For 14 years, William G. Davis was Brampton's most powerful and enthusiastic cheerleader. His unique platform as premier of the province (1971-85) gave him a chance to not only sing the praises of his hometown, but to propel it forward from a sleepy, middling town, to a vibrant, modern-day metropolis.
In an interview with Clare Westcott conducted a decade ago to celebrate Davis's 80th birthday, the long-time civil servant and former executive assistant, said not a day went by that he [Davis] didn't sing the praises of Brampton to his colleagues in the offices of the legislature.
Surely, he would do what all politicos do when they reach the pinnacle of power: help deliver a basket of goodies to his hometown and pay back the people who put him in office and got him re-elected.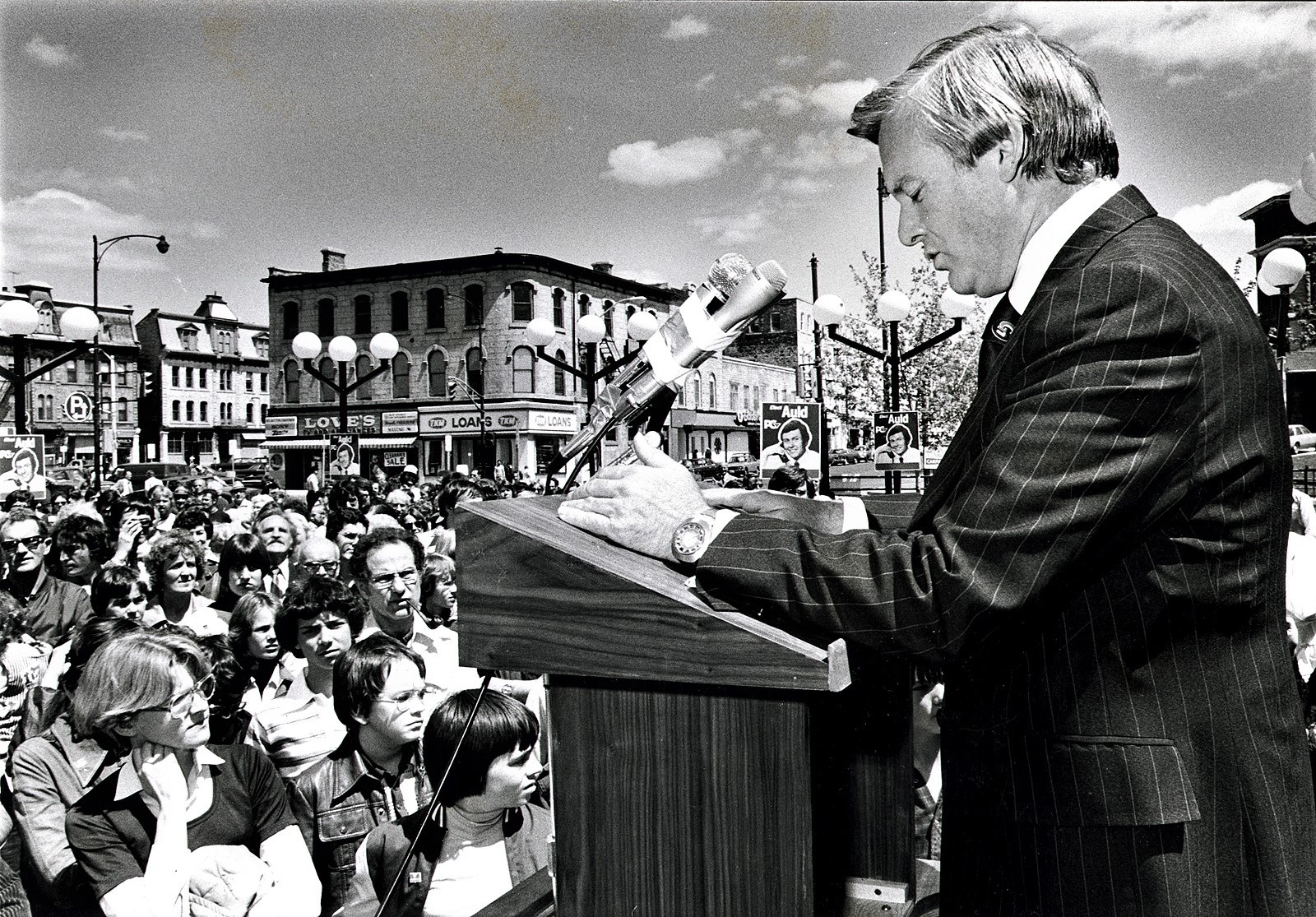 Former Ontario premier William Davis
While Davis started the process that led to the eventual completion of the 410, connecting the city with other 400-series highways, it's still unclear if this was a blessing or a curse – further locking in the city's dependence on the car, and opening it up to massive residential development. This turned a tightly knit community into a sprawling suburb. A tsunami of single-family homes created a lopsided land-use mix, one of the worst in the province. This would ultimately manifest itself in huge infrastructure gaps. The 410 actually helps drain the city of its citizenry every day. It's estimated that about 60 percent of Bramptonians leave each morning to work elsewhere.
This flies in the face of the principles of "smart growth" (more density), or the goal of most modern-day urbanologists, "the 20-minute community" – having all services and many employment opportunities available within a 20-minute walk of home.
Davis also championed the regional government system which tied Brampton to Mississauga and Caledon under a fourth tier of government. This was installed to help the partners share in the costs of growth.
Under mayor Hazel McCallion (1978-2014), Mississauga hated regionalization, and she constantly bellowed that her taxpayers were subsidizing the growth of Brampton and Caledon.
This unholy alliance (Mississauga's view) tumbled down into a venomous power struggle between the two cities during last summer's regional review. This is when Mississauga made its pitch for independence and Brampton sided with senior regional staff who conspired behind the scenes to undermine Peel's largest municipality.
The blood spilled out onto regional council, and Mississauga politicians charged Brampton and the region with bad-faith proposals – further deepening the divide between the two neighbours.
Ford eventually discarded regional change, and left Mississauga and Brampton to stew in a more fraught partnership.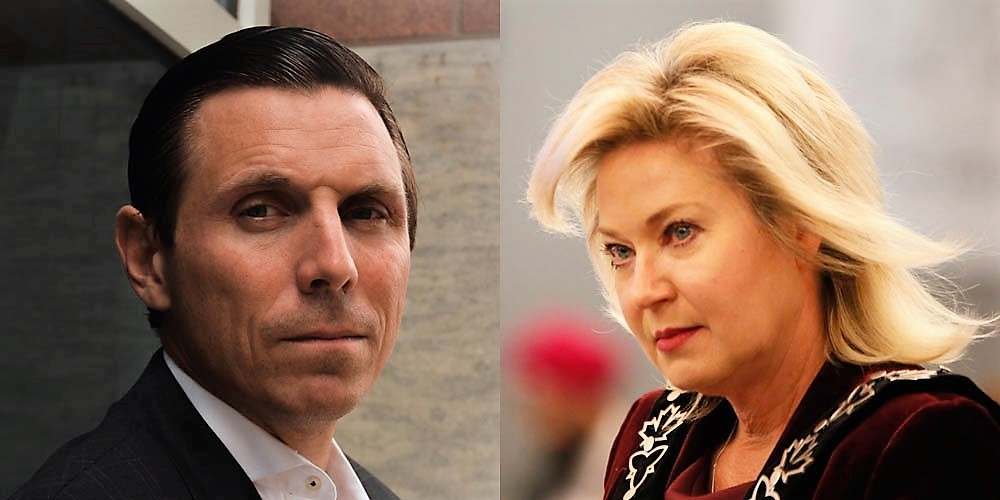 The frosty relationship between the two cities mayors continues on (rumours had swirled that Ford relished the idea of forcing a run-off between them to lead a super-city in place of Peel) but Bonnie Crombie can mount an argument that even the hyperactive political animal who leads Brampton can't challenge: Mississauga is now an independent economic powerhouse, and Brampton is stuck in the past.
For all Patrick Brown's bluster — the blanketing of social media posts, the barrage of public events and the promises to every community group he plays to — the evidence is right in front of everyone's nose. Where are the wins?
While Mississauga gets Rogers onboard for a multibillion dollar downtown development and Oxford Properties ups the ante with an even bigger commitment in the city centre, as Queen's Park sends millions for healthcare expansion, on top of billions for a new LRT system, all while the city's lakeshore is set to undergo the largest waterfront development in North America, Brown offers irresponsible tax freezes to residents, which will surely make him more popular, while city-building projects either get cancelled or postponed.
Today's reality is this: Mississauga's prospects are climbing to spectacular heights, and Brampton's have ground to a halt – two years after the election of Brown.
---
Mississauga's future projects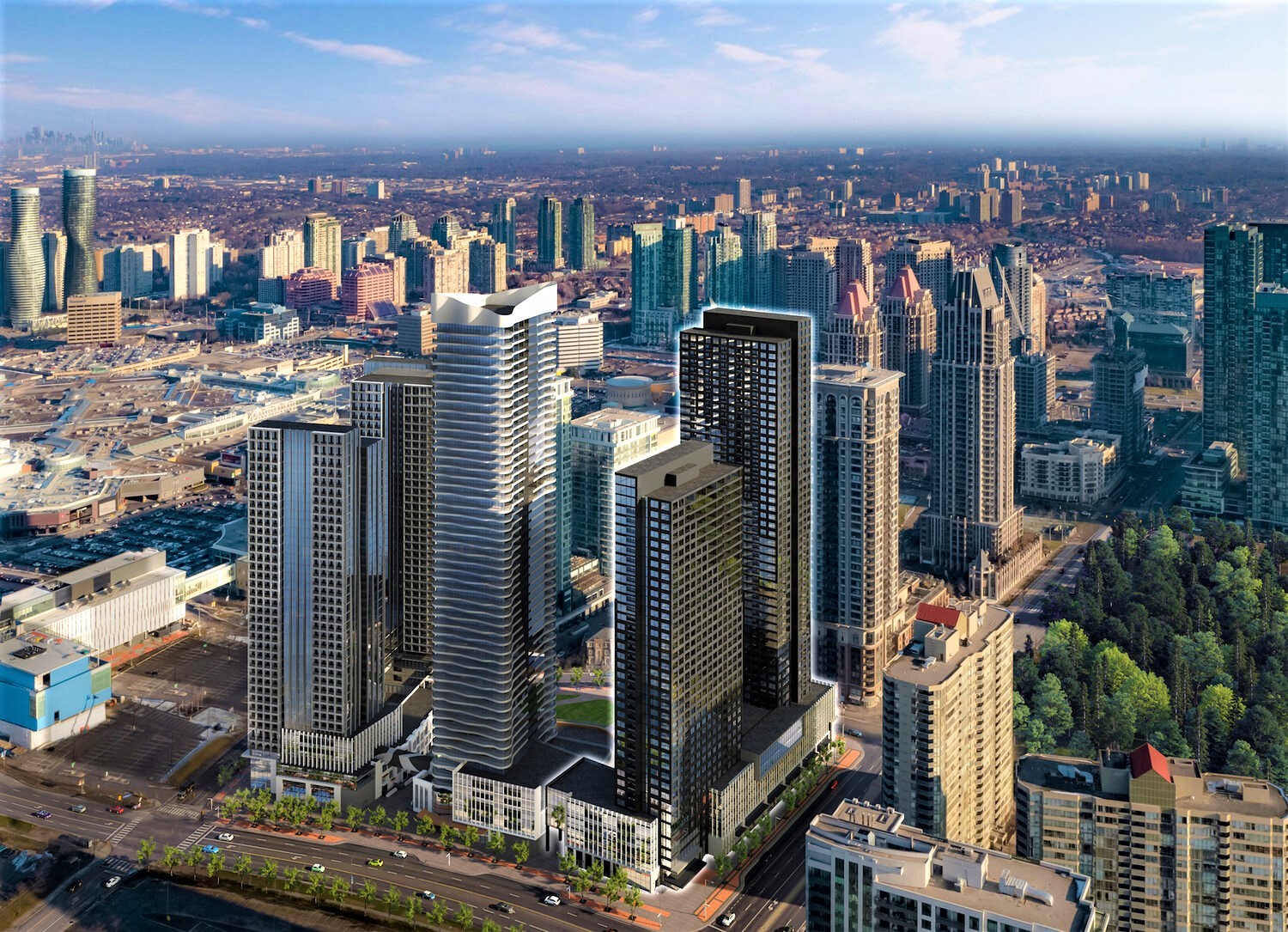 The 37-tower downtown Oxford Properties plan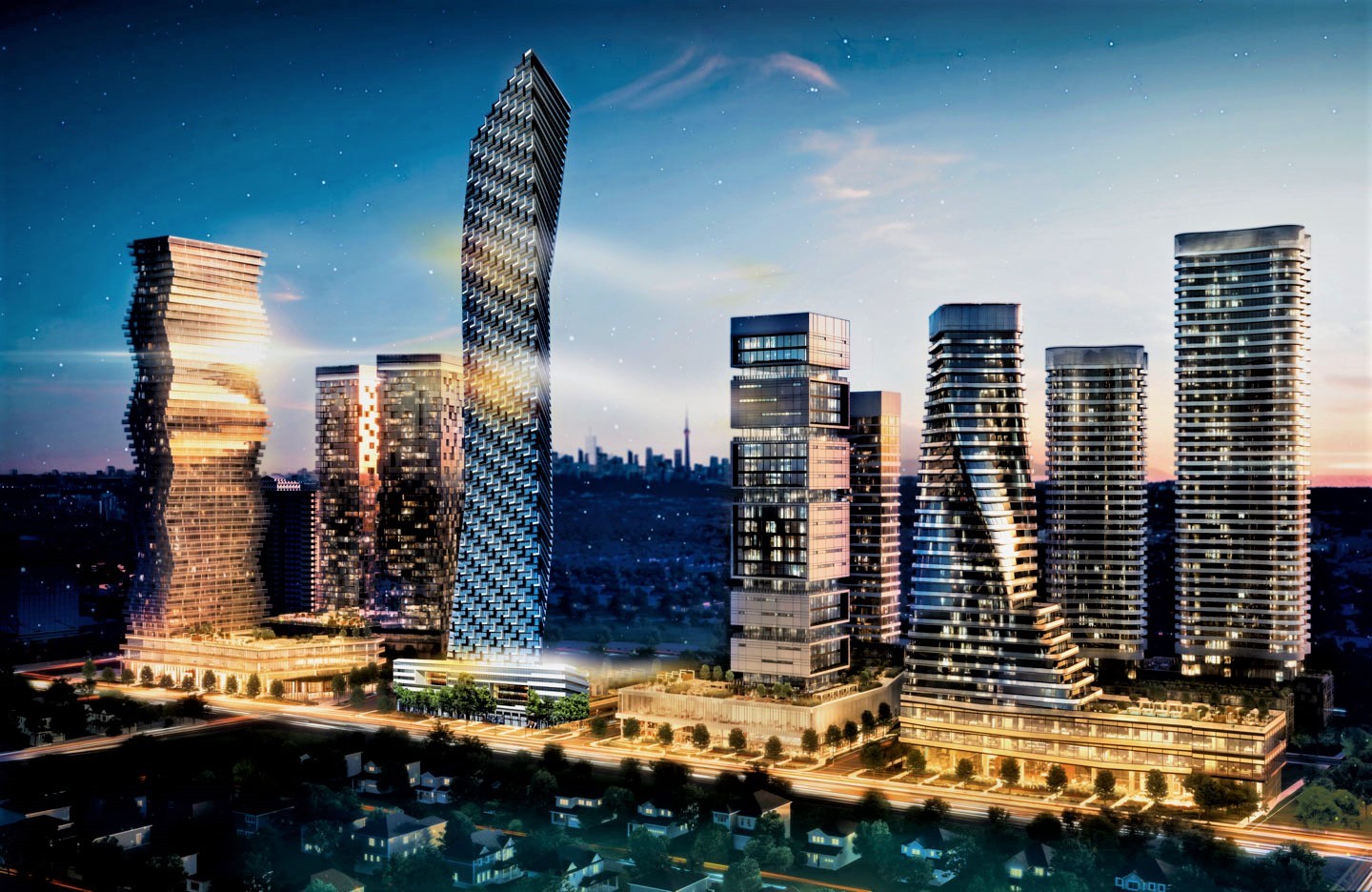 The 9-tower Rogers M-City plan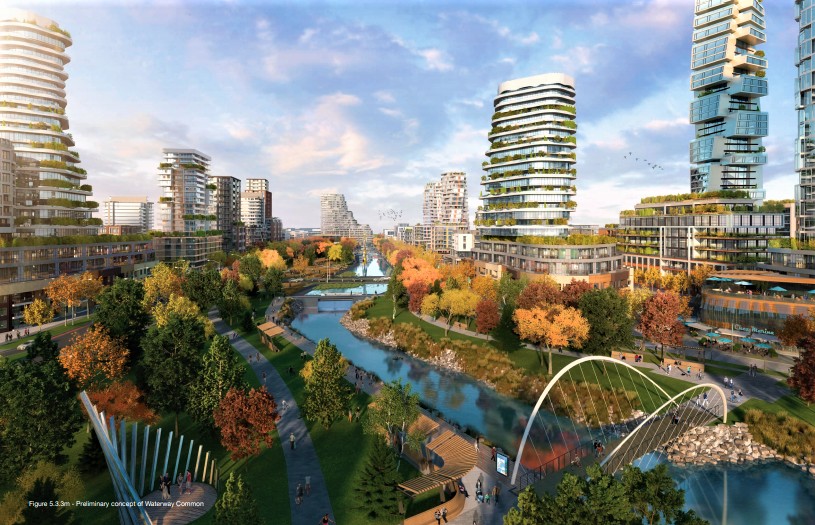 The Lakeview Village plan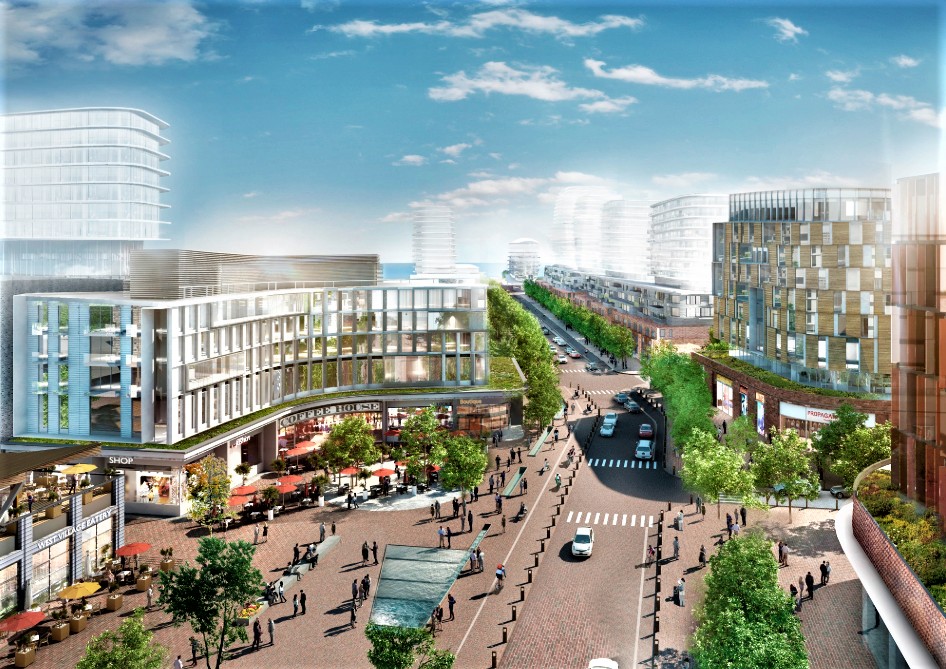 The Port Credit redevelopment plan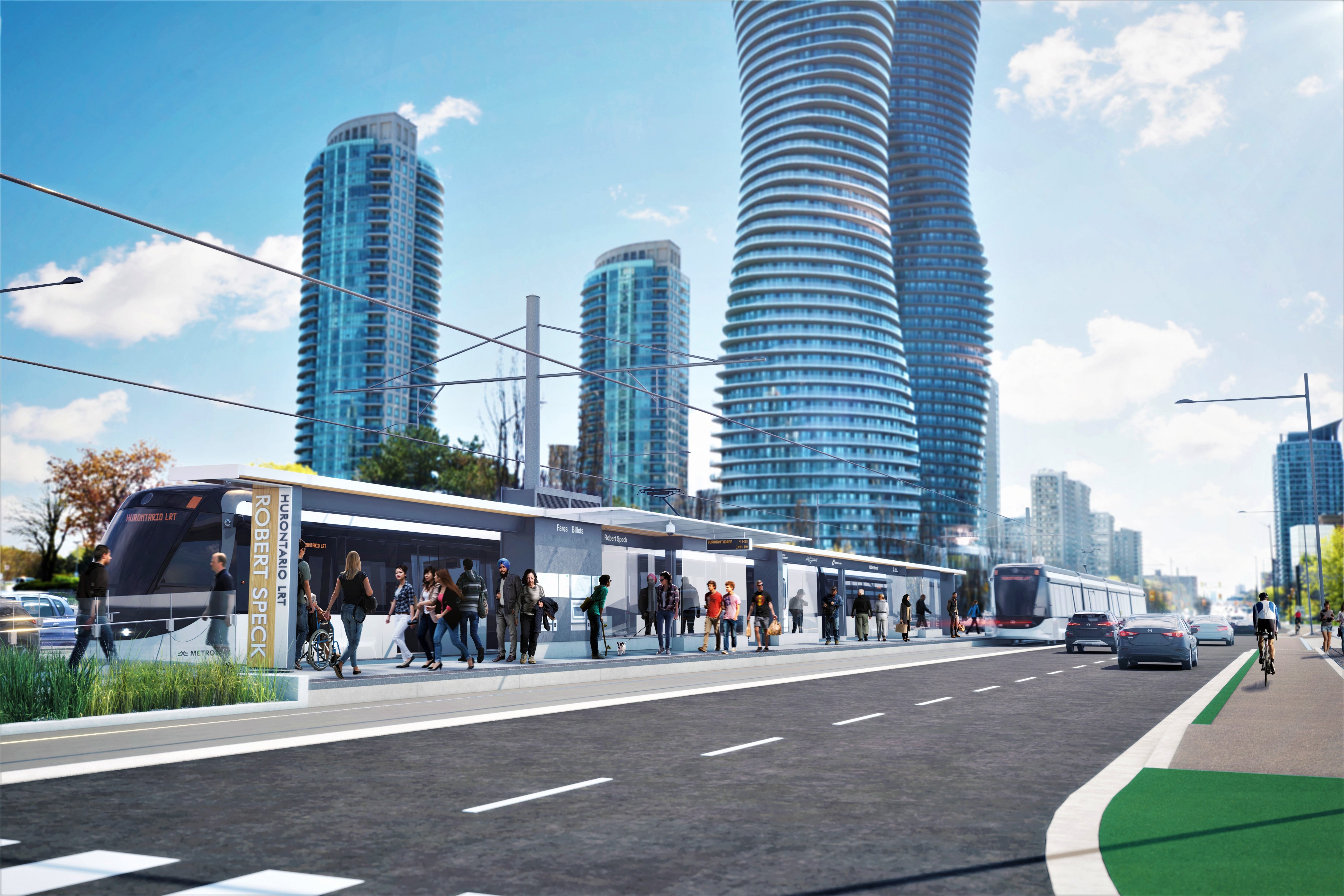 The Hurontario LRT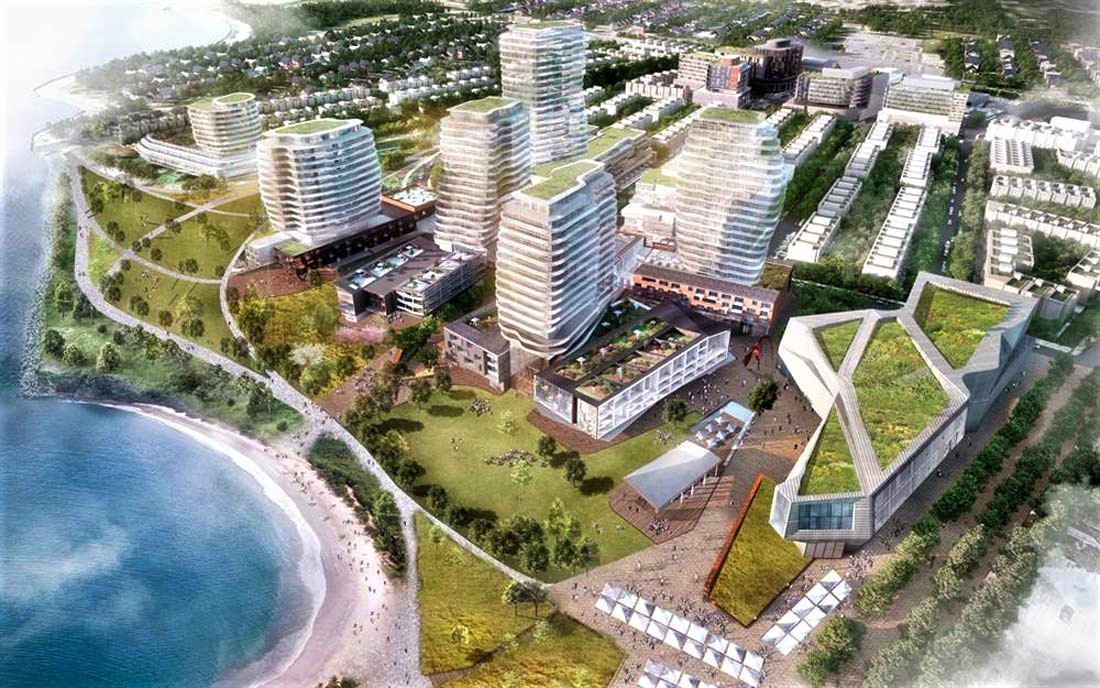 The Brightwater plan
---
Brampton's cancelled or postponed plans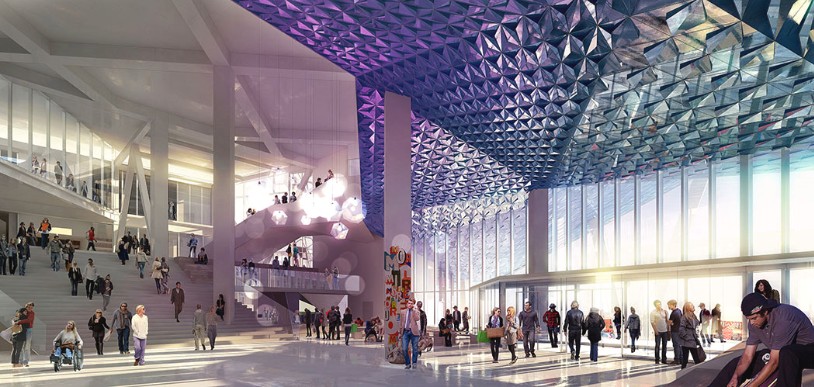 The cancelled downtown Ryerson University campus
The cancelled Main Street LRT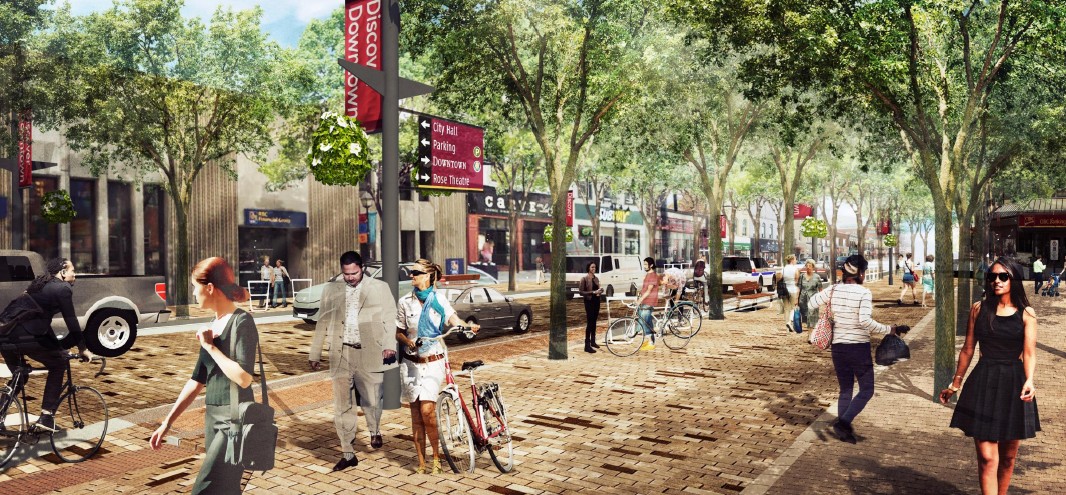 The postponed Downtown Reimagined project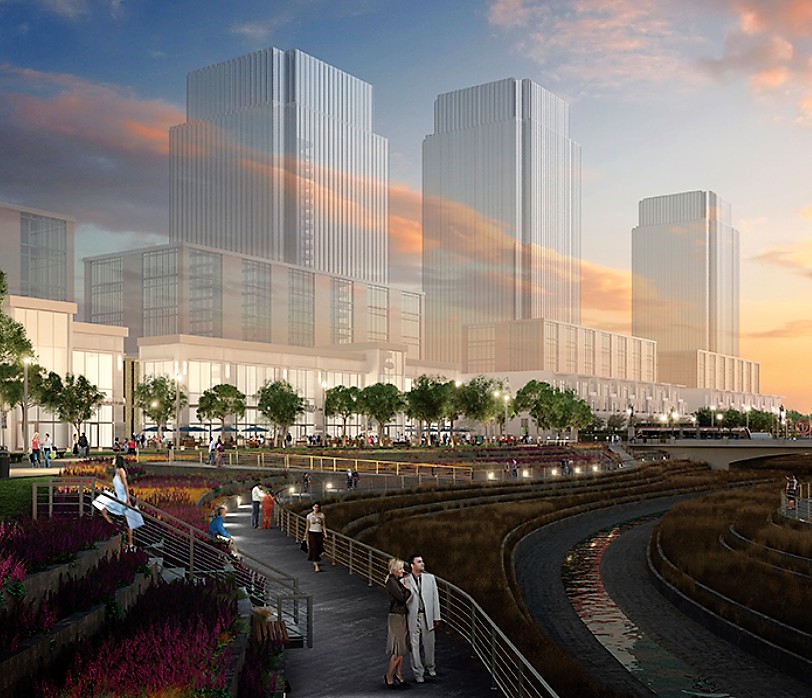 The unfunded Riverwalk project
---
Yes, this is a tale of two cities, and the argument put forth that they are moving in opposite directions, gathered new evidence this past week when Mississauga Mayor Bonnie Crombie delivered her annual state-of-the-city address before an audience of 650 of the city's top business leaders. Her Board of Trade speech was loaded with all the key bragging points that all mayors deliver to a captive business audience. But clearly, Mississauga has an impressive, and ever-expanding resume.
According to Crombie, it is now competing for new businesses on a global scale. "We have a rare opportunity to realize our full potential," she said, confidently laying out the numbers and the projects that are propelling the city forward.
She can talk impressively about the massive redevelopment of the city core, a new Hurontario LRT line that will be the trunk from which future branches of the business community feed from. The city can rightly claim it isn't a bedroom community, because it is now a major net importer of jobs. Although it has some serious infrastructure shortcomings, and a bus rapid transit corridor that looks like a fiscal white elephant (thank McCallion for that) any outsider can clearly delineate a decided difference between these two cities.
Brampton remains a bedroom community, with 60 percent leaving the city every day to work somewhere else. Brown claims to want to change this but pushes developer interests such as the proposed new GTA West Highway, which will all but guarantee his city's demise well into the future, after he leaves for greener political pastures.
Unlike Brown, who parachuted in as a last resort to salvage his flagging career, Crombie is fully committed to her city.
While Brown writes newspaper op-eds about his old Ontario PC party and clings to his old ideas as leader of that pack, which he claims are being stolen by Ford, and while he lets out City Hall to federal Conservative leadership hopeful Peter MacKay and a huge entourage of political opportunists and hangers on, The Pointer's sources have drawn attention to a growing list of activities by the mayor which seem hard to connect back to Brampton's immediate needs. His 20th trip to India in January, when he boasted of meeting with officials from that country's ruling party, has come with no official documentation from the head of council as to the purpose or benefit of that trip for the city whose name occupies his title.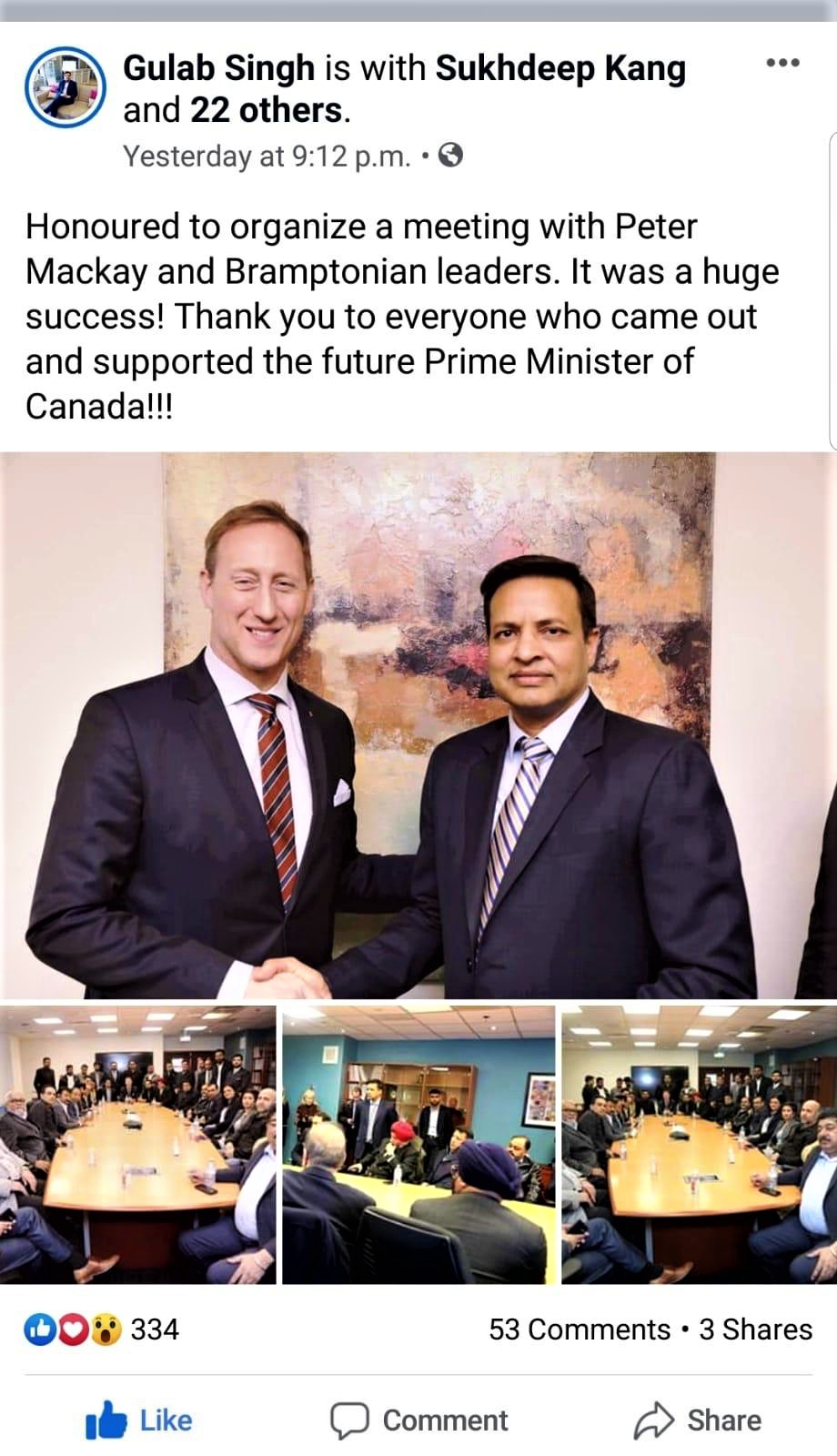 Peter MacKay inside Brampton City Hall recently with Mayor Brown's advisor and members of the South Asian community
Brown is always quick with an easy explanation. He keeps obsessive tabs on the PC party to identify possible strategic advantages for Brampton. He invited MacKay and the approximately two-dozen members of the South Asian community for more strategic opportunities (for who?) and the trips to India (which we know so little about) are all to get wins for the city. Uh huh.
Brown seems like an individual unaware of how easily many see right through him. He left the Ontario PCs with so many high-profile enemies in the party, that when it took power, Brampton's future with him at the helm was put in peril.
To justify his latest tax freeze he used a survey of three hundred residents which the polling firm even said could not yield accurate results, and his own council colleagues even pointed out that the poorly worded survey questions guaranteed the results Brown wanted, like asking people if they like free food.
And despite reducing the 2020 capital budget for future projects by a mind boggling $162 million, from $384 million last year to $222 this year, Brown tried to claim the capital budget investment was actually going up in 2020.
It's a sort of BS baffles brains approach, not uncommon among many politicians.
When emails were leaked of Brown directing party insiders to "get me the result I want. But no disqualifications here. Kitchen is too hot," ahead of a Hamilton-area nomination meeting for the 2018 provincial election, he responded like a child to people who questioned why so many nomination irregularities were taking place under his leadership. No, no, no, he insisted, as the media zeroed in on the various ridings where things obviously weren't right, he claimed that what he meant in the email was that the best person deserved to win the race. And what about the part where you told insiders in the secretive email, that you didn't want any disqualifications because the 'Kitchen is too hot'? No explanation for that.
Just like his laughable claim that he knew nothing about the scandal in Niagara Region involving the inexperienced individual who was later hired to run Brampton City Hall, after Brown chaired the committee that selected a completely unqualified man to oversee the entire bureaucratic operation of the ninth largest city in Canada and its billion dollar budget. Remember, that's your billion dollars, Brampton taxpayers. And it's now being looked after by a person involved in a scandal that the Ontario Ombudsman labelled an "Inside Job", a scandal currently being investigated by the Ontario Provincial Police.
Brown seems to taint a lot that he touches, much like a certain leader who makes his home in a big white house south of the border.
But, of course, we're all supposed to look the other way, and thank him for the latest tax freeze he just gave us.
Meanwhile, instead of a tax freeze, the mayor in the south side of the region and her council ensured a budget that will continue to elevate all residents, including the booming business community.
Last year, Crombie said Mississauga created 4,750 jobs, added 100 new businesses, and added $60 billion to the local economy. The Downtown 21 project will see further re-development in the Highway 10/Burnhamthorpe core, adding even more density. The 28-kilometer Lake Ontario shoreline will soon be speckled with a necklace of impressive projects: Lakeview Village, Port Credit marina, and Brightwater (Mississauga Road and Lakeshore).
She said that instead of freezing taxes, if residents understand that minimal but fair increases will guarantee future prosperity for the city, investing in infrastructure will continue to make Mississauga a major draw for the private sector, bringing billions to the city.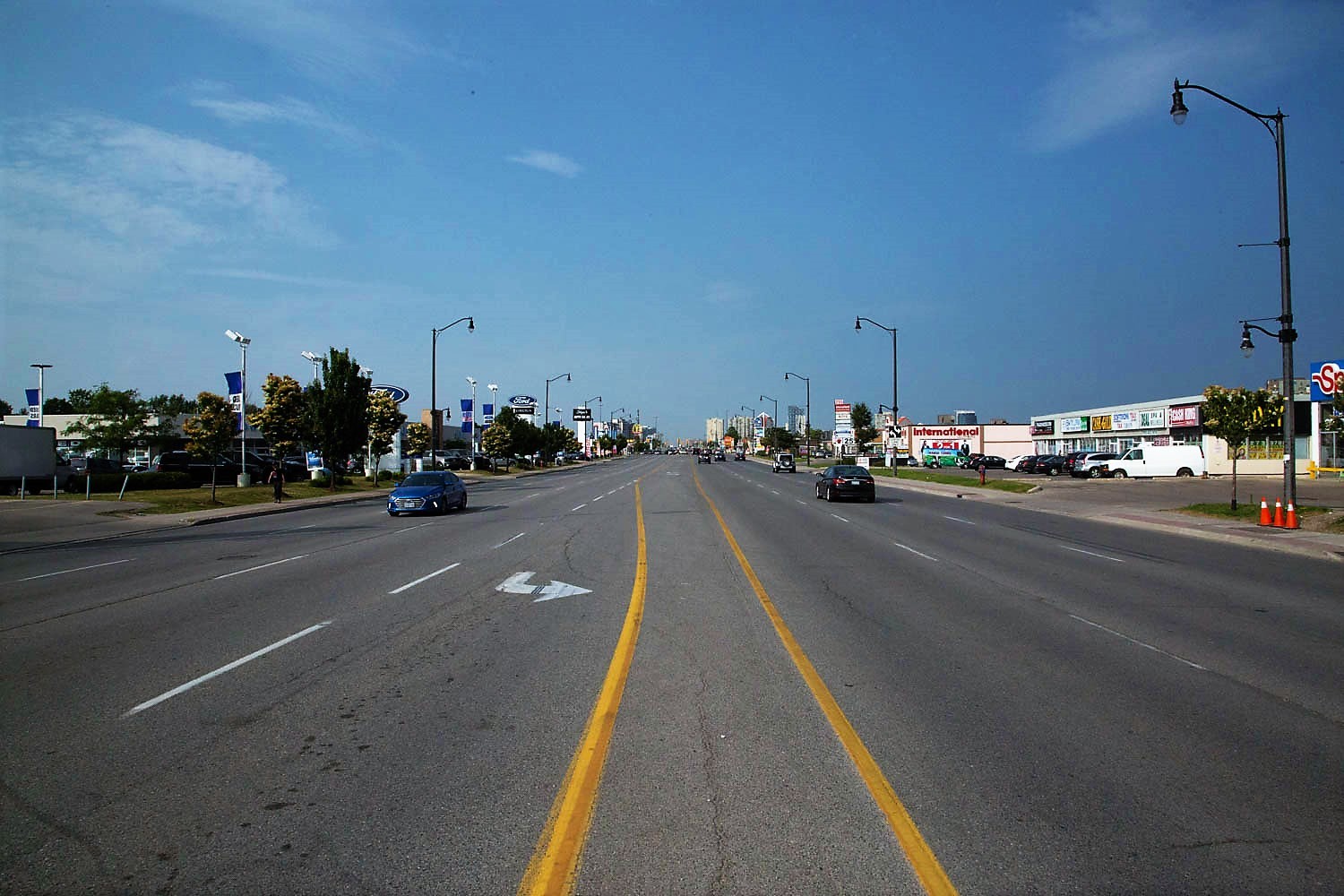 Queen Street just east of downtown Brampton
Brampton's downtown, in contrast, is a patchwork of withering buildings (some recently purchased by the city) that needs up to a $100 million to fix some aging water main problems that keep it from being redeveloped. It's Downtown Reimagined program is stalled for lack of money, and the even bigger Riverwalk one that will finally settle future water worries, is a big-ticket item (possibly as much as $600 million for an extensive facelift of the entire city centre), and there is no clear path laid out to find the money.
This has left much of the 2040 Vision (a progressive plan, that is now the city's development model) in limbo.
It can be argued that Davis never delivered on major government-funded super projects for Brampton, and the city now has to go a-begging to Queen's Park or Ottawa to fund these much-needed fixes.
That's Brown's entire strategy. Bring in a popular tax freeze, then pray the two higher levels of government bail the city out. It's not the way things work. They give money to the cities that grow responsibly and manage their own finances properly, including their share of local infrastructure investment.
Brown's latest claim is that low taxes are needed to compete for private sector investment. He fails to understand that if the city is falling apart, none of those potential major investors will ever come calling. Mississauga, which has had to bring in steep increases on its local share of taxes since McCallion's irresponsible tax freeze policy, has attracted astronomical private sector investment since, and is expected to have $40-$45 billion worth of construction in the next two decades, largely because it is paying for the features that make a world class city.
Under Brown, Brampton has embraced an "Our Fair Share" agenda, and somehow hopes to see a stand-alone university in its downtown, a transit hub, an extension of the Hurontario LRT line from Steeles Avenue to the downtown GO station, the phase 2 development of Peel Memorial Centre for Integrated Health, a third hospital, and a myriad of other niceties that make a city livable, and attractive to development.
But right now, it's unclear how this will happen.
Who will supply the money?
So, Brampton plays catch-up with its big sister city to the south.
The promises Brown made in his inaugural address to the city's own business community shortly after his election – more jobs, more mixed-use development, including office and industrial, and a burgeoning business community that will keep residents working and living here – have yet to materialize. The downtown is in a desperate state.
Talk of an Innovation Centre, a stand-alone university campus, more transit, and infrastructure fixes, are just that, talk.
This Tale of Two Cities sees Brampton and Mississauga splitting off in different directions when it comes to taxation and financing.
Ironically, Mississauga accepts the fact it needs to increase property taxes to help fix its basic infrastructure needs. It was under much of the 36-year rule of McCallion that it ran a zero-tax hike policy. With a rich business base, and massive and ongoing development, it could thrive on a bounty of DCs (development charges). But that economic gravy train stopped at the station with McCallion nearing her exit from office. Since then, her successor, Crombie, has taken a more measured approach to taxes. Raising them and even introducing levies to fund infrastructure, is now part of its go-forward plan. But the real genius of Mississauga's financial fix was the realization that revenues cannot flow in from sprawl.
While Brampton continues approving subdivisions and then drowns in the cost of servicing them (clearing snow for every house and street and running water and sewer lines to each address) Mississauga has been building up, way up.
Not only do high rise condos and apartments generate massive cumulative revenues from each unit on just one footprint, the cost to service them is a fraction of what all the infrastructure and snow removal and street cleaning and policing and waste collection and water mains and sewers in sprawled out subdivisions eat up from revenues.
During Brown's election campaign, he also made a speech to Brampton's board of trade, and vowed to install a zero-tax hike policy. This, he said, would act as an economic stimulant and attract more businesses and jobs to the city.
He has remained true to his word. But is the city on course to score 140,000 jobs over the next 20 years, as he told his audience? And are all the cancelled and postponed projects to achieve his tax freezes making Brampton more or less attractive to prospective companies?
Brampton has what other major GTA cities don't have: thousands of acres of available land, 25 million square feet of commercial space, 3 million square feet of office space and 100 million square feet of industrial space. Of all the cities and or towns located within 40 kilometres of Pearson, Brown said it has the largest inventory of designated vacant residential and employment land for new construction.
"The bottom line is we want to create an environment in Brampton that enables businesses to grow again, invest again and hire again," he said. "Starting now, every planning application will now be looked at through the lens of economic development."
So far, the results have been dismal. No announcements of major business investment, like those touted by Crombie in her speech last week. No news that the cavalry is arriving soon to fund an LRT extension. No more hospital beds, or money for Downtown Reimagined, or Riverwalk, or a modern-day transit system – breaking this city's dependence on the car.
Will zero tax hikes fix up what ails this city?
Brampton's 2040 Vision is now a game plan to create more density, mixed-use development, and higher livability standards. The goal is also to create a tax-rich business community.
Problem is: the residents don't see anything to signify it's on the way to achieving those lofty goals.
The newly created role of Expeditor in the Economic Development Office will work across the key sectors, supporting activities, and working to streamline client service by acting as a facilitator and conduit to municipal services for the business community. This has spurred on some mixed-use development along the Queen St. corridor. A city-wide Community Improvement Plan (CIP) is designed to drive jobs and investment in Brampton, and it will focus on tax incentives for economic sectors identified by Brampton's economic masterplan: advanced manufacturing, innovation and technology, health and life sciences, entrepreneurship, and green and sustainable technology.
But the key components that draw industry to a city – safe streets, plentiful healthcare, a vibrant downtown, good transit, plenty of housing options, and 20-minute communities – are still lacking. Not to mention the bad publicity the city has received over the past few years because of a dramatic rise in violent crime, and a decided uptick in gang-related activity.
In 2015, Brampton looked as if it had won the trifecta: all three levels of government were dominated by one political party, the Liberals. In Ottawa, Justin Trudeau won a majority government that featured five MPs from Brampton. At Queen's Park, Kathleen Wynne was premier, and at Brampton City hall, her friend and former Liberal cabinet official, Linda Jeffrey, was Brampton mayor.
Surely, this political synchronicity would result in Brampton getting its fair share of government assistance to help with its long-standing shortages?
If Davis failed to deliver, so did the troika of Liberals.
Meanwhile, Mississauga is gaining more economic heft by the day. The Hurontario LRT is poised for construction, Downtown 21 is alive with new mega-projects, and the city's waterfront is readying for a transformational influx of development.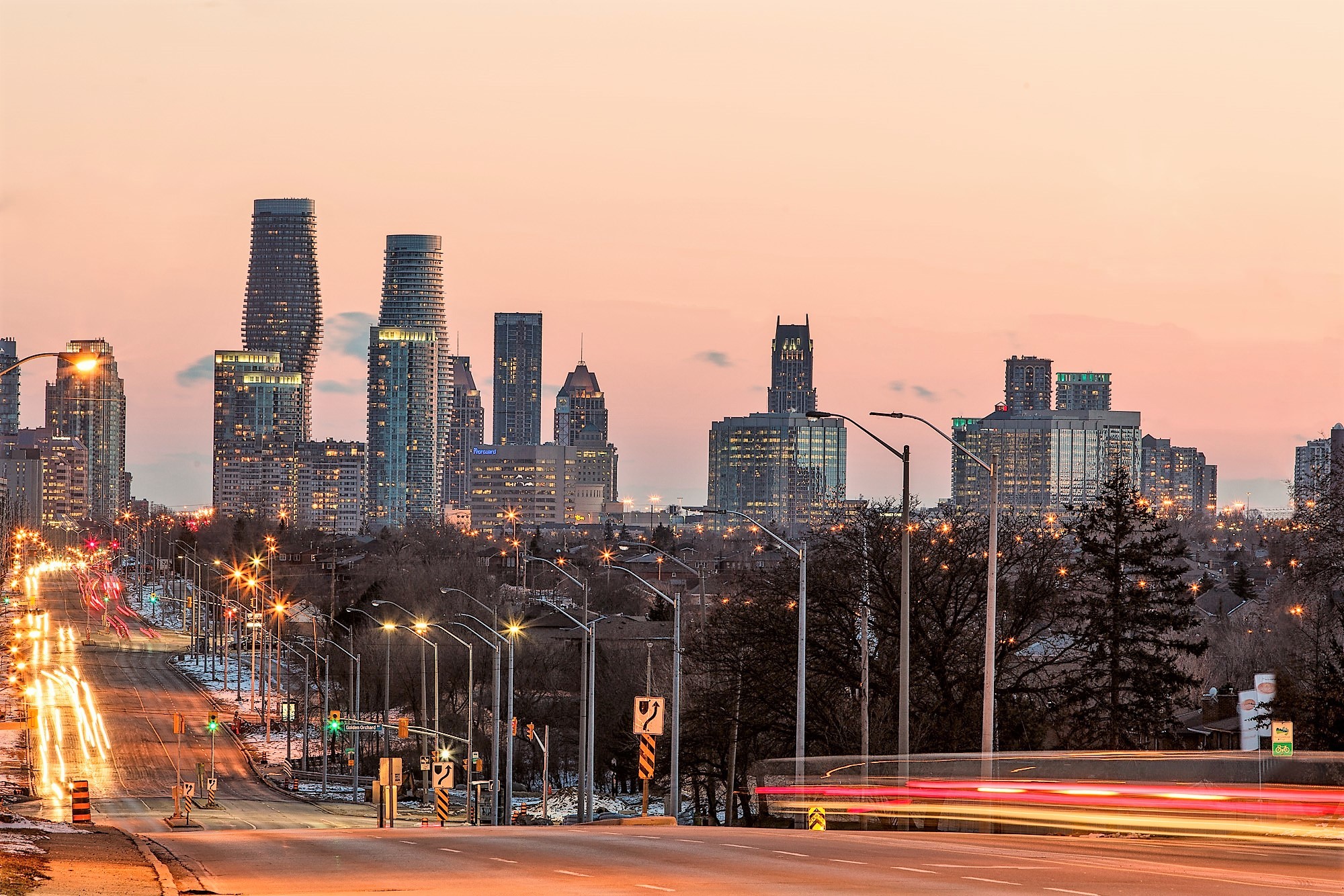 This so-called Tale of Two Cities is very much one-sided.
If Mississauga is poised to take on the world, as Crombie claimed in her speech this past week, Brampton is taking on future growth by cutting taxes.
Brown calls both Davis and McCallion his political mentors, and fully understands his city's current needs. He must look longingly at Mississauga's successes.
Or maybe he's too preoccupied by plans for his own future political successes.
In Dickens' seminal novel, A Tale of Two Cities, he wrote: "It was the best of times, it was the worst of times, it was the age of wisdom, it was the age of foolishness, it was the epoch of belief, it was the epoch of incredulity, it was the season of light, it was the season of darkness, it was the spring of hope, it was the winter of despair."
In some ways, this is Mississauga and Brampton, two cities linked by history and regional government, but moving in opposite directions.
While Mississauga failed to win its political independence during the regional review last year, it might now claim it is doing so economically.
Brampton's path forward seems less clear, and yes, it seems to be based on the status quo.
And a mayor whose honeymoon with the voters who salvaged his career has come to an end.
Submit a correction about this story