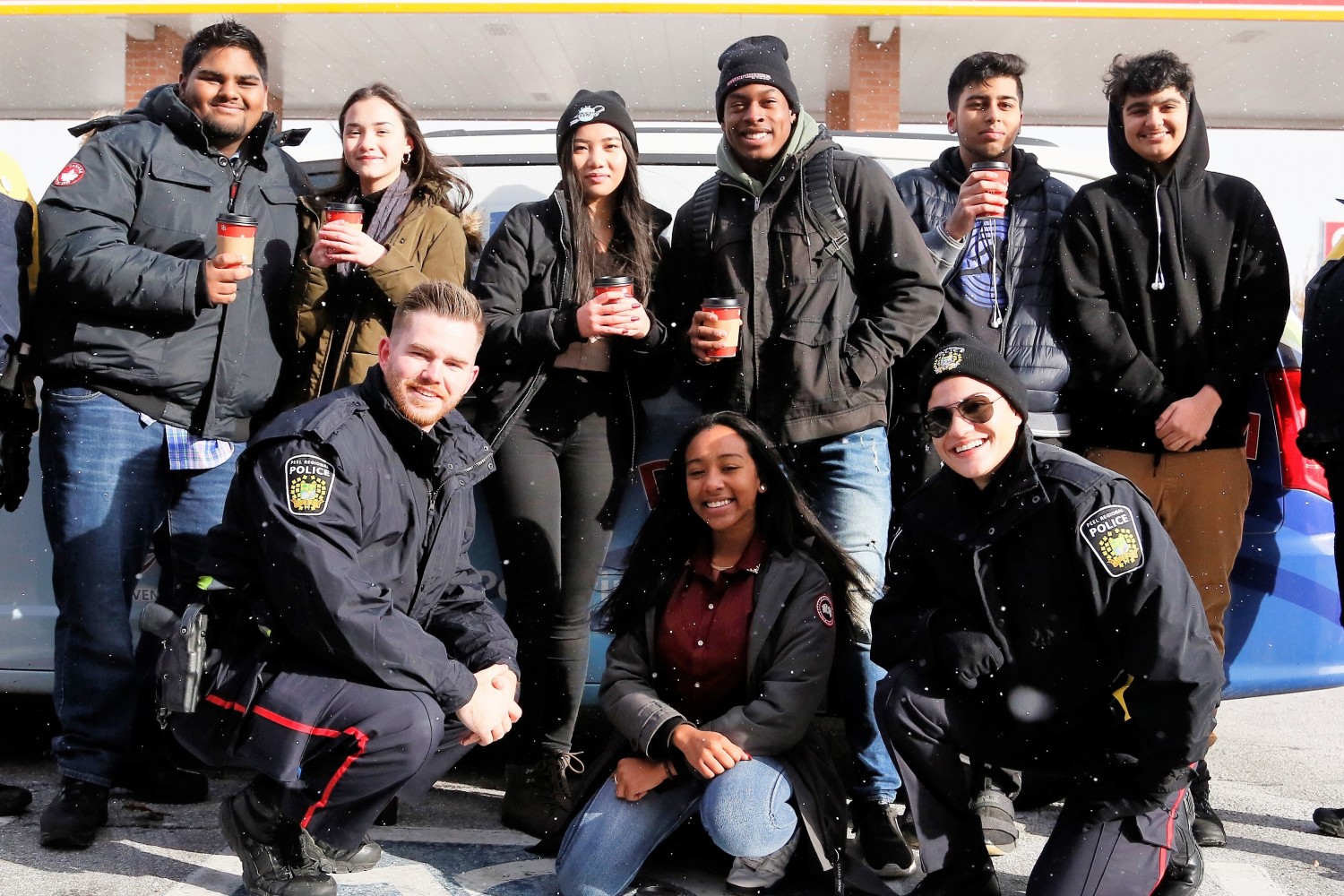 File photos The Pointer
We need a more "reasoned" approach to policing and education
The "reasonable person theory" is one of the bedrocks of our legal system.
It simply asks: "What would a normal person do in a certain situation?"
Our laws are based on the acceptance of societal norms that have been synthesized over thousands of generations.
For civilization to succeed, we depend on common sense behavior.
This easily applies to our workplaces, and nowhere is a reasoned response more needed than in our law enforcement agencies.
Police have mere seconds to recognize whether a situation is normal or life-threatening, and their response can run the gamut, from conciliatory to aggressive to even deadly.
Police officers are often maligned by the public and The Pointer has been critical when Peel's force has failed to live up to the immense responsibility that our women and men in blue are bestowed with.
Those responsibilities are a constant weight on the proud citizens who take up this high-stress calling. Each and every one of them should be commended for doing so.
It's a challenging line of work. The situations officers are pressed into every day are more than many could handle. The uniform and the badge are intertwined with the trust of the public. Serve and protect us, and we will treat you with the respect that pours out from all those whose lives are made better.
The best police forces in the world contribute immensely to healthy, vibrant and prosperous communities — places where people enjoy, above all else, their freedom. There is little happiness in any corner where people live without this feeling, unsure of their safety and constantly reminded of their lack of security.
Our behavior is what separates progressive nations from autocracies. How easy is it to slip to Orwell's version of the police state, set out in his dystopian masterpiece, 1984?
Most officers rely on training, professionalism, and some good old fashion common sense when responding to incidents. But some do not. And sometimes those who don't help shape the culture of a police organization. And that's when trouble begins. Like it did in late September of 2016 when two veteran Peel police officers, Nick Eckley and Slav Kosaver, were called to Nahani Way Public School in Mississauga.
The situation was fluid: a six-year-old Grade 1 student was "acting out," and school officials were at loose ends. She had struck another student, and when a behavioural teaching assistant and the principal tried to de-escalate the situation, she fled the classroom, threw objects at her pursuers, then swung a chair-leg at the principal. Police were called. This wasn't a one-off. Officers had been there three times before to deal with the girl's outbursts, which included throwing rocks at cars, toilet paper around a washroom, and kicking, punching, and spitting at staff. The situation was complex and riddled with extenuating circumstances. The girl had dealt with several traumatic experiences, including the murder of her father, and her mother undergoing treatment for cancer.
The incident faced by the two arriving police officers wasn't life-threatening, but demanded a nuanced approach – something that probably fell outside the training manual. Kosaver was the school's police liaison officer, and when he and Eckley arrived, they were informed of the child's background. The officers were both white, with 19 years of experience between them. The six-year-old was Black.
It was later documented how the girl was calm and sitting in the office when Eckley arrived, but Kosaver's arrival was near the time when she attempted to flee. Eventually the officers apprehended her.
What they did next, led to a case being brought before the Ontario Human Rights Tribunal. And last week, a judgment came down, condemning the officers' actions.
The conclusion by Brenda Bowlby, the tribunal adjudicator, was clear: the officers over-stepped their authority, and their response involved racial assumptions, quite likely subconscious ones – adding another check mark beside a long list of anti-Black incidents that had dogged the Peel force since its inception in 1974.
Peel Regional Police has responded to the incident that unfolded next, highlighting the tribunal decision, which states "the evidence is undisputed that the officers conducted themselves throughout the incident in a professional and polite manner and that they did make efforts to verbally de-escalate the applicant while she continued to struggle, kick, head butt and try to scratch and bite them."
Bowlby laid out the events that preceded the arrival of the two officers, detailing that school staff called the police "when they feared for the safety of the students and staff member", the "behavioural teaching assistant, trained in child crisis prevention intervention, [who] had been physically restraining her for approximately 20 minutes and was unable to de-escalate her behaviour using those techniques."
What unfolded is difficult to stomach, especially for any parent, and outside the norms of police behaviour. It almost defies description.
But here goes…
After apprehending the girl, the officers laid her face-down on the ground, then put handcuffs on her wrists and ankles behind her back. That bears repeating: two adult male, armed police officers, placed a 48-pound six-year-old on her stomach then bound her hands and ankles behind her back and kept her on the floor for half an hour before other emergency personnel arrived.
The tribunal was called after a lawsuit was filed by the girl's mother against the Peel Regional Police Services Board. Its decision drew a ton of media attention because of its startling details, and the underlying racial component.
The officers' response was "disproportionate to what was necessary to provide adequate control and amounts to a clear overreaction in the circumstances," it said.
"While the officers had a legitimate duty to maintain the safety of the (young girl), others and themselves in circumstances where (her) behaviours were challenging and might have created a safety risk, this did not give them license to treat the applicant in a way they would not have treated a white six-year-old child in the same circumstance."
It's still unclear what action if any will be taken against the two officers. Nothing has been set to determine any remedies as a result of the decision.
Peel Police and its union head, Adrian Woolley, have publicly voiced their support for the two officers, pointing out that an investigation by the province's policing oversight body, the OIPRD, found no grounds to pursue any disciplinary action against the officers.
Woolley, who himself was recently convicted for driving drunk with a blood alcohol level almost 50 percent above the legal limit while going more than 70 kilometres above the posted speed limit on the QEW, challenged the tribunal finding, claiming race was not a factor in their behaviour. Woolley, who was demoted to a second-class constable for his conviction, represents the current challenge faced by Peel police, a force that has been dogged by officer misconduct and is now led at the rank and file level by a union leader who is a convicted criminal.
It's a sad farce that a man who got behind the wheel of a vehicle, drunk, driving more than 70 kilometres above the highway speed limit, turning himself and thousands of pounds of metal into an out of control missile that could have easily killed anyone he struck, is still allowed to lead the region's police union and speak on its behalf about the safety of a six-year-old girl.
What might be even more challenging is how the public digests that a six-year-old could end up handcuffed, and how deep runs the unconscious stream of bias that flows unchecked through the Peel police force?
What's even most troubling, is how far we seem to have drifted away from a reasonable person's response to the every-day occurrence.
On the surface, the officers' response makes no sense.
On a deeper level, it does. And the tribunal's findings again peel back the bandage covering the oozing sore of overt racism that's still a feature of Canada's third largest municipal police force.
The tribunal interviewed all involved and agreed that when the officers applied the handcuffs, they also tried to "verbally de-escalate the applicant."
Bowlby said the officers' defence was stymied by their lousy note-taking, which she described as "scant, hastily made" and "bereft of detail." Their penmanship wasn't any better and contained errors and hard to accept details and descriptions. They painted a rather blurry picture. Were the handcuffs removed several times, as one officer claimed, or did they stay on until paramedics arrived, as the other said?
Bowlby was confounded by the "inconsistencies" and accepted the testimony of the behavioural assistant on staff over the officers, finding him much more credible, with no inherent reason to misrepresent what actually happened.
Bowlby noted that placing the six-year-old child on her stomach with her wrists handcuffed behind her, her ankles handcuffed, and holding her in that position for almost half an hour, represented an entirely different type and level of control than if they left her in a sitting position.
Any parent reading this will undoubtable wince as they try to imagine their own child bound up and laying on her stomach for half an hour, in metal handcuffs.
This case of "over-policing" is shocking in the extreme, and Bowlby admits as much. "It is not every day that police attend at a school and handcuff a six-year-old," she wrote.
Does this unprofessional response, and grotesque incident reach the level of abuse?
Bowlby didn't say. What is clear is that both officers knew the gravity of the case, and the negative connotations associated with their actions.
The officers agreed, the optics weren't good.
Bad optics is a fixture of Peel police. A recent 142-page audit by the Canadian Centre for Diversity and Inclusion (CCDI) says the force doesn't represent the diverse community it serves, raises barriers for racialized members of the force, punishes those who speak out, and, at the upper levels, it has turned a blind eye to systemic bias. Twenty percent of officers are visible minorities within the force that serves Brampton and Mississauga which average out to a population that is about 70 percent visible minorities.
The force's leaders have been shown the obvious problems inherent in its culture. In 2007, former chief Mike Metcalf disagreed with a ruling by a human rights tribunal finding that an officer racially profiled a Black Mississauga resident. She was awarded $20,000 after being wrongly accused of shoplifting at a department store. Metcalf wouldn't comply with an order to develop anti-racial profiling strategies within his force because, he said, no problem existed.
In 2015, his successor, Jennifer Evans, was shown her force's own data which illustrated how officers were disproportionally carding Black individuals at more than three times the rate of whites. Evans promised to examine what happened, but never did. The Black community was frustrated and outraged, demanding her resignation.
Evans defended carding – even when the province was eliminating it – as a vital policing tool, and she kept those thoughts right until her resignation last year. She even defied her board, which in 2015 told her to stop the discriminatory practice.
Peel police have been dragged before the Human Rights Tribunal before. In 2017, it was charged and found guilty of discriminating against decorated officer Baljiwan (BJ) Sandhu. He said he was denied a chance to compete for promotion into the senior ranks. The ruling said the force devalues policing in the region's huge South Asian community, and denying Sandhu's chance at promotion was, in part, due to his ethnicity. Evans issued no apology to him.
If the idea that Peel police devalues working in the South Asian community doesn't worry you, think twice the next time you hear about the lack of action on rising crime in the various diverse areas within two of Canada's largest cities.
Both Metcalf and Evans are now gone, but tension in the community still lingers.
New chief Nishan Duraiappah is a visible minority and favours a progressive agenda. He seems to be sticking behind his two constables and their behaviour at the school, at least publicly, and that might be the right approach, if white officers are feeling a little unsure these days. After all, they still make-up about 80 percent of the uniform complement. And it's quite likely that most are of the highest quality, including the two constables involved in the troubling incident. What's disconcerting or at the very least, unclear, is if things are changing from the dysfunctional and blatantly discriminatory culture led by Metcalf and his protégé, Evans.
No one should reasonably fault the two officers if subconscious bias, as found by the human rights tribunal, did indeed play a part. Anti-Black messages and imagery surround all of us, especially in the media and in popular culture. These two realms have possibly done far more damage to Black communities than the institution of policing.
But all of us — the media, our political class, the arts industries, the worlds of film and music and sports, and all the marketers and advertisers who use race to their advantage — have to be on the look out for our own weaknesses.
Unfortunately, Peel police has not done so in the past. The proof is in the carding data and the Sandhu case and the racial profiling incident involving the Black Mississauga resident and probably in the handcuffing of a six-year-old girl. The thousands of other encounters that take place every year between our Black neighbours and the women and men in uniform might also provide proof that potentially dangerous subconscious biases exist.
What we need is a force that recognizes this and moves boldly to confront it.
The recent hire of a diversity and inclusion coordinator within Peel police is a step toward an internal overhaul. The services board includes mayors Patrick Brown and Bonnie Crombie who are on record as wanting to move toward a more diverse force representing the communities it serves. Crombie was the biggest champion of the anti-carding movement on the board during the last term of office and single-handedly took Evans on, staring the chief down until she bent under the Mississauga mayor's power, even though Evans refused to relent in her defence of carding.
Bowlby stated "there is no direct evidence of discrimination" by the two officers, but their behaviour does rise to the level of an "inference of racial discrimination."
This means that while she does not believe it was their intention to discriminate against the girl based on her race, "it is clear that their focus throughout was on controlling her."
She infers that their overreaction was because of implicit stereotypical associations arising because of her race. They saw her as a Black child and thus, more of a threat. She was in need of more control than a blue-eyed white child caught up in the same circumstances.
Bowlby's decision targeted Peel police, but it further lifts the shade on the deep-seeded discrimination that applies to our region's other major institution, the Peel District School Board. It too is in the midst of a Human Rights Tribunal case, and continues to spin out as many racially charged incidents as the police.
In fact, there's added poignancy to the handcuffing incident because it builds a thalamic bridge between our two largest public sector institutions.
It's significant when unconscious bias is addressed and used in legal cases, even though its existence in various forms is now more frequently dealt with in the justice system.
The ruling on the police came only a few days before a meeting of the PDSB when Trustee Nokha Dakroub attempted to bring forward a motion to alter protocols when police are called in the event of a student in crisis.
Dakroub wanted a rethink on cooperation with Peel police in non-emergency situations by allowing minors under investigation to have a parent or guardian consulted prior to contact with law enforcement, contrary to the existing protocol which doesn't have this provision.
Dakroub's motion was ruled out of order on the grounds it violated the existing arrangement with Peel police.
This stirred up shouts of protests and the meeting was closed to the public. But it also came with a poetic twist: when a white school board member said he felt fear for his safety because of the Black parents who protested the out of order ruling, Peel police were called – which further inflamed tensions between the PDSB and the Black community.
Charges of anti-Black racism reared their head at the school board in November of last year when the board appeared split after a white trustee was cleared by PDSB's integrity commissioner of accusations that he made a racist reference toward McCrimmon Middle School in Brampton — which has a significant Black student body — by calling it "McCriminal."
The PDSB is no stranger to Ontario Human Rights Tribunal complaints. The person promoted to head its anti-discrimination efforts, trustee Poleen Grewal, alleged she was sidelined in her efforts by both the board and PDSB's Director of Education Peter Joshua. Grewal's complaint says her recommendations were ignored and she was prevented from intervening in a case where a Peel school principal faced charges of racist conduct following an external investigation.
These cases have stirred up a provincial review over the PDSB's treatment of Black students, and Ontario Education Minister Stephen Lecce has met with parents and educators to discuss allegations of systemic discrimination. The final provincial review document is reportedly ready but hasn't been made public.
Jennifer Chambers was one of the expert witnesses called in the handcuffing case and is also a member of the Police and Community Engagement Review (PACER), a Toronto Police Services committee focused on anti-Black racism, especially the practice of police carding. Her research found that Black children are perceived as less innocent than non-Black children and less in need of protection.
Another expert, a professor of psychology, talked about how "implicit bias acts on an unconscious or automatic level." Her conclusion: had behaviour is like sediment being stirred up from the deep end of the pool.
Did the police officers even know why they both made the spontaneous decision to handcuff a six-year-old?
Neuroscience research shows that within a fifth of a second, we know what racial category the person we are meeting (or confronting) belongs in. Race-based assumptions and stereotypes become subconsciously activated. We put in motion all the negatives we associate toward that race, and whether we identify them as part of our group, or not.
How we see others, even subconsciously, is often how we treat them.
Famed English novelist Zadie Smith writes about the ties that bind us – just how racial our history is. This often tips the balance in our decision making. These ruinous race relations over hundreds of years have, in some cases, aestheticized us to what we might say or do. It allows us to dub a school McCriminal or fire the handcuffs on a six-year-old, but also claim that this was not racially motivated.
The long-held views of chiefs Metcalf and Evans or some who now sit on the PDSB board, might be interpreted as: "Hey, there is nothing to see here." But we now know, there is plenty to see – if you have your eyes open.
What's crystal clear is how long we have been handcuffed by history.
The handcuff metaphor is easily applicable to the PRP and the PDSB, and spins us back to our initial question: "What would a normal person do in a certain situation?"
Perhaps we should now ask: What should a fully diversified and post-racial society do in a certain situation?
The PDSB knew for years it had a problem with anti-Black racism in its hallways and perhaps on its board, and it even brought in famed educator Dr. Carl James, the York University professor, who wrote a report in 2017 called, 'We Rise Together'.
In it, he asked: Do Black students have to work twice as hard as white kids to succeed? One student's quote sums it all up: "A lot of people just look at you [and say], Oh, stay away from this guy, he's Black. He's a danger. He's going to blah blah blah… Everyone just likes to look down on us because of the stereotypes, and I think that's unfair. I think everyone deserves an equal chance. We're all human beings. We all get looked down on."
The six-year-old was too young to put into words how it felt being handcuffed and planted face-first on the floor. She had already been traumatized in her young life, and probably couldn't articulate that either – how it felt to know her father was murdered, or her mother had cancer. Like many visible minorities or "others" in our schools or on our streets, they have to internalize their feelings toward those who simply don't understand them – maybe it's a white cop or a white teacher.
This has left many feeling either dehumanized or misunderstood or outraged.
The PDSB and the PRP and its board have been handcuffed for years by executives who never reflected (or understood) those they served.
It's difficult for them to feel what it's like to be excluded or targeted simply because of the skin covering their body. They can't begin to understand that they may have been acting or voting with an unconscious bias.
The Pointer thinks it's time these metaphorical handcuffs were removed from those who are seeking to reform both our police and schools. And while we're at it, let's revamp a whole bunch of other institutions that need fixing. Like the media.
It's too bad tribunals need to be called to explain why some police officers do what they do, or some trustees say what they say.
The "reasonable response theory" should not only be the bedrock of our legal system, it should apply to all institutions, and society in general.
Submit a correction about this story