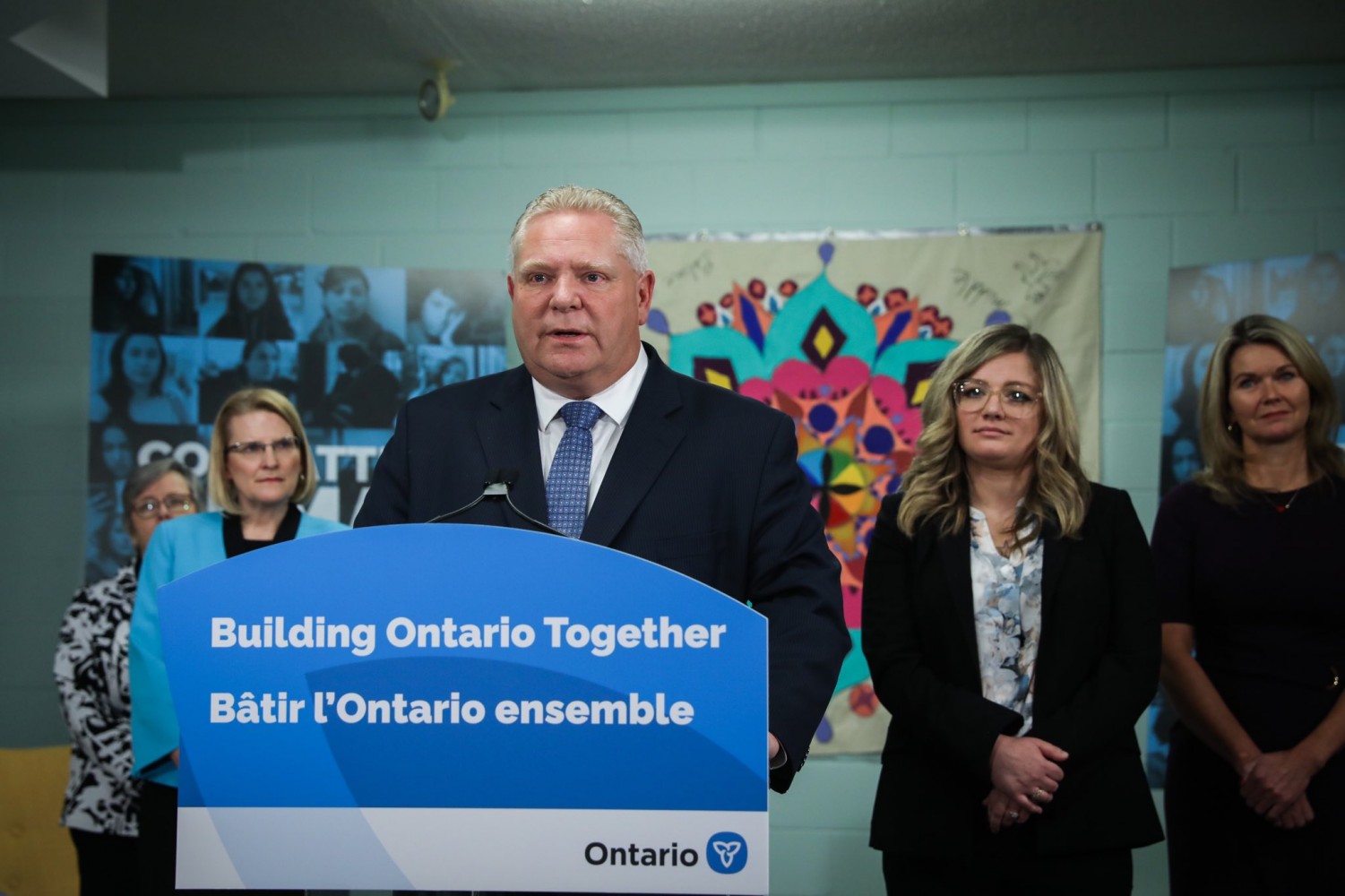 Photos from Joel Wittnebel/Twitter/Doug Ford/Family Services of Peel
Ontario announces hundreds of millions in funding to help end human trafficking
Yesterday, the provincial government announced $202 million in funding to fight human trafficking and child sexual exploitation in Ontario. The money will be added to $105 million from an existing fund for a combined total of $307 million over the next five years to battle these worsening crimes.
"Human traffickers prey on the most vulnerable members of our society — our children," said Premier Doug Ford at the announcement in St. Catharines on Friday. "We must put an end to this disgusting industry and take immediate steps to keep our kids safe. Our new strategy takes strong and decisive action to support survivors, raise awareness, and give our police the tools and resources they need to put these criminals behind bars."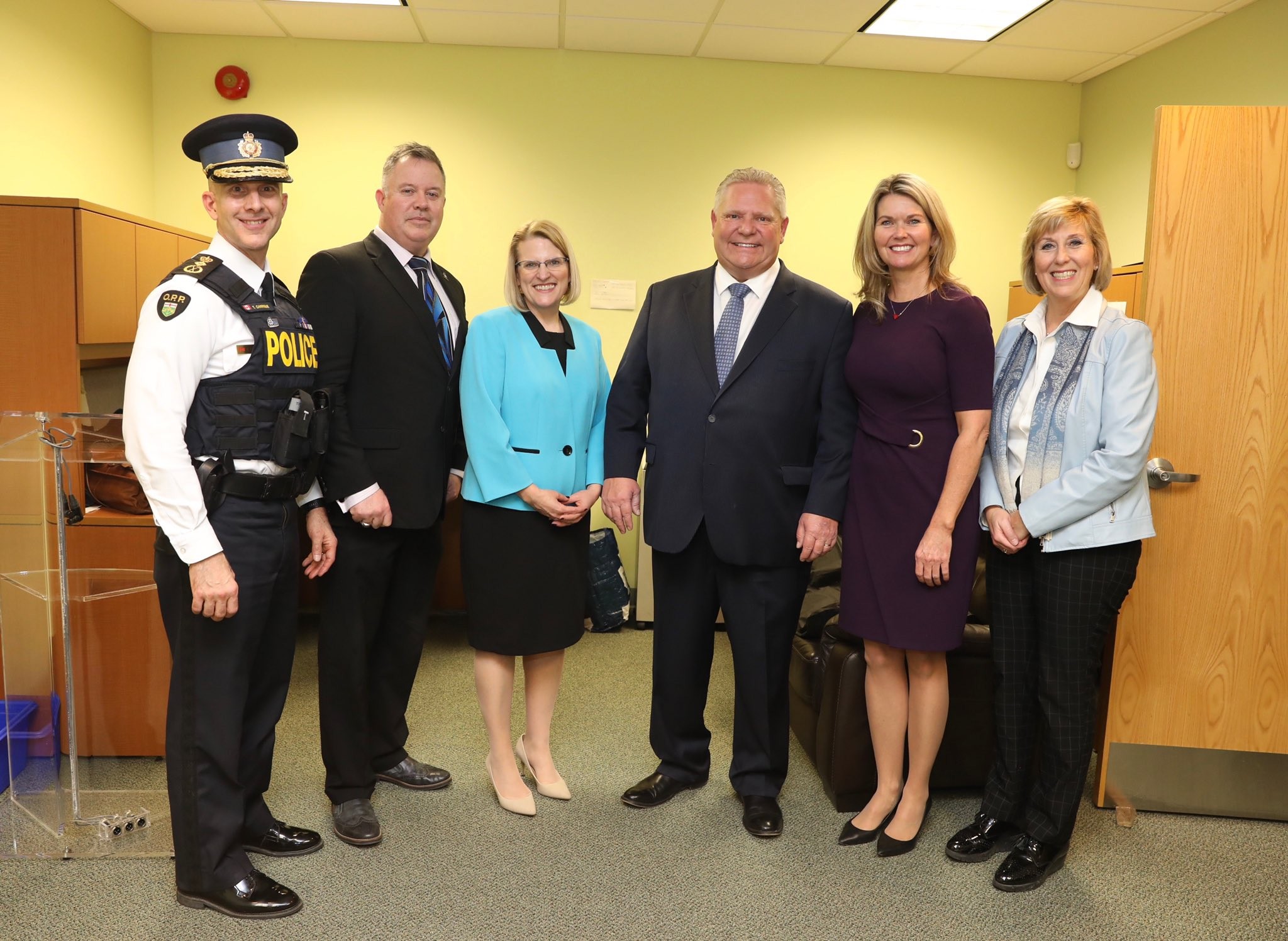 Ontario's Anti-Human Trafficking Strategy 2020-25 is a comprehensive action plan to combat the rapid rise in this alarming criminal enterprise. It will focus on four key areas: raising awareness; holding offenders accountable; protecting victims and early intervention; and supporting survivors. Additionally, the province is investing $4 million into anti-human trafficking services and supports designed for, and by Indigenous peoples, especially women who are at greater risk. Data shows that Indigenous women across Canada are targeted by human traffickers at a much higher rate than the rest of the population.
On Wednesday, public backlash erupted across the province after advocates raised the alarm over the PC government not renewing $1 million in one-time funding for 2020 that helps alleviate waitlists for counselling and support at Ontario's 42 rape crisis centres. However, Premier Ford is appearing to backtrack, now committing $2 million in annual funding, as part of the new anti-trafficking strategy. It's unclear if this funding will only support centres with explicit anti-human trafficking mandates.
Friday's announcement is welcome news across Peel, which, because of its proximity to transportation networks and other dynamics, has become the epicentre of human trafficking in Canada.
---
Today, everyone has the world at their fingertips.
With a simple swipe of a finger and a few taps on a screen, nearly the entire expanse of human knowledge can be found online, including everything from best-selling books to academic journals and the best investigative journalism there is.
A few more taps and a person could capture a cherished moment with an HD camera, order a pizza or an Uber, do their banking, use a GPS, book a flight or concert tickets, monitor their fitness or check the weather. This can all be done before lunch with a single, handheld device.
In the wrong hands, these devices can accomplish true evil.
Sex, drugs and abuse too can be purchased or watched with only a few taps on a smartphone.
For human traffickers, online classified sites are their sales office. Websites like LeoList, Backpage (now shuttered) and even Craigslist offer nearly barrier free promotion and exploitation of victims.
A few pictures, a few buttons pressed, and the trafficker is open for business, usually out of a hotel or Airbnb — probably booked with the same smartphone.
At the same time it has gotten easier for traffickers to reach interested Johns, it's become increasingly difficult for police to catch these criminals.
Dark, organized-crime networks span across entire cities, often between provinces, resulting in complex investigations involving multiple police forces, jurisdictions and departments. Typically, these traffickers are not only selling women, but weapons and drugs as well, requiring vice units, gun and gang task forces along with human trafficking units to bring these criminals to justice.
It takes a coordinated approach, not just at the level of municipal and provincial police forces, but from everyone between the service providers on the front lines, to each level of government. The realization is starting to sink in that everyone has a role to play.
Traffickers began looking over their shoulders after learning of the first online bust by an undercover officer posing as an interested client. The same feeling could hit them again as those tasked with ending human trafficking are finally starting to work together.
The federal and provincial governments are both working on strategies to combat trafficking in the years ahead, and they're doing so in societies that are becoming increasingly aware that traffickers are operating in their own backyards.
---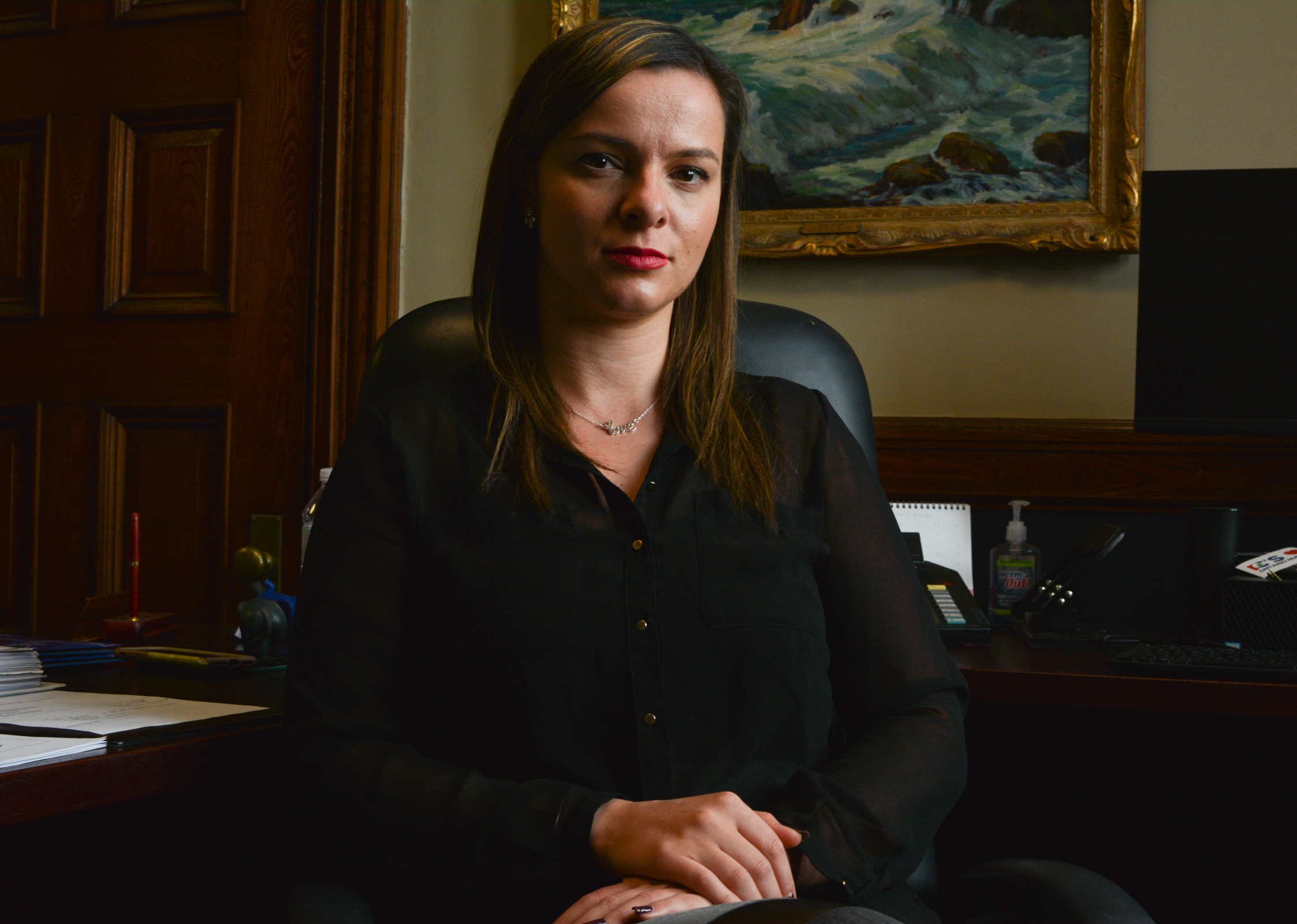 MPP Natalia Kusendova (Mississauga Centre)
At Queen's Park, MPP Natalia Kusendova (Mississauga Centre) admits that, at times, it can be hard to get things organized.
After taking part in roundtable discussions this past summer with human trafficking survivors and service providers, Kusendova says sharing what they've learned with the associated ministries at the province has been a tough lesson in logistics.
"Even trying to schedule all those ministers to be around one table is a challenge," she says.
The human trafficking file is thick, and touches on the portfolios of many ministers within Premier Ford's cabinet. Education, Attorney General, Solicitor General, Children, Community and Social Services, Community Safety and Correctional Services, Transportation, Health; in some way, human trafficking involves them all, and will require actions from within these departments to take effective action as Ontario launches its comrehensive strategy.
"We do recognize that this will take time. You know that it takes an average of two to three years for a victim to actually try to establish some normalcy and reintegrate back into society," she said, noting that's why the government is committed to the annual funding in order to maintain programs long-term. It's a shift away from short-term grant funding that has been the norm in recent years and left service organizations, and survivors, scrambling after the cash runs out.
This holistic approach by the province is new for a sector that has been plagued by organizations working in silos. In hockey, if all the players on a team try to score goals on their own, they may end up with a few points, but they'd be more successful if everyone worked together.
For years, the human trafficking sector has been the latter team with everyone doing great work but on their own.
In Peel, it's led to serious service gaps offered to survivors, the breadth of which was shown in a recently completed study by Family Services of Peel (FSP).
Based on the results of a detailed survey completed by 22 service providers in Peel, 94 percent of the survivors they serve require mental health services as well as social service coordination, but only 61 percent of organizations offer such coordination and only 72 percent provide mental health support.
The gap is even wider for things like housing/shelter services where 76 percent of survivors say they require such help, but only 44 percent of service providers offer this assistance.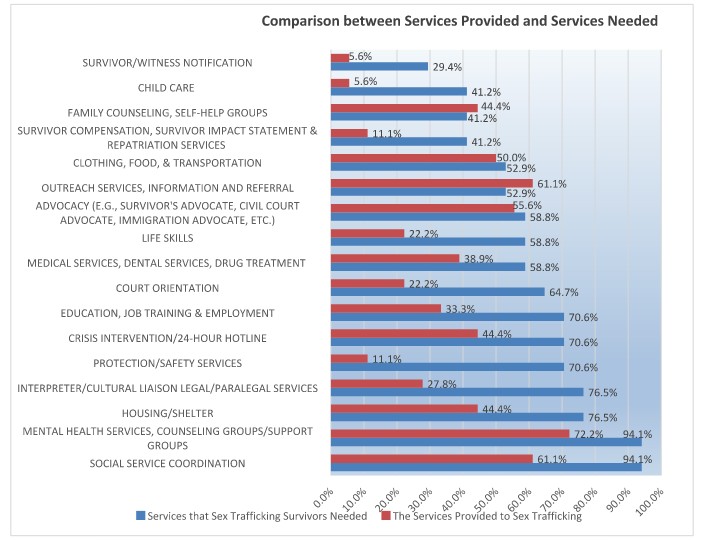 Prior to Friday's announcement, the province had promised $20 million in the years ahead to help breach that gap.
The lion's share of that promised funding ($12.3 million) would be put towards community supports and coordination for survivors. This includes $7 million for the Anti-Human Trafficking Community Supports Fund for "wraparound services to human trafficking survivors and increased protection for people at risk of being trafficked." These services include much-needed transitional housing spaces, trauma-informed counselling, mental health and addictions treatment and linkages to employment and job training supports. As part of the pledge the province will also be putting $420,000 toward specialized youth-in-transition workers to support survivors between the ages of 16 and 24.
A provincial anti-human trafficking coordination office will also be set up at a cost of $1.9 million to assist in bringing the different levels of government and service agencies together in their efforts to combat trafficking, something that the FSP study pointed out was desperately needed.
The provincial government is now dedicating, as part of the $4 million annual funding for Indigenous communities, the Anti-Human Trafficking Indigenous-Led Initiatives Fund to help in the development of "culturally relevant services" for at-risk youth. This is arguably one of the most critical elements of the province's announcement, as the number of young Indigenous women drawn into sex trafficking in Canada is particularly troubling. While representing only 4 percent of the Canadian population, more than 50 percent of sex trafficking victims are Indigenous.
In Peel Region, which encompasses traditional territory of the Mississaugas of the New Credit, Anishinabek, Huron-Wendat, Haudenosaunee and Ojibway-Chippewa First Nations, services to support Indigenous survivors of human trafficking are limited.
"So, something that came out through the missing and murdered Indigenous women inquiry is that unfortunately in certain areas of Ontario police are biased or, frankly, I can say it, outright racist. If an Indigenous woman goes missing they don't even open up the case file," Kusendova says, not speaking about any jurisdiction in particular. "There's a lot of work to do and I think it's incumbent on all of us, all levels of government to work together, and also members of society because government can't do everything alone."
At the Canadian Centre to End Human Trafficking, staff are well aware of this need for coordination, especially as the foundation shifts beneath the feet of every service provider. With both the federal and provincial governments working on human trafficking strategies, it offers an unprecedented opportunity for coordination to ensure all their efforts align.
Nowhere is this more significant than Ontario, heart of the human trafficking business in Canada.
In Canada, police-reported cases of human trafficking have been increasing since 2010, rising from less than 50 to close to 350 in 2016. Keep in mind, these numbers only provide a snapshot of the problem, as human trafficking is known to be vastly underreported.
"We cannot operate in silos anymore, I think, obviously, law enforcement, are working together now and they say, we need to be sharing information…but if we have a federal strategy, it has to be coordinated at the provincial level and integrated at the provincial level, every province should have a strategy that should be integrated with that national strategy and every municipality," says Barbara Gosse, CEO of the Canadian Centre to End Human Trafficking.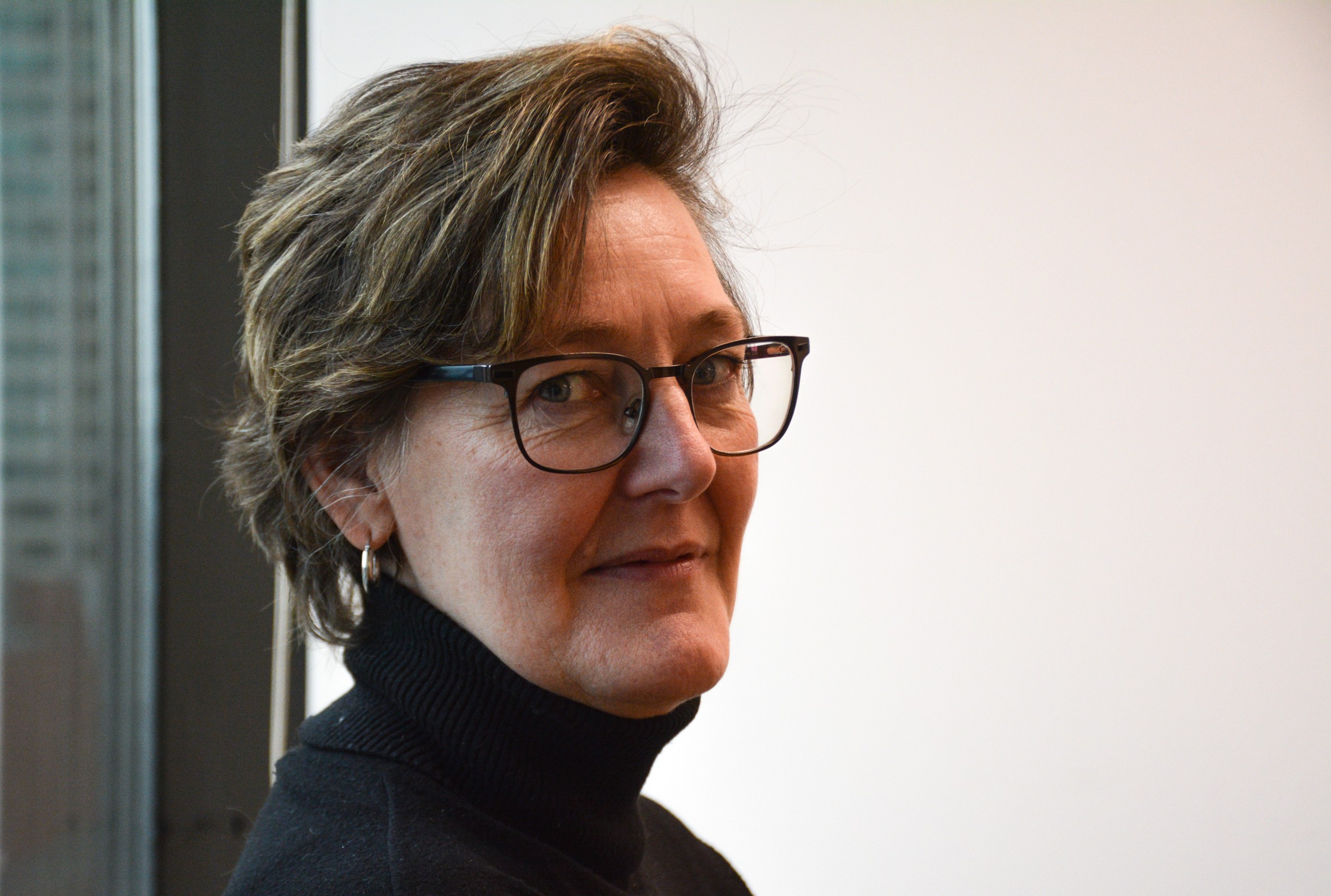 Barbara Gosse, CEO of the Canadian Centre to End Human Trafficking
Gosse says she has already been in contact with both Bill Blair, Canada's Minister of Public Safety, and the province of Ontario to begin coordinating efforts. Gosse hopes Blair's background in policing — he was the chief of the Toronto police for 10 years between 2005 and 2015 — will mean he has knowledge of trafficking and is willing to take tackling the problem seriously.
There have been no timelines delivered for either strategy, but to be sure, they will encounter barriers along the way. Government officials rely on data and facts to make what they like to label with the jargon of "evidence based decision making." However, for human trafficking, the data is completely unreliable.
---
Individual perception can be a hard thing to change.
Several studies out of Stanford University in the late 70s found students, even when presented with the fact that they were wrong, would still hold the perception they were right. One such study in 1975 asked students to read two sets of suicide notes. They were told one set was genuine, and the other was fictional. Some of the students were told they had scored really high and had a knack for guessing the genuine notes, while others were told they picked out nearly all of the real letters. However, the scores were fake. In the second part of the study, the students were told their test scores had been made up. They were then asked to judge how well they thought they did, and how well the average student would be able to tell the difference between the two sets of notes. Interestingly, those students who were told — falsely — that they had done quite well in guessing the notes, said they would probably be able to score quite high on this test, despite having no grounds to justify the belief. Conversely, those who were told they scored poorly on the test, said they would probably perform worse than the average student if actually required to take it again. Again, a belief is not grounded in fact.
It's a lot to unpack, but shows how easily belief can be warped by simple perception, nothing more.
For years, human trafficking has been plagued by misperceptions.
Perception 1: The girls being trafficked are brought into Canada from other countries.
Reality: 93 percent of human trafficking victims were born in Canada.
Perception 2: Human trafficking only happens in developing nations.
Reality: Human trafficking is the fastest growing area of organized crime. The global sex trade is said to be worth an estimated $32 billion annually, though some authorities say that's a drastic understatement.
Perception 3: Human trafficking doesn't happen in my neighbourhood.
Reality: Peel Region is now a hotbed for human trafficking with an incident rate that is nearly double the national average, based on numbers widely accepted to be underreported.
"When I became an MPP, I really didn't know how prevalent human trafficking was," said Kusendova. "When I thought of human trafficking, I thought it was something that happened in third world countries. I didn't realize that 93 percent of victims are Canadian born, which is a staggering statistic."
Over the summer, Kusendova took part in a number of roundtables as part of the province's information gathering ahead of launching its strategy. She says some of the stories she heard were overwhelming.
"It took me a little bit of time for my own mental health to really, you know, process that," she said. "Talking to the people on the frontlines and survivors themselves, it really opened my eyes how it's happening right at home in our communities, it's happening in my neighbourhood in Mississauga."
However, not everyone has the opportunity to take part in such roundtables. Instead, both the provincial and federal strategies have identified data as a top priority, which has power when it comes to people's perceptions.
Hanni Stoklosa, the executive director of HEAL Trafficking, and an emergency doctor in Boston, says, in the United States, she has seen the power solid, local data can have on communities.
One example is the heat map put together by Polaris, the advocacy and research thinktank that has been operating the U.S. human trafficking hotline for more than a decade. The map plots suspected human trafficking cases in the country, based on tips and information obtained through the hotline, on a map for a given year to easily visualize where areas with high instances of human trafficking are located in the U.S.
"When you see your state pop up on their call map it is compelling information to see," Stoklosa says.
The visualization created by Polaris is unique to the U.S. and there is no similar initiative for data in Canada. The human trafficking hotline in Canada was only set up last year, but Gosse says that eventually it will be able to provide the same level of value as the Polaris data. Between May 29 and Dec. 31, 2019, Gosse says the hotline received more than 1,050 "substantial signals," representing someone involved in trafficking, or having knowledge of someone involved.
The lack of data has been a long-standing issue when it comes to tracking human trafficking. Not only because Canada has lacked a solid resource to track such information, but also human trafficking is widely underreported by survivors, who do not come forward for a variety of reasons.
"Having clear data, having a better understanding of what's happening out there in black and white is always important to Canadians, to make sure that that is factual and that is easy to understand and that is true to what is happening out there is so important," Gosse says.
This is rarely the case when it comes to trafficking. After completing a needs assessment for Peel, FSP not only determined that human trafficking should be labelled a public health crisis, but that current data collection activities had many shortcomings, were "limited in scope" and "insufficient in ascertaining the true extent of the problem in Canada."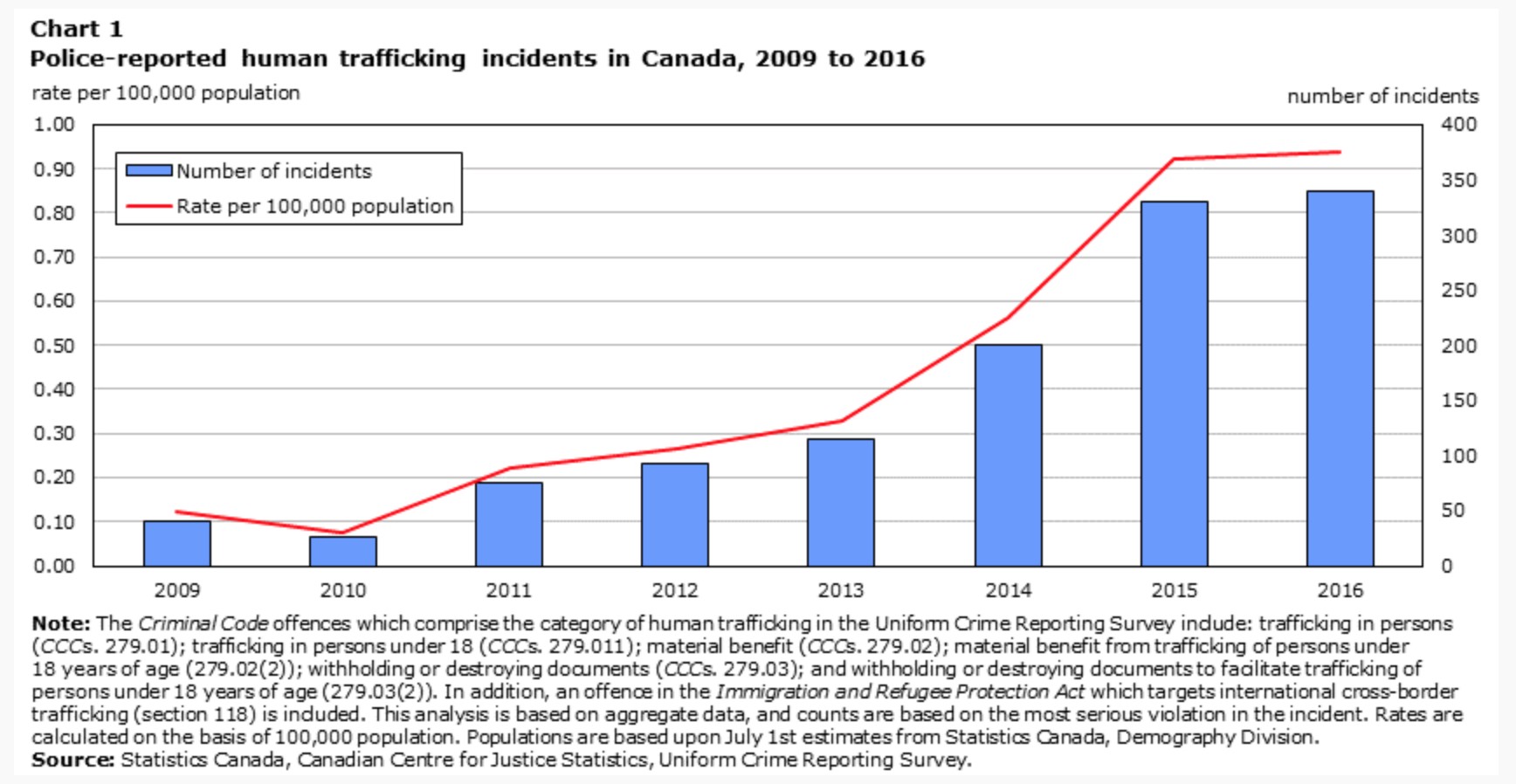 For example, Statistics Canada data states that between 2009 and 2016 there were 865 victims of human trafficking. However, a 2014 study by the National Task Force on Trafficking of Women and Girls in Canada put the number of survivors much higher. Engaging with 266 organizations across the country, the study found that, of women served by these organizations in 2012, 1,929 of them were trafficked women, 943 were trafficked girls, and a further 14,456 women were categorized as sexually exploited.
"While Trafficking in Persons has become a worldwide concern, current data collection activities reveal many shortcomings: data are limited in scope and are insufficient in ascertaining the true extent of the problem in Canada," the study, published in May 2019, reads. "Overall, human trafficking — its scope, its incidence, and its impact, are unprecedented. A central challenge, we must acknowledge in the fight against human trafficking, is that lifting the veil of silence that allows oppressive behaviour to flourish, is a difficult and trying task. Lack of understanding regarding the scope and severity of sex trafficking has contributed to its dramatic rise, and intervention is desperately needed."
However, removing that "veil of silence" will be much more difficult than anticipated. A recent study, completed by FSP with the same grant funding from the province, found that many survivors don't come forward because they don't trust the system, feel shame or are embarrassed, or don't know there are services in place to help them. The findings reveal many shortcomings in not only data, but in the way these service providers are reaching out to communities.
Besides being underreported, the complex nature of human trafficking also makes it difficult to track statistically. As Gosse explained, human trafficking charges are weighted differently between police jurisdictions. Statistics Canada data for police reported incidents of trafficking in persons charges only records a stat when trafficking is the most serious charge. Often, offenders are charged with a plethora of charges, including everything from guns and drugs to money laundering, all of which are common crimes associated with human trafficking.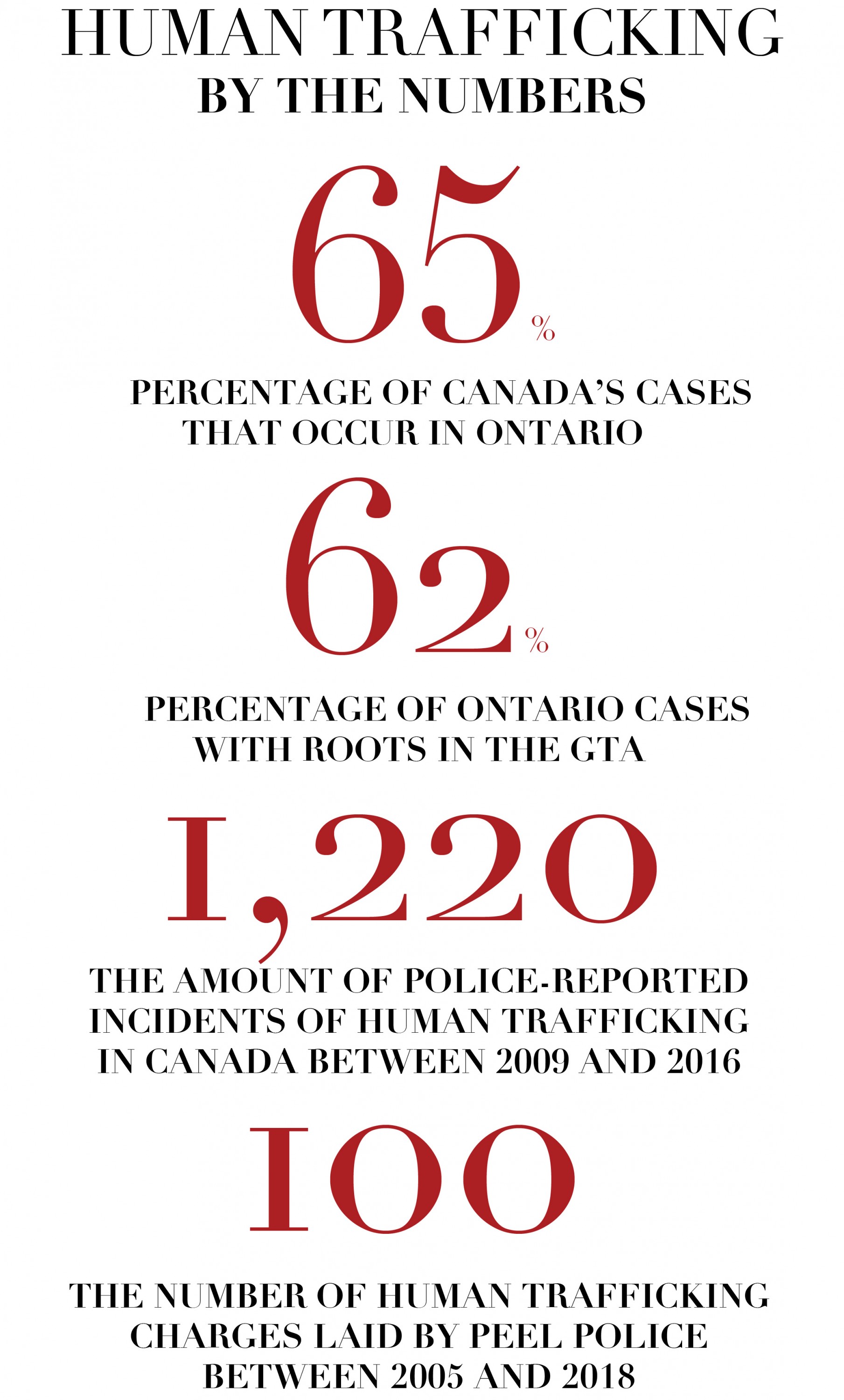 Gosse said the national hotline will help eliminate some of this uncertainty. When people phone in, the Canadian Centre to End Human Trafficking can record reasons behind the calls, in turn ensuring Canada gets a real glimpse at the extent of the crime.
"So callers are calling in to report tips and calling for information, they're calling because they're victims and survivors, they're calling in because of a family member that they suspect being trafficked. They have called in because they have a grandchild, for instance, who's been on a gaming website who's met somebody and this person is now enticing them to go out of the country and meet them somewhere else," Gosse explained.
Gosse said the government is starting to work with the private sector, financial institutions in particular, to try and identify accounts held by suspected traffickers. If banks are able to identify repeated hotel transactions, large cash transfers or any repeated transactions that could signal money laundering, they can alert FINTRAC who looks into the matter. With many aspects of human trafficking shifting to the digital world, this type of partnership between the public and private sector is key, Gosse said.
However, while a lot of trust is placed in improved data gathering and the associated benefits, Stoklosa said it is not the penultimate solution, and is rarely able to win over the "hearts and minds" of residents, which, if done successfully, can cause societal uproar.
"In some ways, I almost feel like it's a distraction that we have to get the numbers and the numbers are the be-all, end-all," Stoklosa said of the fascination around the lack of trafficking data. "I don't know if that issue with having good numbers is ever really going to go away."
Just look at recent examples: the solidarity protests in support of the Wet'suwet'en hereditary chiefs and their opposition to the Coastal GasLink pipeline which have sprung up across the country, or the "climate strikes" inspired by Swedish climate activist Greta Thunberg. These are stories that were able to strike a chord with people and initiate action. It's a surprise that the exploitation and rape of countless women — the majority of them under 13-years-old — does not spur the same outrage.
Perhaps human trafficking's clandestine nature keeps it off people's radar enough — out of sight out of mind — that it keeps anger levels low. Or perhaps it's that the majority of media coverage about human trafficking is on serious busts where people have been arrested and charged. This coverage, while valuable, puts the emphasis on the traffickers being caught and locked up, the villain being vanquished, and doesn't mention the thousands of other villains out there doing the same thing.
In the fall of 2019, a cross-jurisdictional effort led by the York Regional Police (involving police from Peel, Toronto, and Quebec) saw 31 people arrested, more than 100 trafficking in persons charges, and more than 300 total charges.
These stories can be powerful, Stoklosa says, by showing people this is happening in their own backyards. However, she said placing survivors at the forefront can be even more compelling. While she admits this can be difficult, and stories must avoid the "tokenization" of victims, their accounts have real power.
Mentioned in passing throughout the media coverage of Project Convalesce is just how this story came to light. It only took one survivor to bring down a criminal enterprise that spanned the GTA. Two survivors initially came forward to police, but were hesitant to share all the details of what had happened. Eventually, one of them did, and it opened the floodgates for everything that followed. The first two survivors led police to 12 more, who in turn, led to 33 more. It's a tragic, but integral piece of the story that, if shared widely, could entice more survivors to come forward.
"You actually have to feel like something is going to change and change for the better," Stoklosa said about survivors contemplating whether or not to share their stories.
And change does not always mean what police and others think it means.
"Most survivors are not necessarily looking for the 'how do I get this person in jail?' They're like 'how do I live a safer, healthier life and provide for my family?'"
The persistent coverage of human trafficking arrests, while not enough to trigger societal outrage, has triggered a wave of action within the public and private sectors to tackle the issue.
A solid awareness campaign is always a popular first step for governments that makes the public aware of a serious issue. Arguments about their success aside, these campaigns can be useful, if for nothing else but keeping the issue in front of the public eye. A number of institutions, including the City of Brampton, are starting to take this upon themselves, or so it appears.
A motion brought forward by a member of Brampton's Community Safety Advisory Committee recommended that city hall develop a mandatory human trafficking program for all city employees.
"City of Brampton employees across the city may potentially interact with human trafficking victims [and] with proper training in identifying and reporting of human trafficking incidents to the proper authorities, city employees can assist in saving people, decreasing human trafficking and decreasing other related violent crimes," the motion reads.
Brampton is not the only one. As previously reported by The Pointer, the Fort Erie fire department in Niagara Region is working to train all firefighters on the signs of human trafficking. In the private sector, hotel chains, Airbnb, and the trucking industry all have efforts dedicated to training their employees on the matter too. School curriculums now include information about human trafficking and how to avoid traffickers.
For Heather Fry, the Canadian director of Truckers Against Trafficking, it's about more eyes out on the road.
"Professional drivers, through their sheer numbers, their expansive travels and just through the nature of their jobs alone, they could be an extra set of eyes and ears out on the road for law enforcement and be a major asset in recovering victims and having pimps arrested," Fry told The Pointer in December 2019. "Think about it, in the course of their every day jobs, professional drivers are in places where victims are being recruited and sold."
The same is said by Jill Dunlop, Conservative MPP for Simcoe North and the associate minister of children and women's issues.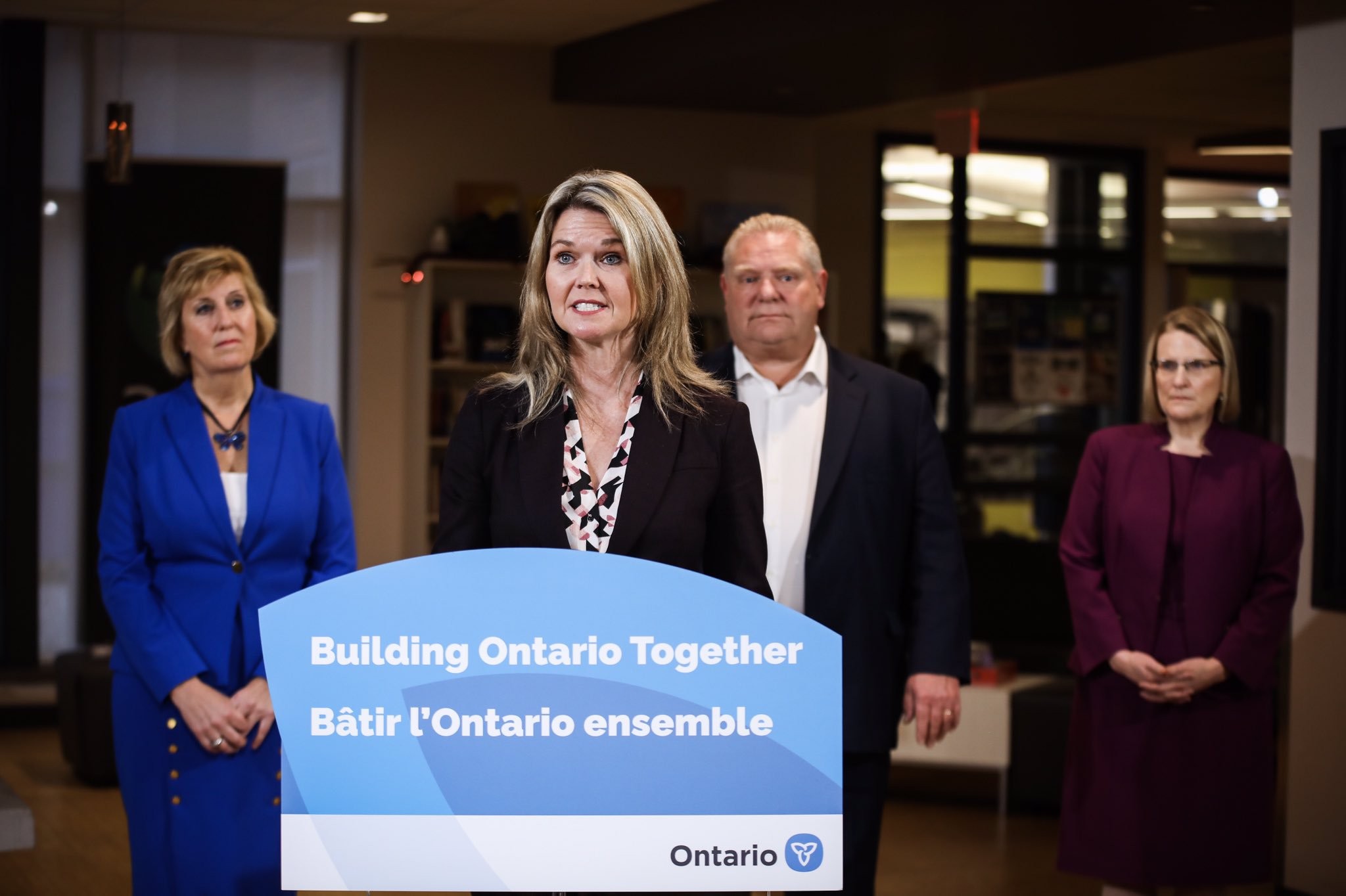 MPP Jill Dunlop (Simcoe North)
"I think the more eyes out there on the ground are going to help, and more awareness about human trafficking, and then where government can step in and help funding the survivors and bringing offenders to justice," she says. "We're doing everything we can on our side to bring awareness to the public and you know, people are speaking up about it."
The same can be said for society as a whole. The more educated eyes there are that can spot the signs of human trafficking, the larger the chances are that lives will be saved.
Never before has the awareness level around human trafficking been as high as it is now. It's a sign the advocacy movement is gaining momentum, and the development of the federal and provincial strategies, as well as the continued work of the national hotline launched last year, will only continue to keep the issue from slipping through the cracks as it has in the past.
For Kusendova, a registered nurse before transitioning to politics, she wishes she'd been educated sooner.
"I think back, I dealt with some young women and something didn't feel right, but I just didn't have that awareness to ask the appropriate question, and perhaps if that was part of my training I would have made a difference in that person's life," she says.
However, now many in the healthcare sector are provided with screening tools to try and identify signs of human trafficking.
All of these are signs the world is changing, and that Canada could be at the edge of significant change when it comes to ending human trafficking.
---
Email: [email protected]
Twitter: @JoeljWittnebel
Submit a correction about this story