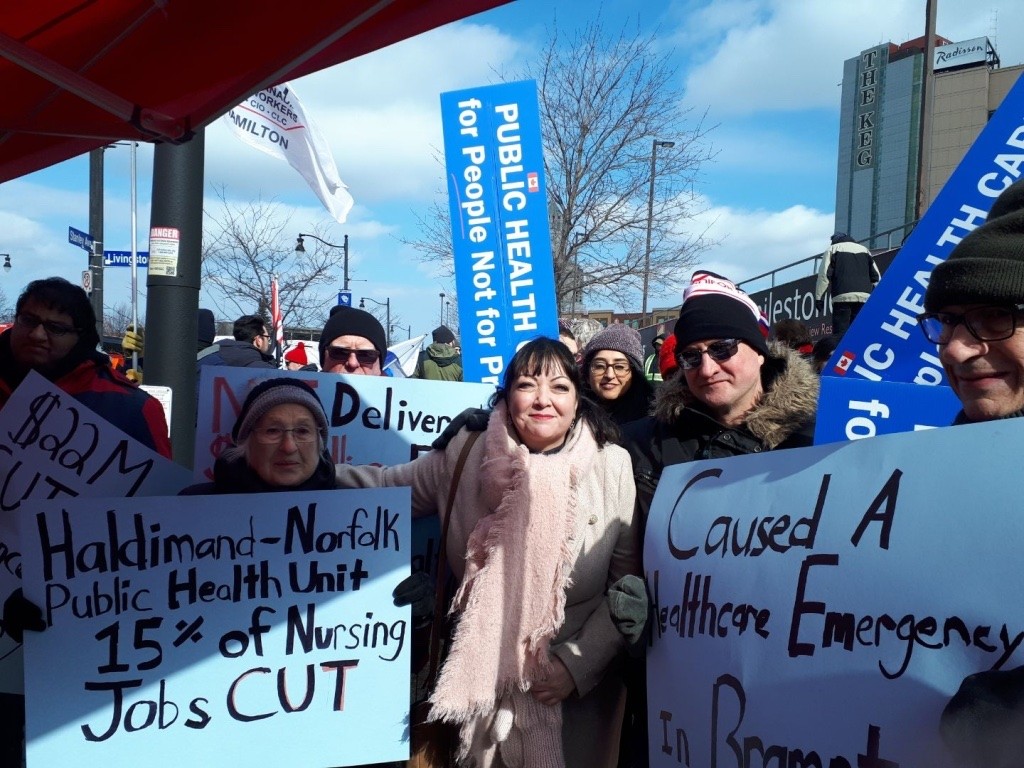 Photos from The Pointer files/Twitter/Ontario Health Coalition/Peel Health Coalition
Brampton calls on the province to halt healthcare cuts yet again
In January, Brampton declared a healthcare emergency.
Now, the city has joined other municipalities calling on the province to stop healthcare cuts.
"We have not been tight-lipped. We have not been hesitant to highlight our criticism of what we believe is an untenable situation," Mayor Patrick Brown told Richard Antonio, chair of the Peel Health Coalition, after his Wednesday delegation raising concerns on public health cuts.
Healthcare pressures aren't just hitting Brampton hard, they're reaching other areas of the province too. On Wednesday, Brampton became the 59th city to support an Ontario Health Coalition resolution asking the provincial government to stop cuts to public health units, ambulance services and long-term care homes.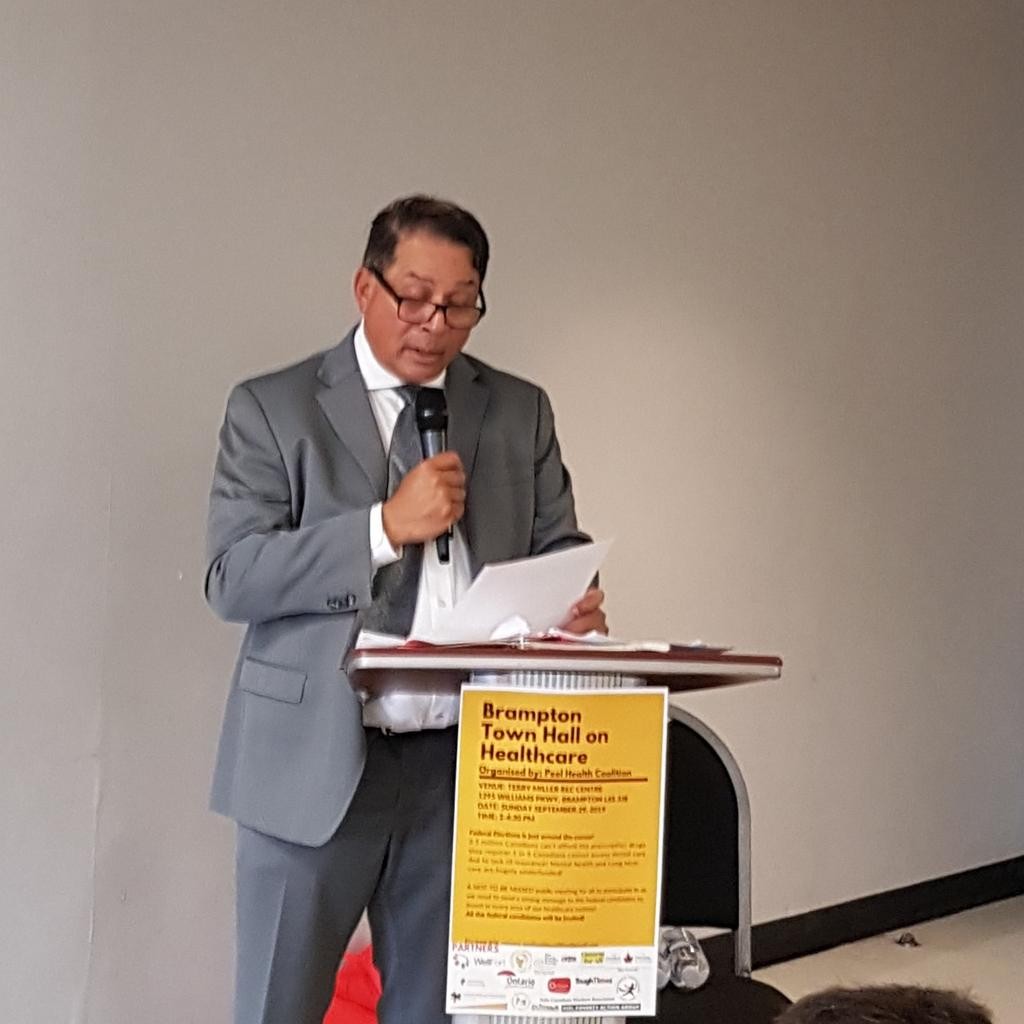 Richard Antonio, chair of the Peel Health Coalition
Antonio aired his concerns at the committee of council, saying provincial changes won't help the healthcare system. "[This] means cuts to services for which the evidence is overwhelmingly that capacity is already far short of population need… the cuts are unnecessary, will lead to new costs, will take money away from care, and will put the quality and accessibility of public healthcare services at risk," Antonio said.
Public healthcare services, including sexual health clinics, paramedic services and long-term care for Brampton residents falls under the responsibility of Peel Region. A September 2019 report outlined the effects provincial cuts will have on the system. The region will pay for 37 percent of healthcare costs, while the province covers the remaining 63 percent. Programs previously funded 100 percent by the province will see a $900,000 shortfall for 2020.
Brampton's healthcare system is set to experience further financial grief. The current funding model may change to 60/40, putting Peel on the hook for more money to fund healthcare services. There is no clear date as to when this funding shift might happen.
In Peel's 2020 budget, an extra $1.3 million has been allocated for the purchase of new ambulances to keep up with calls and pre-hospital care. In total, the capital budget for paramedic services in 2020 is $12.5 million, a major increase from $6.3 million in 2019.
"There is a lag of one year for the funding of inflation and call volume growth," Norman Lum, director of business and financial planning for the region, told The Pointer.
While the previous provincial plan to cut paramedic units from 59 to 10, as well as merge public healthcare services, has been scrapped, consultations are ongoing and more changes may come in the future.
Changes are coming in the removal of two funds: the Structural Compliance Premium Fund (SCPF), which supports funding for facilities maintenance, and the High Wage Transition Fund (HWTF), which helps with high wage costs. These funds were due to be cut in 2019 but after municipal uproar across the province, the date was pushed back. The removal of these funds means facilities won't be maintained and staff may be let go due to inadequate wages from a system that desperately needs them.
Peel has five long-term care homes and receives $128,000 per year through the HWTF. "The [fund] was introduced on April 1, 1996, as a three-year temporary transition measure to assist operators to maintain equitable service levels, while higher than average wage costs were addressed," Susan Griffin Thomas, director of long-term care for Peel Region, told The Pointer. This funding is set to end on Dec. 31, 2020. The ministry of long-term care has said a staffing strategy is in the works to support the change, but no details have yet been made public. Meanwhile, Thomas said the region is analyzing its current system to alleviate the impact of funding cuts.
SCPF funding is set to end much sooner on Mar. 31, 2020. This will terminate $523,000 in annual funding that supported long-term care homes ineligible for other financial assistance programs, said Thomas. "The Region is awaiting results of the Ministry of Long-Term Care consultations regarding a new minor capital program." In the meantime, Thomas said the region will make up for costs through its corporate long-term capital program.
Since healthcare cuts were announced in the province's 2019 provincial budget, numerous reversals have taken place. The Pointer reached out to the ministry of health for an updated list of items affected by the cuts, but didn't hear back ahead of publication. The changes taking place are to help reduce the $15 million deficit the PCs inherited from the previous government.
In the late 90s, under the leadership of former Premier Mike Harris, a previous PC government introduced similar changes, including the merger and closure of dozens of hospitals in the province, according to the Ontario Health Coalition. While the restructuring was meant to save $800 million, it ended up costing $3.9 billion.
Provincial cuts may only worsen Brampton's healthcare crisis. In 2019, Brampton Civic Hospital treated 3,035 patients in hallways, a rise from 1,014 patients in 2012. Presently, the hospital receives funding to support 635 beds. Meanwhile, the city's only other medical facility, Peel Memorial Health Centre, has no outpatient beds. Brampton also has less than one bed for every 1,000 residents in the city, which is below the provincial standard of 2.3 hospital beds. The Central West Local Health Integration Network (LHIN), which includes the City of Brampton, Caledon, Bolton, Dufferin County, parts of north Toronto, Malton and Woodbridge, is currently receiving $973 in funding per capita, $1000 less than the provincial average. This is the lowest amount received in the province, creating a strain on Brampton Civic's emergency department and frontline workers.
With cuts proposed, Brampton residents may need to leave the city to access services, something Antonino strongly advocates against. "[P]ublic health units have the flexibility to address the specific unique local demographic, socio-economic, environmental and cultural needs of their communities," he told council.
Since Brampton's healthcare emergency was declared, Premier Doug Ford hasn't committed to any additional aid nor has Health Minister Christine Elliott accepted the city's invitation to visit.
"We've been very engaged in this to the point that we cornered the Health Minister at AMO to press our concerns," Brown said during the meeting.
Last week, Mayor Brown met with the premier for the second time this year. According to a post made on the mayor's Twitter account, the pair talked about several topics, including everything from healthcare to post-secondary education.
"I talked about some of the numbers that we're facing in Brampton that are dramatically different than the rest of the province and so obviously there's a competition for healthcare dollars. But at least at the meeting, he seemed sympathetic. Time will tell whether that is reflected in announcements, but we've got a very compelling case in Brampton," Brown said.
Antonio has previously called out the provincial government for failing to address much-needed resources for personal support workers (PSW), who often work overtime and face an increased workload due to the shortage in help. Last month, the group held a press conference where Antonio said the province is not doing enough to address the shortage of PSWs who care for the more than 80,000 residents in long-term care homes.
The Ontario Health Coalition regularly takes part in protests against the provincial government. A recent demonstration was held on Feb. 22, with the group visiting the PC Policy Conference in Niagara Falls, demanding the government halt cuts to healthcare, autism funding and education.
---
Email: [email protected]
Twitter: @nida_zafar
Tel: 416-890-7643
Submit a correction about this story