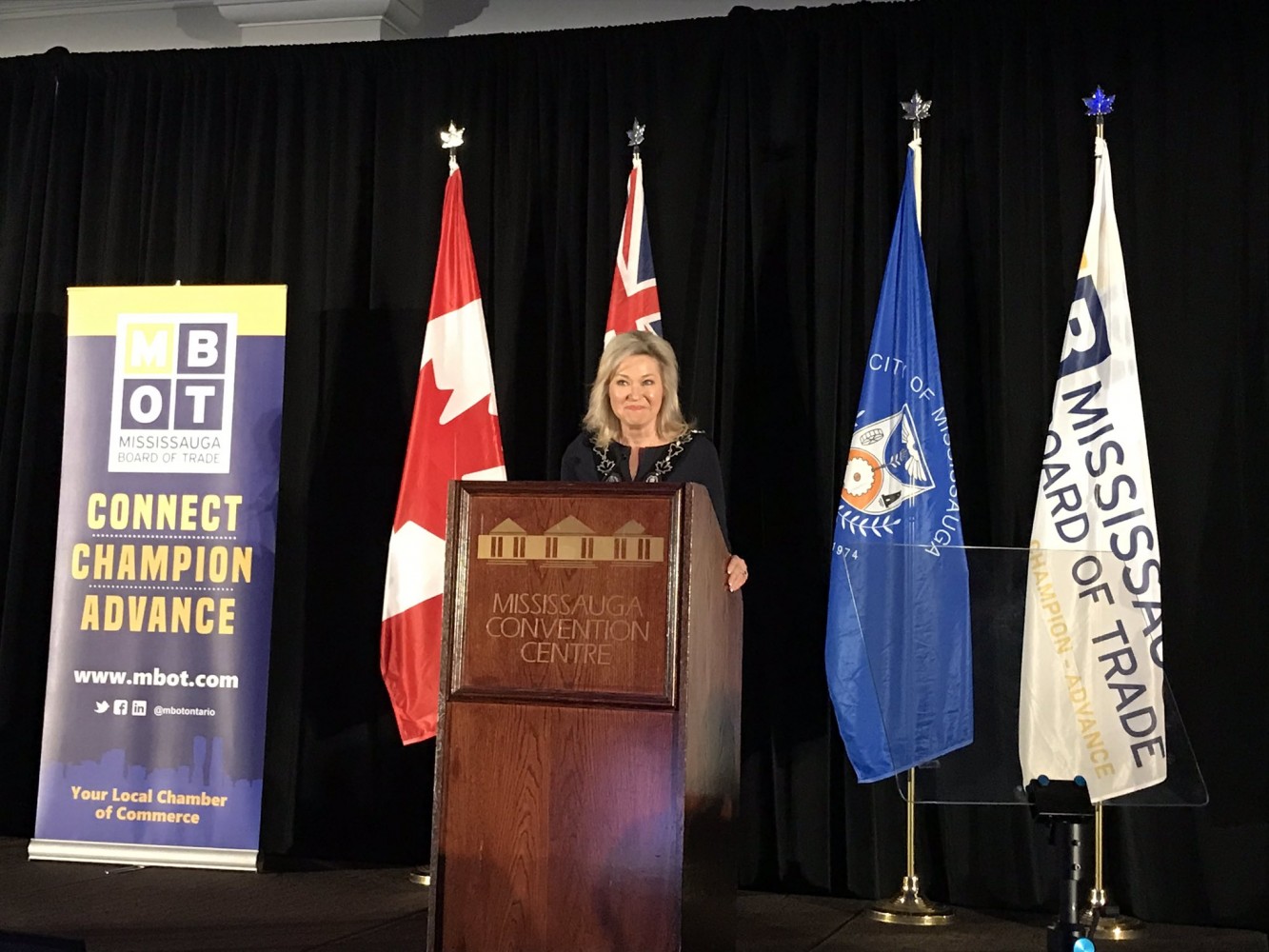 Photos from Rahul Gupta/Twitter
Mississauga envisions itself as a future global city but needs to address its infrastructure pressures first
Dare to dream was Bonnie Crombie's pitch in her call-to-banners address to the Mississauga Board of Trade. During her Tuesday lunchtime speech to a sold-out room of 650 business elites, the mayor emphasized that Mississauga is all grown up now and ready to compete with the biggest metropolises for the spoils of global capital.
"We have an incredibly rare opportunity before us…to realize our true potential as a modern, vibrant, diverse and growing, global city with endless potential," said Crombie during the speech.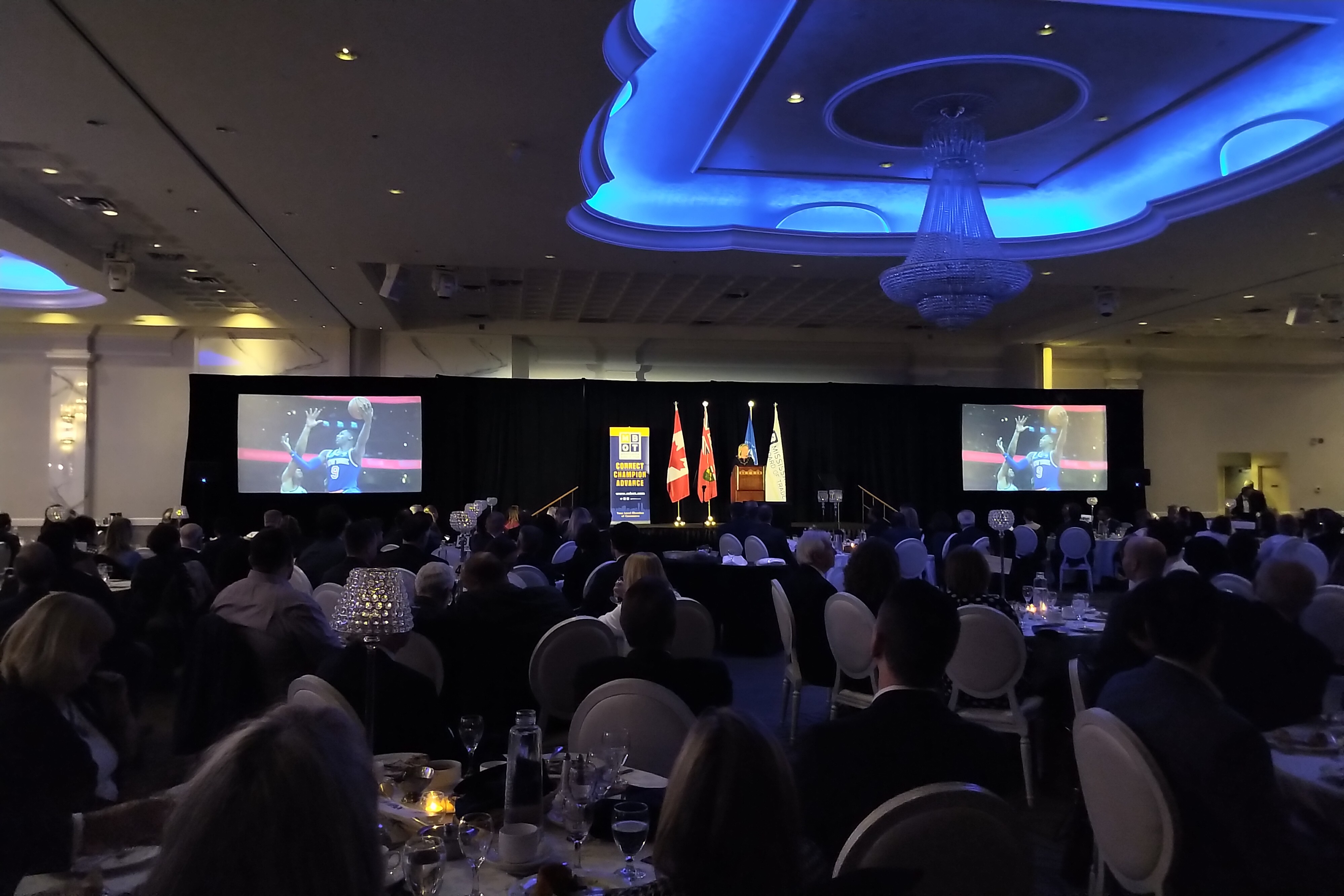 Culturally, it would be ridiculous to put Mississauga in the same conversation as Rome, Madrid, or even Toronto. Economically speaking, there's no denying the mayor might have a point.
The city has some major advantages. It can tap into a regional talent pool of one of the most diverse and educated workforces in the world. It lies next door to the nation's busiest transportation hub, Toronto Pearson International Airport, which pumps some $42 billion into the local and provincial economies and is the largest employer for city residents.
Mississauga has shaped its future too, having grown from a sleepy commuting suburb in the last 20 years to a regional economic powerhouse that drives growth for the province. Per capita, Mississauga generates $77,000 a year, 21 percent more than the provincial average. More people now come into the city for work each day than leave it, said Crombie.
"We continue to import, not export talent in Mississauga," she said.
Mississagua has had impressive economic accomplishments in the past year, including more than 4,750 in net jobs, nearly 100 new businesses and a local economy that has grown to $60 billion. Altogether, these outcomes continue the city's significant growth, which it hopes will only get better with new development and large scale transit infrastructure projects readying for construction, like the Hurontario LRT. The city projects 90,000 more residents will move to Mississauga by 2031, attracted by skilled, well-paying jobs.
But the numbers also suggest the city has become a prisoner of its own success, dependent on record annual economic output and population to grow and sustain itself. For that to continue, the city needs new hospitals, schools and public transit expansion.
Crombie expressed her hopes of one day riding a MiWay bus along future transit corridors on Lakeshore Avenue and Dundas Street. Those two projects alone will need at least $847 million in funding the city doesn't have and hopes will come from the provincial and federal governments, neither of which have promised anything. Ditto a downtown "loop" lopped off the Hurontario LRT plan due to the $200 million budget cost for the three stops, which was deemed unacceptable by the province.
Both Mississauga and Peel Region desperately need more affordable housing to address a burgeoning affordability crisis. The region has seen disturbing rises in homelessness but has not kept pace with the need. It introduced a plan to build more than 570 affordable units per year in Mississauga, Brampton and Caledon over the next 10 years, which will require tens of millions of dollars in annual funding and, absent a generous funding commitment, additional taxes or levies.
Along with extensive investment in climate change response, improving road safety, upgrading the waterfront and expanding under-resourced emergency services to name just a few needs, the city's wishlist appears endless.
None of this will be possible without the help of the city's governmental partners, from which funding will hopefully help tick off every item on the infrastructure wishlist, said Crombie.
"We cannot do this alone. We need our federal and provincial partners to make this happen," she said.
---
Email: [email protected]
Twitter: @RG_Reporter
Submit a correction about this story