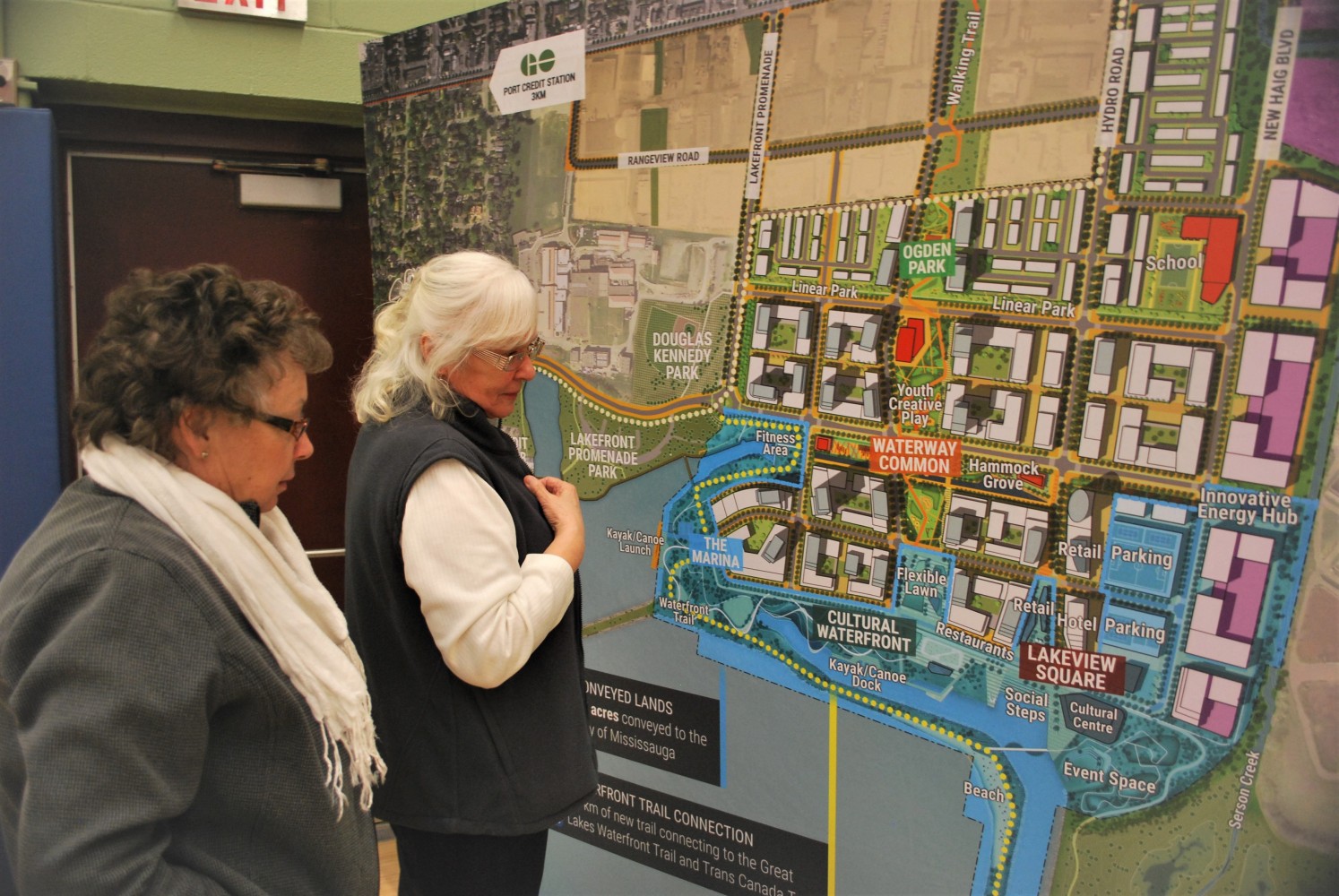 Photos from The Pointer files/Rahul Gupta
Residents still not convinced about benefits of Lakeview Village development
The consortium of development, construction, architecture and design companies behind Lakeview Community Partners (LCP) has a tough sell for residents. It needs to win people over with its plan to build a 177 acre-development on Mississauga's waterfront.
The plan has changed over the years. In late 2019, a new version of the site master plan was endorsed by Mississauga city council. It includes the construction of a 40-storey "signature tower" and has drawn the enmity of groups like the Lakeview Ratepayers Association, which wants proposed density lowered.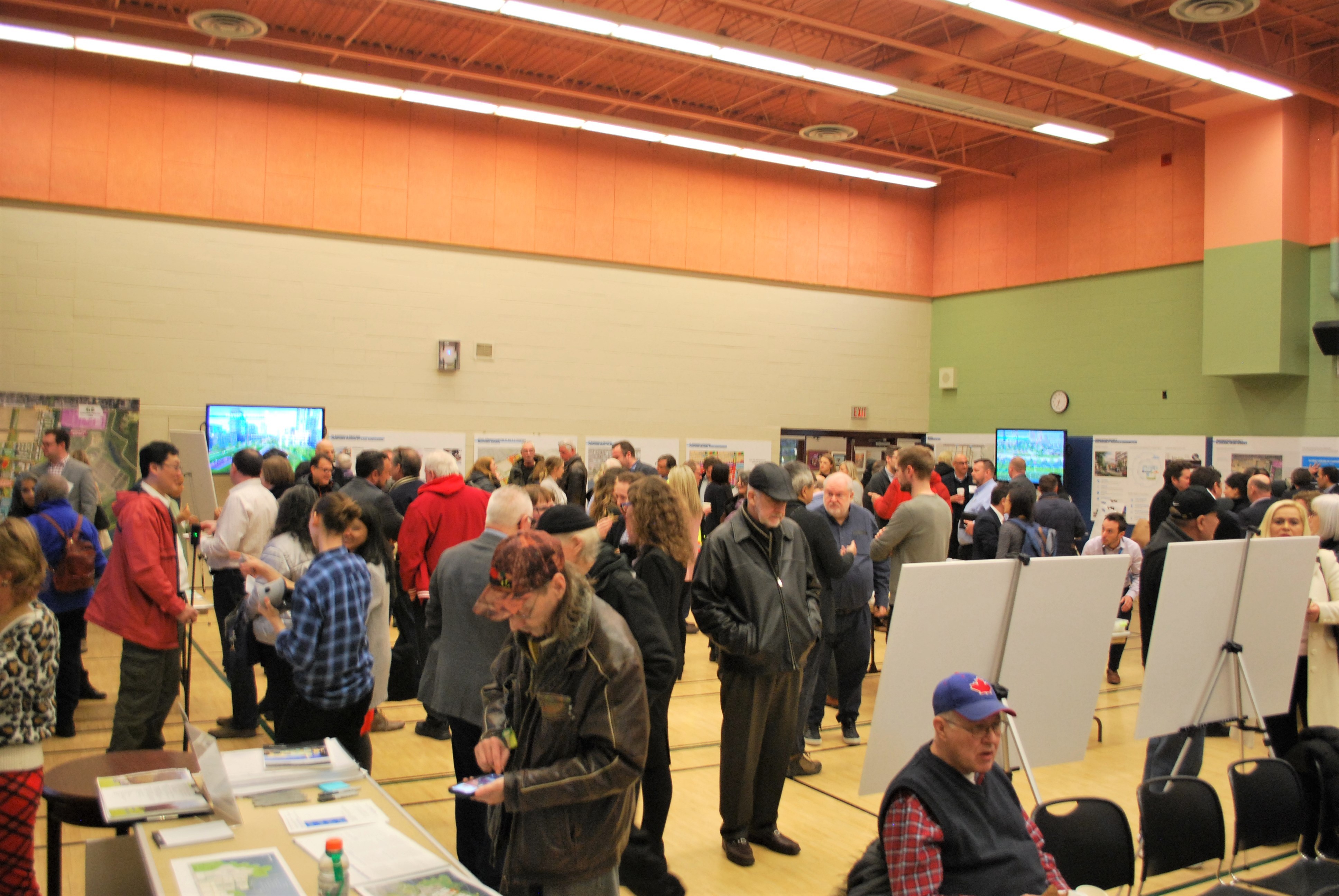 Last week, a large group of skeptics attended a packed public meeting in the Lakeview area to air their concerns over increased traffic, population density and the shadowing that comes with new office and residential towers. But one way to convince them of the project's vitality may be through their noses.
A repellent odour has emanated from the G.E. Booth Water Treatment facility for some time now. The problem is sure to get worse when the first Lakeview residents move onto the site just off Lakeshore Avenue East where the former power plant used to reside. While there are only a handful of public complaints each year, that number is likely to increase when new inhabitants living in the area find they're situated 120 metres away from a malodorous sewage treatment plant.
Without getting into much detail, LCP spokesperson Glen Broll promised the consortium will, at least partially, assume responsibility for the issue. According to Broll, there is a plan in place to "cap" the water treatment plant to prevent the smell of household wastewater from emanating into the new community. Beyond that, new technology will take care of the issue for good, he said.
"We're confident the odour over time will be reduced," said Broll, who, along with city staff attached to the development project, answered resident questions during last week's meeting.
The $275-million project will take 15 years to complete, although the first Lakeview Village residents could move in as early as 2024, and is still in the planning stages. An innovative mixed-use community where residents can live, work and play, built with climate change in mind, is promised.
The community will have its own unique waste collection process, new transit and parkland. This includes the Jim Tovey Lakeview Conservation Area, located east of the site, which will be constructed directly from infill taken from reclaimed OPG lands.
But, as with large and complicated city building projects, there are still many questions of who will pay for all the new innovations. City-issued development charges will only pay for so much and Mississauga's new waterfront greenspace will need funding from other levels of government if it is ever to become the reality envisioned by LCP and its waterfront boosters.
"Our next steps will be to determine what can be built within our established city budgets," said Mississauga parks manager Sharon Chapman. "Those are the essential elements along with what cannot be built within our established budgets, the nice-to-have items."
The city will hold a separate meeting on waterfront park upgrades in March.
Another group LCP needs to win over is the Eagle Spirits of the Great Waters, an educational organization for Mississauga Indigenous culture and history, which has long been overlooked, said President Barry Gilbert.
A past iteration of the development included a plan to establish an Indigenous Village and education centre on the site, which have since been cancelled. Gilbert is concerned that, without the centre, there will be no meaningful commemoration of Mississauga's Indigenous peoples.
"We have a history about our own people here, and their contribution, and yet it is not known," said Gilbert," referring to renderings put up around the gymnasium inside the Olga Tyne Seniors Centre where the meeting took place. "And there are no pictures of their contribution."
City planner David Breveglieri said there has been meetings with prominent Indigenous leaders including Mississaugas of the Credit First Nation Chief R. Stacey Laforme who has toured the site.
"We believe like LCP believes [Mississauga's Indigenous history] ought to be celebrated. And it ought to be laid out through the community," said Breveglieri during the meeting.
Ward 1 Councillor Stephen Dasko has perhaps been Mississauga's most ardent cheerleader for the project, emphasising the estimated 7,000 new jobs it could create locally. Dasko has also been quick to highlight the environmental benefit Lakeview Village will bring, including precious new greenspace and the innovative vacuum waste collection promised for the new community.

Dasko also pushed back on suggestions from some residents that his strong support for the project will mean his political deathknell upon the next municipal campaign because of the extra density and traffic it will bring into the area.
"I will say, again, this is a collaborative approach," said Dasko, who said he pushed for an international design contest to ensure architectural plans for Lakeview Village are "world class".
It's not fair to consider the planned development akin to a typical subdivision found in Mississauga, which creates its own pressures on the city's existing infrastructures, said Dasko. If planned right, Lakeview Village could be its own self-sustaining community.
"What makes this a little bit unique and different is the fact that this is truly meant for people to live, work and and be a part of this community, and a destination as well," he said.
Displayed renderings, prepared by architectural firm Sasaki Associates, Inc., showed possible idyllic, culturally vibrant scenes for future residents, said Broll. Six years ago, the original Inspiration Lakeview plan saw a community situated around a museum, Great Lakes research campus and a vast waterfront park where low buildings maintained views of Lake Ontario. But developer planning has resulted in taller and denser planning.
"We spent a lot of time trying to create good pictures to show what this community could look like," he said. "These are conceptual views of what we believe this area ought to be developed as."
---
Email: [email protected]
Twitter: @RG_Reporter
Submit a correction about this story