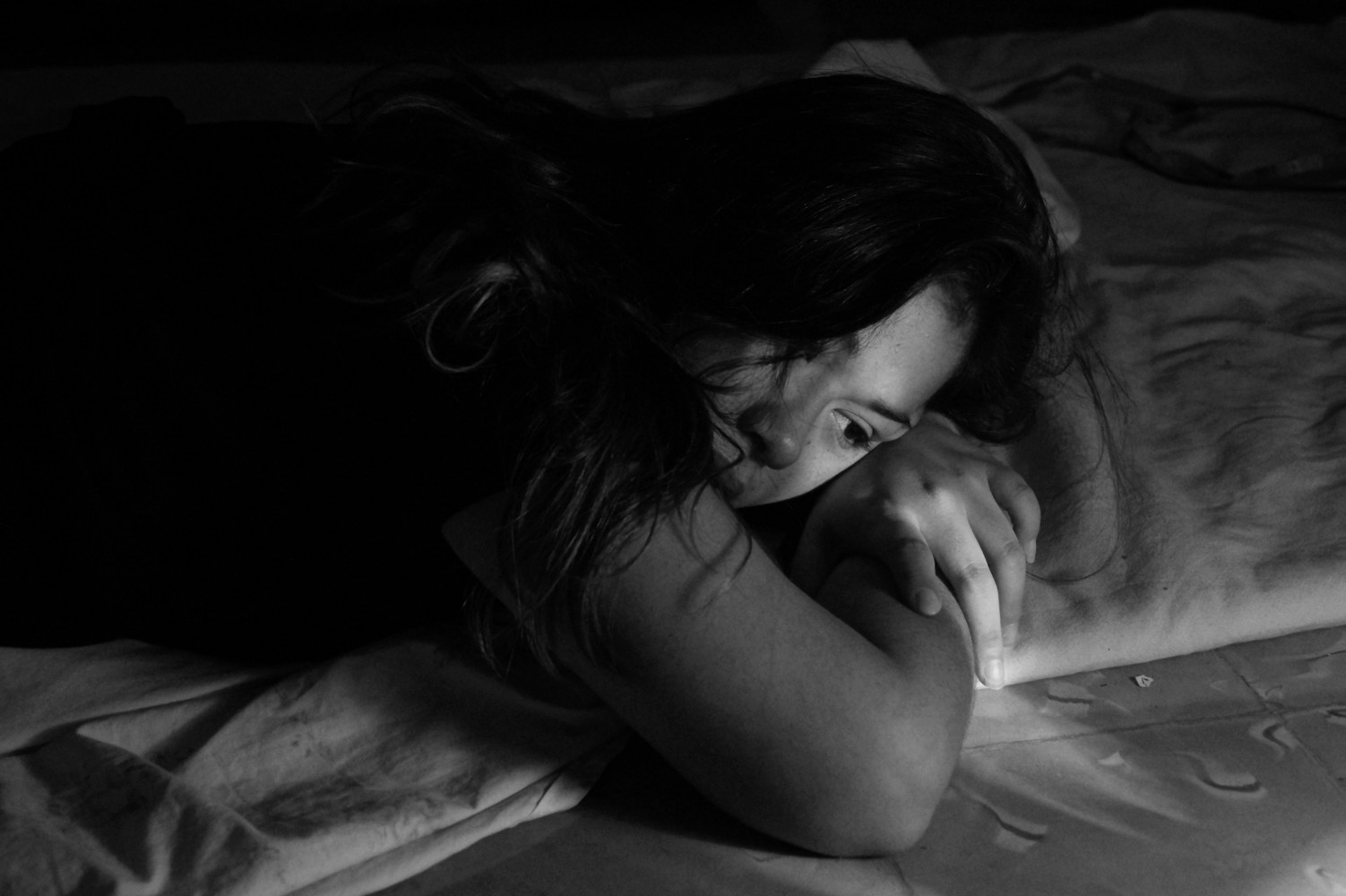 Photos and graphics from Unsplash/Family Services of Peel
Peel is the epicentre of human trafficking in Canada, but survivors have few places to turn
When a vase shatters, it can be glued back together – but it will never be the same.
For survivors of human trafficking, it's much the same. It takes a vast array of community services and supports to help them move through or cope with the trauma they have been subjected to.
These efforts are key to helping them become whole again.
In Peel, the level of support currently offered to survivors is not enough.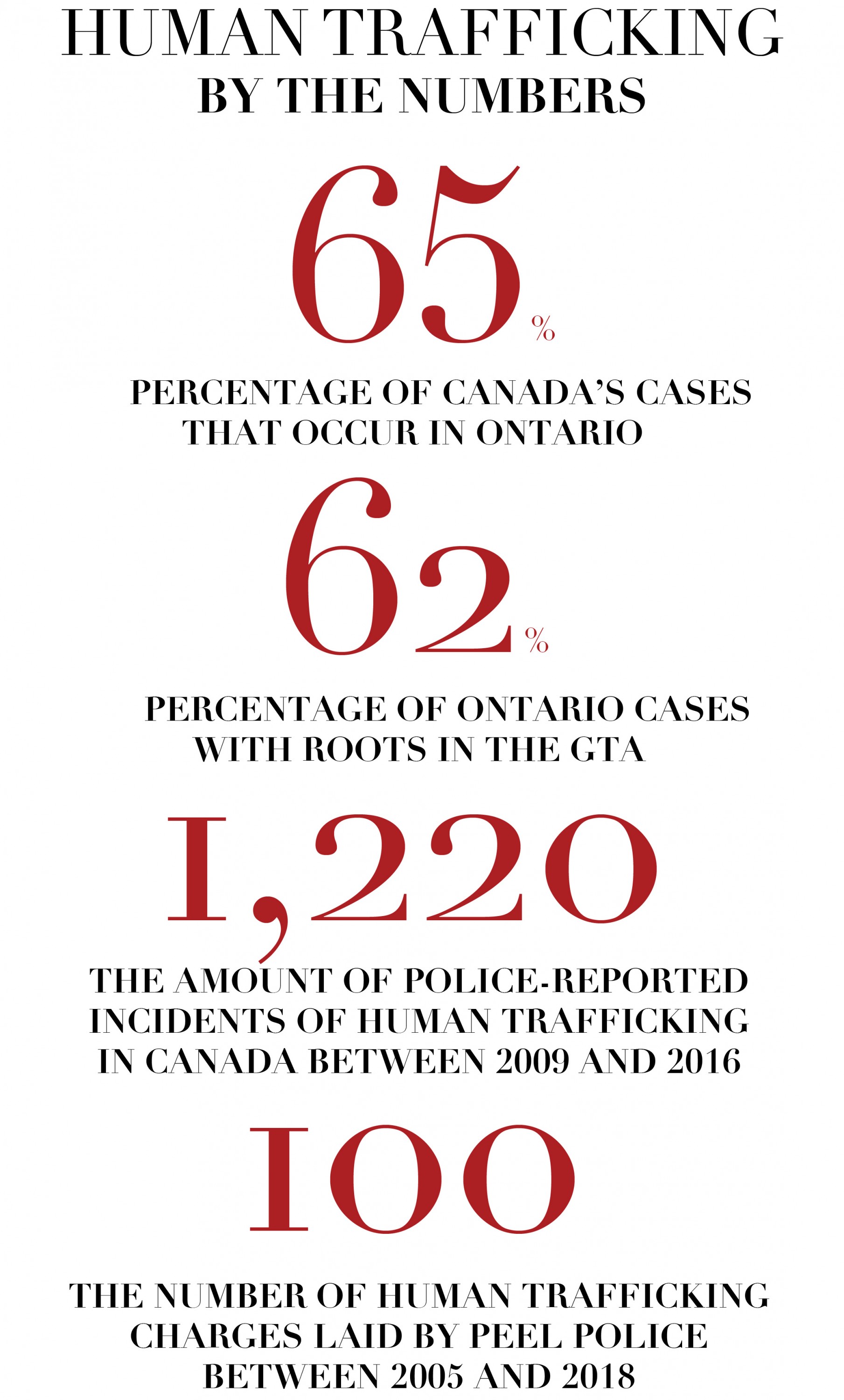 "There is a vast gap between the services which are being provided by various service providers and the services which are needed by the survivors," reads a recently completed study from Family Services of Peel (FSP).
These gaps in care exist across the spectrum, from mental health services to housing and legal support.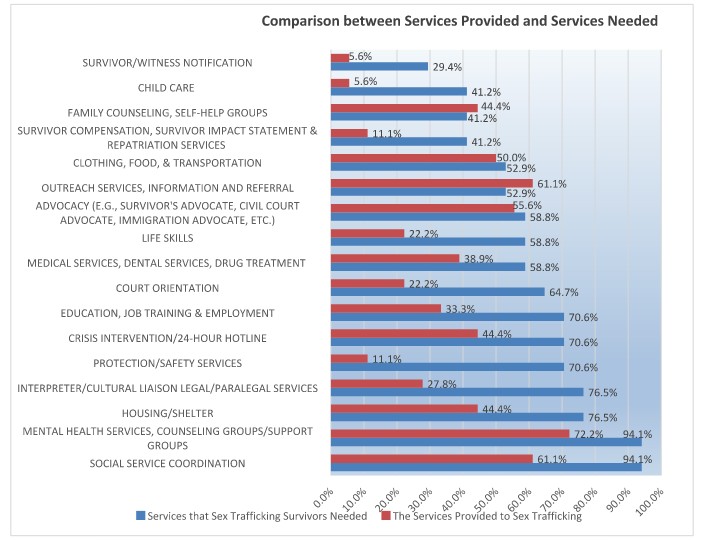 Based on results of a detailed survey by 22 service providers in Peel, 94 percent of survivors require mental health services as well as social service coordination. Despite this, only 61 percent of organizations offer such coordination, while 72 percent give mental health support.
The gap is even wider for things like housing and shelter services. Seventy-six percent of survivors say they require such help, but only 44 percent of service providers give this assistance.
Things are even worse when it comes to legal support. Again, 76 percent of survivors need help, but only 28 percent of organizations provide it. And when it comes to court orientation (which can be retraumatizing for survivors), 65 percent need help, but a mere 22 percent of providers offer it. It's also of note that 70 percent of survivors fear for their safety and only 11 percent of Peel service providers can assist in this manner.
These gaps, while concerning, are not surprising as the number of human trafficking cases in Peel has increased in recent years.
Across Canada, rates of human trafficking have been on the rise since 2010, exploding from less than 50 to close to 350 in 2016 – the last year Statistics Canada data was available.
The large majority (65 percent) of those cases originated in Ontario, and 62 percent of those cases had roots in the GTA, mainly Peel Region.
Current data shows that Peel Regional Police carried out more than half of all human trafficking investigations in Canada in 2018.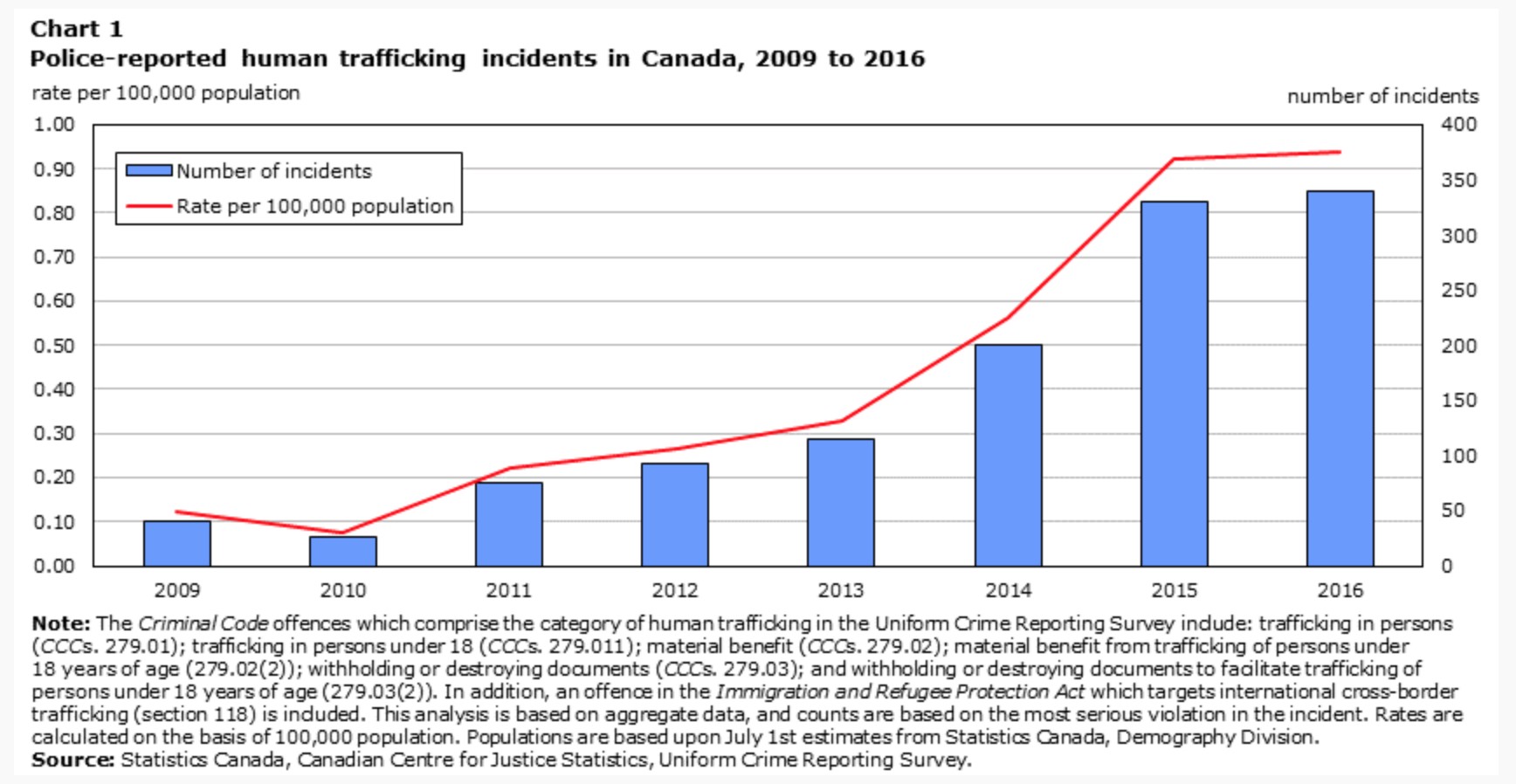 More cases means more survivors in need of help. However, police data only offers a glimpse of the true scope of a widely underreported crime. A look at responses to the FSP survey reveals how high the stakes really are.
Nearly half of survey respondents reported working with between five and 25 survivors, usually female adults between the ages of 18 and 45. One reported that 95 percent of its more than 200 survivors were female children between the ages of 12 and 17.
In 2017 alone, 11 stakeholders who took the FSP survey helped a total of 91 survivors.
According to Statistics Canada data, Peel police laid 21 charges for trafficking in persons that year. It's common for police forces to charge traffickers with other offences, such as drugs or weapons charges. This meaning the trafficking in persons numbers may not include all traffickers Peel police caught that year. The 2017 figures nevertheless highlight how underreported this crime continues to be.
The FSP study tried to shed more light on this discrepancy, finding there are many reasons why survivors do not seek out help. Topping the list for respondents (95 percent) was the distrust survivors had in the system, which causes them to be reluctant to come forward. Overall, 85 percent said they are ashamed or embarrassed to report, while 84 percent said they simply didn't know what services were available to them.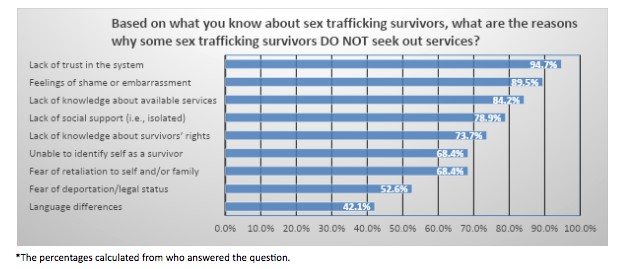 The complex trauma experienced by survivors also impacted their decision not to come forward, with 68 percent unable to identify themselves as a "survivor."
Regardless of the barriers for not reporting, survivors are suffering in Peel, unable to get the help they need.
In 2019, small steps were taken by Peel Region to improve services, including housing and shelter beds.
In May 2019, FSP released a Human Trafficking Needs Assessment — a byproduct of the same three-year provincial grant that helped complete the recent study — which not only concluded human trafficking should be labelled a public health crisis, but found a "desperate need" for housing supports for survivors.
As part of Peel's 2020 housing budget, council approved $1.3 million for a three-year pilot project that will create 10 new shelter spaces for survivors. The spaces, operated by the Elizabeth Fry Society, will include four emergency spaces and six transition beds. It's a small ounce of relief, but numbers show more help is needed.
When considering the 91 survivors served by 11 service providers in the FSP study (a small sampling of the true number of service providers in Peel), 76 percent of them said those assisted required housing support. Theoretically, this means there were 69 survivors looking for housing. The FSP study found that 44 percent of providers offered such help, meaning half of those 69 survivors may have been able to receive assistance. That still leaves about 30 who would be left out in the cold. Peel's 10 new spaces could help a third of them, leaving 20 survivors without assistance – and that's a very conservative estimate.
Similarly, there was a lack of other provisions found in a 2017 study, including education, employment and mental health services.
This is intensified by the fact that without proper assistance, many survivors will go back into the sex trade, feeling they have nowhere else to go.
However, there are encouraging signs across the country. The federal and Ontario governments are both working on new strategies to battle human trafficking. Queen's Park came with a $20 million annual commitment for initiatives that fight trafficking and support survivors.
Truckers Against Trafficking, an organization that trains commercial truck drivers to identify the signs of the illegal activity, just opened its first chapter in Canada, and Peel Region is currently in the midst of creating a "service hub" for survivors. According to the FSP study, this hub could be indispensable for survivors.
"A major finding of the survey is that there is no organized and standardized system, which coordinates with various service providers to collect data regarding the Social Determinants of Health, which also allows keeping track of referrals, referral loop and follow-up with the survivor, " the study concludes.
The new service hub is slated to open in the winter of 2020. The region says the hub is meant to provide all the services survivors need in one place. Looking at models launched in other jurisdictions, hubs provide everything from help applying for government assistance to finding housing and supplying clothes and food.
For Barbara Gosse, CEO of the Canadian Centre to End Human Trafficking, the results of the FSP study mirror what her organization sees across the country. The good news: Peel may be slightly ahead of the curve.
FSP is undertaking important research work that will assist the public in understanding the needs and gaps in resources necessary to fight human trafficking.
"While the results generally tend to echo what we, at The Canadian Centre to End Human Trafficking, have heard across the country, Peel Region is in a unique position as it has a progressive, coordinated and dedicated team of front-line service providers and law enforcement, who collaborate regularly, in a victim centred and trauma informed manner," says Gosse.
---
Email: [email protected]
Twitter: @JoeljWittnebel
Submit a correction about this story