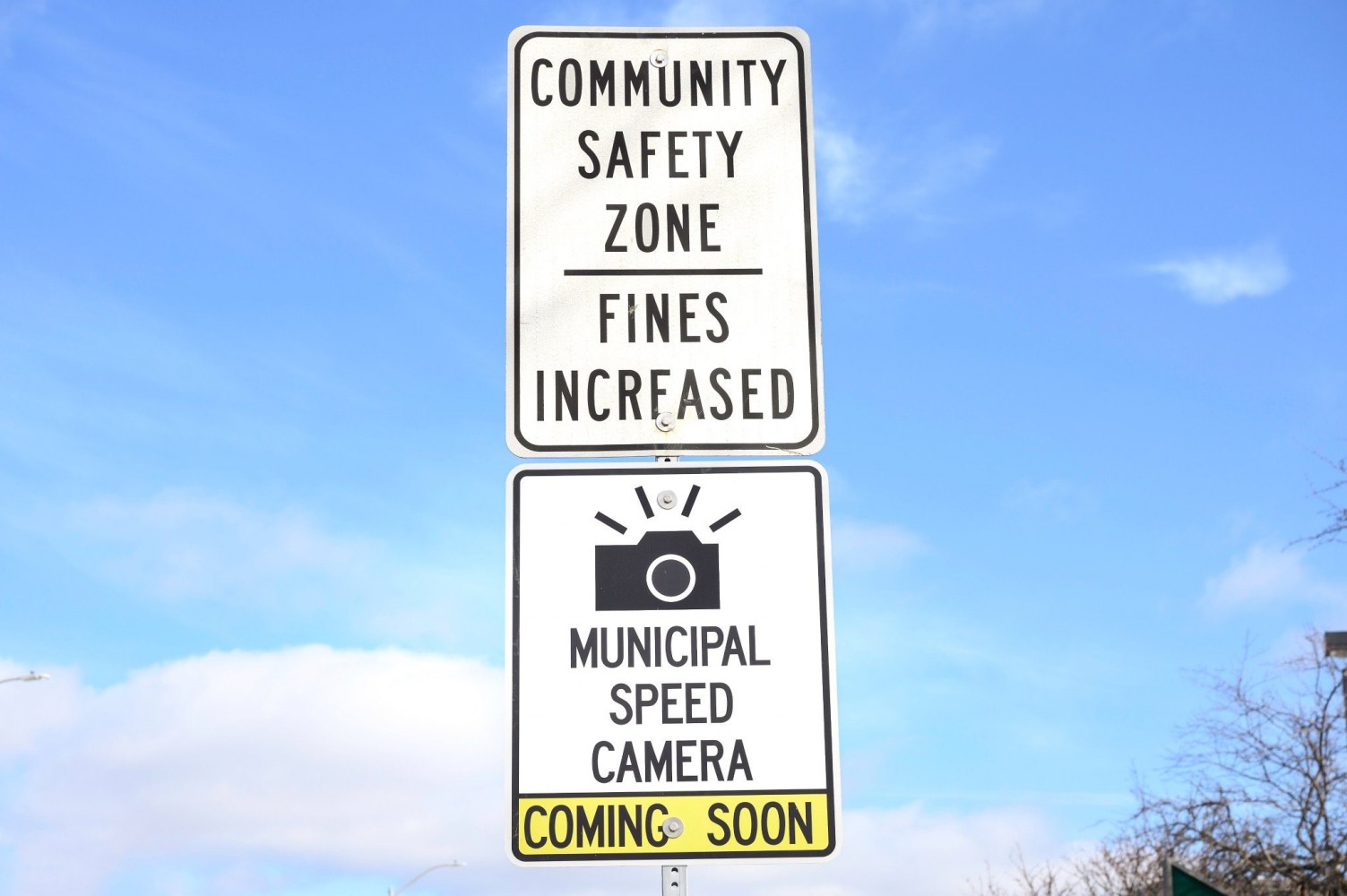 Photos from The Pointer files/City of Brampton
A surge in speeding tickets could be the final straw for Brampton's already strained court system
You might have seen the signs in Wards 2, 7, 8 and 9. Photo radar is coming.
Photos of Brampton city councillors with police, firefighters and community members standing around the "Municipal Speed Camera Coming Soon" signs with beaming smiles have been shared on social media.
The cameras are harbingers of what's to come – and indeed something to smile about – if you ask members of council.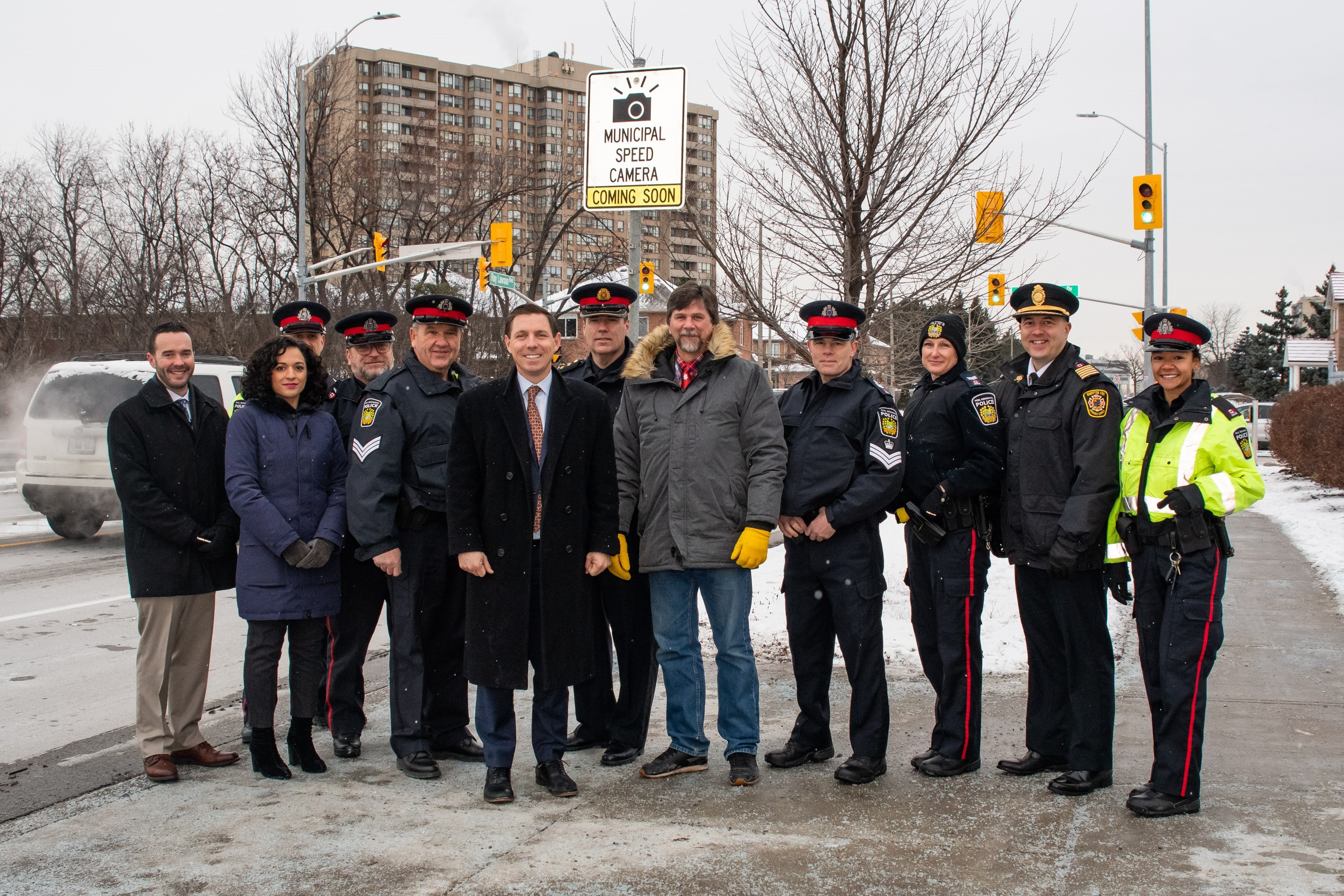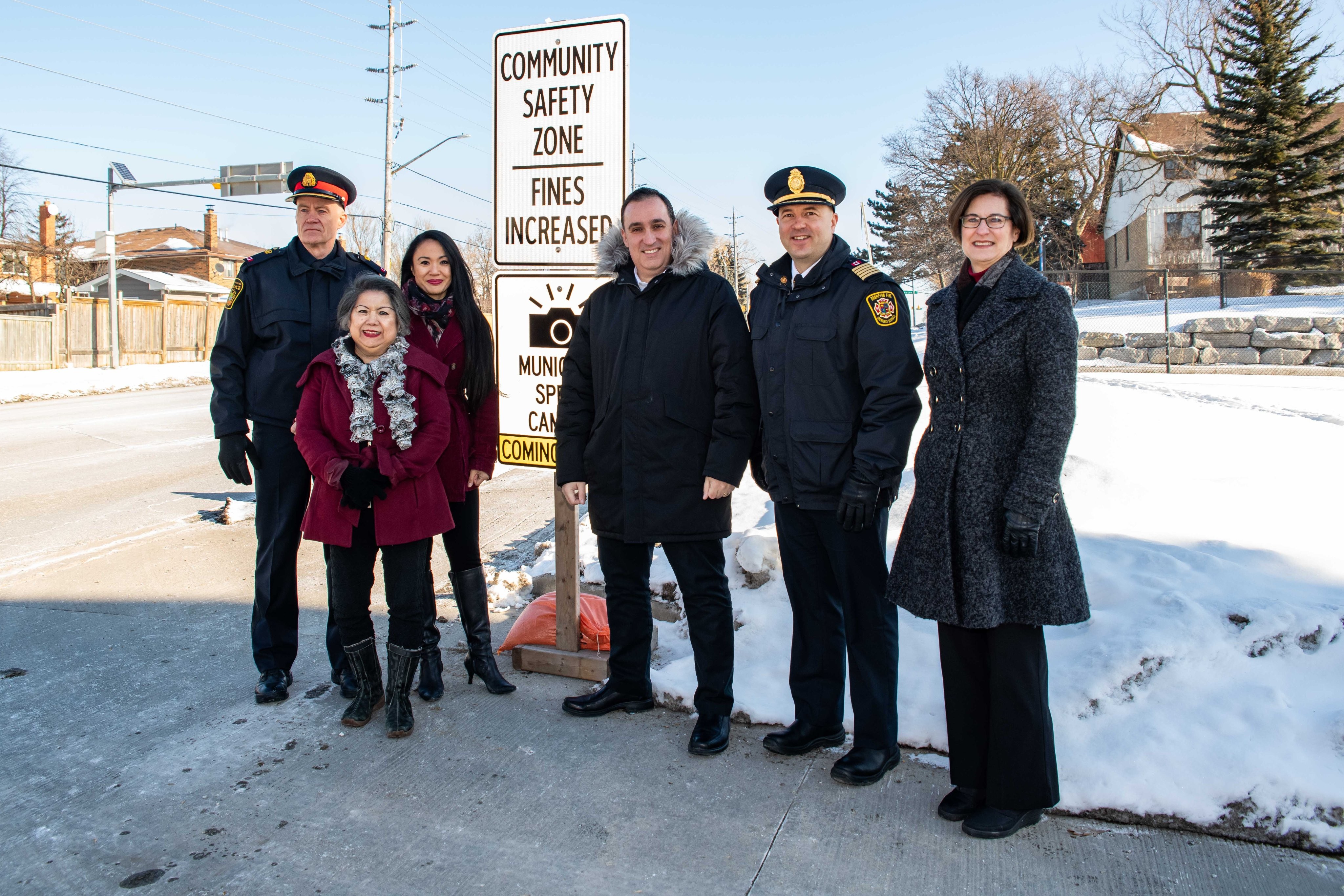 For years, Brampton has had a speeding problem. The city's own research shows an estimated 102 sections of road in Brampton are in need of traffic calming due to the 85 percent of vehicle operators who drive above posted speed limits. For instance, the two-kilometre stretch of Centre Street North between Williams Parkway and Queen Street East sees an average of 7,100 vehicles a day driving an average speed of 57 km/h – well above the posted 40 km/h speed limit for the area where a school and playground are present.
Most infamously, in April 2018, within an hour of each other, Peel police caught two men in separate instances driving more than double the posted speed limit through a school zone in the area of Sandalwood Parkway and Torbram Road. The first, a 17-year-old, was doing 110 km/h in the 40 km/h zone, and the second, a 20-year-old, was clocked at 93 km/h. Both were charged with stunt driving.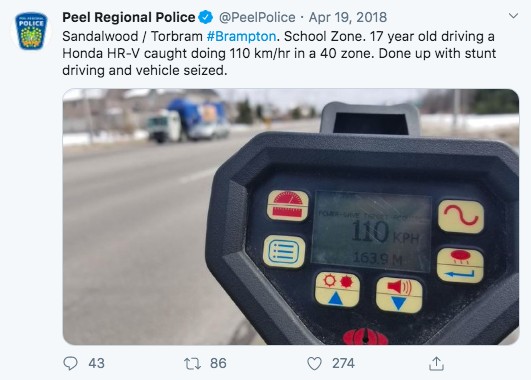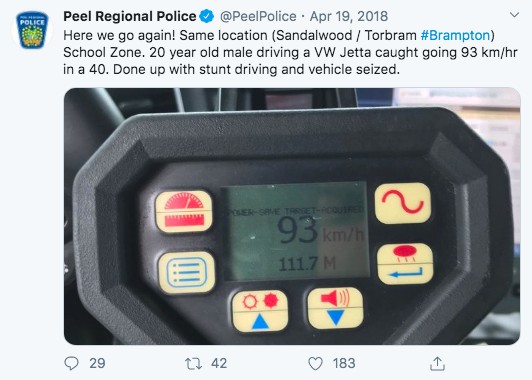 These are only two of the more egregious examples of a problem that is quite widespread in Brampton. Each year, Peel Regional Police (PRP) conduct a road safety blitz to coincide with the start of the school year. In the fall of 2019, the team issued 852 tickets in or on roads leading into school zones, nearly 30 percent of which were for speeding, including one driver clocked at 124 km/h in a 50 km/h zone.
The introduction of photo radar, or the Automated Speed Enforcement (ASE) system, has the potential to change this.
Approved by the province in November (after much lobbying from the municipal sector), cities now have the ability to place these cameras in school zones, community safety zones and on any roads with speed limits under 80 km/h – as long as they put a "coming soon" sign up during the mandated 90-day warning period.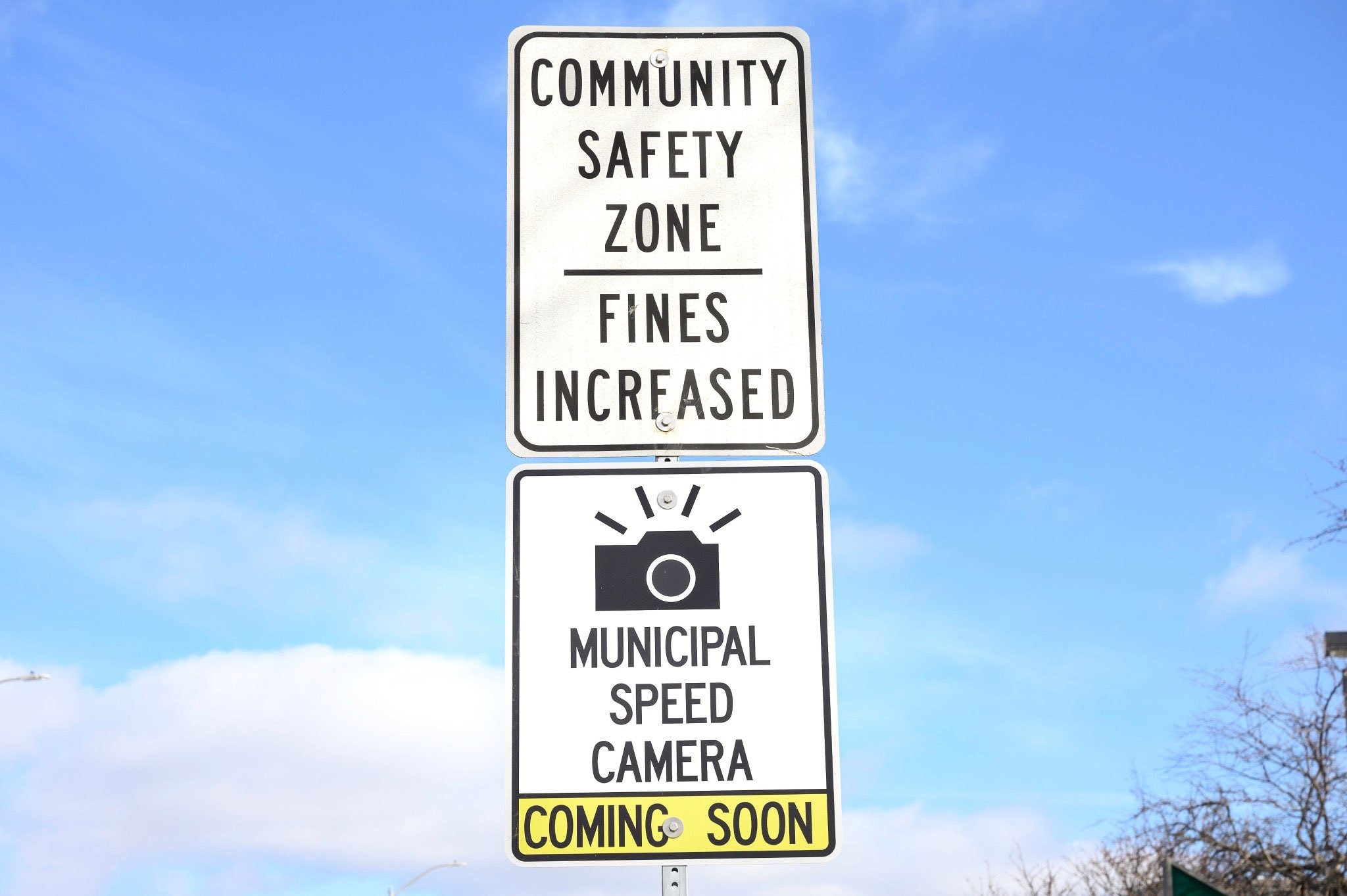 Several signs are already up in Brampton, with the first displayed in mid-December, meaning cameras will be plugged in and dishing out speeding fines as early as this spring.
"We have zero tolerance for speeding in Brampton," declared Mayor Patrick Brown in a press release. "Automated speed enforcement is one of the many ways we are working towards reduced vehicle incidents and increased safety in our communities."
His words were echoed by Wards 3 and 4 Councillor Jeff Bowman.
There is nowhere worth travelling "that's worth risking the safety of others by speeding," he stated in the same release.
Even before the first ASE sign was unveiled, both politicians were vocal supporters of the technology, which has been criticized in the past for being a government cash grab, with minimal impacts on public safety. In February 2019, the Alberta government announced it was completely overhauling its photo radar system after a review found it to be a cash cow with little traffic safety implications. In November, Manitoba announced a review of its own system following similar criticisms.
Yet, Brampton is forging ahead with these cameras, which could cause headaches for itself in the process.
As Brown and Bowman are well aware, the Brampton courthouse is filled to capacity under the weight of its existing workload. There is already a lack of Justices of the Peace (JPs) to hear cases, and ASE fines could be the straw that breaks the camel's back.
To make matters worse, councillors all but ignored the city's court administration department in the recently approved 2020 budget. Currently, Brampton has an agreement with the province, put in place in 1999, tasking the city with operating the Provincial Offences Court (5 Ray Lawson Boulevard). Under that agreement, the city oversees the entire operations of the court, including administration and prosecution of non-criminal offences, plus charges under the Highway Traffic Act and municipal bylaw infractions.

No new positions were added to the department, which is already stretched thin because of the city's burgeoning population numbers. By the end of 2019's third quarter, the Brampton courthouse surpassed 2018 numbers for municipal bylaw offences. It was on pace to eclipse 2018 numbers for a collection of other provincial offences. Ahead of February budget deliberations, councillors were warned of the impact implementing ASE cameras could have on the local court system.
A November staff report reads: "The introduction of ASE charges to the currently strained Brampton POA court will intensify the already strained resources and judicial system in Brampton, unless additional judicial resources are allocated to Brampton and the Central West Region."
The resources mentioned in the report were not referring to the city's own court administration staff, but a shortage of JPs. But they may as well have been.
"No new bodies in court admin, but there's been a huge increase in the workload in court admin. So how are we justifying no new bodies with a huge workload increase?" These are questions Bowman asked during budget deliberations.
According to Joe Pittari, the city's commissioner of corporate services, it boils down to doing more with less. The adage – which is quickly becoming a catchphrase in many municipalities – is practically Pittari's departmental motto. He said different iterations of the phrase numerous times during his budget presentation – from his department being able to "do more with the same" or "we're trying to do the best we can with what we have."
Nowhere is this mantra more applicable than the city's court administration department where "doing more with the same" has been written into its budget goals for the past two years.
Pittari paints this as a model of fiscal responsibility. However, a big part of being prudent is knowing when to ask for help. A system can only be stretched so far before it snaps.
During budget deliberations, Bowman asked whether or not Pittari's court administration would benefit from another staff member in 2020. Surprisingly, he said he would rather wait, preferring to "keep things tight this year" before adding an additional staffer in 2021 or 2022.
Pittari says a transformation in the court department, from one group of staff handling outside court duties and another responsible for working inside the courtroom, to a staffer who can now do both, has helped even out the workload.
"Having that flexibility across 20 staff versus small pockets for each one, allowed us to do more work with those same resources," he said. "They're busy, but it does allow us to keep up with the pace."
However, that pace does not include tickets soon arriving at the courthouse.
A 2010 study conducted on British Columbia's photo radar program found the cameras caused an "incremental workload" increase at local courts, requiring more prosecutors, support staff, police time and court/registry clerks, the cost of which amounted to $1.9 million annually.
It's unclear whether Brampton has a financial back-up plan to handle any bump in costs. While it's possible for extra staff to be paid from the revenue that tickets generate, the court must also account for lost time and money from disputed tickets. The B.C. study found these disputes could cost the system as much as $1 million per year, based on fewer than 10 percent of tickets being argued in court.
This potential consequence of the new ASE program could hit Brampton particularly hard.
Numbers from city staff show that the "pre-pay rate" for tickets in Brampton — the number of people who pay their Highway Traffic Act violations with no questions asked — sits at only 10 percent. This means that 80 percent of individuals require a court date to plead their case.
City staff have already told councillors that if the Brampton courthouse sees similar results with ASE tickets, it will create an "extreme backlog" in the system, something which could have wider consequences and lead to cases being tossed out for unreasonable delays.
Under new legislation, if an individual does not get a court date within 18 months, the case can be thrown out. It won't just be traffic tickets, either. The backlog would have a ripple effect that could potentially slow down the entire system.
A Brampton staff report in November detailed that the Central West Region of Ontario's court system — which includes Brampton — has allocated money for 52 JPs. However, only 40 are available to sit and hear cases. The shortage has led to an increasing number of courtroom closures since 2017. In that year, there were 125 closures, a number that rose to 177 by November 2019. Due to a number of impending JP retirements, city staff estimated there could be as many as 355 closures in 2020 — a 169 percent increase.

Since that time, the province has filled one JP vacancy in the Central West Region and has replaced one retiring Justice. Pittari was not encouraged by the net gain of one JP and said uncertainty about the number of committee days to hear cases in 2020 prevented him from hiring an additional prosecutor this year.
Even with all this pressure and uncertainty, ASE hasn't been factored into the equation yet.
To make matters worse, a 2015 study from the Frontier Centre for Public Policy (FCPP) found that the existing estimates may not capture the whole picture.
"Much evidence suggests that many government institutions systematically underestimate the actual costs of automated enforcement programs, justifying their existence on inflated alleged social benefits," the study reads. "Program cost overruns, however, are ultimately shouldered by otherwise law-abiding drivers and other taxpayers."
So why push forward with a system that is expensive, could cripple the local court system and one that other jurisdictions are currently reviewing for being nothing more than a cash cow?
For those who made the decision, the answer is simple: Brampton has a speeding problem.
But will this reaction toward an uncertain solution cost the city more in the long run?
"While speed limits obviously have their role and (ASE) can help in this and other instances (for example, red light violations), much evidence suggests they are far from crucial in terms of their contribution to greater road safety."
They are more often implemented "on emotional rather than engineering grounds, and that their capacity to generate revenues makes them irresistible to a large number of elected officials," the 2015 FCPP study reveals. "In light of the available evidence, law-abiding and taxpaying citizens have a right to ask for more effective traffic enforcement methods that target really dangerous drivers and for fines and other penalties to be proportionate to the seriousness of the violations."
---
Email: [email protected]
Twitter: @JoeljWittnebel
Submit a correction about this story