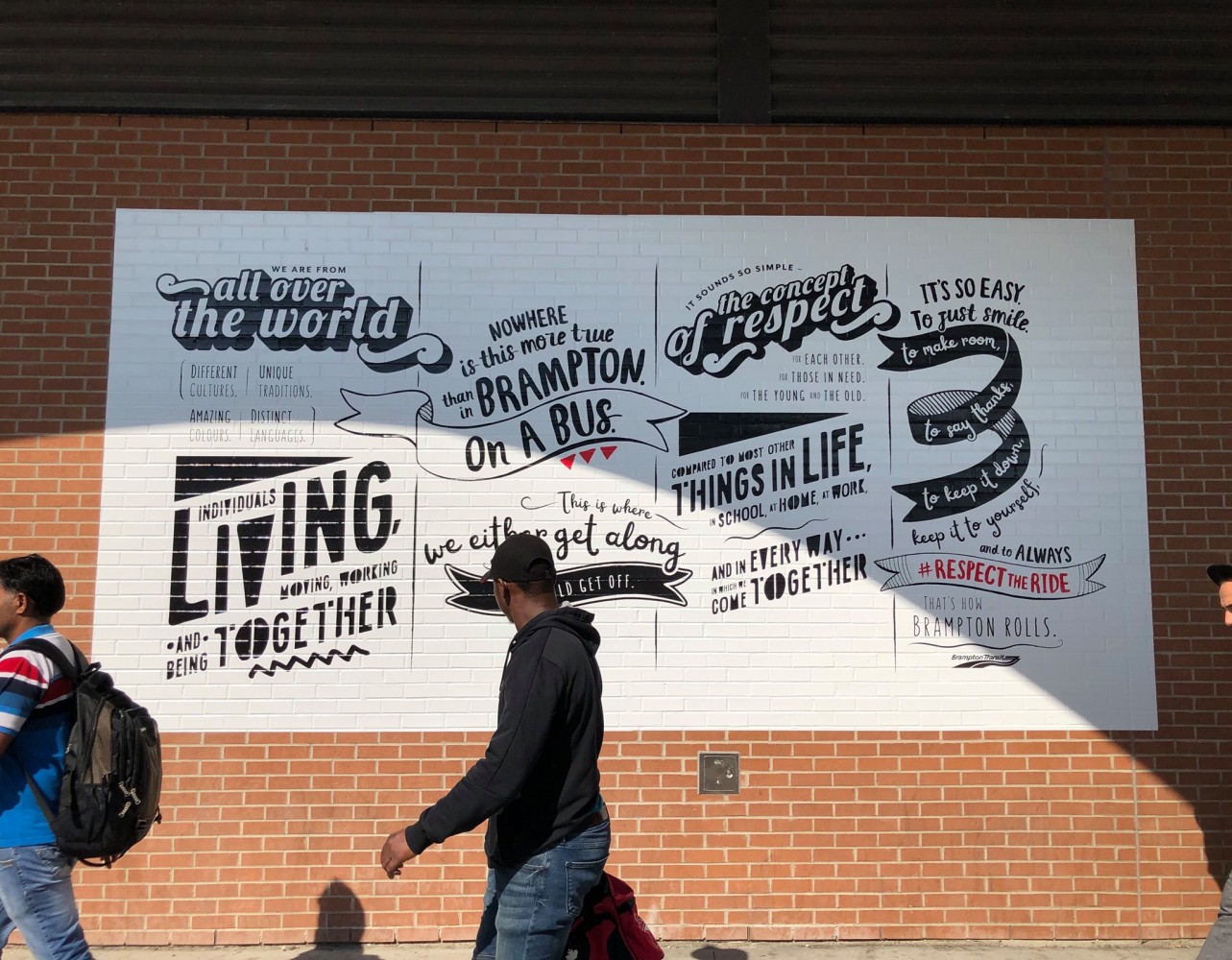 Photos from Facebook/Brampton Transit/Graphics from City of Brampton
Nearly half of Bramptonians are increasingly unhappy under new council's tenure
What words come to mind when you think of Brampton?
According to a recently completed Forum Research exercise, how the majority of residents answer that question doesn't paint a nice picture of the city.
Traffic. Crowded. High insurance. Crime. Expensive.
Forum Research says that, in a series of workshops and surveys conducted throughout the month of September, the only word mentioned more than any of these was "multicultural."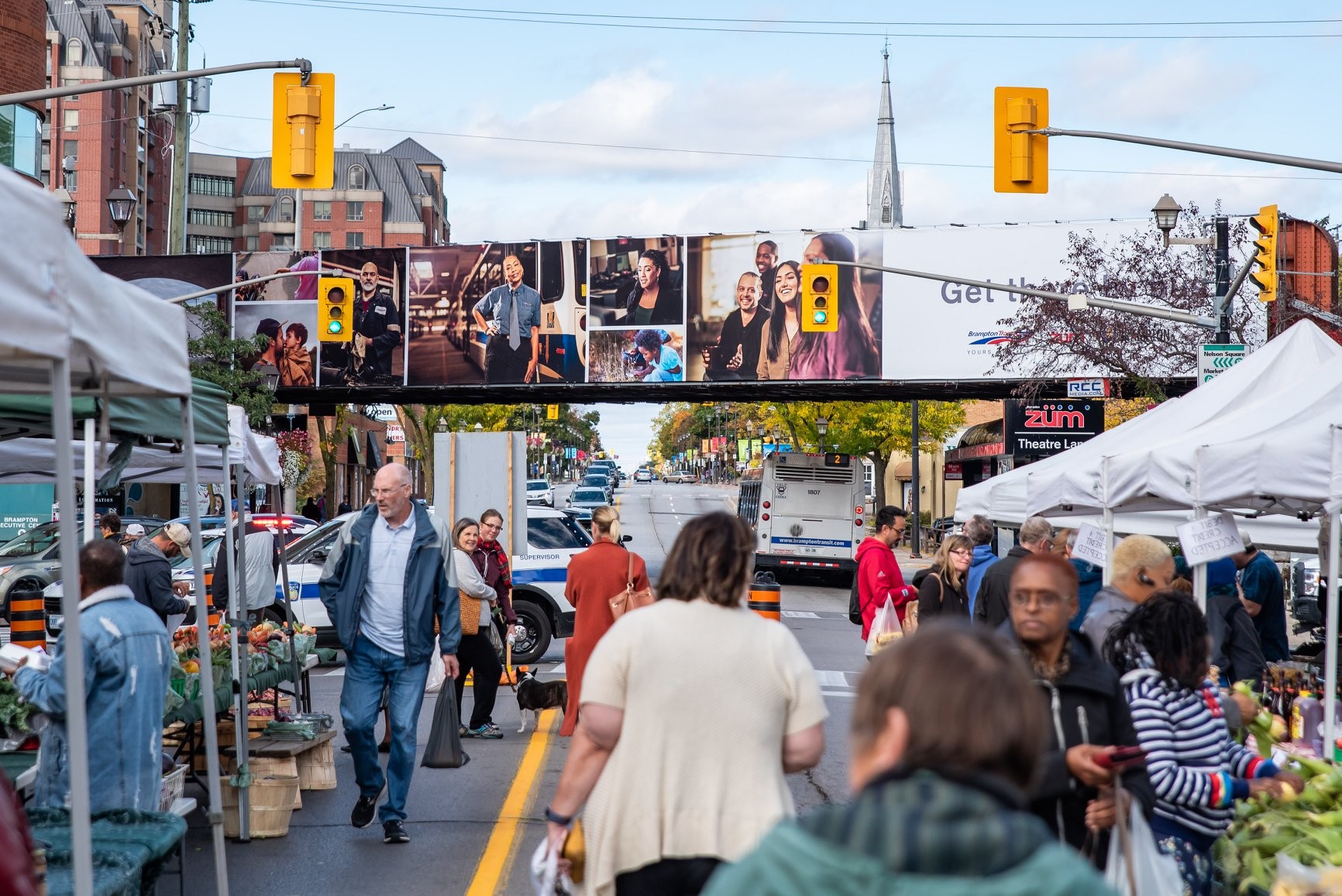 For an administration attempting to build a green, transit-oriented, art-centric city, these are not the descriptors it would like to be associated with.
According to Forum Research, of the 1,101 respondents surveyed, 42 percent said quality of life had worsened over the last three years. It's a blow to Mayor Patrick Brown and a new council that almost half of their residents do not see their lives improving. Many of those around council chambers were elected in 2018 on an agenda of change after years of scandal and dysfunction that saw public trust in city hall reach all-time lows.
The poll results mirror those obtained when The Pointer commissioned Forum to conduct a similar survey in August 2018. At that time, of 999 respondents, 46 percent said they were not proud to live in Brampton, and the majority said they were planning to leave sometime in the next five years.
Those planning their exit pointed to a number of similar issues that appeared on Forum's list when asking residents to describe their city. Twenty-two percent pointed to overcrowding, 18 percent to cultural tensions, 17 percent to property taxes, and 14 percent said crime.
These issues are common threads in the recent Forum poll. When asked what the single biggest issue facing Brampton today is, 26 percent said crime. The Pointer received similar results in the summer of 2018 when 24 percent of respondents said crime was their top concern, behind only property taxes by a single percentage point.
It's not unfair to assume that affordability is a central topic of conversation around the dinner table for many Brampton residents. People are dealing with an affordability crisis in Peel that sees them living in a home they can't afford, or struggling to find housing. Brampton pays some of the highest auto insurance rates in the province, and food bank usage is steadily rising, signalling people have less and less money to pay for life essentials.
Mayor Brown is steamrolling ahead with minimal to no tax increases in 2020, a position that helped him become mayor in 2018, which he followed up with by freezing taxes in 2019.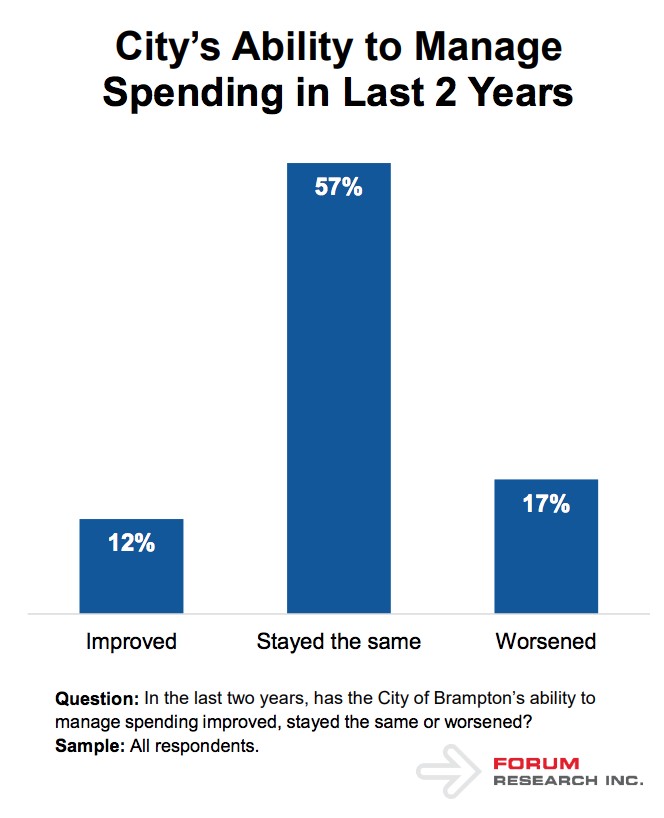 When looking at the impacts of a tax freeze, it's always the short-term that gets the most attention. Residents open their bills, see the small increase and are generally happy. It's the long-term effects of keeping that number low that people don't consider, such as cracking roads that aren't sealed, bridge repairs that get deferred, or major infrastructure projects like Downtown Reimagined, put off due to budgetary issues. And these tax freezes have gained Brown and council zero merits when it comes to resident opinion. The majority of residents have not seen any improvement in the spending of their tax dollars over the last two years, with 57 percent noting that spending has remained the same, 17 percent saying things have worsened and only 12 percent saying they saw improvement.
"Participants were divided, overall, on whether City spending has gotten better, or gotten worse. Some felt that spending has gotten worse, suggesting that council doesn't want to tell residents where the money is going, while others said it has gotten better, saying it's now more publicly transparent," reads the presentation from Forum Research to council. "There were two dominant opinions amongst participants about how the City of Brampton should approach its budgeting: one side was focused on cutting taxes and improving services, the other side was focused on increasing taxes slightly to maintain current service levels."
However, according to Forum, 73 percent of respondents are satisfied with the services they are receiving from the city, and 51 percent note they get "fairly good" value for their tax dollars.
Those numbers are certain to change should Brown and council forge ahead with continuous years of zero to minimal tax increase. Others have tried it, like former mayors Hazel McCallion in Mississauga and the late Nancy Diamond in Oshawa, both of whom were incredibly popular during their long tenures for their penchant for low tax increases. After their departures from office, those who came after were left with the tough financial decisions of how to fix years of neglected infrastructure and community projects.
Ahead of the 2018 election, as part of The Pointer's survey, Forum research asked residents what the new council's focus should be once they got into office. Reducing traffic congestion was the top answer (23 percent), followed by healthcare (20 percent), community police presence (18 percent) and attracting key employers (10 percent). Interestingly, one of the best ways to reduce traffic congestion — investment in good public transit — was near the bottom of respondents' priority list with only 6 percent of respondents saying it is a primary matter of concern.
It's undisputed that investment in a solid, well-connected public transit system is one of the best ways to reduce reliance on the car. But in 2020, Brampton is proposing no new transit hours, the first time it has frozen service levels in more than a decade.
Still, Brampton Transit (BT) is receiving a 14 percent budget increase, the largest of any department.
"I am concerned that we're not increasing service hours on our transit," said Regional Councillor Rowena Santos during Monday's budget deliberations, who questioned BT General Manager Alex Milojevic on whether or not there are ways to find savings in the budget that could be reallocated toward additional services. Currently, the city plans to redirect bus services on up to 15 percent of local routes in order to meet demand, although which ones will be impacted remains unclear.
"This is the first year that we're faced with pressures that we still have a strong ridership demand at the same time we're trying to balance where we are in terms of financial liability," Milojevic said. "We're trying to be lean, as much as we can, but in doing that you do impact service, you do impact cancellations."
The city is also coming off a year when the 82,000 service hours planned to be added in 2019 were reduced to 52,000 as a result of slower ridership growth.
It's not a good sign for 2020 as Forum's poll already found that residents are pointing to overcrowding on local transit routes as an area of improvement for the city.
---
Email: [email protected]
Twitter: @JoeljWittnebel
Submit a correction about this story