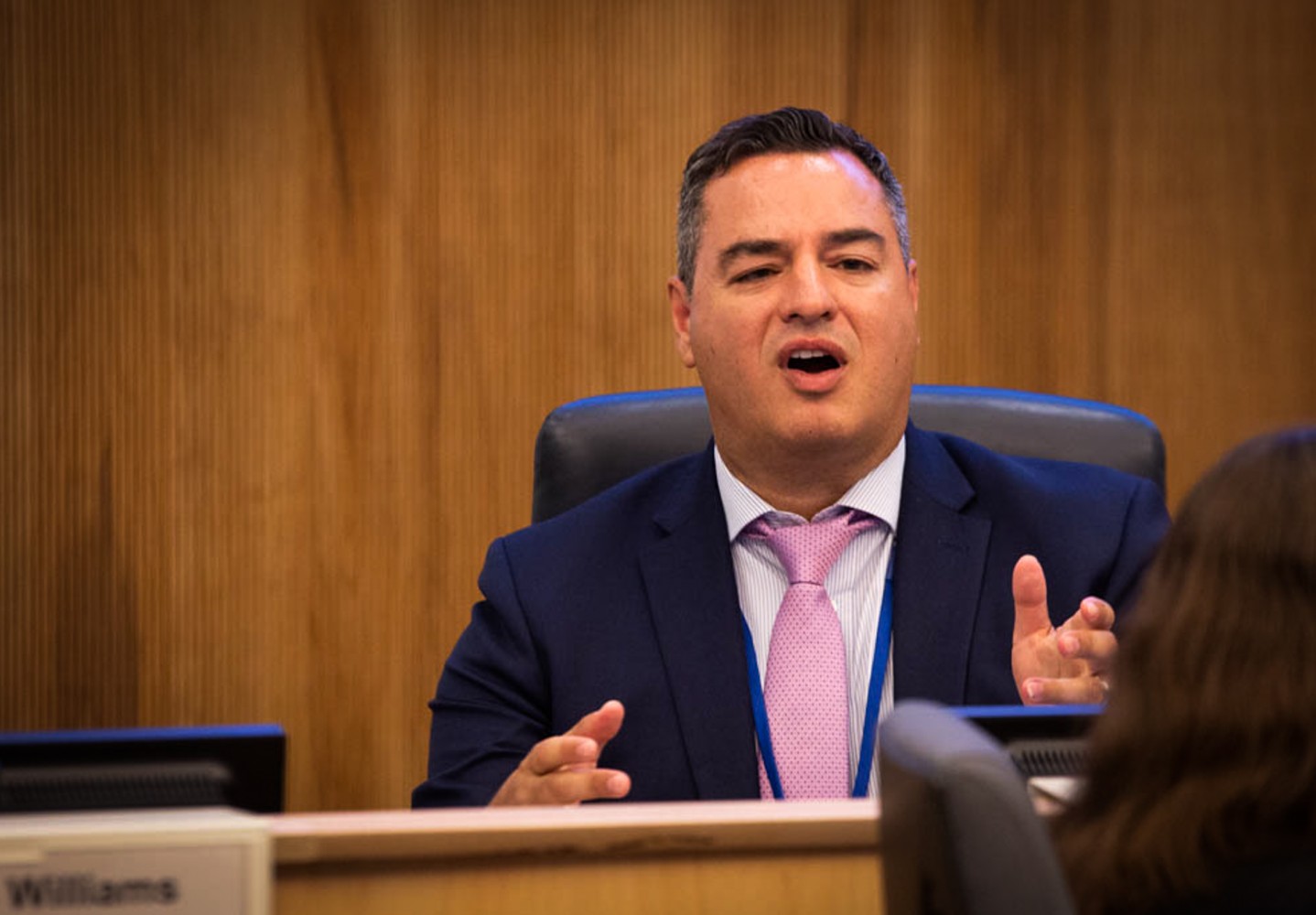 Photos from The Pointer files/City of Brampton
'Shame on me for not trusting anyone anymore': councillor voices alarm over staff conduct ahead of budget talks
A stunning revelation by a Brampton Councillor Tuesday — announcing he can no longer trust senior staff responsible for managing crucial council-approved infrastructure projects — brought back memories of demons from the past.
Previously, the City of Brampton was the poster child for bad budgeting, receiving embarrassing national attention after a 2011 study showed the City was wildly inaccurate when approving its annual budget, an exercise that was managed by irresponsible senior leaders who are no longer associated with City Hall.
The negligence sparked widespread anger among Brampton voters who had grown weary of scandals that constantly flowed out of their local government.
It was eventually revealed in 2014 that staff had lost track of more than $700 million in projects that had been approved by council, with many of them falling by the wayside as staff failed to even explain why they had ignored mandated directions from elected officials who had allocated funding for badly needed work across the city.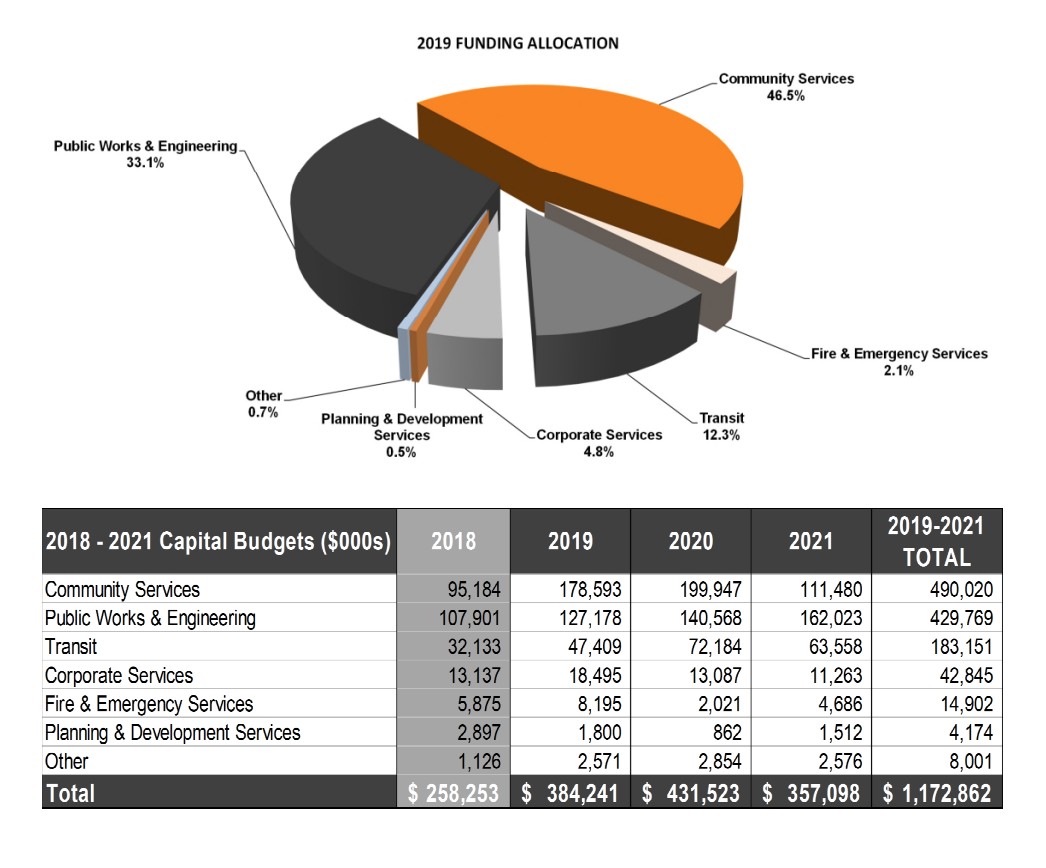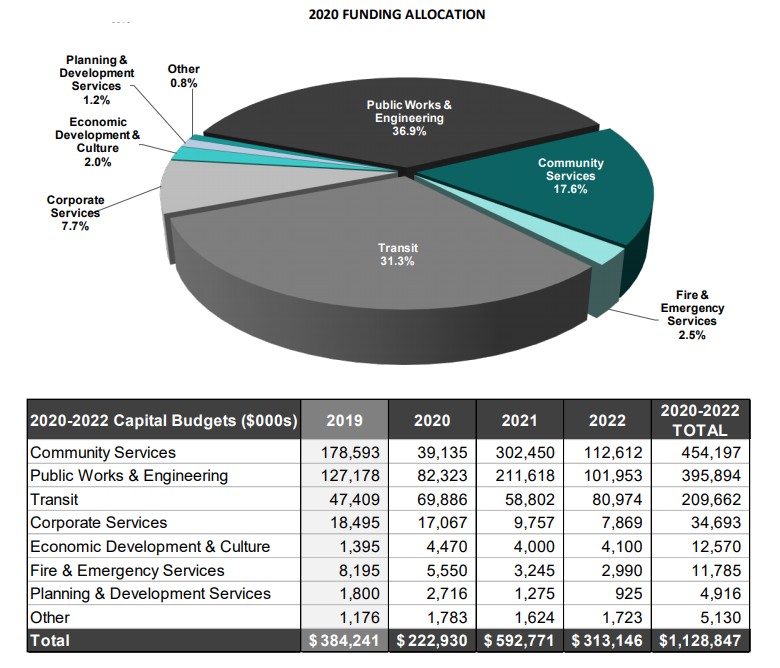 With a heavy turnover in senior staff in the ensuing years, and all the council members from the 2010-2014 term long gone, an opportunity was presented to turn over a new leaf.
However, the city's current budget with a $208 million reduction in capital spending from what was initially proposed in 2019 raises several questions about whether staff and councillors are sacrificing a future where the city's infrastructure is not only maintained at proper levels, but also enhances the local quality of life. Instead, it appears politically popular short-term minimal tax increases are driving the budget agenda, while badly needed future work will be left to others down the road. If approved by councillors in its current form, the budget would see Bramptonians paying on average an additional $27 over 2019 on the city's portion of the tax bill. When combined with the Region of Peel and the education portions of the budget, it results in approximately $91 more for the average household assessed at $538,000 (there's no projected increase for the provincial education portion). The minimal increase, while popular among residents, raises very little revenue to pay for new projects, only maintaining the status quo, which raises several questions about council's hopes for the future of the city.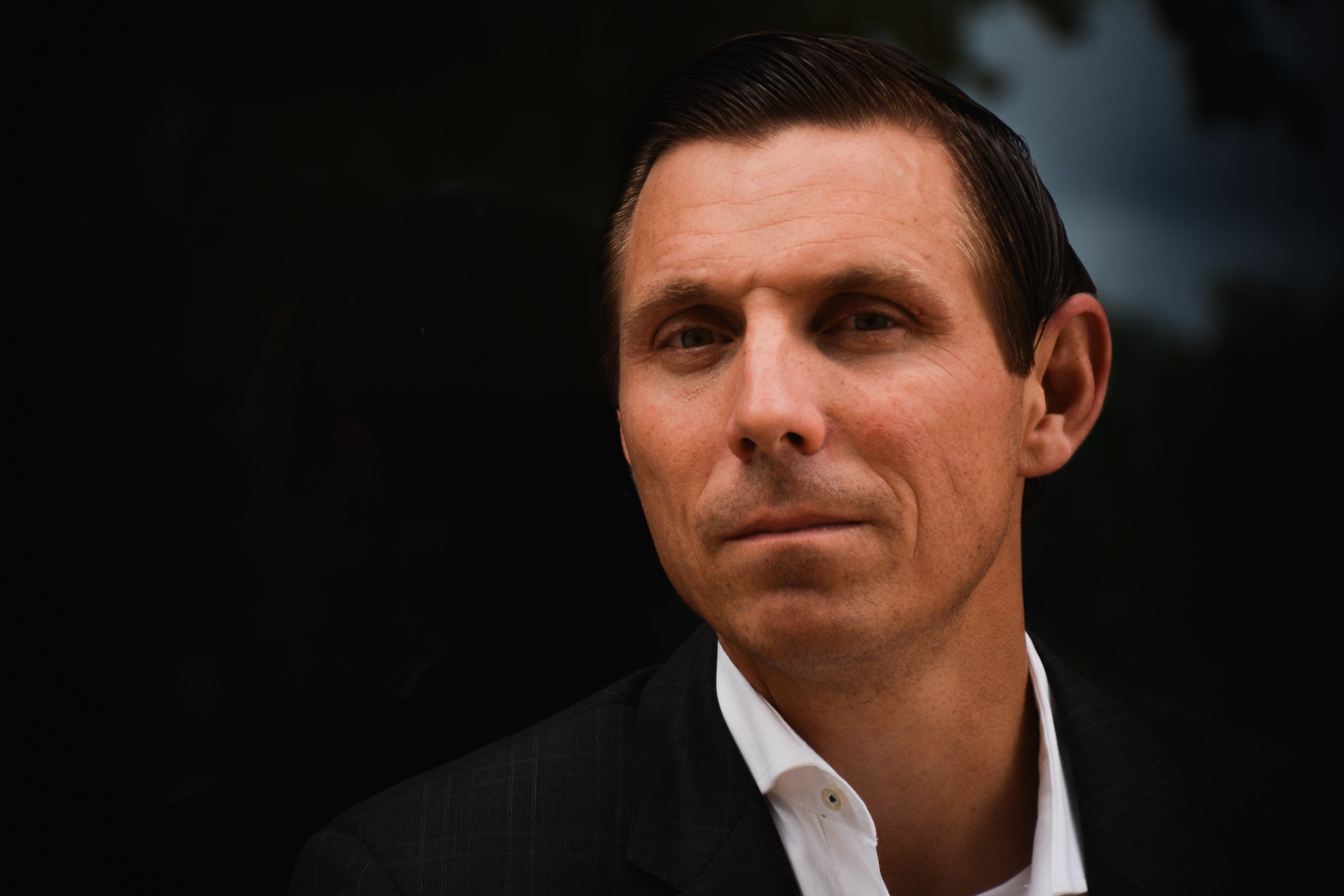 Brampton Mayor Patrick Brown
Mayor Patrick Brown appears to be offering a contradiction in his explanation for the approach he has dictated, claiming to support key infrastructure that will drive investment into the city, while repeatedly stating that low or even no tax increases are a must if the city wants to compete for that crucial private sector investment that would turn Brampton's fortunes around.
"Council would not support decreasing our capital budget, we've got major infrastructure needs in the city and we want to continue to set aside the funds, it's why we have the transit and infrastructure levy," Brown said following the first day of deliberations. According to Brown, finance staff have told council capital spending is actually increasing by $12 million this year.
It's a baffling claim, and when pressed, Mayor Brown refused to address the numbers in his own budget documents, which clearly show capital spending has dropped from $384 million in 2019, to $222 million proposed in 2020, a $162 million decrease.
Brown, remarkably, seemed unaware of his own budget document details and said he didn't have those documents in front of him when speaking with The Pointer over the phone after the meeting. That didn't stop him from repeatedly making misleading claims.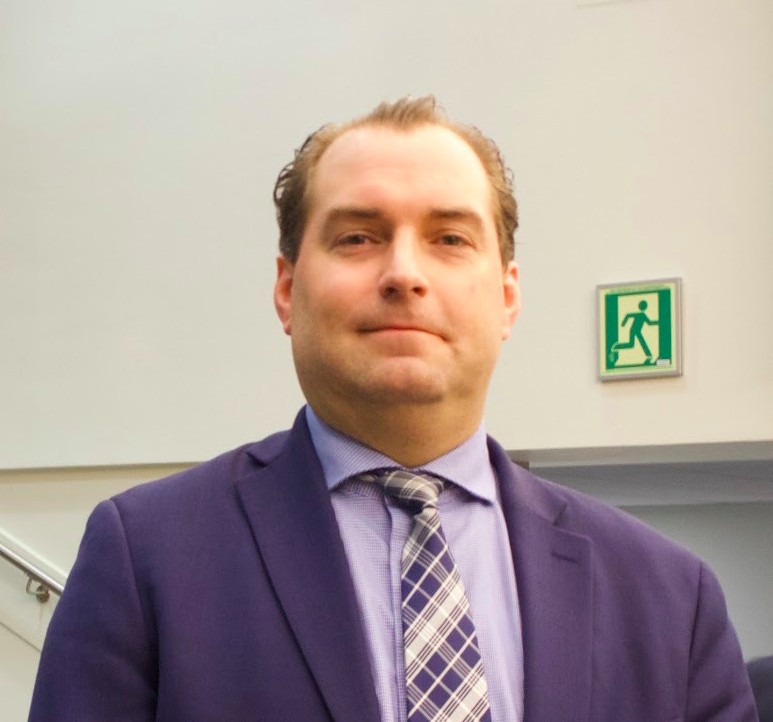 City treasurer David Sutton
City treasurer David Sutton later clarified that the $12 million increase that he and Brown kept referring to, is only related to the portion of property taxes that are being directed toward capital projects, not the overall capital budget.
"The overall request is decreasing, correct," he said. Sutton refused to acknowledge why the $12 million increase is being highlighted for the public, a claim that deflects from the massive proposed deferrals in the city's budget from previous years, including:
a $135 million transit maintenance facility that is desperately needed for Brampton Transit, $58 million for the widening of Williams Parkway (this follows the deferral of the Goreway Drive widening from last year, which will now put $23 million of pressure in next year's budget)

bridge repairs (this follows the deferral of about $600,000 in bridge repairs in 2019)

community centre projects and millions of dollars in public works projects

Downtown Reimagined, a project to replace aging infrastructure in the city centre and enhance the downtown streetscape, in partnership with the Region of Peel, has also been delayed
"There's a number of factors that when we come to do the budget for that year, may require us to push off projects, and it has nothing to do with whether we're trying to keep property taxes low," Sutton said.
Brown's claim for guaranteeing, for example, proper funding for transit infrastructure, does not square with what the budget proposal details. Not only is the proposal kicking down the road the $135 million transit and maintenance facility, which will end up costing the city $174.7 million in the 2021 budget (a facility staff have publicly stated is desperately needed to relieve "crush capacity"), now we learn in the budget proposal that other transit needs are being pushed down the line, eliminating a proposed 81 new positions, the majority of them bus drivers needed to expand transit service.
Council members, elected by taxpayers to steward their money in a responsible way for the good of everyone, are legislatively mandated to make all decisions on how public funds will be used. Staff are merely bureaucrats who are supposed to execute the decisions of council.
But it appears council members are at a loss over the decisions being made by staff including the way they are managing key projects council has approved.
The persistent changes to city projects and the inability to track staff's management of projects from start to finish had Councillor Martin Medeiros at a near breaking point during Tuesday's first day of the 2020 budget discussions.
"This is a hard conversation to have because there's an elephant in the room. We take advice, and we get recommendations from our staff. And there's no way I'm going to doubt that staff doesn't do a good job but, we're getting sold a bill of goods here. When we go to people (staff) we get the answer that it's under control," he said. "I know it's a new team and new CAO coming in and new staff but, damn it, am I wrong just to feel frustrated?…I meet with great, talented people but what the hell is the real, what's the real goods? What's really happening here? Who's responsible?"
Councillor Martin Medeiros
His frustration didn't end there.
"So it just makes me question…it puts me on guard that I know there's a lot of great people that I want to have coffee with but then I have to start questioning everybody. Shame on me for not trusting anyone anymore."
It's not the first time members of council have lost trust in staff tasked with carrying out the direction of elected officials.
In 2014, councillors were dumbfounded when a report revealed senior staff had lost track of $766 million dollars approved by council for 670 projects, including bridge refurbishments, road widening and overdue renovations to community centres.
The alarming finding fit with a 2011 external report by the C.D. Howe Institute, which ranked Brampton dead last out of the 23 largest municipalities in Canada when comparing the accuracy of local budgets between 2001 and 2010.
While the best performers saw actual annual costs off by only four to five percent, when looking at the approved budgets based on annual projections at the beginning of the year, in Brampton, staff and council had been off by an average of 51.4 percent.
The 2014 report that revealed $766 million in unaccounted spending for approved projects covered much of the same period as the C.D. Howe study.
There are now mounting concerns under Brown's leadership that the budget process and approvals for badly needed projects are once again raising serious questions. Strangely, Brown says he agrees with Medeiros, that staff need a wake-up call.
"We've been disappointed. It's why we've had some staff shakeups at city hall. We want to see benchmarks, we want to see progress reports, we've passed goals as a city and we want to make sure that we're on track," Brown said. "He makes a very good point and I think we sent a strong signal to city staff that on all our major initiatives we're the ones who are accountable at the doorstep to the voter."
However, Brown's demands for zero tax increases make things incredibly difficult for staff, with no extra revenue coming in to fund the projects council approves. Brown seems to want his cake and eat it too. He claims to support the infrastructure needs of a growing and dynamic city, but doesn't want to pay for it.
The responsibility for implementing all of the complex demands falls on David Barrick, the city's new CAO. Improving this ailing budget process to ensure project execution aligns with council goals, was one of the reasons he was hired in the role, Brown says.
"When we identified this six months ago it was before we hired a CAO and we wanted to get control of the process, we wanted to make sure we were given the straight goods," Brown said. "It's why council selected him on a vote of 11-0. We thought he was the best person with the energy to hit this task head on for us."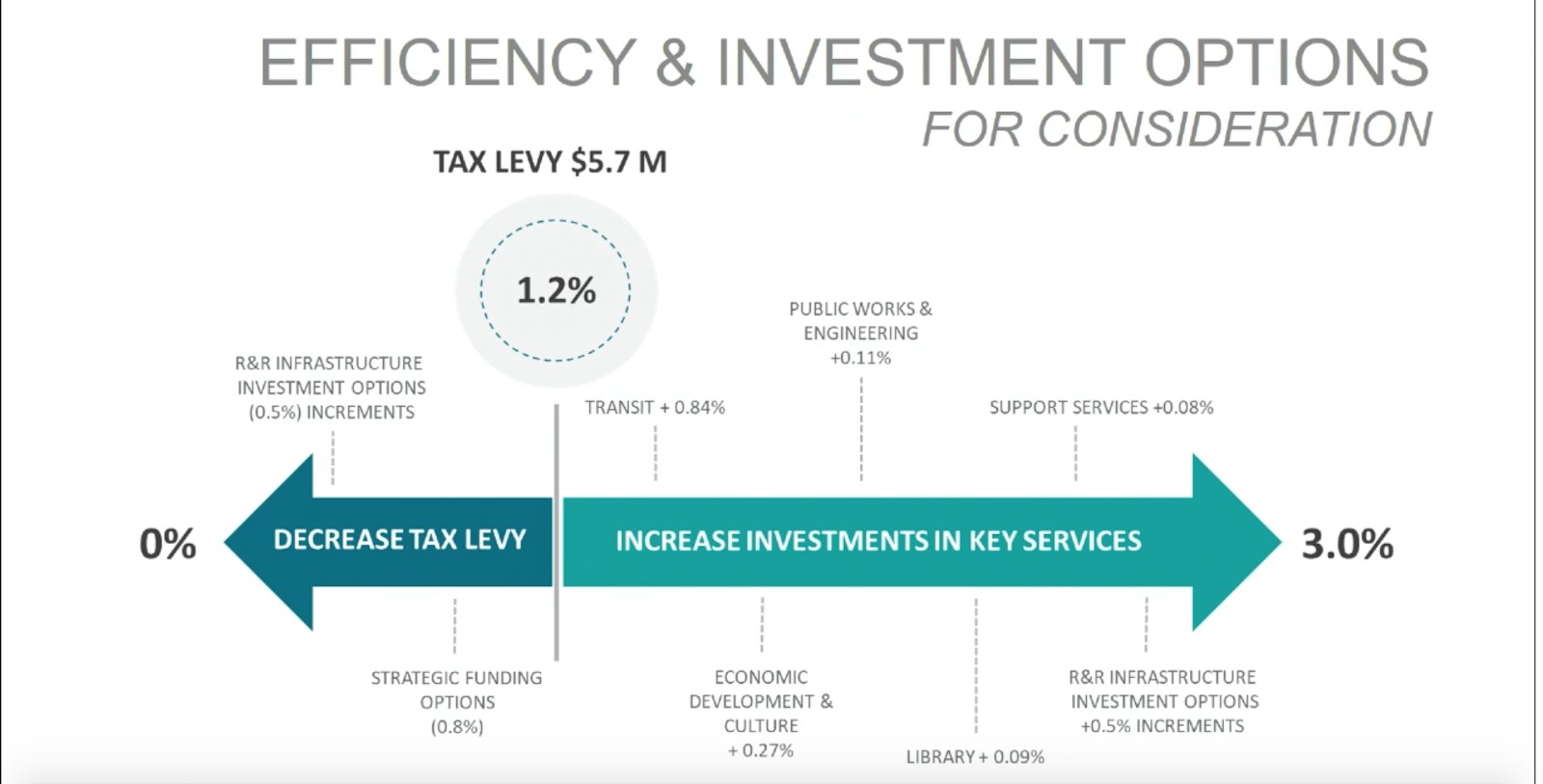 It's a surprising claim for two reasons. Not only is it unclear what "energy" has to do with reorganizing a staff of thousands and keeping tabs on a near-billion dollar budget, but Barrick's history suggests he is woefully unqualified for the position he is currently in.
Barrick, a former Niagara Region councillor, did not seek re-election in 2018 after news broke of a hiring scandal involving senior staff in Niagara working behind the scenes to ensure a certain candidate, Carmen D'Angelo, was hired as the region's CAO. Another senior Brampton staff member, Jason Tamming, now the director of strategic communications, is also implicated in the scandal, after he allegedly sent interview questions and answers to D'Angelo ahead of the hiring decision. The Ontario Ombudsman labelled the scandal an "Inside Job" in a scathing report with the same title released late last year.
Barrick also worked for the Niagara Region Conservation Authority, but was fired after the scandals broke. But in a bizarre twist he was named its interim CAO at the end of 2018, replacing the man who fired him. After media reports detailed his botched handling of the conservation authority's budget and a damning report last year by the Ontario Auditor General Bonnie Lysyk, which found widespread mismanagement and questioned the lack of accountability in Barrick's initial hiring by the Niagara conservation authority, he left in a mutual agreement early last year.
Barrick had outraged many newly elected Niagara Region Council members when, after his surprise re-hiring and promotion to the conservation authority's top post, he promoted a number of staff to senior positions and gave them a $1,000-a-month taxpayer funded vehicle allowance, meanwhile, when he presented the agency's budget to council he could not account for millions in spending. Several council members openly declared their concern over his conduct, his lack of experience and his mismanagement, shortly before his departure. According to media reports, Barrick did not even appear before council to defend his agency's budget, instead sending a man who had only been appointed to a finance position weeks earlier, and had a background in biology, not finance.
When asked whether Brown trusts Barrick to carry out the city's budget effectively and mandate a new process to track city projects, given his background and previous behaviour, Brown simply said council was not aware of these events before hiring Barrick.
"We were not aware of him being party to those and council is impressed with him," he said.
It's an example of Brown either being completely misinformed or being wilfully naive — the Niagara scandals are easily found with a single Google search of either Barrick or Tamming's name.
Council paid an executive search firm to vet both men ahead of their hirings, and one would assume a firm whose professional role is vetting candidates would have performed a cursory internet search for background purposes.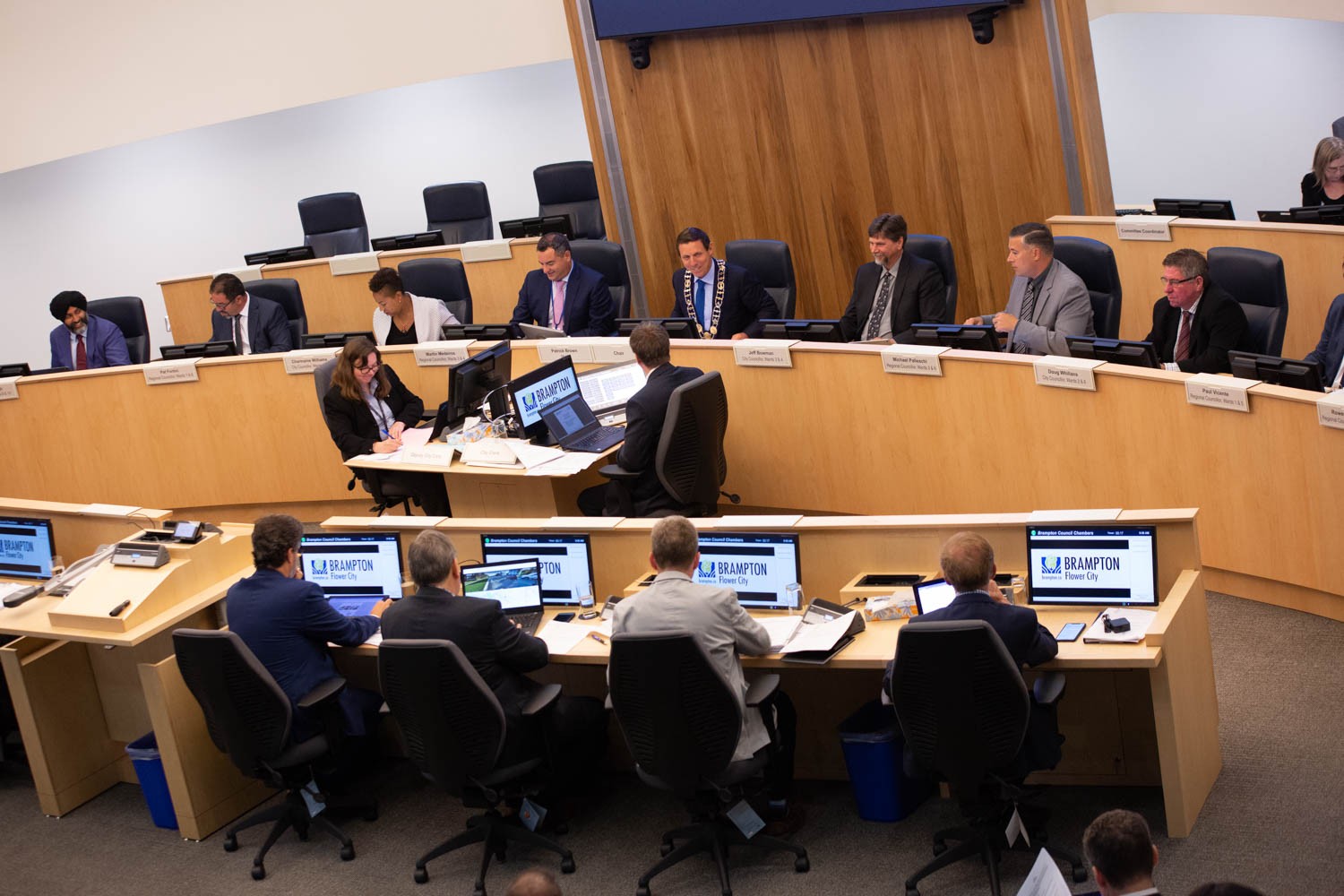 Brampton City Council chambers
The need for a process to track project performance becomes even more significant following another revelation during Tuesday's meeting in which Sutton explained that while all city departments put forward budget asks that were within the city's financial capability, those asks may not necessarily reflect the actual needs of each department.
When asked by The Pointer why a department would put forward a budget request that doesn't meet the needs of that department — enough money to complete all the necessary programs, repairs and projects in a given year — a practice that seems irresponsible, Sutton explained that there are a number of reasons behind such a process. He noted that departments may not have the ability in a given year to complete a needed project, so they won't ask for it, or the resources aren't available in the city budget to complete the project so it gets deferred.
When asked whether departments were directed to submit their budgets not based on actual current need, Brown told The Pointer, to his knowledge, "departments were told what are your needs lists and what are your wish lists" and referred the question of who directed the departments otherwise, to Sutton.
Sutton subsequently said this is the way Brampton has always carried out its budgeting, which is troubling, as it is not common practice in other municipalities.
The Pointer reached out to the City of Toronto, which also is in the midst of its budget process. Spokesperson for the city's finance department, Jasmine Patrick, explained that departments in Toronto are asked to submit their budgets based on three requirements:
"The cost to continue to provide existing level of services (includes inflation, full year costs of initiatives introduced part way into the year, etc.); Opportunities for efficiencies (ways to continue to deliver existing service levels at a lower cost); and, any requests for funding to add new or enhanced initiatives to address emerging demands or service priorities," she stated in an emailed response. "We will then review all of the asks, compare to historical spending and ultimately recommend a budget that is affordable and preserves or enhances services, when required."
In essence, this responsible form of budgeting meets or exceeds the department's actual needs.
If departments aren't getting funding for programs they need now, it may lead to a backlog of work later on and much higher costs that taxpayers will have to cover. In fact, this may already be the case in Brampton.
"We have a significant amount of backlog of infrastructure projects obviously, but there's a certain amount of capacity internally, that we can actually do to deliver these projects," Sutton says.
Currently, the city is facing a $364 million infrastructure gap — projects that need to be completed but currently have no funding sources — an increase from the $246 million gap in 2019.
To assist in alleviating this gap, the 2020 budget once again proposes a 2 percent infrastructure levy, an additional tax that is expected to garner $9.6 million in 2020. According to the budget document, with the annual levy, the cumulative infrastructure gap is projected to stabilize by 2025 at approximately $629 million.
It's not clear how Brampton plans to improve transit in the growing city over 2020 with the same complement of drivers and very limited space to store new busses.
Sutton admits that some of those projects being deferred are classified as "critical" for 2020.
"Some of them are critical, but there's work that needs to be done before we proceed, otherwise, we put it in the budget, and we're still not going to proceed with it because the other work that has to be done in advance has to happen. You would be putting a project in and then sitting on it for a year," he said. "Staff are basically putting forward what they feel they can actually proceed with and accomplish and the need exceeds that."
By asking departments to present their budgets in this manner it also poses another issue. Councillors who base their decision making off the budget documents created by staff, may be misinformed about the true needs of their city.
If council had the political appetite to give staff more resources, i.e. a larger tax increase, even at the rate of inflation — something pushed by Councillor Jeff Bowman — it could allow staff to complete these council-mandated projects.
It's something Barrick said was certainly within council's mandate, and staff even provided options for them to do so, acknowledging that better services would come along with such an increase.
"There's options for consideration to reduce it to a zero percent levy increase that they want or increase it with service enhancements," Barrick told The Pointer.
According to Barrick's presentation, if council were to increase the tax levy to 3 percent, it will see more money allocated towards transit, support services, public works, economic development, libraries and perhaps most critically — infrastructure.
The 2019 approved capital budget — for infrastructure projects and other needed spending on city-owned assets — of $384 million shows a capital budget projection for 2020 that was supposed to go up to $431 million. Instead, the 2020 budget proposal just released publicly two weeks ago, includes a capital budget of only $222 million. The $209 million decrease between the originally forecasted capital budget and what was actually proposed for the year is being blamed on projects not aligning with construction schedules.
In turn, the forecasted capital budget for 2021 is now $593 million, a $371 million, or 167 percent, increase from the proposed 2020 capital budget, including $175 million for a new transit storage facility and the project to widen Williams Parkway, both of which were moved from the 2020 budget and are now predicted to come with much larger price tags.
To cover all of the additional $371 million for next year's capital budget, there would have to be a roughly 37 percent increase in funding, whether that's from reserve accounts, federal and provincial sources or the property tax base. It's unclear how the city plans to make up such a staggering amount.
Sutton wasn't able to provide a timeline for the projected budgeting of all the deferred projects. He said the plan to analyze the 2021 capital project process will begin soon.
Budget committee meetings will continue this week and stretch into next week if required. The budget is set to be approved on Feb. 26.
---
Email: [email protected]
Twitter: @JoeljWittnebel
Email: [email protected]
Twitter: @nida_zafar
Tel: 416 890-7643
Submit a correction about this story