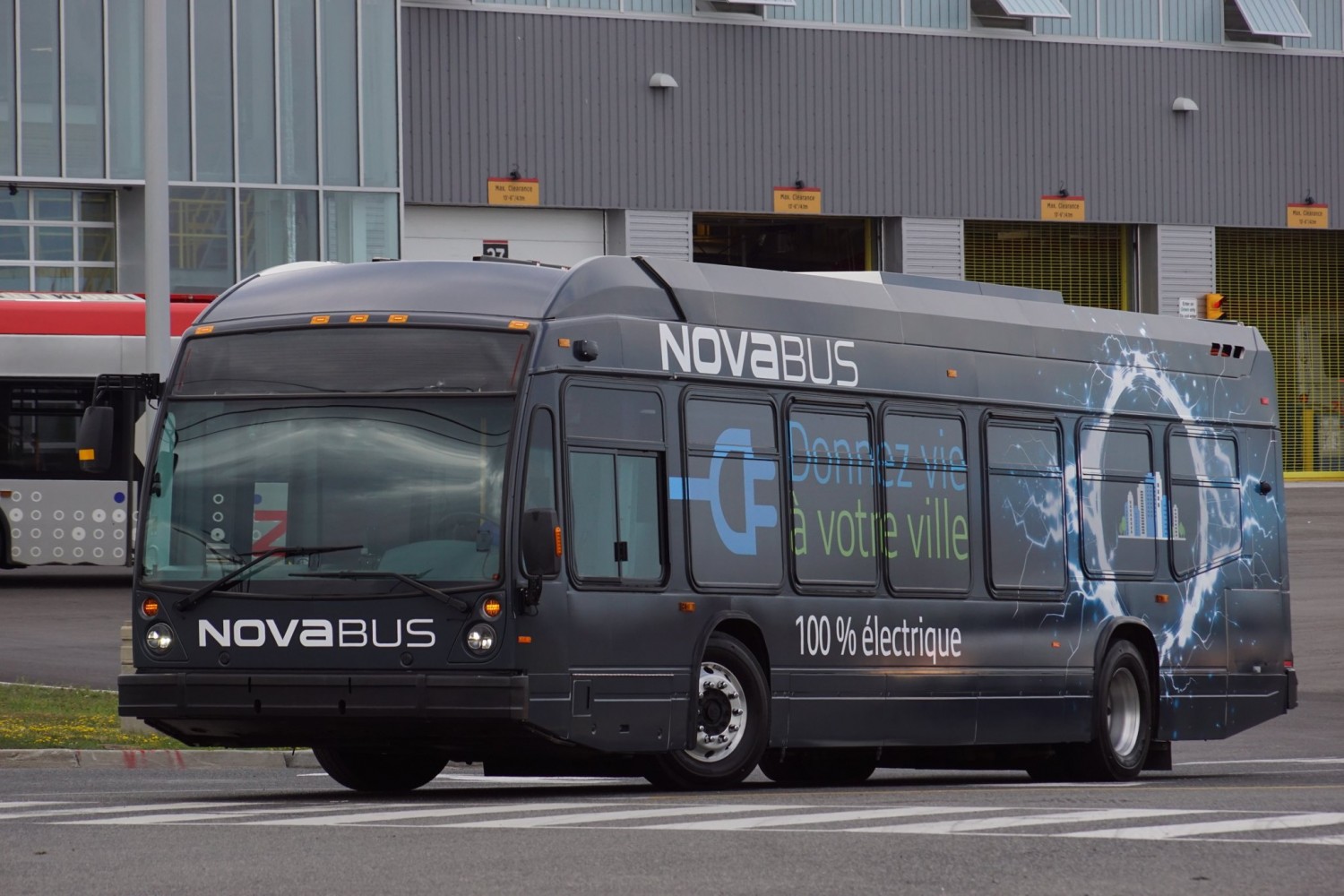 Photos from The Pointer files/CUTRIC/Twitter
Funding boost for Brampton and Mississauga's green bus projects
Few would associate Brampton and Mississauga with pioneering research into public transit. Instead, many would link Peel's two cities to wide roads, car-centric commuting, and a more suburban lifestyle.
However, both are at the heart of pilot projects exploring how to make bus transit work without producing greenhouse gases. Brampton, with the 2019 announcement of around $11 million in federal funding, is one of three cities testing standardized electric buses, while Mississauga is the main partner in an exploration of hydrogen-powered transit.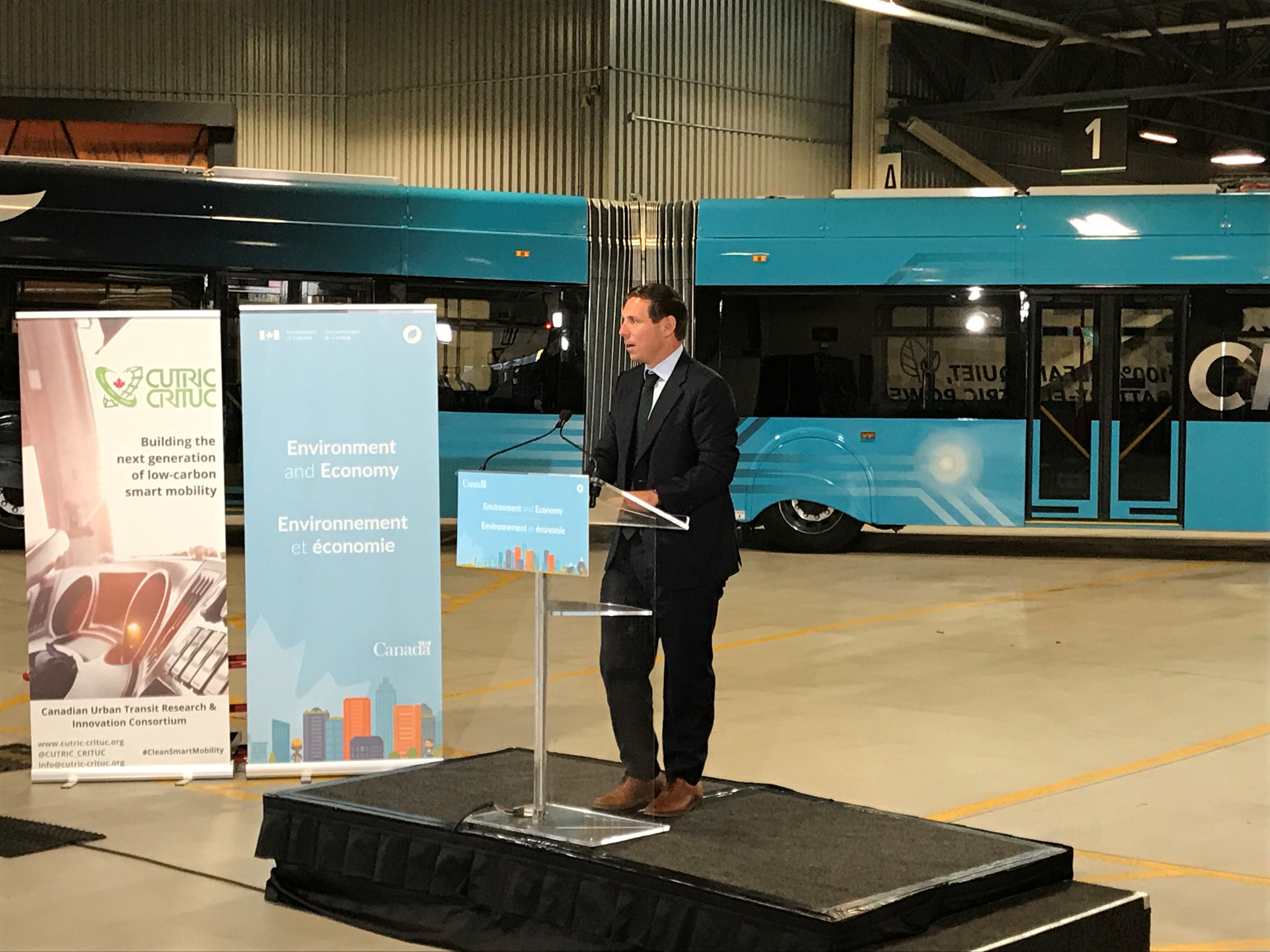 Brampton Mayor Patrick Brown at a previous funding announcement for the city's electric bus pilot project
The organization behind both projects is The Canadian Urban Transit Research and Innovation Consortium (CUTRIC). The not-for-profit group brings together research bodies, cities, and manufacturers, while also lobbying governments for funding. Despite being relatively unknown to those outside the direct area in which it operates, it is the decisive factor responsible for both cities' zero emission plans.
On Friday, Brampton North MP Ruby Sahota and a series of industry figures were at the Ontario College of Art and Design (OCAD) in Toronto to announce more funding for the organization. The federal government is chipping in more than $500,000, while CUTRIC's members, which include New Flyer Industries, Nova Bus, ABB Group, and Siemens, have joined forces to put $4.2 million on the table. The money will be used to develop zero emissions transit in Canada with education partners including OCAD, Queen's University and the University of Windsor. The funded research ranges from data modelling to cyber security for connected buses.
"These seven research institutes are forming a cluster that is going to give us the answers we need in order to electrify transit across this country," Dr. Josipa Petrunic, executive director and CEO of CUTRIC, said during the announcement. "And boy do we need those answers [...] China made a conscious choice half a decade ago to lead in the electric transit world, they made a conscious choice to invest in companies in China that build buses and shuttles and batteries and charging systems, right now 99 percent of electric buses out there are made and deployed in China."
CUTRIC has been vital in bringing these projects to Peel.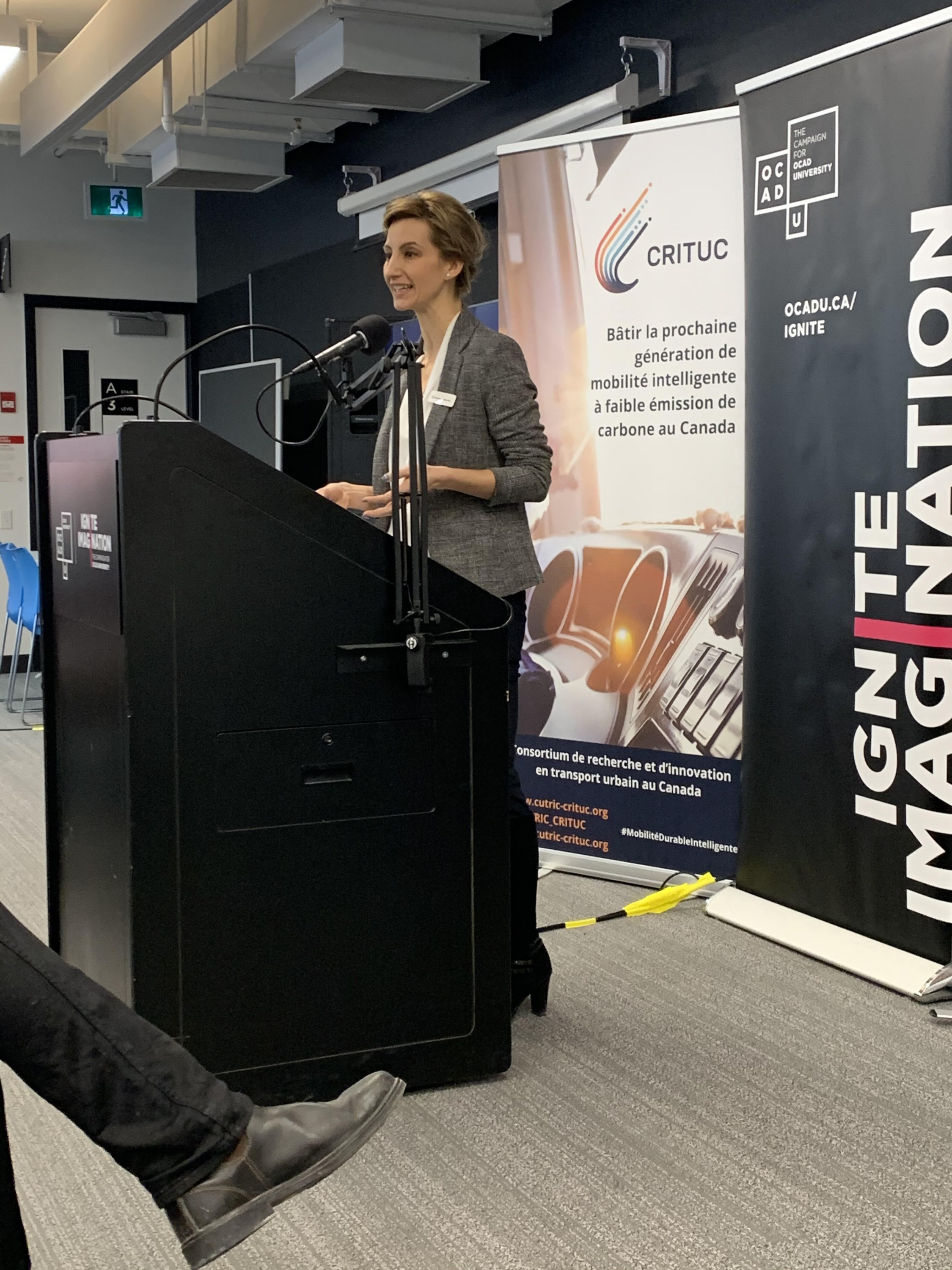 Dr. Josipa Petrunic, executive director and CEO of CUTRIC
While both Mississauga and Brampton declared climate emergencies in 2019, many business-as-usual projects in the cities continue not to align with these calls to action. In Brampton, endorsement of the sprawl-inducing GTA West Highway is one such example. The vast majority of residents and elected officials in both cities continue to drive, with continued reliance on the car.
"Transit didn't seem that interesting to me, if you had asked me years ago," MP Ruby Sahota admitted to The Pointer, adding she had a "simplistic" idea of its potential until CUTRIC laid out its possibilities. "Brampton is criticized for its development in many ways when it comes to our housing/industrial areas — or economic zones — but I think transit is where we have the ability to really make a splash nationally. We're just developing that portion in Brampton [...] we have the real ability right now to do the right things at the right time."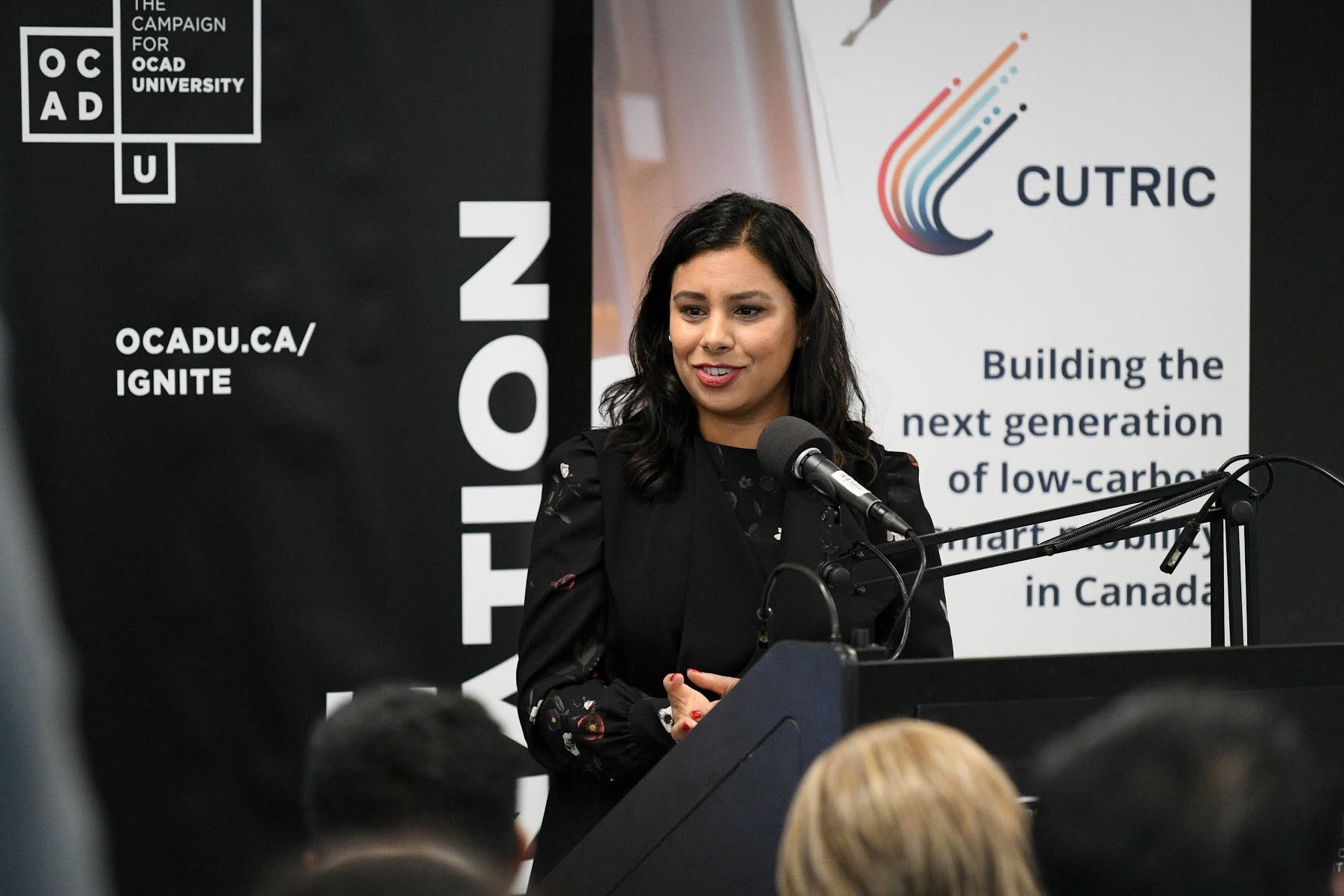 MP Ruby Sahota (Brampton North)
In 2018, Premier Doug Ford cancelled Ontario's cap-and-trade program, a system mandating companies to purchase additional carbon allowances if they exceeded specific emissions. The system was designed to incentivize environmental innovation and its revenue was spent on climate friendly policies such as Brampton's electric buses, but critics argued it stifled job creation.
"They [CUTRIC] were the driving force [for the federal electric buses]," Sahota added, explaining that, when the project was on the ropes after Doug Ford cancelled cap-and-trade funding, it was CUTRIC who worked to find a new solution and kept staff at Brampton Transit motivated to move forward.
While the eight electric buses arriving in Brampton at the beginning of next year are an environmental coup for the city, their potential is even greater than it seems. The purpose of the electric bus pilot, also taking place in Vancouver and York Region, is to test a system of standardized charging facilities for heavy duty vehicles. The current status quo among electric bus firms is for manufacturers to provide their own chargers and statistics around how their vehicles will perform. This means cities have to take the vehicle's creators at their word and must purchase charging infrastructure from the same source. In Brampton, the aim is to standardize chargers and electric mileage measures through data collection by the researchers associated with CUTRIC.
The opportunities this provides for smart growth and climate targets are great. On the growth front, a standardized system will allow cities to accurately plan their transit expansion around electric buses, placing chargers in strategic areas of the city to maximize mileage and efficiency. For climate policies, Petrunic explained, it could have an even greater impact. Other large vehicles, including trucks, could use the same chargers as buses, allowing Brampton to green its roads and earn extra cash from chargers when buses aren't using them.
"It is the exact same standardized technology and chargers that trucks use," she explained to The Pointer. "It is very difficult to electrify trucks that are a private fleet because you are asking for UPS [...] to go and install high power charging systems they'll only use once per day. It's extremely expensive [to do], so nobody's going to do it [...] So the only way to get the truck infrastructure is to get the government involved."
While many Brampton companies working in freight and trucking operate in the city due to its large industrial zones, wide roads, and network of highways, the potential of a successful pilot to reduce the city's greenhouse gas reliance is massive.
In Mississauga, talk of a similar electric pilot was quickly shut down. With the city further ahead in its densification than Brampton, space to build electric charging infrastructure is more limited. Instead, MiWay signed up to pilot around ten hydrogen buses, with a goal of greening its entire fleet.
The project is listed on CUTRIC's website and was mentioned in a 2016 media release, but is otherwise elusive. A spokesperson for the city even described it as "aspirational."
"I actually think [Mississauga] is very far ahead, but you wouldn't know it unless you're behind closed doors," Petrunic explained. "Two years ago, he [Geoff Marinoff, director of Miway] took a look at his system and said, from a real estate perspective, [he] just simply didn't have space for all the chargers and electrification."
Instead, MiWay opted to explore hydrogen, particularly with industry leaders already located in the city. Mississauga's project was all set for success until the same cap-and-trade cancellation that caused Brampton a headache, stripped MiWay of a local hydrogen provider. Scrambling to catch up, the project is now negotiating new sources of hydrogen and CUTRIC says it is still very much alive.
For those surveying Brampton and Mississauga through a smart growth lens, there is much to be desired. Both cities were designed around the car and suburban properties, while developers have been at the heart of Peel's planning for quite some time.
As a result, their transit services operate as more of an afterthought. Brampton Transit and MiWay are tasked with running bus routes through small, suburban streets, competing with cars on gridlocked roads or dropping passengers at GO stations located in a sea of parking lots.
With CUTRIC's two projects, there is potential for that to change. A combination of zero-emission buses in both cities and the data being analyzed thanks to nearly $5 million of funding could see a huge breakthrough.
---
Email: [email protected]
Twitter: @isaaccallan
Tel: 647-561-4879
Submit a correction about this story