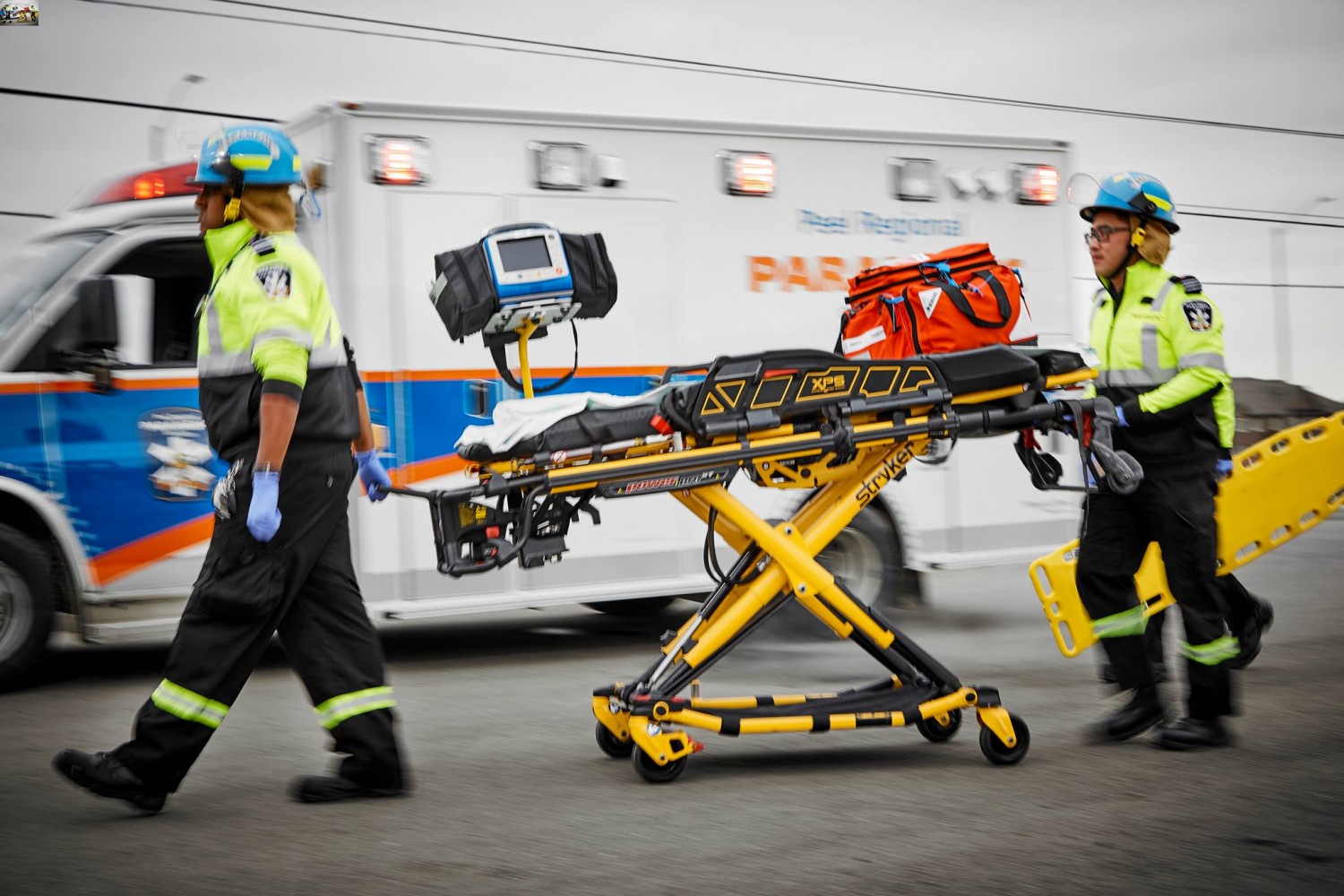 Photos from Facebook/Peel Regional Paramedic Services/Toronto Pearson International Airport
In 2019, regional taxpayers funded more than 6,000 paramedic visits to Toronto Pearson International Airport
In-flight emergencies are a fairly uncommon event. For unaffected passengers, it can require an unexpected landing or perhaps a slight delay from unloading, while for a flight crew it means a call to the ground.
When the call comes in, the relevant emergency service is mobilized. At Toronto Pearson International Airport in Mississauga, this applies to a few different services. For a security-related event, officers with Peel Regional Police stationed inside the airport may be deployed, while an in-house crew would respond to a fire emergency.
However, Toronto Pearson doesn't have anyone on site for medical calls. Instead, for every health emergency, an ambulance or medical vehicle is dispatched to the airport by the region's paramedic service.
In 2019, 6,799 calls were made to Peel Regional Paramedic Services from within Toronto Pearson's terminal or airside. Over a year, this averages out to more than 18 vehicles called to the airport per day.
Toronto Pearson International Airport
"Peel Paramedic Services respond several times a day to the airport to assist employees and passengers in need of medical care," Brad Bowie, spokesperson for Peel Paramedics, told The Pointer. "We have a Rapid Response Unit (RRU) that is assigned to the airport and we have stations surrounding the airport to respond to calls. The airport is a city within a city and we are constantly working with our partner response agencies to address the growing number of calls, as the airport expands service and the passenger volume increases."
While Toronto Pearson relies on Peel's paramedics and, in turn, its taxpayers, other airports across the country have come up with more efficient systems.
In 2000, Vancouver International Airport introduced a permanent squad of bike paramedics, which operates 24 hours a day, seven days a week. The crew currently consists of eight paramedics who work across twelve hours shifts to rapidly respond to events in the airport, with an average response time of just five minutes.
In a 2018 press release, Montréal-Pierre Elliott Trudeau International Airport heralded a similar deal. In the airport, paramedics are also equipped with bikes used to respond to calls, reducing the strain on local paramedic services.
The key benefit of onsite medical professionals, demonstrated by both Vancouver and Montreal, is a significant reduction in the number of ambulances called to the scene. According to the communications team at Pierre Elliott Trudeau, almost 3,000 medical calls were responded to at the airport last year. Most, though, were not emergencies requiring an ambulance, instead relating to "fatigue, anxiety and stress, or pre-existing health conditions such as diabetes, asthma and blood pressure."
Statistics provided to The Pointer by Vancouver International came to a similar conclusion. Fifty-nine percent of patients assessed by bike paramedics at the airport last year did not require transport to a hospital and were treated at the scene. As a result, ambulance resources were saved and patients were treated faster, with medics already onsite to come to their aid.
Of the 2,484 medical calls made in 2019, 1,456 were treated at the airport without additional assistance. In 2018, just 40 percent of medical emergencies at Vancouver International resulted in hospitalization.
In Peel, no such system exists, meaning that all calls result in a blue-lights dispatch of personnel to the airport. According to the 2020 regional budget document, paramedics responded to an average of 389 calls per day in 2019, an increase of 35 percent from 2018. Working in the daily airport average of 18 calls, paramedic activity at Toronto Pearson was responsible for almost 5 percent of daily calls.
The precise cost of this to the regional taxpayer is hard to calculate as Peel Paramedics do not provide a specific per-call cost. Taking their 2020 operating budget of $114.7 million (a net spend of $59.1 million after provincial grants are taken into account) and dividing it by the projected annual call rate of 148,000 calls can be used to give an indication.
Using the above formula, the total cost (including all back-end operating costs such as dispatch staff) is $775 for every paramedic call. Factoring in the number of daily calls to the airport and using the service's net operating budget funded by the taxpayer, residents and businesses in Peel are subsidizing Toronto Pearson by as much as $7,100 every day for paramedic services.
A congressional report helps put this figure in context. According to the US report, where many medical costs are passed directly to the patient, the cost of ambulance transport in 2012 ranged from $224 (USD) to $2,204 (USD).
To compound the issue, Toronto Pearson pays relatively little to the City of Mississauga and Region of Peel in the way of tax. Rather than paying property tax in the traditional sense, they pay per-head for the passengers coming through the airport. Payments are on a three-year delay to the city and the total cannot increase by more than five percent every year, regardless of passenger increase. The rate of payments-in-lieu of tax (PILT) was set at $0.94 per passenger in 2001 and has not increased since. Where residents and business have paid a little more in tax every year as a result of budget pressures, Toronto Pearson only pays more if its own revenue increases through higher volumes of passengers.
A spokesperson for Toronto Pearson explained it has a "long-established" fire and emergency service that operates within the airport. The events its force responds to include "aviation emergencies, all medical responses, responses for fire and life safety systems in our buildings, hazardous materials response and many forms of technical rescue." The spokesperson added that "Peel Regional Police are able to act as first responders and in addition, act as a valuable security resource for Pearson."
On the issue of paramedic costs, the spokesperson said: "Peel Paramedic Services are a municipal service and their responses to Toronto Pearson are the same as anywhere in the Region of Peel, meaning there are no additional costs to the airport." The spokesperson added that airport employees are trained in advanced first aid, and defibrillators are located onsite along with emergency bleed control kits.
"With this mix of emergency resources, Toronto Pearson is prepared to respond to all types of emergencies and we're confident our passengers and employees can feel safe when they're travelling with us or coming to work," the spokesperson said.
Even if the airport continues not to carry its weight financially, the region's paramedic service could save money by locating some of its staff onsite. With just 40 percent of emergency calls in Vancouver resulting in hospitalization, the majority of ambulances currently called to the airport could be used elsewhere. Across the region, 66 percent of paramedic vehicles were dispatched as life-threatening in 2019, but only 7 percent were taken to hospital as such. If that number were to apply to airport calls as well, the airport and paramedic service could make significant savings using the same systems as Vancouver and Montreal.
With Mississauga and Brampton set for explosive growth over the next two decades, careful planning of emergency services is critical. If tweaks to the deployment model can save as much as 40 percent of annual airport calls, resources could be freed up to concentrate on other areas of growth, including Mississauga's Lakeview Village and Square One, alongside Brampton's Shoppers World.
"The Peel Paramedic Union is proud to respond to Canada's busiest airport," Union Head Dave Wakely told The Pointer. "Our members face challenging responses to this dynamic site. We respond to the airport more than any other place in the region. We see great economic and life saving value in providing on scene paramedic support to provide quick care to in need passengers, but to date we are unaware of any proposals to provide that level of service."
"We would be in strong support of this initiative," he added.
---
Email: [email protected]
Twitter: @isaaccallan
Tel: 647-561-4879
Submit a correction about this story