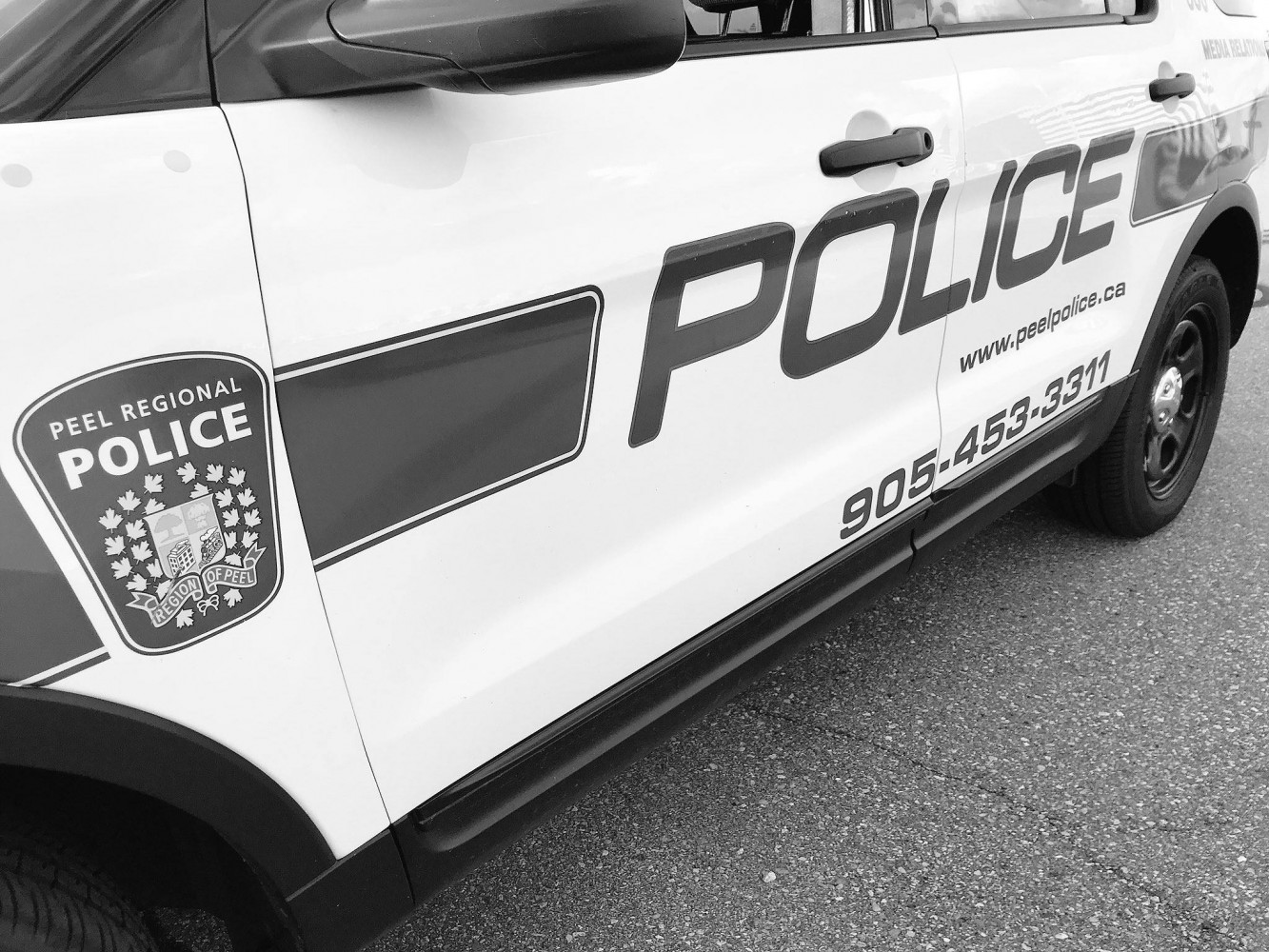 Photos from The Pointer files/Twitter/Facebook/Peel Regional Police
Chief Duraiappah has a vision for the future, as he grapples with the violence of the present
Change. Alter. Amend. Redesign. Different.
Words that are nowhere to be found in the 12-page, 2017-19 Peel Regional Police Strategic Plan, a document that has been the roadmap for Brampton and Mississauga's police force over the last three years.
Rather, words like "maintain" and "continue" are mentioned 12 times, or about once per page.
It's a small, but significant indicator of the mindset Peel Regional Police have been operating with in recent years. Over that time, one thing has been made clear — the organization needs to change. Officer misconduct, ballooning budgets, and an organization that an audit found was unwilling to heed issues around diversity and inclusion — concerns that were rampant among frontline officers — highlight the need for a shift in focus.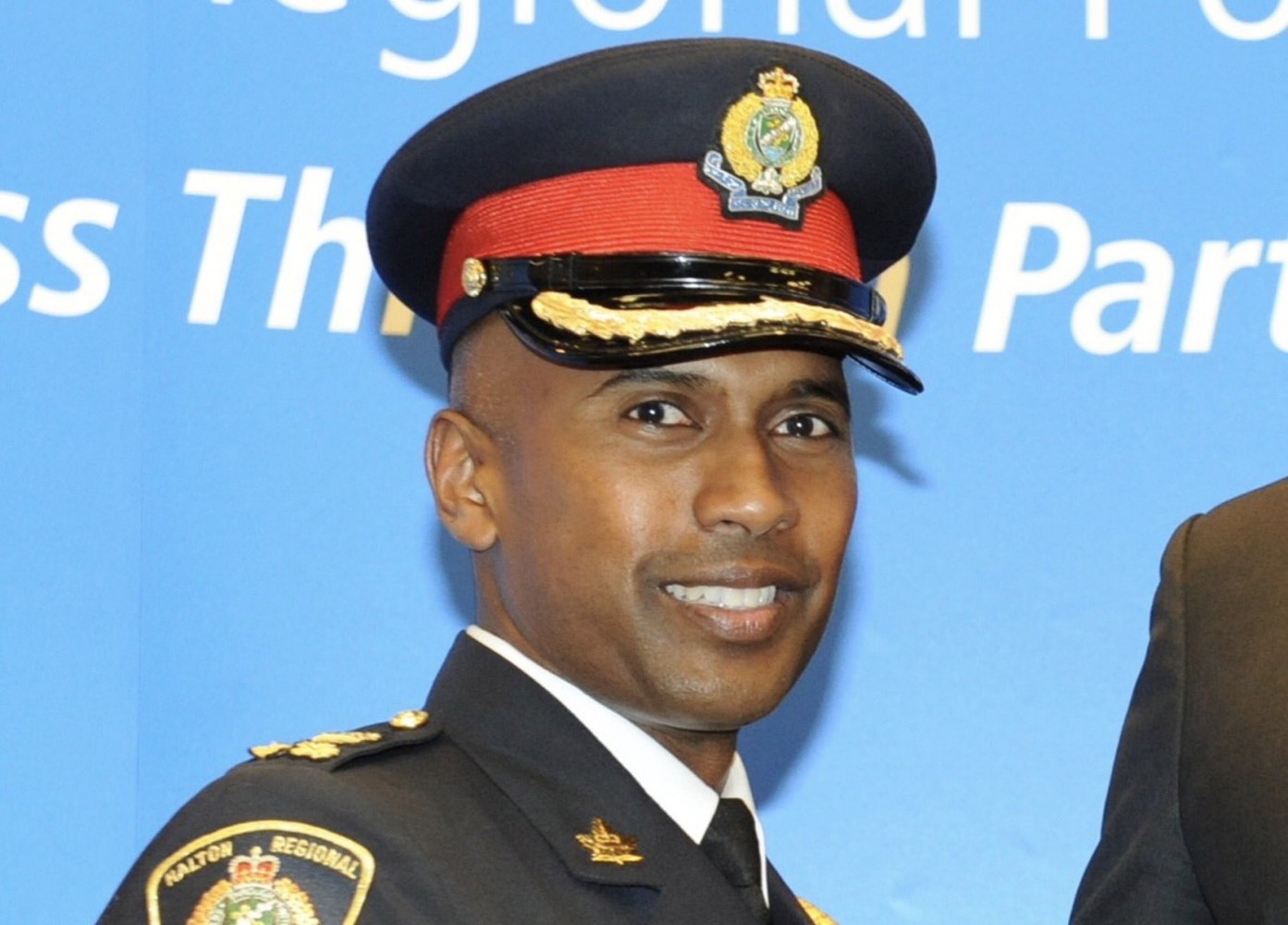 Peel Regional Police Chief Nishan Duraiappah
Enter Chief Nishan Duraiappah. Hired in late 2019, the new chief has made change his primary concern, which he stressed during an appearance before Brampton city council on Feb. 5.
"I do intend on changing things," he said. "It is a big responsibility and task, I do not take that lightly, but I think what is important is for you all to hear really who I am, from which everything else within this region and policing will trickle down and filter."
"Peel Regional Police has a long history and tradition of many best in class activities," he added. "But I think it's important for council and the public to know the complexities that public safety faces these days can not be managed with the traditional ways in which we have done things and that stems from just how we look at the issues we are facing in the community."
As PRP's policing population has grown, with Brampton and Mississauga rising out of Toronto's shadow, it has drastically shifted the types of crimes Peel police have had to deal with.
The rise in violent crime in Peel is a trend that has been heavily reported in the media since its spike in 2018. However, it's not just the more complex investigations involved in homicides or near-deadly assaults that Peel police are grappling with.
Sexual violations have been increasing in Peel since 2013 with drastic jumps of 21 percent between 2014/15 and 2015/16 and a further 34 percent increase the following year. The rise in these numbers, and the increasing awareness about how police have historically mishandled sexual assault complaints has led to a complete revamping of how these cases are handled by police organizations across Canada.
This is not the only change Peel police have had to grapple with. Human traffickers are increasingly calling Peel Region their headquarters, driving the number of these offences in Brampton and Mississauga to nearly twice the national average. Further, sexual crimes against children are rising at a terrifying rate — increasing 332 percent over the last five years, nearly three times the average rate in Ontario. These statistics become more startling when considering crimes like sexual exploitation, which Peel Police recorded zero instances of in 2014, to 20 cases in 2017, and 10 in 2018. Plus, other sex crimes like sexual interference have increased from five cases in 2014 to 110 in 2018.
Peel's Internet Child Exploitation Unit has its work cut out, not only when it comes to addressing rising crime rates but also training officers how to properly handle vulnerable victims, and investigate crimes that were practically non-existent in their jurisdiction several years before.
Rising gun crime in PRP's two cities — mainly fuelled by an increasing gang presence — also highlights how Peel police have had to adapt and evolve over the past five years.
Cases of discharging a firearm with intent have increased from only three cases in 2014 to 25 in 2018, while cases of pointing a firearm have risen from five in 2014 to 18 in 2018.
Meanwhile, Peel police are on the frontline of the opioid crisis, responsible not only for taking dealers off the street — instances of opioid trafficking have risen from zero in 2014 to 20 charges in 2018 — but they are also carrying naloxone to assist users in the event of an overdose.
This is all happening while police are tasked with responding to the typical crimes that are the bread and butter of any police force. There are property crimes, minor thefts and assaults, traffic violations, and other offences, that while no less significant, do not put a person's life at risk, and still require the presence of a uniformed officer.
Chief Duraiappah provides an update on Highway 410 shootings
The force dealt with approximately 43,000 Criminal Code offences in 2018, more than 9,000 of which were crimes against persons (an average of 26 per day), and more than 28,000 crimes against property (an average of 77 per day). The force also doled out about 232 Highway Traffic Act charges on a daily basis, a number that is sure to rise as Peel sees more newcomers arrive, more houses built, and more cars on the road.
These numbers are only projected to increase in 2020. Peel police are predicting a 9.9 percent increase in citizen-initiated events, a 4.6 percent increase in immediate response calls, and a number of emerging pressures relating to mental health calls (officers spend an average of 2.5 hours per day in hospitals for mental health apprehensions), intimate partner and domestic disputes (officers spent 66,000 hours on such calls in 2019), and other complex crimes.
"The way that we've done policing has to change, it's so complex, the confluence of issues that we see on the road and that the public see in the news and the media can not always only be solved by us," Chief Duraiappah told council. "This is not me absconding from responsibility, we will always be the professionals at emergency response and incident response…but we understand that we need to bring in community partners at a real engaged level."
Along with the changing nature of crime, police are now the first point of contact for people who need access to other services, including mental health and addictions, housing and shelter, and even less thought about issues in Brampton or Mississauga like food scarcity or older adult isolation. According to Chief Duraiappah, about 80 percent of a police officer's work is non-criminal, meaning Peel police are increasingly entering situations they are not trained to handle.
Throughout his first few months on the job, Chief Duraiappah says he's made it his goal to not only visit all of the PRP divisions across Brampton and Mississauga, but also meet with community stakeholders and service providers in order to form the partnerships needed for his organization to carry out these varying tasks.
A successful example, and one that is being implemented in cities across Ontario, is Peel's new Mobile Crisis Rapid Response Team (MCRRT), which pairs a crisis worker with a police officer to assist with individuals experiencing mental health crises. This means that a person who needs mental health or addictions treatment won't end up handcuffed and driven to the emergency room, but instead provided with the immediate care they require. Not only this, but people can potentially be linked with services that can help them in the long run.
"I do believe that everything is built on legitimate authentic relationships," Chief Duraiappah says. "Those aren't just catch phrases, it is the hallmarks of what I've done and where I come from and I intend on achieving that here at Peel Regional Police."
Programs like MCRRT not only have a direct impact on those receiving assistance, but free up valuable police time that would otherwise be spent with that individual, and already, Chief Duraiappah says, Peel is seeing a "significant" impact from this program, and a reduction in the amount of time officers spend waiting in emergency departments.
"The services they need are not what the uniform can bring," he says. "Ultimately, it's getting the right care for the right people."
While not directly reflected in the PRP budget, these additional responsibilities have consistently added a growing burden to the organization's bottom line.
For 2020, the PRP budget got a $21.5 million boost, a 5.4 percent increase over 2019. The increase will see the hiring of 35 additional officers to the PRP complement — down from an initially proposed 55 — and 18 new civilian staff. Even with the added officers, the force remains woefully behind the Canadian and national averages when it comes to police officers per population. This year, Peel sits at approximately 140.5 officers per 100,000 residents, well below the national average of 194 officers for every 100,000 residents and the provincial average of 181 officers per 100,000 residents. This has been an ongoing concern for Peel, the third-largest municipal police force in the country.
The budget wasn't an easy one for council and Chief Duraiappah to agree on, with many around the regional council table looking to the chief to lower the proposed increase. However, when Chief Duraiappah warned councillors that this was not possible without compromising service delivery in the region, the increase was left intact.
The chief acknowledged that these sorts of increases are not sustainable in the long run.
"My goal and my job is to find new ways of doing that and to really put Peel Regional Police on the map not only provincially, (but) internationally as leaders in innovation and public safety," he told Brampton councillors. "It's not a burdensome pressure for me because there are a lot of opportunities to enhance the way policing is done…I think we're poised to do some remarkable things."
Some of those potential changes could come this year with the completion of a number of studies currently underway. The provincially mandated Community Safety and Well-Being Plan must be in place by the end of this year, Peel police are currently undertaking a sweeping service delivery review that analyzes every aspect of the operation, and finally, a new strategic plan for the coming years is currently under development. All of these documents will overlap and create a roadmap for how Peel police will adapt to the changing pressures both in the community and inside their organization in the years ahead.
"I think this is fantastic, I've had nothing but great comments over the last six months about the changes that are about to come and I'm looking forward to them," said Councillor Jeff Bowman.
---
Email: [email protected]
Twitter: @JoeljWittnebel
Submit a correction about this story