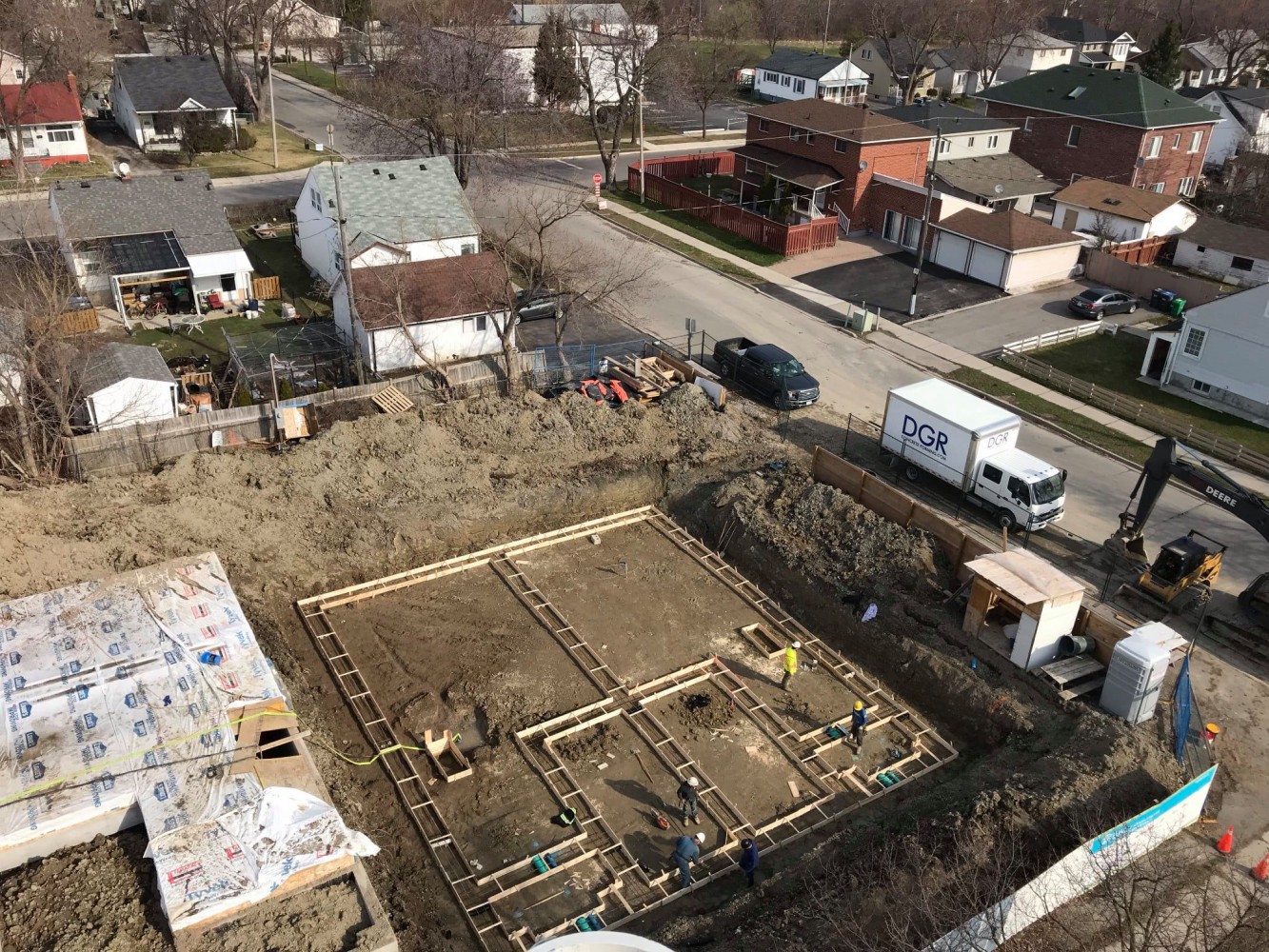 Photos and graphics from The Pointer files/Habitat For Humanity Halton-Mississauga/Facebook/Region of Peel
Peel Region delays critical housing vote that could redirect funds to strained shelter system
Regional councillors strongly agree the housing crisis in Peel has worsened to "tsunami" level proportions. That didn't stop them from delaying a crucial funding vote following objections from an influential housing partner.
After some cajoling, Regional Chair Nando Iannicca was able to convince fellow members of the Peel housing and homelessness committee to endorse his motion to delay a vote on reallocating funds from existing grant programs into more pressing, but currently underfunded, initiatives.
As a result, the debate on the matter will resume in front of the entire regional council when it meets Feb. 13.
A delay appeared inevitable when Habitat for Humanity, which, through its local affiliates has a grant agreement with the region, made clear its opposition to discontinuing the program during a public delegation at the committee meeting Feb. 6.
A list of regional grant programs that could be repurposed to allow their budgets to be directed to Peel's shelter system.
Given its importance as a strong partner, it is sensible to give the housing charity — which has constructed 52 new homes in Peel over the last six years as a result of the grant — more time to digest the changes as well as have the opportunity to form a persuasive counter-argument to preserve the grant for all of council to ponder, said Iannicca, who told The Pointer he had received messages from other councillors prior to the committee meeting urging him to delay the vote.
"It's a dramatic realignment of how we service this very important social cause, and I think you have to give people some time to adjust and make their counter points," said Iannicca following Thursday's committee meeting at the Region. "Just as important, I think I need all of my council colleagues in the room [to vote on the reallocation]."
Region staff project more than $4.2 million can be freed up by discontinuing the grants, which are aimed at affordable homeownership, to pay for more urgent resources for the homeless and precariously housed.
After nearly two decades of underinvestment, Peel has set an ambitious goal of adding 75,000 more affordable housing units to the region by 2028. To get to that goal it so far has allocated just $2.9 million, although the plan calls for hundreds of millions in investment.
The recommendation to discontinue the grants comes in the wake of a lengthy review of the region's housing operations, which concluded there would be a greater return on investment focusing on housing supports — subsidizing rents or encouraging greater use of "secondary suites" like renting out basement apartments — as opposed to ownership given the inflated housing market.
The review also determined the money allocated to the granting programs was better placed to address more urgent considerations such as the acute lack of shelter beds in the region. As The Pointer reported in December, since 2018 just five beds have been added to the regional shelter system.
The proposed shifting of grant funding represents one of the first concrete steps made by the Region of Peel to direct more funding toward its ailing shelter system to help alleviate the consequences of the ongoing affordable housing crisis.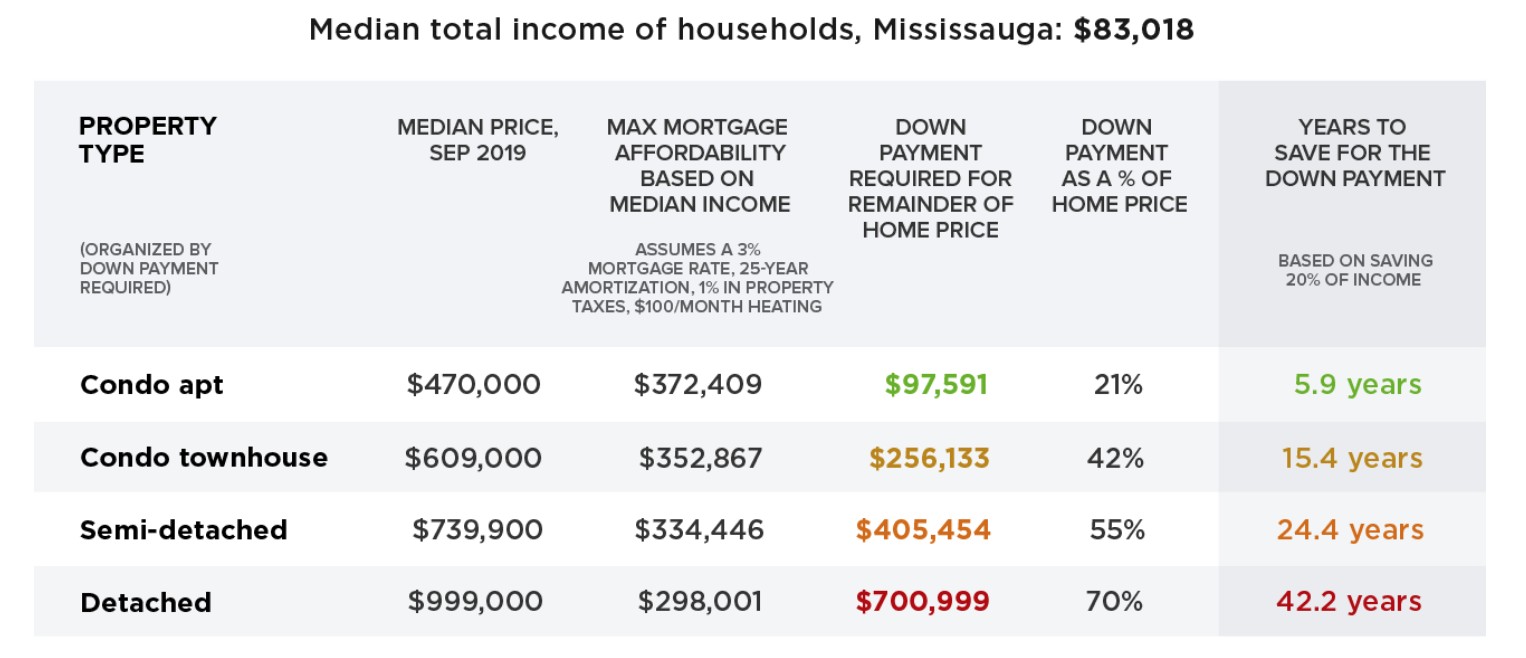 In Brampton and Mississauga, a large proportion of residents are "vulnerably housed", meaning more than 30 percent of their household income goes toward housing costs. The above charts illustrate the extent of the city's unaffordability crisis showing that it would take decades for residents to save up the downpayment for a new home or condo at current prices.
A report prepared for the committee by Janice Sheehy, commissioner for human services, recommends five granting programs in particular be discontinued and a sixth restructured, and the funds reallocated.
But Habitat Vice President Joshua Bénard told the committee that the organization had received only 48 hours notice about the vote, making it impossible to craft a strong defence in support of preserving the grant agreement.
"Frankly, we were caught off guard by this recommendation," Benard told the committee.
While Habitat for Humanity will not lose any funding from the current agreement, and nine new units to be built in Peel paid for by the grant will move forward as planned, Bénard says the move will nonetheless have a disastrous effect on the group's mandate to build new homes for low income families.
"The grant program has allowed Habitat GTA to expand our community impact by providing 51 working and lower income families with the strength, stability and self reliance of affordable home ownership," said Benard in a prepared statement.
Benard warned discontinuing the grant, which was worth $5.22 million from 2012-18, would result in an "imbalance" for low income families "out of housing options."
Shelter bed use has risen dramatically in Peel, with 15,741 documented visits in 2018 to the region's emergency shelters, an increase of more than 700 visits compared to 2017. Meanwhile, the number of beds has remained largely static leading to several of the region's shelters, operating at or over capacity throughout 2018 and into 2019.
According to the report, total shelter costs since last August are projected to have exceeded the total budget allocation by $1.8 million.
As well, record low rental vacancies combined with unaffordable home prices strongly suggest the region needs to rethink its strategies on improving affordability.
"The priorities for the current system are very different than the priorities from just a few years ago. These growing pressures require different solutions, bigger investments and a greater sense of urgency," states the report.
Brampton Regional Councillor Martin Medeiros was reluctant to support a delay given the need for action to address the lengthy waits for shelter beds and services in his ward.
Medeiros ultimately voted in favour of the delay but he warned the crisis is only worsening for Peel.
"We're in a crisis," said Meideros. "We need to have urgency."
The delay will give staff time to negotiate with Habitat on a compromise to present to council to ratify. If no agreement can be reached by then, Iannicca said he would call for an emergency meeting involving all of his colleagues to finally make a decision on reallocating the grant money.
---
Email: [email protected]
Twitter: @RG_Reporter
Tel: 647-998-3514
Submit a correction about this story