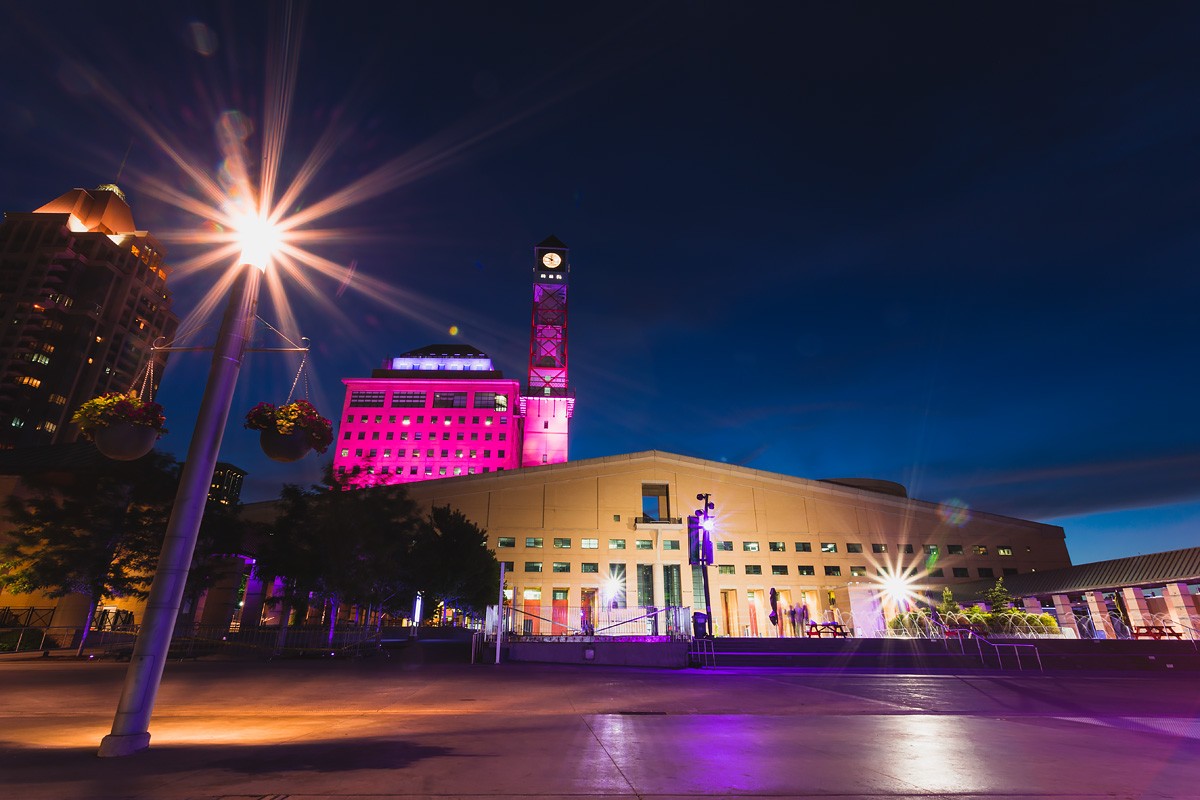 Photos from The Pointer files/Flickr/Sanjin Avdicevic/Facebook/Kaleed Rasheed
Mississauga's provincial representatives remain quiet when it comes to funding for city infrastructure projects
The City of Mississauga has plenty of big infrastructure dreams — transit growth, waterfront development, and climate change readiness to name a few — but no way to pay for it all without considerable help from higher levels of government. At its meeting Feb. 5, council approved the crafting of a formal wish list — which includes projects that are planned but not fully-funded — for the province to mull over.
While informal talks have taken place between city and provincial representatives and their respective staff over funding, council authorized a formal written request be sent to the government as it continues to receive pre-budget submissions until the deadline of Feb. 11. It's expected this year's Ontario budget document will be unveiled sometime towards the end of March.
Mississauga Mayor Bonnie Crombie
"We consult regularly with the Premier and Minister [of Finance] so they know about our issues, but it's good to have them in writing," said Mississauga Mayor Bonnie Crombie about the request, which was unanimously endorsed by council.
While no dollar amounts are presented in the city report outlining the list of projects, it is highly likely to cost multiple billions over decades to satisfy every one of the funding requests.
Among the projects is restoring the three-stop Downtown Loop to the Hurontario LRT plan, axed by Metrolinx last year as part of a cost-savings measure, estimated to cost approximately $200 million.
The city also hopes it will receive more support for another project which it relied on the province and federal government to complete: expanding the $538 million transitway bus corridor with a downtown terminal.
While MiWay ridership numbers provided by the city suggest use of the transitway is up, previous analysis by The Pointer showed these statistics to be inflated, finding the $500 million piece of infrastructure to not provide as much value to taxpayers as suggested. But with so much money having already been spent on the project, the city would be wise to focus on greater gains. The addition of another station to prevent the need for buses to merge with street traffic where the corridor ends downtown and experience delays would be beneficial, alongside an expanded transitway to connect with the future LRT.
Transit upgrades aren't the only funding requests being made by the city.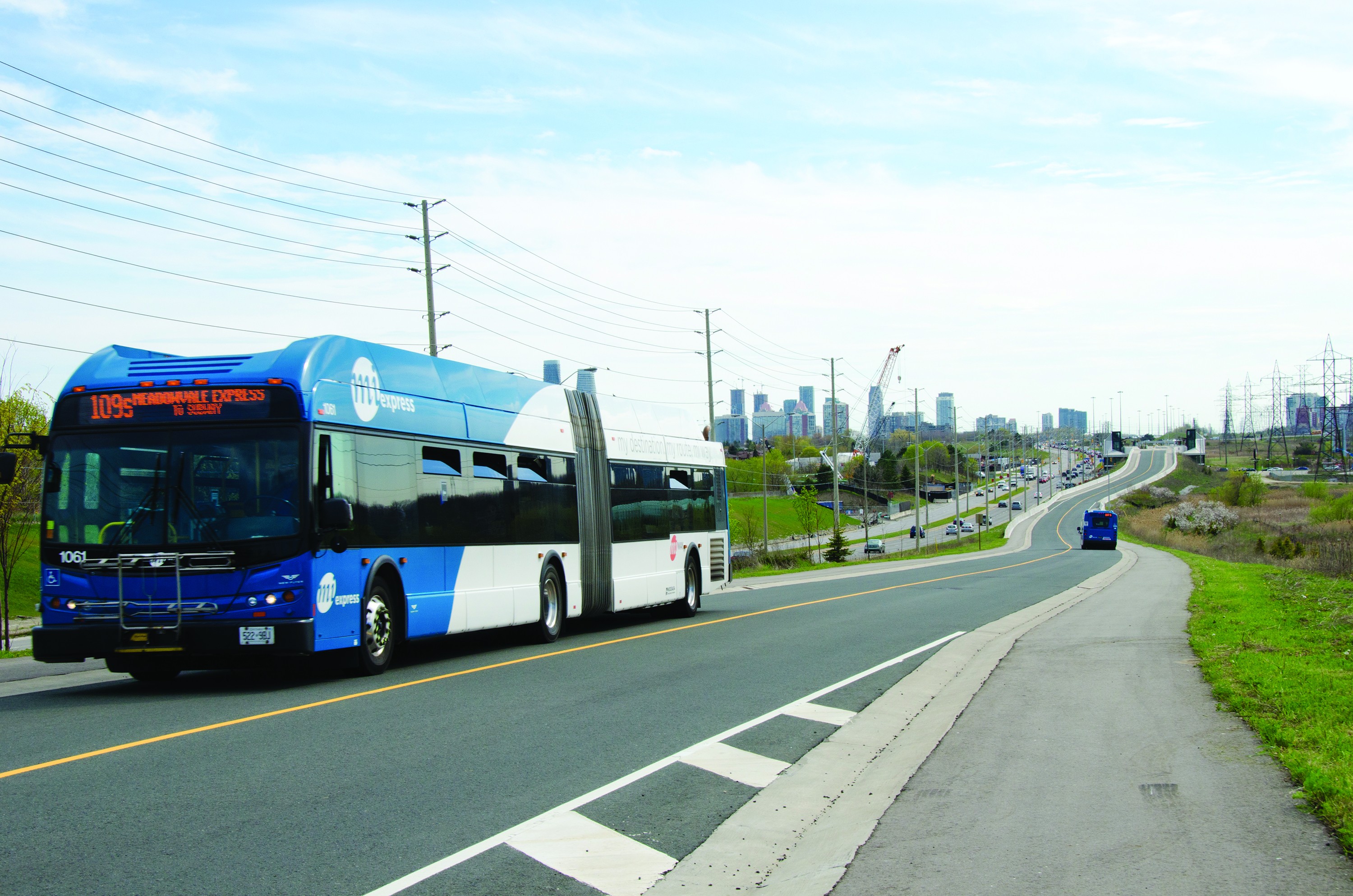 The Mississauga Transitway is built adjacent to Highway 403
Along with the rest of Peel Region, Mississauga has a significant lack of affordable housing options and nearly one-third of residents are classified as being "vulnerably housed," defined as those who spend more than 30 percent of their total income on housing.
To raise money for housing, the city wants provincial assent in establishing new revenue tools to raise the necessary funds to improve stock, such as being given the right to establish a vacancy tax.
In addition to its written submission, contact information for all of Mississauga's provincial and federal representatives was posted online, no doubt to encourage some public pressure.
Following the Feb. 5 council meeting, The Pointer reached out to Mississauga's six MPs and six MPPs to ask if they would support the city's funding needs, of whom virtually none replied.
From the province, Kaleed Rasheed (Mississauga East—Cooksville), the province's deputy whip, declined to speak to The Pointer, citing prior commitments for pre-budget consultation and his role on the bi-partisan Standing Committee for Finance and Economic Affairs.
His office did issue a short statement affirming Rasheed's support for Mississauga's infrastructure wish list and citing his government's support for projects like the Hurontario LRT — which had received a full funding commitment before the Conservatives were elected in 2018 — and expanding long-term care beds.
"I am a firm supporter and advocate for infrastructure spending in Mississauga," reads Rasheed's statement. "Being the 3rd largest city in Ontario, with unprecedented growth in the region, investment is required to grow our public infrastructure programs.
"We are committed to additional investments for the City of Mississauga and, most importantly, for the residents of Mississauga."
Mississauga MPP Kaleed Rasheed (Mississauga—East Cooksville)
So far, none of Rasheed's Mississauga colleagues at Queen's Park, including Rudy Cuzzetto (Mississauga—Lakeshore), Natalia Kusendova (Mississauga—Centre), Sheref Sabawy (Mississauga—Erin Mills), Nina Tangri (Mississauga—Streetsville), and Deepak Anand (Mississauga—Malton), have responded.
A look at the MPPs' speaking records during the 42nd Legislative session at Queen's Park provides some insight into what they consider priorities for local infrastructure improvement. None of them make mention of Mississauga's specific funding needs.
Back in December, Anand spoke passionately in support of expanding services and beds in long-term care facilities, citing a funding commitment by his government. Anand, Cuzzetto, and Rasheed were also at a funding announcement later that month for Cooksville Care Centre to enhance care for dementia patients.
Last April, Anand spoke glowingly of the government's support for expanding lanes on Highway 401 from Mississauga to Milton. The next month he extolled a financial commitment from the province for affordable housing, but there was no local context.
In the Legislature, Cuzzetto also spoke about affordable housing, calling for the removal of "regulations," which he claimed muzzle the development of new housing. Cuzzetto made little mention of specific transit needs but he was strongly supportive of highway expansion for Peel, which he mentioned while supporting a traffic bill in May.
Kusendova has made no public mention at Queen's Park of any specific transit projects for Mississauga, although, like her colleagues, she did throw her support behind highway expansion. A registered nurse before being elected, Kusendova did make one speech about the need for better hospital funding, but urged caution on building new infrastructure.
"We believe that the best way to move forward when building new infrastructure is to consult with the experts and determine what is the best use of our limited resources," Kusendova told the Legislature in Oct. 2018.
Sabawy's lone reference to infrastructure came in 2018 to credit his government for the completion of extensive renovations to Credit Valley Hospital, a project that took 20 years to complete.
Tangri spoke extensively about transit building during a May 2019 speech, but mostly in the context of Toronto.
Speaking in favour of Bill 107 — which legislated Metrolinx take over planning and management of planned transit projects such as the Ontario Line — Tangri mentioned the Hurontario LRT in passing but used much of her time to chastise Toronto for its lack of transit infrastructure upgrades.
---
Email: [email protected]
Twitter: @RG_Reporter
Tel: 647-998-3514
Submit a correction about this story