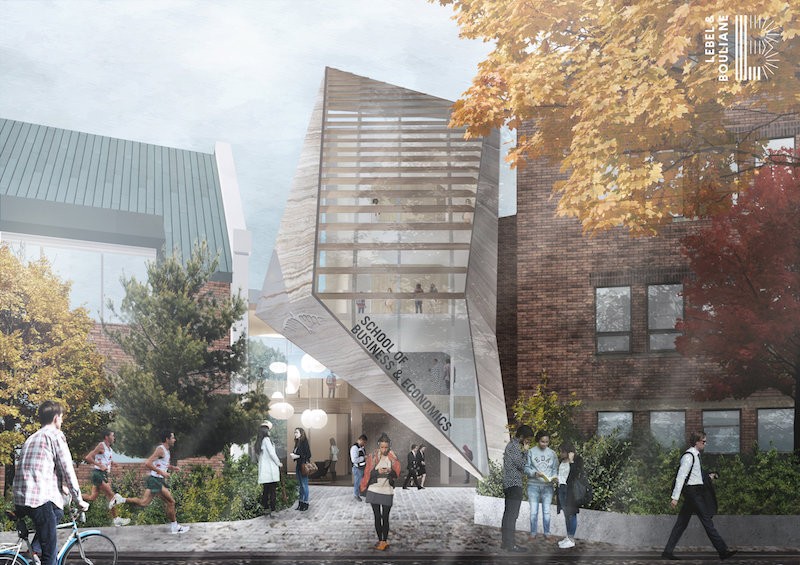 Photos from The Pointer files/City of Brampton/Nida Zafar
No concrete details for Brampton's ambitious university plan
The enthusiasm for a university in Brampton is significant, but this excitement won't last long if residents don't get details on how exactly it will come about.
On Tuesday night, the City of Brampton held a town hall for residents to ask for public input on a possible new university. While the details were slim and no new information was presented, residents were able to share their concerns and learn why the city needs a university.
Residents packed council chambers to learn about plans for BramptonU and share their perspectives
People both young and old, some solo and others with their families, packed council chambers, eager to learn about this post-secondary project. Attendees included Wendy Lataille and her son Jacob, a first year architecture student at Humber College, who wanted to know why a full university doesn't exist in Brampton. "We're here to get some feedback as to what's going to happen and how long the process is going to take," Wendy Lataille said.
MPP Gurratan Singh (Brampton East), who praised council for the initiative and shared a few words at the town hall, said a full university does not presently exist in Brampton because the city's issues are never considered by higher government. "A university does more than provide a place for young people to study, it provides an area of jobs and brings transit… that's why I think it's so important you've taken this leadership but I have to say that we've come to this spot now as Brampton because we've been left behind," he said.
Singh also offered his support to council, urging it to let the NDP know if there's anything the party can do to help. Brampton's aspiration for a university has support from local provincial representatives. Besides Singh, NDP MPP Kevin Yarde (Brampton North) was also present at the town hall. PC MPPs Amarjot Sandhu (Brampton West) and Prabmeet Singh Sarkaria (Brampton South) have also taken part in a previous tele-town hall.
During Tuesday night's town hall, Regional Councillor Rowena Santos said the initiative for the university was driven by the province, which wanted the city to submit a proposal. But with all this push and potential support from the province, it's not clear if a university will emerge at the end as promises for a new university in Brampton have been broken in the past.
Regional Councillor Rowena Santos discusses plans for Brampton's own university
In 2018, the Ford government pulled $90 million in funding for a Ryerson University satellite campus in the city. When the announcement of BramptonU — the university's proposed name — sprung up on Twitter in November 2019, the city cheered in response. Details around the project are lacking, something various residents who spoke at the town hall brought up. While they support this initiative, they find themselves in a position Brampton knows well, with a promise that may never be fulfilled. Several residents asked when details of the project, such as location and cost, will be presented. Without these details, this project is just words on paper, without any real direction to bring it to fruition.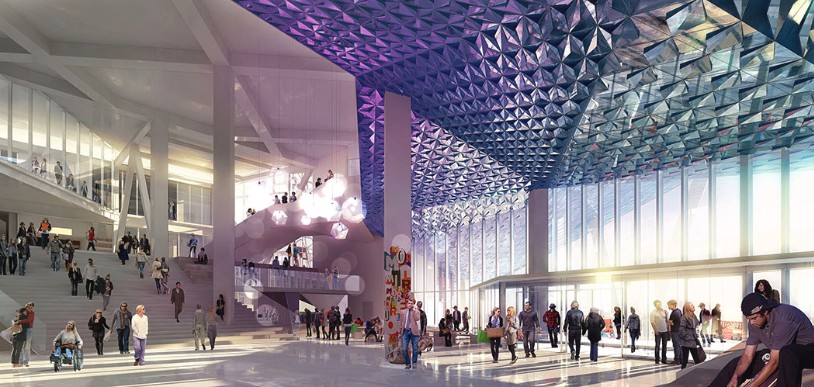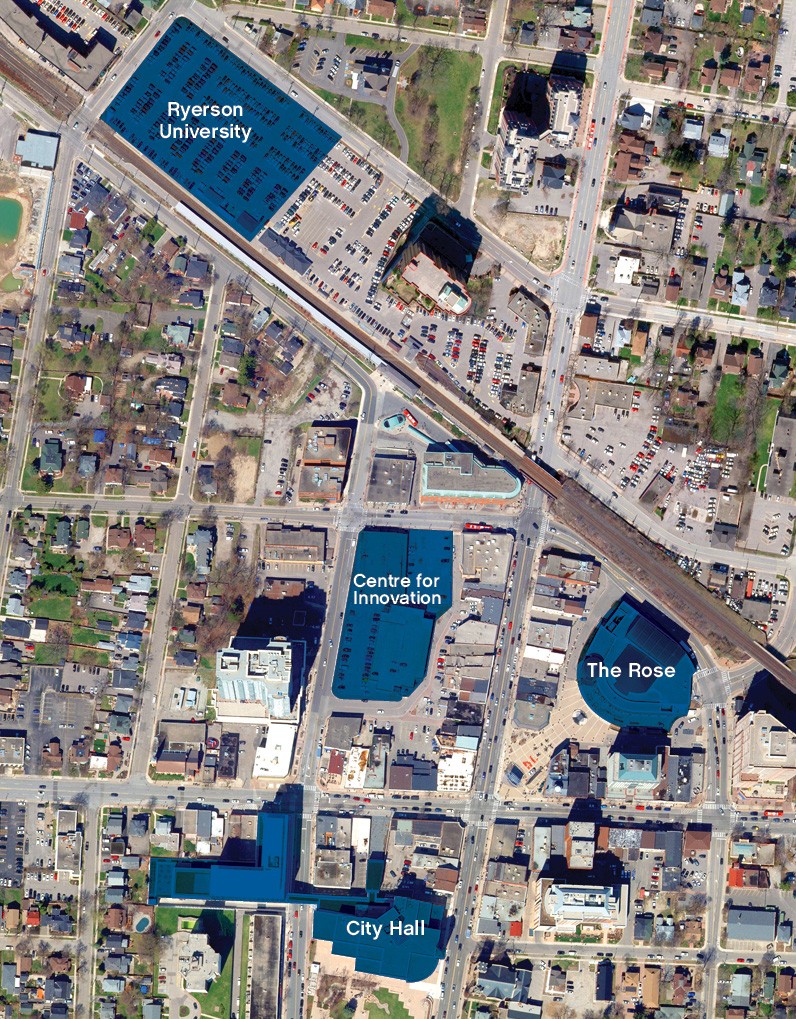 A rendering depicting the cancelled Ryerson University campus and a map showing its proposed location
In a public survey conducted by Mainstreet Research presented at Tuesday's town hall, data evidenced that Brampton residents want a local university. Of those surveyed, 83 percent said they want a university, and 82 percent said they want more flexible university programs. The most popular programs that people want to see include professional degrees such as engineering and business, with 38.6 percent support, and technology-based degrees, with 37.7 percent support.
Many Brampton residents are stuck commuting beyond city limits to attend post-secondary institutions. In turn, people want their own university to help reduce commute times for students attending classes. Presently, Jacob Lataille's commute is three hours round trip, which includes an hour and a half to get to Humber College and back. "Having a school here itself would be a lot easier for people to commute and get their education," he told The Pointer.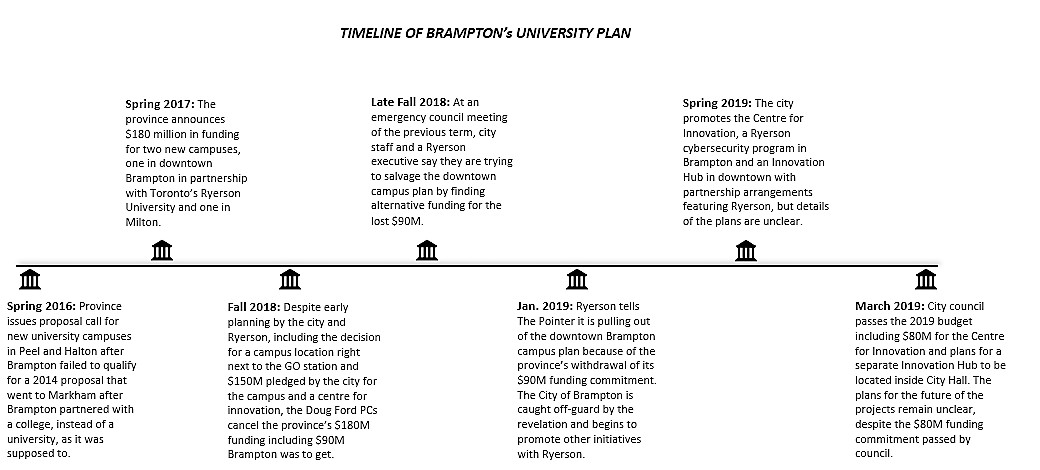 A commute for one Brampton resident may not be the same for another. One resident told the council if the university is built downtown, this could be a challenge for people to access. "It takes us longer to get from North Bramalea to downtown Brampton than it takes to get to York University," the resident told council. There's a high concentration of new developments in downtown Brampton, including the possible LRT extension and Ryerson's Chang School of Continuing Education, and with so much focus on the city centre, it could leave the rest of the city feeling forgotten.
Gurdeep Kaur, project lead and director of corporate jobs and liaison for the city, further illustrated the need for a university in the city, comparing Brampton to surrounding cities. Brampton, she says, is young, diverse and has a fast growing population. In comparison, Hamilton has a smaller population than Brampton but is home to McMaster University and a satellite campus for Brock University, while Waterloo, which is also smaller than Brampton, has two universities.
City representatives are currently taking part in outreach to different stakeholders, such as academic institutions, to start the project as soon as it gets approval. The only university currently in Brampton is Algoma, which saw an enrollment increase of 330 percent from 2018-19, according to Kaur. Algoma only offers a selected list of programs and while she said the expansion of programs at the university is something the city supports, no timeline was given for when this would be implemented. In August, council committed $7.3 million for the university to expand its downtown presence. Kaur ended her presentation by asking the province to legislate BramptonU into existence.
This is where the details of the project stop. Right now, information surrounding funding, location and courses isn't available. The city has also failed to outline how much time a project like this will take.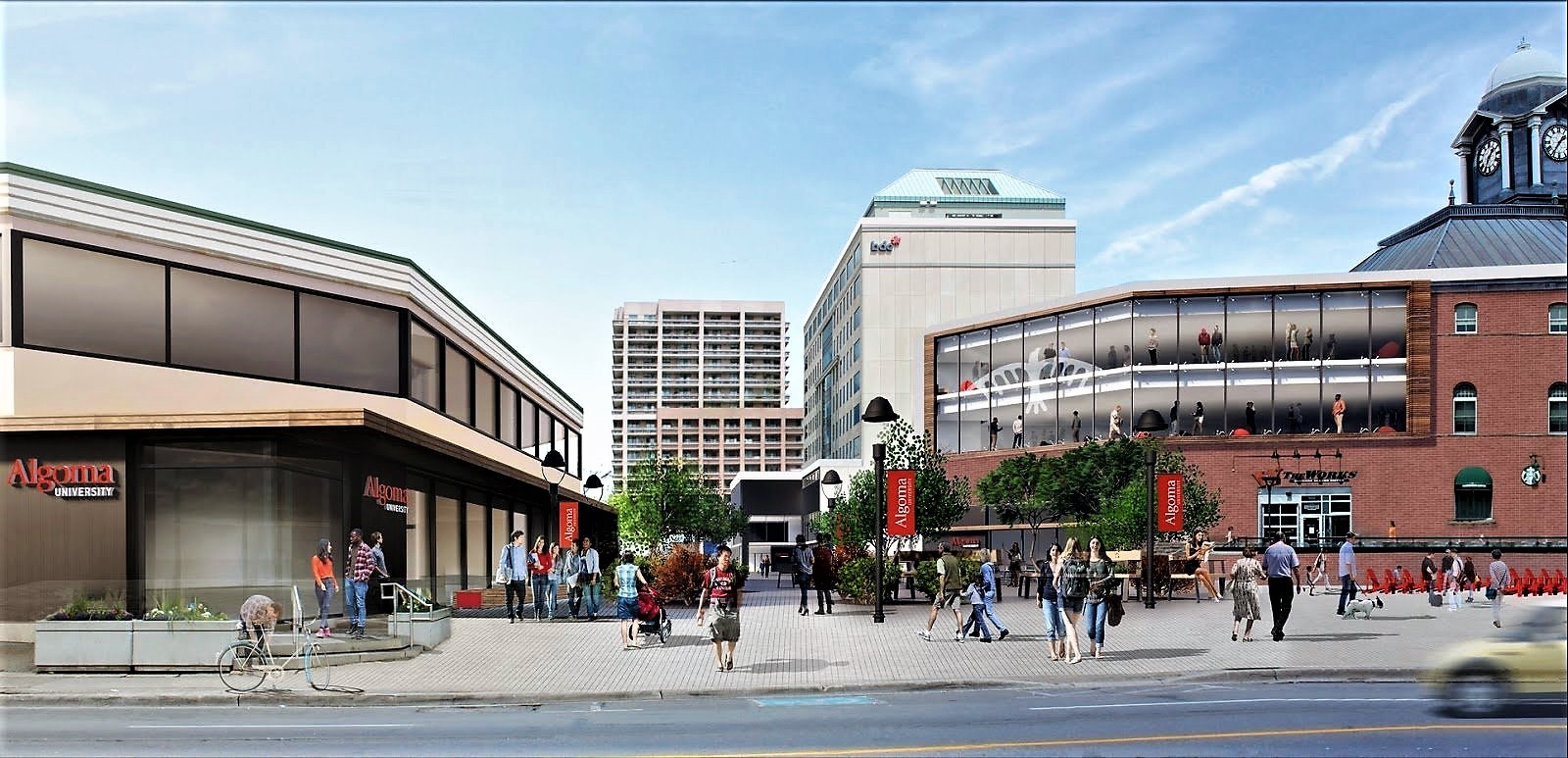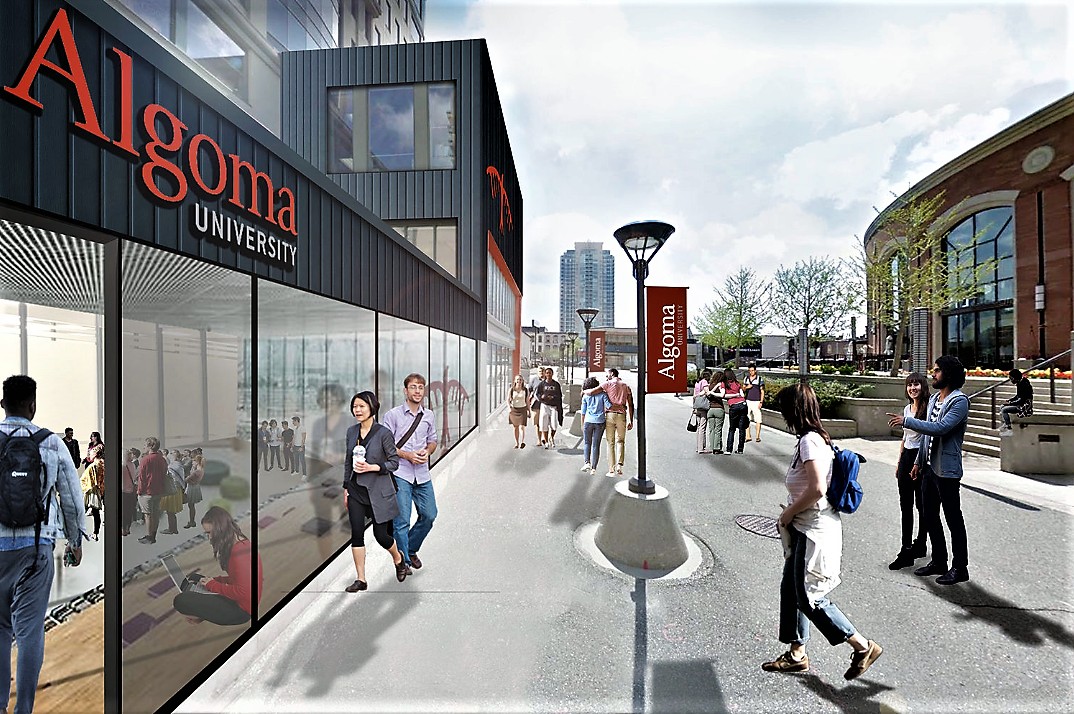 Renderings show plans for Algoma University's $34.4 million expansion project in downtown Brampton
It took two years for Algoma University to form an official affiliation with Laurentian University and begin offering classes. It would be decades before the post-secondary institution became an accredited university of its own. In 1994, Algoma sent a charter to the Ministry of Education and Training but this first attempt at independence was rejected. In 2007, it sent a second charter, and was finally granted independence by the Liberals, who were in power at the time. Similarly, all details surrounding legislation for BramptonU depend on approval from the province. The City of Brampton will hand over a business case to the province outlining the market demand for education in the city during the first quarter of 2020.
Concrete details are the only thing that will take the plan one step closer to reality. The fact is, institutions don't spring up overnight and planning a project of this caliber and magnitude is going to take time. Brampton residents have had growth and opportunity dangled in front of them for years, only to have it taken away at the very last minute. It's understandable why residents are restless and want details and actions now, because without them, the project is doomed to fail.
---
Email: [email protected]
Twitter: @nida_zafar
Tel: 416-890-7643
Submit a correction about this story