Photos and graphics from The Pointer files/Government of Ontario/Peel Regional Police
Provincial funding for violent crime still falls short of Peel's need
The Peel Regional Police (PRP) pulled out all the stops for the Premier last week.
Standing before a large garrison of officers and police vehicles, Doug Ford announced $20.5 million in funding for Peel police and attempted to send a chill into the spine of any criminal who might have been watching.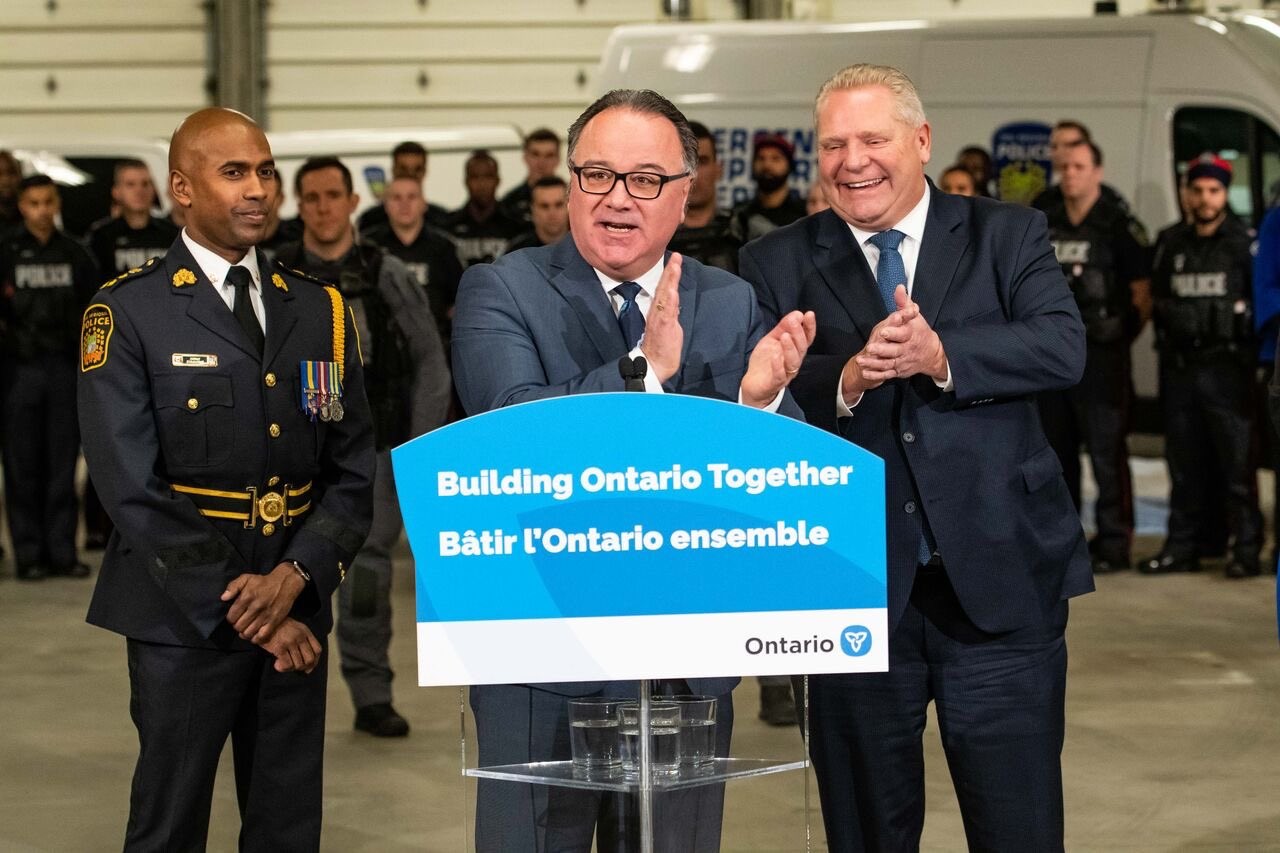 Peel Police Chief Nishan Duraiappah, Regional Chair Nando Iannicca, and Premier Doug Ford
"We're coming for you, we're going to find you, we're going to catch you, and we're going to lock you up for a long time," Ford said.
The spectacle at Police HQ not only made for a good photo-op, but bestowed the Premier with a sense that the PRP were proud to have him in their city, and pleased to have hosted the funding announcement.
All of this was said in different ways during the presentation by Chief Nishan Duraiappah, and remarks from Brampton Mayor Patrick Brown, Mississauga Mayor Bonnie Crombie, and Regional Chair Nando Iannicca who was practically bouncing up and down at the news.
The spectacle also suggests to residents that this is significant news. In a region where violent crime continues to be splashed across headlines and grips public consciousness as rates of homicides, shootings and stabbings all consistently tick upward, any move to fight back is sure to turn heads. Police know the best way to encourage support is to make sure the public knows they're truly fighting back.
Yet, the strong show of force last Friday masked the fact that the $20.5 million in grant funding announced by the province is simply the status quo for Peel police. In fact, it appears to not even make up the $2.6 million shortfall identified in Peel police's 2020 budget as a result of changes to provincial grants.
So the question remains: as Peel police grapple with one of the deadliest violent crime waves the region has seen in recent history, is the support being received enough to adequately push back against the ongoing bloodshed?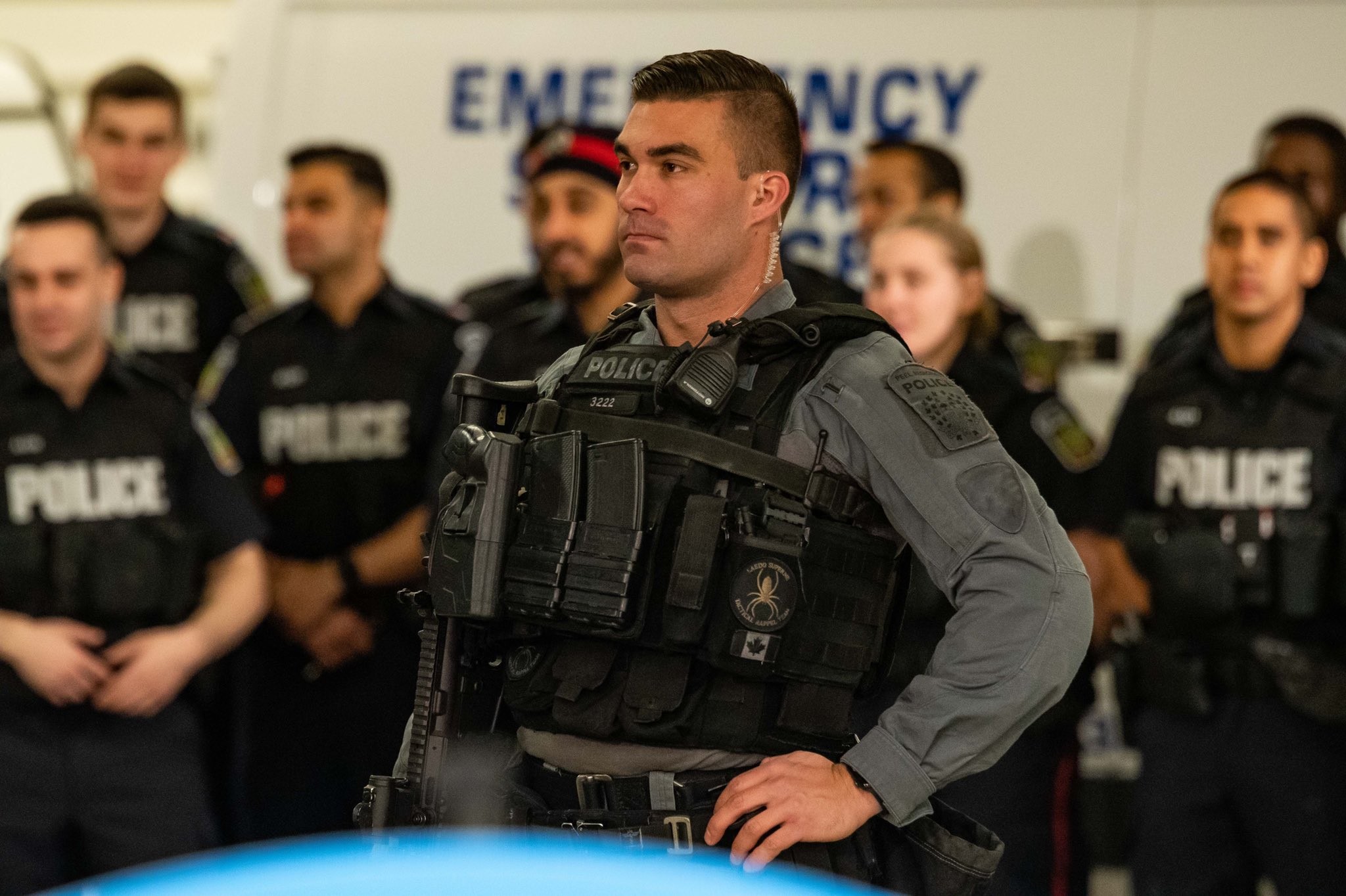 Tactical unit officer with Peel police
Historically, grant support for police services in Ontario has been a tangled web of programs and funding sources. This makes it difficult to accurately track and follow dollar figures from specific programs.
In April 2019, the PC government made a drastic shift to this funding landscape, converting a number of core grant programs relied upon by police into one mega-grant known as the Community Safety and Policing (CSP) grant. It was a controversial move that saw many police forces in Ontario worried that it would mean less money to go around with all police forces fighting over the same bundle of cash.
The largest portion of Peel's funding announcement on Friday traces its roots from this grant. Of the $20.5 million, $17.1 million comes from the CSP and will support Peel's Community Mobilization program, an effort that prioritizes community policing, and has officers interact with the residents they serve through various opportunities. Whether it be a town hall meeting, neighbourhood watches, or other community outreach efforts, the aim is to have police officers address concerns and show an active presence in the community as a preventative measure against crime. This type of upstream approach is a crucial part of efforts to reduce all types of crime, and the $17.1 million over three years will certainly help this effort, and open up resources for other police tasks.
"This government funding will afford us the opportunity to continue to move forward with complicated investigations that require many, many hours," said Chief Duraiappah on Friday.
What Chief Duraiappah did not say is that this funding is only a portion of what Peel police really require.
Since 2009, violent violations and crimes against persons have increased 12 percent in Peel, while the most violent crimes have jumped 33 percent in the past five years. This surge in violence, mostly attributed to a rise in gang presence in Brampton and Mississauga, comes as Peel police grapple with growing budgetary pressures, which include bloating police salaries and councillors who are fed up with approving large increases to the police budget on the backs of their municipal taxpayers.
This makes any additional funding from the province or federal government quite significant in alleviating these pressures.
Broken down, the $17.1 million over three years will provide PRP with approximately $5.7 million annually through the CSP grant. This is actually a reduction of approximately $1.9 million in provincial support when looking at the grant funding Peel previously received through funding streams absorbed by the CSP. Interestingly, it appears Peel police were already aware of this $17.1 million figure ahead of Friday as a budget presentation to the Police Services Board in October cited the $5.7 million figure from the CSP for 2020.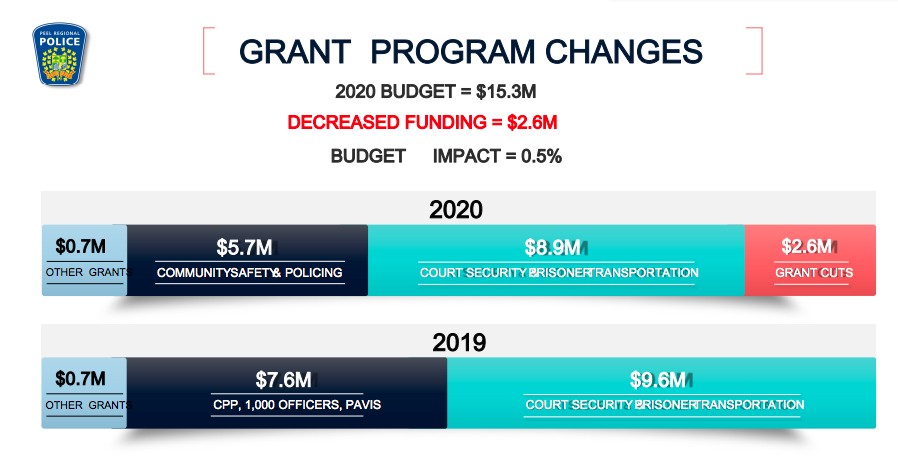 The CSP amalgamated many different grant programs, with the three biggest being the Community Policing Partnerships (CPP) grant, the Safer Communities, 1,000 Officers grant, and the Provincial Anti-Violence Intervention Strategy (PAVIS) grant. Under these three funding streams alone, in 2018, Peel received approximately $7.6 million.
Peel police received similar amounts from PAVIS, CPP and the Safer Communities grants in 2017 and 2016. In 2018, PRP received slightly more at $7.8 million, and in 2014 and 2013, pulled in just over $8 million each year.
Between 2013 and 2018, Peel's total grant funding increased at about the rate of inflation, from approximately $12 million to $18.5 million. In 2019, the figure dropped to approximately $17.8 million and for 2020 Peel police expect to receive $15.3 million, representing the $2.6 million cut from the provincial government.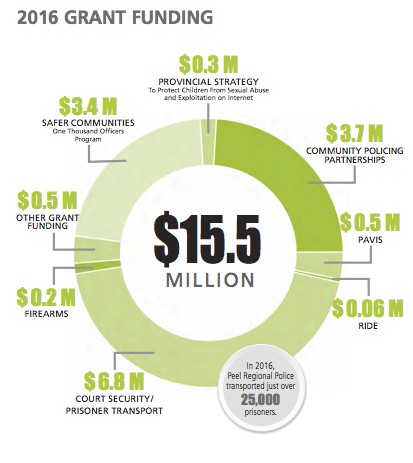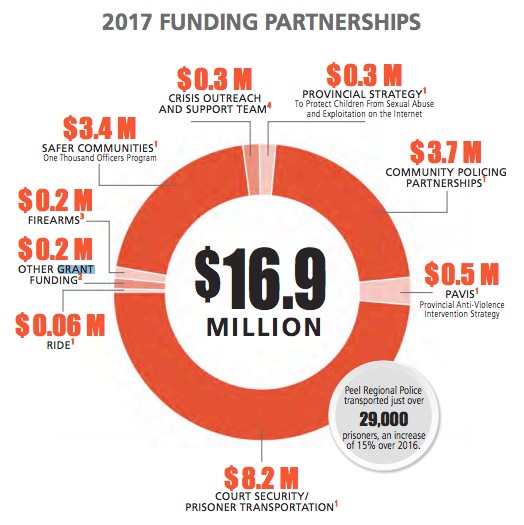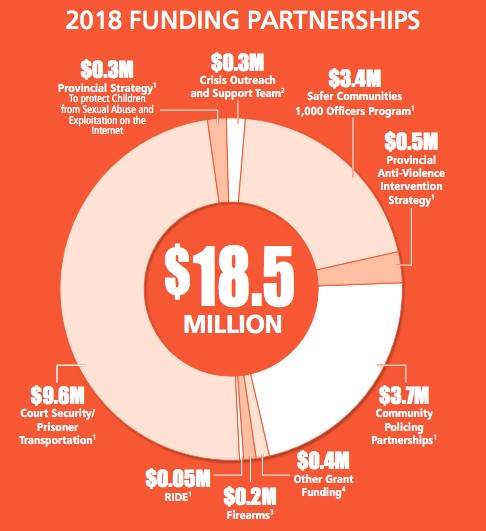 While it's unclear whether the current shortfall will be made up through other grants — the CSP has two separate streams, one for local and one for provincial priorities — after the provincial announcement on Friday, it appears Peel police are still dealing with a grant funding shortfall.
Peel police were unable to provide responses to The Pointer's questions ahead of publication.
The remaining portions of the $20.5 million announcement are two other significant programs for Peel.
First, PRP will be getting an additional $1.5 million over three years — $500,000 annually, through Ontario's new Guns, Gangs and Violence Reduction Strategy — specifically to address violent crime. Second, $1.9 million will go toward establishing an Intensive Firearm Bail Team in the region to focus on firearms offences and bail hearings in the GTA, starting this year. This is the first official funding allocation for the bail team since the province first made the announcement in 2019.
The August announcement was part of the $65 million announced throughout last year from the province and federal governments for anti-gun and gang initiatives. As previously reported by The Pointer, these funding streams will not be open for police applications until April of this year, but, if successful could assist Peel police in making up some of the grant funding shortage.
Both of Peel's big city mayors offered their support for the announcement on Friday. When asked by The Pointer about the true value of the announcement, Mayor Crombie says it comes down to a matter of every little bit helping the region's police who are "stretched thin."
"I welcome any investments that will help our police do their jobs by keeping our city safe and getting criminals off the streets. I understand that the province is facing some financial challenges and needs to make some difficult decisions," she said in an emailed response to The Pointer. "I will continue to work to ensure that our police have the resources they need to do their jobs effectively. That includes advocating for a dedicated Gun and Gangs unit, similar to what growing urban cities like Toronto and Ottawa already have."
For Mayor Brown, it represented one of the first public events he's taken part in alongside Premier Ford since the premier took over Brown's old job as the leader of the PC party. He said he was grateful the Premier and Solicitor General Sylvia Jones, who was also in attendance, had listened to Brampton's concerns about safety in the city.
"Gangs don't respect postal codes. It is a GTA-wide problem," Brown said in a press release. "This (funding) is an important tool that our police require to keep Brampton and Peel Region safe."
Mayor Brown said Friday's announcement represents a good "starting point" to get Peel up to the level of funding they require.
"Although this is a small funding announcement, it's a step in the right direction," he says.
Further, Brown acknowledges that the tone between the City of Brampton and the province has changed. "Last year was a more hostile relationship with the province," Brown says. Now, Ford has vowed to work with Brown on getting CCTV cameras installed along Highway 410 in Brampton, following a motion brought forward by Brown at the Police Services Board, and the premier has shared a willingness to discuss further funding for Peel police.
---
Email: [email protected]
Twitter: @JoeljWittnebel
Submit a correction about this story