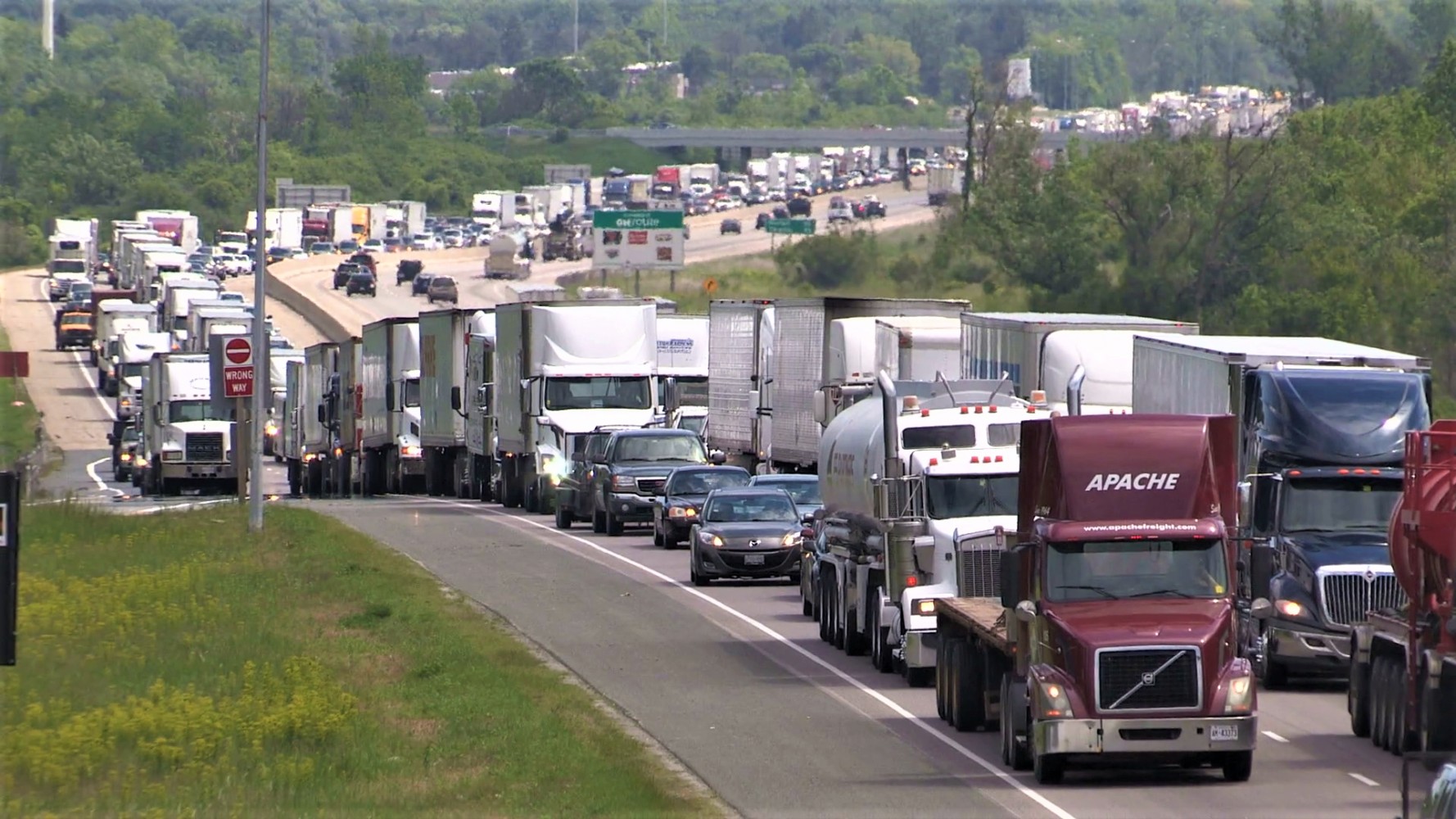 The Pointer file photos/Renderings City of Brampton/Google satellite images/YouTube
Politicians & developers trump professionals in the fight to plan future growth
The 2018 Brampton mayoralty race was the most compelling in the province.
The incumbent was a former councillor and Dalton McGuinty/Kathleen Wynne Liberal loyalist who held multiple cabinet postings at Queen's Park, including municipal affairs minister.
Linda Jeffrey's chief opponent was a last-minute entrant, a multimedia-savvy 40-year-old former leader of the PC party in Ontario, a man in political free-fall and looking to reclaim a pocket of power after a personal fall from grace in the run-up to the June 2018 provincial vote.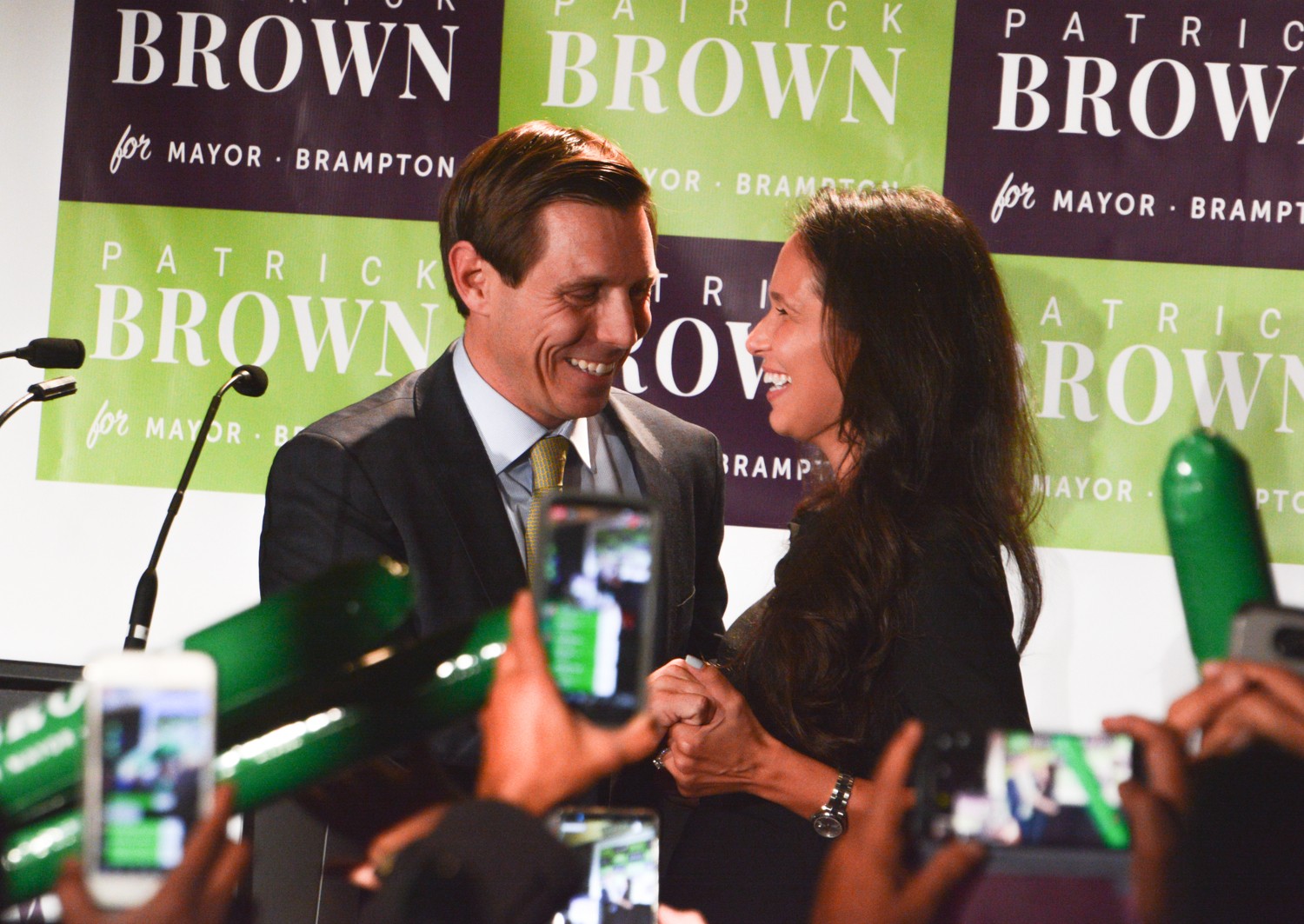 Patrick Brown right after his election victory in 2018
The political sequencing was working in Brampton's favour when in 2015 Justin Trudeau won a majority government in Ottawa.
A troika of Liberal powerbrokers now held the top postings in three levels of government: Trudeau, Wynne and Jeffrey.
Brampton was poised to belly-up to the bar and ask for outside assistance to solve its many shortcomings: a massive infrastructure gap, one of the worst patient-to-bed ratios in the healthcare system, a rise in violent crime, weak support for all-day, two-way GO service, and no political will to implement some of the key takeaways from a made-in-Brampton document called the 2040 Vision. Brampton needs more transit, a proper downtown, a fix for its flood problem, better livability standards, less dependency on the car, and a more expansive tax base which has to be tied to an improved land-use mix.
But as quickly as the political pieces fell into place, they fell apart.
Brampton's five Liberal MPs virtually disappeared into the Ottawa ether as Trudeau consolidated power inside the PM's office. The city was an afterthought, feeding off crumbs like the $1.5 million sent here to begin an environmental assessment of the proposed Riverwalk project, a plan to finally solve the city's myriad water problems and kick-start urban renewal in the downtown.
Jeffrey was a dutiful but deadpan leader who seemed to lack the energy or leadership skills needed to unite and inspire her council. Schisms erupted as soon as she took office and were as bad as anything seen during the Susan Fennell era. The ninth largest and most diverse city in the country continued to punch far below its weight class, much to the disgust and frustration of beleaguered taxpayers and voters.
The final blow came in June of 2018 when Doug Ford won a majority at Queen's Park. He immediately put the boots to Wynne-inspired programs, like the $90 million earmarked to help bring a satellite campus of Ryerson University to Brampton's struggling city centre. And the two Brampton MPPs in the victorious PC camp, Amarjot Sandhu (Brampton West), and Prabmeet Sarkaria (Brampton South) seemed incapable or unwilling to promote a pro-Brampton agenda for new funding formulas.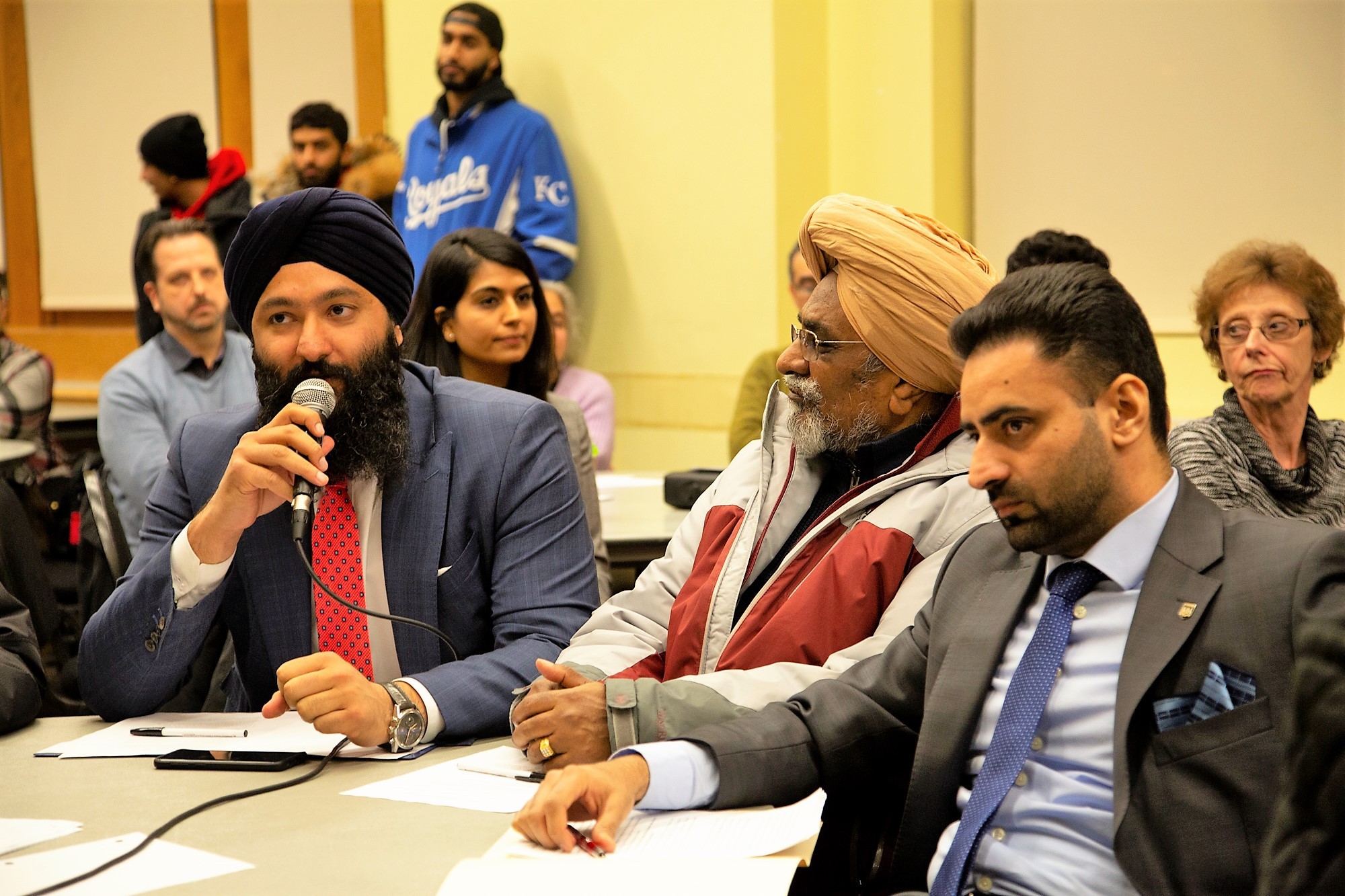 Brampton PC MPPs Prabmeet Sarkaria, left, and Amarjot Sandhu, right
Despite the sizable effort of our three local NDP MPPs, they have been rendered to the margins in their own city by the two PC pawns who line up to kiss Ford's hand, pledging allegiance not to their needy constituents who put them in power, but to the man who wields that power at the top of his majority government.
The city had reverted to form – becoming again the sum of its ever-weak parts.
Which set the stage for the 2018 civic election and the Jeffrey-Brown showdown.
The latter was tainted but uber-ambitious, and a growing number of potential voters saw him as the alt-Jeffrey – a man with a plan and the energy level of a hyperactive child.
Jeffrey accused Brown of being a carpetbagger and dredged up the allegations brought against him about his dealings with two young women. This came as the #MeToo Movement was sweeping across the landscape, picking off politicos and celebs at a record rate.
But Brown rejected the claims, even sued his principal accuser, CTV News, and if his last-minute entry came as a shocker to the city's body politic, his campaign immediately grew by gradations, and so did his favourability numbers.
A decisive moment came in the mayor's debate held at the Rose Theatre in the waning days of the campaign.
Jeffrey eviscerated her opponent's questionable claims of Brampton citizenship, slammed his moral rectitude, and then dismissed the City's 2040 Vision, to finally lift it into the future, as simply "aspirational", not really a plan at all.
She seemed to strike a discordant tone, but her dismissal of the 2040 Vision seemed particularly ill advised. After all, over 13,000 residents linked back to the process. They were tired of the developer-driven planning that had created an uninspiring city of subdivisions, sub divided just like the people cut off from any real sense of community.
Brown saw the Vision as a living document, an organic made-in-Brampton "game plan". His campaign leaned on its findings and used it as a guidebook to governing. He also promised to unite council and take a Team Brampton approach.
For a city trapped in a constant cycle of neglect, negativity and political chaos, he struck a hopeful tone.
The debate wasn't the only reason why Brown won – but it didn't hurt.
In the aftermath, support for the 2040 Vision became a key element of his inaugural address.
But over time, this consistent message wavered, and recently it was fully exposed for its potential hypocrisy.
There are incredibly powerful forces that have their hooks into people like Brown and Ford, and any recent rapprochement between the two is likely linked to these forces.
Developers have controlled much of Ontario provincial and municipal politics for decades and Brampton has since the '80s represented a key foothold for the men who run these enterprises.
Their desire is simple. Convert available land into profit. There is little vision behind their ethos. These are not the sophisticated builders who convert architectural dreams into brilliant modern communities. No, these are people who slap up simple wood subdivisions as far as the eye can see, often in the middle of nowhere, turning over fertile agricultural land coaxed from the farm families whose younger generations are much more interested in making money than food.
Those in the subdivision business will tell you it's all being done for the broader good, to create the type of housing people want and need. They tell us these idyllic suburban homes that stretch more than a hundred kilometres across the Greater Golden Horseshoe, linked by a series of highways filled with happy commuters, are at the centre of the Canadian dream.
And it's the politicians, inside Queen's Park and city halls throughout the 905, who can deliver to these powerful men exactly what they want. MORE.
Enter Doug Ford and Patrick Brown.
In an age when grabbing hold of political power is all about the money, their ambition sits well with developers who need men perfectly suited for their interests. Men who will help skirt environmental protections and smart growth legislation and the sensitive Greenbelt that rings our entire GTA region, who will ignore the connection between sprawl and temperature increase and eschew all warnings that the suburban built form of the last four decades is not sustainable.
In Ford and Brown, these millionaire builders have two key allies. They meet with them often, whispering in their ear, tantalizing the childlike politicians with promises of even more power.
In Brampton, the influence of these developers has left the city in a desperate state. The tax base, neglected for decades while row after row of houses sprang up, unchecked by all those who forgot what their job meant, is now dangerously out of balance. The city can't afford to run itself because the cost of subdivisions far outweighs the ability of such bad planning to pay for itself.
Once the developers finished their latest project, moved on and began counting their riches, they and their political enablers cared little about what they had shaped. Where were the hospitals? Where were the schools and GO stations? What happened to all the other community amenities promised? How come the poor planning seemed to contribute to rising crime? Why didn't all the population flooding into the flimsy subdivisions come with proper funding for transportation, public health, safety and the future educational dreams of families? Where were all the good jobs for all these people?
And why did Brampton seem so disconnected, a series of enclaves stretching out to the edges, places that people left every morning to go work elsewhere, away from the city, where employment opportunities seemed more a priority?
The 2040 Vision aims to address all of it. It is a new philosophy, the hope of more than 13,000 Brampton residents who helped shape this picture of the future they want to see here.
But there are problems that lie at the feet of the man who once said the Vision is his vision. In his adopted city, the place where the people saved Patrick Brown's political life, residents now wonder what exactly are they getting in return for giving this man salvation.
The "Vision" seems to have been replaced this week by a "plan". Talk of crafting the city's Official Plan distanced the growth strategy from the 2040 Vision and suggested staff and council members will now have to evaluate how much of that vision will actually move forward.
Recently, the 2040 Vision was addressed by city council, which is now struggling to determine what Brampton will be – the developer-controlled sprawling suburb whose next 400,000 residents will be housed in the same types of subdivisions, devoid of jobs, schools and hospitals; or a newly designed modern metropolis shaped by dense complete communities connected by a shared vision of culture, transportation and the uplifting features of social life.
Two issues were addressed: a city-building exercise to revitalize the Queen Street corridor; and a discussion about the proposed GTA West Highway (the 413) that will be built right above the city's northern boundary then down through its undeveloped western side.
Both came up during the first Planning and Development Services Committee meeting of the new decade, on January 13th.
Yvonne Yeung, the city's manager of Urban Design made a presentation about the "Queen Street East Precinct", part of the 2040 Vision. The 413 discussion was in response to a letter sent to the city by its biggest proponent, Caledon Mayor Allan Thompson. He is openly aligned with developers who are aggressively lobbying to get the highway built, triggering hundreds of millions of dollars in profits pulled from the adjacent farmland they have already been acquiring.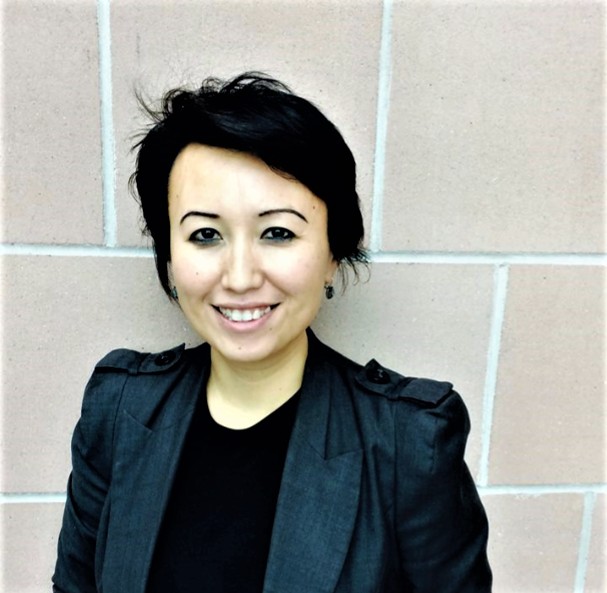 Yvonne Yeung, Brampton's manager of Urban Design
Is it just a coincidence that Thompson entered into a $9.4 million deal with one such developer, to sell his own family farmland located right along the proposed highway corridor? He is supported by other developer-friendly Caledon councillors whose families might also benefit handsomely from the construction of a giant 4-series highway.
Brown has jumped on board with their cause. The highway he now supports is not included in the 2040 Vision he claimed to support and runs counter to the fundamental principles of this modern planning philosophy meant to distance Brampton from its developer-controlled past.
In the space of an hour, the two issues addressed by our local elected officials showed the maddening inconsistency of city hall to stay on course and follow up on the directions lined out during the 2018 mayoralty campaign.
---
The Queen Street Corridor
2040 VISION: "Complete, full-service, mixed-use, diverse town centres with lots of work space and nearby multiple-family housing options, but also leveraging the benefits of a suburban identity, will give Brampton the competitive edge it is now missing."
The drive along the Queen Street corridor beginning at Brampton's four-corners and extending east to the 410 interchange is one of the most dispiriting in the city, a curious mismatch of small and medium-size residential development and small, low slung retail outlets in faded plazas and aging strip malls, with almost no sign of the kind of human traffic seen in the city centres of vibrant urban municipalities.
Queen Street just east of downtown is an example of the worst type of urban planning
Some of the shuttered buildings and fast food outlets on Queen Street stand as broken beacons on the way to limbo. It also looks like many of the other out-of-sync thoroughfares that infest other cities in southern Ontario. They are the ugly manifestation of suburban sprawl.
But Yeung and her cohorts on staff have a plan for modernization, and this epic transitioning was rolled out in her presentation to the committee and the public in the city hall gallery a couple weeks ago.
The faint outlines of a futuristic "precinct model" sits well within the guidelines of the 2040 Vision, which is a plan with specific goals.
It envisions "a tight corridor of higher density and scale with mixed uses and continuous commerce at grade. Buildings will all adhere closely to the street with a continuous street wall and activities spilling out on ample sidewalks – cafes, shopping, and amenities – with several lines of large trees and special lighting. It will be a transit spine – an actual streetcar will be very iconic. Most people will walk because the sidewalk will be the happening place. It will have public art, expressive architecture and various special features to instill a stylish character. It will showcase the latest trends in green city-building as a pilot project of the Institute for Sustainable Brampton. Behind the front row of buildings, a second row of development, on the parallel streets, scaled to step down from buildings on the central spine, could ultimately reinforce the corridor."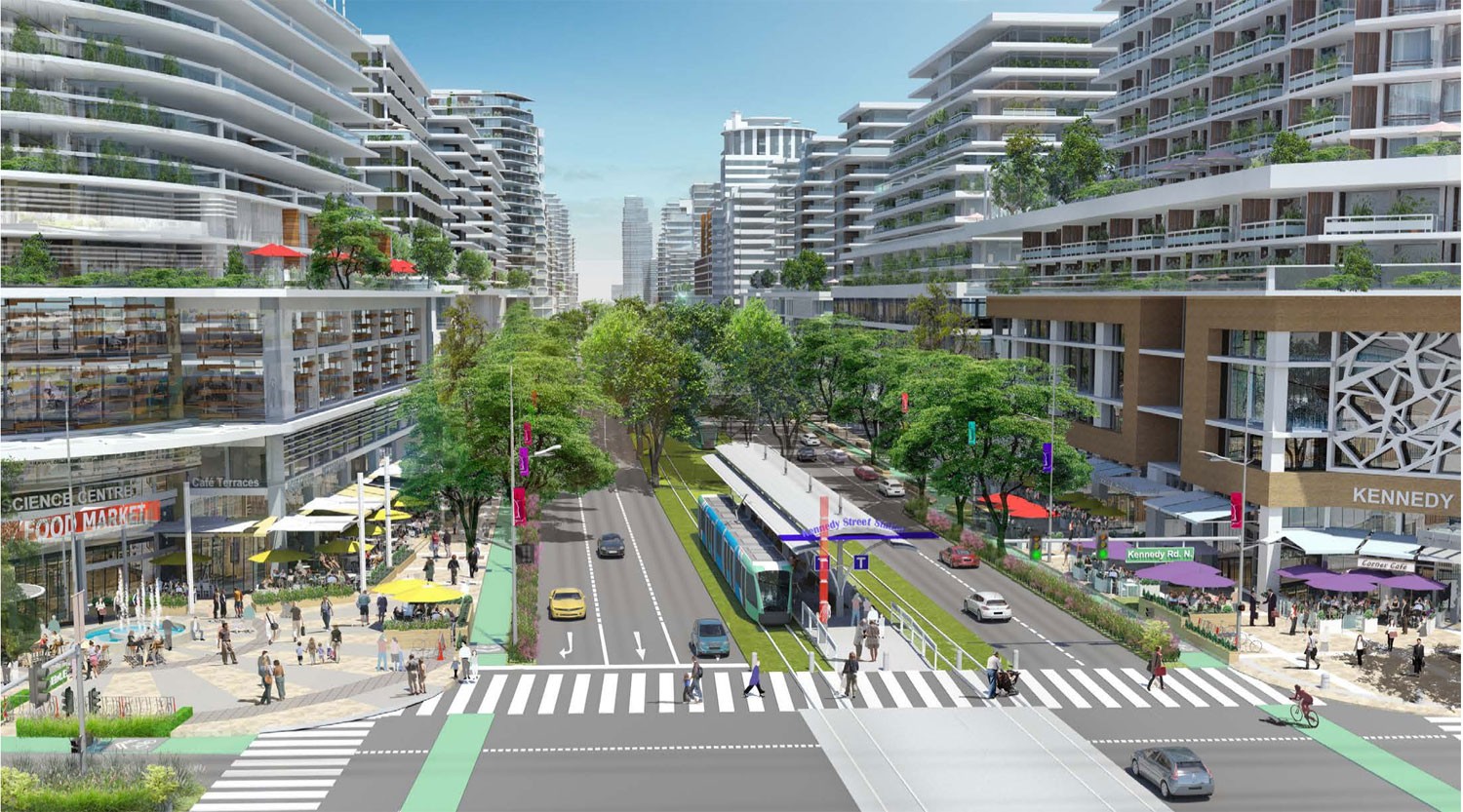 A rendering of the plan for Queen Street in the 2040 Vision document
The preliminary plan sees approximately 17,142 residential units for up to 60,000 residents; and approximately 1,088,244 square meters of non-residential gross floor area providing 83,711 jobs. The catalyst will centre on three mixed-use districts or precincts: one with a health focus (12,600 population), a family district (23,400) with larger-sized units and accessible to parks and dynamic retail, and a Business District, located adjacent to 410 and within a 15-minute drive of Pearson International Airport. It will support a population of 22,800 and be centred on design provisions that support 24 hour social and economic activity.
The Queen Street Corridor is identified by the province as an Urban Growth Centre in the Growth Plan for the Greater Golden Horseshoe (2017) and is directed to achieve a minimum gross density target of 200 people and jobs combined per hectare by 2031. Phase-1, the conceptual precinct plan to Phase-5, has a long timeline, but will in the end, transform suburban living. Community engagement will drive the process. It includes the properties along Queen Street East between Etobicoke Creek and Highway 410.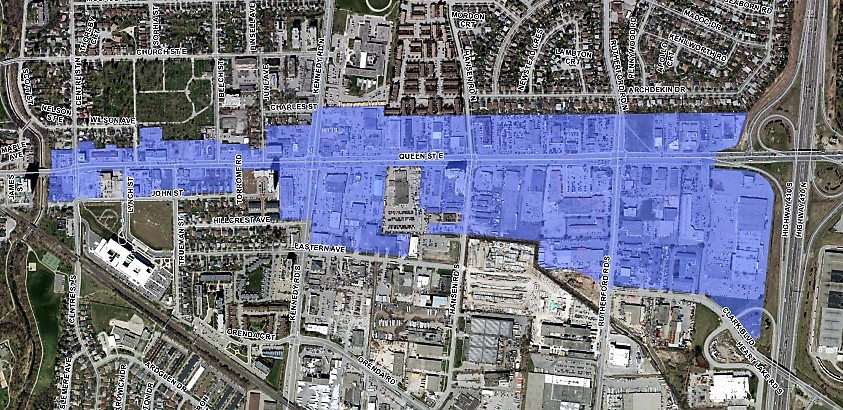 The Queen Street Corridor redevelopment area
The area is provincially designated for growth as a primary intensification corridor. This nearly 2-kilometer stretch will strive to be serviced by a bus rapid transit route that can eventually link arms with one in Vaughan, and tied together create a system that will drive people away from their cars. Each precinct will be walkable and called 20-minute neighbourhoods with every element of living, from healthcare, transit, recreation centres, arts and culture, and shopping within easy walking distance. Creating complete streets is the goal. Think of the work-life balance in portions of Port Credit in Mississauga, or the East Bayfront Precinct Plan and West Donlands in Toronto.
Yeung, an executive with the Urban Land Institute (ULI) is well versed in how to create new-look communities, and was recently hired away from the City of Markham because of her expertise in moving a community beyond the sprawling suburban model to create livable hubs within a larger whole.
The purpose of her report was to seek approval in principle for the preliminary Precinct Plan and to describe the proposed scope of work.
It's hoped Queen Street will be the immortal sweet spot in the transformation of Brampton from a sprawling mess into modern 21st century marvel.
The "complete communities" concept isn't a new one, but Brampton has lagged behind others because its land-use mix was driven by single-family homes (i.e. sprawl), and there seemed to be little political will to change. The water worries that impacts redevelopment of the downtown isn't a problem along higher and drier Queen Street. City hall initiatives to speed up the approval process for development, coupled with private sector investment, are the twin catalysts to Queen Street's future, said Yeung.
The idea is to approve in principle the preliminary Queen Street East Precinct Plan, and provide the foundation for the preparation of the Community Planning Permit System By-law. Staff will be directed to report back to the planning and development committee with the preliminary findings of its technical studies.
In March 2019, staff gave a presentation to the Planning and Development Committee on CPPS By-laws (formerly known as Development Permit System). This presentation described what a CPPS By-law is, the key benefits, the By-law currently in place for Main Street North and the implementation of future development permit By-laws in the City. The CPPS By-law for the Queen Street corridor is intended to streamline and expedite planning approvals by replacing the underlying zoning, site plan by-law and minor variance processes in the area. By combining these processes with a clear and shared vision for future built form and land uses, a CPPS By-law can help achieve high quality development while providing applicants with a degree of speed, certainty and flexibility as part of a development framework that avoids or reduces amendments to the by-law.
There are currently four CPPS By-laws in force in Ontario, including Brampton Main Street North. The city will be breaking new ground by proceeding with a CPPS By-law for a portion of its Urban Growth Centre.
The city says Queen Street East forms a component of its Central Area, described by the Official Plan as the "cultural, economic and entertainment heart of the City."
The "gradual but consistent" transition from existing uses to a new, human-scale, mixed-use area will mean that over time, it will evolve from a low density commercial area and major thoroughfare into a vibrant, transit-supportive pedestrian and bicycle-friendly environment.
The goal is to complete a study by the city's second quarter, and eventually have at least 60 percent of residents both live and work in these precincts, said Yeung. By streamlining the approval process, engaging the broader community, using social media to communicate, hold public meetings, move forward with a status report, and hold open houses, the ultimate goal is having a new bylaw in place by the end of the year or early next year and then watch capitalism work its wonders. The city and its private-sector stakeholders will partner to build a new-look community.
Queen Street is already transitioning. A mixed-use condo project called Symphony was rolled out last year by Inzola Group. It's one example of the principle of smart growth to grow up, not out, fitting with the complete communities' concept authored up in the 2040 Vision.
It's the "right process" said Yeung, and the city's need to hire technical consultants to develop the plan further was the only question brought up by Councillor Jeff Bowman after her presentation.
He wondered why the city couldn't do this with in-house staffers. Yeung's boss, Bob Bjerke, director of policy planning, said "staffing up" might in the end cost the city more, and promised that technical input from an external source is an efficient use of tax dollars.
This massive overhaul of Queen Street "is a big stretch [for the city] and I hope we can do it," said Bowman.
The plan is in keeping with the concepts laid out in the 2040 Vision.
The same can't be said of the next item that came up for discussion.
---
The proposed 413 Highway
2040 VISION: "People have to become the personal, family and community stewards of their host ecosystem with a sense of responsibility for future generations. Now a program for improvement is needed on each environmental front, involving every single citizen, if Brampton is to become a pacesetter for other Canadian suburbs."
The city received a letter from Caledon Mayor Allan Thompson on December 19th of last year. It concerned the Transportation Corridor Environmental Assessment Study, Stage 2, a process update on the GTA West Corridor (Highway 413).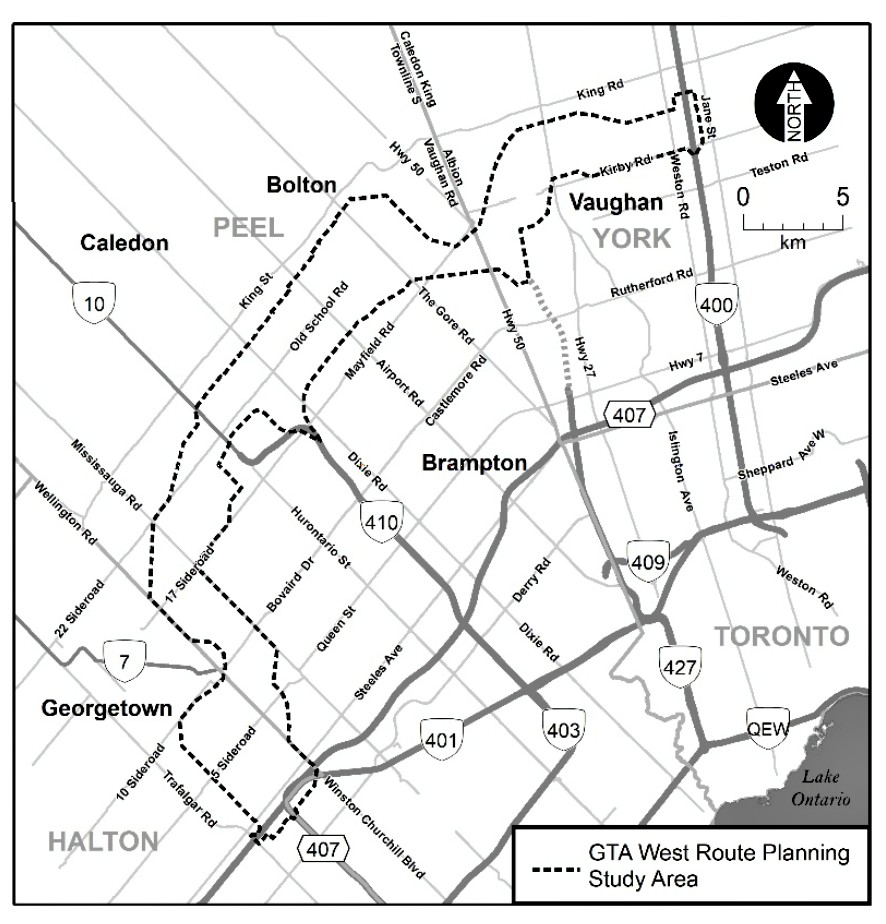 A map of the proposed corridor for the GTA West Highway
Inside city hall, the local committee discussed how the proposed highway on Brampton's north and west ends might impact the city in the future. The two councillors who talked on the issue – Michael Palleschi (Wards 2 and 6), and Harkirat Singh (city councillor Ward 10) – agreed that the 413 is very much needed.
Yes, they had concerns, but none butted up against the 2040 Vision. In fact, 2040 wasn't even discussed.
Palleschi said his major worry is that the potential highway (with its interchanges) will poach into the employment lands in the northern wards and badly impact on the possibility of future development there. Traffic feeding into the highway might also be something that needs discussion in the future, he said, then quickly countered by adding, "what Caledon is trying to do makes sense." He thought it might be beneficial for staff to file a report on the issues that need addressing in a letter sent back to the Caledon mayor. "Some roads [in the area] aren't meant for more traffic," he noted. "We don't need more traffic on those roads." It's unclear what sort of planning Palleschi has in mind around the 413 highway he's pushing.
Singh agreed, and further discussion was cut short because the meeting was already running long.
These drive-by responses seem to counter one of the major conclusions in the 2040 Vision on the environment: Brampton must embrace transit and break its dependence on the car.
The fundamental design and planning that surround 4-series highways also stand in sharp contrast to the principles of modern urban growth that underpin the 2040 Vision. They simply don't fit together.
One, the Queen Street Corridor, is being planned and managed by staff with a lifetime of experience in urban planning, including Yeung, a superstar in the field, attracted to Brampton by its potential. The other, the 413 Highway, is being aggressively pushed by developers and politicians like Brown and Palleschi.
They claim it will bring much needed relief to commuters and offer companies an incentive to locate here, with a high-order piece of transportation infrastructure for them. Experts have said this is bunk, that the highway will create more sprawl and gridlock, will take away from transit investment, keep people in cars, further pollute our air and only attract low-return businesses that hire low-wage workers in transportation, logistics and warehousing. That's why an expert panel advised scrapping the plan, which was killed by the Liberals, before Premier Ford put it back on the table.
Offering residents easy off-ramps to escape the city via highways so they can work in different locales, is fueling many of the problems now present in the city, like gridlocked streets, and a lack of identity or any kind of community buy-in. This traffic also continues to wreck our air quality. The 2040 Vision clearly states that the city "must address climate change and foster resilience."
It further states that Brampton must lead in environmental sustainability and carbon neutrality.
What's troubling critics is the city's seemingly confused response to cars and highways and how it impacts the environment. And this confusion first reared its head at a council meeting in early June of last year.
It was there that councillors and the public gallery erupted in sustained applause as it declared a climate emergency and voted unanimously to set itself on course to become a leader across the GTA in fighting this scourge of our times. Councillor Rowena Santos said it was heartening the city could think locally and globally at the same time. She called the city's response a "bold statement". We have to do our part, agreed the mayor.
Was this a lot of hot (and toxic) air?
Immediately prior to this declaration, council had greedily adopted a motion brought forward by Palleschi to support a motion by Brampton West MPP Amarjot Sandhu who did his boss's bidding to resurrect the environmental assessment for the controversial GTA West Highway (413), a project shelved by the Wynne government.
Ford had been caught on video during the provincial election campaign promising a room full of developers that, if elected, he would open up the Greenbelt for them, for development. The 413 Highway is key to doing just that.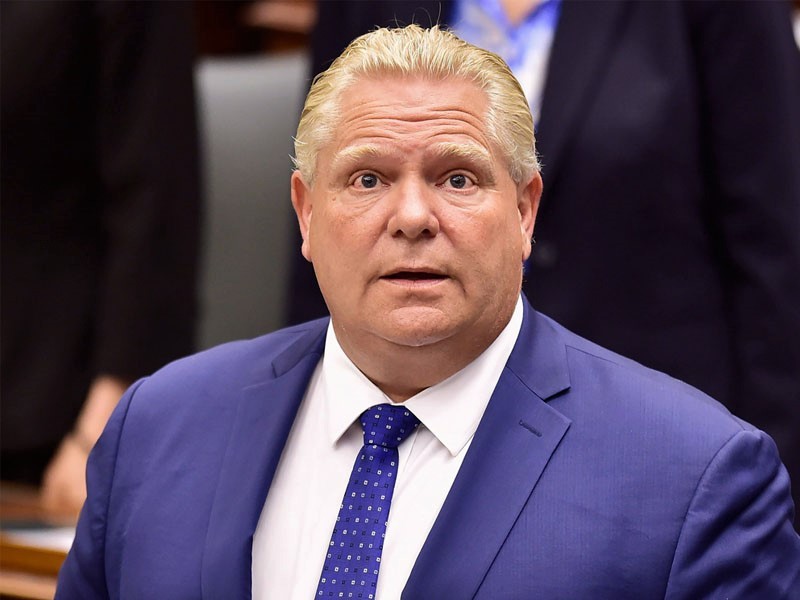 Premier Doug Ford
The pro-development model embraced by Ford and his colleagues, jars with the 2040 Vision of environmental sustainability and smart, dense growth.
Santos, so eager to embrace a climate change statement, also inexplicably said she was okay with the EA study for this new highway, which will skirt the northern and western edges of the city and pour more carbon into our atmosphere. It's contradictions like this by politicians that leave little hope for the 2040 Vision, even if professionals like Yeung passionately pursue all the benefits. It's clear that the expert is working for the people, a true civil servant.
Brown and Santos and Palleschi, along with the rest of council who support this already-scrapped idea of highway planning from a bygone era, clearly are working for someone else.
Will it ease congestion on the 410, or only reinforce studies that show building more roads doesn't eliminate traffic but simply multiplies it. Smart growth embraces transit so it will get people out of their carbon spewing gas guzzlers. The 413 seems a throw-back to the 1970s when the worst aspects of planning suburbs emerged. It doesn't even come close to fitting within the 2040 Vision which calls for more compact urban centres, a heavy use of transit, building complete neighbourhoods, and putting less emphasis on cars.
One resident at the meeting made the rather obvious observation that councillors had just talked out of both sides of their mouths.
In a twisted piece of logic, Palleschi said by acknowledging that once the climate change emergency was debated, the 413 question was really about the environmental assessment, and something needed to be done in north Brampton.
He said: "You look at some of the highways Mississauga has, and what is around the majority of those highways is great employment opportunities. What's Brampton lacking? Employment opportunities."
His assessment is laughable, as Mississauga is currently actively pursuing high-return, white collar employment, the type that provides well-paying jobs and major revenue returns for municipalities, in its meteorically rising downtown city centre. While the 403 runs nearby, the city and the private sector, including Oxford Properties, which is set to build a massive 37-tower downtown district, say transit is the key. The Hurontario LRT will help attract thousands of employees in downtown high-rise office towers, which will soon add to the city's glittering skyline.
Councillor Michael Palleschi
Meanwhile, Palleschi talks about putting employment and highways in places that would only create more commercial truck traffic along the farthest edges of Brampton. If anything, such employment along the highway would put the final nail in the struggling downtown.
He returned to the jobs theme during the meeting, but complained that the 413 might gouge out major portions of the city's valuable employment lands.
Thompson oversees Caledon, the lungs of the region, and is fully supportive of the premier's plan to open up great swaths of Greenbelt to highways and more single-family homes; this is at odds with Brampton's 2040 Vision. It bumps up against the creation of high-order transit in the new precincts along the Queen Street Corridor.
Even the proposed 413's tracts of asphalt that fall outside Brampton's borders, will create traffic spillover and carbon input felt here. Is the 413 simply another vehicle to drive more suburban sprawl? A Back to The Future movement?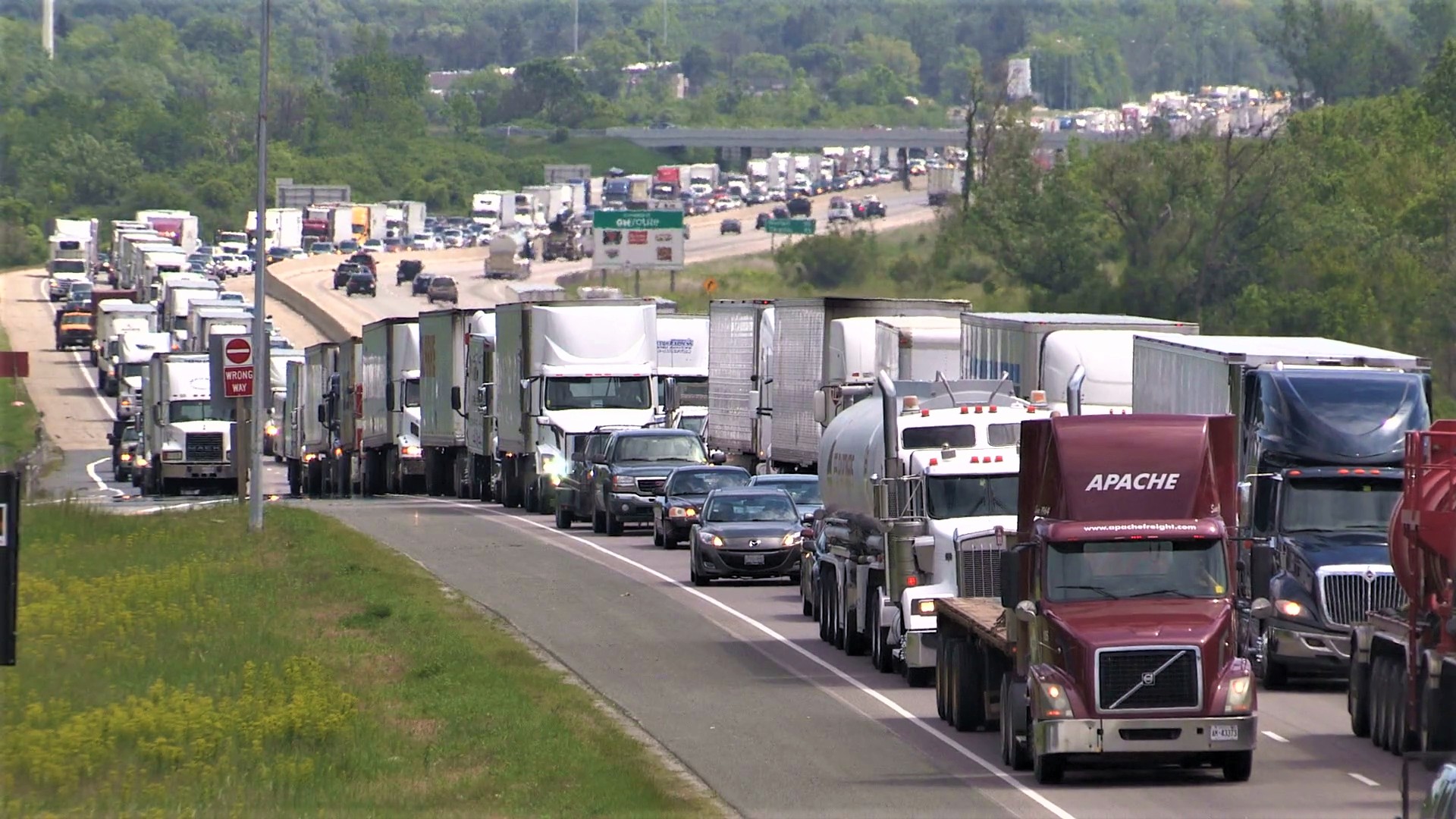 Furthermore, how does this square with the city's partnership with Sheridan College and the Community Energy and Emissions Reduction Plan (CEERP) which has a long-term goal to combine the energy conservation efforts across the city to assist community stakeholders?
Brampton spends $1.8 billion each year on energy for transportation, residential, commercial and institutional activities. Over the next 30 years, costs are expected to rise more than 4 times due to population growth and increased utility use. Brampton's annual greenhouse gas emissions per person are about 5.6 tons – twice the global best practice and 10 times the Government of Canada goals for 2050. How can CEERP create a roadmap to help Brampton ease its appetite for fossil fuels when its so-called leaders embrace a major highway on its border?
Said Brown: "The CEERP supports the goals of the Brampton 2040 Vision, the Grow Green Environmental Master Plan, and our council priorities, and complements the many progressive environmental initiatives already underway."
Added Herbert Sinnock, director of sustainability at Sheridan: "The Community Energy and Emissions Reduction Plan will allow us to build on the success of Sheridan's own Integrated Energy and Climate Management Plan, which has the college on track to reduce its greenhouse gas emissions by 50 percent by 2020."
The city's road map for future development contained in the 2040 Vision was once touted as a game plan Brown and his Team Brampton colleagues would use as a framework for all future decisions.
It would pay homage to the thousands of citizens who took part in the process and expressed what they wanted to see happen in the future. To create the community Brampton residents want to build for themselves and their children and their children's children.
The Queen Street East plan fits nicely into that vision. The 413 does not.
This lack of consistency is troubling on many fronts, but it is clearly confusing to those who participated in the 2040 Vision and were energized by the 2018 municipal vote that saw Brown ushered into office on a platform of re-righting so many past wrongs.
Submit a correction about this story