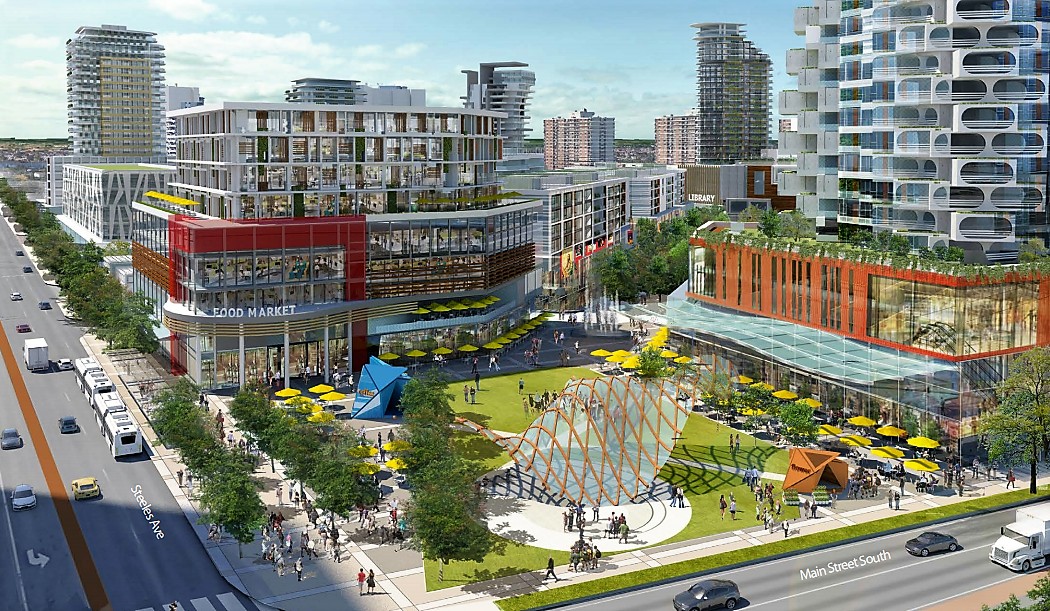 Photos and graphics from The Pointer files/Joel Wittnebel/City of Brampton/Google
Council to decide how and if Brampton's 2040 Vision can move from dream to reality
A special council meeting today will launch Brampton's plans for future growth. Members must decide how, and if, the 2040 Vision – a grand strategy to reshape one of the fastest growing cities in Canada – can be designed.
With Brampton's population set to rise to one million residents in the coming decades, this meeting will address an Official Plan Review, the blueprint used to implement the city's master strategy ahead of the onslaught of future development.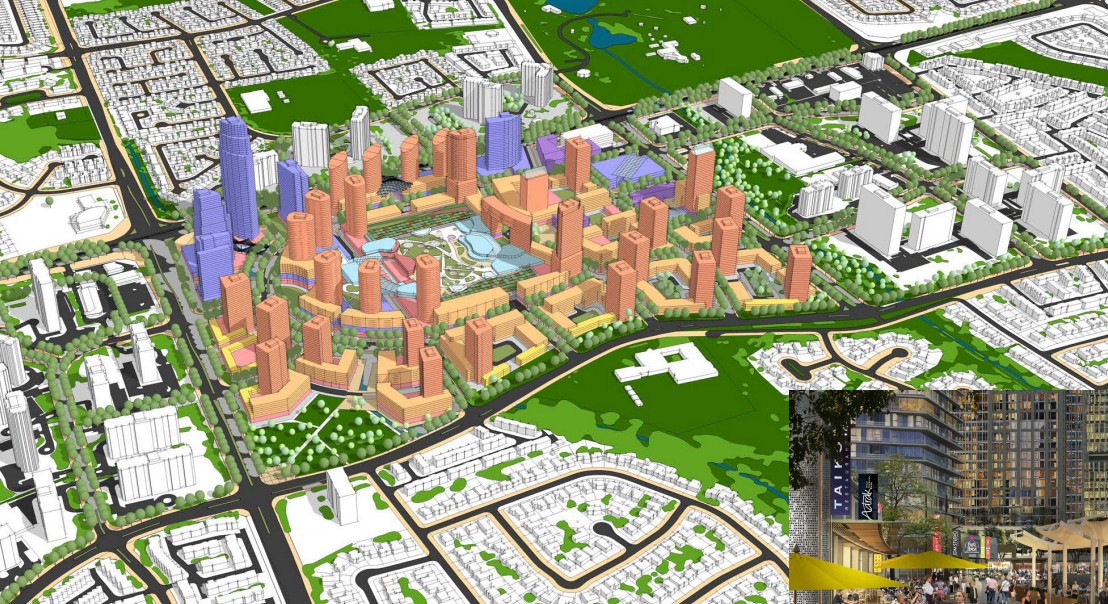 A rendering illustrating proposed development in Brampton's 2040 Vision
This plan will need to be reviewed and updated every five years. In doing so, Brampton hopes to ensure its future urban planning aligns with provincial growth legislation and regional policies that promote smart growth to create livable communities. If accepted by council, a five-phase program will be administered to create the review.
The 2040 Vision, shaped with the input of more than 13,000 local residents and overseen by renowned Vancouver-based urban planner Larry Beasley, aims to turn Brampton into a city of complete communities, each with all the amenities needed to live a modern life in a dense and dynamic setting. This includes more vertical housing, white-collar jobs for a highly educated workforce, entertainment, arts and culture in developed neighbourhoods with green spaces, all connected by modern urban transit.
What's missing from this plan is the clear direction to take these initiatives and ideas to the next level. The Official Plan can bring chaos to order, enabling the city to actualize its goals of moving away from haphazard, developer-driven sprawl.
For decades, Brampton's growth featured little more than sprawling subdivisions built wherever developers happened to own land.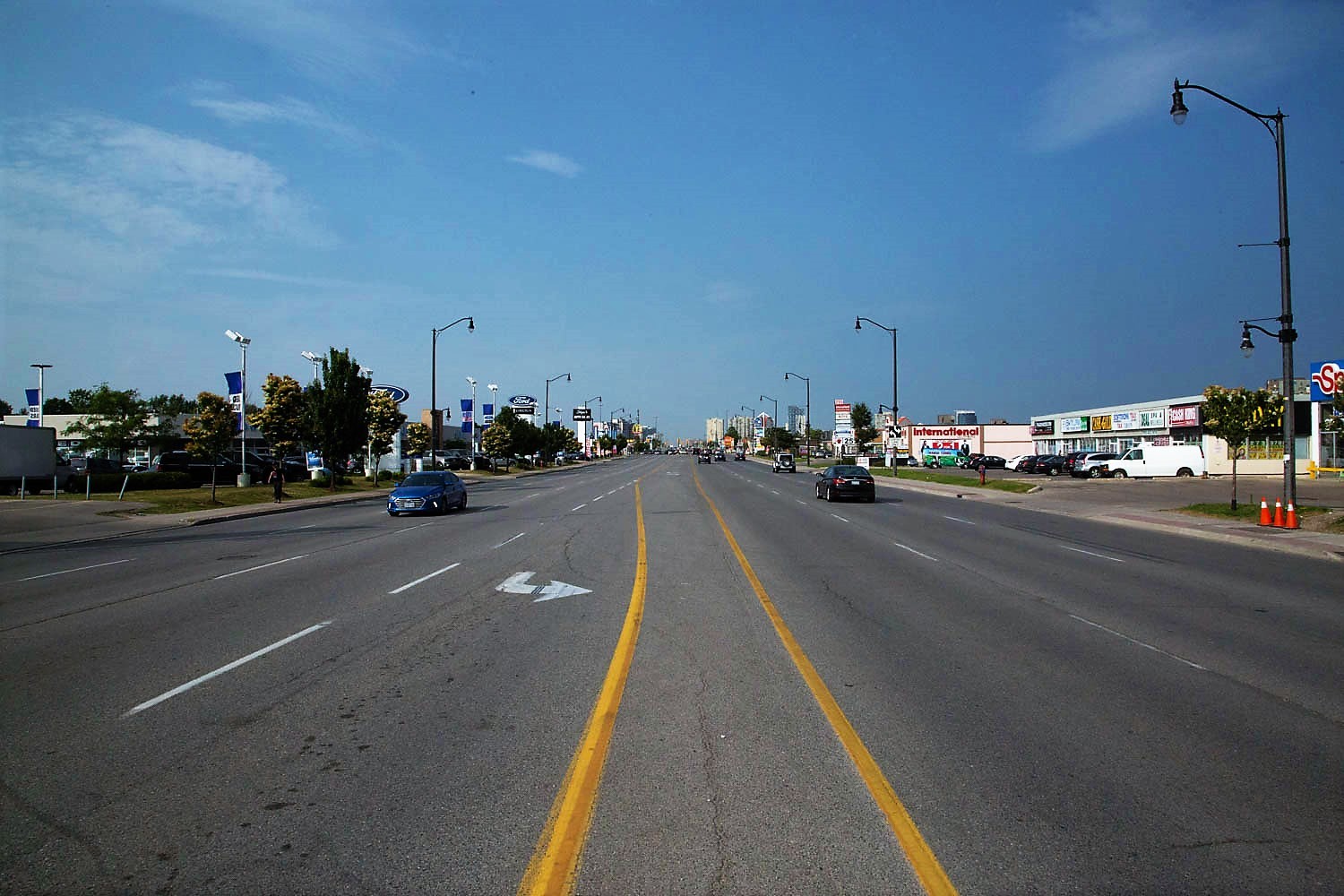 Brampton's 2040 Vison aims to shift away from developer-driven sprawl towards complete communities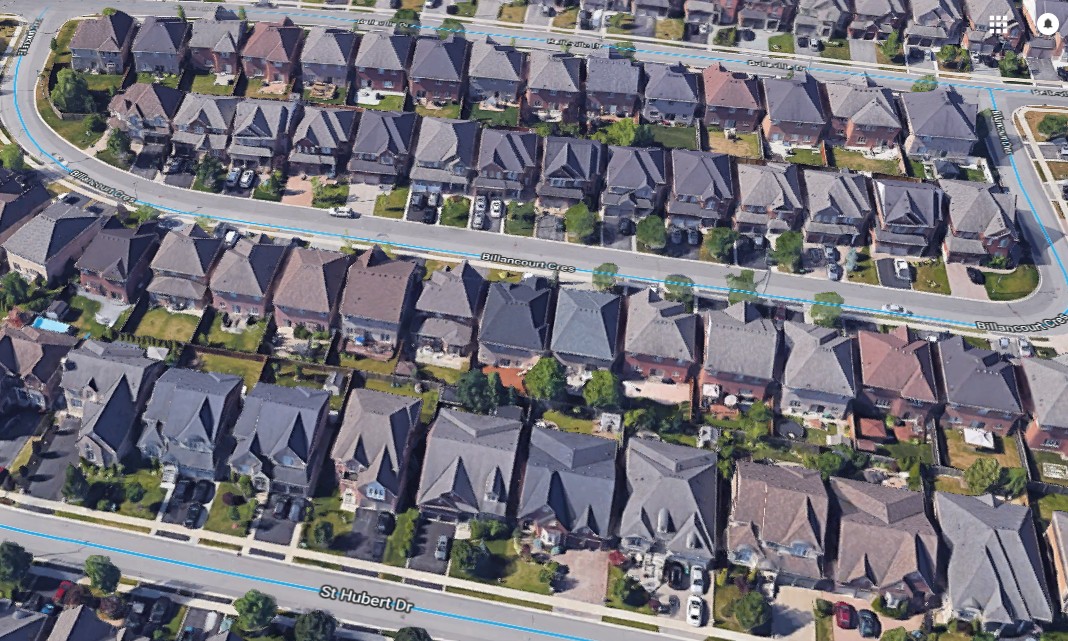 Since the last Official Plan Review in 2006, the city has developed a number of new initiatives. This includes the creation of the Brampton 2040 Vision, a number of environmental programs, an affordable housing strategy, a transit strategy and the Queen Street Corridor revitalization plan. All of these initiatives will need to be made compatible with the new Official Plan. It's not clear what changes are in store or when they will be executed.
The Official Plan Review will be implemented across several different phases, the fourth of which addresses new initiatives made by the city. Phase-4 looks at seven different areas highlighted in the Brampton 2040 Vision. These include health, arts and culture, sustainability, and the environment. The city has already started tackling new initiatives with the creation of an arts program and the One Million Trees program, which helps Brampton grow its green footprint. Between July 2020 and March 2021, these programs will be under review, with any possible changes discussed and debated by council during that period. Residents will have to wait more than a year to learn how the major city-led initiatives will be incorporated into the new plan.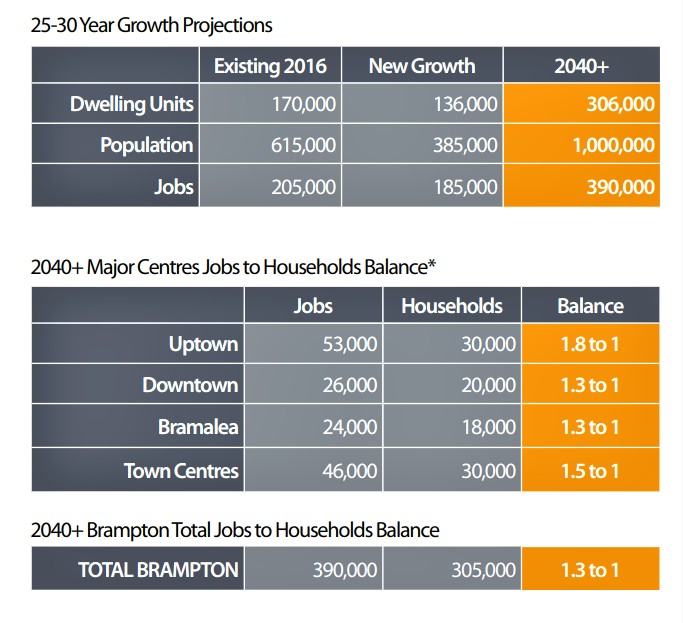 Growth projections for Brampton's 2040 Vision
Residents have been fighting for some of these initiatives for years. A key example of this is last week's council-approved Arts, Culture and Creative Industry Development Agency. This agency will help Brampton develop creative industries, with the hopes of increased job opportunities, better environmental stewardship, and the revitalization of the Queen Street Corridor. The Agency is the first arts-based group to be funded by the city since the unwinding of the Arts Council in 2015. The previous group operated in Brampton for almost 40 years. After a year-long wait, The Agency was finally approved last week. But it could take upwards of five years for the group to become a non-profit corporation. While this initiative isn't itself highlighted in the presentation, it does fall within the Brampton 2040 Vision.There are no specific details available as to when this project and others in the vision will be addressed to fit with the new Official Plan.
Brampton's affordable housing strategy is another city initiative that will be reviewed and incorporated into the Official Plan. In Peel Region, housing has been a critical issue for years. The City of Brampton is developing its first strategy of this kind, called Housing Brampton. The strategy focuses on building affordable units for rent and purchase available to the city's residents. According to the city's website, the plan, first endorsed by council in 2017, went through public consultation in October and November 2019. According to Statistics Canada, in 2016, 33.6 percent of households in Brampton were spending at least 30 percent of their income on housing, a figure which remained almost unchanged since 2006, when 34.3 percent of local households crossed this safe financial line. These statistics illustrate that the rate of local residents struggling to pay for housing has remained constant over the course of a decade, as housing costs continued to overshadow other necessities like food and clothing. In a hyper-growth city like Brampton, this means that tens of thousands more families are facing housing insecurity.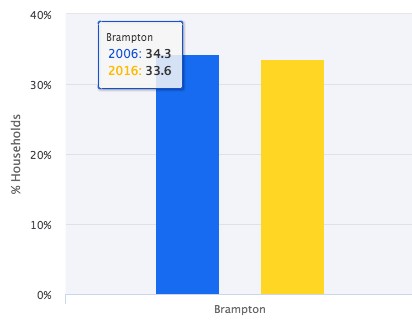 Figures showing the amount of Brampton households that spend 30 percent or more of their incomes on shelter costs
Brampton's 2040 Vision has been called the "people's Vision" in planning documents. Since 2017, more than 13,000 people have taken part in public discussions, voicing their ideas and criticisms to help shape the vision. Residents have every right to be a part of this process as they are the ones who call Brampton home and own the properties that create the city's revenues. But these ideas often don't align with the budgeting and tax policy that make these major projects possible.
The Official Plan Review follows the historical tax freeze of 2019. This action was supported by many of the city's residents. The decision-making process included a tele-town hall, the results of which indicated that 68 percent of residents favoured a tax freeze. But without a tax hike, projects proposed by the city are harder to make a reality. If a tax freeze is in the books this year, there's a possibility some of the proposed 2040 Vision initiatives could be delayed.
The issue of finances is further echoed in the report for the review. Although it states this project, to review and assess the city's planning horizon, will have no "direct financial implications" associated, a request for funds could still be submitted to council.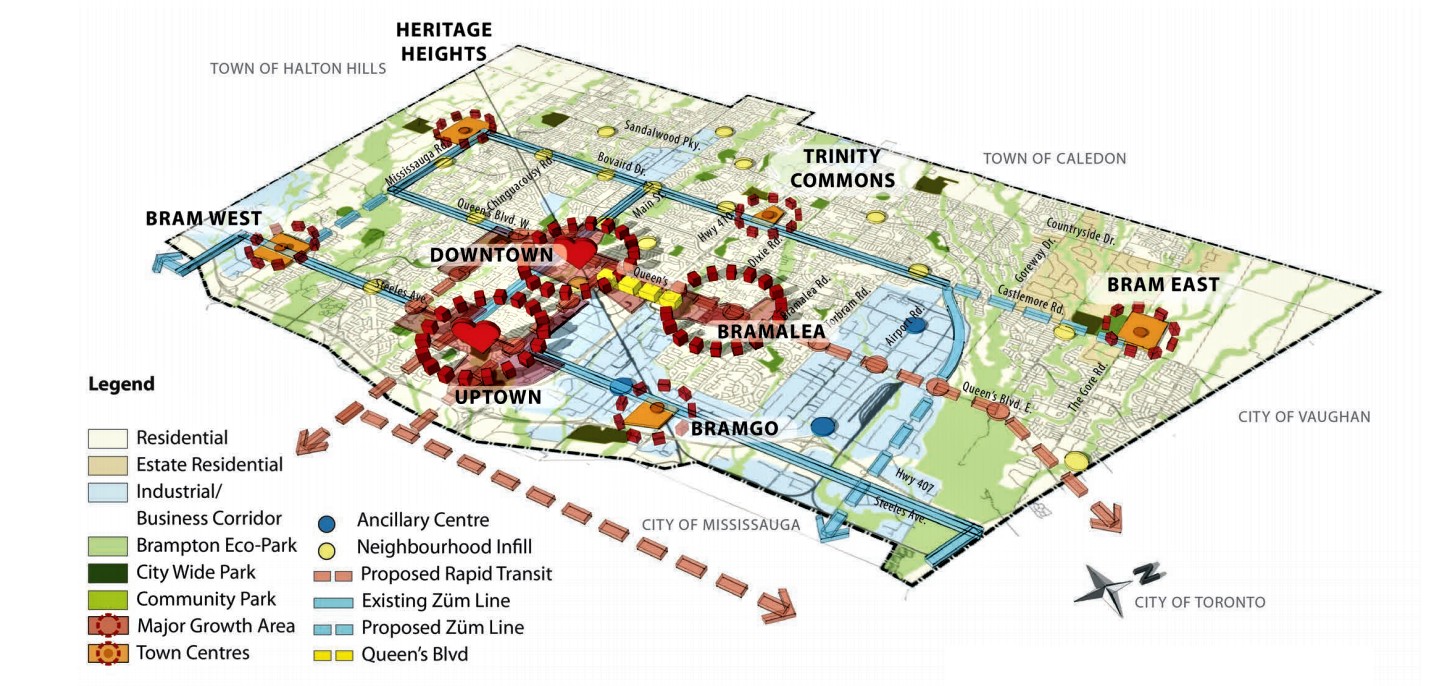 A map of proposed growth in Brampton that will shape the city's future
The development of the Official Plan Review could lead to the Planning and Development Committee, which is responsible for the project, to request $300,000 in the 2020-2022 capital budget submission. This will include $50,000 for a newly launched speaker series, and $200,000 for additional costs such as marketing and research. When money is set aside for future infrastructure projects that will take a long time to implement, those funds will be rolled into the capital budget. The costs will also include a $500,000 bill for consultants who will assist with the review of the plan. According to the report, this money will come from an existing capital budget.
The Brampton 2040 Speaker Series will take place in phase one of the project and will feature experts who have implemented changes in other municipalities that the city wants to see here. These events, the report says, are to help community members understand how the 2040 Vision will impact them, as well as provide information on how the city plans to bring its ideas to fruition through a specific plan of action. Speakers include former Director of Urban Design and Architecture for the City of Toronto Ken Greenberg, and urban planner Pamela Blais.
If a resident has concerns about the review, these can be voiced in meetings and town halls that are open to the public, which will occur during Phases 3-5 of the process.
In Phase 2, data gaps will be identified and input from the Technical Working Group, Community Leaders Advisory Group and Steering Committee will be considered. In Phase 3, three open houses will allow the public to engage with stakeholders and be a critical part of the decision-making process. Phase 4 is where important discussions and policy recommendations will be made surrounding the Brampton 2040 Vision, alongside a presentation to council and open houses. At this stage, discussions and possible approval of changes to Brampton's 2040 Vision will take place. In Phase 5, a draft of the Brampton 2040 Plan will be finalized, adopted by council and submitted for approval by the Region of Peel.
According to Section 26(3) of the Planning Act, which lists the requirements for an Official Plan Review, the city is required to consult with the Region of Peel and any other public bodies that may be involved in changes to the Official Plan. The city did this in late 2019, when concerns were voiced by organizations for changes they would like to see in the new plan.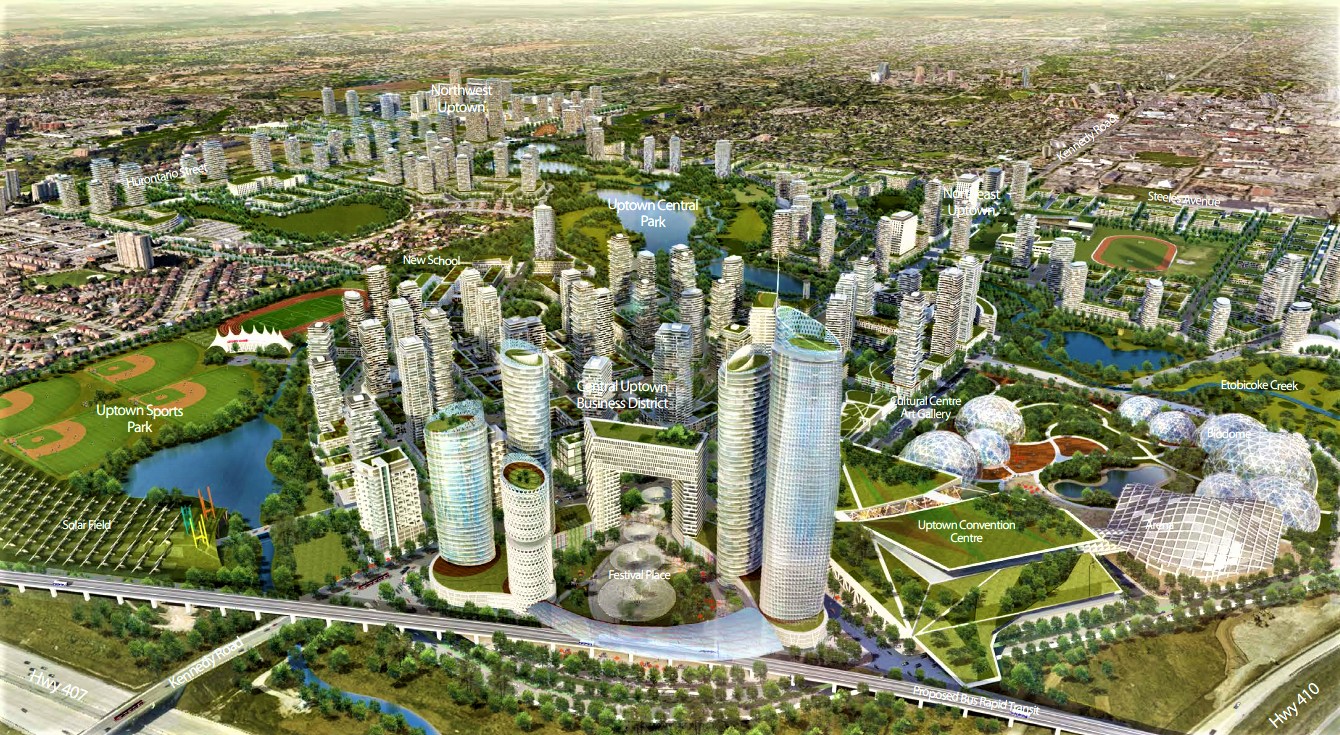 A rendering shows Brampton's 2040 Vision for its city-centre area
One of the most notable concerns came from Credit Valley Conservation, which called for a review of the Natural Heritage and Environmental Management criteria. The concern states that as Brampton continues to grow, the city's approach to environmental planning should be reflected in that growth. The group wants the city to focus on numerous areas of change between 2006 and now, including the management of invasive species. This concern can be further illustrated by the destruction of Brampton's tree canopy, which saw thousands of trees die in the 2013 ice storm and from an invasive beetle species called emerald ash borer.
The special meeting for the Official Plan Review will be open to delegations from the public. Last year, the meeting was publicized through announcements on the city's website.
---
Email: [email protected]
Twitter: @nida_zafar
Tel: 416-890-7643
Submit a correction about this story