Photos from The Pointer files
Catholic schools to close Tuesday as full strike among Peel educators continues to loom
Nearly 84,000 Catholic students in Peel won't be in class next Tuesday as the union representing their teachers has announced a one-day full withdrawal of services on Jan. 21.
The announcement is the latest in a tangled web of labour negotiations between teachers' unions and the province, with Ontario's four large educators' unions all taking job action for the first time in more than 20 years. Elementary and secondary schools within the Peel District School Board will not be impacted by next week's job action and will remain open.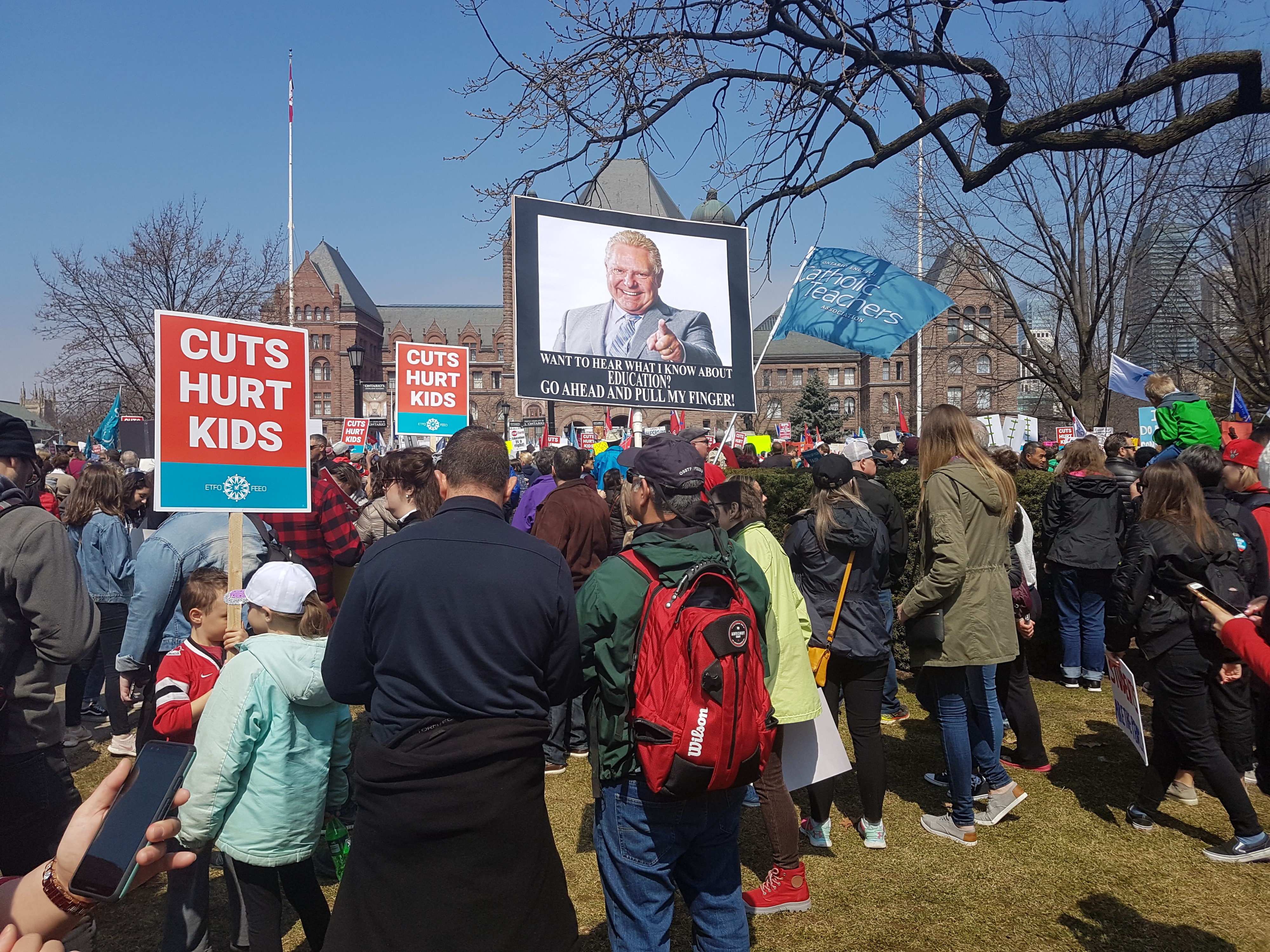 Teachers protest education cuts outside Queen's Park in April 2019
The Ontario English Catholic Teachers' Association (OECTA) announced the strike action earlier this week following unsuccessful bargaining with the province.
"If a tentative agreement with the Government of Ontario, the Ontario Catholic School Trustees' Association (OCSTA) and OECTA is not reached in advance, the Dufferin-Peel Catholic District School Board (DPCDSB) will, out of an abundance of care for the safe supervision of students, close schools to students," reads a statement from the DPCDSB.
The union says that the province has left them with no other option than to apply further pressure on labour negotiations after bargaining broke down earlier this month.
"It has become clear that this government will only do the right thing when they are under pressure from Ontarians. They have left us little choice but to take the next legal step in the bargaining process," said OECTA President Liz Stuart in a press release.
If a deal is not reached ahead of Tuesday's planned strike, it will mark the first withdrawal of services by Catholic teachers in more than two decades.
"The government's claim that this is a common occurrence is an insult to Ontarians' intelligence," states Stuart. "Negotiations are always tough, but teachers have only had to take this type of action when our rights and working conditions, and the learning conditions of our students, have been under direct attack. The only thing cyclical about this situation is that when a Conservative government comes to power in this province, Ontarians are forced to take extraordinary measures to defend our vital public services."
The vast majority of the DPCDSB schools are elementary (122 of 148), meaning many parents will be looking for alternative forms of childcare on Tuesday.
The City of Brampton has announced a number of day camps available for children, aged four to 13, during the rotating strikes. Camps will be held at the Brampton Soccer Centre, Gore Meadows Community Centre, Cassie Campbell Recreation Centre, and Greenbriar Recreation Centre.
As of this publication, many of the camps still had more than 20 spots available. While these programs come with a fee, the PC government has announced funding to assist parents with covering the costs of childcare during the strikes.
Eligibility is limited to parents/guardians with children whose school has been fully closed due to a strike and includes parents of children up to age 12 (Grade 7), or up to age 21 for children and youth with special needs. The reimbursement includes $60/day for children aged 0 to 6 who are attending a school-based child care centre, $40/day for students in Junior (JK) or Senior Kindergarten (SK), $25/day for students in Grades 1 to 7, and $40 total/day for students in JK to Grade 12 (or aged 21 and under) with special needs.
The Catholic teachers' union is not the only one walking off the job next week, as teachers in the Ontario Secondary School Teachers' Federation (OSSTF) in select regions will also force school closures in 13 boards across Ontario. OSSTF union head Harvey Bischof has said this will be the final strike for his union until after the exam period. The Elementary Teachers' Federation of Ontario (ETFO) has also said if no deal is reached by Tuesday schools in four boards will be impacted, including, Superior-Greenstone, Renfrew, Grand Erie, and Trillium Lakelands.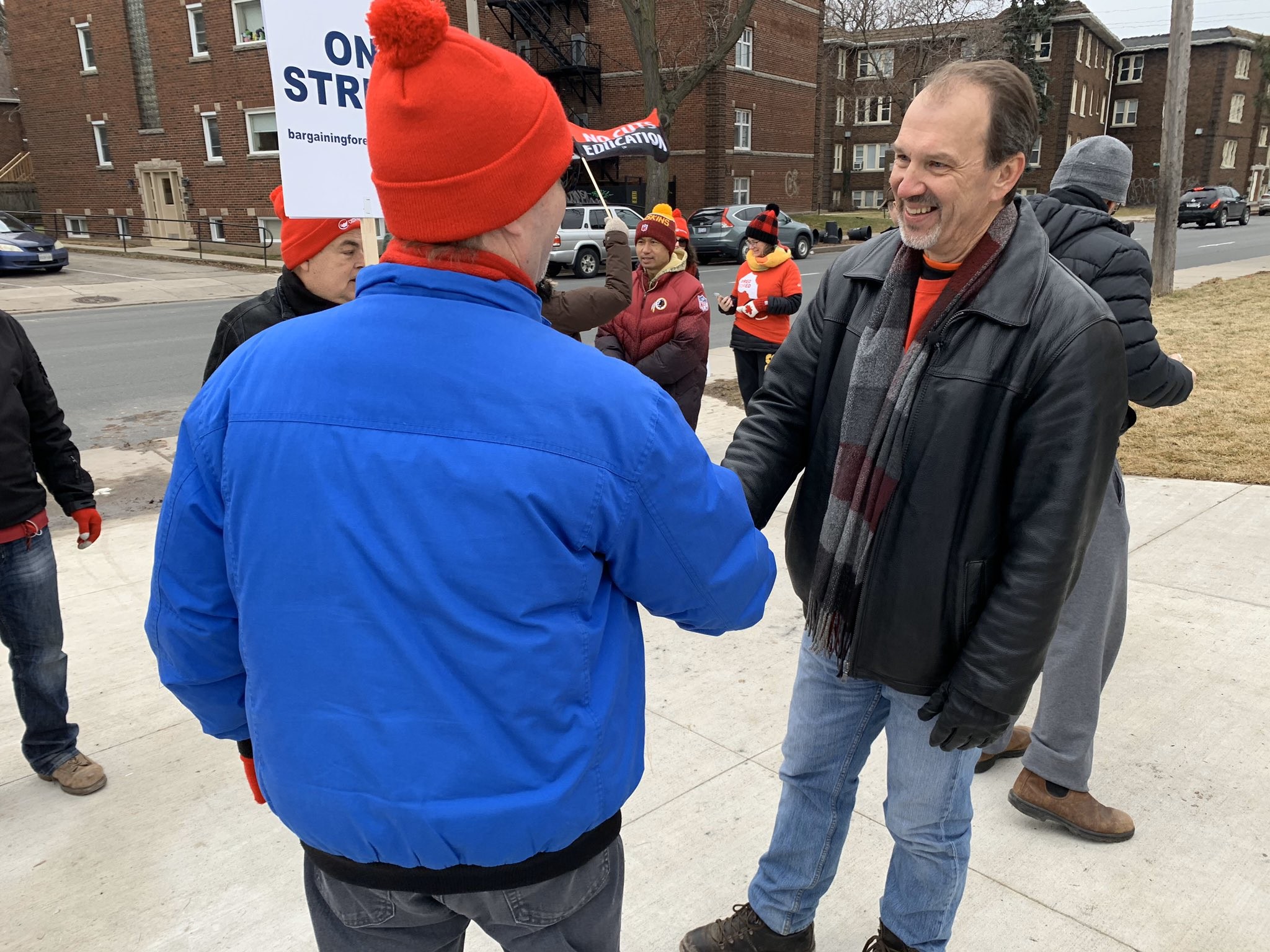 OSSTF union head Harvey Bischof
The variety of job actions are the result of stalled negotiations between the province and the different teachers' unions, many of which have been ongoing since the fall of 2019. According to recent statements, little headway has been made on key issues.
"While parents are frustrated by teacher union escalation every few years, it is unacceptable that OSSTF would ramp up strike action at a time when high school students are preparing for exams. I will continue to focus on reaching voluntary agreements with the teachers' unions, so Ontario students stay in class where they belong," said Stephen Lecce, minister of education, in a released statement.
In a statement released on Jan. 15, Bischof said his union would halt any pending job action if the PC government agrees to return to the mandated class sizes that were in place during the 2018-2019 school year.
In 2019, the province moved ahead with increasing Ontario's class sizes by an average of one extra student in Grade 4 to 8 classrooms, and high school classes were going to increase from an average of 22 students to 28. The shift resulted in 330 teachers in the Peel District School Board, both elementary and high school, being served in April with "surplus to board" notices stating there were not enough positions to keep them employed.
Most of those teachers now have their jobs back in one capacity or another, largely because the province backed off on the increase, in the face of huge public backlash, saying it would be waiting until next year to move ahead.
Then in October, the province went one step further and announced classes would be capped at 25, not the initially proposed 28. The OSSTF was not happy with this concession, with reports stating this would still put 5,000 high school teachers across the province out of a job.
"If the Minister of Education is truly focused, as he incessantly claims, on keeping kids in class, then he will accept our offer and come back to the bargaining table to negotiate in good faith," said Bischof in a released statement.
"It is clear to OSSTF/FEESO members that, for this Premier and this Minister of Education, questions about student learning and the quality of education are not even on the radar," said Bischof. "If the government wants to prove us wrong about that, they will abandon their destructive agenda, return to the table, and work with us to reach a deal that is good for the province's students."
Class sizes are just one aspect of the negotiations where the unions and the province can't find common ground.
On salaries, Ford made it clear earlier this week that his government is unwilling to provide more than a one percent annual increase for teachers, about half of what the union is looking for.
Cuts to the education system — which saw many teachers protesting outside Queen's Park in 2019 — are also still a stopping point.
The Ford government imposed cuts on funding for special education of $50 million, as well as the removal of $39 million introduced in 2017 to support students with special needs and other at-risk youth.
Core funding has also been impacted.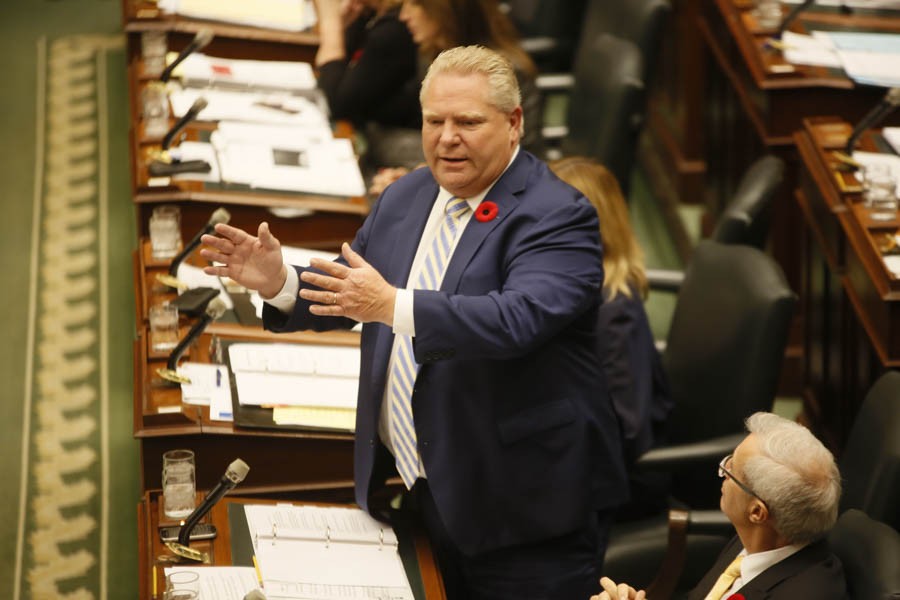 Ontario Premier Doug Ford
Support for public schools comes from the Grants for Student Needs (GSN) funding. As part of their budget, the governing PCs hailed what they described as an increase in funding to schools, projecting total spending for 2019-20 to be $24.65 billion, up slightly from the $24.61 billion invested in the previous school year. But the slight increase does not show the actual decrease in per student funding. (Funds are spread across many key grant areas, providing for classroom needs, school buildings and special programs.)
During the 2018-19 school year, the province spent an average of $12,293 per student, with just over 2 million students in the public education system. That amount will drop to about $12,246 for 2019-20, as enrolment province-wide is expected to grow by 11,601 students. So the claim by the PCs that more money is going into the education budget, while true, is misleading. The per-student cut ends a recent pattern under the previous Liberal government that saw student funding increase.
---
Email: [email protected]
Twitter: @JoeljWittnebel
Submit a correction about this story