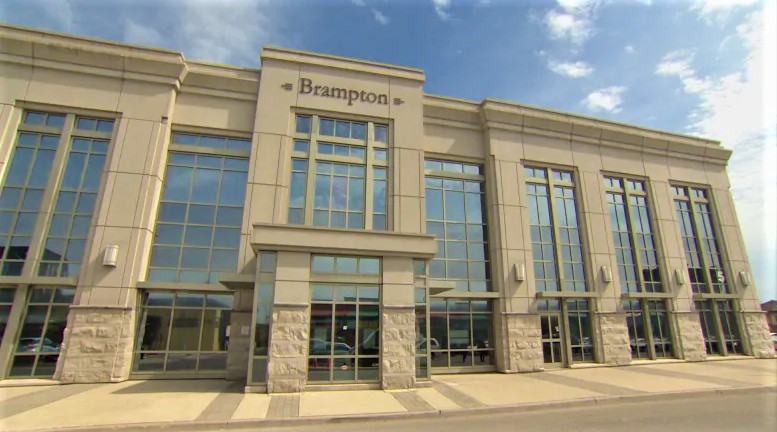 Photos from The Pointer files/Flickr
Provincial changes might not happen soon enough for Brampton's overcrowded courtrooms
There's been no sign that relief is on the way for Brampton's pressured court system nor is it clear when help will arrive.
In November, Mayor Patrick Brown and local councillors wrote to the Government of Ontario with a cry for help following a staff report that described the city's court system as being on the verge of chaos. A mixture of long wait times, courtroom closures (due to a lack of Justices of the Peace), and not enough resources is threatening to jam the gears of local court processes.
According to a spokesperson from Mayor Brown's office, the city has yet to receive a response from the province to its list of concerns and requests. This list includes an ask for the allocation of more resources to Brampton's Central West region.
Currently, the Central West Region — which includes Peel, Halton, Niagara, Haldimand County, and Norfolk County — is operating at 30 percent below its capacity for judges. The province has 52 Justices of the Peace allocated to the region, but there are only 40 available to actually sit in court.
This has led to a growing problem of courtroom closures, the number of which has increased since 2017.
For Brampton's provincial offences court, the lack of available Justices of the Peace led to 34 percent more courtroom closures in 2019 compared to 2018. With a number of retirements for Justices expected in 2020, courtroom closures are projected to increase by 169 percent this year unless more resources are allocated to the city's courthouse.
Since 1999, Brampton has had an agreement with the province which tasks the city with operating the Provincial Offences Court (5 Ray Lawson Boulevard). In this agreement, the city oversees all operations of the court, including administration and prosecution of non-criminal offences, charges under the Highway Traffic Act and municipal bylaw infractions.
Under the same agreement, the Minister of the Attorney General (MAG) is responsible for allocating the Justices of the Peace to preside over provincial offence matters. However, in recent years, the province has slacked on its end of the agreement.
"The Central West Region is experiencing a significant shortage in the judicial resources allocated and available to service the area," the Brampton staff report reads. "This is having and is anticipated to have an increasingly negative impact on the justice system in the Central West Region, including negative effects on fair and timely processing of charges and on public confidence in the justice system."
Much of the same was noted by provincial auditor general Bonnie Lysyk who, in her 2019 annual report, said the common practice of transferring cases from Brampton to other jurisdictions was due to a lack of available courtrooms.
The general public is not offered much in the way of a window into how Justices of the Peace end up presiding over a courtroom in their distinctive black robes.
Currently, the province has a committee, meant to be non-partial, which reviews potential candidates and makes recommendations to the attorney general over who would be a good fit for the role.
For Brampton, that process isn't moving fast enough, and despite recent statements that the province is looking to streamline appointments, it doesn't appear that any solutions will arrive in time to address the critical shortage of Justices in Brampton courtrooms.
Attorney General Doug Downey has already made it very clear that he believes the shortage of Justices is a result of an archaic appointment system that is "flawed" and needs to be changed in order to more quickly identify qualified candidates.
"In the time it takes from the Court first identifying a vacancy that needs to be filled, to me actually receiving a recommendation from the Advisory Committee, a year or more can elapse," Downey explained in a speech to the Federation of Ontario Law Associations in November. "This is because the committee seeks candidates for each vacancy and does not advertise for candidates until after a vacancy is identified. If we did nothing other than adopt the federal judicial appointments process, which maintains a constantly refreshed list of senior lawyers deemed qualified for appointment to the Superior Court, Cabinet would be in a position to appoint qualified candidates immediately upon a vacancy being identified," he added.
Downey also provided numbers to back up his assertions, stating that during a recent application process, 888 people applied for 31 vacancies. The advisory committee spent close to $500,000 reviewing these applications and interviewing more than 200 candidates, and then provided a list of 20 names for final consideration.
"Think about this – that is only 2.25 percent of applicants – not even enough to fill two thirds of the 31 vacancies," Downey said. "In the aftermath of the Supreme Court of Canada's Jordan decision, we cannot afford to waste time when it comes to appointing qualified Judges."
The 2016 Supreme Court "Jordan" decision created new timelines for court cases, stating matters before the provincial court must be dealt with in 18 months and 30 months for Superior Court matters. If these timelines aren't followed, it can lead to cases being thrown out by the courts due to unreasonable delay. These new deadlines are already straining police, provincial and municipal resources, while ongoing delays in other areas of the court process are already putting further pressure on the system.
While critics have pointed out that changing the advisory committee process is opening the door for the government to hand-pick judges and justices, a spokesperson for the ministry said this structure would not change.
"The Attorney General has spoken publicly about his thoughts for areas of improvement in the current process to appoint Judges and Justices of the Peace and is consulting on options that would ensure our justice system is not held up by unnecessary delays in appointments, and that would allow the government to appoint qualified Judges and Justices of the Peace more efficiently," stated Jenessa Crognali, a MAG spokesperson. "Some things will not be on the table. The existence of appointment advisory committees will not change, the statutorily binding nature of the committees' advice (will) not change, and the mandatory qualifications for judicial and Justice of the Peace candidates will not change."
It's not clear whether any new changes to the system will come into effect to assist Brampton and its courtroom closure crisis. According to the Ontario Court of Justice, the interview process is currently ongoing, but no timeline for hiring was provided.
"Interviews to fill Justice of the Peace vacancies in the Central West Region are underway by the Justice of the Peace Appointment Advisory Committee. The Court cannot comment how long it will take for these vacancies to be filled, as the Committee is an independent Committee, and ultimately the Ontario Government (not the Court) appoints Justices of the Peace to fill vacancies in the Ontario Court of Justice," stated Jill Arthur, the communications officer for the Ontario Court of Justice.
With the appointment process still underway, it appears that for the time being, the Brampton courthouse will operate with the same level of Justices it did last year. This is something that could cause critical shortages in the months ahead due to expected retirements of Justices.
According to City of Brampton staff, the number of anticipated courtroom closures represents a "critical point" and is a result of many of those Justices who serve this area being set to retire. Justices are only replaced once one retires, and the hiring process can take between 12 and 16 months before they are actually robed-up and sitting on a bench.
Additionally, Brampton staff see the problem getting worse as the city's population continues to grow — jumping 13 percent between 2011 and 2016. It's anticipated this continued growth will result in a corresponding increase in the amount of charges processed through the Brampton courthouse.
For that reason, the city is calling on the provincial government to review both the funding allocated to the Central West Region, as well as the number of Justices.
"It is kind of maddening, when you're a city councillor and you're trying to get things done," says Councillor Jeff Bowman. "Whether it's a big city problem or, you know, whether it's just something that's being overlooked by the provincial government. I don't really know the answer to that, but the answers I do know are that we are critically understaffed, and that we've got to get a handle on the situation as quickly as possible and my feelings don't seem to be those shared by the province at this point in time."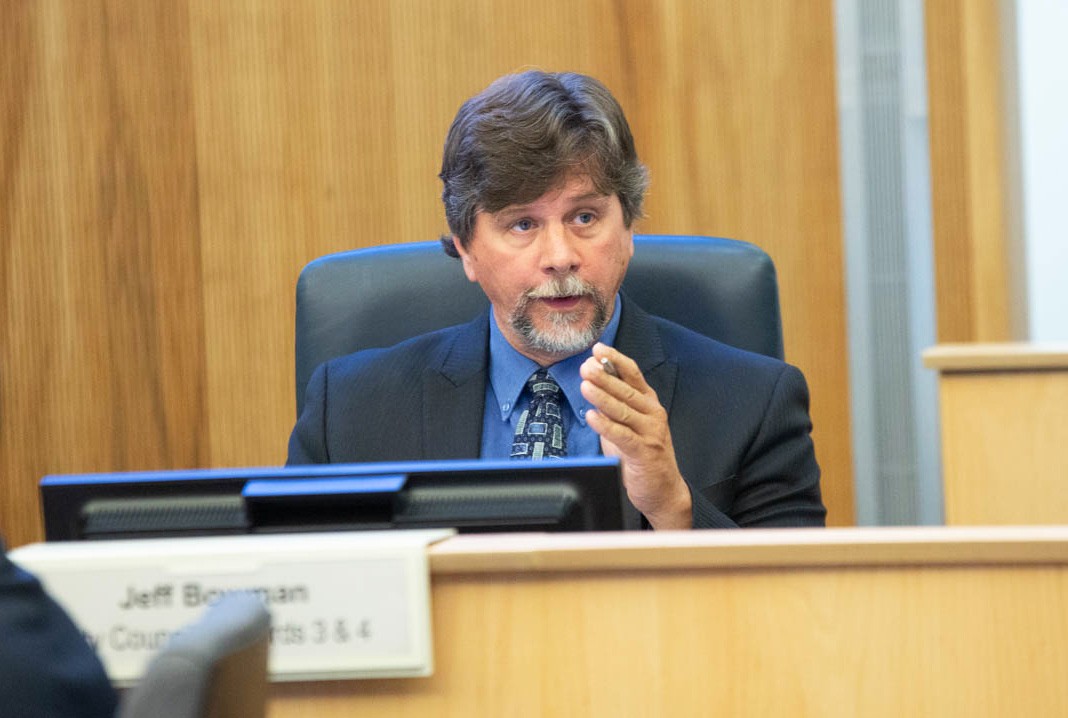 Brampton Wards 3 and 4 Councillor Jeff Bowman
In particular, Councillor Bowman states that with ongoing delays at the courthouse, other areas of municipal operations will be impacted. With the City of Brampton looking to install photo radar cameras, any tickets issued through this technology, if appealed, will find their way into an already jammed court system. As well, the city's ongoing efforts to prosecute owners of illegal secondary units could be hindered if these cases start to be thrown out.
"We've had some excellent results over the past six or seven months now with fines and with prosecutions, and we've set up a special task force as well," Councillor Bowman says. "My concern is that with the decrease in the number of [Justices of the Peace] and their ability to process cases, is all the work that our special team is doing, is it ever going to get heard or is it ever going to court or are they gonna be thrown out?"
Unfortunately, Brampton's situation is not a new one, nor is the letter from Mayor Brown and city council the first time the Attorney General has heard about these ongoing issues.
In November 2018, Senior Regional Justice Peter A. Daley criticized the Ontario government in a sharply worded report over its years-long failure to add courtrooms and other facilities needed to move cases through the Brampton courthouse quickly.
Daley called the province's complacency about making these improvements "willful blindness." He wrote that "the province of Ontario remains in breach of both its constitutional and statutory duties to provide suitable courthouse facilities for the citizens of Ontario in Brampton and elsewhere."
When the A. Grenville and William Davis building was built in 2000, critics immediately blasted it as too small to serve the region adequately. Brampton's rapid population growth since then has further clogged the justice pipeline, meaning that cases may drag on for years or be referred to other jurisdictions such as Kitchener and Orangeville. The result, Daley wrote, is "very real and [there are] unacceptable delays in the hearing of all matters in Brampton."
The issue is "infinitely worse than it was seven years ago when the Chief Justice made her urgent plea for more space, or even four years ago when the former Attorney General promised this addition to the courthouse," Daley said. He pointed out that the current Attorney General's office, though invited, hadn't even bothered to send a representative to hear him deliver his comments at the Brampton courthouse, made at the start of a session meant to assign court cases.
According to the MAG, the "standard is to provide counter service to court clients in 30 minutes or less." But as The Pointer previously reported, in early summer 2019, average wait times to file family matters at Brampton's Superior Court of Justice reached two hours and 20 minutes, nearly five times the ministry's standard. Recent figures show that the average wait is now down to one hour and 12 minutes — similar to the same quarter the year before, but still far longer than most GTA courts.
While the Progressive Conservatives (PCs) have shown a willingness to modernize the appointment process — while maintaining its impartiality — they could be shooting themselves in the foot through other decisions that are impacting the justice system and its wait times.
In last year's budget, the PCs announced a 34 percent cut ($133 million) to the budget of Legal Aid Ontario (LAO), the umbrella organization that provides funding to community legal clinics across the province that help low income residents with their legal matters. The cut was part of an overall reduction in the justice sector budget. The total justice sector budget in Ontario is approximately $5 billion, which under the PCs' plan will be reduced to $4.7 billion over three years, for an annual reduction of $300 million. Initial reductions included $133 million for LAO this year, with that reduction increasing to $164 million in three years.
Following strong public backlash from Brampton residents and members of the legal community, the PCs have since walked back further cuts, announcing in December that the planned $164 million reduction to the LAO budget would not go forward in 2020. While a positive start, Doug Kwan, executive director of Mississauga Community Legal Services, says this is only a "partial good news story."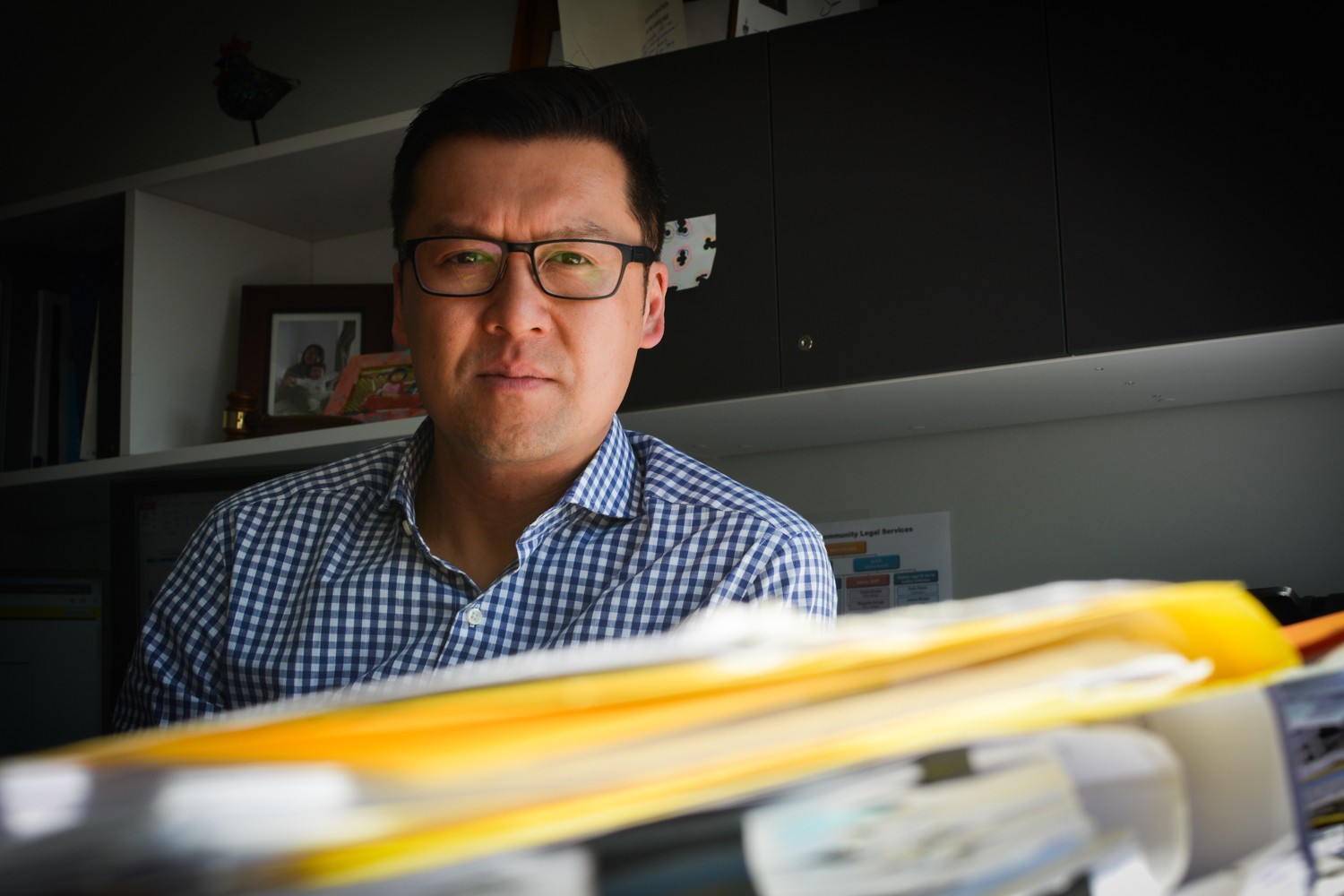 Doug Kwan, Executive Director of Mississauga Community Legal Services
"We are pleased that the new legislation preserves and respects the value of having independent legal clinics as an efficient and effective way to provide legal services for vulnerable people, the fact that they kept this part intact when crafting the new legislation is a good thing," he tells The Pointer. "We are also happy that they will not increase the cut from $133 to $164 million as was planned in the April budget but that still does not fix the devastating impact of the initial cut to LAO's budget…That is why we will be thanking our MPPs and the AG for this announcement and ask them to begin work on repairing the damage done by this year's legal aid budget cuts."
These cuts to legal aid are significant, as cases involving self-represented individuals tend to take more time as the judge must repeatedly explain complex courtroom procedures or hearings in order to ensure people receive fair trials. With more access to legal assistance, those who can not afford lawyers are able to tend to their legal matters more easily, which reduces the stress on the system as a whole.
"I'm hoping that the city does not play the waiting game," Councillor Bowman says. "I hope that the city is large enough in terms of voting population [and] [...] seats at the province, that we can force this issue a little stronger and try to get things moving a little quicker."
"This is a perfect opportunity for those in Opposition at Queen's Park to be really vocal," he added.
---
Email: [email protected]
Twitter: @JoeljWittnebel
Submit a correction about this story