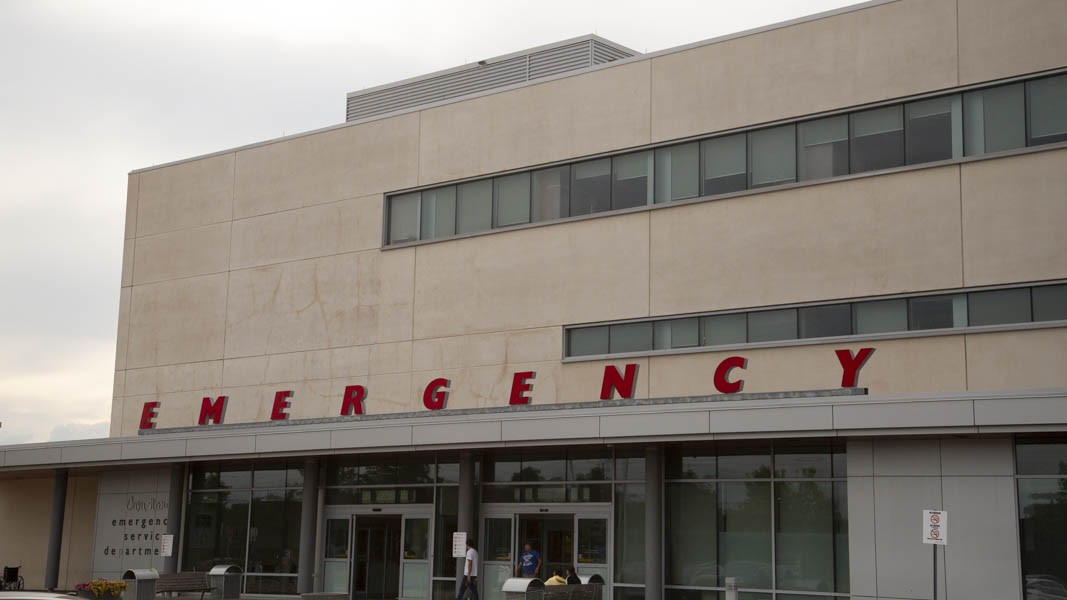 Photos from The Pointer files
New year, same ignorance to Brampton's ongoing healthcare needs
During one of 2019's last days inside the Legislature, NDP MPP Gurratan Singh (Brampton East), came out swinging.
"Let's look back at the track record of this Conservative government. After more than a year and a half of this Conservative government, Bramptonians are still struggling. We are struggling with a healthcare crisis where thousands of people are being treated in an overcrowded and underfunded hospital, and instead of helping Brampton, this Conservative government has voted against investing in Brampton's healthcare multiple times," he said, his eyes fixed on the PC MPPs across the aisle — two of whom represent the same city as him.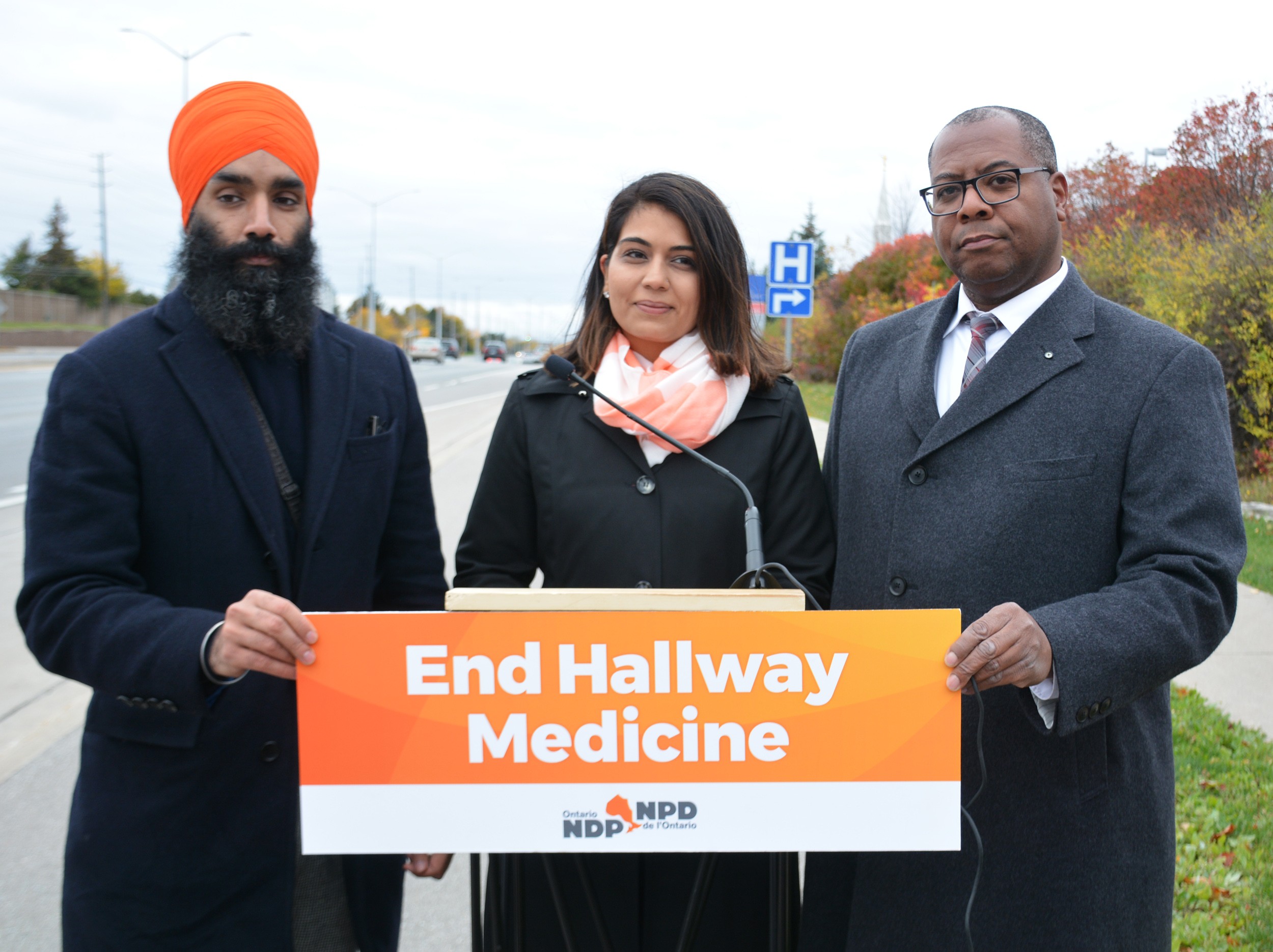 Gurratan Singh (Brampton East), Sara Singh (Brampton Centre) and Kevin Yarde (Brampton North)
"I have said it once and I will say it again, this Conservative government does not care about Brampton."
Twice, the NDP has forced a vote to fund a third hospital in Brampton, and twice that motion has been defeated by the Conservative government.
Over the course of 2019, the lack of major investment into solving Brampton's healthcare crisis would support that accusation. There have been repeated calls from residents during town hall meetings attended by local MPPs. Additionally, a social media campaign and petition from the City of Brampton entitled #FairDealForBrampton has been geared around raising awareness of the city's plight. But the province has remained quiet, and neither Premier Doug Ford nor Minister of Health Christine Elliott has made any significant announcements for the province's ninth largest city. This lack of attention to Brampton has created a sore spot for many residents who must deal with the fallout of an ailing system.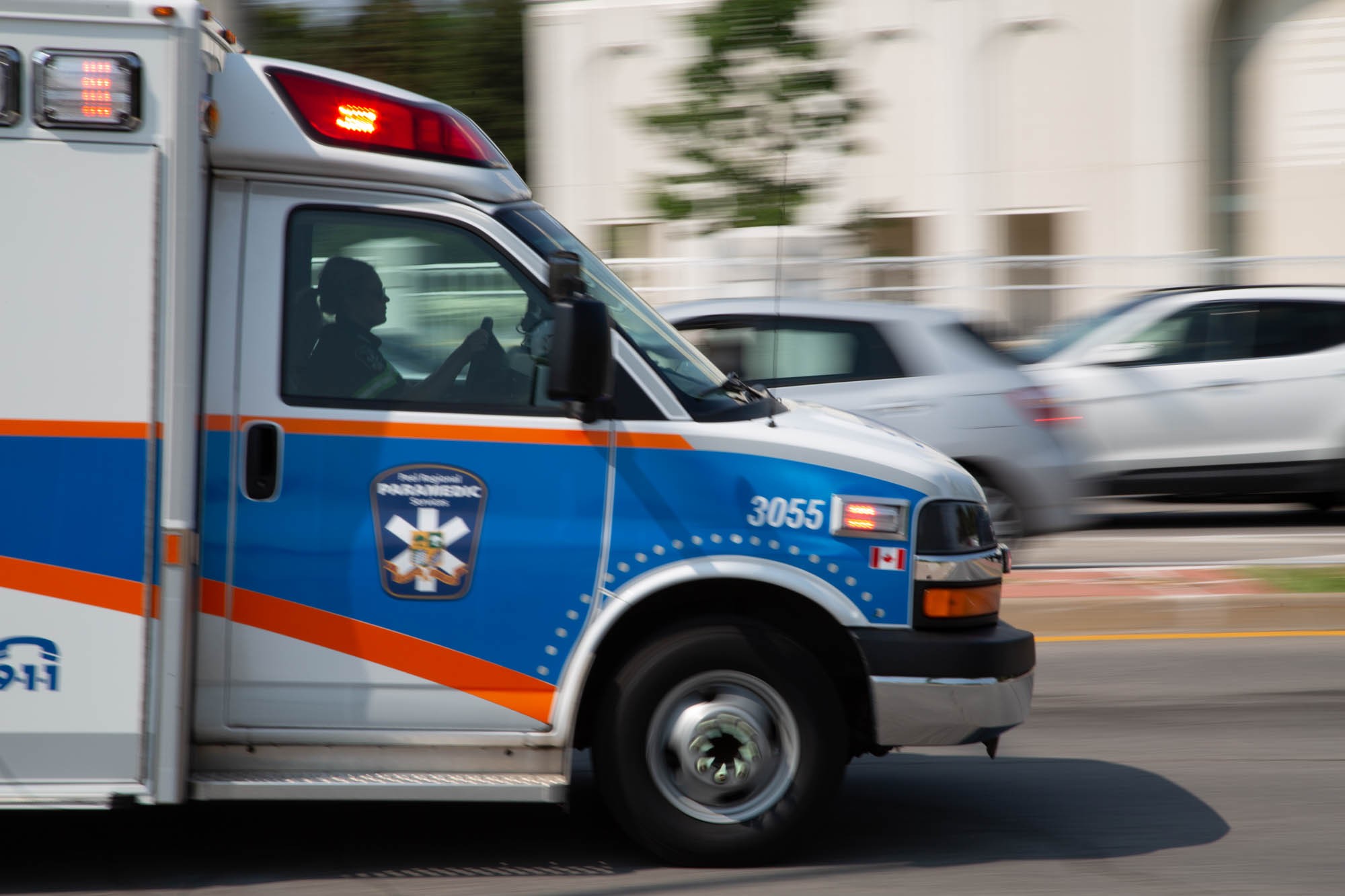 Brampton Civic operated at 101 percent to 106 percent capacity for all of 2019
"People in our community are tired of waiting in hallways," said NDP MPP Sara Singh (Brampton Centre) inside the Legislature. "Our young people are tired of waiting for mental health supports and our senior citizens are tired of waiting for long-term care beds."
To rub salt in the wound, Bramptonians are left to watch as the province celebrates healthcare announcements for hospitals in surrounding cities. Most recently, on Tuesday Minister Elliott announced $5 million for early stage planning for the expansion of St. Joseph's Health Centre in west Toronto.
"This investment is another example of how we're increasing access to reliable and quality care while building the capacity that we need in order to end hallway healthcare," Elliott said. She was joined by PC MPP Kinga Surma (Etobicoke Centre) who stressed the importance of the announcement and the redevelopment of the hospital as more and more families are choosing to settle outside of Toronto.
If this is indeed a criterion for how the province chooses to allocate its funds, then Brampton should be at the top of the list, especially when looking at new immigrant families. According to a report prepared by the Conference Board of Canada, the GTA greeted 106,000 immigrants in 2018, while the rest of Ontario took in 31,000. Brampton and Mississauga are typically popular settlement destinations, not only because of their proximity to Pearson International Airport, but also the opportunity for jobs, settlement resources, and community supports.
Despite that, Brampton's healthcare needs continue to be ignored by the province.
The healthcare system in the city continues to suffer from a lack of funding and hospital beds with less than one bed per 1,000 residents, well below half the provincial average and about a third of the national average of approximately 2.7 beds for every 1,000 residents.
The Central West Local Health Integration Network (LHIN), which includes the City of Brampton, alongside Caledon, Bolton, Dufferin County, parts of north Toronto, Malton and Woodbridge, is currently receiving approximately $973 of annual funding per capita, the lowest amount in Ontario, and $1,000 less than the provincial average, creating significant strain on the city's emergency departments and other frontline health services.
A request for comment sent to Brampton's PC MPPs Amarjot Sandhu (Brampton West) and Prabmeet Singh Sarkaria (Brampton South) seeking comment on the recent announcement and details of any lobbying efforts on their behalf to secure further investment for Brampton's healthcare system was not returned to The Pointer ahead of publication.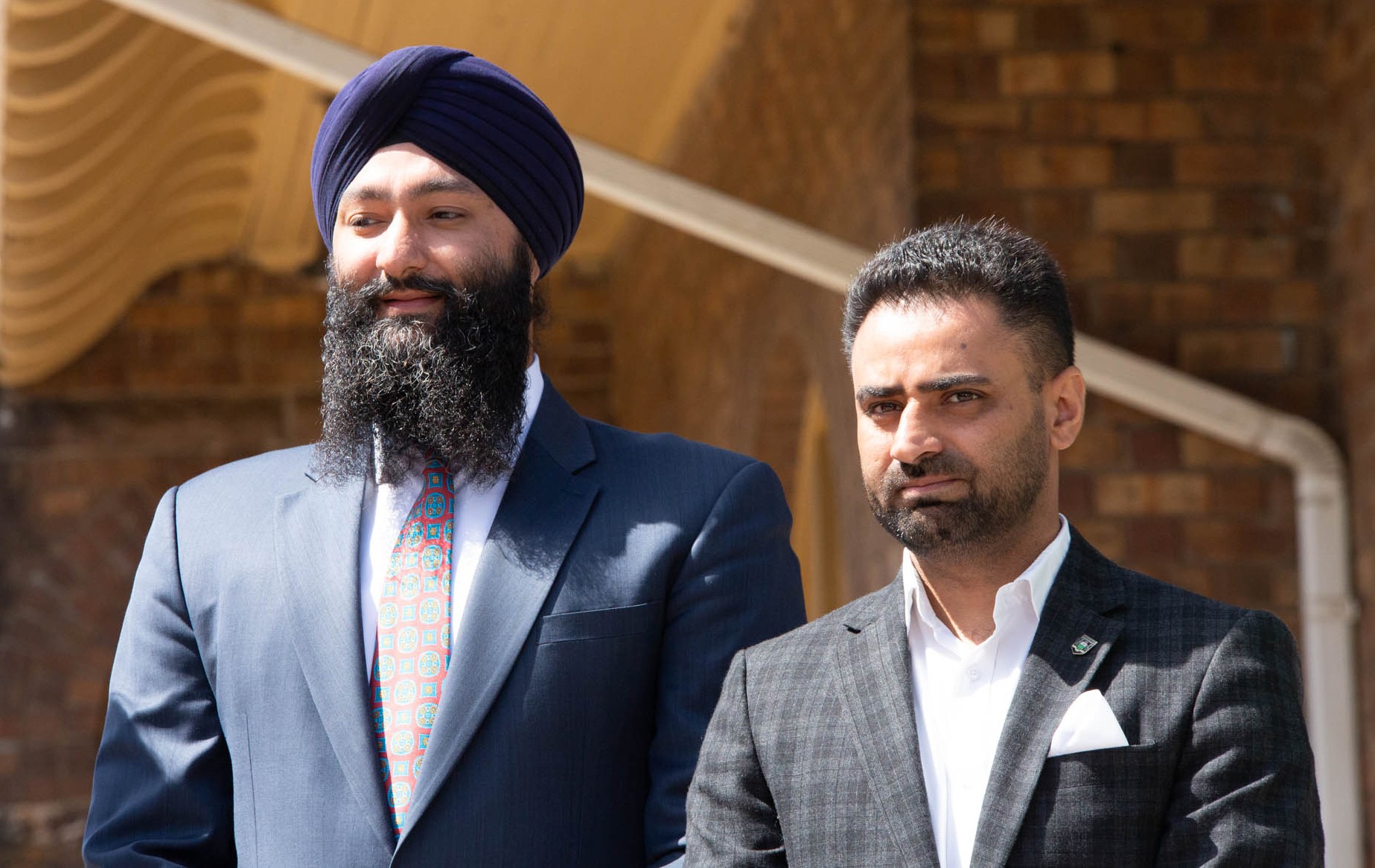 Prabmeet Singh Sarkaria (Brampton South) and Amarjot Sandhu (Brampton West)
Data obtained by the provincial NDP in the fall of 2019 showed that Brampton Civic, the city's lone full-service hospital, has been operating at 101 percent to 106 percent capacity for all of 2019, well beyond the recommended standard of care at 85 percent capacity. Peel Memorial, the city's preventative-care facility, which opened in 2017 with the intention to relieve the increasing patient burden experienced at Civic, started the year operating at 557 percent capacity, a number that increased to 587 percent in April and continued into June. The preventative care facility has no in-patient beds and its emergency department is open 8 a.m. to 9 p.m. every day.
This situation was not created overnight, and the lack of attention to Brampton's funding needs has been ongoing through successive governments. The previous Liberal government in 2017 announced that Trillium Health in Mississauga would receive funding for 500 additional hospital beds and to replace 500 aging hospital beds. Before the additional beds, the healthcare network already had 1,100 beds across three facilities, almost double Brampton's current 635 beds at Brampton Civic.
This is not to say the province has completely ignored the city. When previously pressed by The Pointer, the province provided a list of investments made in Brampton, mostly related to mental health and addictions initiatives. They included:
$1,515,000 to the Canadian Mental Health Association–Peel Dufferin, for Mobile Crisis Teams. These teams — comprised of nurses, social workers and plain clothes police officers — provide rapid response services to people in psychological distress.

$525,000 to the William Osler Health System for youth residential treatment and withdrawal management.

$350,000 to the Canadian Mental Health Association–Peel Dufferin for opioid addiction treatment and services.

$160,700 to the Canadian Mental Health Association–Peel Dufferin for peer support services.
In terms of major infrastructure spending, Brampton received roughly $1.5 million for repairs and maintenance to hospital facilities from the Health Infrastructure Renewal Fund (2018/2019). This investment pales in comparison to the sums other municipalities have received over the past few years for major, state-of-the-art hospital projects. Vaughan received $1.6 billion for the Mackenzie Vaughan Hospital, currently under construction. Under the previous Liberal government, the province also paid for planning and construction of the new Oakville Trafalgar Memorial Hospital (which opened in late 2015), on top of provincial land donated to the project.
This is a further slap in the face of Brampton residents as $20 million of the city's tax dollars have been put aside for the inevitable expansion of Peel Memorial Phase II in the coming years.
Cara Francis, head of public relations for William Osler, previously said this process is "well underway" and an initial proposal is scheduled to be presented to the Ministry of Health early this year.
Following this submission, further detailed planning will need to take place with the ministry. As a caveat, she said not to expect doors to open for at least five to eight years, and that's if there are no unexpected delays on top of the drawn out timeline.
A request for updated information sent to William Osler was not returned ahead of publication.
Looking at the delayed process for Phase II, it becomes clear that not all of the fault for Brampton's healthcare woes lies with the Government of Ontario.
The province told The Pointer that Osler was given $500,000 in one-time grant funding in early 2018 to assist with the planning process for Phase II. However, in August, it was the understanding of the health ministry that the initial Stage 1 proposal would be submitted by the fall of 2019. It's unclear what has caused the delay and why Osler only plans to get its submission for the plan to the ministry nearly two years after receiving the grant to help get it done.
Osler's own Etobicoke General Hospital in Toronto recently completed a $300 million renovation which Toronto taxpayers did not have to pay any type of levy for.
Early plans for Phase II projected a tower expansion on the existing site of Peel Memorial and could offer crucially needed services to residents. New services are projected to be geared toward easing the transition from hospital back to the home, as well as managing chronic diseases, both of which could ease the burden on the city's two swamped emergency departments.
Currently, Peel Memorial does not have a full-service emergency (urgent care) department and is only open from 8 a.m. to 9 p.m. every day, while Brampton Civic operates a full-service urgent care department that is open around the clock. Phase II would see the facility remain open 24/7 and a tower expansion would bring 200 more patient beds to Brampton.
However, even with 200 more beds, it would not be enough to bring Brampton up to the provincial average of beds per capita. Of all the local hospital systems across the province, as of last year, Brampton's received the lowest amount of per capita funding, with less than one hospital bed per 1,000 residents, well below half the provincial average and about a third of the national average of approximately 2.7 beds for every 1,000 residents.
Brampton currently needs two more facilities in order to meet the growing demand from a population that is both growing and aging. The city would likely need a third in-patient hospital by the time those are built, if population increase continues at the current rate of approximately 14,000 people per year. Osler says there has been no substantial work done to bring a third hospital to Brampton.
---
Email: [email protected]
Twitter: @JoeljWittnebel
Submit a correction about this story