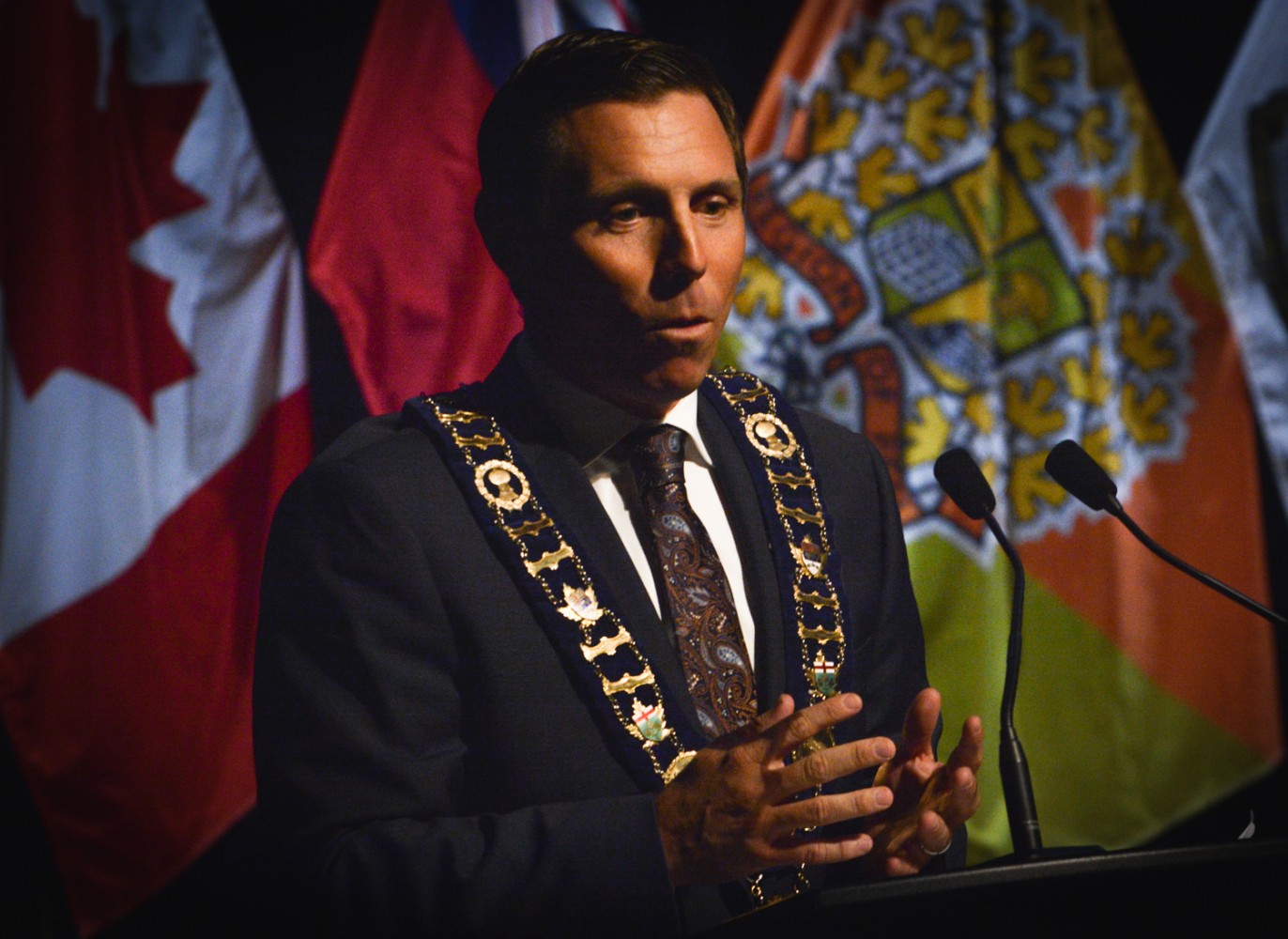 Photos by Joel Wittnebel/The Pointer files/Twitter/blogspot.com/LinkedIn
Patrick Brown's Camelot needs to serve the people of Brampton
"What it came down to was a search not for the most talent, the greatest brilliance, but for the fewest black marks, the fewest objections."
—David Halberstam, The Best and the Brightest
---
In 1972, the late David Halberstam, a Pulitzer Prize winning writer who had left the New York Times, penned The Best and the Brightest, a book that elevated his stature to the top of American journalism. It was a chilling account of how a young president, John F. Kennedy, pieced together his new administration by hiring some of the most highly regarded "whiz kids" on the planet. Each hire seemed starrier than the last, and the glitteriest of all was Robert McNamara, the San Francisco native who graduated UC Berkeley, Harvard Business School, and was named president of the struggling Ford Motor Company before shifting gears and taking his modern-day management control systems from Motor City to the American capital. When Kennedy named him Secretary of Defence, the White House was oozing with all the infinite possibilities that intelligence, wisdom and sophistication summoned to the cabinet table. All his new hires would pass the purity test. Or so it was thought.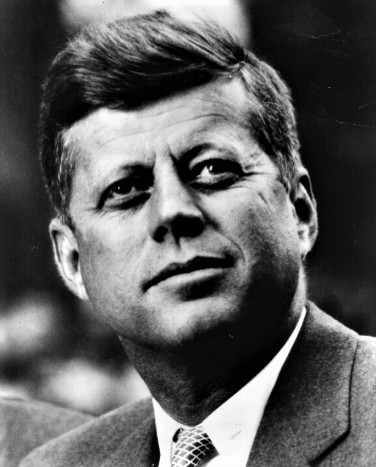 When JFK was assassinated in Dallas in 1963, not quite halfway into the two-decade war in Vietnam, his successor Lyndon Johnson, elevated McNamara to the top rung, and together they upped the ante in Indochina, plunging the U.S. into a hopeless and ever-expanding conflict. With every strategic failure, militarily in the theatre of war and diplomatically on the international stage, the world around them spun out of control. Long-serving state department officials were ignored, and decision-making was consolidated among a handful in McNamara and Johnson's inner circle. Halberstam's book dutifully records the carnage, and McNamara's Macbeth moment when he realizes his folly and tries wiping the blood from his hands.
There have been too many books to count written about Kennedy and the so-called Camelot he created on the banks of the Potomac. A common theme is America's complex relationship with a man considered by many as one of the country's greatest leaders.
President Kennedy: Profile of Power by Richard Reeves, published in 1994 is a historian's account of the young leader's disturbingly flawed time in office, while the Dark Side of Camelot is a more scathing investigation that came out three years later, written by reporter Seymour Hersh.
Both are filled with historical facts unearthed after Kennedy's assassination and Hersh's work includes numerous sources who, according to the author, fill in even more of the secrets about the constant lying, serial extra-marital sexual trysts with young women and backroom political deal-making to maintain power and create unofficial policy outside the public eye. All of it was enabled by a loyal inner circle the president assembled to insulate him and do much of the work to carry out his administration's mandate.
Kennedy lived in a different time, when it was still possible to hide from the public anything they might find disqualifying. Freedom of Information laws did not exist and powerful men, especially the most powerful of them all, often enjoyed a close relationship with the decision makers who controlled the mainstream press.
Among the journalists Kennedy seduced was Ben Bradlee, the former executive editor of the Washington Post, an old friend from their Harvard days whom the president kept close by his side.
When much of the truth about the president began to emerge, the country was conflicted. The circumstance of his death had elevated his legacy. But his place in history became harder to pin down. He was steely, yet charismatic. He lacked the wisdom to understand why the Bay of Pigs invasion planned by his predecessors, to overthrow Cuba's Fidel Castro, was doomed on many levels, but he skillfully steered his country away from a nuclear confrontation with the former Soviet Union during the Cuban Missile Crisis. He saw women as little more than sexual objects and mother figures, yet he was a warrior on civil rights, who became a hero to millions of African Americans. His handsome features withered in the light of truth about heavy-handed moves to maintain power and clandestine plots hatched to pursue a rogue foreign policy.
Kennedy was deeply flawed, but effective. And he was the leader his country needed at a crucial time in its history.
---
Which brings us to Brampton and its Mayor, Patrick Brown. He now leads the country's ninth largest city, as it too faces a crucial time in its history.
He promised during his inauguration address in the days after his surprise October 2018 election win over Linda Jeffrey, to create a Team Brampton approach to governing. This was to be an all-for-one commitment, an esprit de corps.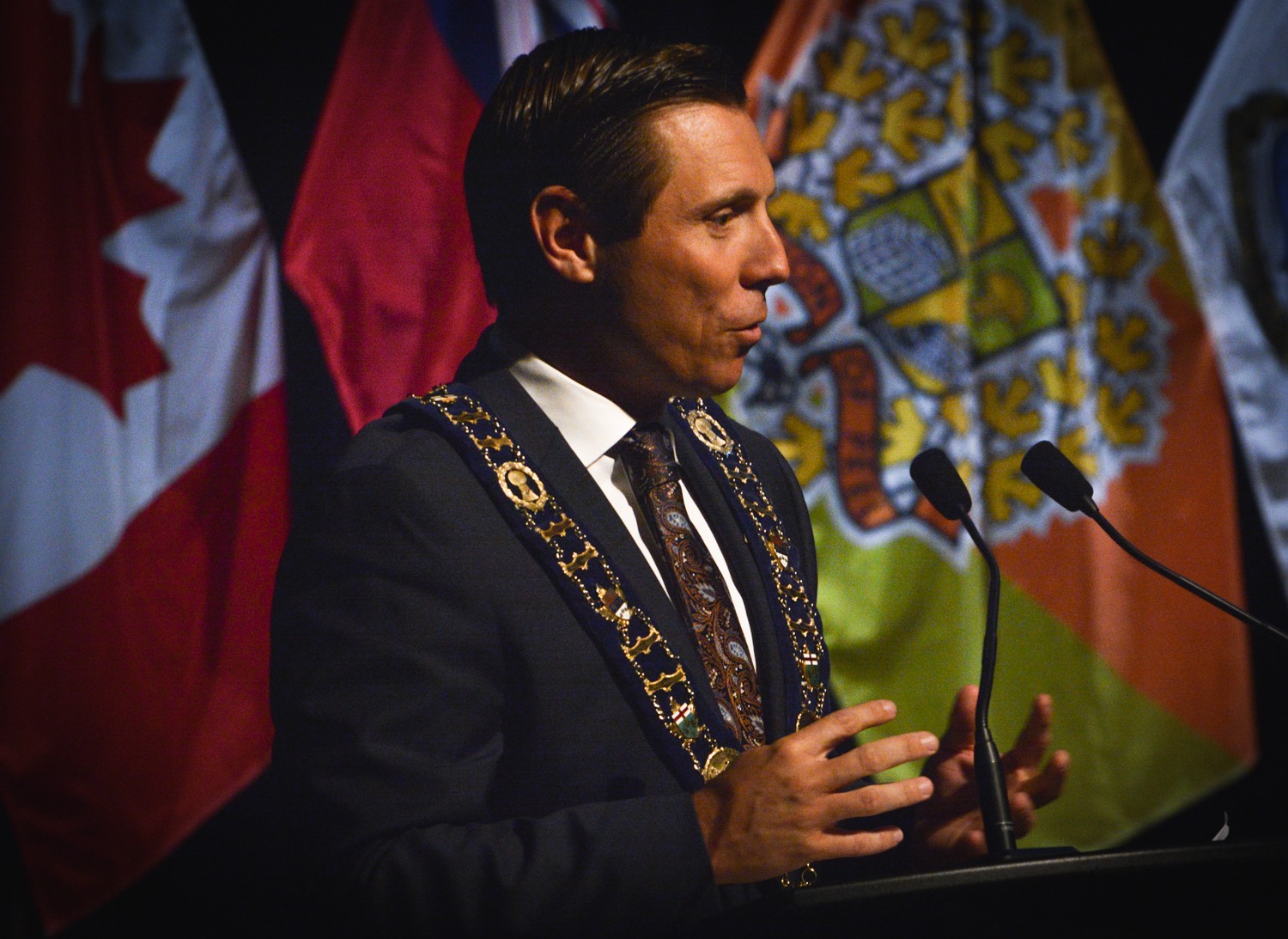 The main criticism of Jeffrey was her failure to open up the mayor's office to the public while she ruled city hall. She failed to adapt from her former role as provincial cabinet minister, a dictator moving chess pieces for her (and her party's) interests.
Brampton desperately needed an inspiring local leader to bring the city and all its divided constituencies together.
Brown was an accomplished former MPP and MP (who, at the age of 22, won municipal office in Barrie) and eventually became leader of the PC Party of Ontario. A lawyer with little training, Brown was driven by a burning ambition to govern, and his appeal to Brampton voters was the deployment of his considerable skills – a non-stop work ethic and willingness to negotiate from the middle – to pull this city out from the muck of two failed regimes that had preceded him.
He possesses many of the personal attributes successful elected officials dispatch in their public life: energy, vitality and an intense dedication to his stated goals. He is also glaringly ambitious and, as he himself revealed in a memoir published after his dramatic "Takedown" from the Ontario PC Party leadership in 2018, he is impetuous and somewhat naïve (see his relationship with Indian Prime Minister Narendra Modi, whose oppressive autocratic rule is finally drawing international outrage).
In Brown's inaugural address a little more than a year ago, he spent some extra time introducing his new look council and lauded each one for the unique qualities they would bring to city hall. The through lines of his four-year mandate would be job creation, inclusivity, economic development, and turning the City's 2040 Vision from wishful thinking into a full-blooded plan for smart growth, something Brampton so desperately needs.
Yes, the council and city staff would better reflect the city they serve, which was almost 75 percent visible minorities. And Brown admitted there was plenty of work to do: only 37 percent of the city's workforce was non-white, while, despite wide turn-over in recent years, 85 percent of its corporate leadership team did not reflect the range of visible minority groups in this incredibly diverse municipality.
Brown said he felt freed from the partisan politicking based on party loyalty. My political party is Brampton, he told his adoring audience.
If he couldn't control the hiring of one group (council), he could impact the other (staff) because after all, he was the city's top boss.
Brown was devastated by the betrayal of senior staffers while leader of the Ontario PCs, even those who parachuted in from the outside, only to hasten his demise from party politics. It has obviously marked him deeply.
But his reaction, to take advantage of circumstances that almost guarantee loyalty, which some leaders, like Donald Trump, view in a dangerously one-sided way, could threaten the operations and integrity of city hall. Questions continue to mount about the people being placed around Brown.
It didn't take the swashbuckling mayor long to unsheathe his sword and race across the battlefield. First to feel the steel tip was Harry Schlange, the CAO, and a noted Jeffrey hire from Niagara Region, brought in as an agent of change. Schlange had shown the door to dozens of senior executives and managers from the disastrous Susan Fennell era, when city hall was effectively run as her personal propaganda factory, funded by unwitting taxpayers and developers who donated millions to make billions.
Schlange lasted a grand total of 10 days in the Brown regime. A couple of months into 2019, five members of the city's senior management team were also abruptly ousted. This bloodletting followed a pattern that began in 2015 when Jeffrey hired former Ontario auditor general Jim McCarter for a deep dive into the finances at city hall, detailing the staggering amounts being paid in the non-union ranks of middle and upper management. John Corbett was jettisoned as CAO by Jeffrey, and Schlange was welcomed in. He quickly lopped off about two-dozen senior executives from the employment list, then more followed.
Schlange's tenure was short, and highlighted the fact that since 2007, the city had employed six CAOs, including a handful who warmed the seat while permanent hires were found. The turmoil and lack of continuity and experience saw people handling major roles they were ill-equipped for, like transit and other growth-related files. The revolving door of acting CAOs and senior executives has been turning inside city hall for half a decade.
And then, earlier this year, council finally took steps to recruit a new CAO to replace Schlange, nine months after he was fired.
Did the city want a star, a visionary, someone who could decipher the council-approved 2040 Vision and turn it into an action plan? Would the ninth largest city in Canada bring in a leader with broad experience, familiarity and success in managing complex management teams and a staff of thousands; a person who could work comfortably within the city's complex demographic and economic landscape; someone who had ethically and transparently overseen a publicly-funded budget to the tune of hundreds of millions of dollars?
Or was it enough to hire someone to simply keep the troops in line while the actual decision makers, mayor and council, and a select few key senior staffers, continued to work away at turning Brampton into a world class city?
Many concluded that the hiring of a highly skilled, professional and a-political CAO with an ability to bridge divides between staff and council, would be the most important one in the city's history.
In October, David Barrick won the job, again pulled from Niagara region. He followed the hiring of another Niagara recruit, Jason Tamming, named director of strategic communications, the same role he held there for the regional government. The obvious question is why Niagara seems to be Brampton's minor league affiliate, a place where apparatchiks are seasoned before they get a chance to perform in the big leagues, including in the ninth largest city in Canada. It's unclear why, with its completely incongruent demographics, mostly rural make-up and an economic picture nothing like Brampton's, Niagara has become the key recruiting base for a city it has very little in common with.
Which begs a second question – even a third or fourth. Did our city get the best and the brightest candidates available? Do these two men represent the inclusivity that Brown preached about in his inaugural speech? The Barrick and Tamming hires seem quixotic at best, and at worst, badly wrong-footed.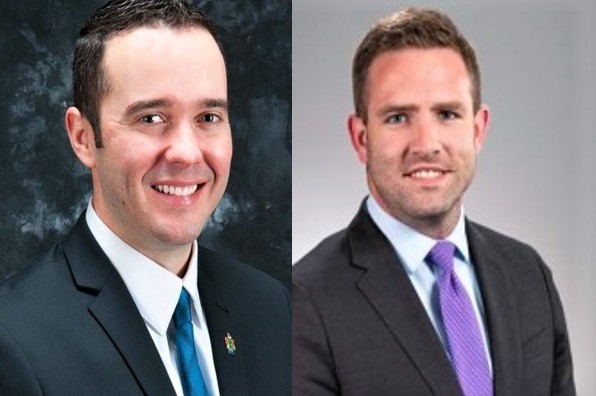 David Barrick, left, Brampton's new CAO and Jason Tamming, head of communications
Then, before the holidays, The Pointer reported a story that detailed Barrick's and Tamming's controversial histories and the scandalous events that preceded their departure from their previous jobs.
After their involvement in a rigged 2016 hiring process to get Barrick's former boss the region's top job – a man who would then promote Tamming after his help in the sordid affair – both would fail badly in their roles before leaving Niagara, only to be hired by one of the largest cities in the country. In Barrick's case, to oversee the entire municipal operation here.
He has zero experience leading a municipality, having briefly headed Niagara's conservation authority after working for his boss, the agency's former head who got the "Inside Job" as the regional CAO. A recently released Ontario Ombudsman's report points out how Barrick (without actually naming him) lobbied the Niagara treasurer at the time to help get senior staff to champion Barrick's boss as the man for the region's top job. In return, according to a private email obtained and published by the St. Catharines Standard, Barrick promised the treasurer that in exchange for his efforts he would get influence with the man who was destined to become Niagara's CAO, thanks to the "inside job" Barrick and Tamming helped orchestrate.
All this happened before a provincial auditor's report last year raised concern that Barrick's original hiring there, under the man who would eventually become Niagara's CAO, was not properly handled. Barrick was making almost $150,000 as a manager for the agency when he was fired from that role. But with the conservation authority mired in dysfunction, he was eventually rehired during the chaotic period to take over its leadership after his former boss had successfully won the predetermined competition for Niagara Region's CAO post.
Barrick's only experience running any operation was short lived, when during his three months on the job he drew the scorn of regional councillors for questionable hiring and lavish expenses before completely botching the conservation authority's budget. In a mutual agreement, he left shortly after.
Tamming's conduct, laid bare in the November Ontario Ombudsman's investigation report, with the aforementioned title, "Inside Job", which details the fraudulent hiring process for Niagara's former CAO, is even more disqualifying. He gave the man who would become his boss the answers to questions candidates were asked during the hiring process. With the fix in, and answers in hand, he was given the CAO Job. The Region's new boss quickly promoted Tamming to head the communications department. When everything unravelled Tamming was fired. He is now responsible for all information coming out of city hall here.
After his deceptive, alarmingly unprofessional conduct in helping carry out a rigged hiring process in Niagara, which led to his own promotion, we are supposed to accept that Tamming's hiring in Brampton was above board and that he can be trusted to control all information flow in and out of city hall.
Both of the hires have numerous ties to Brown through Conservative circles and the mayor chaired the committee that selected Barrick. Brown says he didn't know them and didn't help get their jobs. Obviously, in Barrick's case, he did. He chaired the entire process that led to the hiring of the new CAO, a man with a checkered past and zero experience in such a role, who will now make at least a quarter of a million dollars, before calculating all the benefits and other perks of the job.
Councillor Jeff Bowman, who was also on the committee, says he was given no information about Barrick's past by the private search firm that was hired by the city to help scour the country to find the best person to lead Brampton's entire municipal operation. The firm did not answer questions about why the committee was given no information about Barrick's past, even though his conduct in Niagara has been extensively reported by the media, and despite the existence of two red flags raised by different provincial agencies shortly before Barrick's hiring.
They both will now work closely with Brown and his staff. The mayor has his men. Both were found after the help of the same executive search firm. Both came from Niagara. And both have direct ties to Conservative circles.
Brown told The Pointer he was unaware of the dark clouds swirling around the two new executives, even though they date back to 2016. He took to social media over the holiday season, as concern mounted, to ensure that Barrick is not part of an Ontario Provincial Police investigation currently being carried out after Niagara Council read the Ombudsman's investigation report and voted unanimously to send it for a criminal probe. It's unclear how Brown would know that Barrick is not part of a police investigation, which the OPP was handed right before the holiday season began. It's also unclear if Tamming, a central player in the fraudulent Niagara hiring scheme, will be a key figure in the OPP investigation.
Brown also stated, in the same social media defence of Barrick, that he was not named in the Ombudsman's report. This is misleading, as media reports have made clear that the person detailed in the report for trying to lobby the Niagara treasurer at the time of the fraudulent CAO hiring process, was Barrick. Instead of doing what a responsible and measured leader should, Brown did not stay clear of the controversy by ensuring that if there is legitimate reason to disqualify Barrick from his new CAO job, Council will get to the bottom of it. Nope, he chose instead to rally behind his guy. Move on. Nothing to see here. He has shown his hand. Barrick is his man. And Brown isn't concerned about the possible damage to Brampton or making sure the hiring process was fair. He has another loyal soldier in place and Barrick surely knows what he owes Brown for salvaging his almost ruined career.
Here's another twist, almost Orwellian. When The Pointer asked the City's communications team about Tamming, their boss, they declined to answer. When we asked about Barrick, their boss's boss, and theirs too, they again declined to answer. Brown wasn't much help, either. He offered curt, one-word answers that didn't address many of the questions, and said one of our requests, asking whether he believes in transparency was, "ridiculous." Not half as much as making these two very questionable hires.
Remember, after Brown stepped down as PC leader in 2018, while the party was facing mounting anger over riding nominations that many alleged had been secretly controlled by him, a devastating email was leaked to the media.
Brown had emailed specific instructions to two senior party officials, including Rick Dykstra, then PC president, right before the nomination meeting to select a candidate in Hamilton West-Ancaster-Dundas.
"Let them all fight it out. And get me the result I want. But no disqualifications here. Kitchen is too hot," Brown said in his email to the two men.
Brown denied any wrongdoing and said he supported a fair and transparent nomination process. Hamilton police investigated the matter and determined that while the PC nomination process in the riding clearly included irregularities, they did not have enough evidence to pursue charges. Brown maintained his innocence throughout.
Just like the American public in the early '60s, the fact is most people will excuse political transgressions as long as the good of the people is ultimately served.
The problem is that while many support Brown and want to see him succeed for his adopted city, with people like Barrick and Tamming working for the good of the taxpayers, the early returns give rise to concern.
Brown needs to prove that such hirings and his constant messaging about all the great things being done, actually have clear benefits. We need to know that Brampton and the hardworking residents of this city are winning under their new leader and his team.
And we need to see a leader, circled by his loyal soldiers, deploy more than cheap slogans and a constant barrage of empty social media messages cheerleading his every movement.
He creates questions about his sincerity and legitimacy as a moral leader when he takes an easy stand against Quebec's discriminatory Bill 21, which he has little history with and no obvious personal tie to; but in the face of deeply disturbing actions in India, which he brags about visiting 19 times largely because its Prime Minister supposedly considers Brown a brother, the mayor's lack of a stance against Modi's stunning authoritarian move to challenge the citizenship of Muslim residents while the country is being described as a "living nightmare" for its 200 million citizens whose community has lived an Islamic life for centuries, is troubling.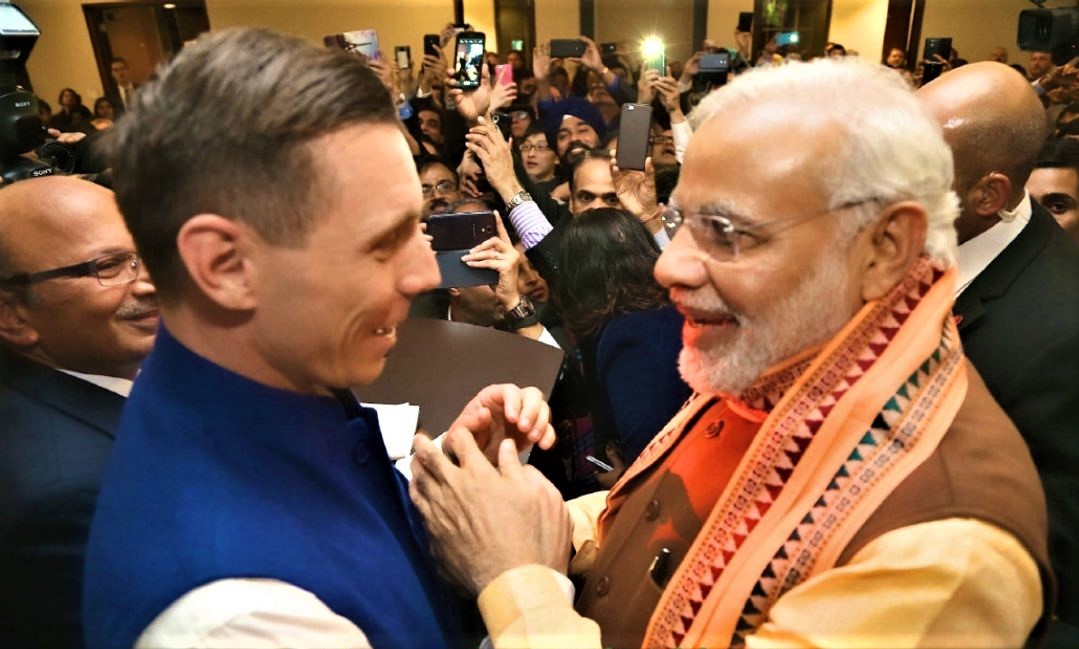 Patrick Brown with Indian Prime Minister Narendra Modi
In a city with Brampton's demographics, where the mayor sends out a torrent of social media messages touting the latest ceremonial act of harmonious respect for its diverse communities, he seems like the perfect leader to take a stand against his so-called brother. Or, would calling Modi what he is, a hateful thug, be too big a political risk for Brown, who has carved out an increasingly strategic relationship with people who could play prominently in his future ambitions?
As for Barrick, if his handling of the latest flag-waving stunt out of city hall is any indication, he clearly lacks the experience and wisdom to guide people like Brown away from terrible decisions.
The sudden announcement of plans for a Brampton University came with no staff reporting on the requirements. The public has no idea what the province's position is, despite its control over the entire post-secondary landscape in Ontario. There is no indication that existing partners Ryerson, Algoma and Sheridan were properly consulted and gave their approval for the half-baked plan. And not a word has been mentioned about any of the funding that will be required and whether the city is in a position to contribute its share.
But Brown doesn't operate this way. He was all-in on the publicity stunt, and while the marketing material seemed somewhat professional, inspiring hope that maybe this is a serious effort, where was Barrick's guidance? For all that money he's making, the CAO never thought to say, wait! Let's contact the ministry first. Then let's engage Ryerson and Algoma to make sure any plan will fit with their sizeable investment commitments to post-secondary education in the city. And let's get a complete financial picture before we start blasting out talking-head YouTube videos to the world.
Brown shot from the hip and his new lieutenant watched as the bullet headed for his foot.
As for Tamming, if a recent memo from his communications staff to The Pointer is any indication, he's being paid well into the six figures to learn on the job. The laughable note was likely an effort by the new head of strategic communications, the former federal Conservative junior staffer under the Stephen Harper government (he served the party in Ottawa while Brown was a Conservative MP there). The note carried on the party tradition, deployed by Liberals and Conservatives and apparently seared into Tamming, of telling the media what the rules of journalism are: if you don't spin our message, we will make life difficult for you.
Tamming's former boss in Niagara, Alan Caslin, was closely tied to Rick Dykstra, the former Conservative MP who served as Ontario PC party president and Brown's right-hand man during his failed bid for the premiership.
When Tamming served as Caslin's communications head, a letter was crafted for the ownership of the local newspaper. The St. Catharines Standard, which had been doggedly reporting on disturbing issues such as the confiscation of a reporter's material from regional council chambers, was really bothering Barrick, a regional councillor at the time, Caslin (Tamming's boss at the time) and Dykstra, a local Conservative MP at the time. The paper was owned, then, by Postmedia, a company widely viewed as right of centre. Barrick, Dykstra and Caslin all signed a letter to the head of Postmedia asking for changes at the Standard and describing it as "anti-Conservative".
Will the man now running city hall in Brampton take the same stance toward the media? Will the man now running the communications department for city hall follow the hardline approach of his former boss in Niagara, when dealing with members of the press who try to get at the truth on behalf of taxpayers?
We will see.
Brown said he "has been nothing but impressed with their work ethic and professionalism at the City of Brampton," referring to Tamming and Barrick. The latter has barely been on the job, but already complied with the ham-fisted public relations campaign for the city's own university. The move might have sent the city's post-secondary efforts backward.
Barrick is now preparing the 2020 budget, and all eyes will be watching to see if he makes responsible and fully transparent cuts to achieve the reductions Brown so desperately wants. The CAO made a mockery of the one Niagara conservation authority budget he oversaw, then departed the job shortly after. His behaviour was so questionable during his few months on the job as head of the conservation agency, that the provincial privacy watchdog ordered the release of documents detailing questionable hiring under Barrick's watch as well as details of salary bumps and car allowances he handed out as if he was king of the land. The $1,000-a-month for automobile expenses is unheard of even for the most senior bureaucrats in Ottawa, but Barrick felt, during his few months in control of the taxpayer-funded budget for a small conservation agency, that it was appropriate for staffers he had just promoted.
Ontario's Information Privacy Commissioner, in its October ruling, ordering the release of the documents which the conservation authority did not want to disclose, described the Niagara conservation authority as being "plagued with what can only be described as a management crisis." The ruling ordering the disclosure went on to state that, "the turmoil at the NPCA is of an epic proportion."
Now, the man involved in the rigged hiring process condemned by the Ontario Ombudsman; the same man whose initial hiring by the Niagara conservation authority was recently questioned by the province's auditor general; the man who was eventually fired from his management role there before being rehired to head the same agency described by the privacy commissioner as being in a "turmoil" of "epic proportion"; a man with no work experience in finance or business management, who got his foot in municipal bureaucracy as the former Port Colborne regional councillor, born and raised in the community of 18,000 residents; will deliver an incredibly challenging budget that is the blueprint for spending hundreds of millions of dollars contributed by taxpayers in one of Canada's biggest cities.
Hollywood couldn't make this stuff up.
But Brown wants us to give him and his inner circle a chance.
Magically, Barrick is now Brampton's CAO, plucked from his smelly pile by a committee made up of our councillors and led by the mayor. Despite the hiring of an executive search firm, which presumably was expected to conduct an exhaustive screening process, the committee was apparently given no information about the auditor general's finding that Barrick's original hiring by the Niagara conservation authority was questionable; no information about the privacy commissioner's ruling after concerns that Barrick was treating the conservation authority's taxpayer-funded budget like his own personal piggy bank; and no information about Barrick's behind the scenes role in the "Inside Job" that got his former boss the cushy Niagara Region CAO position.
Few of the Brampton councillors are willing to comment on the process or the issues raised in the Ontario Ombudsman's report. Councillor Charmaine Williams said she has "grave concerns" and would be raising the report with the mayor and council. Bowman was much more courageous than his peers, voicing the same concern The Pointer has heard from more than 50 members of the public, and he suggests that residents take those concerns to the provincial Ombudsman, if they fear something sinister is going on here.
Brown, meanwhile, continues to land people around him who seem to fit his need for loyalty.
In August, a three-member committee which included Brown, hired Muneeza Sheikh, a Toronto labour lawyer, as the city's new integrity commissioner, despite having no previous experience as an integrity commissioner and no apparent experience in municipal law. Afterward, it was learned that Sheikh, who often appears on political panels in the media, had previously expressed public political support for Brown when he was forced to step down as Ontario PC leader. It was also revealed that her husband's company had been paid for work by the Ontario PC party while Brown was its leader.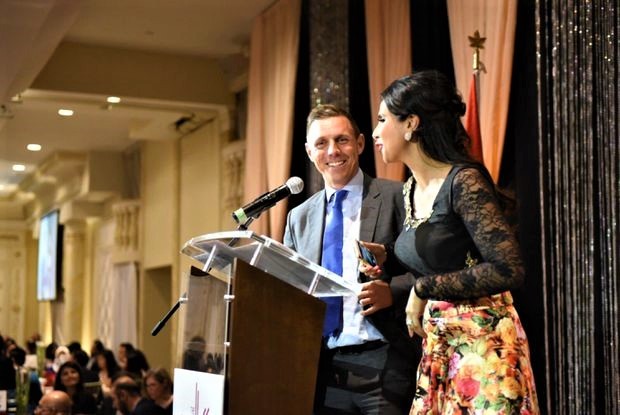 Brown at an event with Muneeza Sheikh in 2016 before he named her Brampton's new Integrity Commissioner
One has to be naïve to think political leaders like Brown don't insulate themselves with people they feel they can trust. The question for Brampton is whether it's all being done just to protect his political career; or, if along with such loyalty, there is also an expectation by the mayor that these people protect Brampton and its taxpayers.
2020 is a common term for good vision. It also represents the new year, a seminal one in the history of Brampton.
Everything will come into sharper focus as this city tries to overcome a dark swarm of problems that plague it. But things promise to get much blurrier if the City's hiring process has been politicized.
Brown deserves a chance. The recent hiring under his watch is obviously being orchestrated by him. He might have to get burned before realizing loyal soldiers aren't much good if they can't do the job.
History has proven kind to JFK, despite all his flaws and those of the men in his inner circle, some of whom led their country down a dark path after Kennedy was gone. Ultimately, in his short time as president, many of his key decisions were the right ones for his nation, even with some of the wrong people standing behind him.
For Patrick Brown, as 2020 begins, his team will be put to the test immediately. The integrity and wisdom of these men and women are not just a signal of his strength as a leader, they are crucial for the good governance of a city desperately trying to find its way.
Submit a correction about this story